If you crave soft and tender bread, each infused with layers of cinnamon-sugar goodness and bursts of luscious apple pieces, you're going to love this Cinnamon Apple Pull Apart Bread Recipe. Topped with a crunchy streusel topping and a drizzle of sweet glaze take this Pull Apart Apple bread over the top.
Can you imagine the warm, comforting scent of cinnamon mingling with the sweet aroma of juicy apples as they bake to perfection? It's one of my favorite combinations. If you love it like I do then you've got to try these Apple Kolaches for true breakfast bliss, Or, how about this Apple Cake with Caramel Frosting? It's a simple cake that's perfect for any celebration.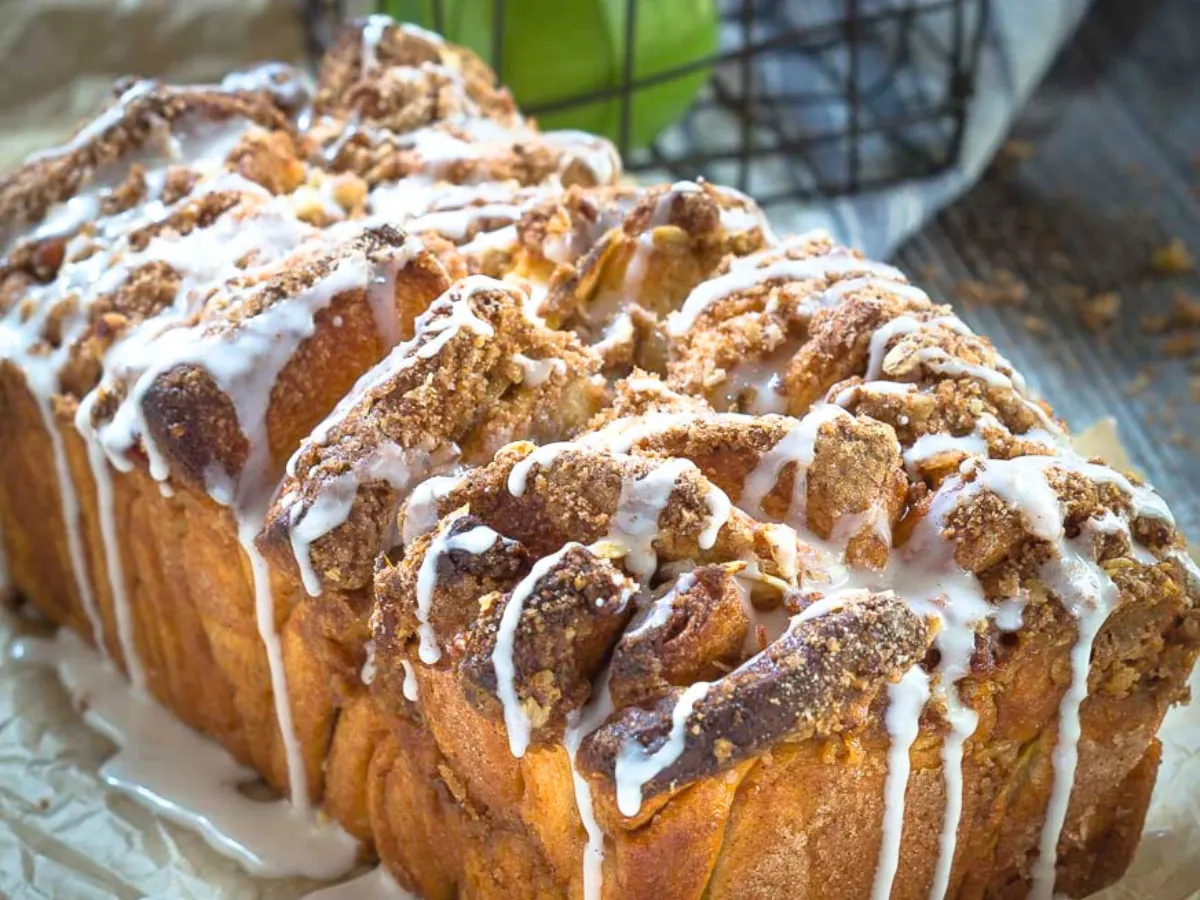 So, get ready to dive into the ultimate sweet bread experience, as we explore the perfect apple cinnamon cinnamon pull apart bread. In this article, we will walk you through the ingredients you'll need and provide you with step-by-step instructions for baking success.
What is Pull Apart Bread?
Also known as monkey bread or bubble bread, Pull apart bread is a type of bread that's made to be easily torn apart into individual pieces. It's a fun and interactive way of enjoying bread, as you can simply grab a piece and pull it away from the loaf. Imagine a loaf of bread that's divided into small sections or chunks, held together by the delicious flavors and fillings inside.
Our Apple Pull Apart recipe is on the sweeter side and makes a delicious breakfast or even dessert. You can create both sweet and savory versions, depending on your preferences and the occasion. For a savory twist, think of a loaf infused with melted butter, garlic, herbs, and cheese. The options are endless.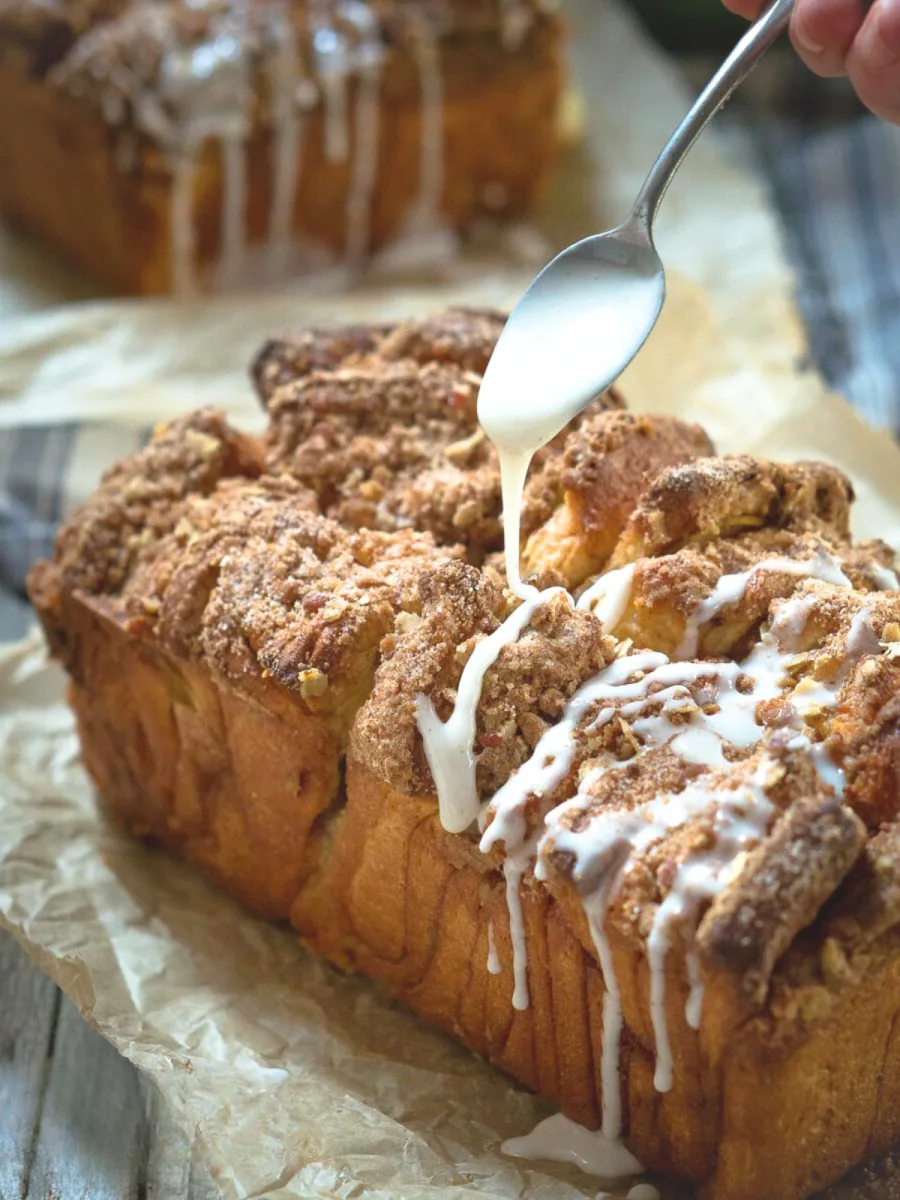 Pull Apart Apple Bread Ingredients
Please note, that the printable recipe card has ingredient quantities, complete instructions, and nutritional information. The following is a quick overview of the recipe.
The ingredients for this recipe and the majority of them you may already have at home. Here is what we used. Many Apple Cinnamon Pull Apart Bread Recipes start with store-bought refrigerated canned biscuits. This Pull Apart Apple Bread starts with dough from scratch which results in a soft, tender, and pillowy bread.
I promise you that you won't regret taking a little extra time. Especially once to tear off and savor that first buttery bite.
Variations: Add raisins to the apple mixture. You can skip the apples and add chocolate chips.
Tip: We originally used sliced apples in this recipe but found that they were a bit difficult to insert between the pieces of dough so now we use fresh apple diced into small pieces and mix it right into the dough.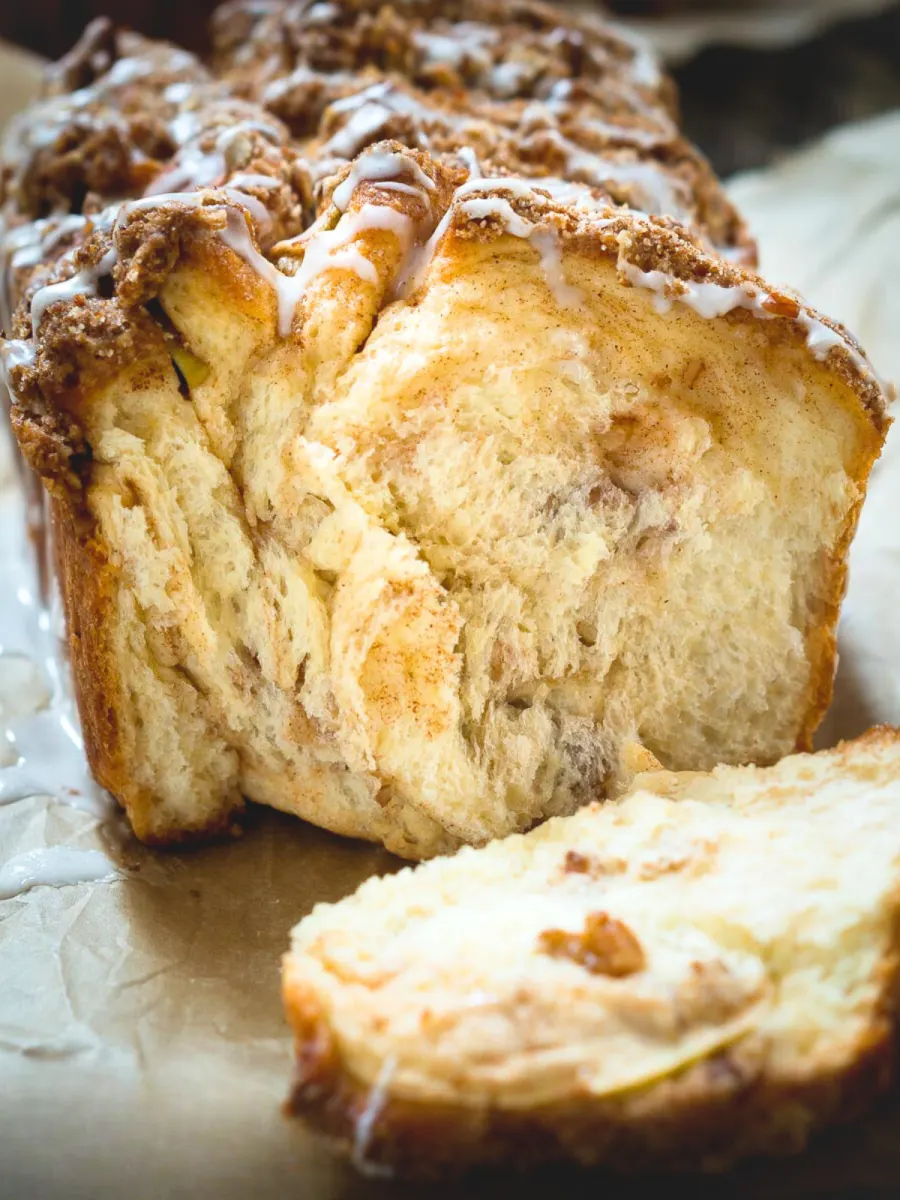 Step-by-Step Instructions for Baking Success
To ensure baking success and create a sinfully delicious cinnamon apple pull apart bread, it's crucial to follow the step-by-step instructions carefully. Let's dive right in and get started!
1. Prepare Your Ingredients:
Before you begin, gather all the necessary ingredients for the bread dough, the cinnamon apple filling, the streusel topping, and the glaze. Having everything ready and measured out will make the process smoother and more efficient.
2. Make the Dough:
In a medium saucepan heat the butter and milk together just until the butter is melted. Remove from heat and stir in vanilla. Set aside to cool to 115°F to 125°F. Use an instant-read thermometer. If it's too hot it will kill your yeast and prevent your dough from rising.
In a large bowl whisk the sugar, yeast, salt, and 4 cups of flour until combined. Add the milk-butter mixture and eggs. Stir with a wooden spoon until a sticky dough forms.
3. Knead the Dough & First Rise:
Add another 1 1/2 cups of flour and continue to stir until smooth. Add the diced apple and mix until evenly distributed. Dough will still be sticky and that's o.k. Shape the dough into a loose ball and place it in a lightly greased bowl. Cover bowl with a towel or plastic wrap. Place the bowl in a warm place and let the dough rise, 1 to 1-1/2 hours, or until it has doubled in size. This initial rise will help develop the flavors and texture of the bread.
5. Prepare the Cinnamon Apple Filling:
While the dough is rising, take this opportunity to make the filling. Whisk sugar, cinnamon, and chopped pecan together in a small bowl. Set the mixture aside. We always bump up the amount of cinnamon in our recipes. 2 teaspoons cinnamon add a warm delicious flavor to this bread!
6. Shape the Bread:
Once the dough has doubled in size, gently punch it down to release any air bubbles. Add remaining 1/4 cup of flour and knead it into the dough. Let the dough rest for 5 minutes, covered with a clean kitchen towel.
7. Create the Pull-Apart Effect:
Transfer the dough back onto a floured surface. Divide dough into two equal-sized 20 by 12-inch rectangles using a floured rolling pin, ensuring it's evenly thick.
Brush the dough with melted butter and then sprinkle each half with the cinnamon-sugar mixture. Use a pizza cutter or pastry cutter or sharp knife and cut the dough into 6 strips down the 12-inch length. Stack strips on top of each other and then cut stack into 6 even stacks of squares.
Using non-stick baking spray or lightly grease two 9×5 sized loaf pans and then line them with parchment paper. I use two strips and criss-cross them. Spray the parchment paper. Prop up the pans on its long end and carefully stack the squares evenly into the pans.
8. Second Rise:
Lay the filled pans flat and cover them loosely with a clean kitchen towel for the second rise, 30 to 45 minutes or until doubled. During this time, the rolls will expand and rise slightly, filling in any gaps between them.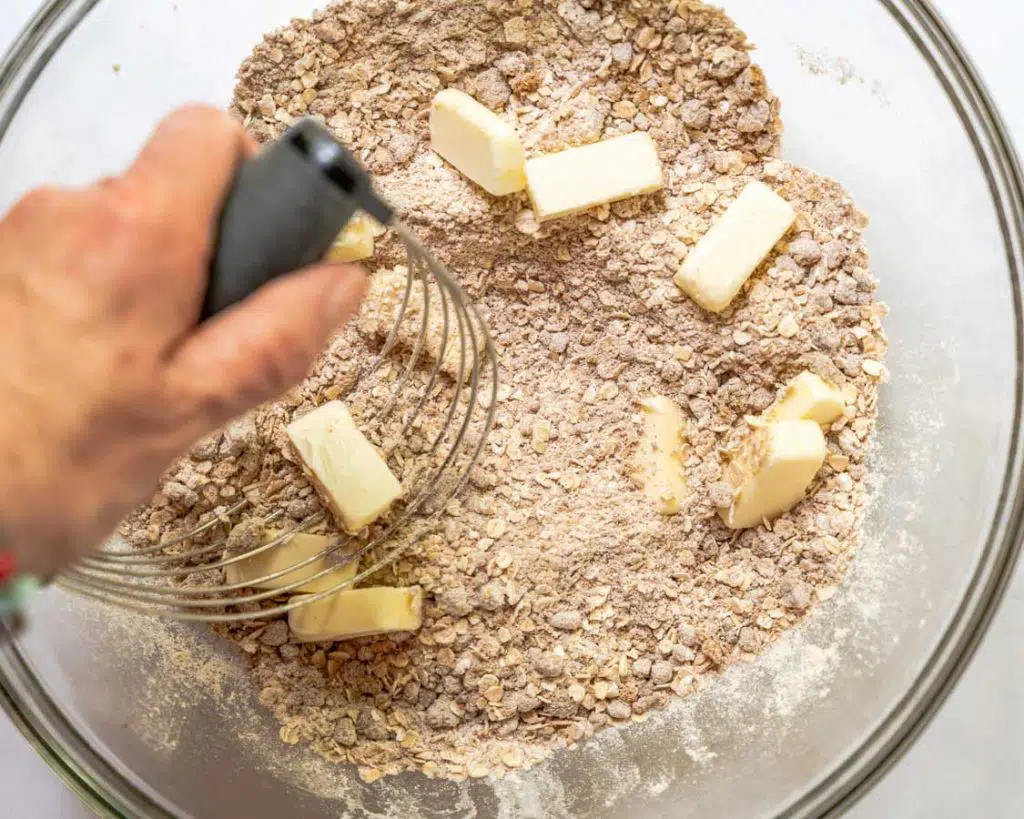 9. Streusel Top:
Preheat the oven to 350°F. In a medium-sized bowl combine the streusel ingredients except for the butter. Cut the cold butter in using a pastry cutter, pizza cutter or two forks until large crumbs develop. Refrigerate until you're ready to bake.
9. Bake to Perfection:
Bake the cinnamon apple pull apart bread for the recommended time. Keep a close eye on it to ensure it doesn't overcook or burn. The heavenly aroma of warm cinnamon and baked apples will fill your kitchen as the bread turns deep golden brown.
10. Glaze:
For those who crave a little extra richness, you can also drizzle a decadent glaze over the finished bread. Mix powdered sugar with a splash of milk or cream and a touch of vanilla extract or paste until you achieve a smooth, pourable consistency. Then, simply drizzle the glaze over the top of the warm bread, allowing it to seep into the crevices and enhance every bite with its sweet, creamy goodness.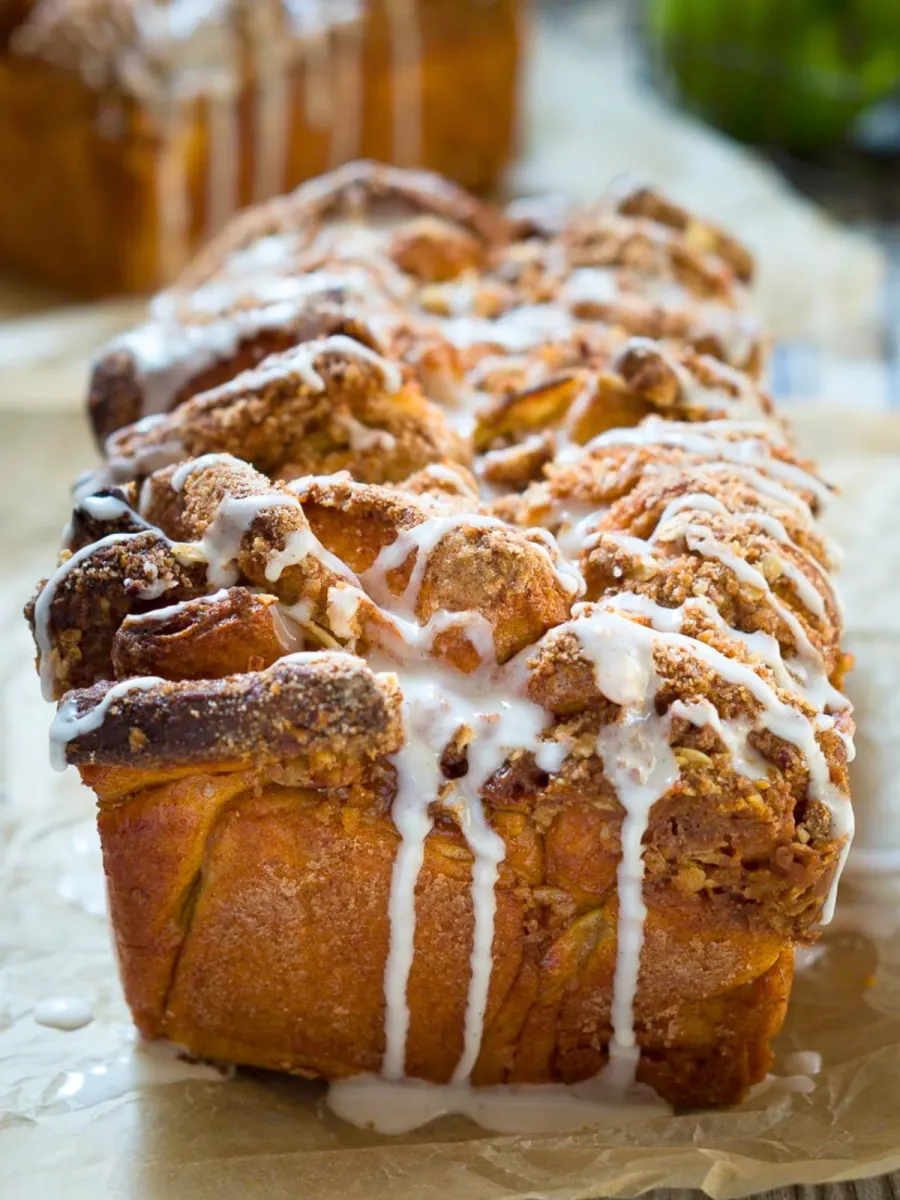 Hostess Tips to make your Apple Pull Apart Bread perfect!
Choose the Right Apples: For the perfect balance of sweetness and tartness, opt for firm apples like Granny Smith or Honeycrisp. They hold their shape during baking and add a delightful flavor that complements the cinnamon.
Prepare Your Dough with Love: Remember to knead it with care and patience. A well-kneaded dough ensures a soft and fluffy bread that's just perfect for pulling apart.
Layers of Cinnamon-Sugar Goodness: When it comes to the filling, don't hold back on that cinnamon-sugar mix. To be honest, I free sprinkle the cinnamon and sugar freehand until I have good coverage. Generously sprinkle it over each layer of dough and apples to create an explosion of flavor in every bite.
The Heavenly Streusel: Ah, the crowning glory of your creation! Mix up a heavenly streusel topping with a blend of flour, butter, brown sugar, and cinnamon. Crumble it generously over the bread, adding an extra layer of deliciousness and a delightful crunch.
The Glaze Magic: A velvety glaze can take your pull apart bread to the next level. Combine powdered sugar, a dash of vanilla extract, and a splash of milk until you achieve the perfect drizzling consistency. Drizzle the glaze over the freshly baked bread, allowing it to seep into all those nooks and crannies.
Serve with Love: When your Cinnamon Apple Pull Apart Bread emerges from the oven, let it cool slightly before pulling apart those delectable pieces. Serve it with love and watch your family and friends light up with joy!
Storage and Reheating: If you happen to have any leftovers (which is rare because it's that good!), store them in an airtight container. To reheat, pop a few pieces in the microwave for a few seconds or warm them up in the oven for that fresh-out-of-the-oven taste. Apple Pull Apart Bread can be frozen whole or in slices.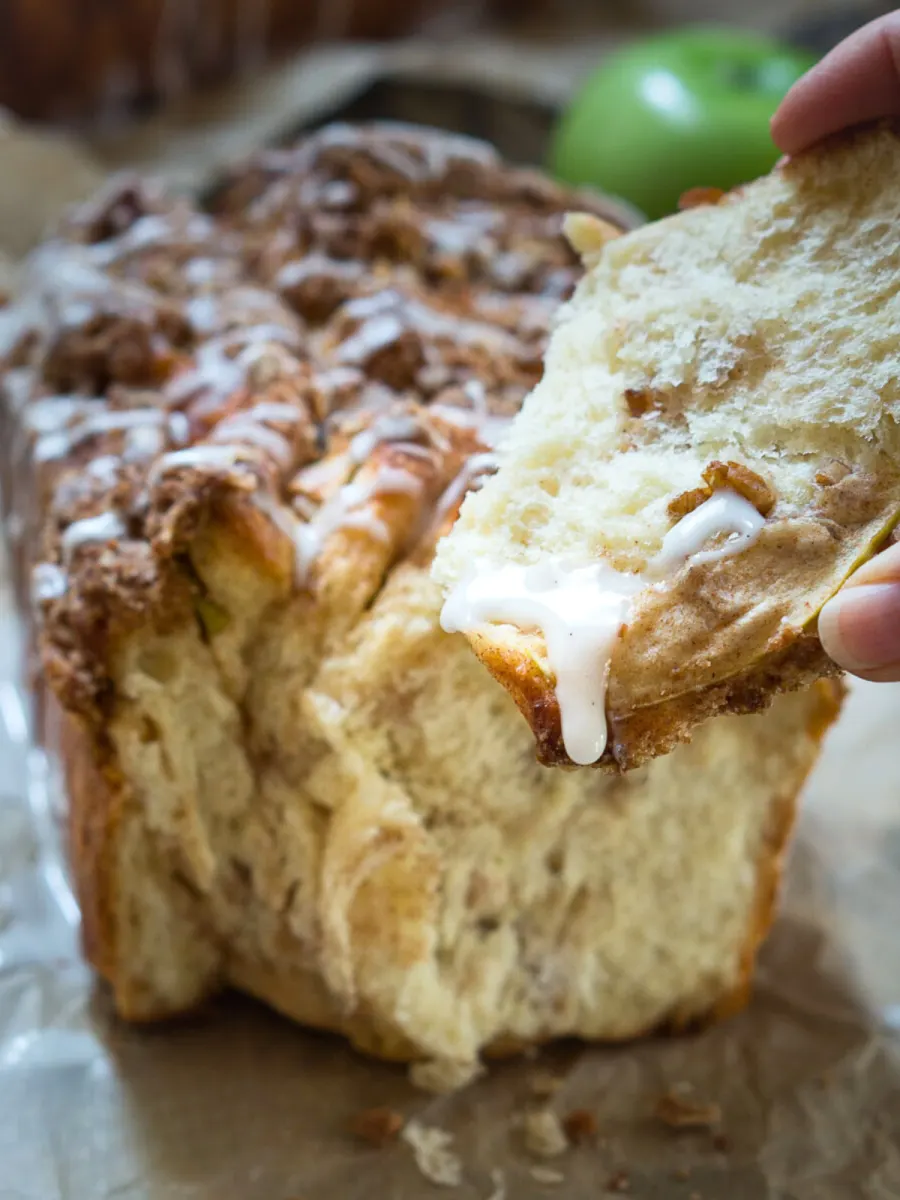 If you like this recipe, here are a few more that I think you'll enjoy
If you tried this delicious recipe, don't forget to rate it and leave me a comment telling me what you think. I love hearing from you!
This post was originally published on 11/14/17 and has been updated to include tips and variations. No changes were make to the recipe.
If it's apple recipes you're looking for, you may like these
We originally made this Pull Apart Apple bread for a challenge bread group we participated in.
The theme we were assigned was to make a "Pull Apart" bread. Pull Apart bread are can also be called monkey bread or bubble bread, and can be savory or sweet are all game.
We love cinnamon rolls, but face it, they're definitely a commitment to make.
Now it's time to check out these other bakers who are sharing their pull apart recipes with us!
Want more delicious recipes? Follow Hostess At Heart on Pinterest!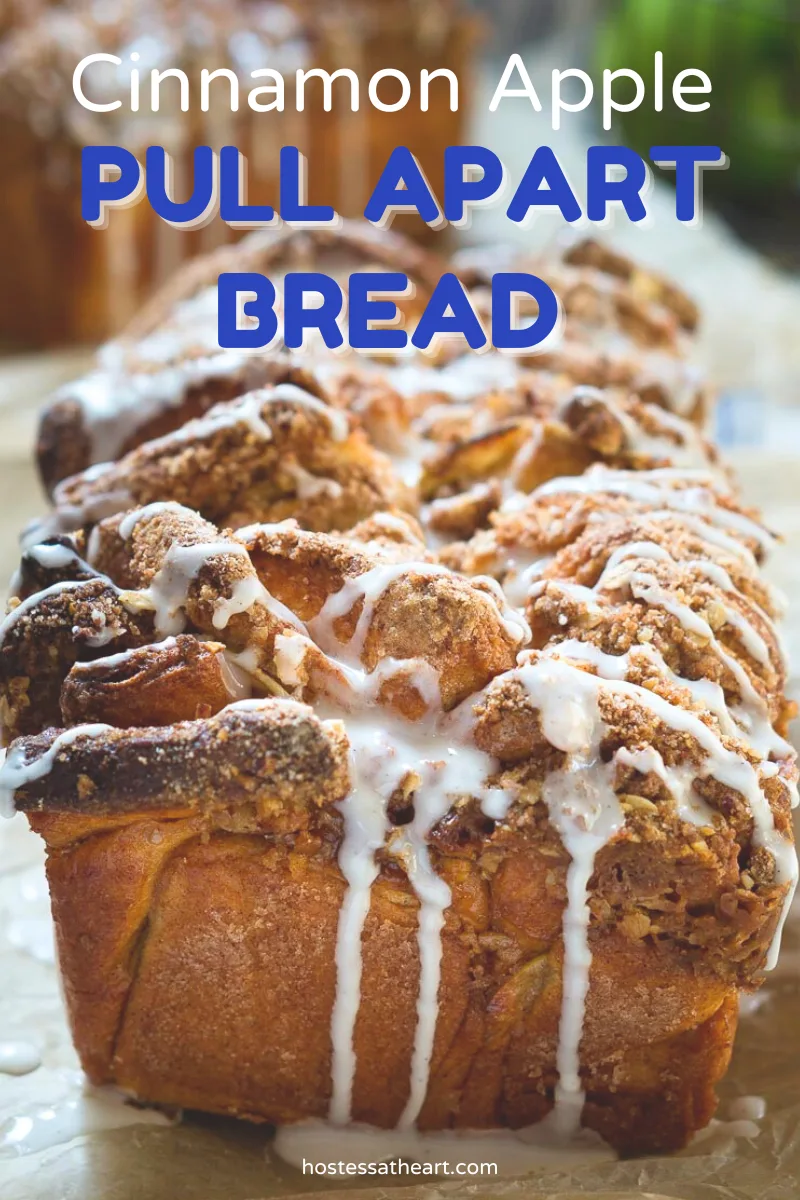 #BreadBakers is a group of bread loving bakers who get together once a month to bake bread with a common ingredient or theme. Follow our Pinterest board right here. Links are also updated each month on this home page.
We take turns hosting each month and choosing the theme/ingredient.