Cinnamon Apple Pull Apart Bread is a soft and tender yeast bread that's filled with fresh apple and warm cinnamon under a layer of streusel and sweet glaze.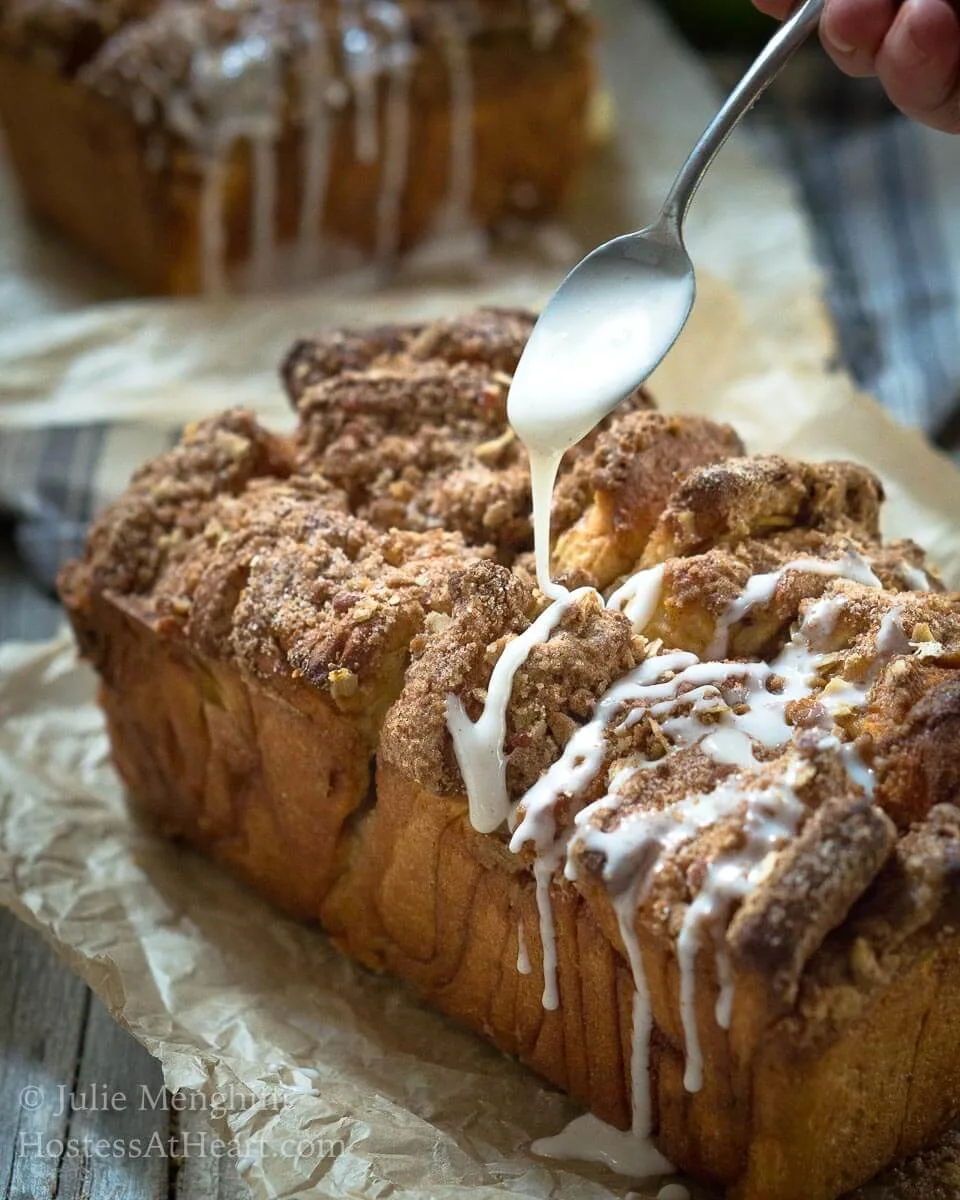 Cinnamon Apple Pull Apart Bread is like a pan of freshly baked cinnamon rolls without all of the fuss.
Apple Pull Apart Bread is the perfect yeast bread. It's soft and tender, sweet and crunchy, and everything that you crave.
We totally love a pull apart bread! Who doesn't love peeling their own slice of cinnamon bread from a loaf layered with warm spices and fresh apple under a streusel topping and glazed with a sweet drizzle?
Over the top? Not really. It sounds like something that will take a lot of time and technique to put together but it's NOT!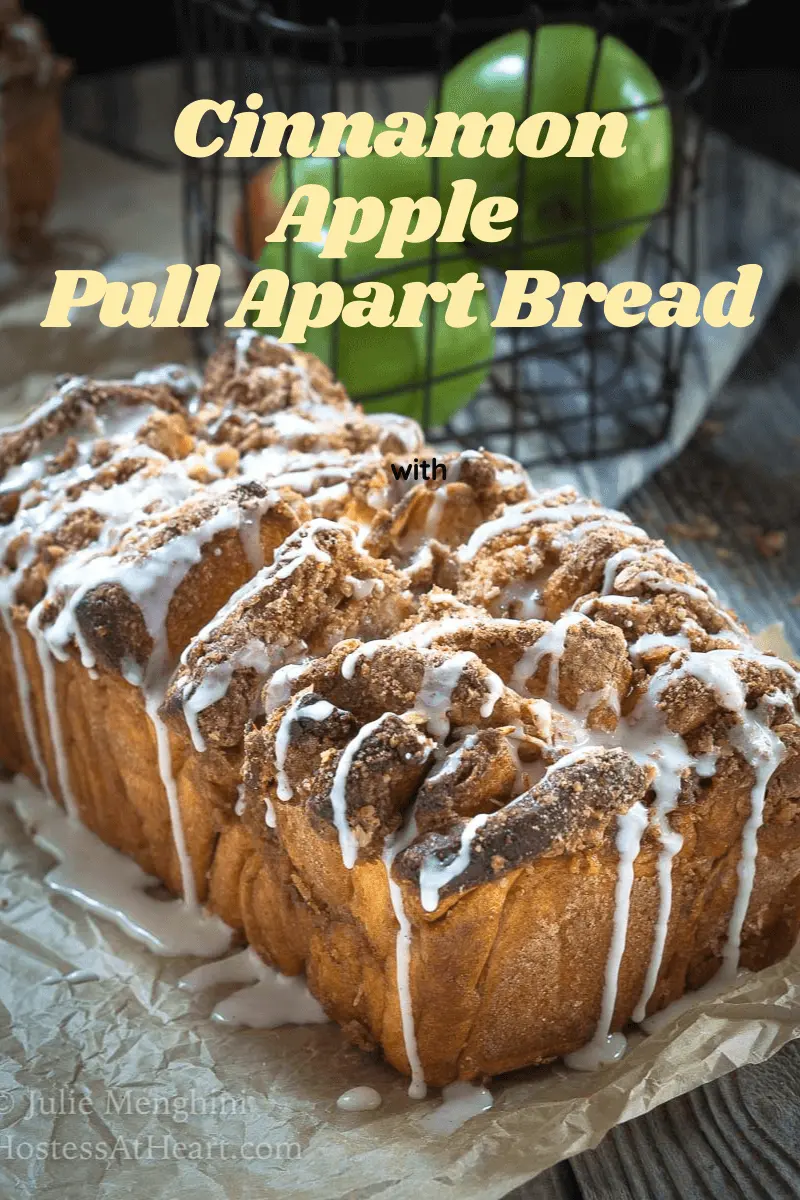 We just love this time of year when the days are cool and dinner is often a pot of soup cooking on the stove.
Growing up we often had something sweet with our savory meals so whether it's a bowl of soup or a plate of scrambled eggs, we like something sweet on the side. If we have a choice give us some bakery!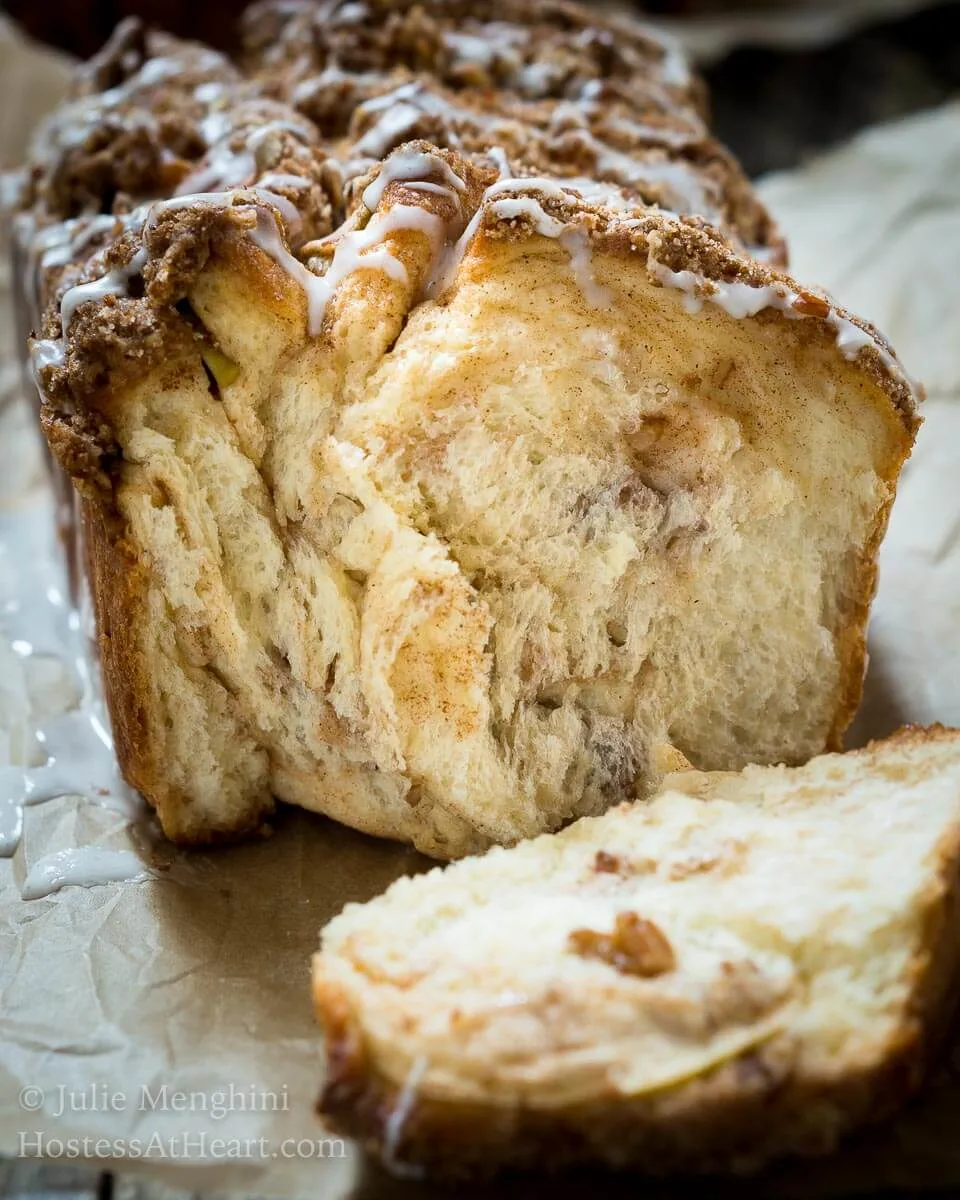 We originally made this Pull Apart Apple bread for a challenge bread group we participated in.
The theme we were assigned was to make a "Pull Apart" bread. Pull Apart bread are can also be called monkey bread or bubble bread, and can be savory or sweet are all game.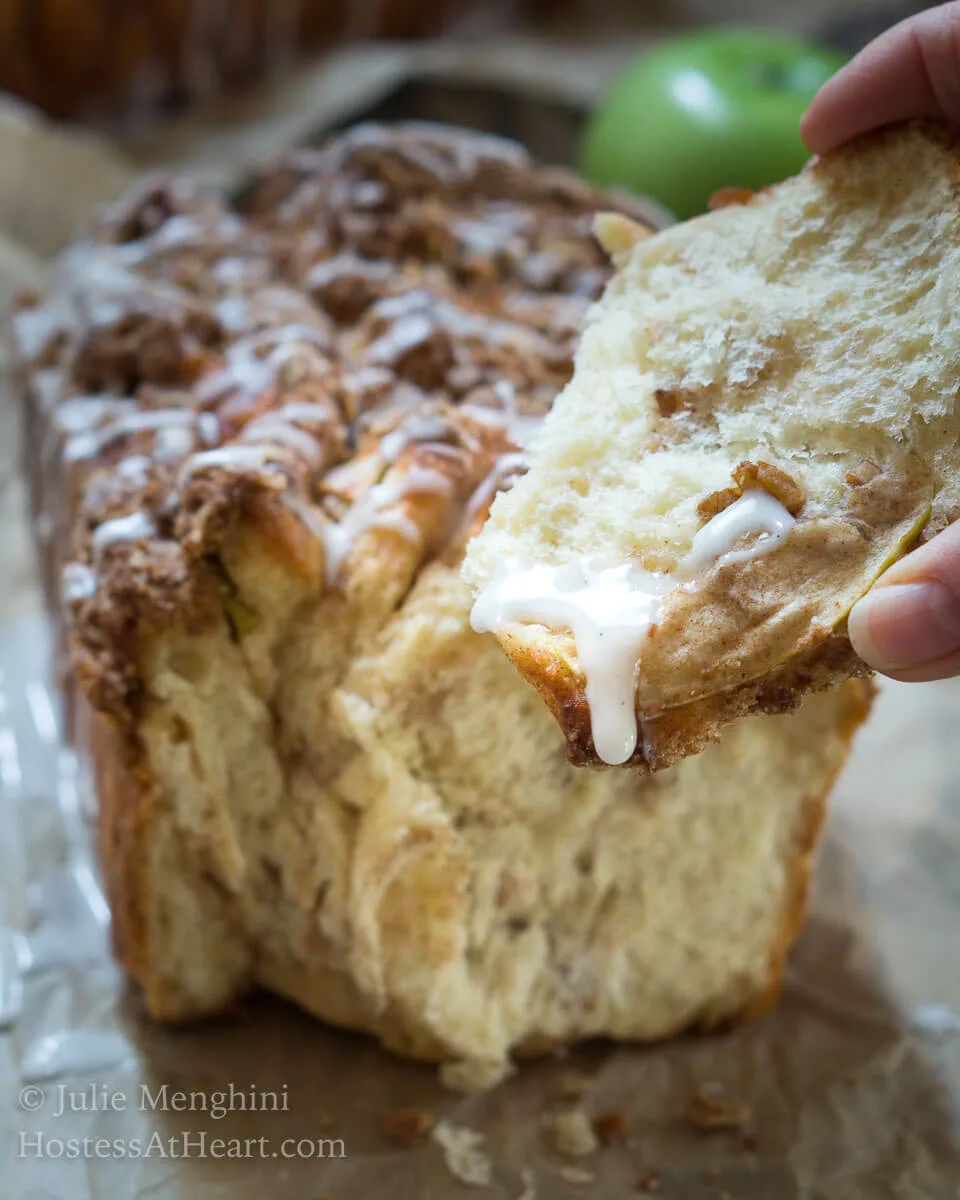 We love cinnamon rolls, but face it, they're definitely a commitment to make.
We also like pull apart bread because everyone can dive in and help themselves to a piece.
So we decided to make a pull apart cinnamon apple pull apart bread with a streusel topping.
It sounded amazing in my mind, and I certainly wasn't disappointed with the results!
Pull Apart Apple Bread Ingredients
The ingredients for this recipe and the majority of them you may already have at home. Here is what we used.
Flour
Yeast
Sugar
Cinnamon
Apple
Butter
Milk
Eggs
Vanilla
Salt
Brown Sugar
Rolled Oats
Pecans
Don't have time to make it now?

Pin it

for later!
Tip: We originally used sliced apples in this recipe but found that they were a bit difficult to insert between the pieces of dough so we now dice the apple in small pieces and mix it right into the dough.
If you like this recipe, here are a few more that I think you'll enjoy
When you make this be in the mood to share because it makes two generous loaves!
Of course, you could save it all to yourself by putting one in the freezer…I wouldn't judge.
This recipe may look tedious, but I just wanted to break it down in small tasks.
If it's apple recipes you're looking for, you may like these
Now it's time to check out these other bakers who are sharing their pull apart recipes with us!
Want more delicious recipes? Follow Hostess At Heart on Pinterest!
#BreadBakers is a group of bread loving bakers who get together once a month to bake bread with a common ingredient or theme. Follow our Pinterest board right here. Links are also updated each month on this home page.
We take turns hosting each month and choosing the theme/ingredient.