I have very fond memories of my grandmother. She wasn't a sweet little ole lady grandmother, she was an independent women that put herself through nursing school, and was one of the successful people during the great depression. She believed in hard work and saving money.
I loved doing things for my grandmother such as dusting or helping her in the kitchen. I am sure I wasn't much help, but I had the best time cutting out huge sugar cookies, or grinding up leftovers to make hash for dinner. I attribute my love for cooking to her and the memories we made.
When I spent the night with her, she always cooked oatmeal for breakfast with a couple pieces of buttery toast. I can still taste it, so when I saw this recipe for baked oatmeal, I knew I had to make it.This is such a wholesome dish that will keep you satisfied all morning long, and it is very versatile. You can customize it to your own tastes.
There wasn't a problem with my lighting, this dish comes out of the oven on the blueish-gray side because of the berries and almond milk that I used. Also, there isn't brown sugar or a bunch of butter which is what makes your crisps brown up.
I am really excited to bring this dish to you. The consistency of this dish is like bread pudding. It is thick and flavorful without being too dense or dry. I've eaten it for the last several days, and am not tired of it by any means. It reheats perfectly in the microwave. I added just a drizzle of almond milk after I warmed it up. You could also freeze this in individual servings for a grab and go breakfast or a comforting breakfast on a cool morning.
Preheat your oven to 375°F. Put 2 tablespoons of butter in a deep sided baking dish. My dish was 7 1/2 x 11, but a 8×8 baking dish would work too. Put the dish in the oven for 5 minutes or until the butter is melted.
While the butter is melting, combine 2 cups of old fashioned rolled oats, 1 teaspoon of baking powder, 2 teaspoons of cinnamon, 1 teaspoon of ground ginger, 1 teaspoon of flax seed and 1 teaspoon of chia seed.
Remove the dish from the oven and pour the melted butter over the oat combination. Stir until coated.Whisk 1 large egg, 1/3 cup of maple syrup (you can also use agave or honey), and 2 teaspoons vanilla extract together.
Pour over the oat mixture and stir to combine. Add 2/3 cup of chopped pecans. You can use any combination of nuts, coconut, raisins other dried fruit to make up 2/3 cup. Distribute berries evenly over the top. I used a frozen combination of raspberries, blueberries, and blackberries.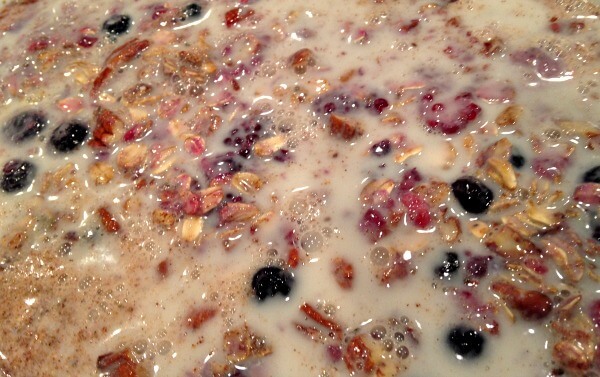 Gently pour 2 cups of milk over the top. You can use skim or whole milk, almond or soy milk. Whatever you prefer.
Bake 35 to 45 minutes until top is browned and edges bubble. Allow to rest 5 minutes. Top with yogurt if desired. Refrigerate leftovers.
The recipe that inspired this one said it was for 4 to 6 servings. I cut my dish into 8 pieces, and they were plenty big. I've included the nutritional information for both 6 and 8 servings.
Adapted from The Culinary Life