Buckeye Brownie Cheesecake is decadent and delicious. You're going to want to make this rich and creamy cheesecake over and over.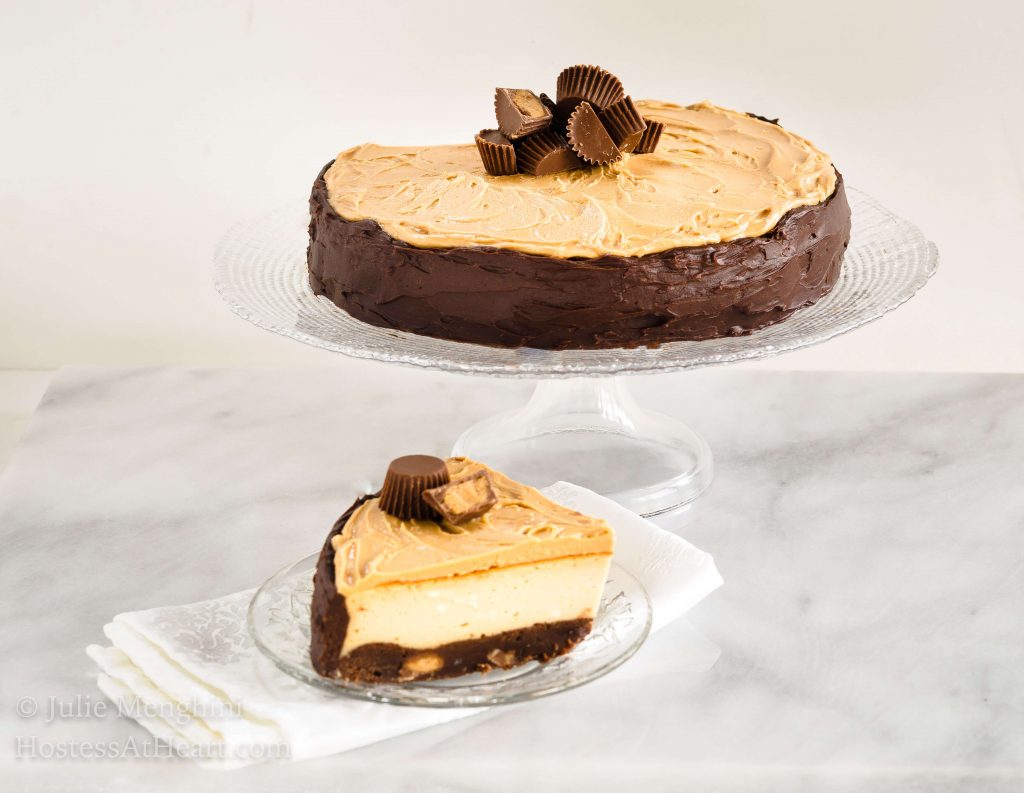 You've either said it or heard it, but that's the best cake I think I've ever eaten. John said it and I heard it and agreed that this Buckeye Brownie Cheesecake is one of the best cakes I've ever eaten.
Best of all, it wasn't difficult following the recipe and was fun putting it together.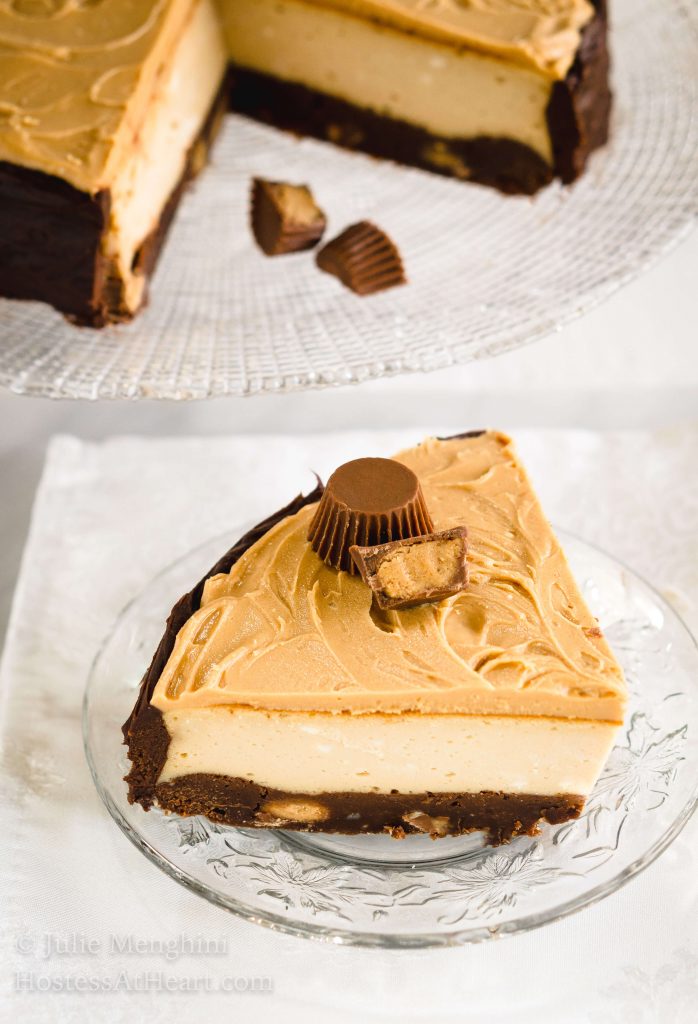 Back when I was just starting my blog I got to know Dini Kodippili from The Flavor Bender.
Dini is one of those people that "make things happen". I fondly refer to her as the mad scientist of cooking.
I just marvel at the techniques she uses because most of them would never have entered my mind! T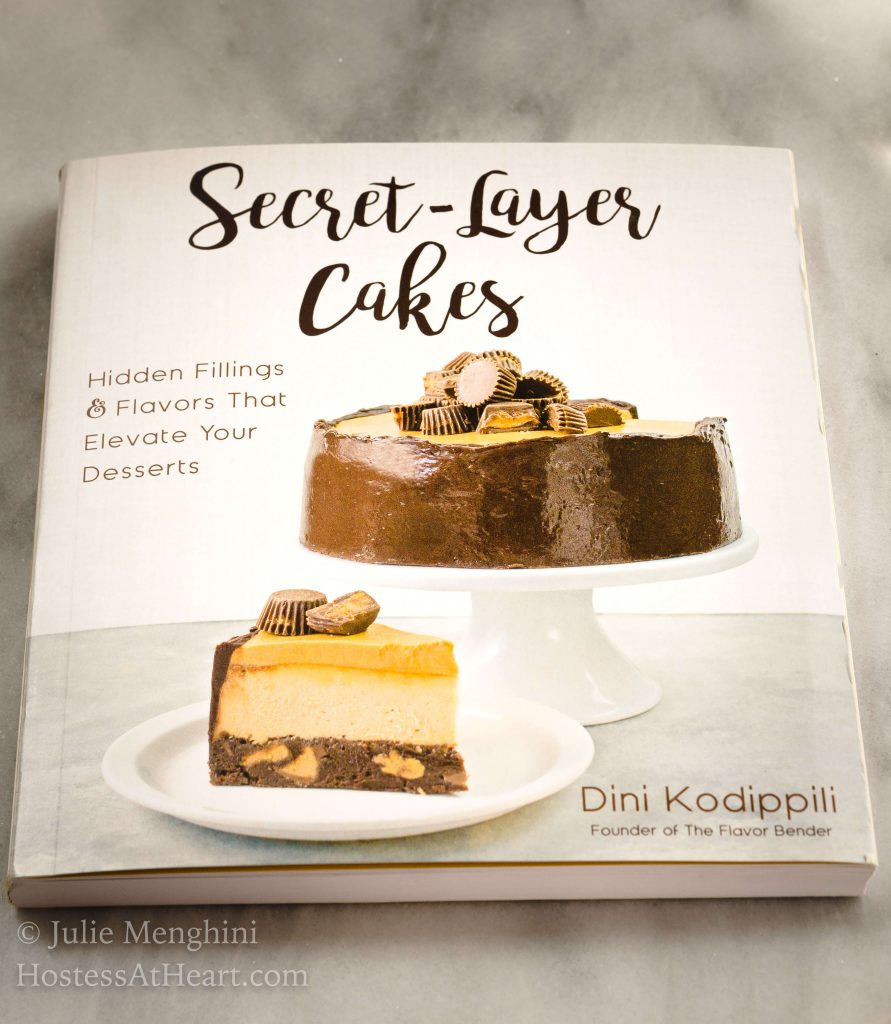 aka "The Phoenix Cocktail" is a shimmery cocktail that changes colors, where did that innovation come from?
Dini is sharing more of her innovations in her new cookbook Secret-Layer Cakes.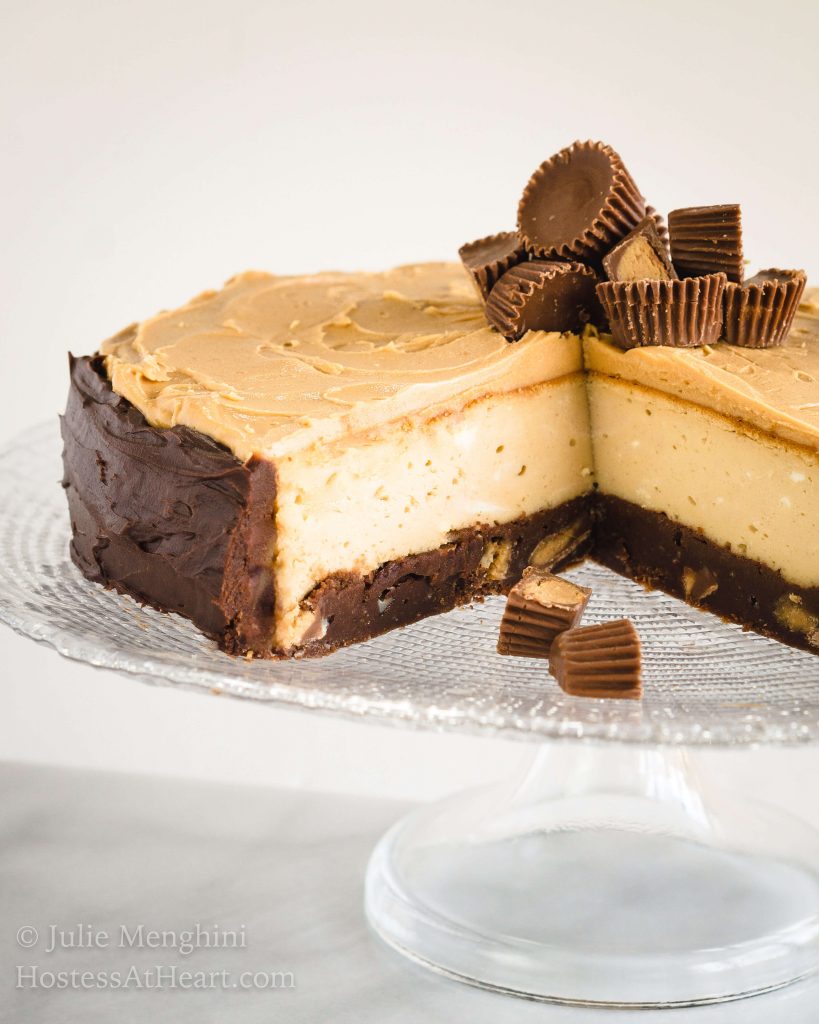 Some of her motivation for this book is her love of baking and sharing. I got my hands on this book as soon as I could and I made her Buckeye Brownie Cheesecake the very next day.
Her book is beautifully illustrated and is written so even us non-mad scientists can successfully recreate her works of art.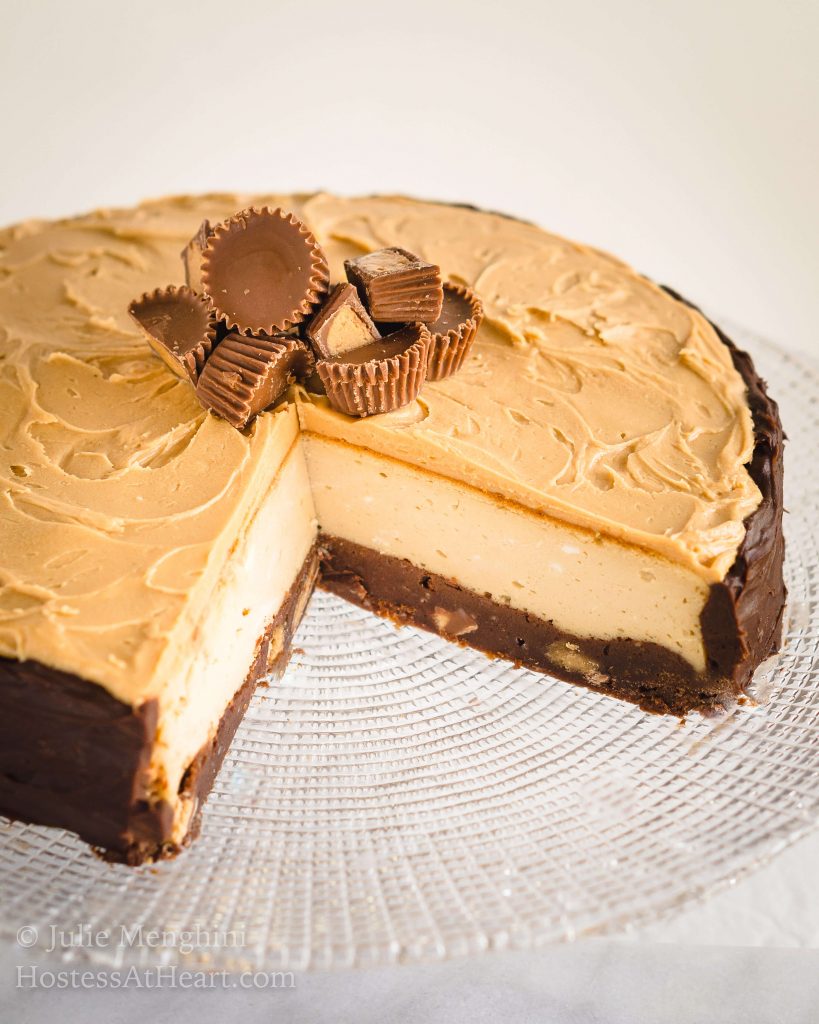 This recipe was simple enough to put together and I can't wait to make some of her other ones. She has cakes for any occasion!
John followed my progress (o.k. he licked the bowls, beaters, spatulas…). After I made it we ran out of sunlight and I couldn't photograph it right away.
Once I got my photography finished I texted John a picture of my masterpiece.
He gave up a Christmas luncheon at work so he could finally enjoy a piece of this cake.
When asked by his co-workers why he wasn't staying, he just showed them the text that I sent him of the cake.
I can't repeat the comments he got, especially when he said he wouldn't be bringing any of it back to work.
The only thing that I did differently is that I used a 9-inch springform pan instead of an 8-inch.
My cake isn't quite as tall as Dini's cake but it worked just fine so you can definitely use what you have.
Tip: Always check the cake for doneness before the lowest cooking time when you adjust the size of the pan.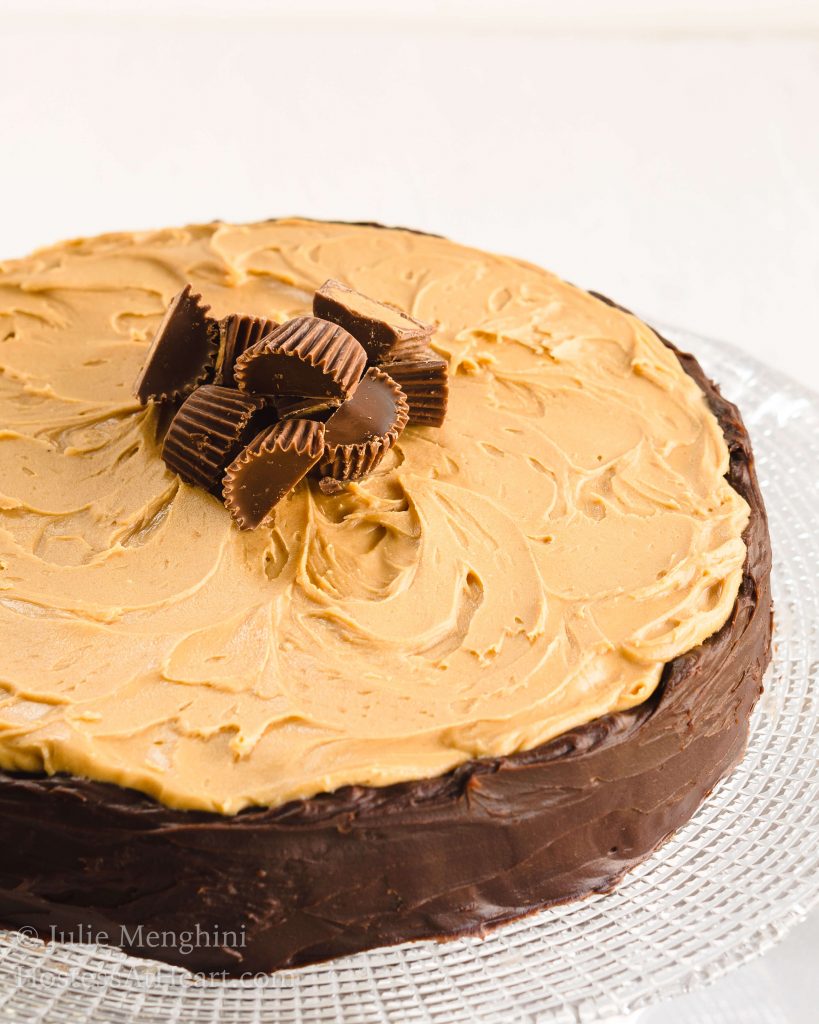 Gift yourself or a loved one with this book available on Amazon.
I want to thank Dini for all of the work she put into this book as well as her generosity. Just one question though. Hey, Dini when is the next book coming out?
More delicious recipes!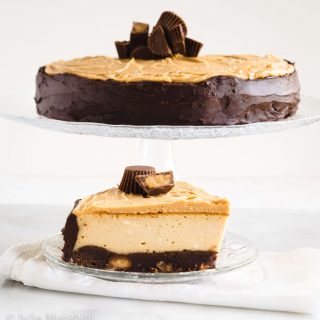 Buckeye Brownie Cheesecake Recipe
Buckeye Brownie Cheesecake is decadent and delicious. You're going to want to make this rich and creamy cheesecake over and over.

Ingredients
Brownie Bottom
4

oz

dark chocolate

bittersweet or at least 60% cocoa

4

oz

unsalted butter

1 stick

1/4

tsp

salt

5

oz

granulated sugar

1

tsp

vanilla extract

3.3

oz

all-purpose flour

5

oz

mini peanut butter cups

cut in half, about 16
Peanut Butter Cheesecake
16

oz

cream cheese

softened

3.5

oz

granulated sugar

6.3

oz

peanut butter

2

tsp

corn starch

3/4

cup

heavy whipping cream

1/8

tsp

salt

(pinch)

1

tsp

vanilla extract

3

eggs
Chocolate Ganache
12

oz

semi-sweet chocolate chips

1

cup

heavy whipping cream

1/8

tsp

salt

(pinch)
Peanut Butter Glaze
2

oz

unsalted butter

1/2 stick

6.3

oz

peanut butter

3

oz

powdered sugar

confectioners

1/8

tsp

salt

(pinch)
Garnish: Mini peanut butter cups cut in half (optional)
Instructions
Brownie Bottom
Preheat the oven to 350°F. Butter an 8-inch springform pan and then line the bottom with parchment paper. Apply additional butter to the parchment paper and then dust bottom and sides with all-purpose flour.

Melt the chocolate, butter, and salt together in a medium-sized bowl in 30-second increments in the microwave stirring between until smooth. Stir in the vanilla and sugar and let cool slightly.

Add the eggs one at a time, whisking to combine after each addition. Fold in the flour until smooth and then add the peanut butter cup halves. Pour into the prepared pan.

Bake for 15 minutes. Place on a wire cooling rack to cool slightly.
Peanut Butter Cheesecake – Prepare while brownie layer is baking
Reduce the oven temperature to 300° after the brownie layer is baked.

In the bowl of an electric mixer fitted with the whisk attachment, combine cream cheese and granulated sugar. Whip until smooth and creamy. Add the peanut butter, cornstarch, salt, and vanilla. Beat until smooth and creamy. Add the eggs one at a time, mixing after each addition.

Wrap the outside of the springform pan tightly with two layers of aluminum foil to assure that it's completely sealed. Pour the Peanut Butter filling into the pan. Place a larger pan into the oven and fill the bottom with very hot water. Place the springform pan in the water bath. Add enough water to assure that the water comes up to the middle of the springform pan. Bake 60 to 70 minutes. until the cheesecake is set but slightly jiggly in the middle when you shake it gently.

Turn the oven off and let the pan sit in the oven for 15 minutes with the door ajar. Cheesecake will continue to finish cooking and it helps prevent cracking.

Remove the cheesecake from the oven and remove it from the water bath. Let cool completely; this can take up to 4 hours. Gently loosen the cheesecake from the pan and place it on a plate. If the cake sticks, gently loosen it with a thin knife. Cover the cheesecake and refrigerate for at least 8 hours or overnight.
Chocolate Ganache
Combine the semi-sweet chocolate, cream, and salt in a microwave-safe bowl. Heat in 30-second intervals stirring in between until smooth. Allow mixture to cool until it thickens into a spreadable consistency. It's o.k. to cool it in the refrigerator, stirring occasionally.
Peanut Butter Glaze
Melt the butter, salt, and peanut butter together in a microwave-safe bowl in 30-second intervals stirring in between. Add the powdered sugar and mix until smooth. The glaze will thicken as it cools.
Decorate
Spread the chocolate ganache along the sides of the chilled cheesecake and spread the peanut butter glaze over the top. Garnish with additional peanut butter cups (optional).
Nutrition
Calories:
720
kcal
Carbohydrates:
51
g
Protein:
12
g
Fat:
54
g
Saturated Fat:
27
g
Polyunsaturated Fat:
5
g
Monounsaturated Fat:
18
g
Trans Fat:
1
g
Cholesterol:
122
mg
Sodium:
343
mg
Potassium:
427
mg
Fiber:
4
g
Sugar:
37
g
Vitamin A:
1092
IU
Vitamin C:
1
mg
Calcium:
88
mg
Iron:
3
mg
Nutritional Disclaimer
This recipe was calculated using the exact brands and measurements I used to make this recipe. If you are following a strict diet please note changing anything will cause the nutritional info to change. My calculations are intended as a guide only.
Now if you love a cake like I love cake here are a few more that we love!