This post contains sponsored content. Complimentary food and drinks were provided by Dante Ristorante Pizzeria. All opinions are 100% mine.
Dante Ristorante Pizzeria of Omaha is a dining treasure. They are committed to providing guests with an authentic Italian experience, from their wine list to the menu.
I was recently given the opportunity to attend an event at Dante Ristorante Pizzeria showcasing some new items on their Spring menu. I didn't hesitate for one itty bitty minute. You see, Dante Ristorante Pizzeria is John and my favorite date night place.
Dantes feature authentic wood-fired Neapolitan pizza and rustic Italian cuisine. Chef and owner Nick Strawhecker opened the restaurant in 2009. Chef Nick has such vision and creativity when it comes to the menu. He attributes his inspiration to local readily available ingredients as well as his culinary education and experience from all over the world including Italy.
[clickToTweet tweet="Authentic Italian dining at Dante Ristorante Pizzeria #ad #danteomaha #dineatdante #dineindelight" quote="Authentic Italian dining at Dante Ristorante Pizzeria"]
The atmosphere at Dantes is vibrant with a casual elegance. The freshness of the menu is evident in every dish, and feature cuisine that you will not find anywhere else. Our culinary adventure started with a beautiful glass of Santa Giustina "1937" spumante brut roasto. It was our first of 4 Italian wines and 1 French wine that accompanied our courses.
A lot of people think that you should serve red wines with Italian food. General Manager and Sommelier Adam Weber proved that this doesn't have to be the case. Adam is the first person in the state of Nebraska to receive the esteemed Italian Wine Professional designation and only one of 120 in the United States. Each wine that Adam chose for us was a perfect compliment to the course that was served. When John and I dine at Dante Ristorante Pizzeria we often rely on Adam to choose our wine.
Our first of SIX antipasti courses was a flax cracker crostini with raspberry and a 12-month capocollo. I can't tell you how smooth and silky that capocollo was and it contrasted perfectly with the sweetness of the raspberry and the crunch of the flavorful cracker.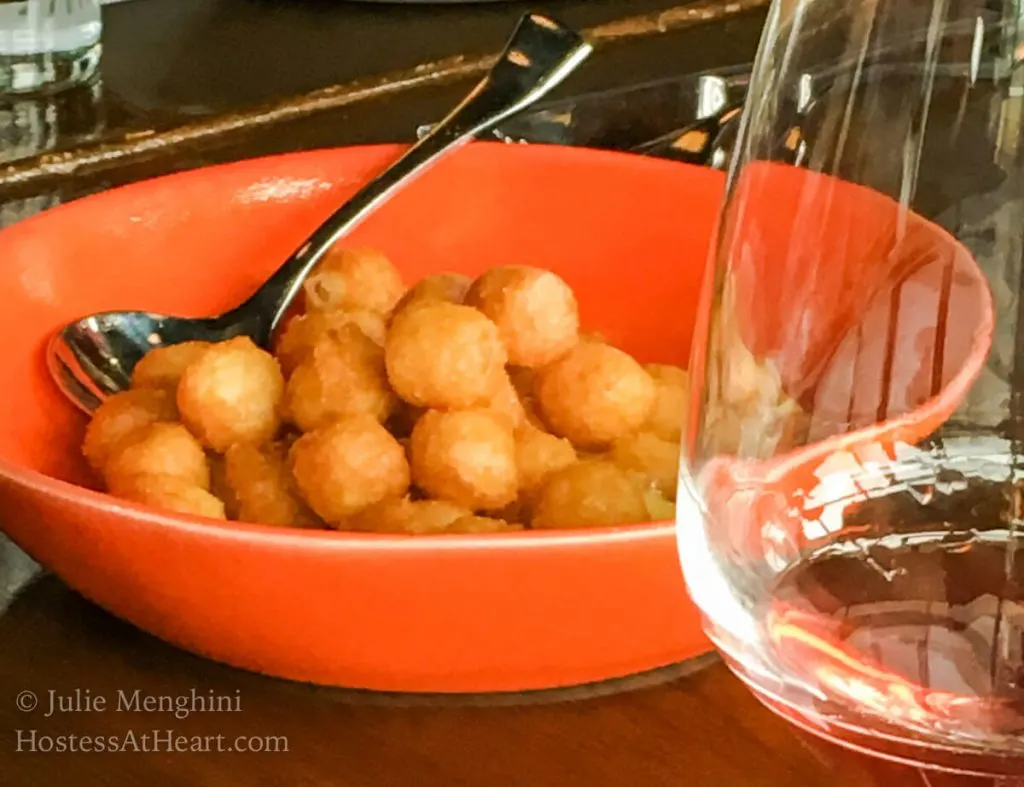 We were served fried potato puffs & fonduta. Fonduta is described as a type of Fontina cheese that is typically served in northern Italy. This dish is like sexy tater tots in a cheese fondue. I think they had to take that bowl away from me, it was amazing!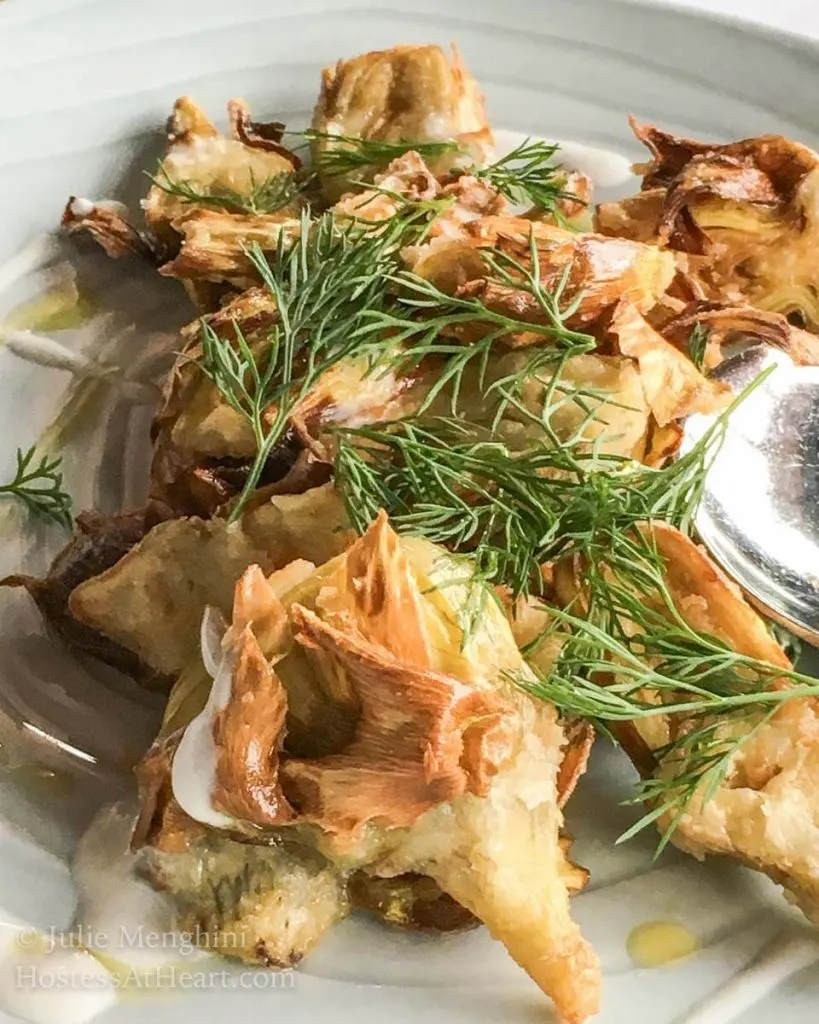 I love artichokes, but I'd never had fried artichokes with homemade creme fraiche, bottarga & dill! Has anyone? I'll guarantee you it will not be the last time. This dish had a subtle richness to it and was so flavorful. The beauty was in the ingredients themselves.
I've never used sunchokes and heard that there's a certain way to prepare them. I might be sneaking into Dantes kitchen to learn the secrets of this Spring Sunchoke soup with salt and vinegar fried sunchokes. This soup is lusciously creamy and the fried sunchokes provide the perfect delicate crunch.
We finished our Antipasta courses with two flatbreads. The first was Prosciutto, first of the year arugula and bufala mozzarella.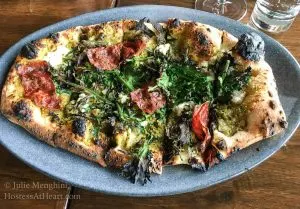 The second was a pistachio with ricotta, merguez and kale. How does one pick? John and I have ordered the flatbread as a meal and love them.
Our first course was beet tortellini and first of the year arugula. I don't have to tell you what a work of art this dish was. I just wanted to stare at how perfect it looked. That is until I took my first bite. Up to this point, I was careful to just have a bite or two of each course. I destroyed this one like a merchant marine.
For our main course, we had the most beautiful wood-roasted Nebraska wagyu beef with sweet potato gratin. The beef practically melts in your mouth and that sweet potato gratin is a stack of artfully thin slices. We enjoyed a 2014 Paolo Bea Santa Chiara Bianco which was robust enough to accompany the beef as well as any red could.
We finished our amazing dining experience with the Butterscotch Budino with Sea Salt and Caramel adorned with a Nebraska Pecan Biscotti. I've had this dessert before but it was the FIRST time that I didn't have to share and mischievously texted the photo to John. I earned my spot into the clean plate club for this course too.
I want to thank Chef Nick Strawhecker, Adam Weber, and the other staff individuals that worked so hard to make this such an enjoyable event. We had a beautiful setting of daylight, rustic wood, wine glasses, and flower arrangements and the food was over the top. We've attended food and wine venues at Dantes before and they're always top notch. You can learn more about this treasure called Dante Ristorante Pizzeria by visiting their website.
Let's keep in touch! You can find me on Pinterest, Instagram, Facebook, Twitter, and YouTube! Better yet, enter your email address in the box below and never miss a recipe!