THIS POST CONTAINS SPONSORED CONTENT. COMPLIMENTARY FOOD AND DRINKS WERE PROVIDED BY DANTE RISTORANTE PIZZERIA. ALL OPINIONS ARE 100% MINE.
Dante Ristorante Pizzeria of Omaha is a Tuscan inspired "Farm to Fork" gem. Dante strives to work with local and regional producers in an effort to support sustainable local agriculture. You can taste the difference in their food.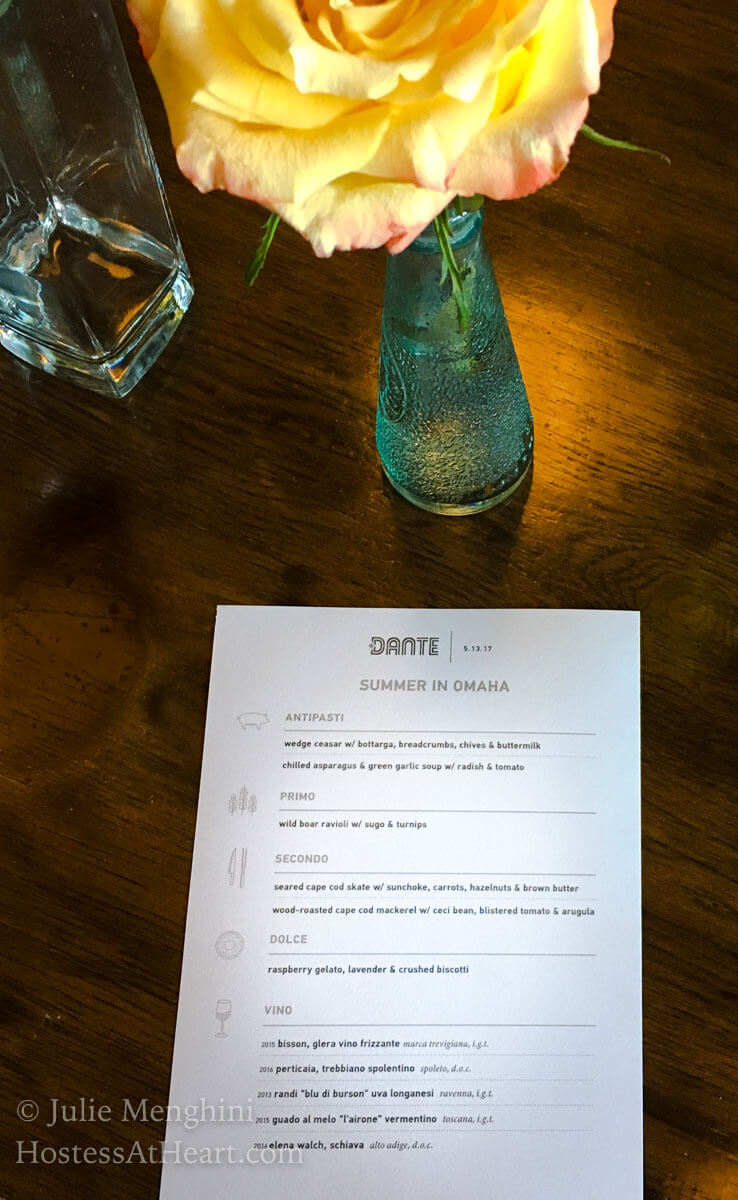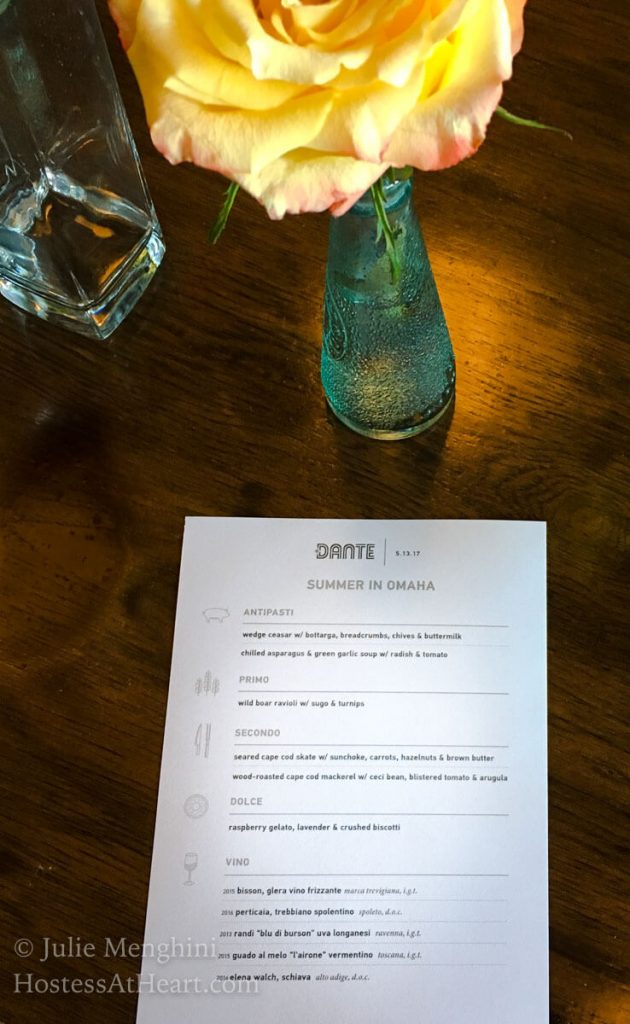 You may remember a few weeks ago that I shared my experience and review of Dante Ristorante Pizzeria of Omaha Spring Menu event. This opportunity was actually part one of a two-part opportunity. As amazing as it was, you wouldn't believe what the "Summer in Omaha" menu includes!
I say we because this time my husband John attended with me. We eat (and drink) regularly at Dante's so I thought it would be interesting to get his take on the event. Well, he talked about it to anyone who would listen. Here is why.
We started with a beautiful glass of 2015 Bisson, Glera Vvino Frizzante poured and described by General Manager and Sommelier Adam Weber. This wine was like a bright sparkling white. In my opinion, it screams summer and it would be amazing to sip a glass on the Dante patio with one of their freshly made cheeses, meats, and bread.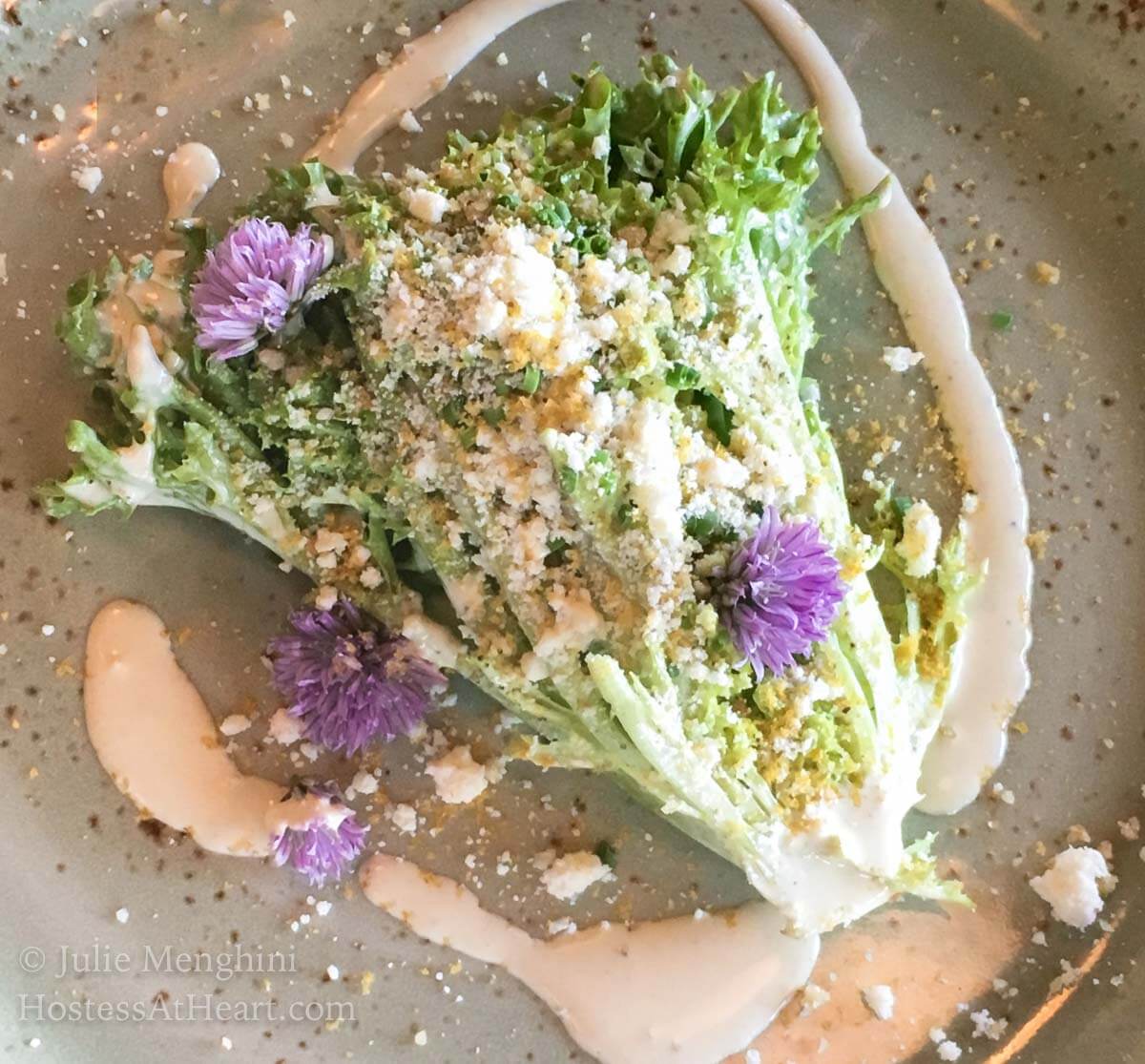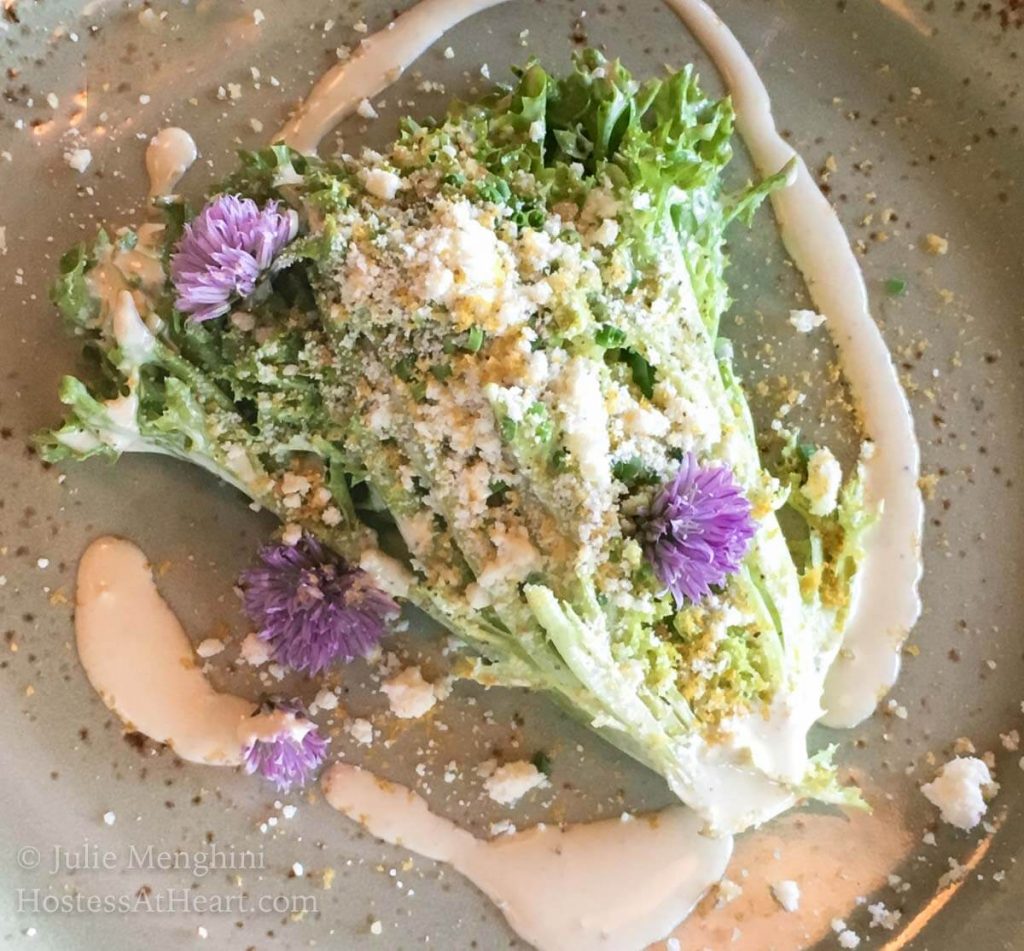 At this event, it proceeded the most colorful and delicious wedge Cesar with bottarga, breadcrumbs, chives and buttermilk dressing. The chive is actually the purple flowers. I didn't even know they were edible. They have a much softer and delicate flavor.
At the earlier event, I was careful to pace myself. There wasn't any kind of restraint at this event. The next antipasti course featured a chilled asparagus & green garlic soup with radish and tomato. This soup had a complex herbaceousness while still creamy and paired perfectly with the crisp 2016 Perticaia, Trebbiano Spolentino wine.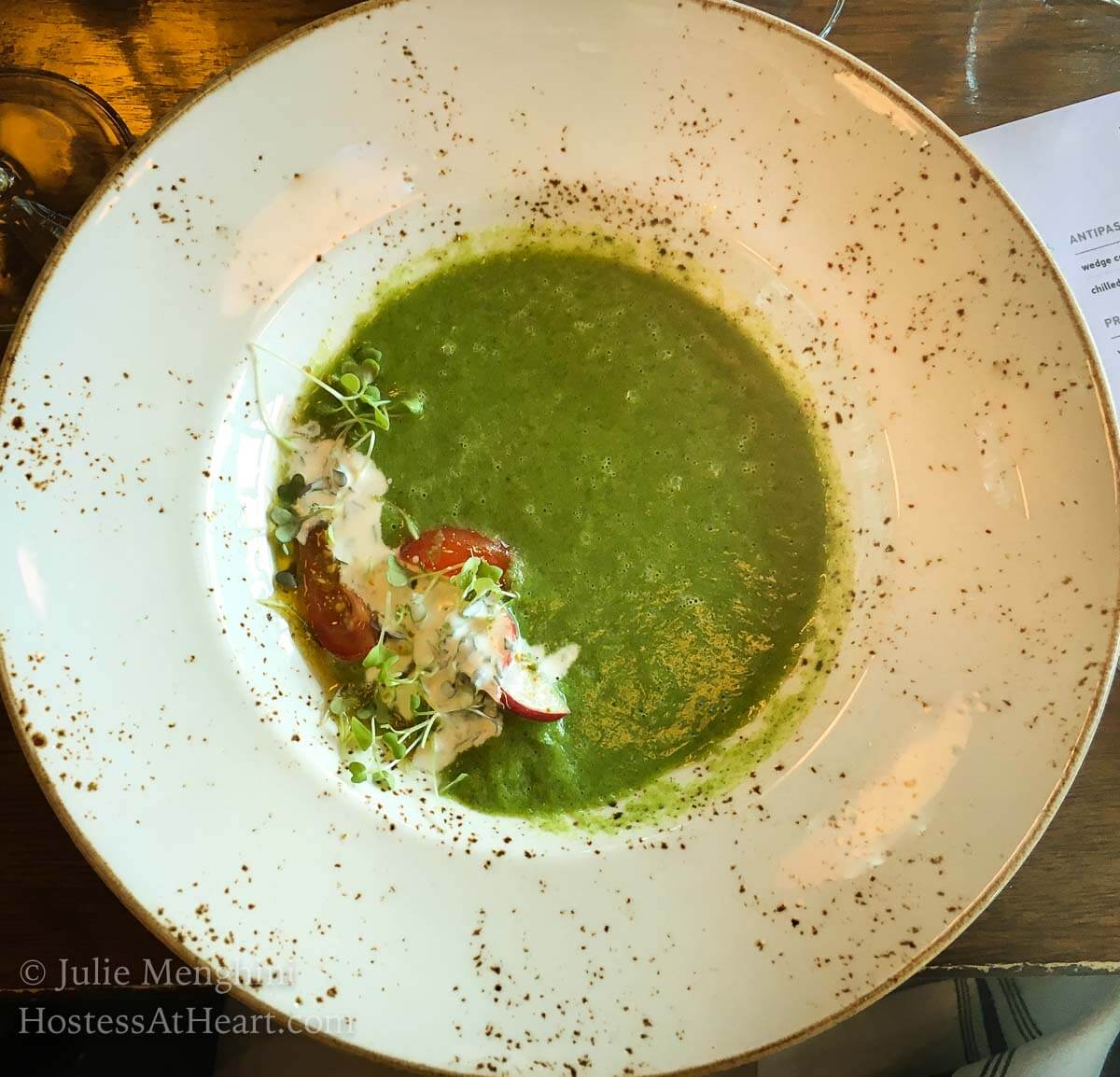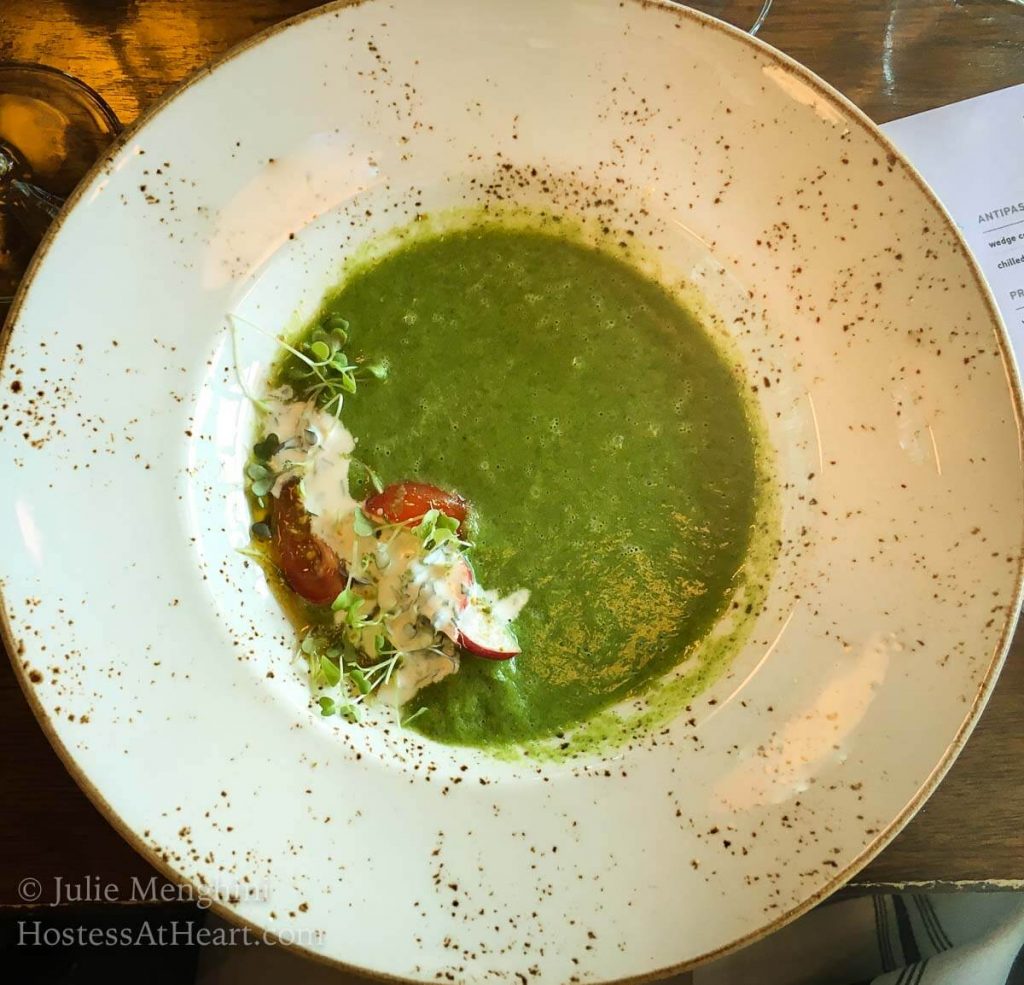 The Primo selection was my favorite. It was a Wild Boar Ravioli with Sugo (Italian meat sauce) and turnips. I was prepared for a gaminess flavor that never came. Owner and mastermind Chef Nick Strawhecker explained that this meat is slow cooked for 7 hours and the ravioli is made up with fresh pasta as it's ordered. The result is layers of smooth and rich flavor just like the 2013 Randi "Blu di Burson" uva Longanesi which comes from the youngest Italian varietal and like the other wines at Dante organic and sustainable.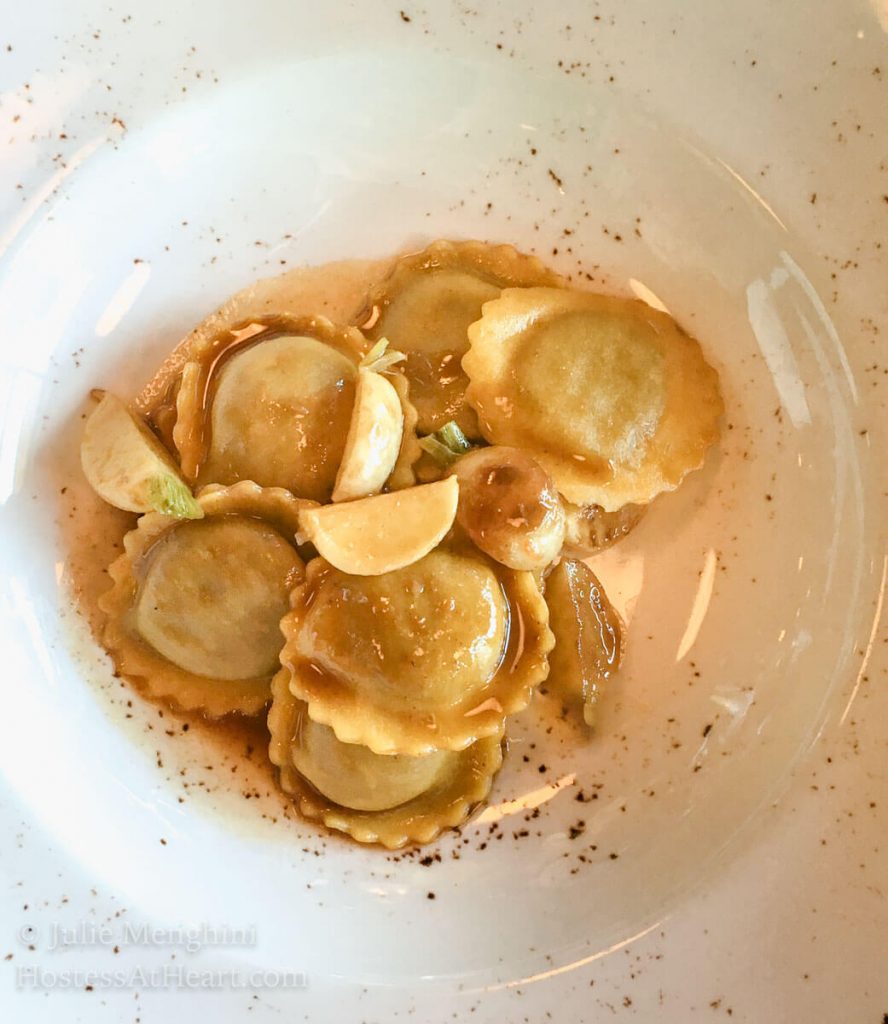 We enjoyed two Secondo courses. The first is a southern Italy inspired Seared Cape Cod Skate with Sunchoke, Carrots, Hazelnuts and Brown Butter. I've never had fish that tasted like this. It bordered on a buttery chicken flavor. And those carrots are one sexy tasting vegetable just like our vino, a 2015 Guado Al Melo "L'airone" Vermentino from Toscana.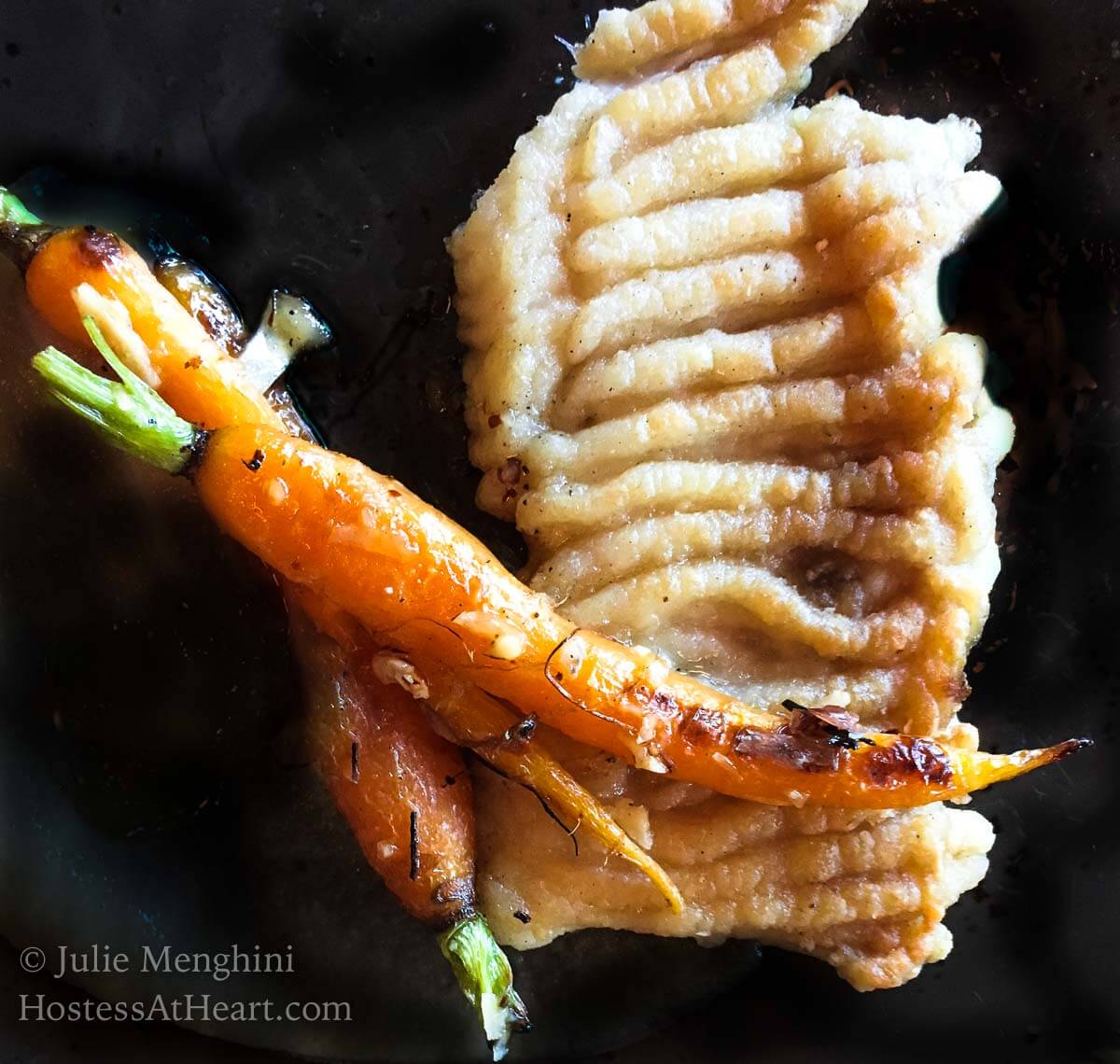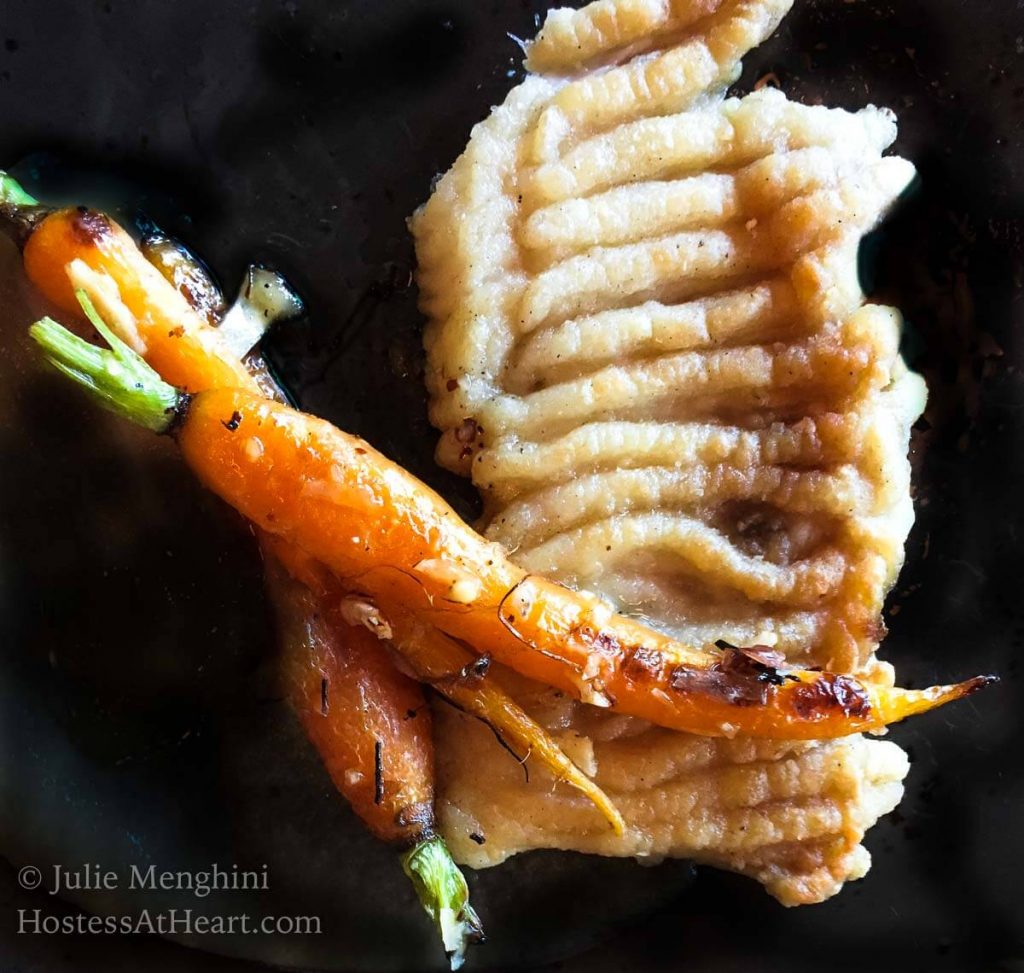 Our final Secondo dish was a Wood-roasted Cape Cod Mackerel with Cici Bean, Blistered Tomato, and Arugula. How do you dream up dishes like these folks? This Mackerel was John's favorite. It was melt-in-your-mouth delicious. I remember not eating it quickly enough and John finishing it off. That was o.k. though because it was time for dessert!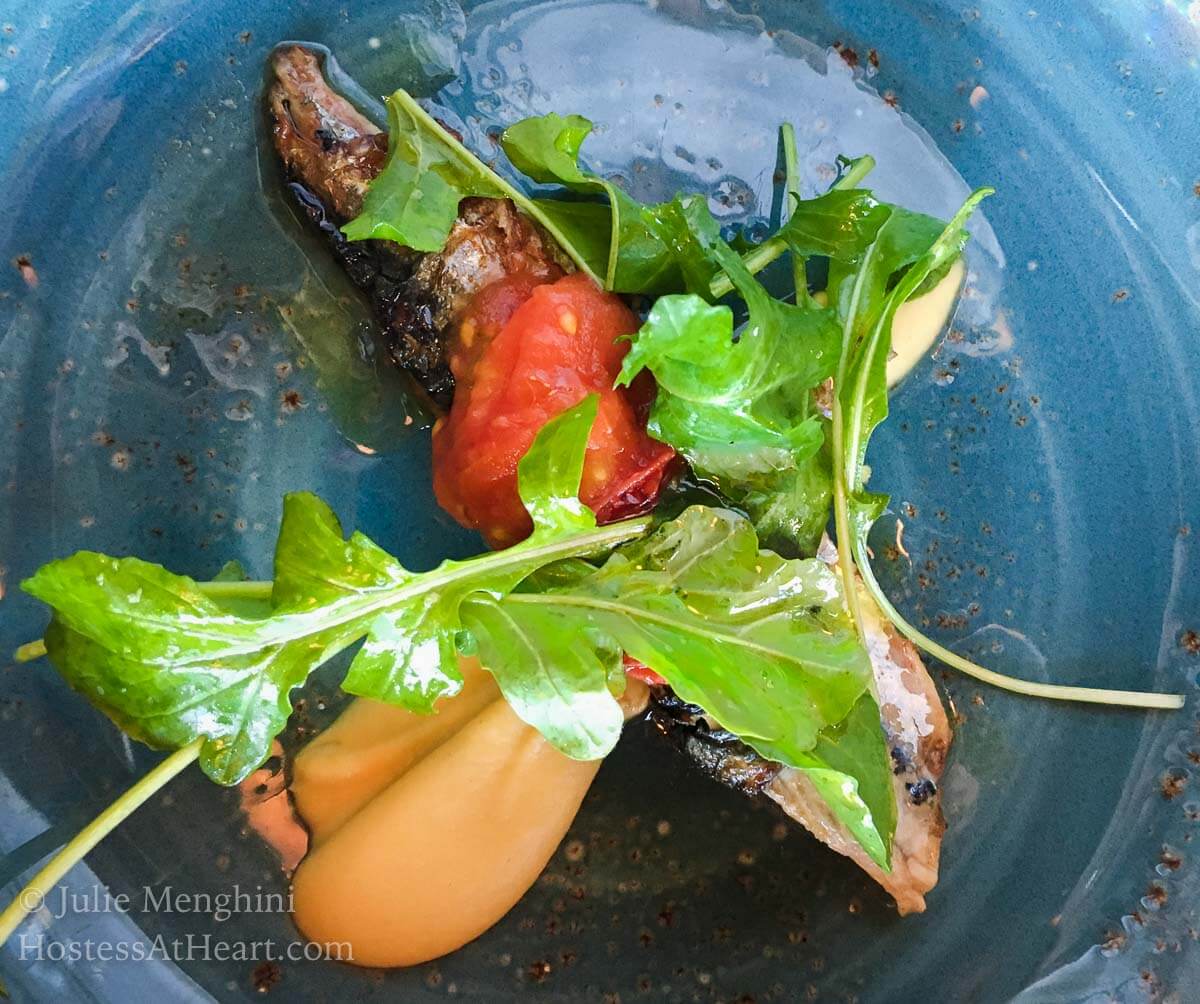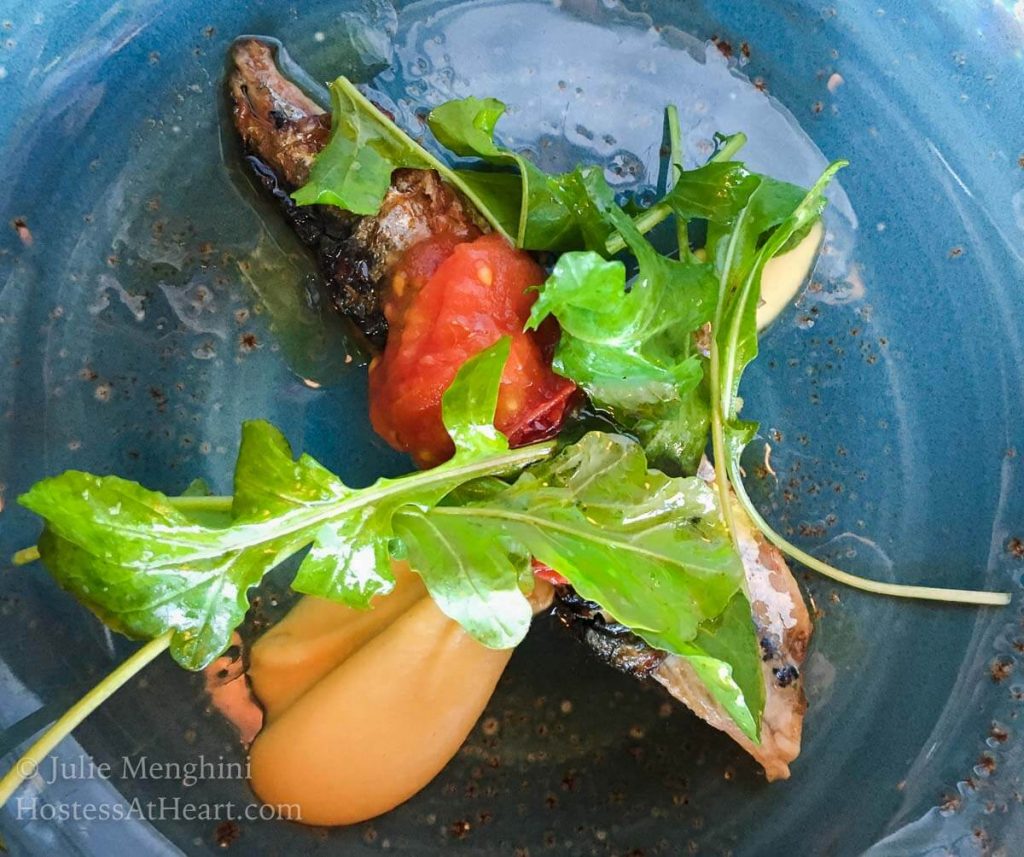 Our Dolce course was a Raspberry Gelato, Lavender and Crushed Biscotti dessert, served with a 2016 Elena Walch, Schiava from the Italian Alps area. It is a dessert wine that paired, once again, perfectly. The Gelato was so smooth, creamy, and the perfect touch of sweetness to finish this amazing meal. There wasn't a bite left on the entire table.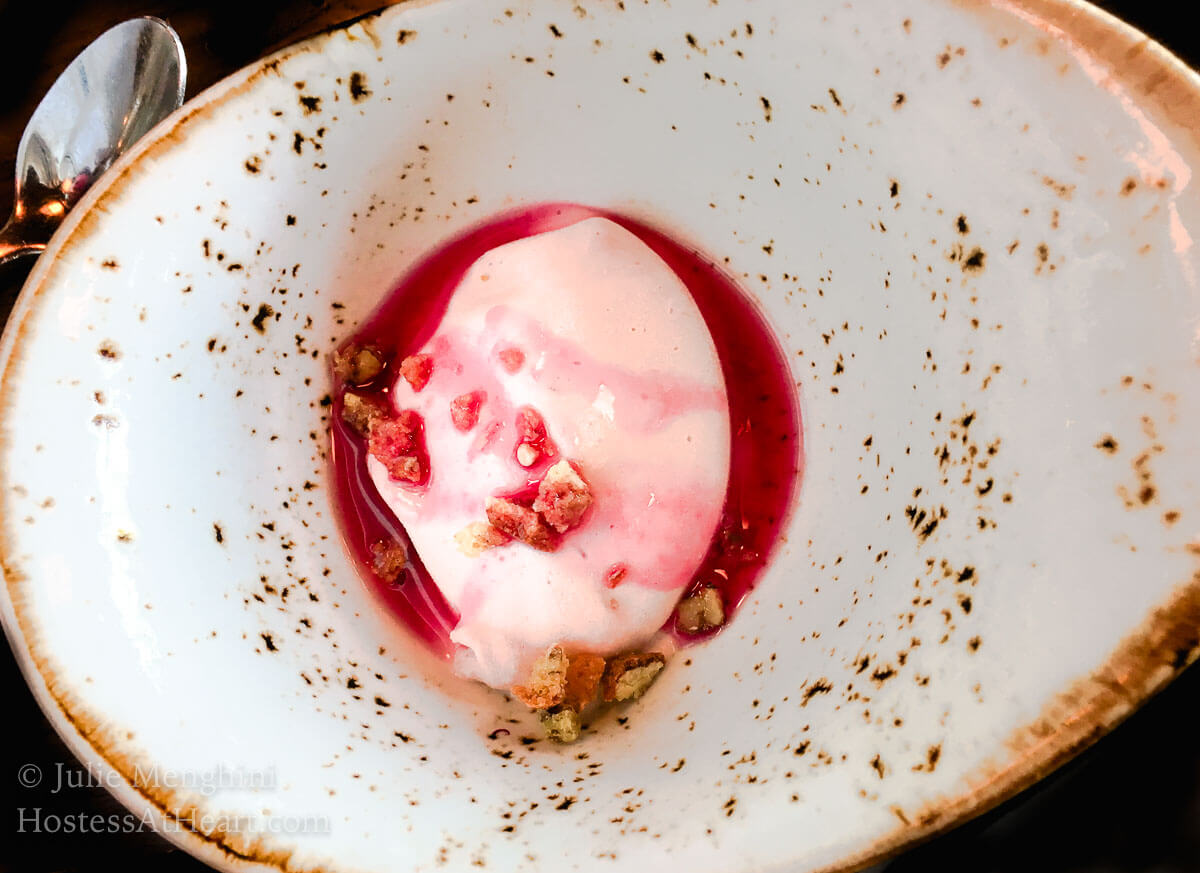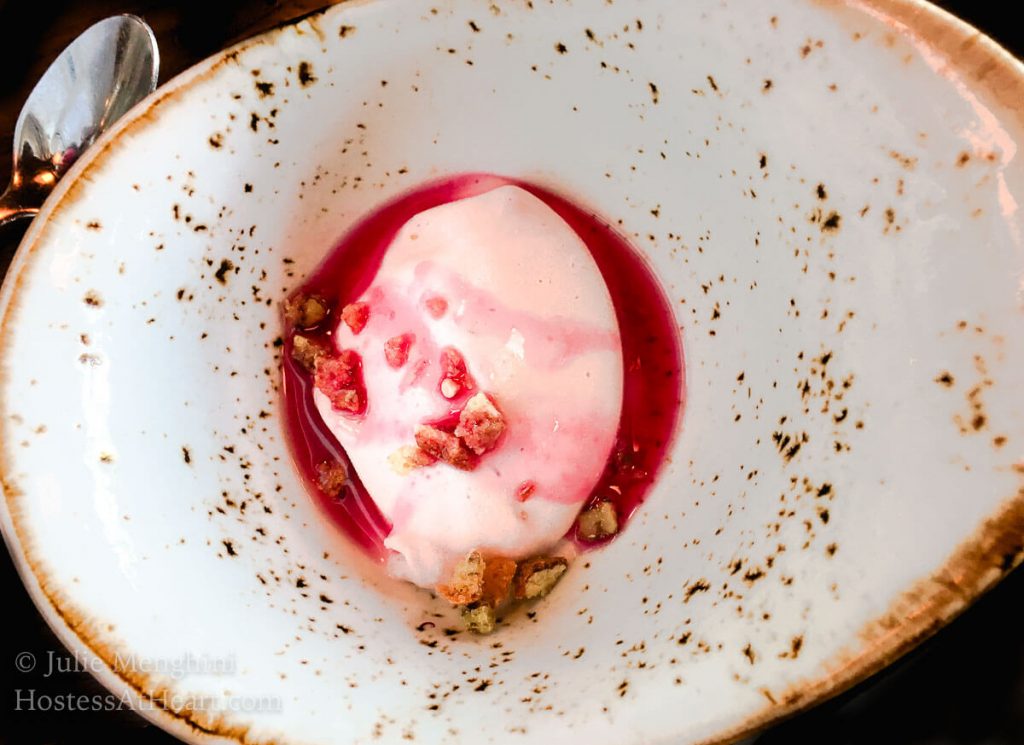 This was a fancy meal, but when you dine at Dante Ristorante Pizzeria you will be amazed at how reasonably priced the food and wine is. Even their wood-fired pizza is amazing. They take three days to develop the dough. You can call to order 402.932.3078 and have your own party food and wine to go or have them cater your next event!
This was a memorable dining experience and we feel so fortunate to have been included. The staff at Dante will make you feel like royalty, but also like family. I want to thank Chef and Owner Nick Strawhecker for sharing his talent and graciousness with us and General Manager and Sommelier Adam Weber for broadening our knowledge and taste buds for Italian wine. Be sure to visit them online for more information and reservations!
Let's keep in touch!  You can find me on Pinterest, Instagram, Facebook, Twitter, and YouTube! Better yet, enter your email address in the box below and never miss a recipe!