Cookies are always perfect for entertaining, and everyone will love this Halloween Cookie! It's a fun activity to involve the children in too.

I have always loved Halloween (insert disclaimer here). I'm a big chicken when it comes to haunted houses or scary movies. I don't want my heart leaping out of my chest or listening for every creak in the house, imagining that Freddie Krueger snuck in while I was gone. That said, no one would be afraid of this Halloween Cookie.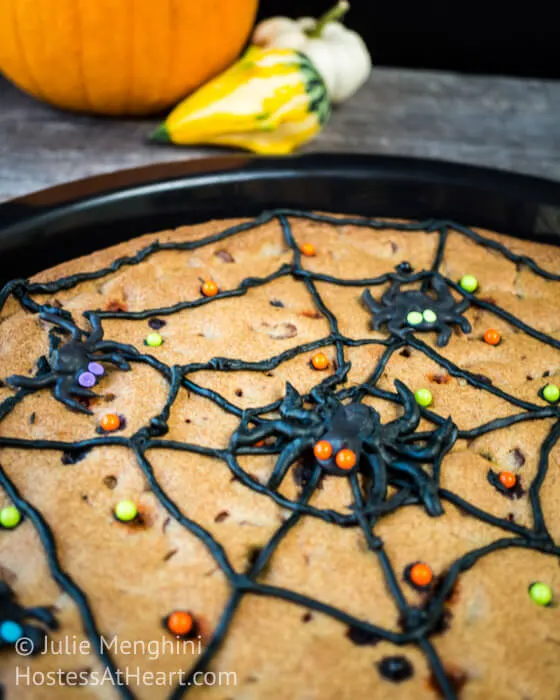 We had some friends over for a BBQ, and that gave me a great excuse to make a spooky creepy crawly treat. Actually, these little spiders didn't scare anyone, and they were fun to make. My inspiration was from That Skinny Chick.
For the spider web and the large center spider, I used a pre-made frosting with a decorating tip. I found it very difficult to work with, and I lost a lot of control because the consistency of the frosting wasn't the easiest to work with.
The perfectionist in me was disappointed that my spider web wasn't perfect. I also placed little colored balls on top of the raw cookie dough, but most of them sunk while baking, so I just put new ones on top of the cookie after it cooled a bit. Adapt and conquer I say!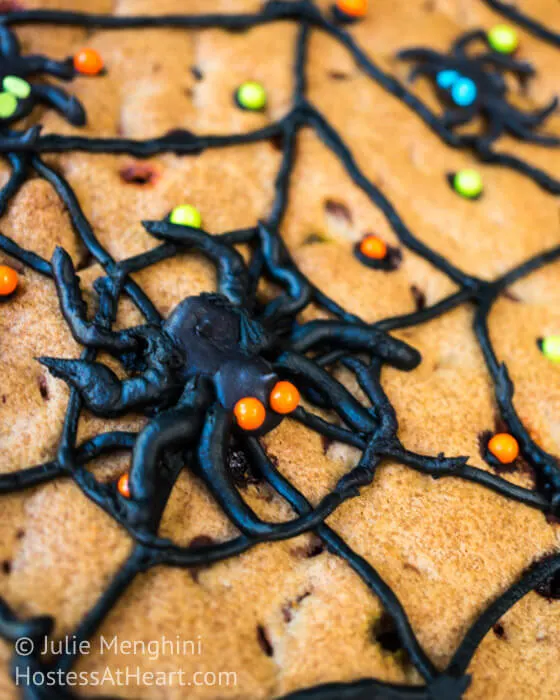 For the little spiders, I used royal frosting and made these little spiders on a piece of wax paper with a photocopy spider on the underside. Once they set, I carefully transferred them to the cookie. Also, let the cookie cool completely before you let those spiders jump on.
This project would be perfect for the kiddos. They can add candy pieces, candy corn, or some fun sprinkles. This cookie would also be welcome at your Halloween party! Are you making any Halloween goodies? I would LOVE to see them, so give me a shout-out!
Here are a few other fun projects that the kiddos would love to help with.
You can find a lot of fun "How To" tutorials on our blog!