Julienned Zucchini Noodles with Chicken meatballs is a healthier lite dish that can be made in under 30 minutes. It has an Italian flair that pasta lovers will adore.
Julienned Zucchini Noodles with Chicken Meatballs post is sponsored by Baker's. This recipe and opinions are 100% my own.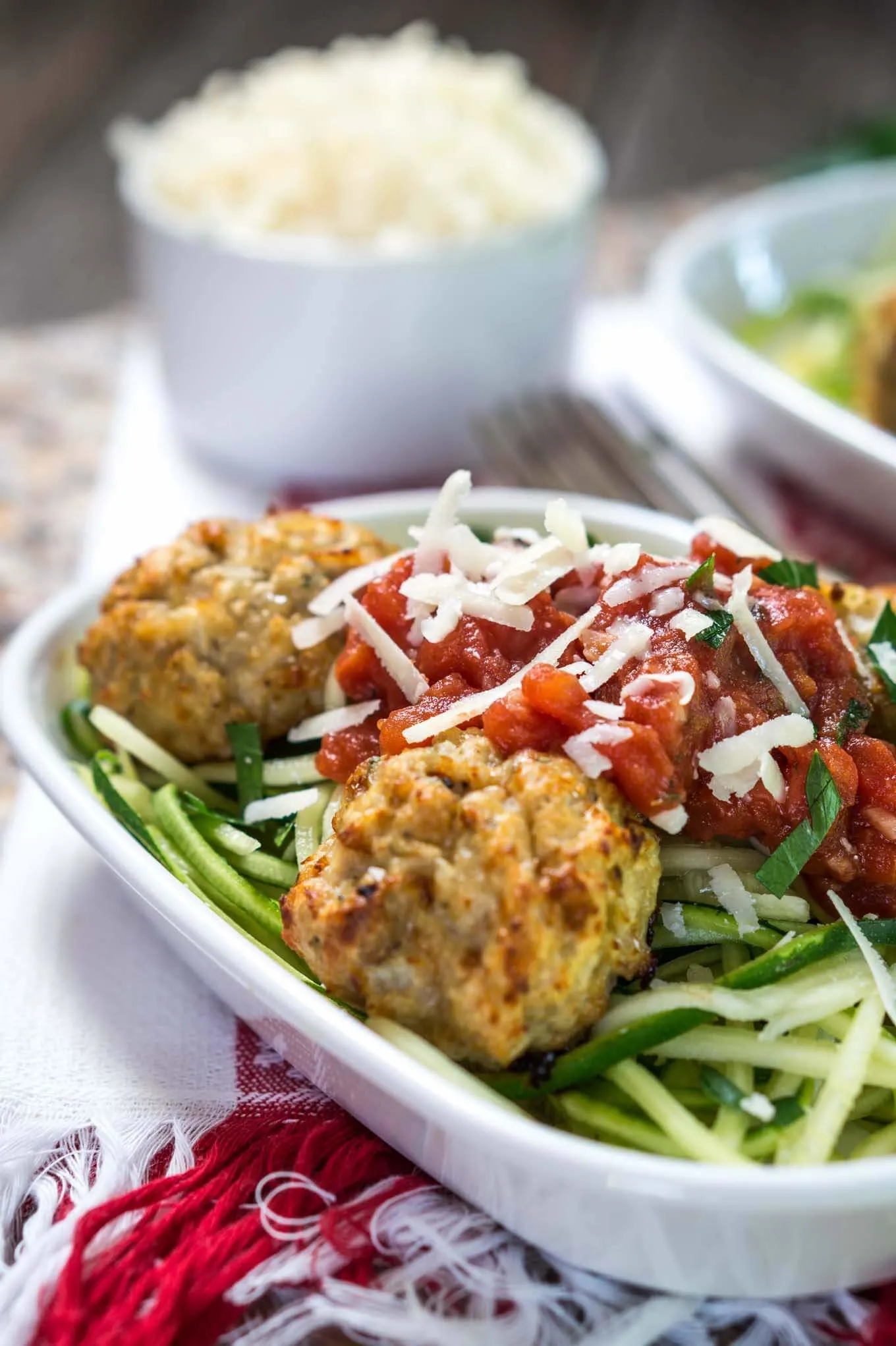 I have to fess up. I'm always telling you about my attempts to get John to try vegetables and whole grain foods outside of his comfort zone.
The truth is I've really been dragging my own feet when it comes to zucchini noodles. That is until I made Julienned Zucchini Noodles with Chicken Meatballs.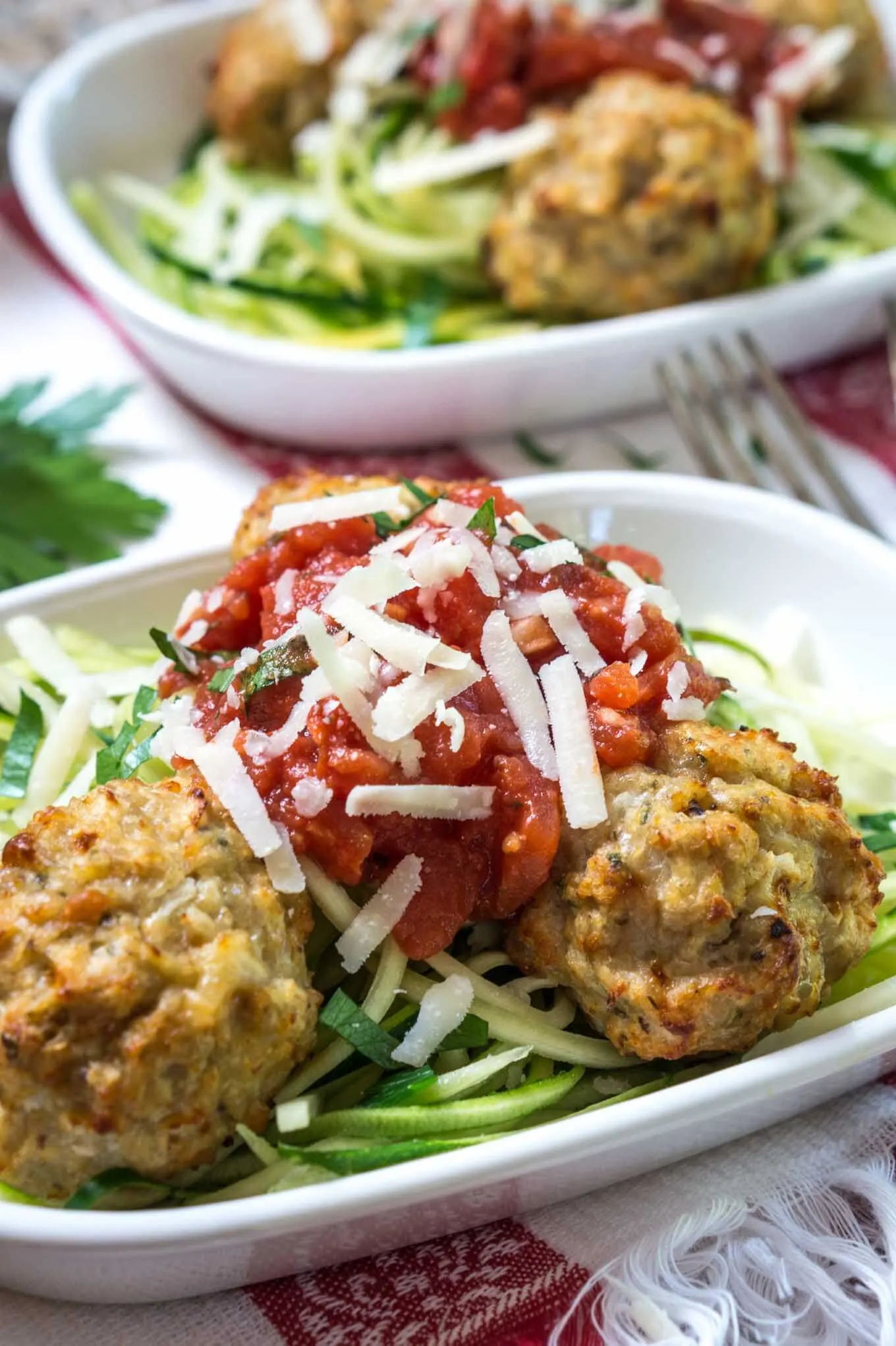 I just love fresh produce and am panicking that it will not be around long enough for me to get my fill. So when I went to my Baker's Supermarket I headed for the produce department.
I've been making a zucchini and yellow squash dish for several years and went over to the squash section. I decided to challenge myself and give zucchini noodles a try.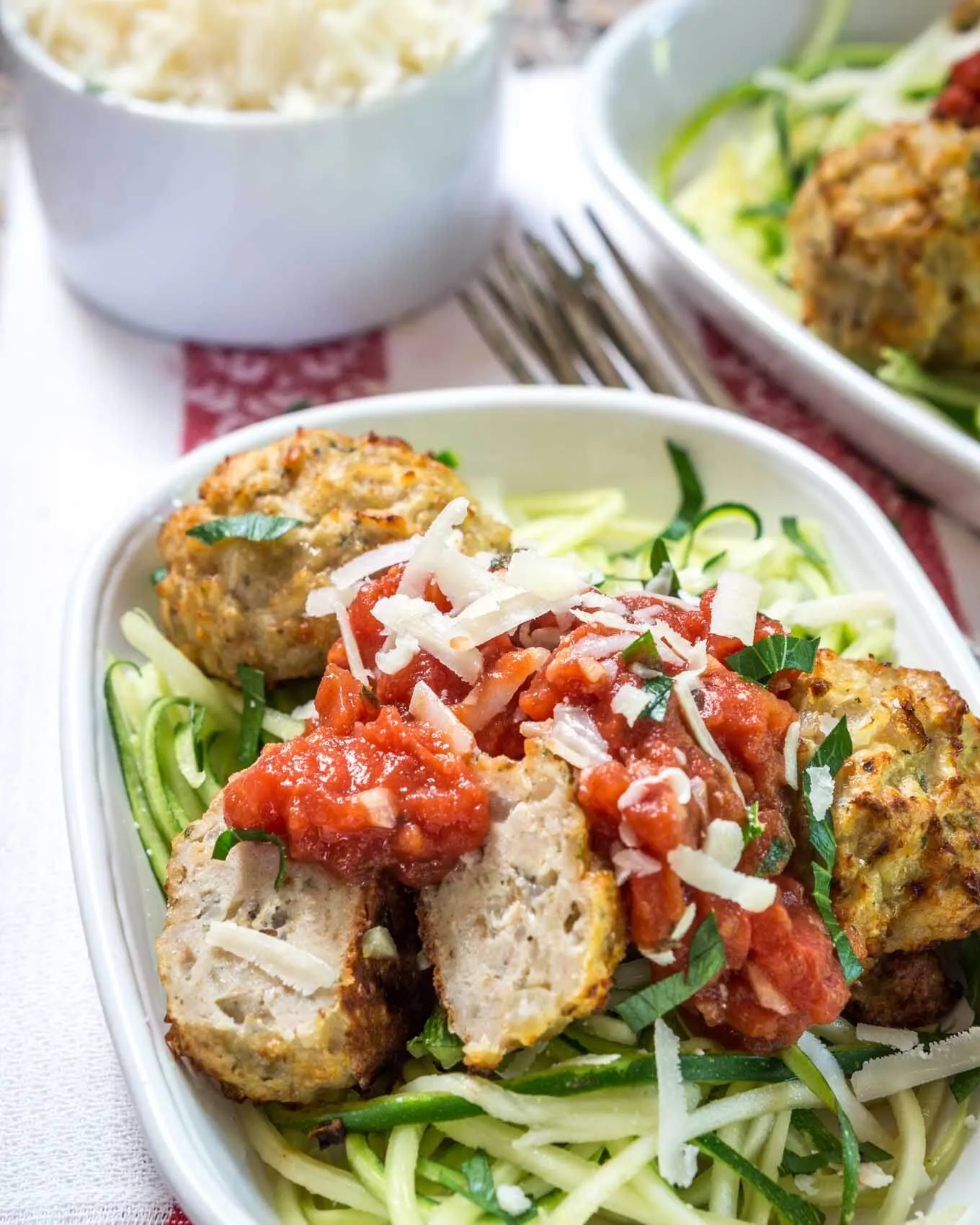 John had chicken meatballs at one of our favorite restaurants a long time ago. It was always my intention to try and recreate them but I just never got around to it.
So I thought they could be a healthy addition to my zucchini noodles.[Tweet "Julienned Zucchini Noodles with Chicken Meatballs #ad @BakersGrocery"]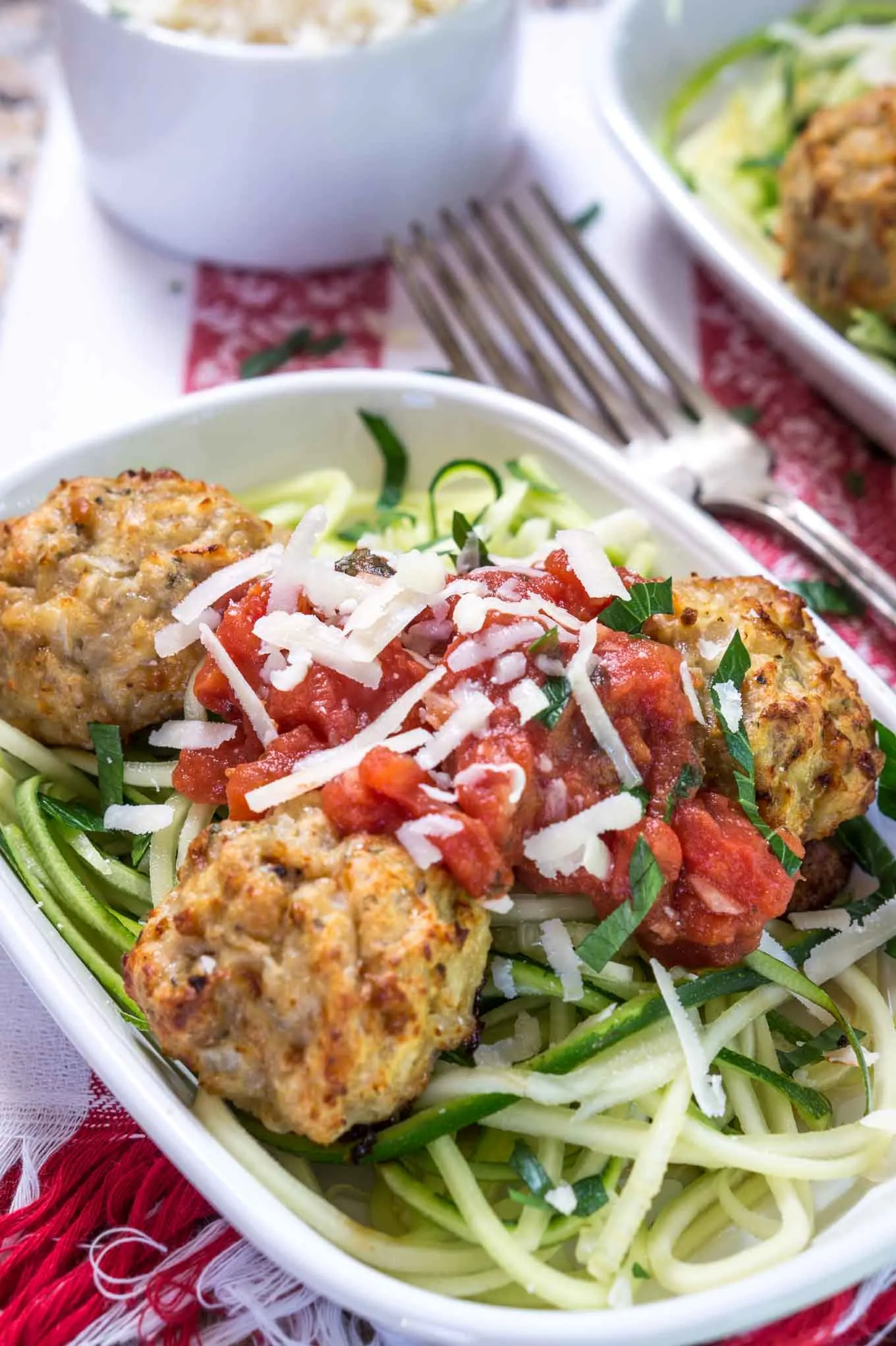 Never having made zucchini noodles, I read that they are 75% water and can overcook very easily. You can microwave them, boil them for one minute, or eat them raw. I decided I would let my hot sauce warm them up and not to cook them at all.
I also decided to use my julienne peeler to make my noodles. Spiralizers are all the rage right now but I have so many kitchen toys that I don't use enough to justify having them. Plus I didn't want to make a recipe that required special equipment.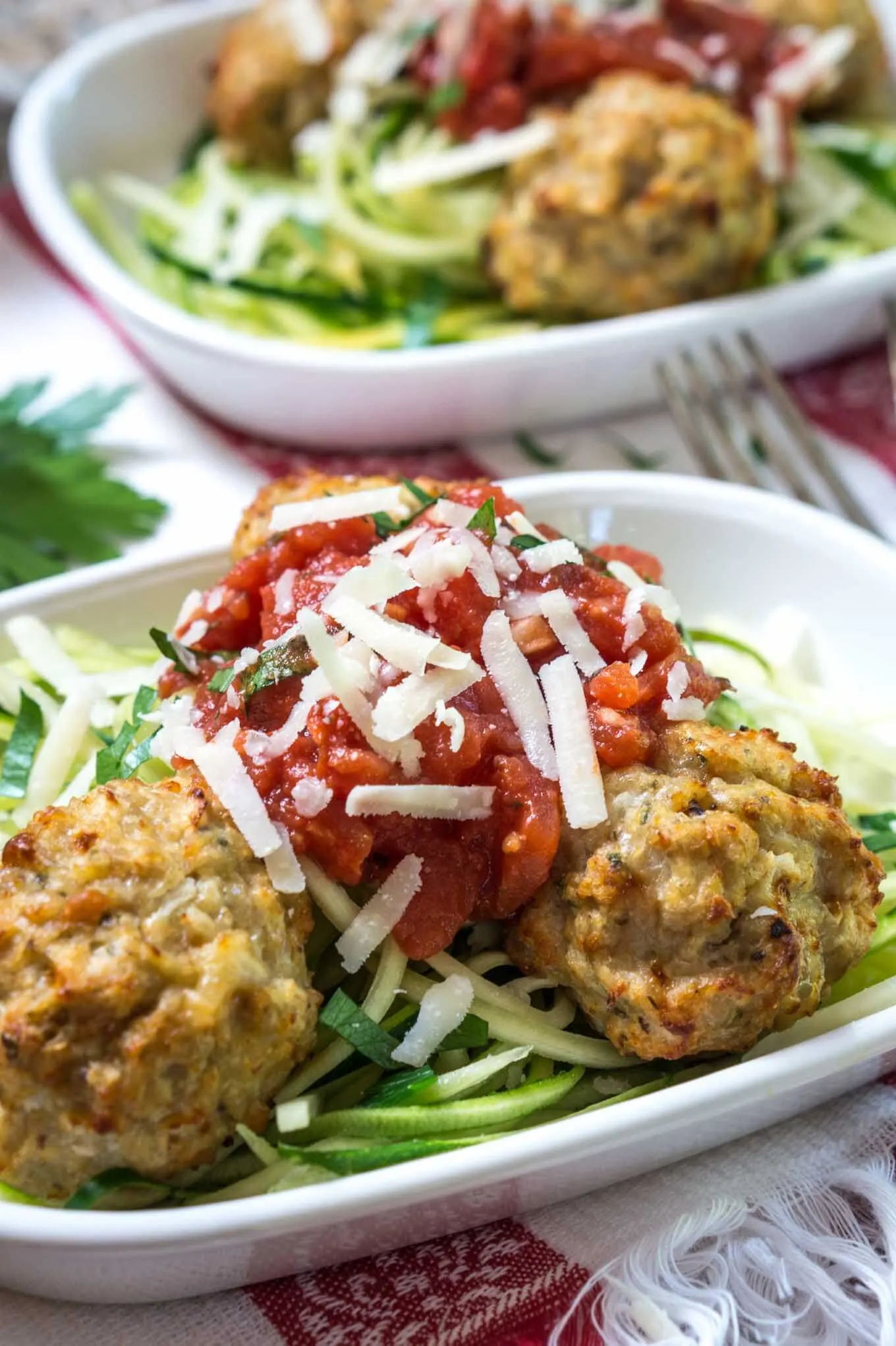 The julienne peeler worked great. I just cut off the ends and ran it down the side of my zucchini and then pulled them apart.
I stopped when I got to the seeds. You may not, but I found that they tended to break once I got to the seeds.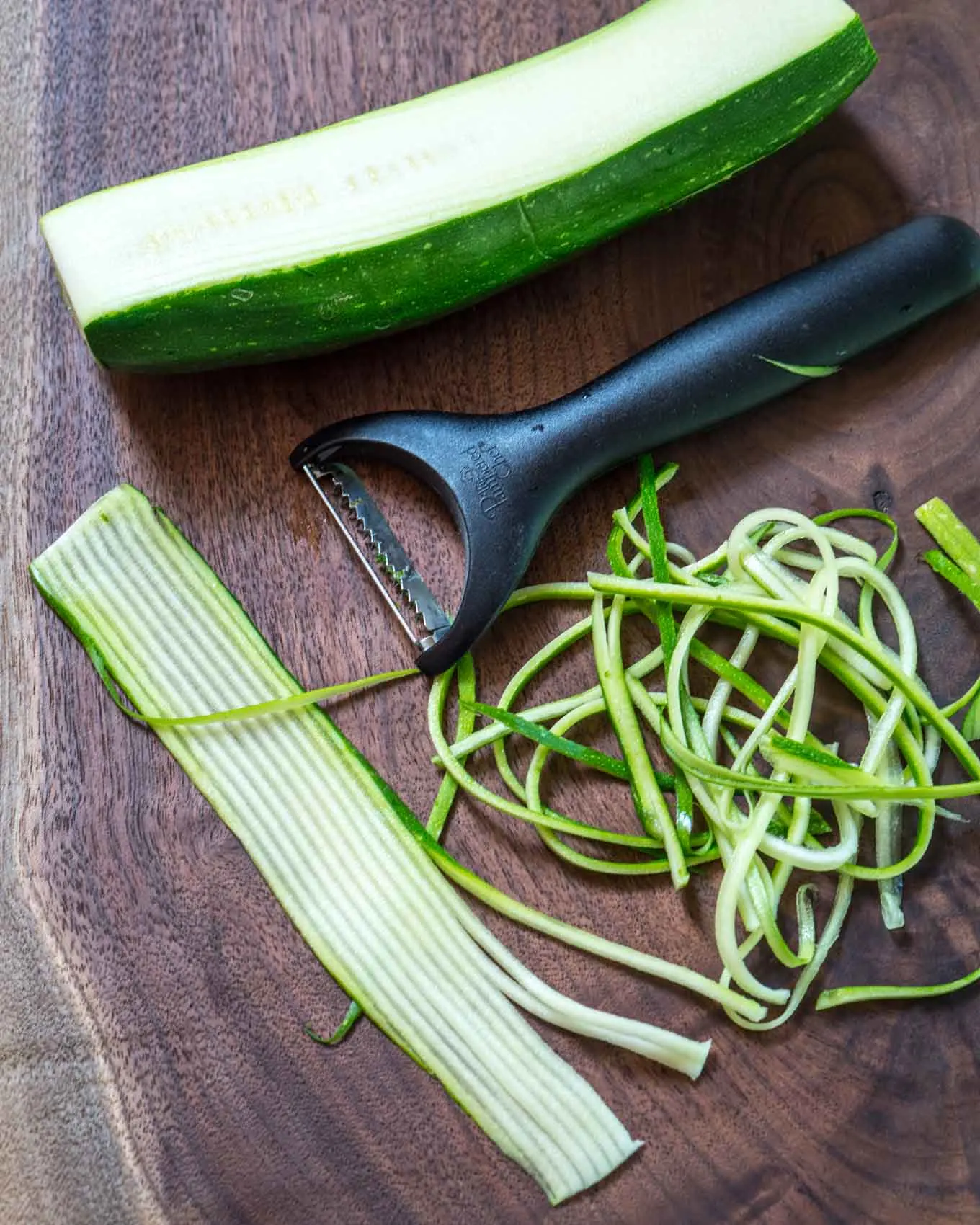 My sauce was very quick and simple to make as were the meatballs. This entire meal took me less than 30 minutes to get on the table. Best of all, it was just delicious and I got over my reluctance to try zucchini noodles! Bring on the Julienned Zucchini Noodles with Chicken Meatballs!
Don't have time to make it now?

Pin it

for later!
Other recipes that will be delicious with zucchini noodles is White Cheddar Meatballs and Crockpot Mexican Meatballs In Chipotle Sauce
It's always fun to share so let's head over to Fiesta Friday and Saucy Saturdays!
I purchased all of my ingredients (and more) at Bakers Supermarket. I would like to thank the Kroger Co. for supporting this post and Hostess At Heart.