Imagine a basket of golden-brown, sweet molasses brown bread rolls, fresh out of the oven. They're soft, tender, and oh-so-delicious. Dive into this easy recipe, your kitchen will smell heavenly!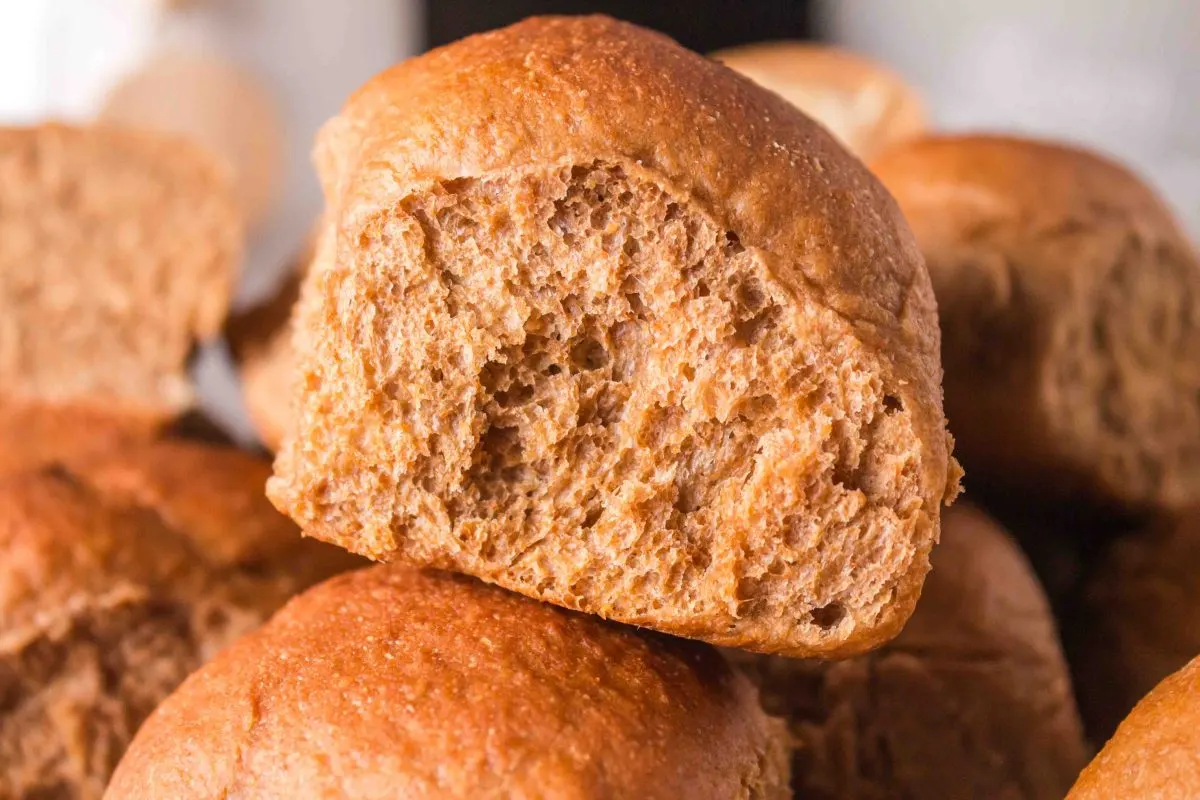 Update: This recipe was originally shared in September 2015. I have updated this recipe to include more details and tips, as well as new photos. I hope you love these Molasses Brown Bread Rolls!
Molasses Brown Bread Rolls recipe is an easy bread roll to make. Molasses and a bit of honey give this easy brown bread recipe a mild sweetness. Topped with our special butter makes them unforgettable!
What does Molasses Bread Taste Like?
The combination of molasses and honey adds just a hint of sweetness to these brown bread rolls. A touch of cocoa gives this bread a depth of flavor but by no means a chocolate flavor.
This Homemade Brown Bread has been compared to the bread served at Outback Steakhouse and Cheesecake Factory restaurants.
There's a reason that we go to those restaurants, and the memory of their Brown Bread Rolls with honey butter is a big one! This recipe, in my humble opinion, resembles that bread that we gorge on.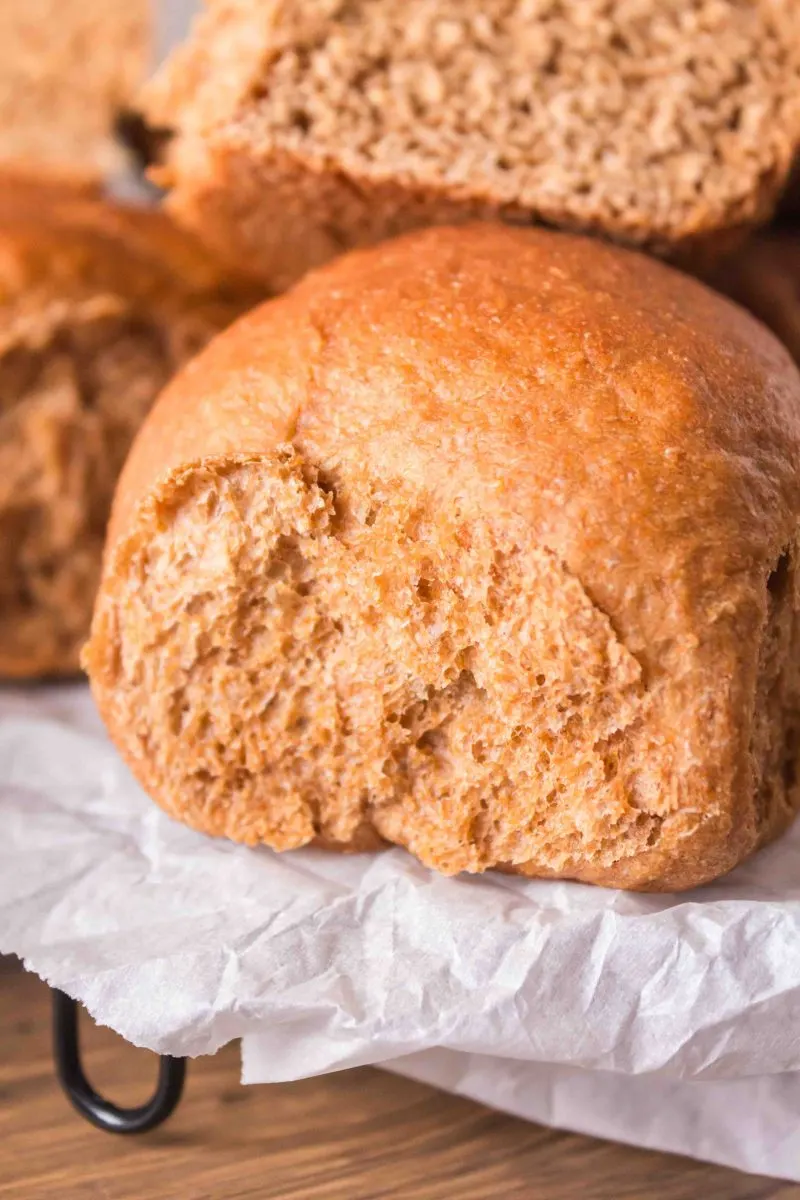 Molasses Brown Bread Recipe Ingredients
The dark color of these sweet molasses dinner rolls comes from the cocoa powder, brown sugar, and molasses. It can vary from light to deep brown depending on the varieties that you use. The color and flavor will vary but one is no better than another.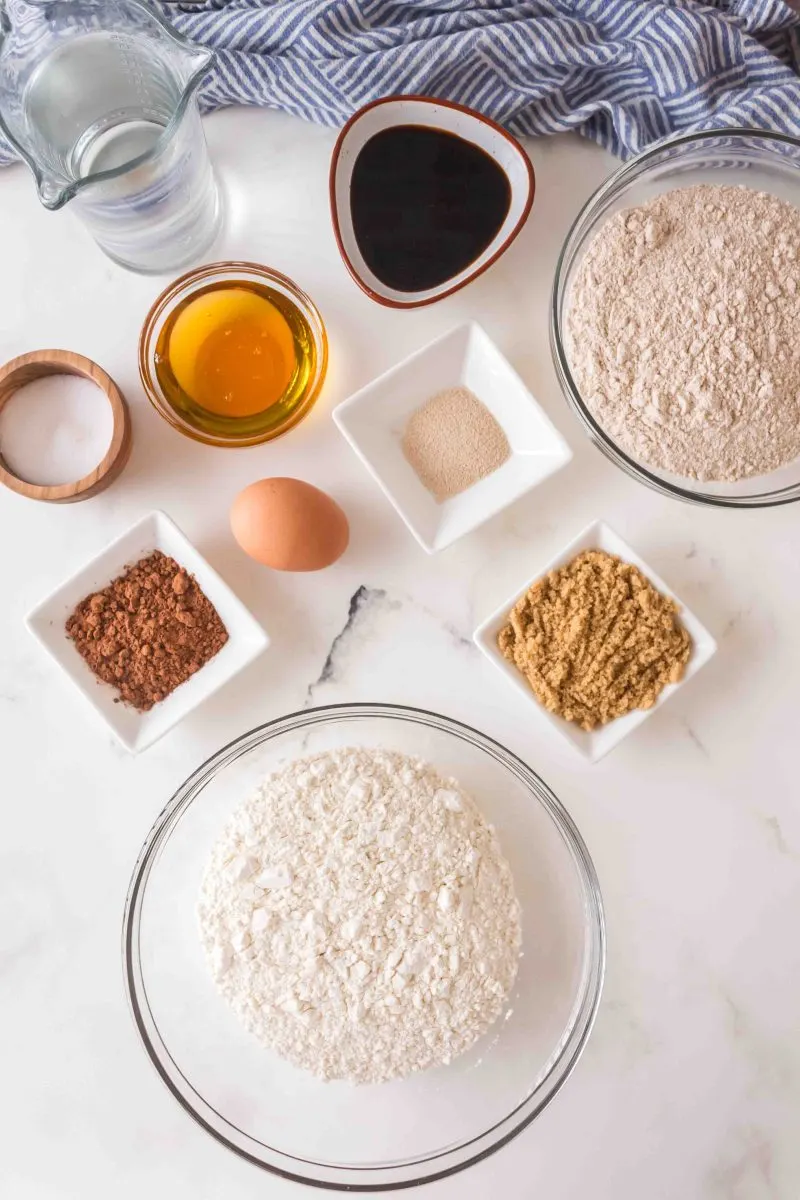 Active Dry Yeast – You can substitute for Instant, or Rapid Rise yeast as well. If you need help in knowing the difference, see our Basic Baking article.
Lukewarm Water – Using warm water will aid your yeast in activating. We shoot for bath water warm. Hotter than that can destroy your yeast.
Egg – Makes this bread richer and acts as a binder for the ingredients
Honey – Adds sweetness to this brown bread recipe. We use local but use what you have available to you.
Molasses – Adds sweetness to these rolls and also aids in keeping the bread moist. The varieties are explained below.
Unsweetened Cocoa Powder – Adds a deep richness to the flavor without the actual taste of chocolate.
Brown Sugar – Either light or dark varieties will work just fine.
Flour – We used whole wheat and all-purpose white flour in this recipe. Using just whole wheat would have made these rolls dense. The combination of the two flours kept our Molasses Brown Bread soft and tender.
Salt – We like using fine sea salt in our bread recipes. The granules are small and will not sink to the bottom of our dry ingredients like the coarser varieties.
Garnish – The tops of these rolls can be dusted with a light sprinkle of cornmeal or oats. It can be skipped altogether as well
What's the best variety of molasses to use?
Molasses is a liquid and will add moisture and a darker hue to Brown Bread. There are basically three varieties of molasses. You can use what you prefer. Here are the differences.
Light molasses – lighter in flavor and hue. Perfect for baking and candies.
Dark molasses – stronger in flavor and darker hue. Can be used interchangeably with light molasses. Often used for gingersnap recipes.
Blackstrap molasses – very dark in hue and has a strong flavor with a bitterness to it. Often used in barbecue or baked bean recipes. (source)
How to make Brown Bread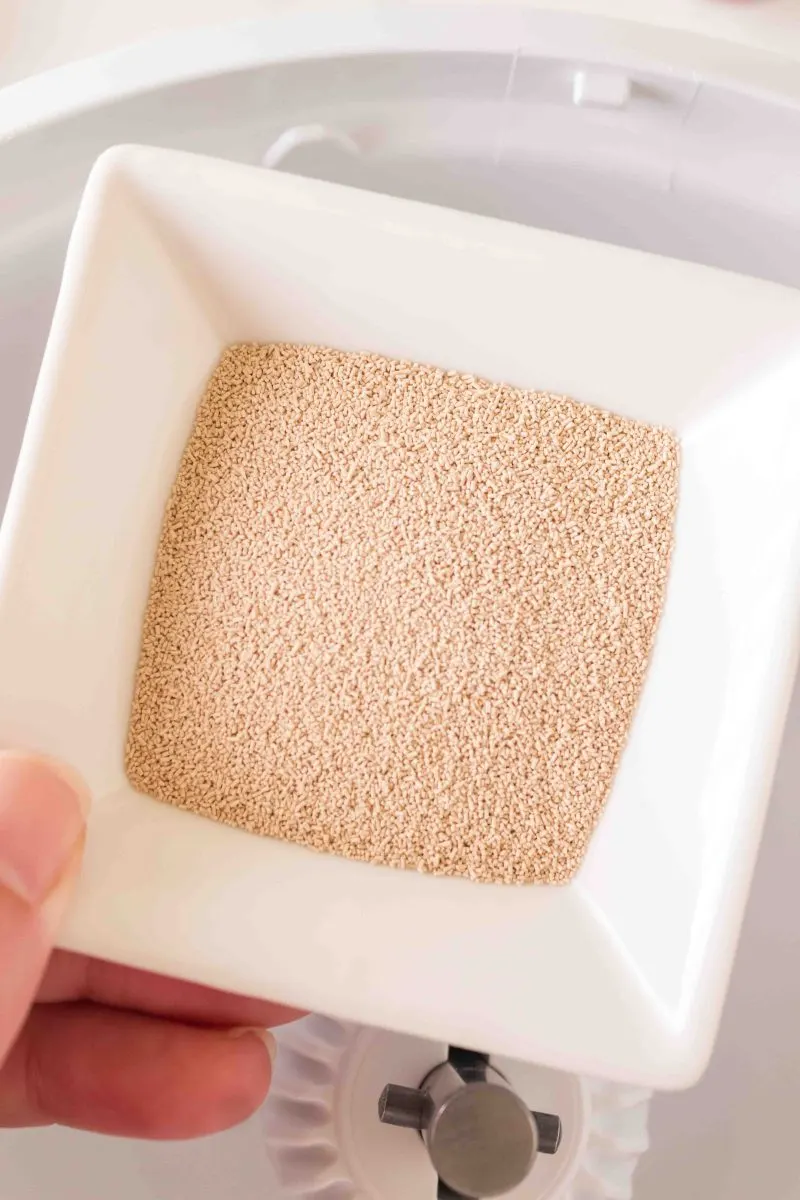 Combine dry yeast with warm water and let it rest until it blooms in the bowl of an electric stand mixer, approximately 5 to 10 minutes. Note: if you use instant yeast, rapid rise, or active yeast, you don't have to wait.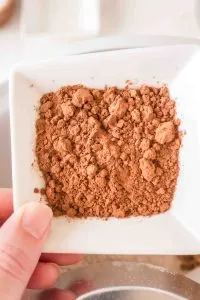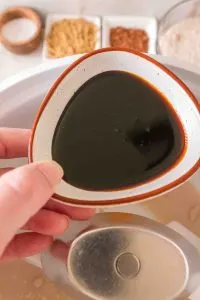 Add the egg, honey, molasses, whole wheat flour, cocoa, brown sugar, and salt, to the yeast mixture. Mix together using the paddle attachment.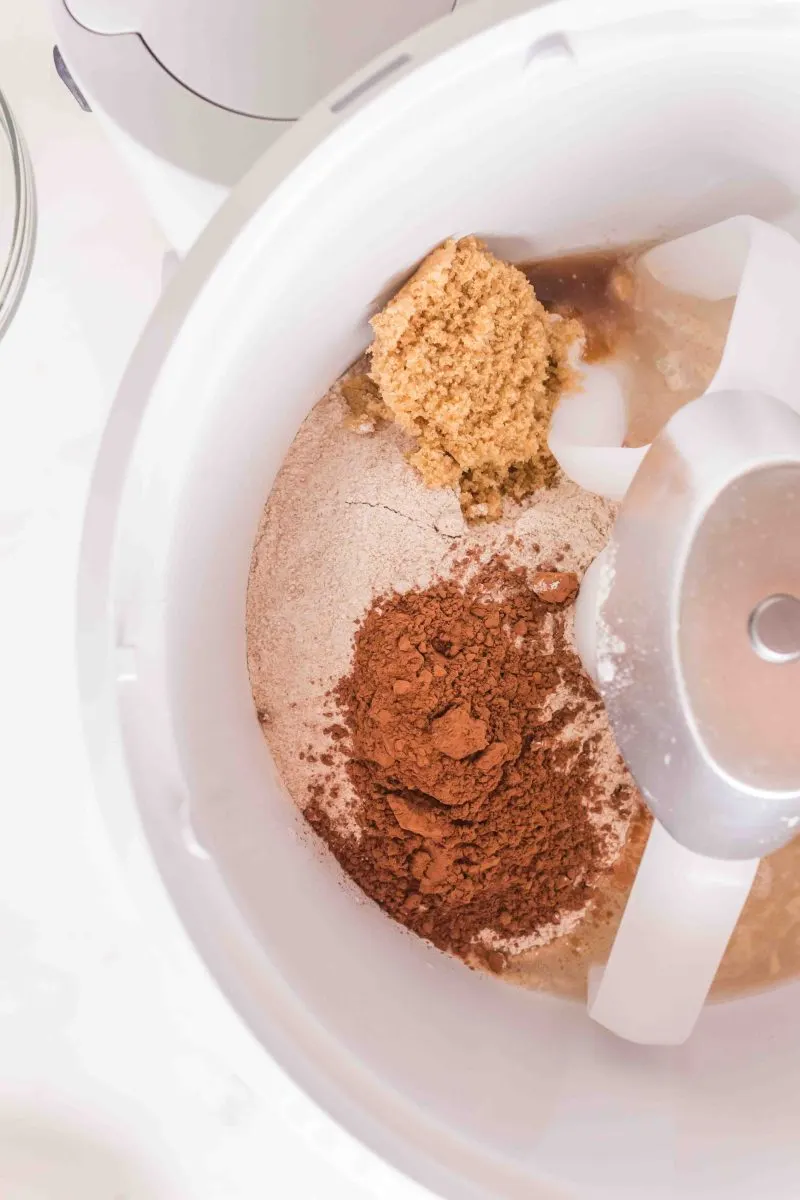 Change the paddle attachment to the dough hook attachment on the mixer.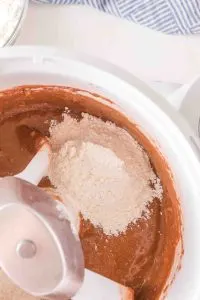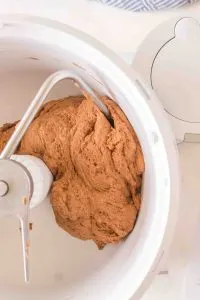 With the mixer on low, gradually add 1 cup of all-purpose flour and mix until combined. Gradually add the other half cup of flour until the dough starts to ball and leaves the sides of the bowl. Beat on low for 7 minutes, adding additional flour if necessary.
This is a stiff dough but it will bake up soft and tender.
Turn dough out onto a lightly floured surface and knead it until it's tight and smooth 4 to 5 times.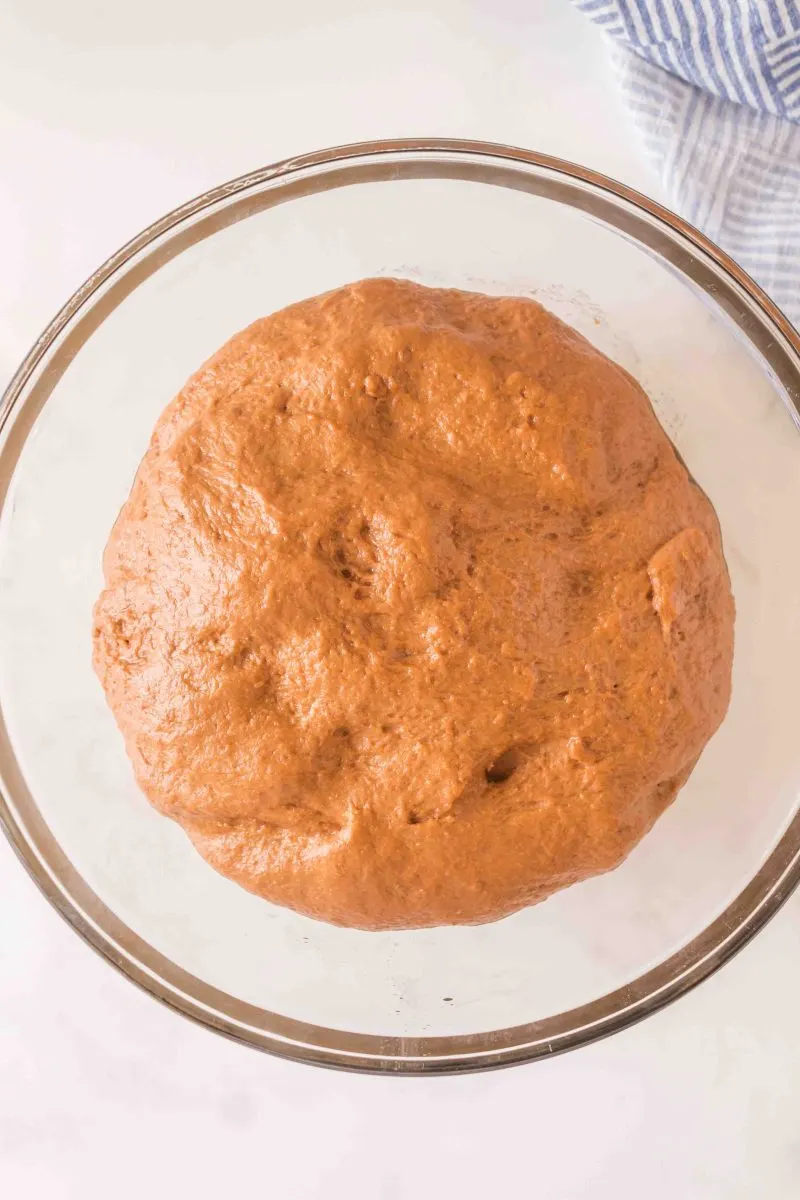 Place the dough in a lightly oiled large bowl, turning once to oil both sides of the dough ball. Cover and allow the dough to rise in a warm place until doubled in size, 90 minutes.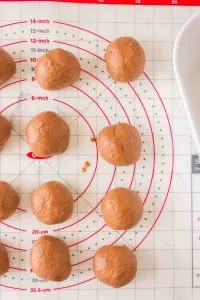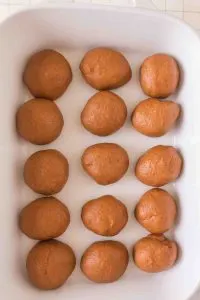 Punch down the dough and break it into 16 equal pieces. Roll them into dough balls. Place them on a lightly greased 9X13 inch baking dish and allow them to rise again for 1 hour.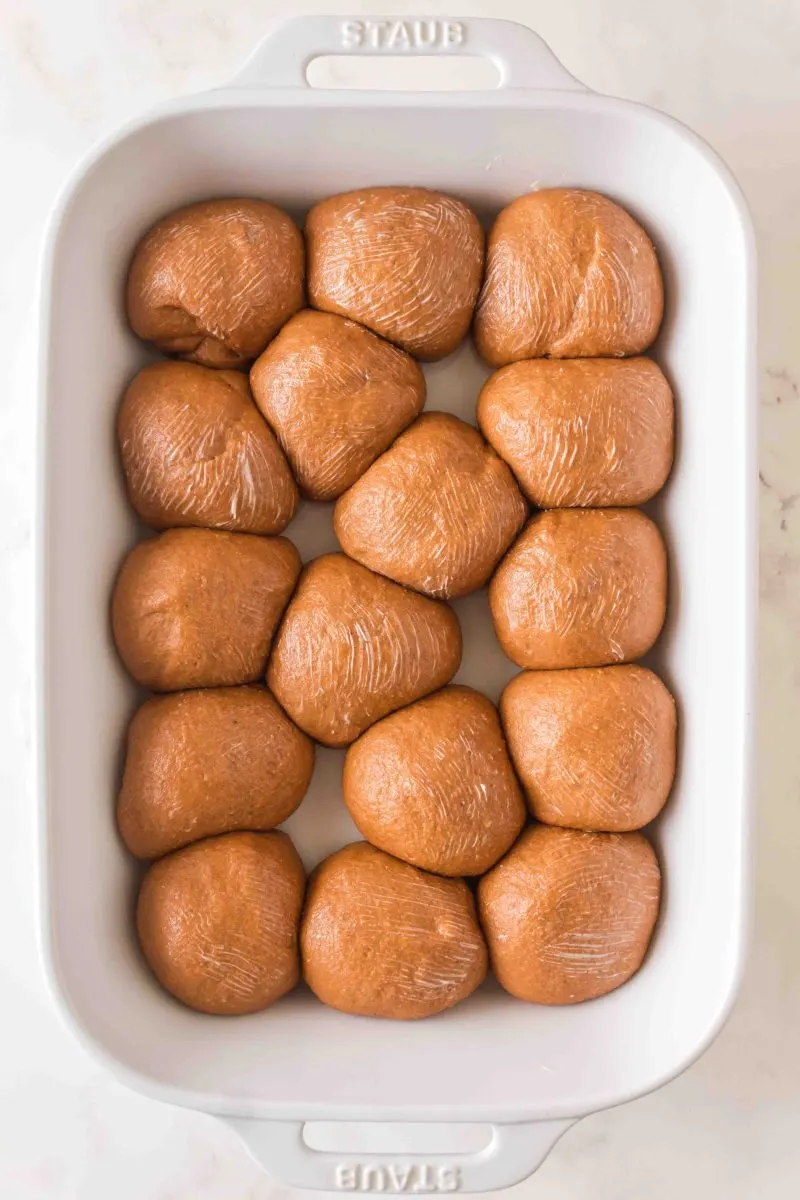 Brush the tops with melted butter and dust with cornmeal or oats. (optional)
Bake until golden brown or until an instant-read thermometer reads that the internal temperature reaches 190ºF.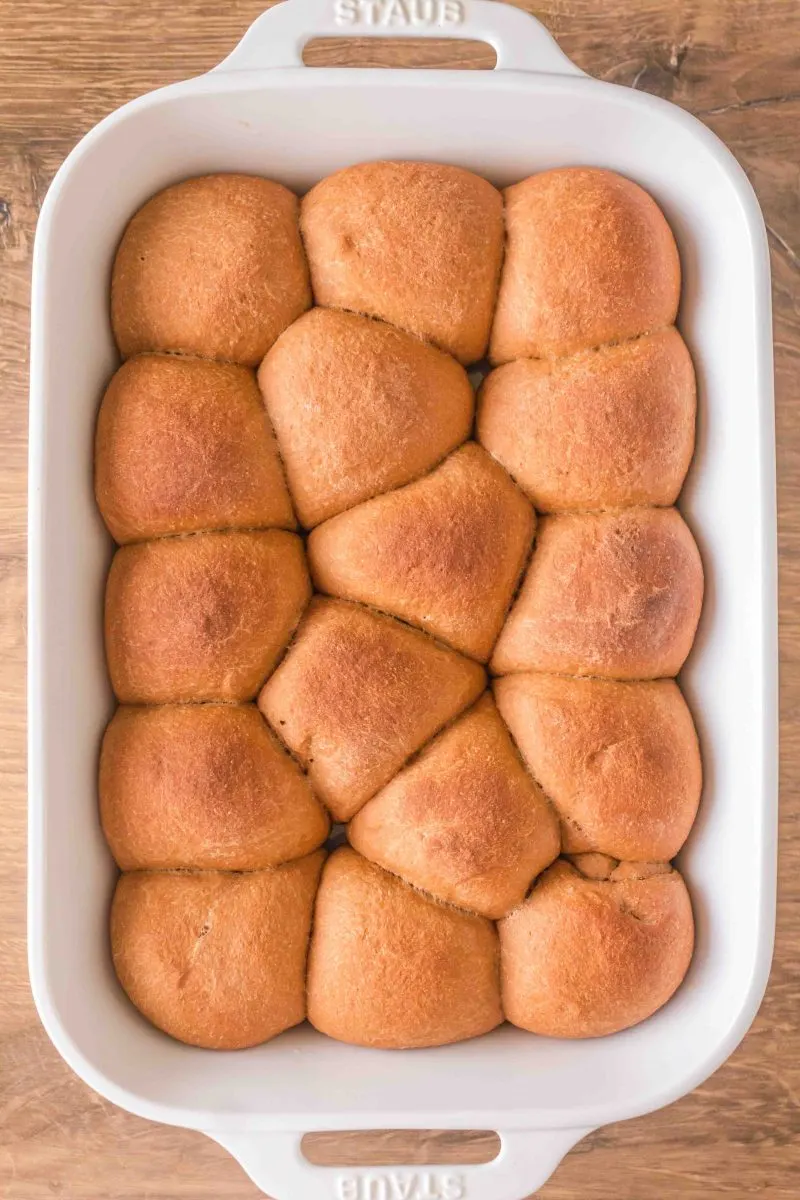 If you're going to use the Brown Sugar Honey Butter, you can make it before or while you're making your rolls.
Bread can be stored at room temperature for 2 to 3 days or frozen wrapped with plastic wrap and placed in a freezer bag for up to 3 months.
How to make Brown Sugar Honey Butter
Whip a stick of butter in the bowl of an electric mixer and beat until light and fluffy.
Add the brown sugar and honey. Continue beating until well blended.
Store covered in a small bowl or jar in the refrigerator. Brown sugar honey butter can also be frozen. We like to roll ours in a piece of plastic wrap in the shape of a tube and freeze it so it can be sliced for serving.
Oh, and that butter would be delicious on pancakes or waffles too. I'm just drooling thinking about it.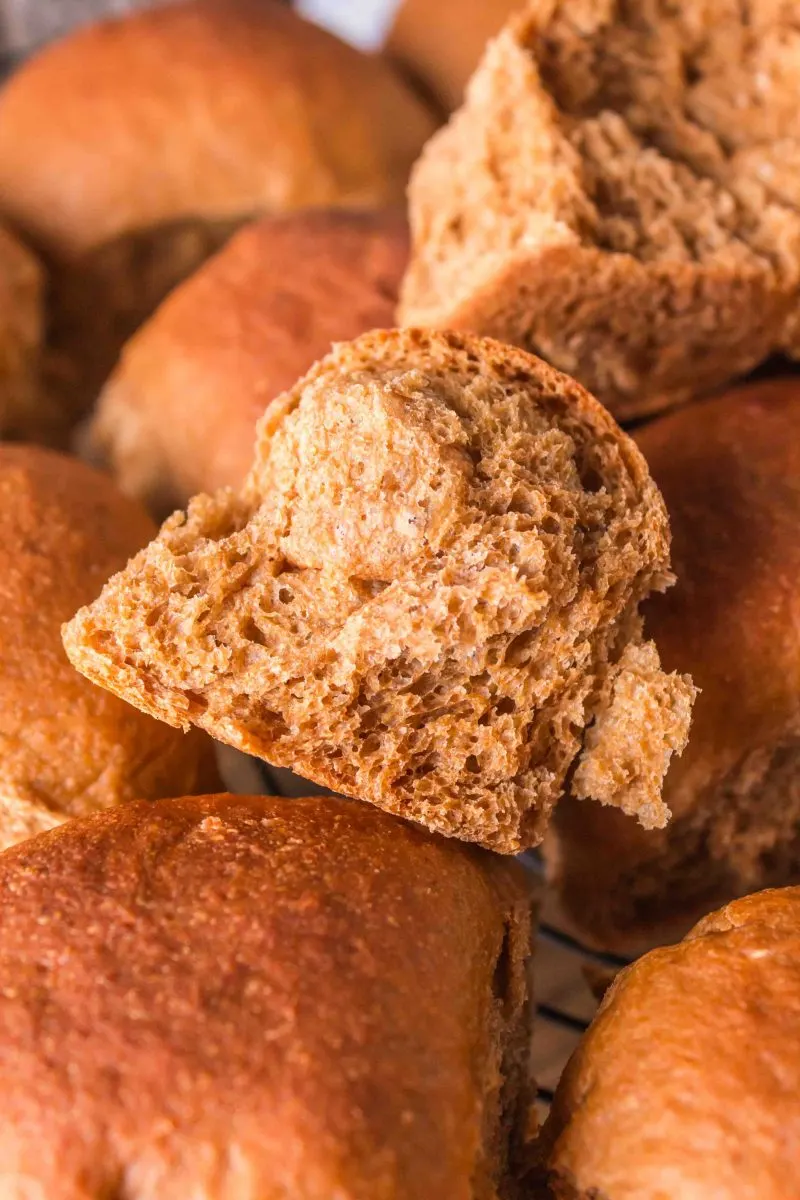 Hostess Tips for Making Sweet Molasses Brown Bread
If you don't have an electric mixer, we use a wooden spoon or Danish dough whisk to mix sticky dough.
After adding the last cup of flour, only add additional flour if the dough is sticky and will not leave the sides of the mixing bowl. Adding too much flour can make your rolls dense and tough instead of the fluffy dinner rolls that we strive for.
If you want perfectly sized rolls, you can use a kitchen scale to weigh the bread into 16 equal-sized pieces. We just approximated ours. Rustic can be beautiful, right?
The time it takes your dough to rise is dependent on so many things including temperature, humidity, and elevation. The time we give is approximated.
Preheat your oven thoroughly. We turn our oven on 30 to 45 minutes before the end of the rising time.
Instead of relying on color to tell us when our bread is baked, the best way is to use an instant-read thermometer and bake until the internal temperature reaches 190º F.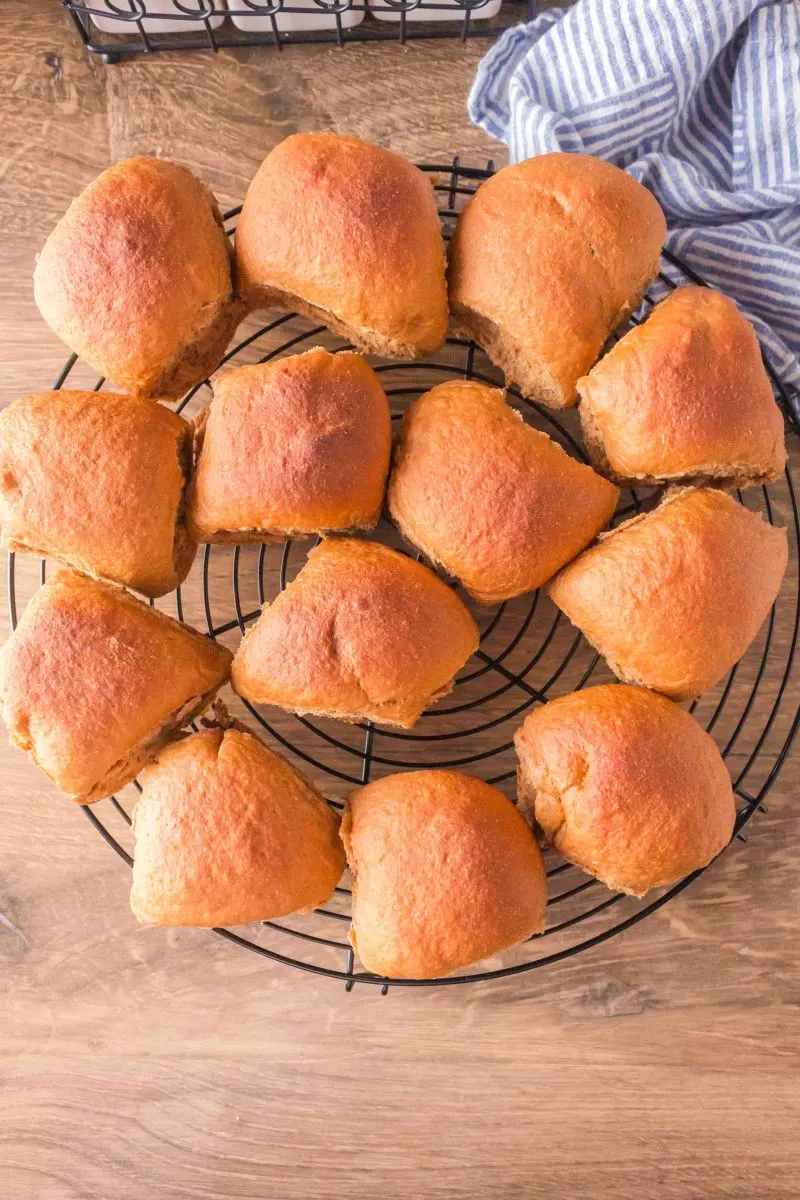 Serving Suggestions
When it comes to pairing those sweet molasses brown bread rolls, you're in for a treat! They're incredibly versatile. Try them alongside hearty soups like a steaming bowl of 13 Bean soup or Vegetable Lamb soup for a comforting meal.
They also make a great companion to Chicken Garlic Parmesan Pasta or Turkey ala King, adding a touch of sweetness to your savory dishes.
And, don't forget to slather them with butter or spread some cream cheese for a delightful snack. The possibilities are endless, and your taste buds are in for a real adventure!
We LOVE baking bread! You can find all of our bread recipes here!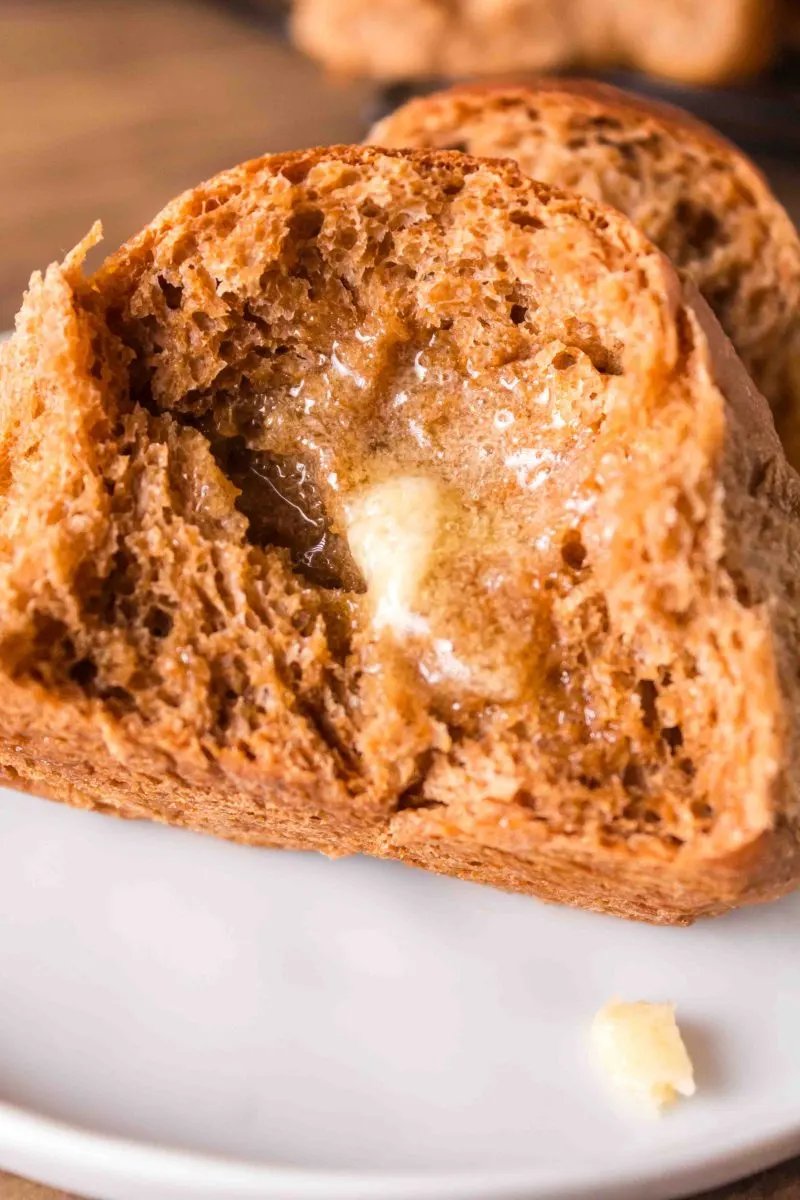 We really enjoyed these rolls, and even though I bake a lot of bread it reminded me that I need to make these brown bread dinner rolls more often.
If you like this recipe, we would appreciate your comment and a 5-star ⭐️⭐️⭐️⭐️⭐️ review!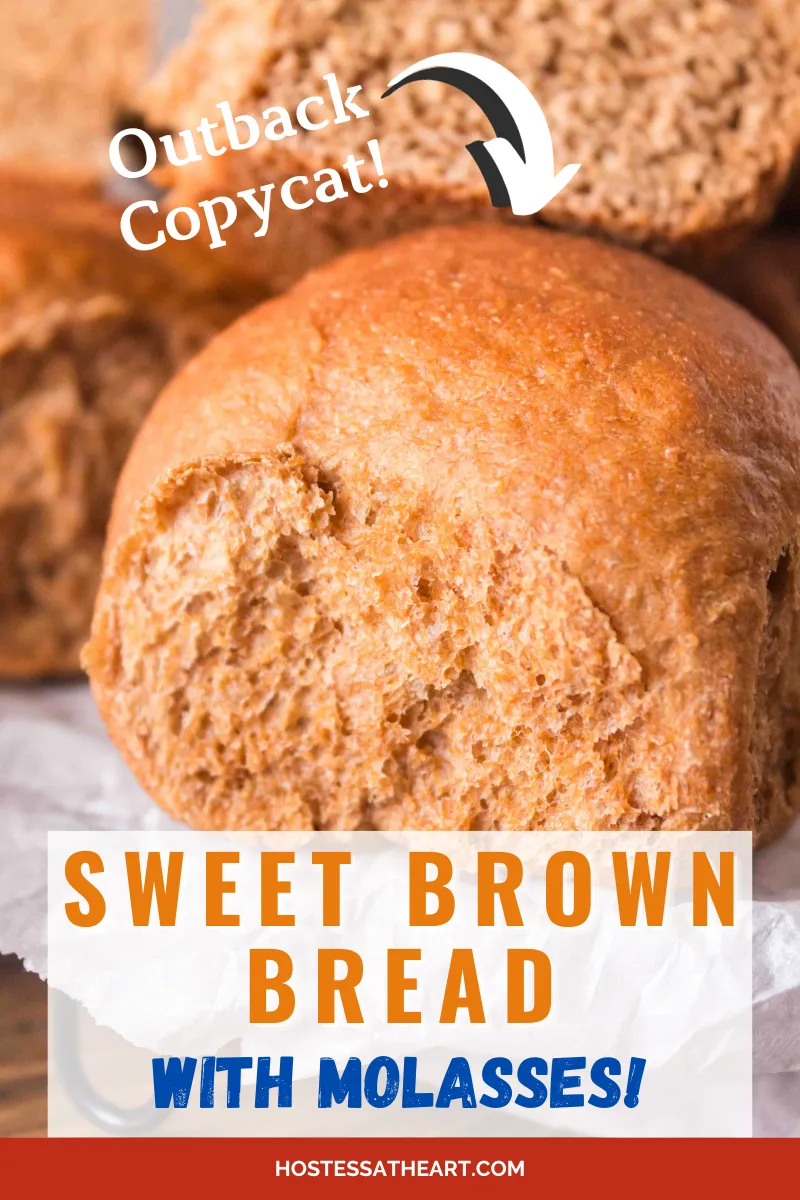 2015 Molasses Brown Bread Rolls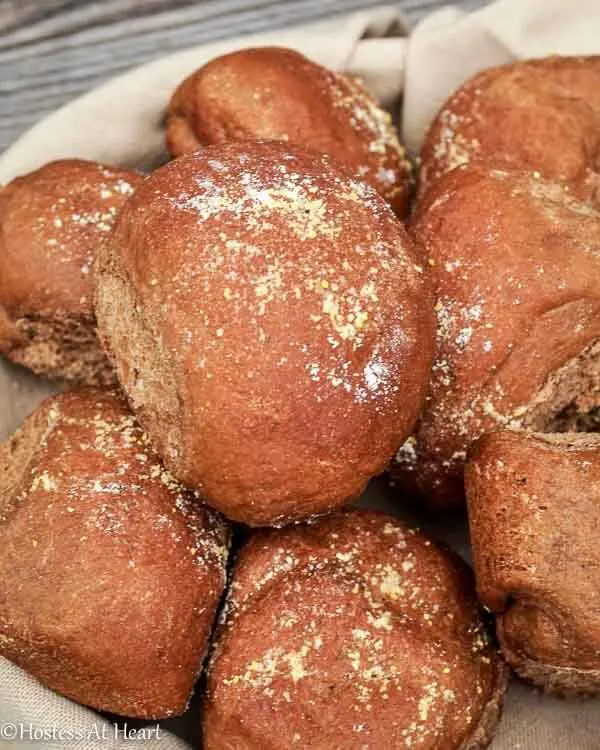 Our most popular bread recipes
Most Popular Recipes