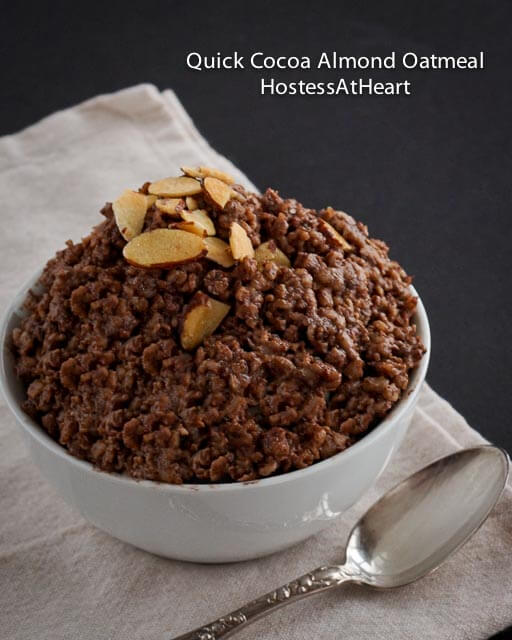 I grew up in a small rural community. So small, we only had one fast-food place that primarily served ice cream and was only open during the summer months. There wasn't any bakeries, pizza places or burger joints. We survived anyway. I know, I wonder how too. If you wanted something you had to make it.
I was born with a primary chocolate gene I am convinced. Prior to my baking days, I remember when I discovered the unsweetened cocoa container in the cupboard. I thought I was really getting away with something in finding it. It smelled amazing. I got out a spoon and dipped in. What the heck? It was awful! What a huge disappointment!
This oatmeal sure wasn't a disappointment. It's a great way to get your chocolate fix and your antioxidants at the same time. You can control how much sweetness you want with a drizzle of maple or agave syrup, some roasted coconut, or heck get out the sugar bowl, I wont tell. I added some roasted almonds, and it was like dessert before dinner.
Another great thing about this oatmeal is that it makes 4 to 6 servings. I just cooked it all up and put it in separate bowls. I had breakfast for the week.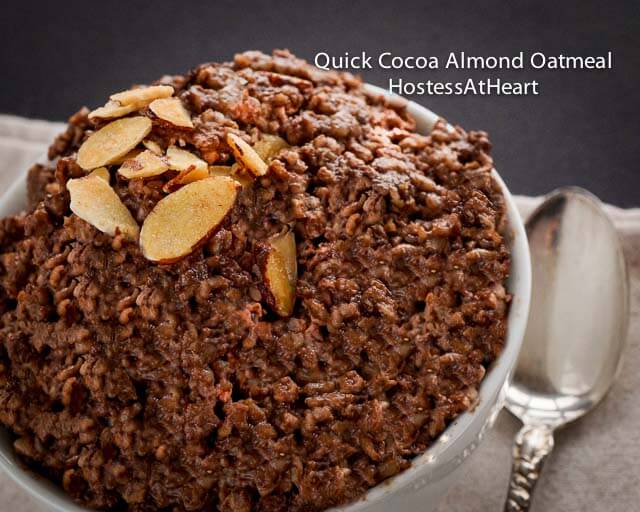 Now i'm headed over to wake up the Fiesta Friday parties with this wholesome breakfast hosted by the wonderful Angie at The Novice Gardner and co-hosted by the equally grand Selma @Selma's Table and Sue @birgerbird.