Spice up your dinner tonight with this delicious Turmeric Chicken and Wild Rice recipe. Bursting with flavor, it's sure to be a crowd-pleaser. Feel free to customize with your favorite spices, or follow the recipe to a tee. Get cooking now and enjoy a flavorful dinner tonight!
This post has been updated to improve your reading experience. No changes were made to the recipe.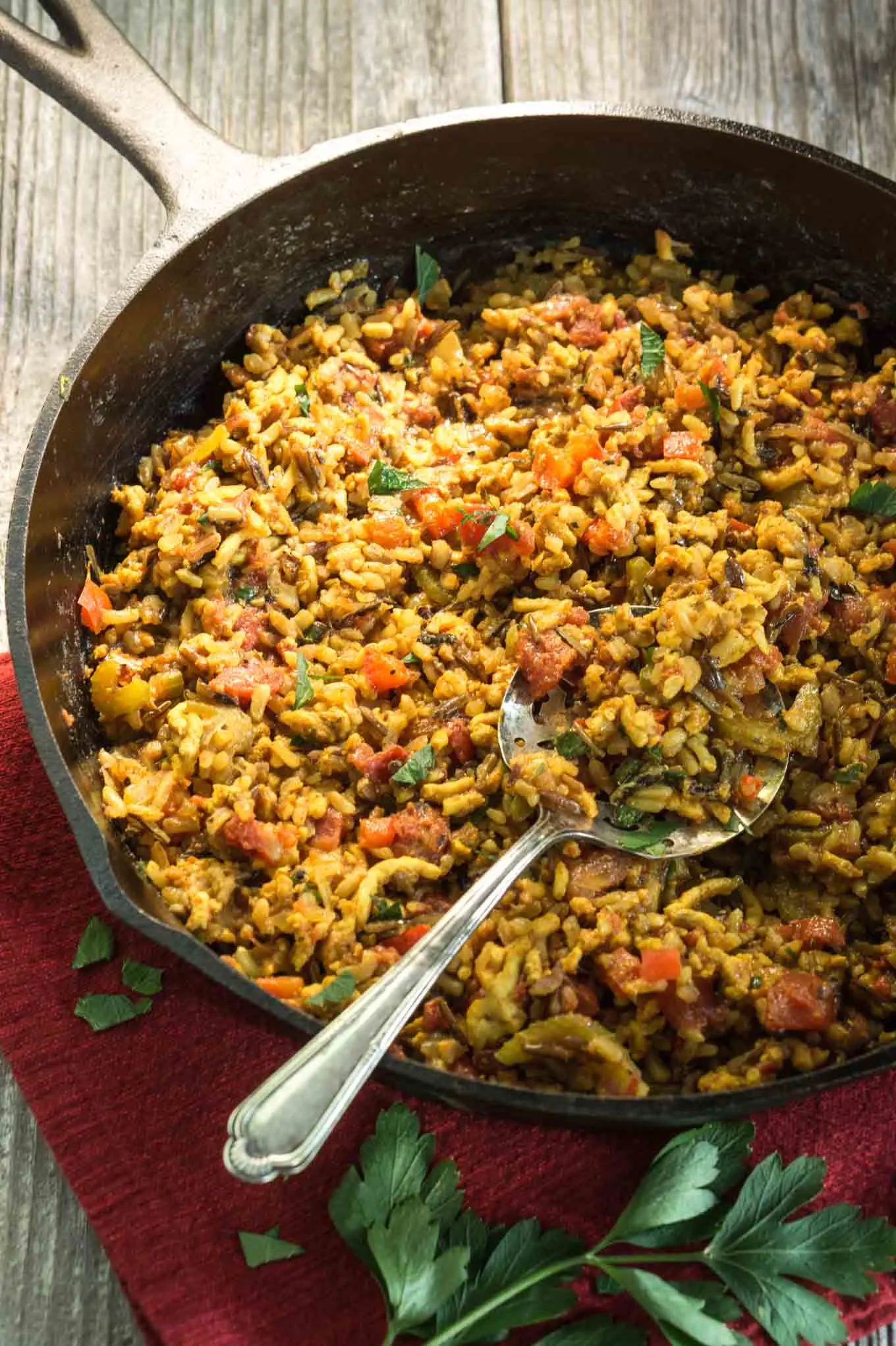 Turmeric Chicken with Wild Rice is the type of dish that is responsible for my blog. Raising my children I often put dishes together based on ingredients that I had at home. Once my children grew and were cooking for themselves, they asked how I made a particular dish.
My daughter would get so mad at me when I just said I threw this and that into a pot. She asked "don't you ever write anything down? How are we expected to make it?" Thus, Hostess At Heart was born.
Why You'll Love This Turmeric Chicken Recipe
Low in Calories and Good For You. My sister gave me some ground chicken that she wasn't going to use. My first instinct was to make my Turkey Sloppy Joes but I have been wanting to make a dish using turmeric.
Turmeric has amazing health benefits and has been used by Chinese and Indian cultures as a medicine. It intrigues me how these cultures figure out how to treat illness with ingredients like this!
Delicious. The flavor of this dish is beautifully developed and your entire family will love it, even if you have picky eaters.
Quick and Easy to Make. We loved this skillet recipe. It was perfect for a quick dinner but still had comfort food written all over it without the guilt.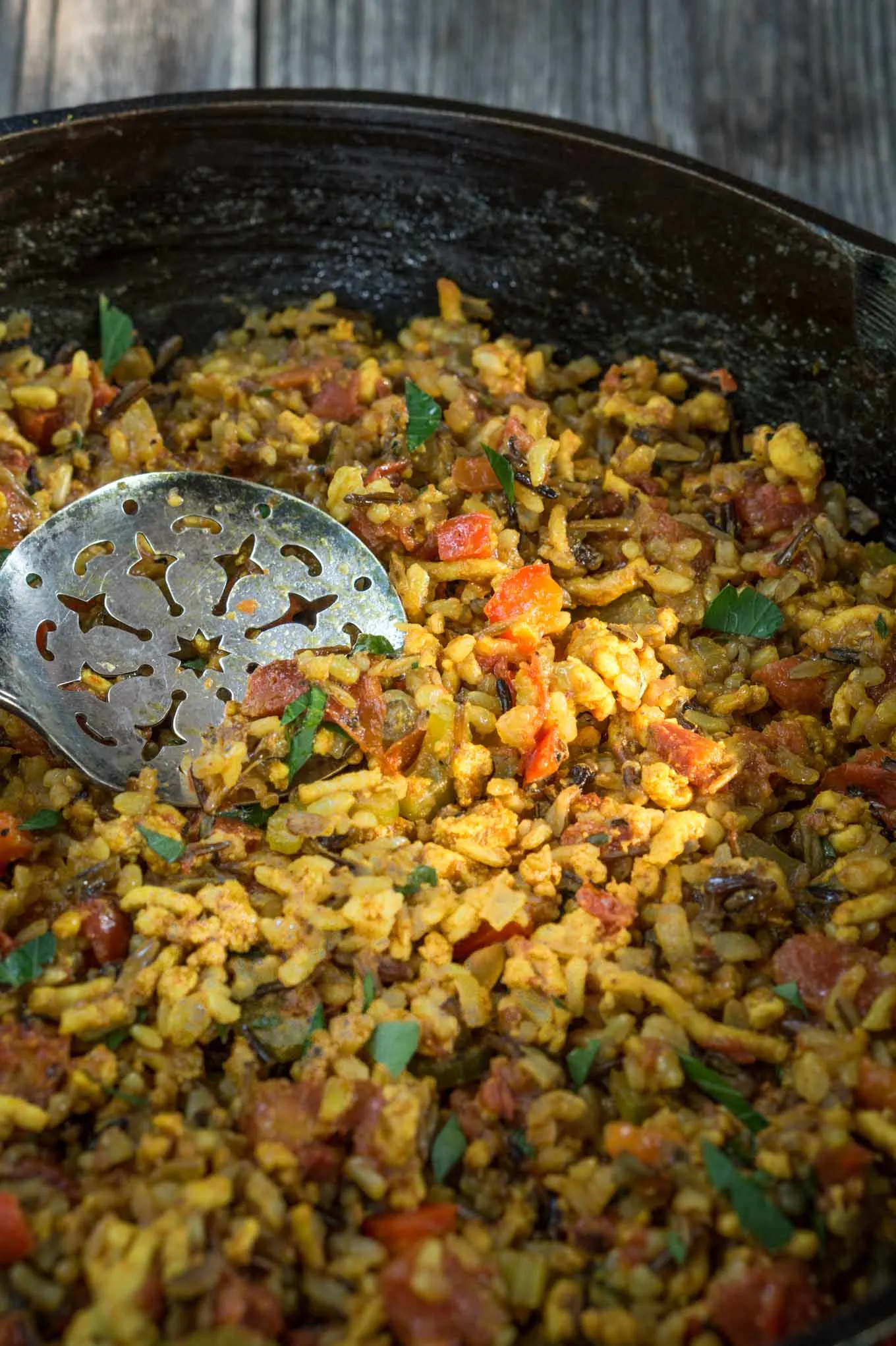 Equipment Needed to Make Turmeric Chicken
Skillet. I love cast iron. It holds its heat and heats up evenly. However, any large skillet will work.
Rice Cooker, Instant Pot, or Saucepan. I recommend using your Instant Pot to make the wild rice, but it can also be made in a rice cooker or saucepan. Follow the packaging directions for the water to rice ratio.
Ingredients for Turmeric Chicken and Rice
Wild Rice. This crunchy and flavorful rice is a nice variation and fits perfectly with the flavor profile of our turmeric chicken recipe.
Ground Chicken. If you are in a hurry just grab a rotisserie chicken and chop that up instead.
Diced Red Pepper.
Thinly Sliced Celery. Nice thin slices add the flavor without the distinct crunch and blend in more seamlessly with the rice.
Diced Onion. White, yellow, or sweet would be best for this recipe.
Can of Diced Fire-Roasted Tomatoes. Petite diced will also work.
Dried Oregano. This spice plays nicely with turmeric as a pairing.
Ground Turmeric. Careful. This spice has a strong yellow color that will stain clothes and skin.
Salt.
Ground Pepper.
Olive Oil. You can sub the oil of your choice.
Fresh Chopped Parsley. This is an optional garnish.
How to Make Turmeric Chicken and Rice
Step One. Cook the rice according to the package directions.
Step Two. Heat a large skillet with olive oil and cook everything else except the parsley.
Step Three. Salt and pepper if needed and garnish with chopped parsley if desired.
What to Serve with this Turmeric Chicken Recipe
You can serve this dish with a side of pita bread or naan, a fresh fruit salad such as this delicious Fresh Spinach salad, or my Orange Salad would be a simple addition.
Substitutions and Additions
If you can't find ground chicken you can use ground turkey. Boneless chicken breast, thighs, or drumsticks with the skin removed is an amazing ground turmeric chicken recipe variation that will keep this a healthy turmeric chicken and rice recipe
If you don't love wild rice you can use brown rice, jasmine rice, white rice, or basmati rice instead. Any rice will work.
Add chopped vegetables such as fresh spinach, green bell pepper, or mushrooms. You can also add canned vegetables such as corn to add a bit of sweetness.
Add a couple of cloves of minced garlic.
You can substitute turmeric for garam masala or curry powder.
Substitute fresh cilantro for the parsley.
Use shredded chicken. A rotisserie chicken will also work.
How To Reheat & Store Turmeric Chicken and Rice
Best Way To Store Turmeric Chicken
Keep leftovers of Turmeric Chicken in a sealed plastic container or zipped freezer-quality plastic baggy in your refrigerator or freezer.
How Long Will Turmeric Chicken and Rice Last In the Fridge?
You can keep leftovers of this delicious dish in your refrigerator for a couple of days as long as you put it in an airtight container.
Can I Freeze/Thaw this Healthy Turmeric Chicken Recipe
Yes, you can definitely freeze your leftovers to reheat later for an easy weeknight dinner. I recommend individual serving size containers so you can grab one on the way out the door and take it with you for a quick and tasty lunch.
How To Reheat Turmeric Chicken
Reheat refrigerated or frozen ground turmeric chicken and rice using the microwave or a skillet over medium heat. You may need to add a tablespoon or so of water to help refresh and steam the rice as it reheats.
Ground Turmeric Chicken Recipe FAQ
What does Turmeric taste like?
Turmeric is an intense spice that tastes a bit spicy. If you've ever had curry, that's what turmeric tastes like. Turmeric and curry aren't the same things, however. Turmeric is a spice and curry is a blend of spices.
Is Turmeric good on chicken?
Yes! I honestly believe that this spice is absolutely delicious in this healthy turmeric chicken recipe.
Tips to make the perfect Turmeric Chicken
Turmeric is an intense spice so don't overdo it.
Make sure the turmeric is cooked in this recipe. Raw turmeric doesn't taste nearly as good as cooked.
Cook your rice in the instant pot such as we do with this Asian rice recipe to make this a 30-minute meal.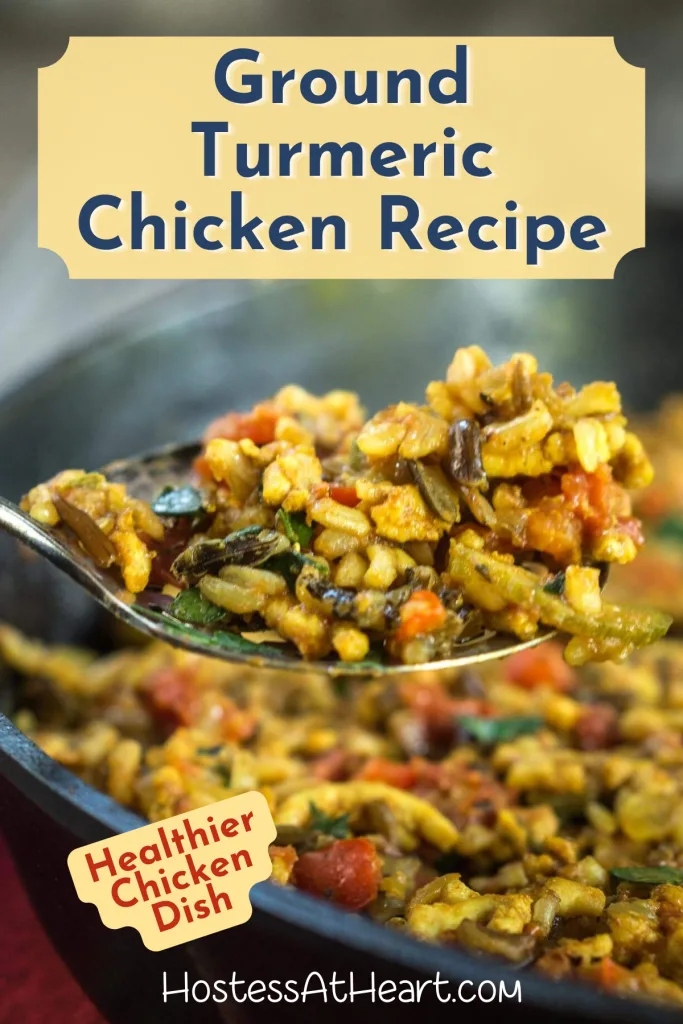 Other Delicious Recipes You Will Love
Don't Forget To Come Back And Let Me Know How Your Easy Turmeric Chicken Turned Out!
Both of my children are excellent cooks, and now we share our creations. What dishes do you love sharing?