Blueberry Dutch Baby is like a buttery, tender and slightly sweet pancake. There isn't any flipping or dripping and cleanup is a breeze.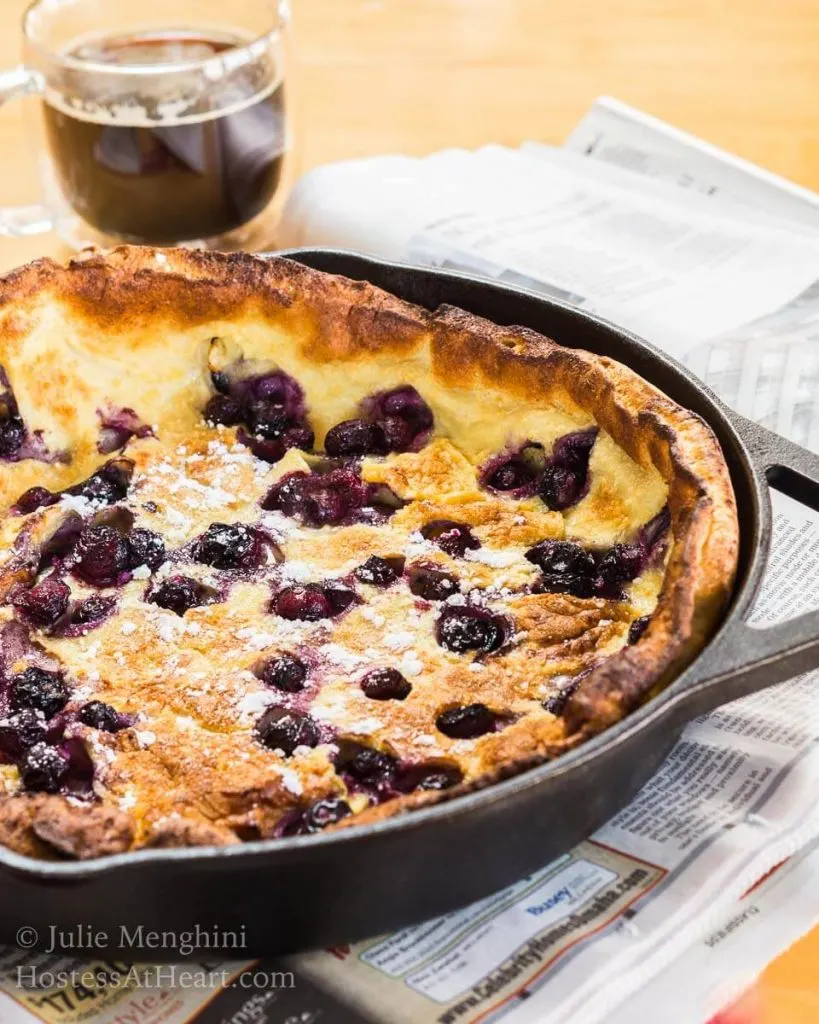 I'd never had a "Dutch Baby Pancake" before so when this month's host Mayuri of Mayuri's Jikoni announced that the theme for this month's BreadBakers was Pancakes from different parts of the world I thought this was the perfect time to give this Blueberry Dutch Baby recipe a try.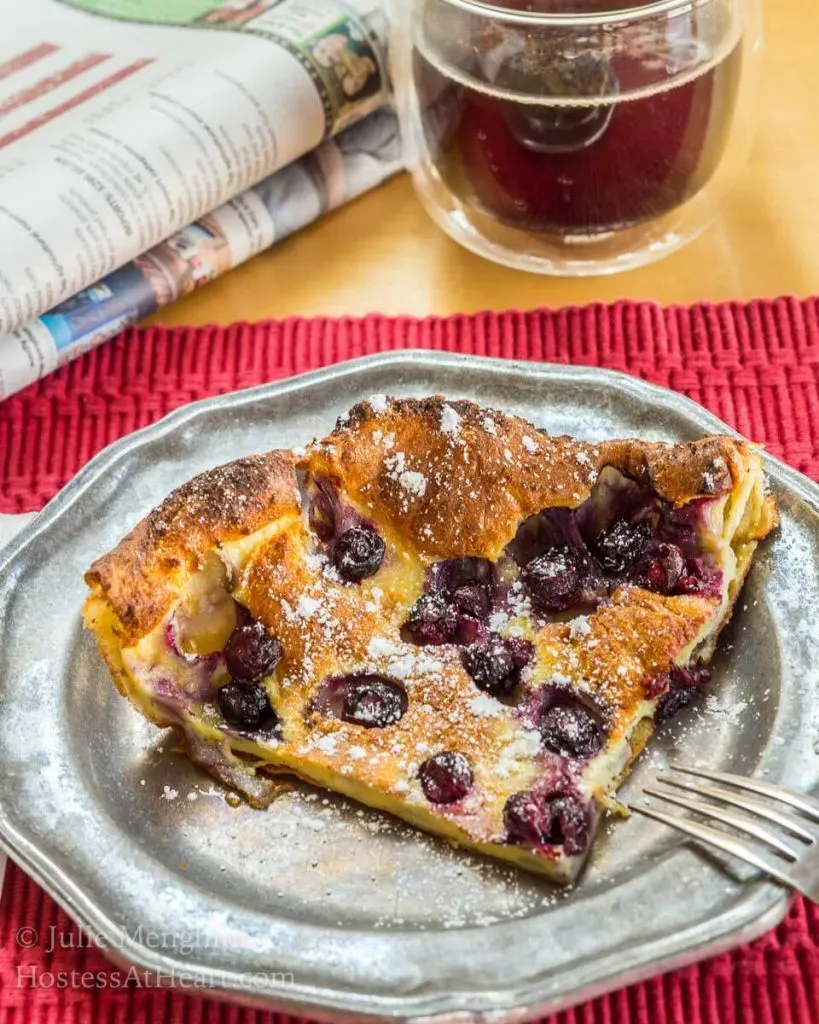 I saw this recipe in the Food and Wine July 2015 magazine, and it's been waiting in the wings of my "must make" file.
Most pancakes are slathered in syrup and butter. In my case, I think that's because they can be dry and somewhat flavorless.
That's not the case with this Blueberry Dutch Baby.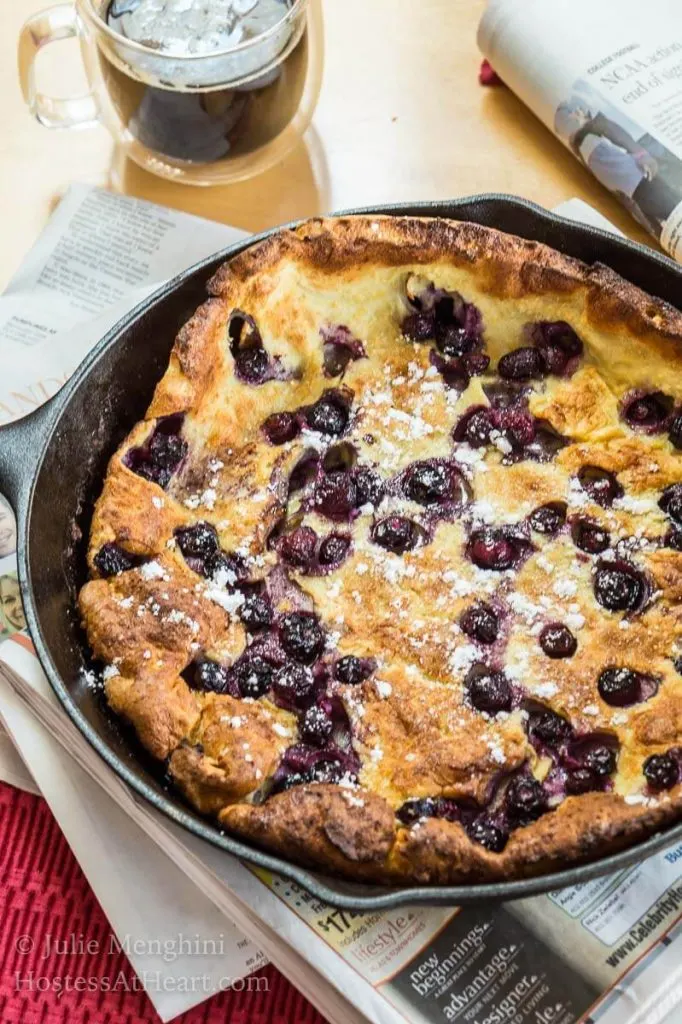 This Blueberry Dutch Baby was tender and buttery. The blueberries and lightly sprinkled powdered sugar gave it the perfect amount of sweetness.
The syrup was on stand-by but neither John nor I thought it was necessary. The light powdered sugar was enough.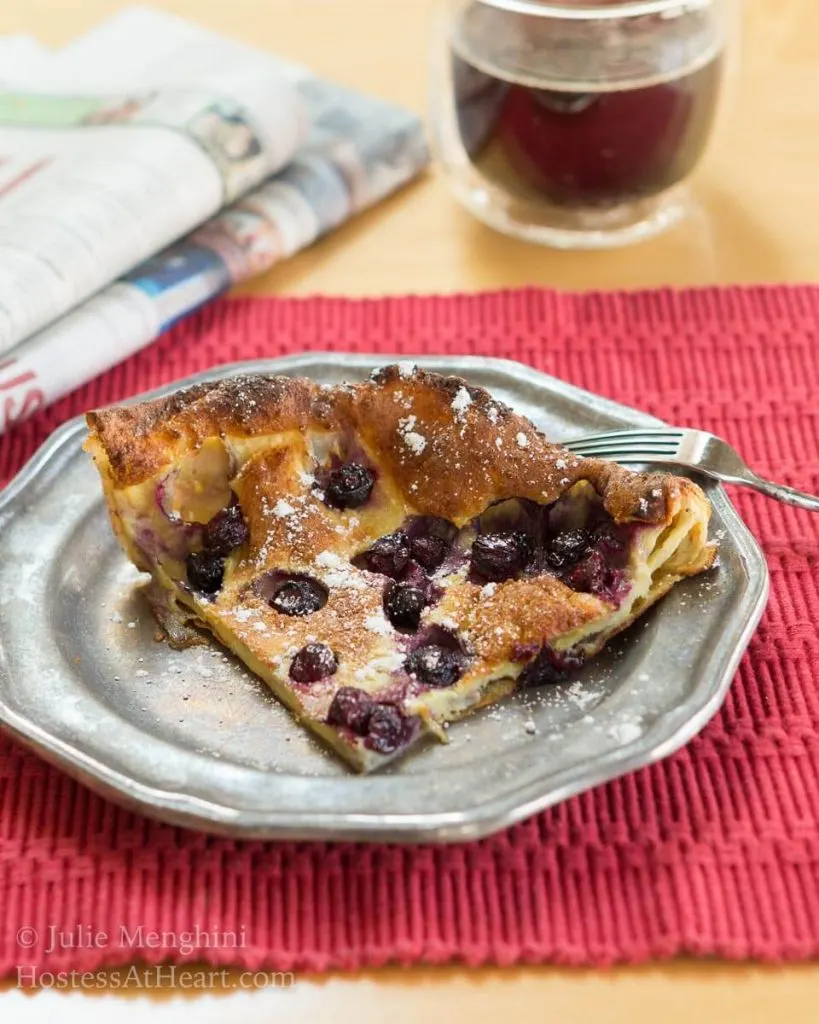 Another thing that I really liked about this Blueberry Dutch Baby is that you mix all of your ingredients together and just pour them into your skillet and bake.
There isn't any flipping or dripping and everyone gets to enjoy a hot breakfast all at the same time and clean up is a breeze.
Don't have time to make this now?

Pin it

for later!
I'll definitely be making this recipe again and will probably be adding the other Bread Bakers recipes to my "must make" file too.
Check out the Pancakes from different parts of the world that our fellow Bread Bakers have baked this month:
#BreadBakers is a group of bread loving bakers who get together once a month to bake bread with a common ingredient or theme. You can see all our of lovely bread by following our Pinterest board right here. Links are also updated after each event on the #BreadBakers home page.
We take turns hosting each month and choosing the theme/ingredient. If you are a food blogger and would like to join us, just send Stacy an email with your blog URL to [email protected].