Homemade Lemon Ricotta With Honey makes a deliciously decadent appetizer that is both quick and very easy to make. Once you make it you will never buy it again.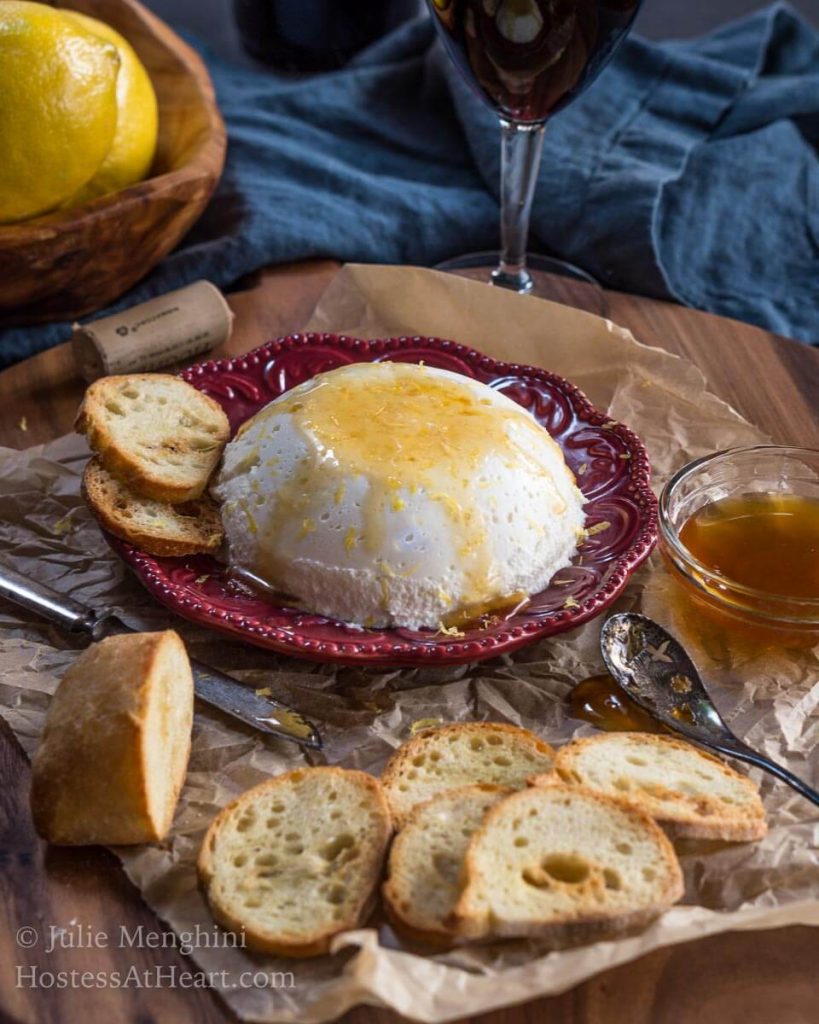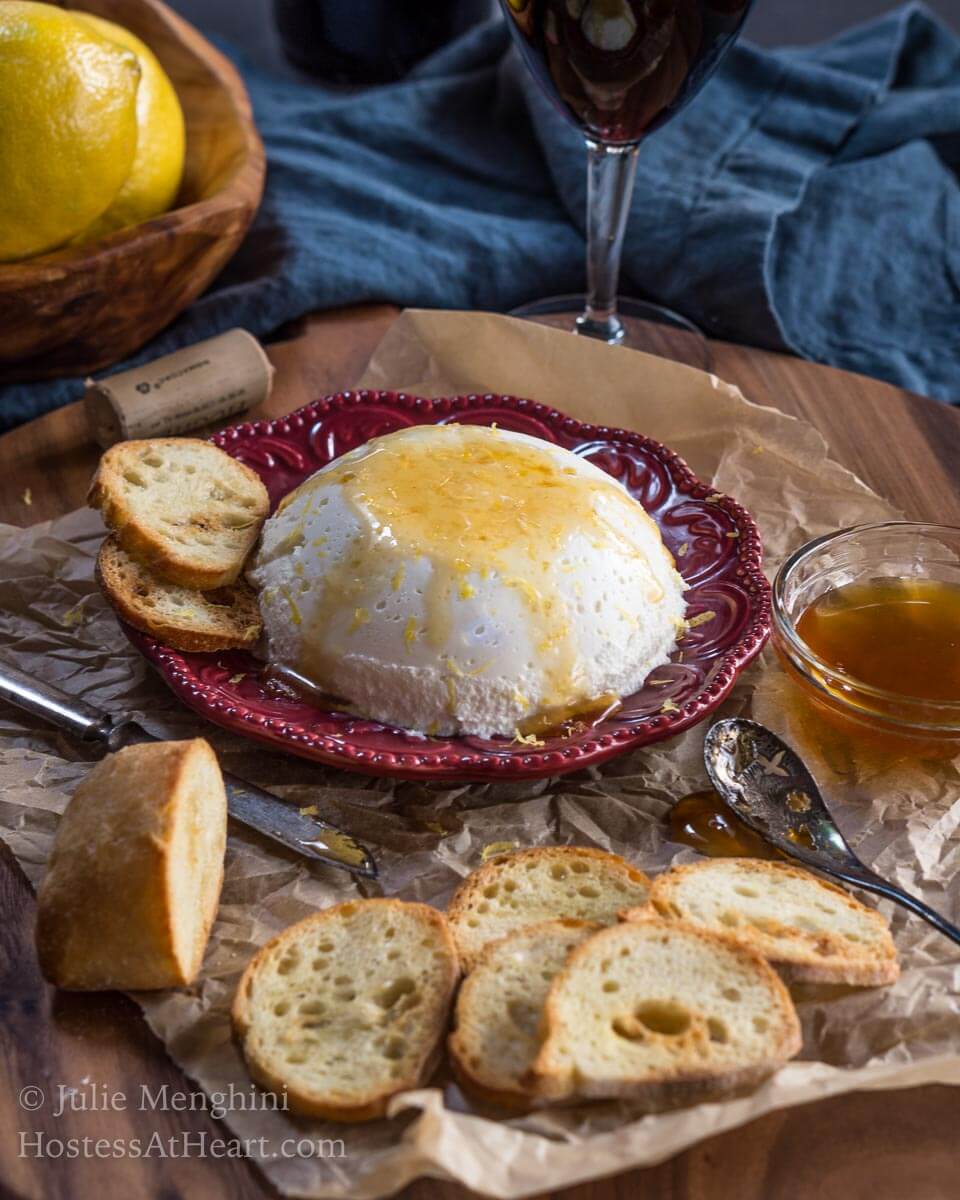 Homemade Ricotta is another recipe that's been on my bucket list for a couple of years. So when John and I recently had Lemon Ricotta with Honey at one of our favorite restaurants, I thought the time is now.
I had to give it a try and only hoped it came out close to what we enjoyed.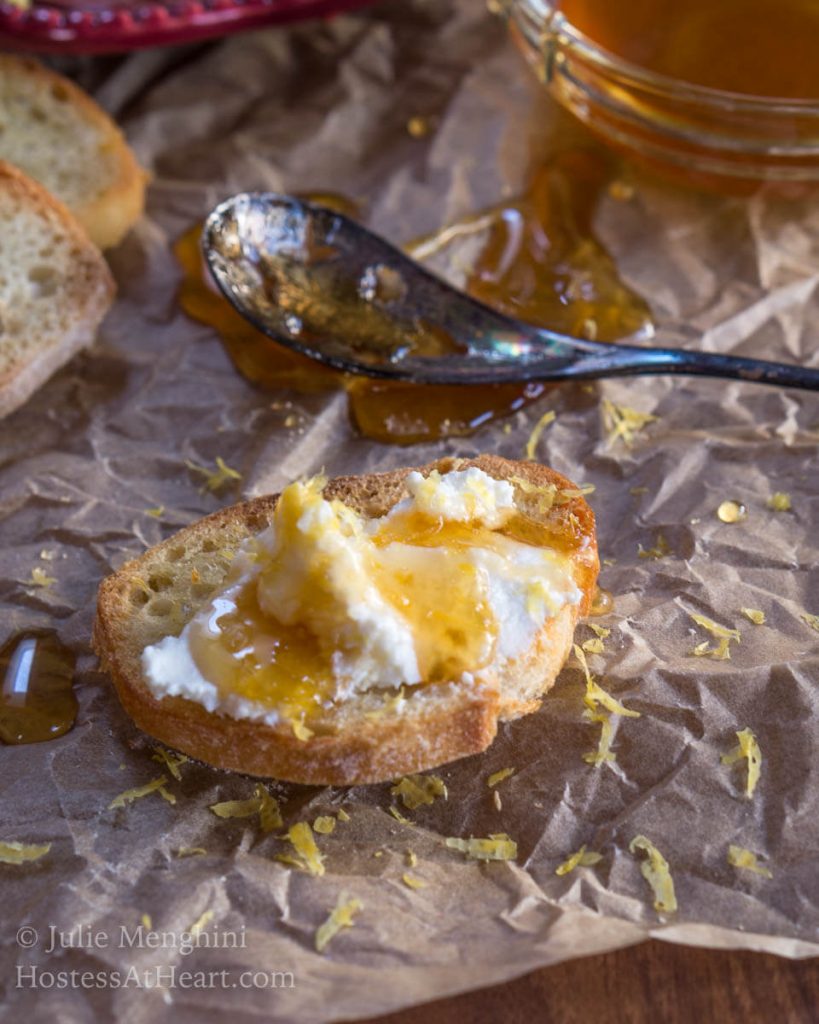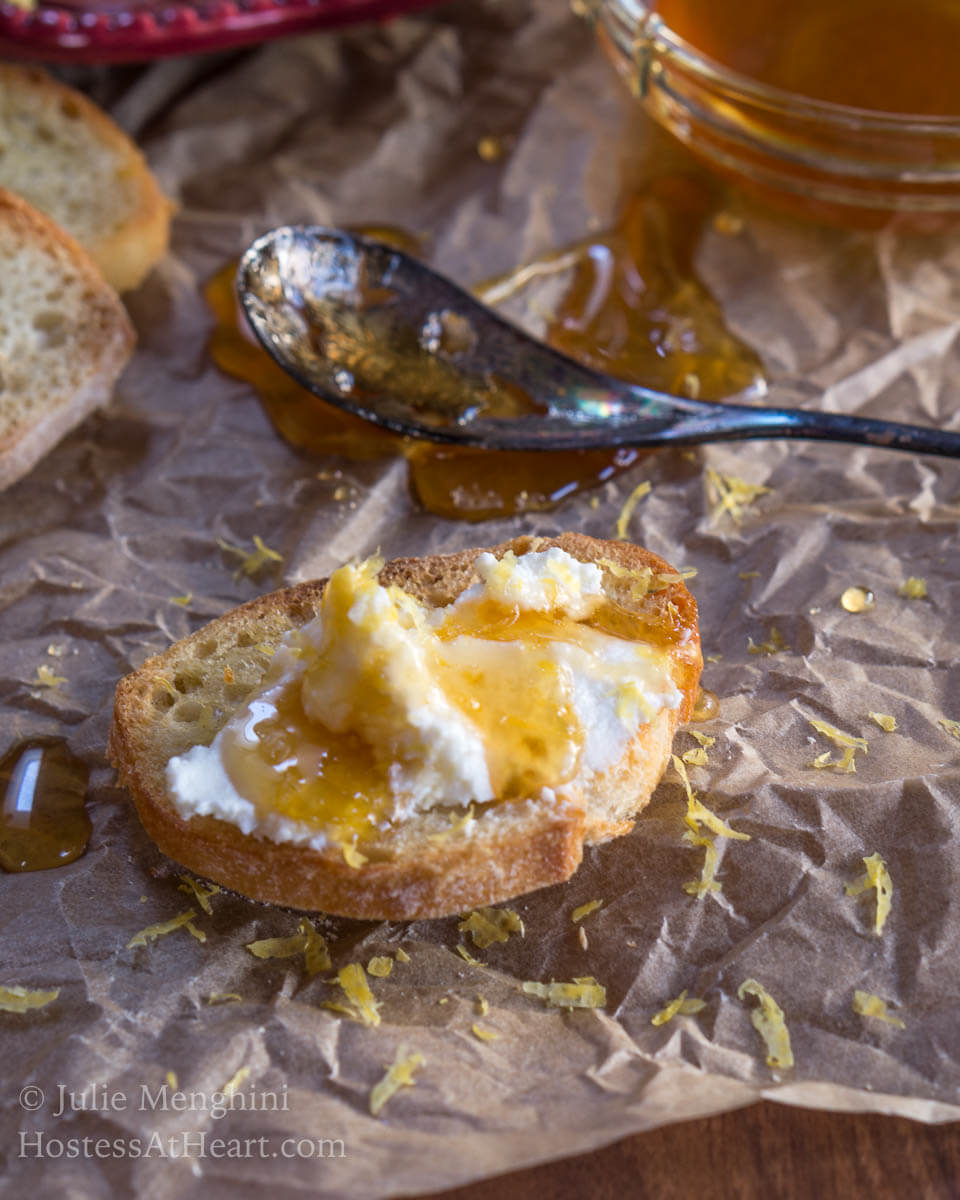 I didn't always feel this way. I used to think that Ricotta was just dry and flavorless and wondered what the big deal was.
We love lasagna, but if it said it was filled with ricotta cheese, I didn't bother buying it. I get it now. The difference was "good ricotta".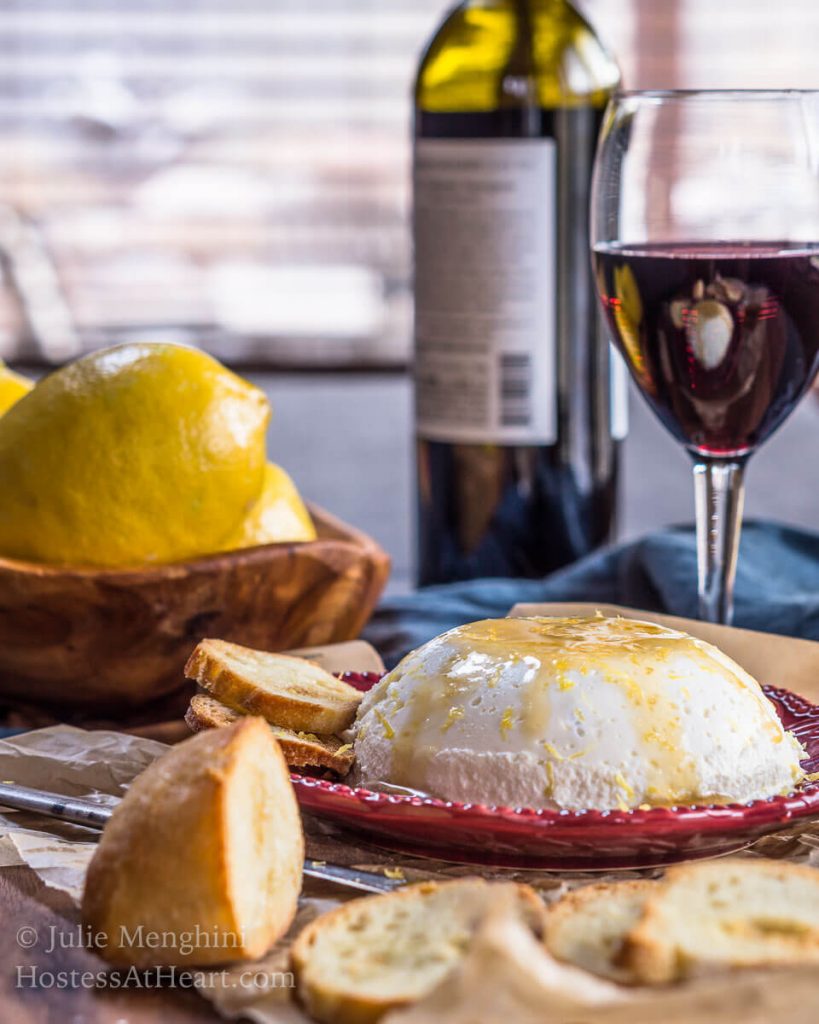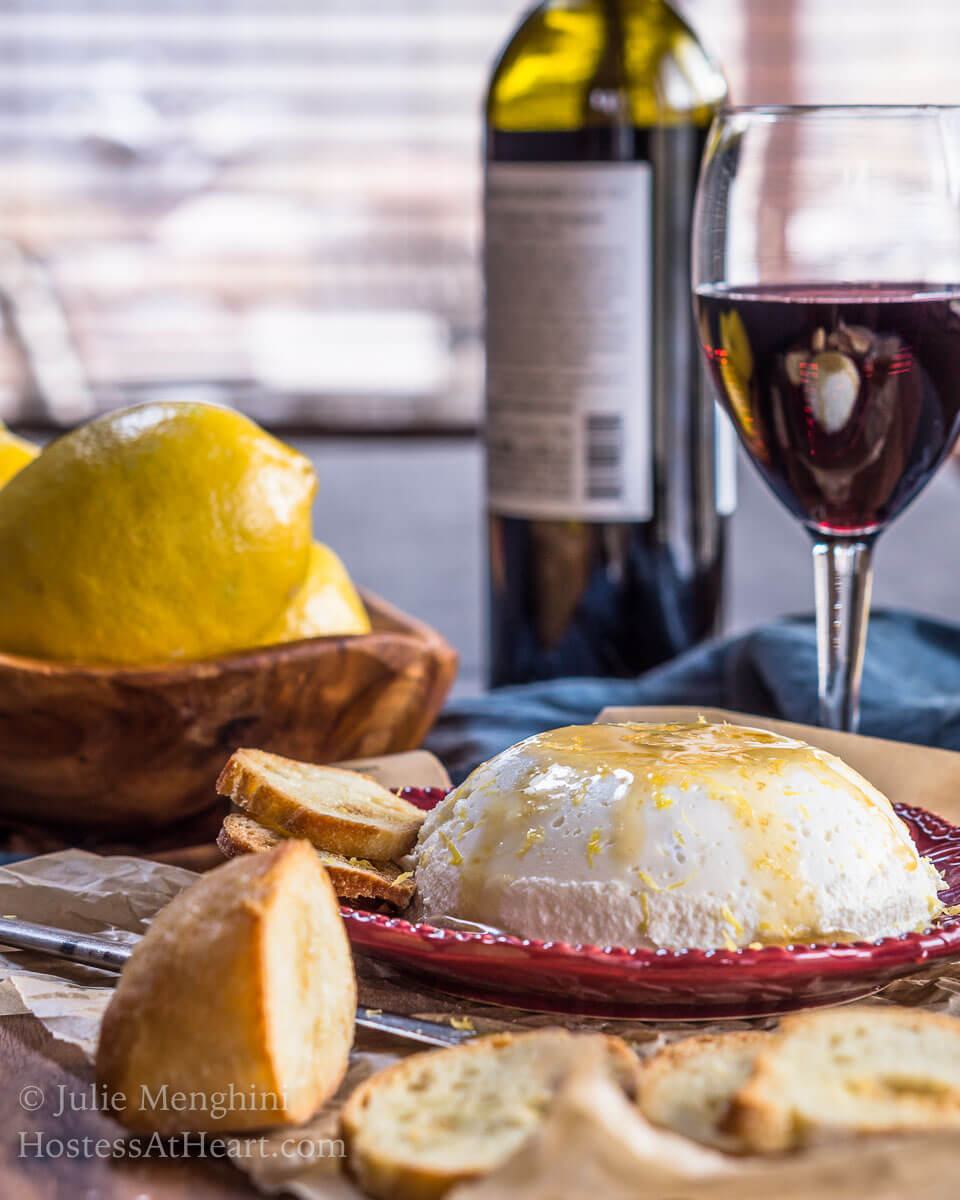 Well, my friends, this Homemade Ricotta is very easy to make and it was definitely just as delicious as what we enjoyed that night at the restaurant.
One of the things that I loved about their ricotta was that it had a delicate lemon flavor and they served it with a side of honey. It was a match made in heaven. Just like this one is.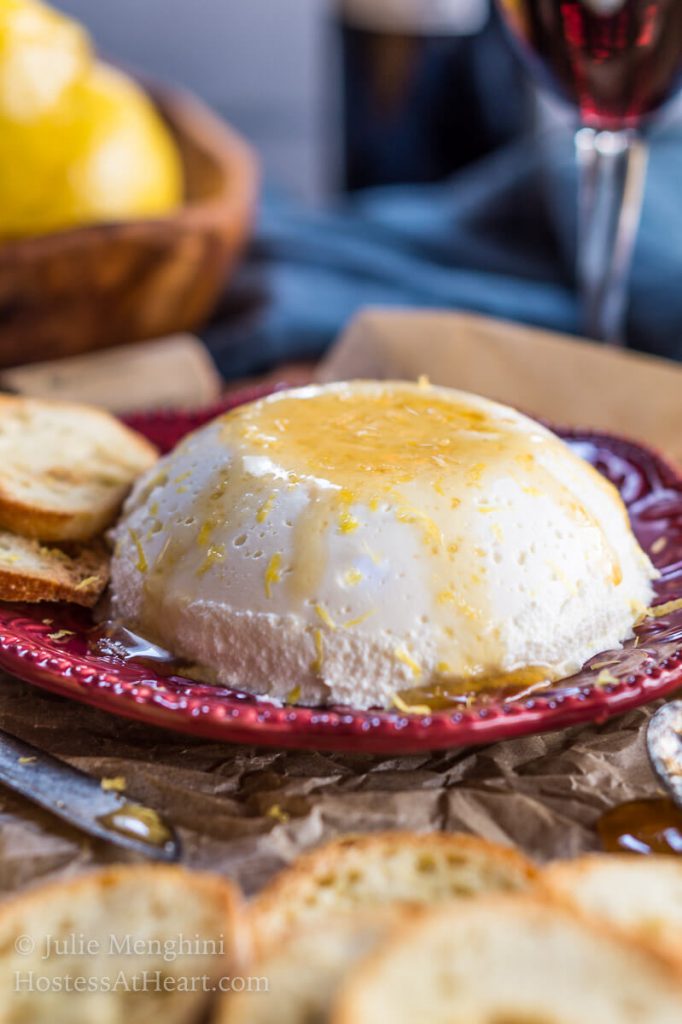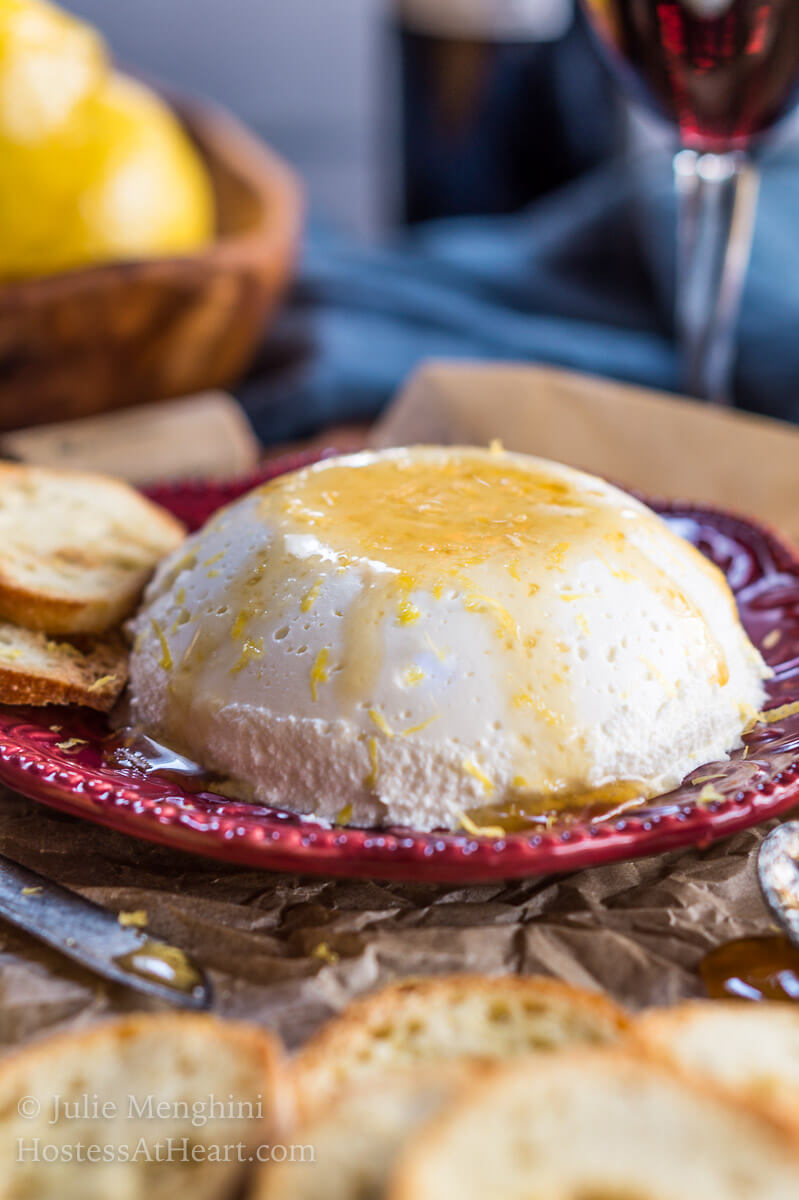 This Homemade Lemon Ricotta tastes just as good, and I served mine with a drizzle of honey as well as a bit on the side too.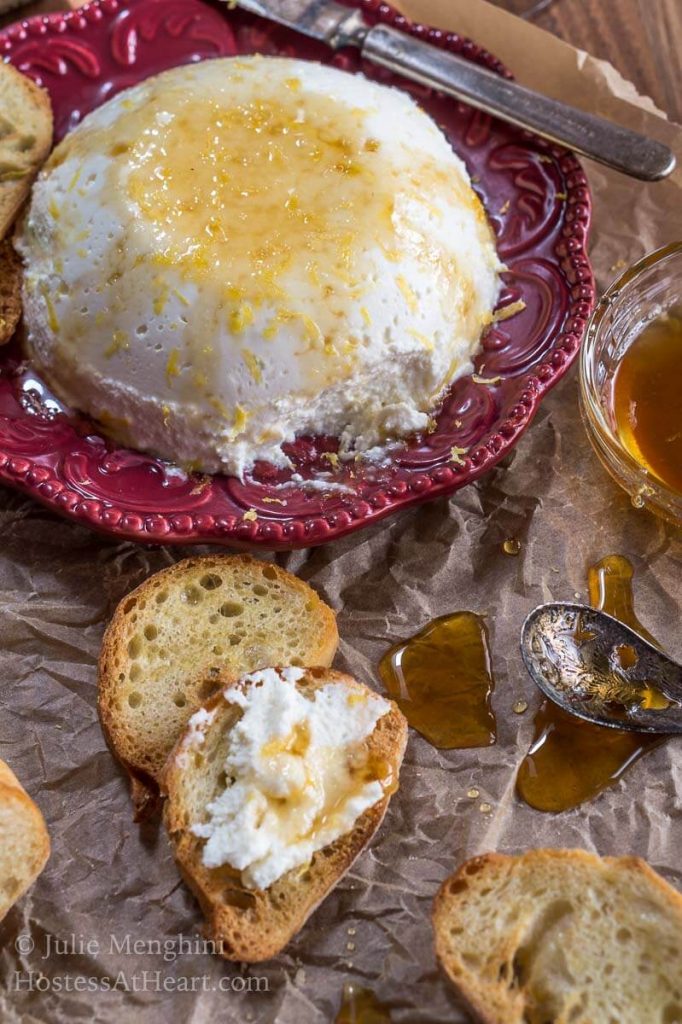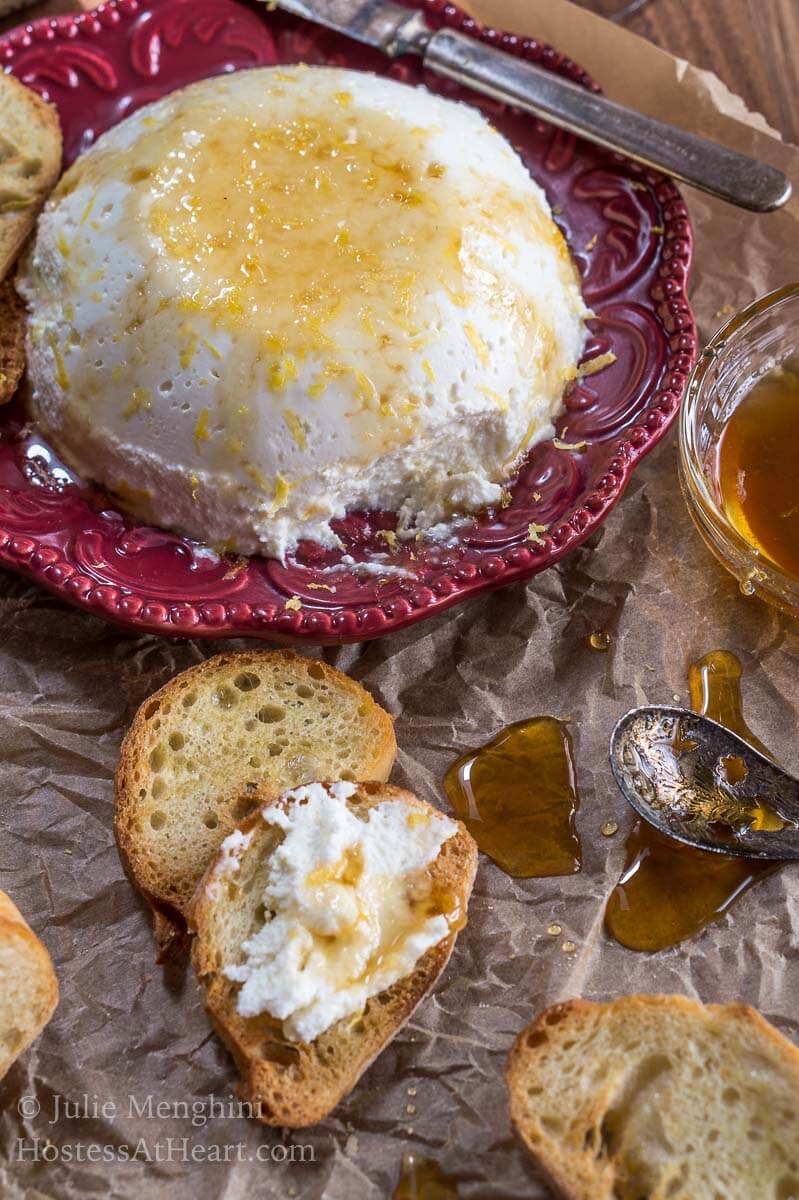 We baked and thinly sliced a baguette but you could serve yours with crackers or even pieces of fruit.
The hardest thing is not eating it with a spoon!
Don't have time to make it now?

Pin it

for later!
Homemade Lemon Ricotta with Honey Recipe
Homemade Lemon Ricotta With Honey makes a deliciously decadent appetizer that is both quick and very easy to make. Once you make it you will never buy it again.
Ingredients
4

cups

whole milk

2

cups

heavy cream

1

tsp

kosher salt

3

tbsp

white wine vinegar

*Zest of 2 large lemons

*Honey
Instructions
Dampen two layers of cheesecloth with water and line the sides of a large sieve. Set the sieve over a deep bowl.

Pour the milk and cream into a stainless-steel or enameled pot. Stir in the salt. Bring to a full boil over medium heat, stirring occasionally.

Remove the pot from the heat and stir in the vinegar. Let set 1 minute until it curdles. It will separate into thick and milky parts also referred to as curds and whey.

Pour the mixture into the cheesecloth-lined sieve. Allow it to drain into the bowl for 25 to 30 minutes, occasionally discarding the whey that collects in the bowl.

Pick up and gather the corners of the cheesecloth together and squeeze excess remaining liquid.

Transfer the ricotta to a bowl, discarding the cheesecloth and any remaining whey. Stir in the lemon zest.

Use immediately or cover with plastic wrap and refrigerate.

*I flavored half of this recipe with lemon (zest of one lemon) and pressed it into a bowl. I allowed it to chill and then turned it over on a plate and garnished it with honey. It kept it's shape.

Ricotta will keep 4 to 5 cays covered in the refrigerator.
Notes
The recipe is adapted from Ina Garten of the Food Network.
Nutrition
Serving:
2
g
|
Calories:
281
kcal
|
Carbohydrates:
8
g
|
Protein:
5
g
|
Fat:
26
g
|
Saturated Fat:
16
g
|
Cholesterol:
94
mg
|
Sodium:
366
mg
|
Potassium:
206
mg
|
Sugar:
6
g
|
Vitamin A:
1072
IU
|
Vitamin C:
1
mg
|
Calcium:
177
mg
|
Iron:
1
mg
This recipe was calculated using the exact brands and measurements I used to make this recipe. If you are following a strict diet please note changing anything will cause the nutritional info to change. My calculations are intended as a guide only.
This recipe makes two cups. I flavored one cup with lemon and served it as an appetizer. The other half I left plain and used it in another recipe coming soon.
Here are a couple other delicious appetizers!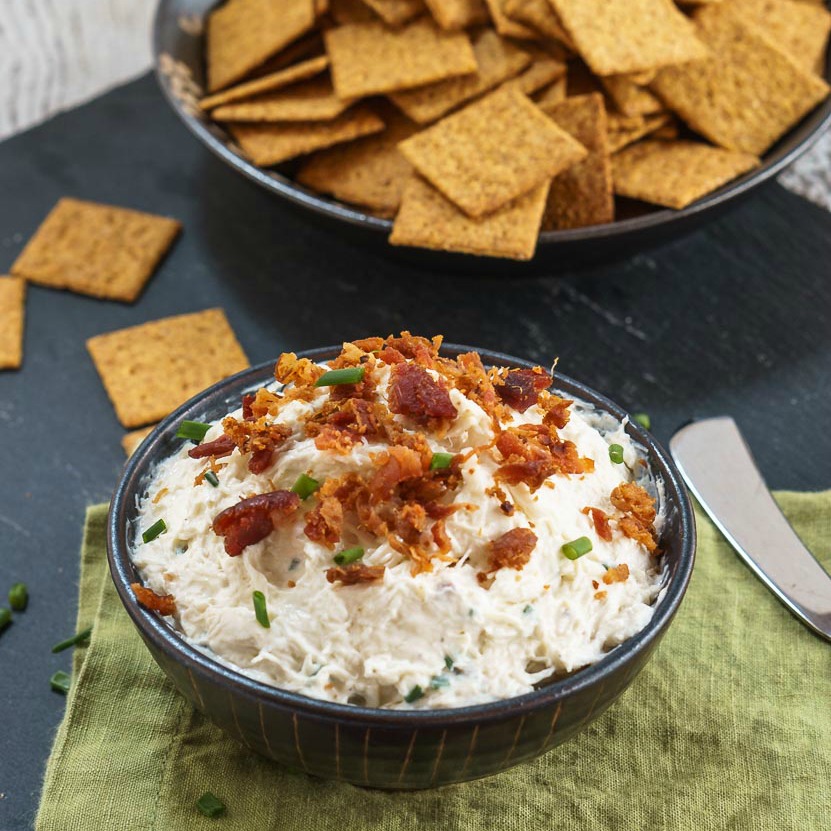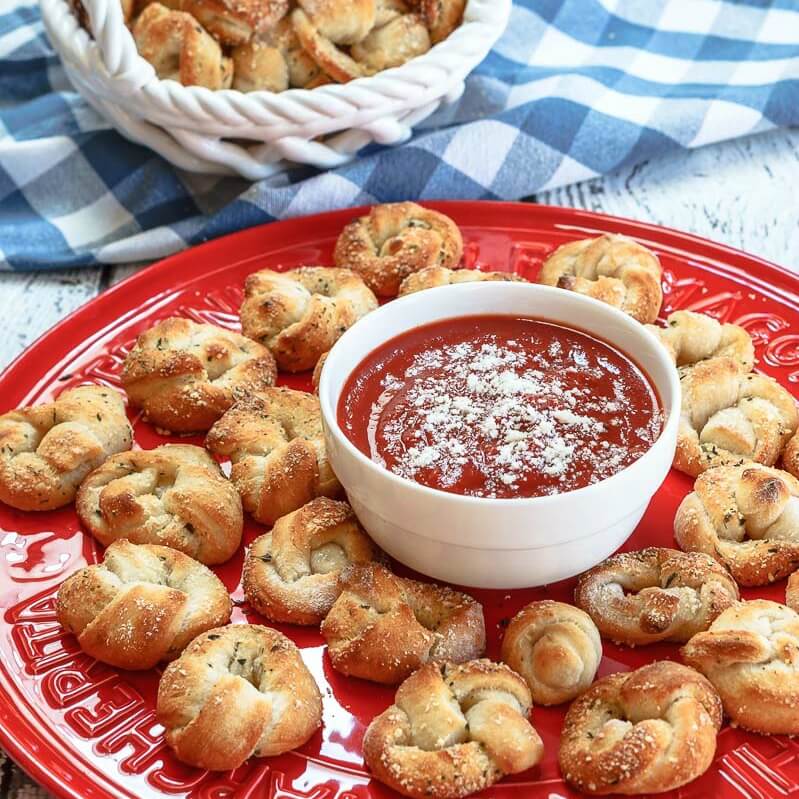 Mexican Meatballs in Chipotle Sauce