Discover a recipe for delicious Mexican Meatballs in Chipotle Sauce! This easy-to-make Crockpot meal can be prepared in advance for a stress-free weeknight dinner. Try this flavorful dish for your next family meal!
THIS POST HAS BEEN UPGRADED FROM 7/2/15 TO IMPROVE READER EXPERIENCE.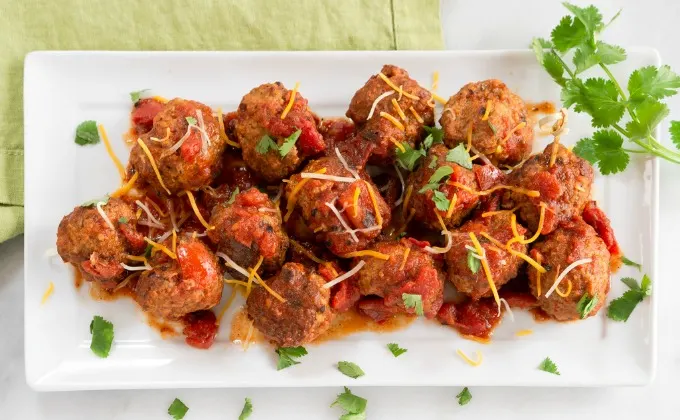 Mexican Meatballs in Chipotle Sauce recipe is perfect as a main dish or an easy crockpot meatball appetizer.
Making them in a slow cooker makes them perfect for hands-off serving and a great dish to make and take!
Why I Like this Mexican Meatballs Appetizer Recipe
Mexican Meatballs in Chipotle Sauce recipe is super easy and makes some delicious, super moist meatballs.
The simple chipotle sauce that's slathered around the meatballs adds a nice subtle kick without overwhelming heat. Which is perfect for my wimpy taste buds.
We made this Chipotle Meatballs crockpot recipe for a party that we attended as an appetizer.
We started this easy meatball recipe earlier in the day and transported them in the crockpot.
Setting them to warm for serving kept them warm all evening. We love how everyone can help themselves to crockpot appetizers.
Mexican Meatball Ingredients and Substitutions
Meatball Recipe
Ground Meat – I used beef and pork. You can use any ground meat or combination of ground meat including chicken or turkey.
Bread crumbs – Plain bread crumbs
Milk – I used almond milk for a dairy-free meatball. You can substitute with broth.
Eggs – Grade A, large
Seasonings – Chili Powder, Garlic Powder, Ground Cumin, & Salt
Homemade Chipotle Sauce
Fire Roasted Diced Tomatoes – I used canned for convenience.
Chipotle Peppers in Adobo – You can find these peppers in the Mexican food isle of most grocery stores.
Garlic – I used fresh garlic
Seasonings – Oregano (or Mexican oregano), salt, & cumin
Broth – I used chicken broth
How to make Mexican Meatballs
In a large bowl, combine ground meat, bread crumbs, Milk, eggs, chili powder, garlic powder, and 1/2 teaspoon of salt and cumin.
Roll into 1 tablespoon-sized balls and place them on baking sheets lined with foil.
Bake.
Spray a crockpot with non-stick cooking spray. Stir in tomatoes, chipotle peppers, broth, garlic, oregano, and the remaining 1/2 teaspoon salt and cumin. Add the meatballs and cook on high for 3 hours.
Garnish with cilantro and serve.
Tips: This recipe only uses 3 of the peppers in adobo sauce. You can freeze the peppers that you don't use.
Please note, that the printable recipe card has ingredient quantities, complete instructions, and nutritional information. The following is a quick overview of the recipe.
How to store Chipotle Meatballs.
This recipe made a bazillion meatballs (50 to 60 1-inch meatballs) so we were able to bring some home.
Refrigerator storage – They will last 4 days in the refrigerator in an airtight container.
Freezer storage – This meatball appetizer also freezes amazingly well. Meatballs in chipotle sauce should be stored in a freezer-safe container or bag for up to 3 months.
Thaw and reheat – You can thaw the meatballs at room temperature or overnight in the refrigerator. You can also reheat them without thawing them in the microwave, a saucepan over low heat, or add them back to the slow cooker.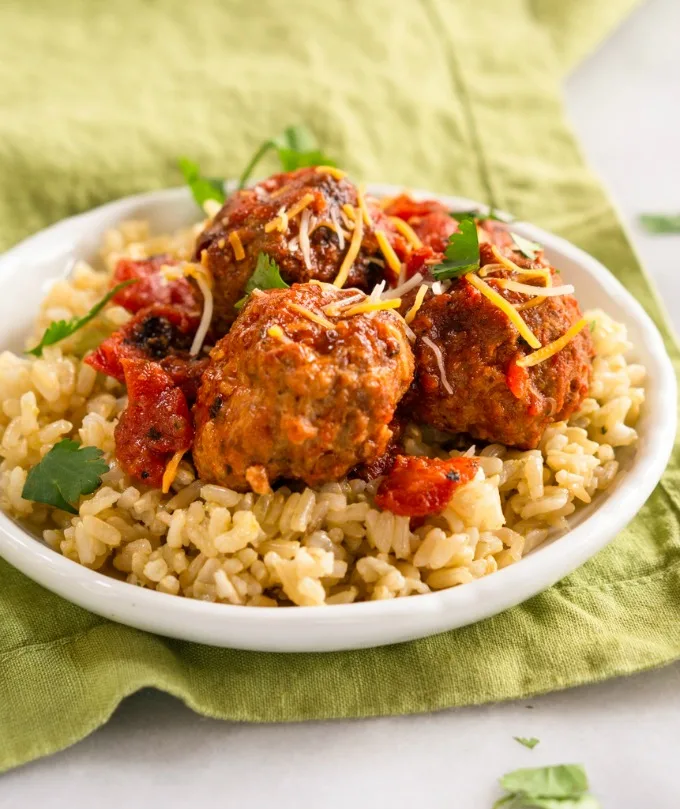 How to Serve Meatballs in Chipotle Sauce
As a Mexican-inspired appetizer, you can either serve them from the crockpot with a pair of tongs.
I also like piling them on a serving dish with toppings such as cilantro, sour cream, salsa, jalapeno slices, and grated cheese in separate bowls. That way my guests can help themselves.
Chipotle meatballs make an easy lunch when you stuff them into a hoagie roll or tortilla for another easy meal.
What to serve with Mexican Meatballs? We served them for dinner over my favorite 4-Ingredient Tomatillo Rice. You could also serve them with a delicious side of our Cherry Chipotle Salad.

Chipotle, what does that mean?
Chipotle is a smoked jalapeno pepper. The jalapeno pepper has thicker walls that prevent them from drying like other peppers.
Smoking was intended to preserve them. The result is a delicious smoky spicy flavor profile perfect for Mexican Meatballs recipes.
Chipotle Peppers in Adobo sauce is a combination of smoked jalapenos and a red sauce made of chili powder, vinegar, sugar, garlic, and herbs.
You could definitely kick up the heat for people, like John, that like more of the inferno effect.
Frequently asked questions
What is the difference between meatballs and albondigas?
Albondigas is an authentic Mexican meatball usually served in soup. This is my version of a Mexican meatball because of the spices used. I don't claim it to be authentic.
Can I use frozen meatballs?
Yes, for an easy Mexican appetizer you can use frozen! There is no need to thaw the meatballs before adding them to the crockpot!
How do you keep meatballs moist?
The addition of eggs, milk, breadcrumbs, and broth guarantee that these meatballs will be moist.
Don't forget to Pin this amazing meatball appetizer!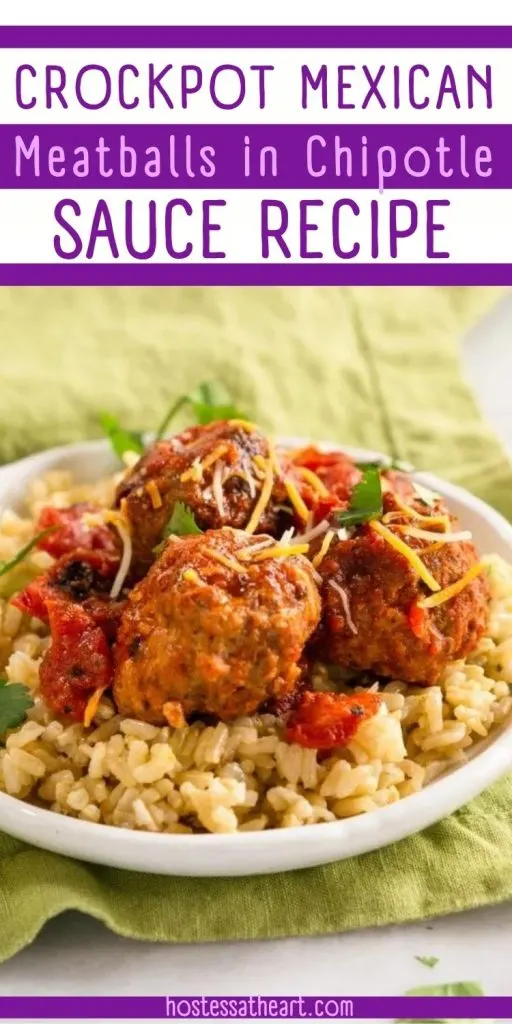 You May Need:
Scoops – When I make meatballs or cookies or anything that I want to be a similar size, I use scoops. They not only look better but they cook evenly too. I use a larger scoop when serving these meatballs for dinner or a smaller one when serving them as an appetizer
Instant Read Thermometer – I have this brand but my thermometer cost about 9 times what this one does. I've had mine for several years but would go a little less expensive especially with these great reviews.
Crock-Pot Slow Cooker – I like this brand and that it can be programmed. The lid can be locked for no-spill transportation.
The only changes that I've made to this recipe over the years are that I now bake this crockpot meatball appetizer is to brown them instead of using a skillet and hot oil on the stovetop. You can skip browning altogether if you choose to.
It's less messy and I can bake them all at the same time instead of browning in batches.
They're a little better for us by skipping the hot oil too.
Related recipes
If you make these Mexican Meatballs appetizer recipe stop back and let me know what you think!
Recipes with a Mexican twist
I have a great love for this recipe. It was one of the few recipes that brought me traffic at the beginning of my blogging life.
My photos were horrible even though I was so proud of them a the time.