Homemade Basic Muffin Recipe has a soft and tender crumb and is so quick and easy to make. This easy muffin recipe has so many variations that it will quickly become your family favorite muffin too!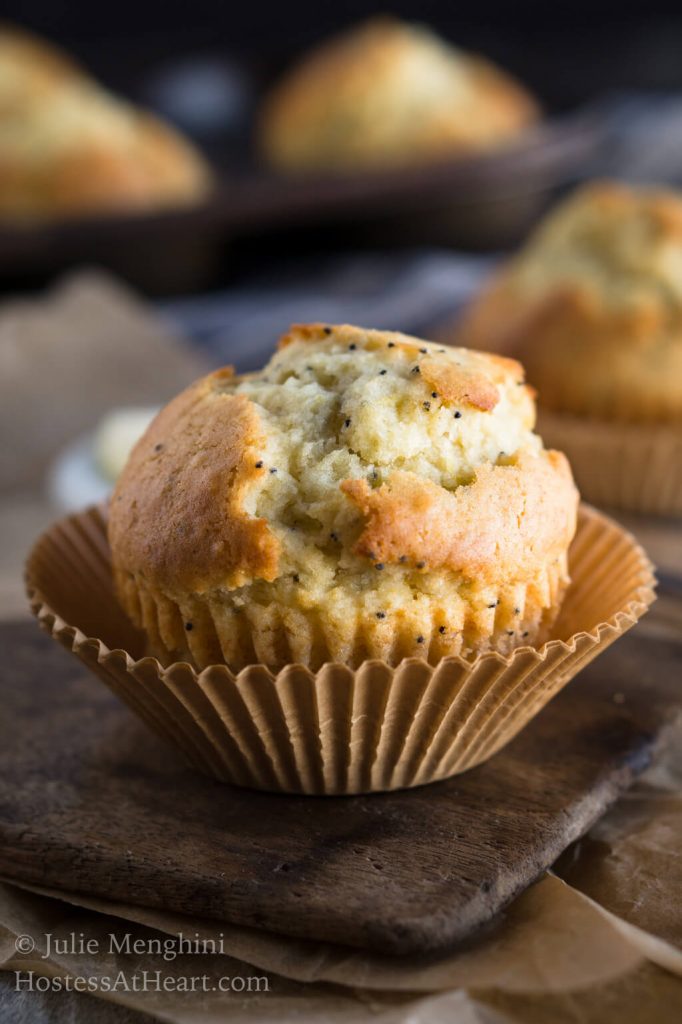 Our family favorite muffin recipe always makes our meal feel special. This Basic Muffin is soft and tender and can be flavored according to your tastes so everyone in your family thinks so too. You may want to double it so there are a few left for breakfast tomorrow.
My family has always loved muffins and any time that I thought that I just needed to add something special to a simple meal it always came down to this Basic Muffin Recipe.
The photos featured here are my Lemon Poppy Seed version.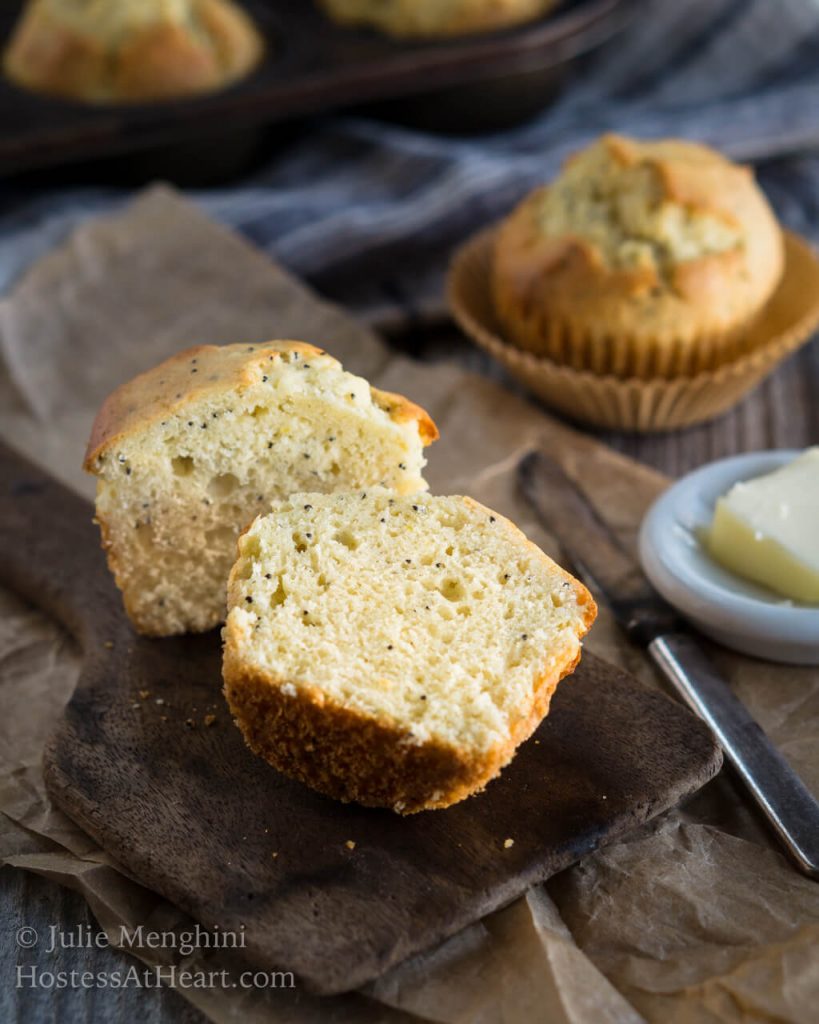 Even after working all day, if I had some soup on the stove I could whip up this Basic Muffin in a jiffy. They took the soup to a whole new level.
Don't have time to make them now?

Pin it

for later!
These muffins are so versatile. You don't have to do a thing to them but here are a few variations that I make to these homemade muffins that make people think my recipe box is just full of muffin recipes:
Basic muffin variations
Lemon Poppy Seed – Exchange vanilla extract for 1 teaspoon of lemon extract and add 1 teaspoon of poppy seeds.
Snickerdoodle – Add 1 teaspoon of cinnamon and sprinkle turbinado sugar over the top before baking.
Lemon Blueberry – Exchange vanilla extract for 1 teaspoon of lemon extract and add 1/2 cup of fresh or frozen blueberries.
Almond – Exchange vanilla extract for 1 teaspoon of almond extract and top with shaved almonds.
Morning Glory – Add 1 teaspoon of cinnamon, 1/4 cup raisins, and 1/4 cup of walnuts. Sprinkle oats over the top if desired.
Cinnamon Raisin – Add 1 teaspoon cinnamon and 1/3 cup raisins.
Apple Pie – Add 1 teaspoon cinnamon and 1/2 cup chopped apples. Sprinkle top with turbinado sugar.
Chocolate Chip – Add 1/2 cup chocolate chips
As you can see, these homemade muffins have so many options and they bake up so quickly. It makes the perfect recipe to introduce baking to the kiddos too.
In no time at all, they can dig into their works of muffin art! My favorite is just a plain muffin, hot from the oven and drizzled with honey. I'm salivating just thinking about them!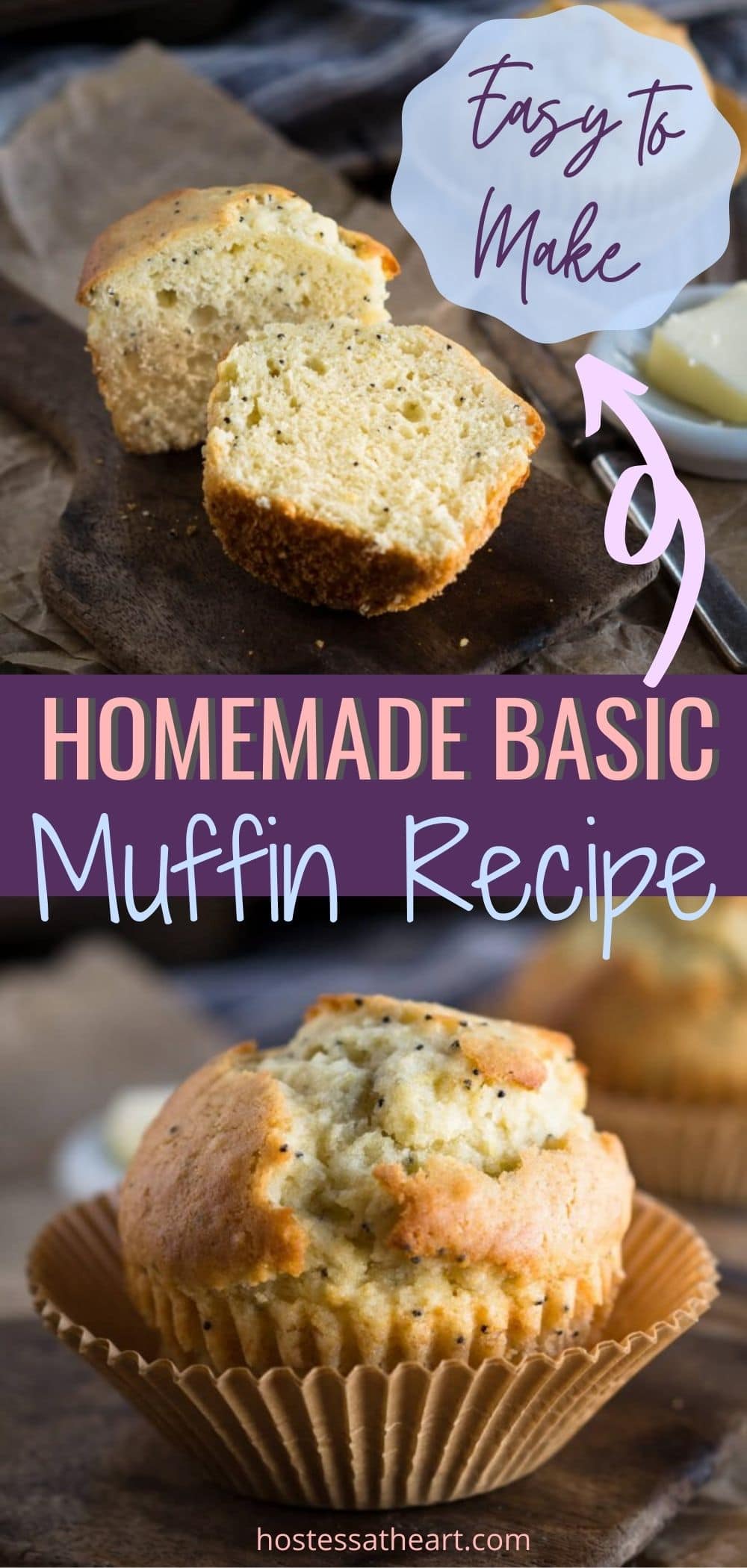 More muffin recipes you may enjoy
Whew, I knew we loved a great muffin recipe! That's not even all of them and my brain has a few more waiting to be created!
When I'm not baking muffins, I'm baking bread. Here are a few of our most popular bread recipes.
You may need
12 cup Muffin Pan – I love these muffin pans and have three of them so I can get them all filled and baked at once. They're great for egg cups too!
Baking racks – I love these racks because nothing will slip through the grid and they fit inside my jelly roll pan so I don't need to flip what I'm baking on them.
Our most popular recipes
Homemade Basic Muffin Recipe
A great Homemade Basic Muffin Recipe makes any meal special. This recipe is quick and easy and you can flavor them any way you want.
Ingredients
1

egg

beaten

1/2

cup

milk

any variety will do

1/4

cup

vegetable oil

1

tsp

vanilla extract

1/2

cup

sugar

1 1/2

cup

flour

all-purpose

2

tsp

baking powder

1/2

tsp

salt
Instructions
Preheat the oven to 400°F. Line a muffin pan with muffin papers or grease the pan well.

Combine Egg, Milk and salad oil.

In a separate bowl combine baking powder, flour, sugar, and salt. Whisk to combine. Pour the liquid ingredients into the dry ingredients. Blend only until combined.

Spoon batter into each muffin paper until 2/3 full. Bake for 16-20 minutes.

Store in an airtight bag or container.
Nutrition
Calories:
212
kcal
|
Carbohydrates:
31
g
|
Protein:
3
g
|
Fat:
8
g
|
Saturated Fat:
6
g
|
Cholesterol:
21
mg
|
Sodium:
161
mg
|
Potassium:
179
mg
|
Sugar:
13
g
|
Vitamin A:
55
IU
|
Calcium:
78
mg
|
Iron:
1.3
mg
This recipe was calculated using the exact brands and measurements I used to make this recipe. If you are following a strict diet please note changing anything will cause the nutritional info to change. My calculations are intended as a guide only.
As you can see, there's nothing basic about this basic muffin recipe. It's just waiting to be reinvented in your kitchen!
These quick and easy muffins also make a yummy breakfast treat the next morning, Just store them in an airtight bag or container if you have any leftover!
Can you think of a couple of homemade muffins varieties that you would put on your table? I'd love it if you shared it in the comments below!