Pulled Pork Green Chile Verde is a thick meaty dish that is full of warm savory spices. It's a stew or makes a delicious filling for enchiladas and tacos!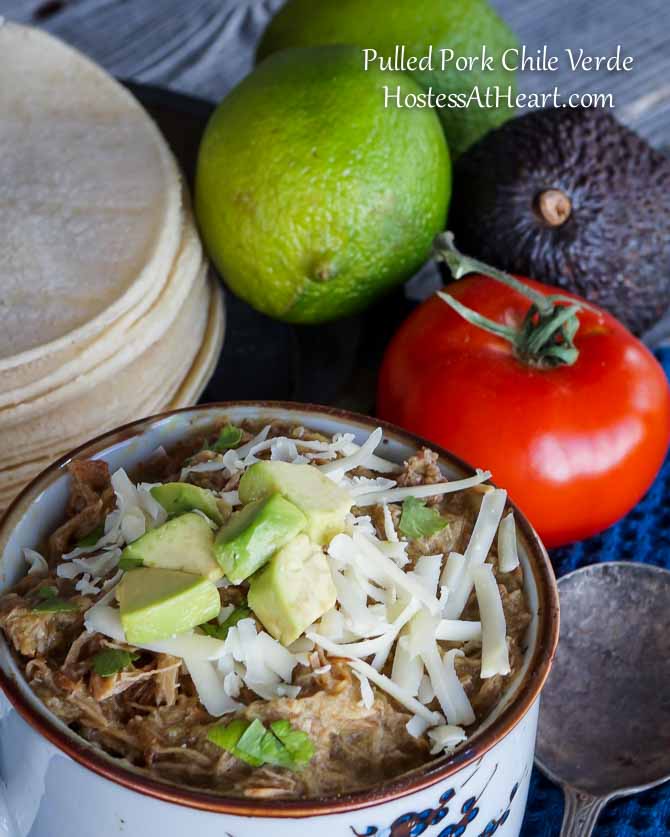 If there is any food that I crave, it's Mexican food. We're luck enough to have access to many of the ingredients that we love to make our favorite Mexican dishes like this Savory Green Chile Verde recipe. In the summer we enjoy it with fresh salsa and guacamole but this Pulled Pork Green Chile Verde is a year round favorite!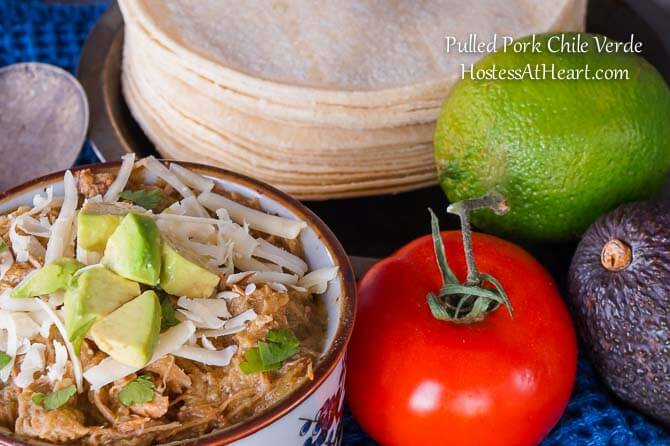 When I had my hip replacement. I relied on John for so many things including our meals. To help out I made and froze dishes that would be easy to put together and that we could transform into multiple meals.
John could eat the same thing over and over and a slab of meat with none of the extras is fine with him. Not me.
Pulled Pork Verde variations
You can eat Pulled Pork Green Chile Verde as a Stew with lovely garnishes such as additional cilantro, fresh tomatoes, shredded cheese, and avocado.
Put it in a tortilla shell and eat it as a tasty taco.
Bake it with additional sauce and cheese for enchiladas.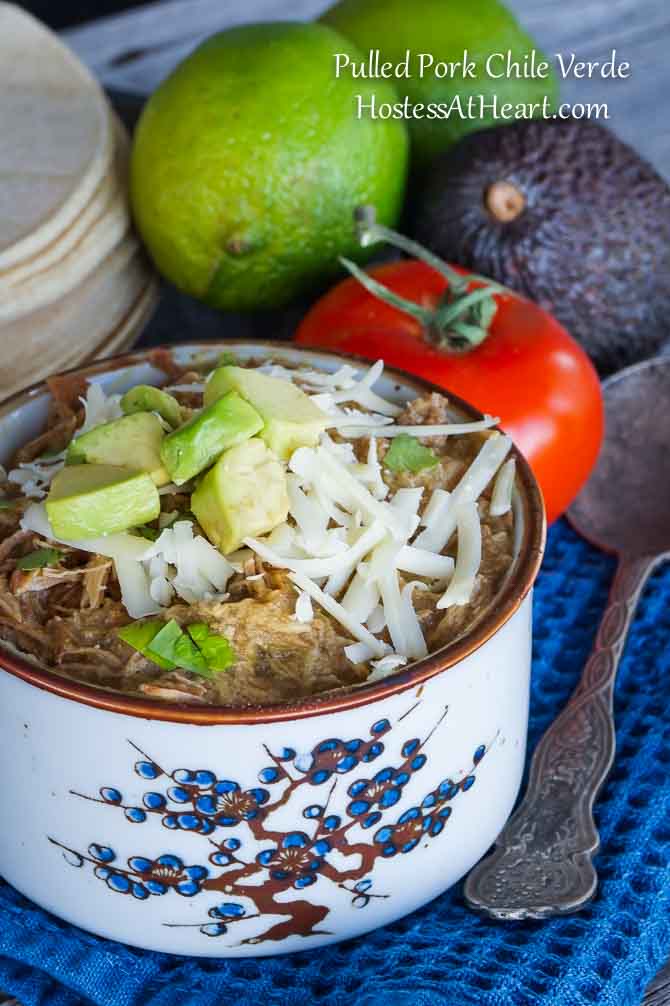 [Tweet "Pulled Pork Green Chile Verde is great as a stew, taco or enchiladas."]
You could definitely reduce this recipe but when I go to all the effort to make something this amazing I make extra. You can reduce the amount of the shredded pork that you make into this Green Chile Verde recipe and freeze some of it for easy meals like bbq pulled pork sandwiches. It's great to have on hand. You can break this recipe up and make it over a couple of days by cooking the pork one day and the Chile Verde the next.
The hardest part about this recipe is not digging into the pork as you are shredding it. It cooks up with so much flavor, and just smelling it simmer on the stove was enough to test my willpower. I successfully just nibbled a bit here and there when I seriously wanted to just do a face plant right into the middle of it.
Here are a few other dishes with a spicy flare that I think you'll love
Let's keep in touch! You can find me on Pinterest, Instagram, Facebook, and Twitter! Better yet, enter your email address in the box below and never miss a recipe!