This Lemon Poke Cake Recipe is a luscious blend of citrusy sweet flavors. With a moist, tender cake base and a creamy, lemon pudding, this dessert is a crowd-pleaser. Easy to make and perfect for potlucks or gatherings, this recipe is a must-try for all lemon lovers.
Even though you can serve this poke cake any time of year, the bright lemon makes this Poke Cake with Lemon perfect for Spring or Summer. Just like my Lemon Icebox Pie, Lemon Snowflake Cookies, and this amazing Blueberry Lemon Pie are.
This recipe was updated from 2019 to improve my reader's experience. No changes were made to the recipe.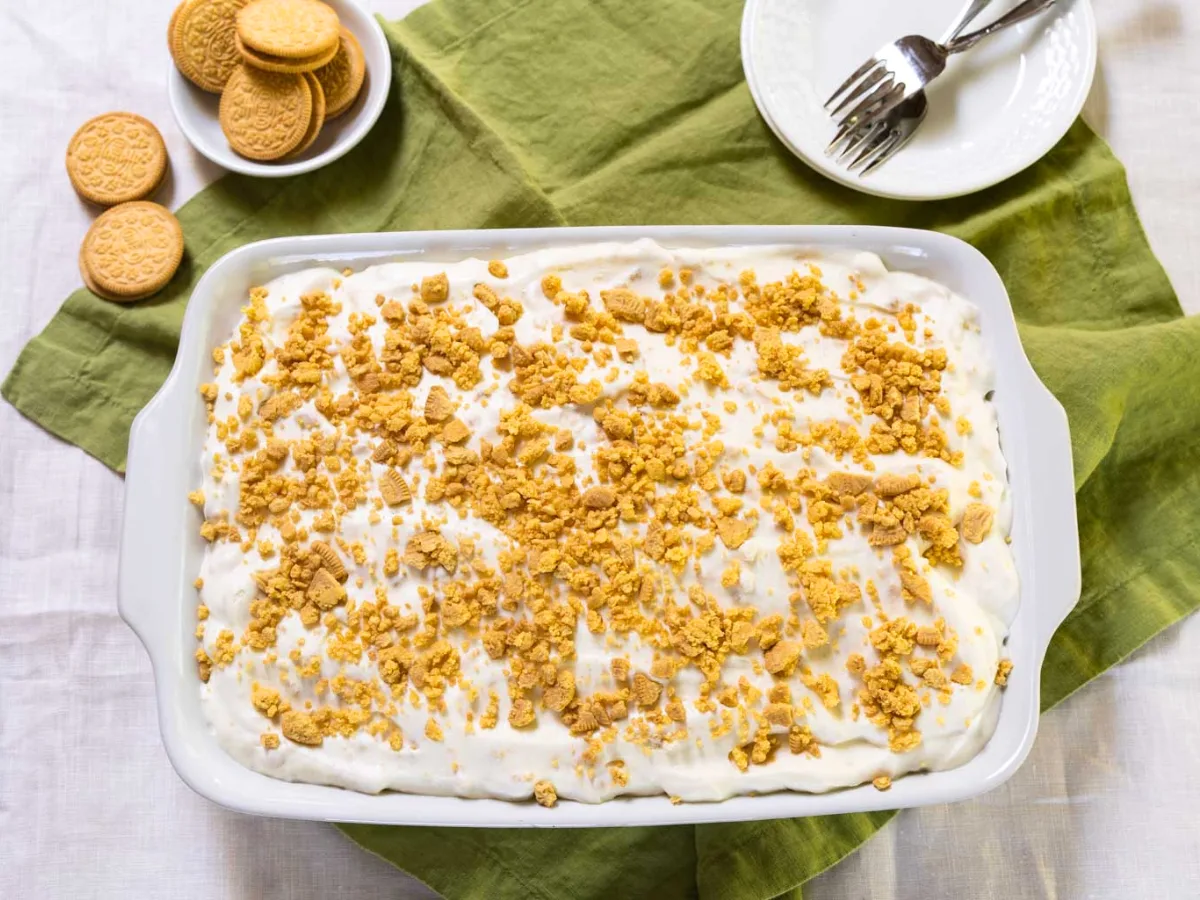 Each slice of Lemon Poke Cake With Pudding is dotted with holes that are filled with more lemon goodness, making it a perfect dessert for spring or summer gatherings. Try it today and impress your guests with this delightful treat!"
You know how I LOVE chocolate right? Well, Lemon may be a close tie. I just love how lemon brightens up any dish whether it's in a dessert or savory dish. It just reminds me of summer and a burst of sunshine just like this Pudding Poke Cake!
Why you'll love this Lemon Poke Cake Recipe
Lemon Pudding Poke Cake is an easy make-ahead refreshing lemon dessert that makes it a great recipe for entertaining.
Poke cake with lemon will feed a crowd. A generous 9×13 pan easily feeds 12 to 16 people.
Semi-homemade dessert makes the ingredient simple and short.
This Easy Cake with Lemon Pudding checked off this list plus one more essential requirement for the barbeque that I initially took this dessert to.
Nut allergy safe!
Another requirement is that the house we were going to has a child with a serious nut allergy. I've become educated on how to make food "safe" for this child. You see, even though the food doesn't have nuts in it, it still might be dangerous.
You have to look at the label of every single ingredient that you put in a dish.
The nutritional label will sometimes list allergy-specific ingredients in bold or will have a "Contains" statement that will list allergen ingredients such as gluten, wheat, tree nuts, etc.
Another very important detail is if the ingredient was processed in a facility that processes products with nuts. That makes it off-limits to people with nut allergies too.
Lastly, monitor your own working space. If I've recently used nuts in my own kitchen, I make sure all surfaces and utensils are CLEAN (counters, cutting boards, and gadgets)!
Want more delicious recipes? Follow Hostess At Heart on Pinterest!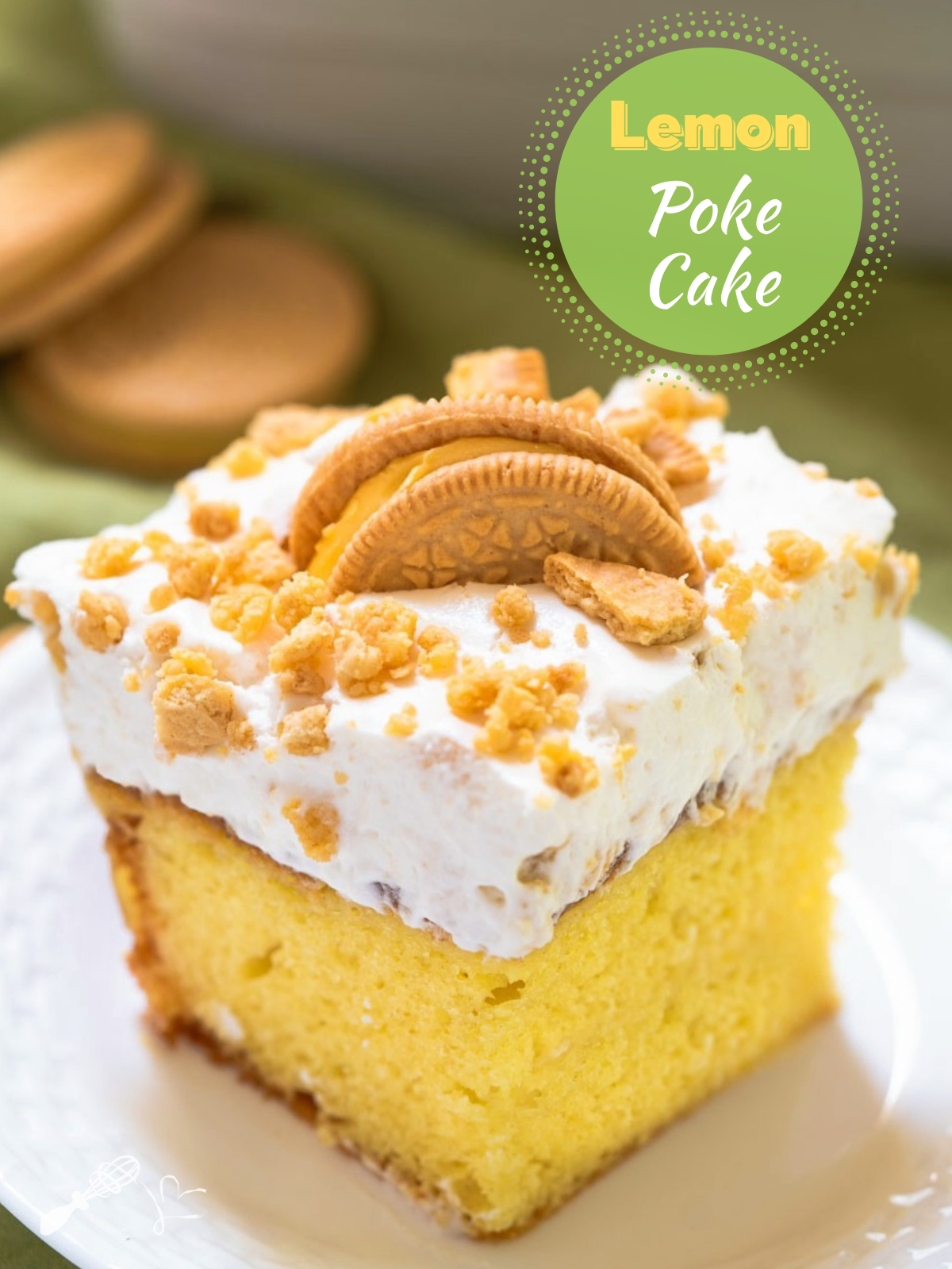 What is a pudding poke cake?
A pudding poke cake is a baked cake that you poke holes in so that you can infuse other flavors. In this case, lemon cake with lemon pudding. There are other poke cake recipes that call for flavored jello, juice, or sweetened condensed milk to name just a few. It's a great technique for adding moisture and flavor to any cake.
This Kentucky Butter Cake is infused with a buttery sugar glaze that will have you licking the plate!
A few items you make need to make a Lemon Poke Cake Recipe:
Hostess At Heart participates in affiliate programs. As an Amazon Associate, I earn a commission from qualifying purchases. Please refer to my disclosure page for more information about these affiliate programs.
9×13 Baking Dish – I've got this one and love it. It comes with a lid that makes taking and refrigerating my treats a lot easier.
Silicone Spatulas – This pretty set has a flat side and a curved side to take on your toughest job. I love that they are all one piece and can withstand 500°F! Throw out those old chipped ones and treat yourself!
Electric Stand Mixer – I used this mixer for doing everything in this recipe. It is my workhorse and I even have the attachments to make pasta and grind meat and nuts with too.
Ingredients for Lemon Poke Cake with Pudding
Lemon cake mix – You can also use a white or yellow box cake mix. A gluten-free cake mix can be used as well.
Instant lemon pudding – Not cook and serve.
Heavy whipping cream – You can substitute with ready-made whipped topping.
Vanilla extract – Pure or imitation is fine. Use what you have.
Powdered sugar – Also known as confectioners sugar.
Lemon sandwich cookies – You'll use the cookie and it's filling.
Milk – Any variety will work
How do you make a Lemon Poke Cake?
Bake your cake according to the box instructions and let it cool.
Mix the lemon pudding and cold milk together until it starts to thicken.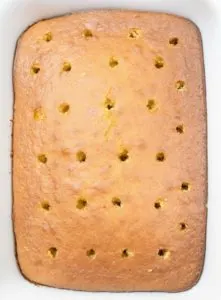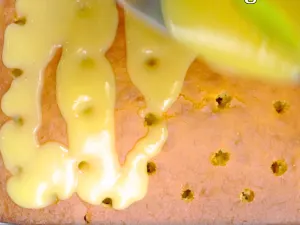 Poke holes into the cake with the handle of a wooden spoon and pour the lemon glaze over the top of the cake.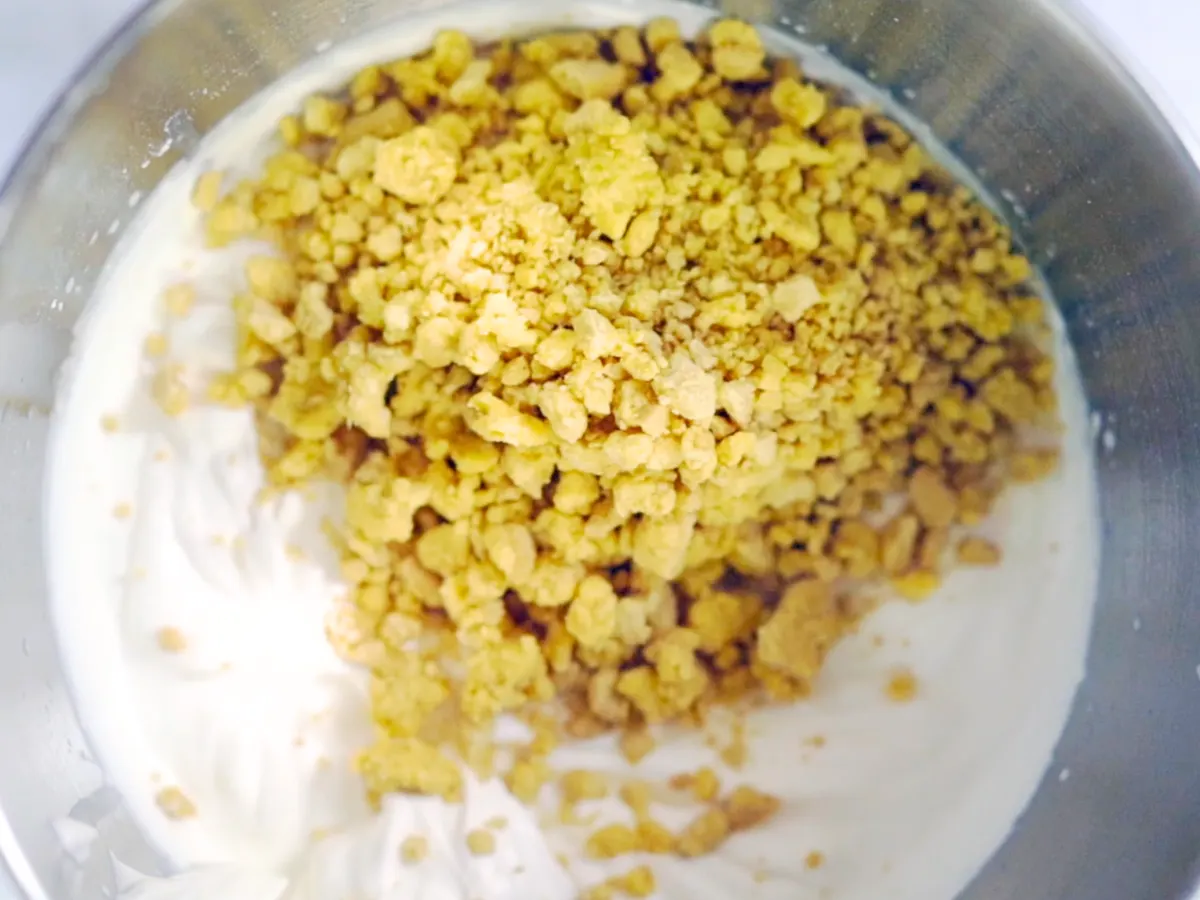 Make the whipped cream and crush some sandwich cookies. Mix some of the crushed cookies in with the whipped topping and leave some for a garnish.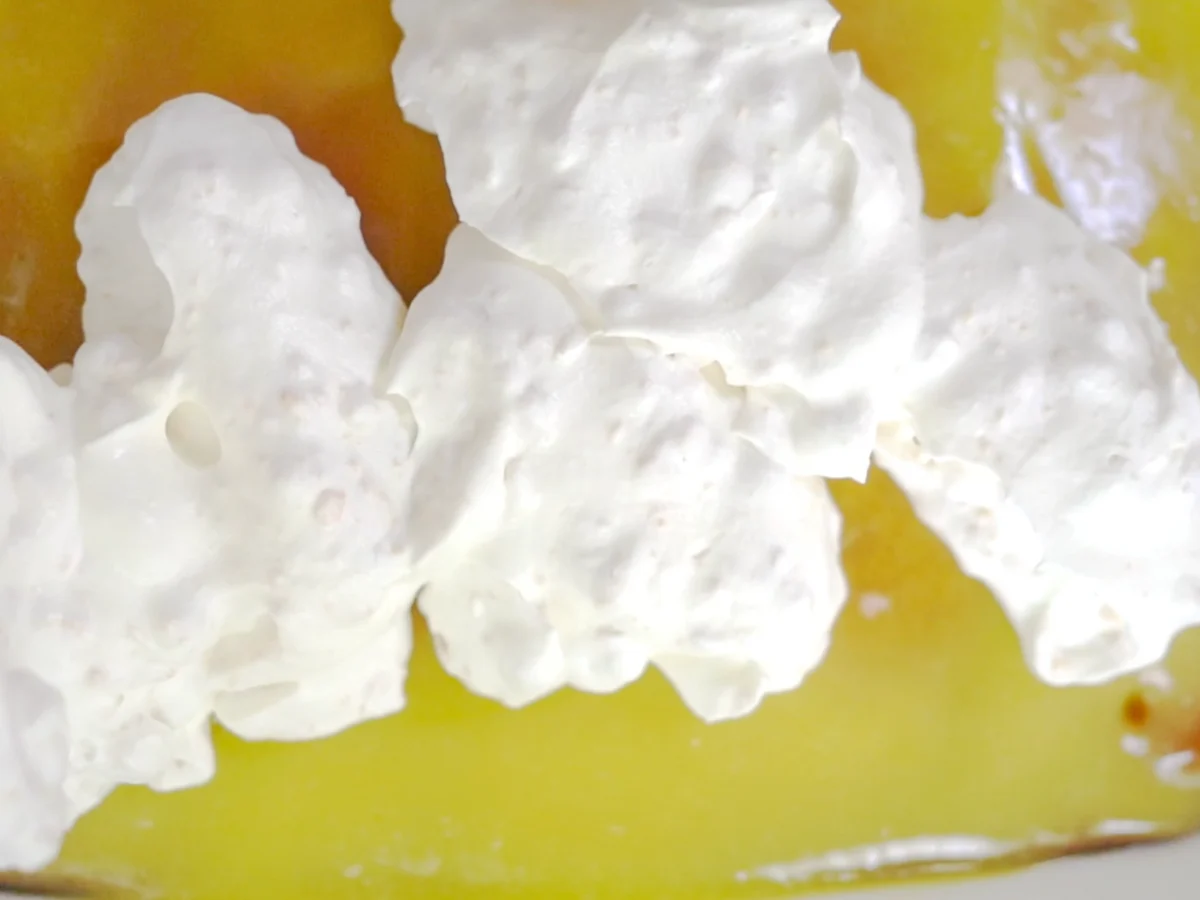 Top the cake with the whipped topping mixture and let it chill for at least one hour.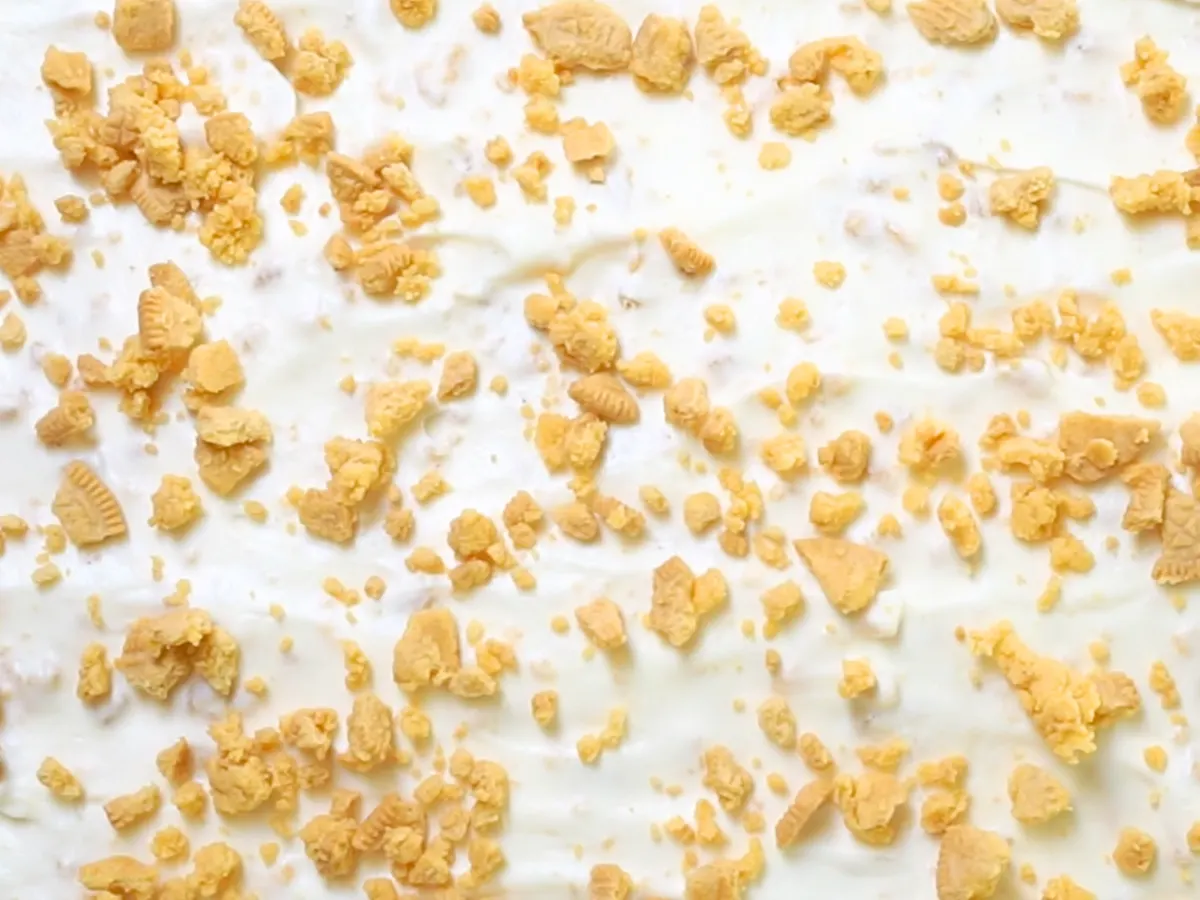 Garnish with more crushed cookies and serve.
Please note, that the printable recipe card has ingredient quantities, complete instructions, and nutritional information. The following is a quick overview of the recipe.
Tips and variations to simplify this Lemon Poke Cake recipe:
You can poke the holes into a warm cake but it's best if you let it cool so it's not too soft. Poke holes approximately 1-inch apart and don't you a large wooden spoon. That will ensure that the entire cake is infused with pudding. Any closer could make the cake soggy.
Don't make the pudding according to the package directions. We use more milk than what's called for in order to make the lemon glaze.
Use ready-made whipped topping instead of homemade. Personally, I love whipping my own, but no one will complain that you didn't.
Use canned lemon pie filling or lemon curd instead of the instant pie filling. Note, however, the consistency will not be the same and I don't believe it will saturate the cake as well. Again, no one will complain!
Top the cake with lemon frosting instead of whipped topping.
You can use vanilla pudding for your pudding layer.
Get the kiddos involved. Let them sprinkle the cookies on top and give them the half cookies to garnish the tops of the pieces of cake before serving.
Serve your lemon cake with pudding with a scoop of vanilla ice cream
How to store Pudding Poke Cakes
Since this recipe for lemon poke cake has dairy as an ingredient, it's best to store this cake covered in the refrigerator. Chilling this cake also keeps this cake from becoming soggy.
This cake also freezes well in an airtight container. While it can be frozen with the topping, I prefer making and serving the topping when I need it. The cookies keep their texture better as well.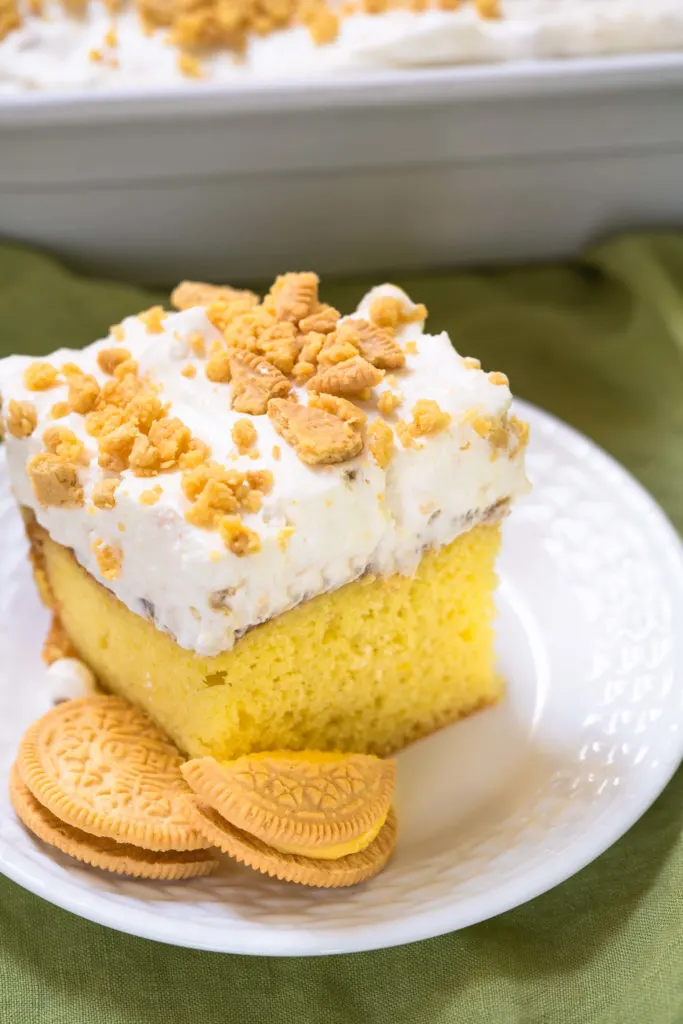 Poke Cake FAQs
Is any difference between a lemon pudding cake and Lemon Poke Cake?
Yes. One cake uses pudding but a poke cake could use other ingredients to infuse the cake such as jello or juice.
Do I have to use a wooden spoon to poke holes in the cake?
No, you don't. Anything with a round handle will work. Chopsticks work well too.
Can I use Cook and Serve pudding instead of instant?
Yes, you can. However, instant is thinner so it soaks into the cake quicker and evenly.
Can I use cake mix with pudding in the mix?
Yes, you can. You can use any cake mix with this recipe.
How do I know when the poke holes are deep enough for the pudding mixture to flow into the cake?
I stand my wooden spoon against the baked cake and measure how tall it is. When you poke the holes, don't go completely through the cake.
Can you make Cupcakes with this same recipe, or does it have to be made in one pan?
Yes, you can make different sized cakes & cupcakes. A bundt cake would be beautiful but I would frost it instead of covering it with whipped topping. Be mindful that you don't put too many holes into a smaller cake or cupcake.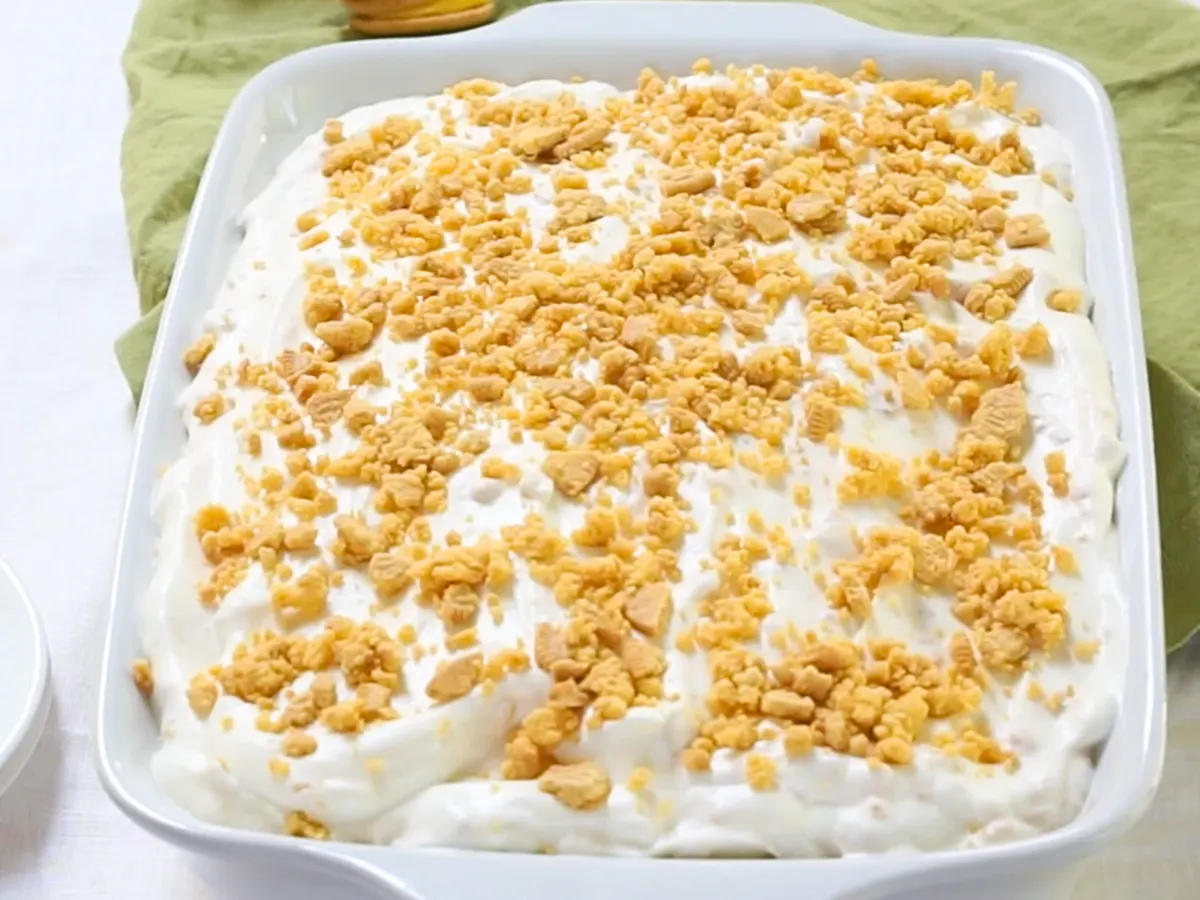 Enjoy this delicious and refreshing Lemon Poke Cake with your loved ones. It's the perfect dessert for any occasion and is sure to impress. Don't forget to share your thoughts and pictures with us!
If you like this recipe, we would appreciate your comment and a 5-star ⭐️⭐️⭐️⭐️⭐️ review!
If you enjoyed this recipe for lemon poke cake, here are some of my favorite recipes that I think you'll like: