Kentucky Butter Cake recipe is a soft and tender cake that will absolutely melt in your mouth. It's infused with a buttery sugar glaze that will have you licking the plate.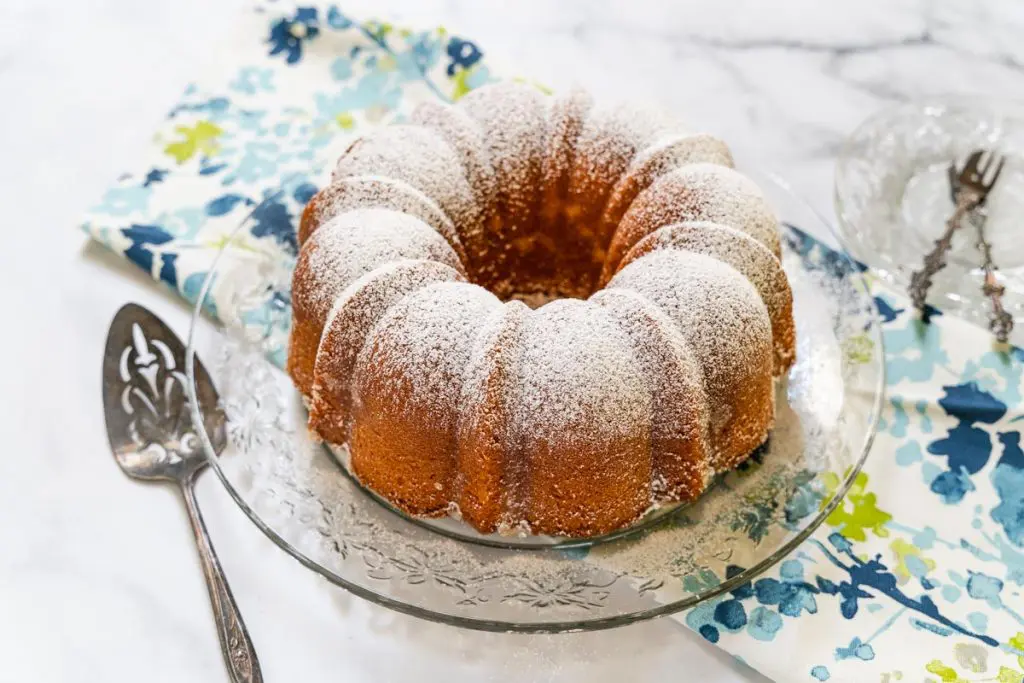 Kentucky Butter Cake couldn't be easier to make. We'll be showing you how you can get it in your hands in a jiffy and best of all, it can be made a day ahead of time making it the perfect cake for entertaining.
Why we love this amazing Kentucky Butter Cake
Make ahead. Most cakes are best the day they're made. Not this beauty. She's delicious just made but if you let her sit for a day with that infused glaze she becomes moist and delicious inside and out!
No Frosting necessary. We don't have a lot of cakes that are delicious right out of the pan, but this one is. We fancied it up with a dusting of powdered sugar but that was strictly for looks. You don't need to go through the hassle of making frosting.
Tried and true. This recipe comes from a bakery and is amongst its best sellers. We'll explain that a little more shortly.
Freaky Friday Summer

WHAT'S SO SPECIAL ABOUT THIS KENTUCKY BUTTER CAKE?
I wish I could take credit for developing this recipe, but I can't. The inspiration for this recipe is the Summer edition of our Freaky Friday Blog Hop.
What's the Freaky Friday Blog Hop? Well, Freaky Friday is a blog hop with some of my favorite food blogger buddies!
We secretly get assigned one another's blogs to make a recipe from, and then we all reveal who we had and what we made on the same Friday.
Our Freaky Friday blog hops are organized by Michaela who runs An Affair From the Heart.
I was so excited to get Aunt Bee's Recipes for the Summer 2021 edition of our Freaky Friday Recipe Blog Hop.
Let me tell you a little bit about Aunt Bee
Brandi is the creator of Aunt Bee's Recipes and is certainly a busy bee with two children and a hubby. She says when she got married she couldn't boil water but now loves pouring through cookbooks and cooking for her family.
Her blog Aunt Bee's Recipes have some amazing recipes that are perfect for the busy family. I had a heck of a time deciding which recipe to pick. I really had my eye on her Crockpot Jalapeno Popper Crack Chicken and her Butterfinger Poke cake.
Aunt Bee said she got this recipe from a friend of hers that runs her own bakery and that this cake is her absolute favorite! How could I ignore such an endorsement from a fellow cake lover? I just had to make her Kentucky Butter Cake recipe.
What is Kentucky Butter Cake?
We couldn't find the creator of this amazing cake, but to describe it we would say If you could improve your favorite pound cake recipe you would get a Kentucky Butter Cake. This cake is soft, tender, and just melts in your mouth.
Even the batter is thick and creamy and you'll need to have a little willpower to get most of it in the bundt pan.
What is the difference between butter cake and pound cake?
A pound cake gets its name from its main ingredients. A traditional pound cake uses 1 pound of its 3 main ingredients, sugar, butter, and flour. We feel a pound cake has more of a dense crumb than this cake recipe.
Kentucky Butter Cake recipe uses some of the same ingredients but uses different measurements. And then, it's infused with a sweet butter glaze…oh my
With a pound cake, it's all about the toppings. This luscious beauty is definitely all about the cake.
Kentucky Butter Bundt Cake Ingredients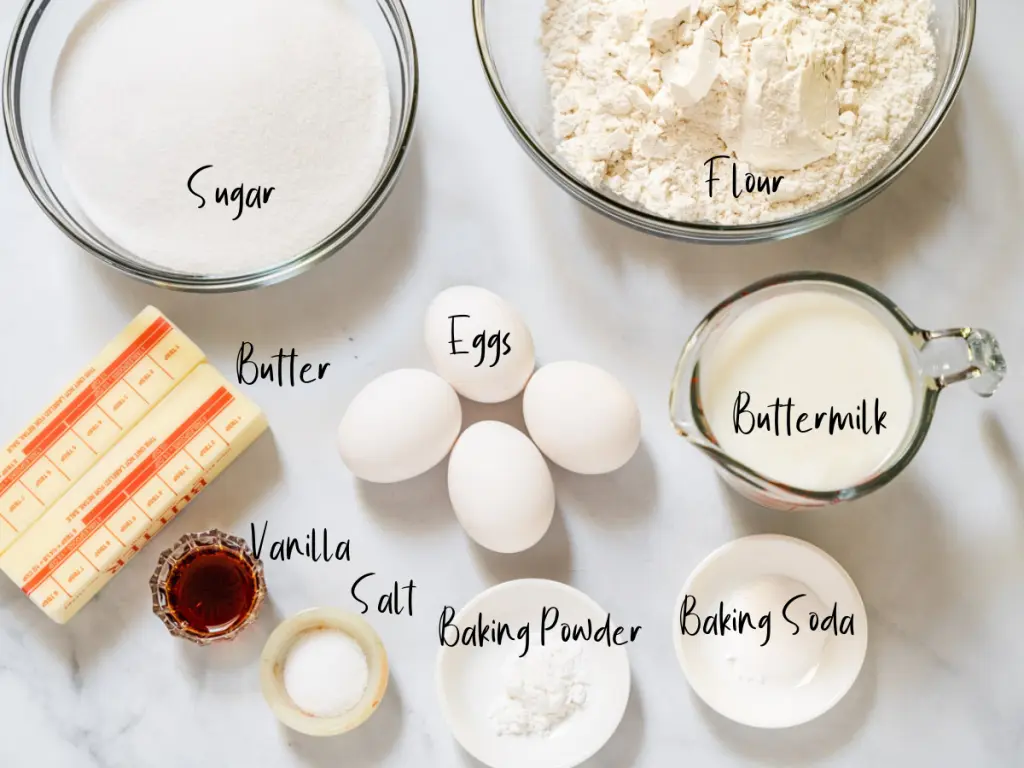 Cake Batter
Flour. All-purpose flour
Sugar. White granulated sugar.
Vanilla. We use pure vanilla extract. Imitation extract can be substituted.
Butter. Room temperature. We used unsalted. You can use salted but reduce the amount of salt to 1/2 teaspoon.
Eggs. Room temperature. Grade A large is what we always use for consistency in our baking.
Buttermilk. Room temperature. Did you know you can make your own buttermilk? Add 1 tablespoon of white vinegar or real lemon juice to 1 cup of milk. You can also substitute with yogurt 1:1.
Baking Powder.
Baking Soda.
Salt. Kosher salt is what we used but table salt is acceptable.
Glaze
Butter
Sugar
Water
Vanilla extract
Tip: – For a real Kentucky experience add 1/4 cup of bourbon whiskey to the cake batter when you add the buttermilk and you can also replace the water and vanilla extract with 1/4 cup of bourbon whiskey in the glaze!
How do you make butter cake from scratch?
Preheat the oven and grease and flour the bundt pan thoroughly. You can also use a baking spray with flour. which is what we did.
Combine butter and sugar in an electric stand mixer and beat until light and fluffy.
Add the eggs, vanilla and buttermilk to the butter mixture and beat until combined.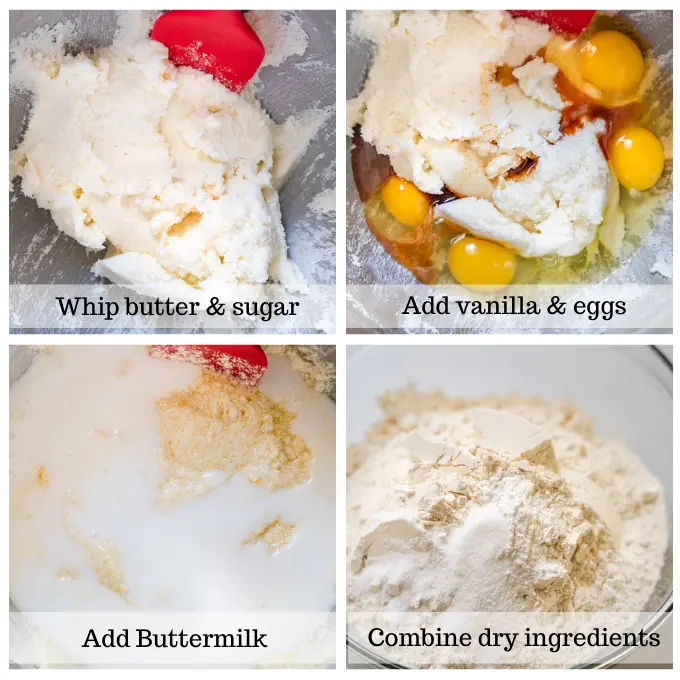 In a separate bowl combine the dry ingredients and whisk together. Spoon the dry ingredients into the butter mixture and mix until combined.
Spoon batter into the bundt pan.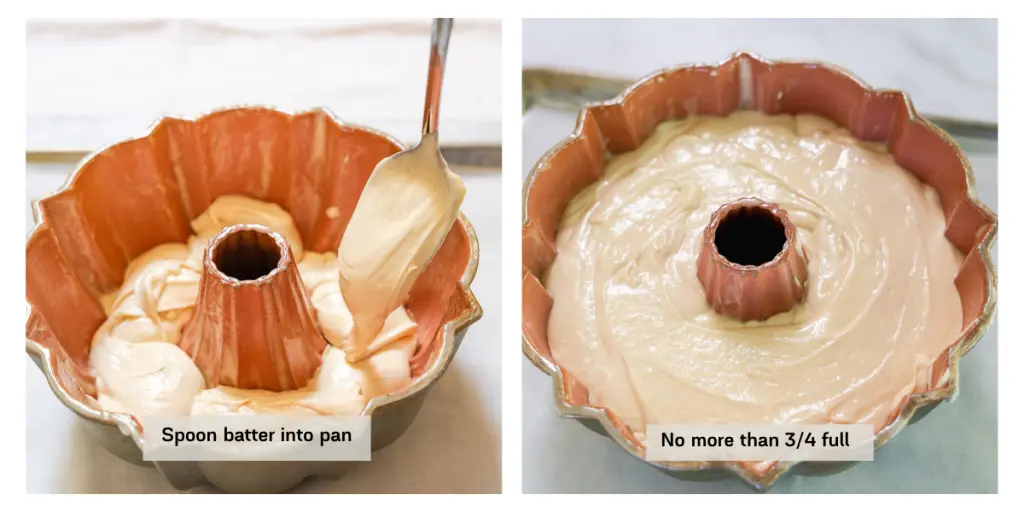 Bake
Prepare the glaze
Poke holes into the cake while still in the pan and pour the glaze into the holes and over the top of the cake which is actually the bottom). We used a knife but you could use a small round object such as a wooden spoon or kitchen utensil.
Once the cake is cool, invert it onto a cake plate.
Tips for the perfect Kentucky Butter Cake
Use the correct bundt pan size. We used a 10-inch, 12 cup non-stick pan. You don't want to overfill the pan.
Give the oven plenty of time to preheat.
Read through the recipe and have everything ready to go before starting to make your recipe. We recommend pre-measuring the ingredients. It makes the flow go so much easier and prevents mistakes.
Use room temperature ingredients. If you forget to take them out ahead of time, here are a few tips for you.

Butter – put it on a plate and microwave for it for 10 seconds. Turn the butter over and heat for an additional 10 seconds. Check for softness. Don't overdo it. We don't want melted butter because it will not whip.
Eggs (still in their shell) – Put eggs in a bowl of warm water for 5 to 15 minutes.
Buttermilk – microwave for 15 seconds, stir and then test. You just want it room temperature not hot.

Don't pack the flour. We use the scoop and level method as explained in Baking Basics, but fluff up the flour first. For this reason we don't recommend scooping the flour directly from the bag. Your cake will be dense and dry.
Don't over mix the ingredients because the cake will lose it's tenderness.
Tap and then jiggle the filled cake pan lighly on a table or counter. This will prevent large air bubbles from making holes and cracks in your baked cake. It will also help the smaller air bubbles rise to the top of the cake making it fluffy.
Bake the cake immediately. The ingredients start chemical reactions as soon as they're mixed together which is what helps your cake rise. Waiting to do so will reduce the rise in your cake.
Don't overbake! Our cake bakes in 60 minutes on convection mode. However, all ovens are different. Some ovens may take up to 75 minutes for the cake to bake. Test your cake with a cake tester or toothpick 5 minutes before the minimum time is up. If there are just a few crumbs sticking to the cake tester, your cake is done.
Cool the cake completely in the pan which will help ithe cake release from the edges.
Our cake popped right out. However, if your cake sticks just patch up any missing spots with the cake and cover it with glaze or powdered sugar.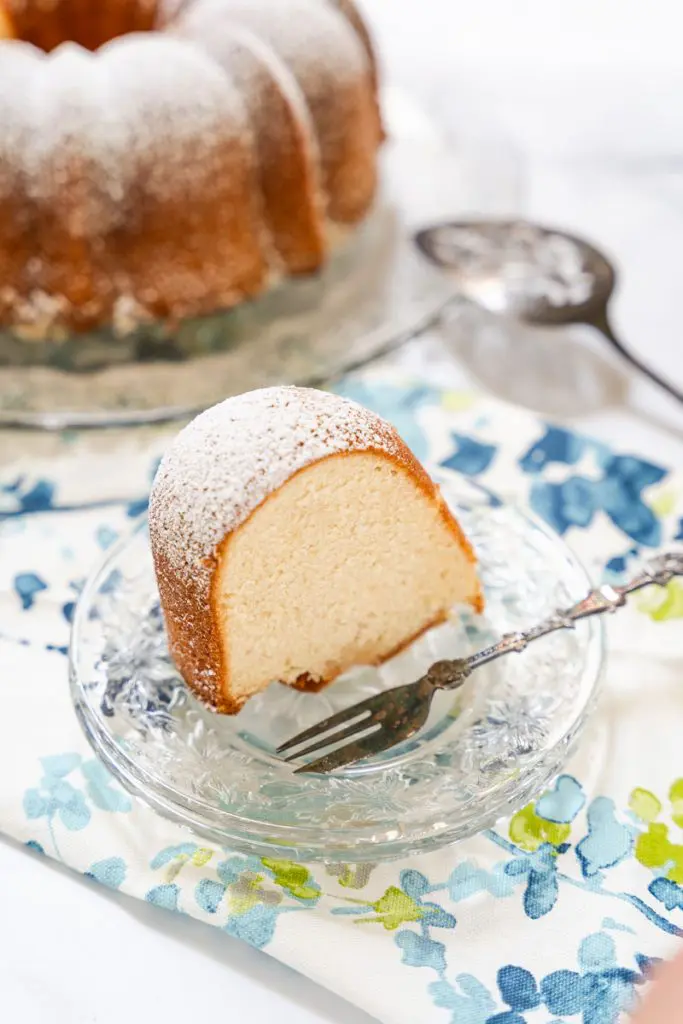 Frequently asked questions
Can this cake be made ahead?
Like Aunt Bee, we made our cake a day ahead of time and stored it in an air-tight cake cover. I don't know what it would have tasted like the first day but I'll tell you, the second day this cake was soft and tender. On the third day, I took it to my sister's house and she couldn't believe that it was cooked 2 days earlier
What options do I have for topping my cake?
This cake is delicious without any topping. We dusted our cake with powdered sugar for a more finished look. You could also reserve a little glaze and pour it over the top of the cake once it's glazed.
What can we serve with our Kentucky Butter Cake?
A cup of coffee is our opinion. However, fresh berries, whipped cream, or ice cream are other options.
Can this cake be frozen?
Yes! This cake freezes beautifully. You can freeze the whole cake and let it thaw covered in the refrigerator or at room temperature. We recommend dusting it with powdered sugar after thawing it and not before freezing it. You can also freeze individual slices which is perfect for a quick dessert for two. You will want to wrap the cake in plastic wrap and then in an air-tight container or aluminum foil. It's best to eat it within 3 months.
How long does this cake last?
We kept our cake in a covered cake carrier in the refrigerator. It lasted for 5 days which is how long we took to eat it. It was delicious even on the 5th day.
Items we used to make our Kentucky Bundt Cake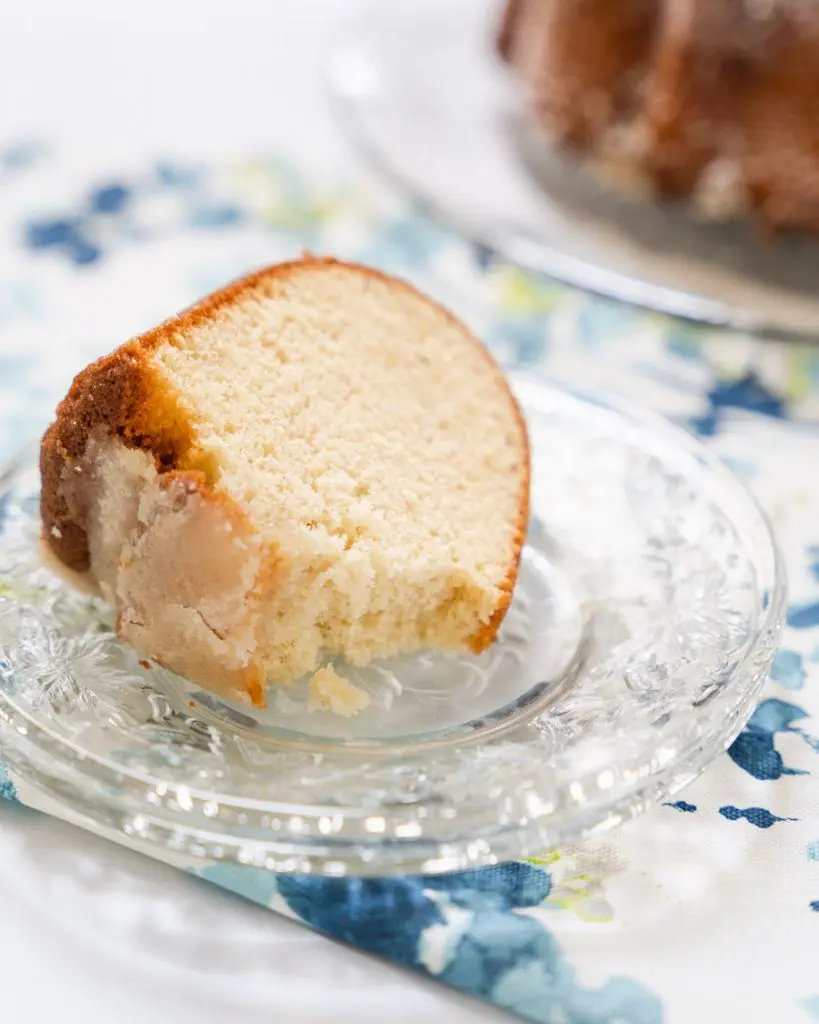 Still looking for amazing cake recipes? Here are some of our most popular!
Lemon Poke Cake with Pudding – This cake is bright and beautiful. She's all dressed up for summer and couldn't be easier to make.
Chocolate Coffee Cake – Combines our favorite ingredients and makes it legal to eat for breakfast!
Apple Spice Cake – We show you how to make this cake in two ways! It's always on our family "please make" list.
Banana Foster Bundt Cake – All I say is Rum, butter, bananas, and praline…oh my!
Take a look at all of our 2021 Freaky Friday Summer Edition Recipes:
If you like this recipe, we would appreciate your comment and a 5-star ⭐️⭐️⭐️⭐️⭐️ review!
I want to thank Aunt Bee for this amazing Kentucky Butter Cake recipe. It is so easy to make and one that will definitely be a repeat in our house. Now, keep scrolling to see what our other Freaky Friday friends have made!