Bananas Foster Cake is a moist and tender banana cake infused with rum under a thick layer of sweet, rich and buttery Pecan Praline Glaze. This banana rum cake comes dressed for any party.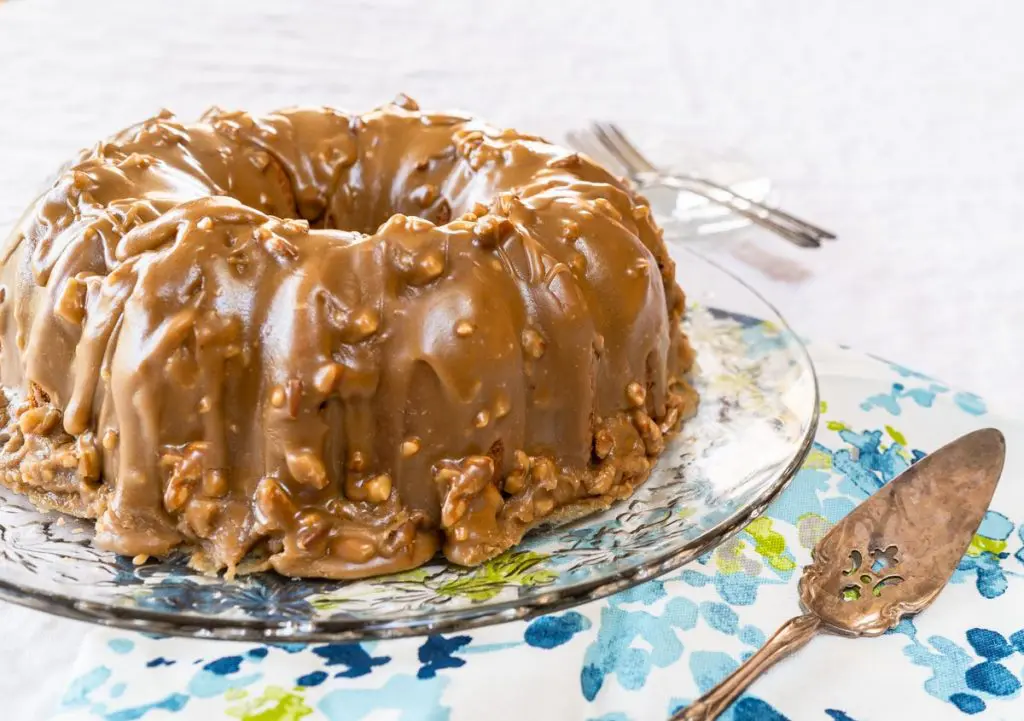 Bananas Foster Cake is a beautifully tender homemade banana cake recipe that is bathed in a buttery pecan praline sauce that will have you eating it right from the pan.
I've got to be straight up with you. I'm not crazy about cooked bananas or bananas that are too soft so a traditional Bananas Foster dessert isn't in my list of favorites.
Don't get me wrong, we love bananas, and love baking them into bread such as our Homemade Banana Bread recipe.
This Banana Foster Bundt cake is very moist and the crumb is tender and dense like a pound cake. Covered with a thick layer of praline glaze makes this Banana Bundt Cake one of those cakes perfect for any occasion.
It's also one of those cakes that can serve several people, and it's fire-free!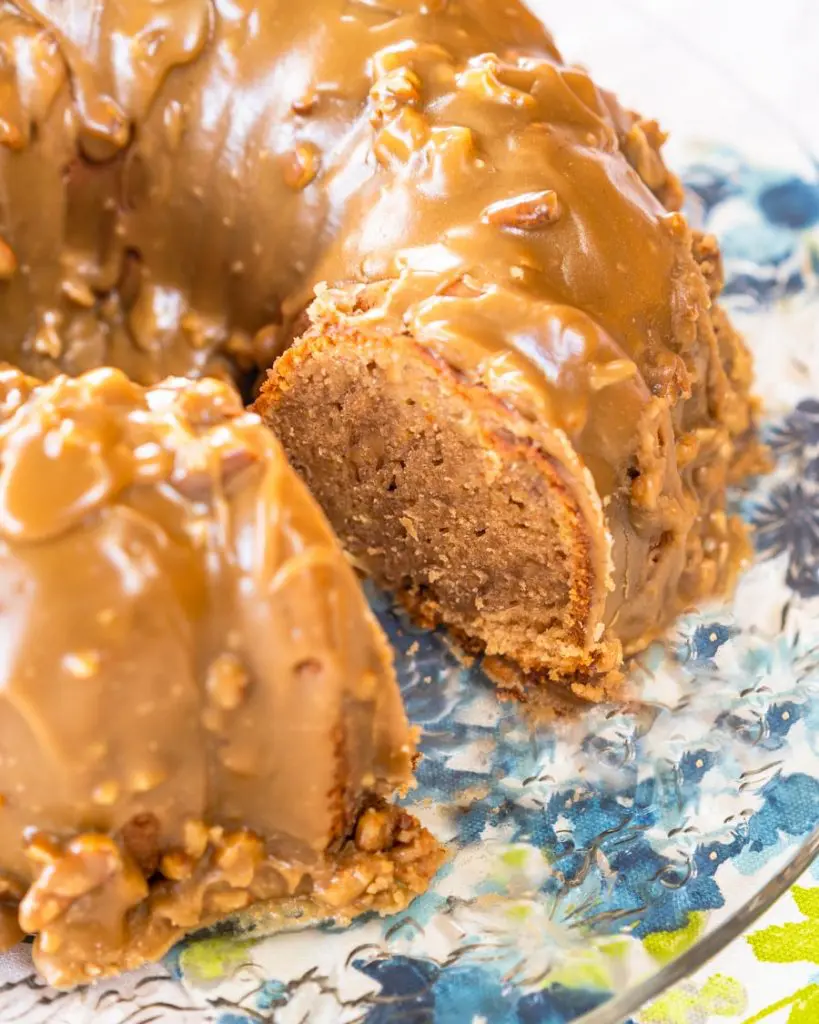 Why do they call it Bananas Foster?
Like so amazing rich recipes, Bananas Foster Dessert originated in New Orleans, Louisiana in 1951, based on a family recipe of Emily Brennan.
It was named after Richard Foster, the chairman of the New Orleans Crime Commission and a friend of restaurant owner Owen Brennan.
Traditional Bananas Foster is a dessert made from bananas and vanilla ice cream with a sauce made with rum and banana liqueur and then ignited to burn off the alcohol. The technique is called flambé.
I've taken liberties with this cake. I don't top it with a traditional Bananas Foster Sauce or flambé this banana cake.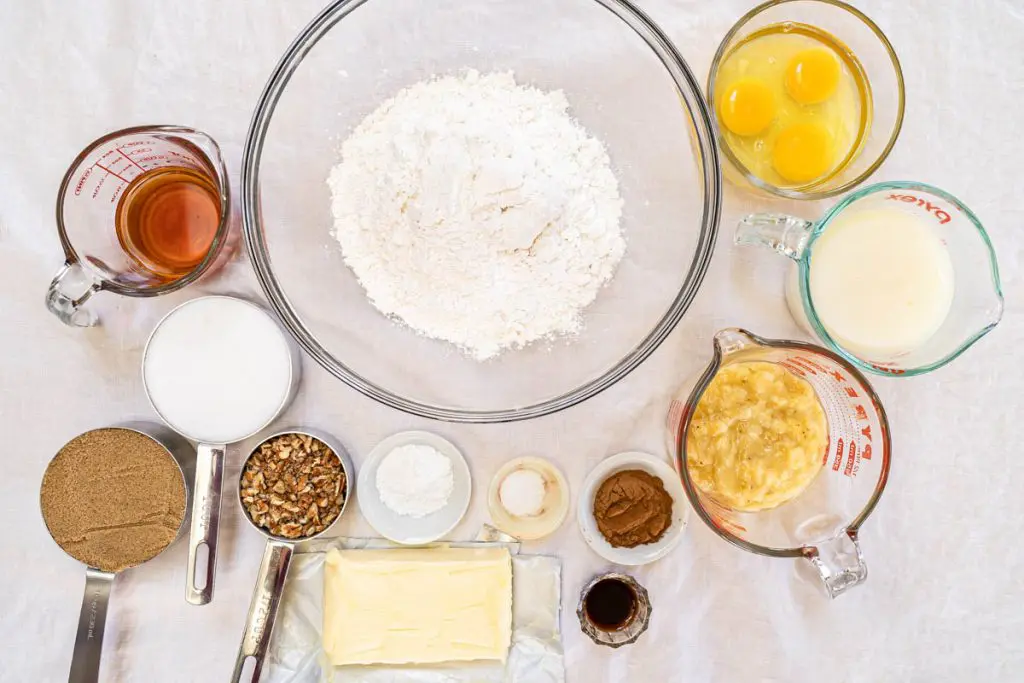 Banana Foster Bundt Cake Recipe Ingredients
Cake flour – Cake flour gives your cake a tender crumb.
Baking Powder – makes your cake rise
Sugar
Brown Sugar – I like dark brown sugar. It has more of a molasses flavor.
Buttermilk – makes you cake so moist!
Rum
Flavorings – vanilla extract, cinnamon, salt
Eggs – I always use large eggs for consistent results in my baking.
Pecans
Bananas – ripened and soft
Butter
Tips for making this Bananas Foster Bundt Cake recipe
Ripe bananas are softer and sweeter. They also blend a lot easier.

You can ripen bananas for baking by placing unpeeled bananas on a foil-lined baking sheet and baking them in a 300°F oven for 15-20 minutes or until the peel is black all over.

This recipe uses cake flour. Cake flour creates a more tender crumb.

I recommend that you sift and then measure the flour. Sifting aerates the flour. It also increases the volume which is why it's measured after sifting.
You can make your own cake flour by taking a level cup of all-purpose flour and then removing 2 tablespoons. Replace the 2 tablespoons of flour with corn starch and then sift together and measure.

Grease and flour your bundt pan. You don't want the cake to stick and by flouring it you can also see if you've applied enough grease.

I use shortening to grease my pans.

You can substitute the Rum for any banana liqueur or go alcohol-free by adding an equal amount of liquid. Water or apple juice is what we recommend.

We love Bambu Rum in this recipe and it's our go-to sipping rum. This rum is smooth and has an essence of bananas without a strong or artificial banana flavor.
Tips for making Pecan Praline Glaze
This is a cooked caramel frosting. While it's not difficult to make, we do have some helpful tips that I hope you'll glance through before making the recipe.
Pecan Praline glaze will thicken as it cools. For this reason, don't start making it until you're ready to apply it to the cake.

I start making the Praline sauce after I remove the cake from the oven. The cake is cool enough to remove from the bundt pan by the time the sauce is made, approximately 15 to 20 minutes.

Melt the butter first and then add the brown sugar. Cook over medium heat. Too high a heat can burn your brown sugar. Burnt sugar is bitter and can't be used.
Don't overcook the sauce. You can end up with a hard clump.

If that happens, add a little water and slowly heat it into the glaze.

Add the pecans after the glaze is made. It makes it much easier to stir the caramel icing mixture.
The mixture will thicken as it cools. Pour over the cake as soon as it has a slightly thickened consistency. See the video in the recipe card.
Bananas Foster Cake should be stored covered and eaten within 3 days. The cake may be frozen prior to applying the glaze in an airtight container for up to 3 months.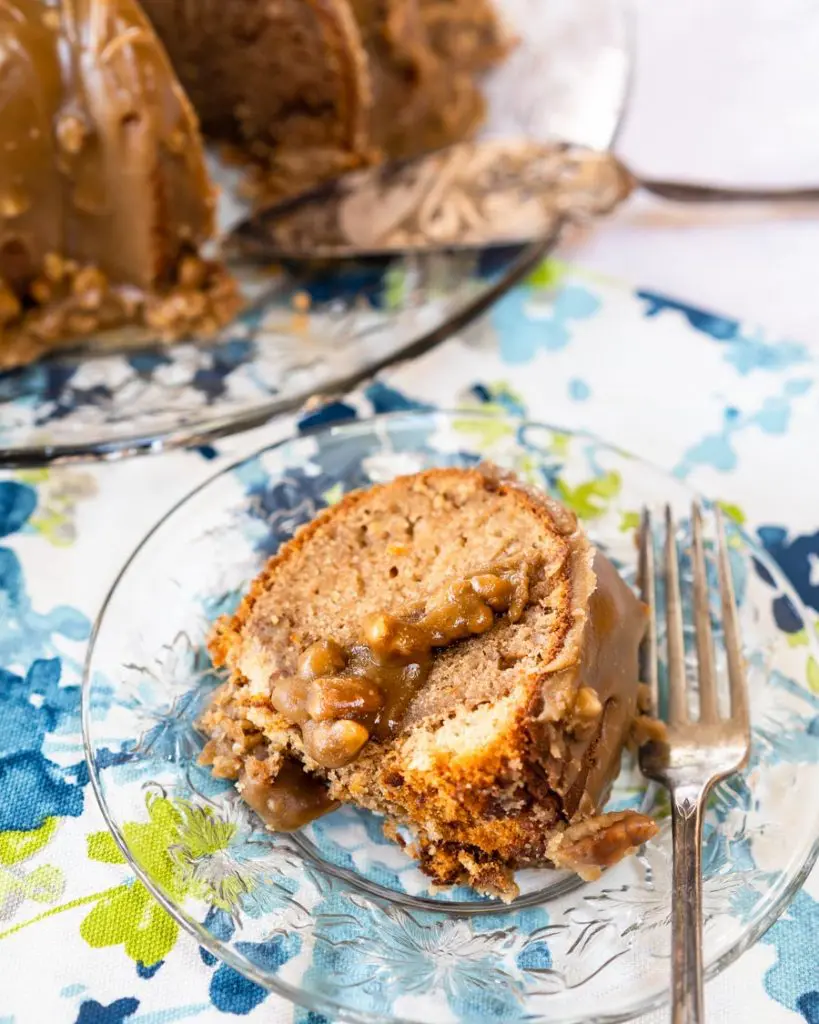 Products we use
Bundt Pan – I love this pan. It's not only beautiful but it has a non-stick coating that really helps my cakes release.
Spatulas – I get a lot of comments on my pretty spatulas. This pretty set has a flat side and a curved side to take on your toughest job. I love that they are all one piece and can withstand 500°F!
Whisks – I love my whisks and have them in several sizes, shapes, and colors. I have a gadget obsession I guess and love these!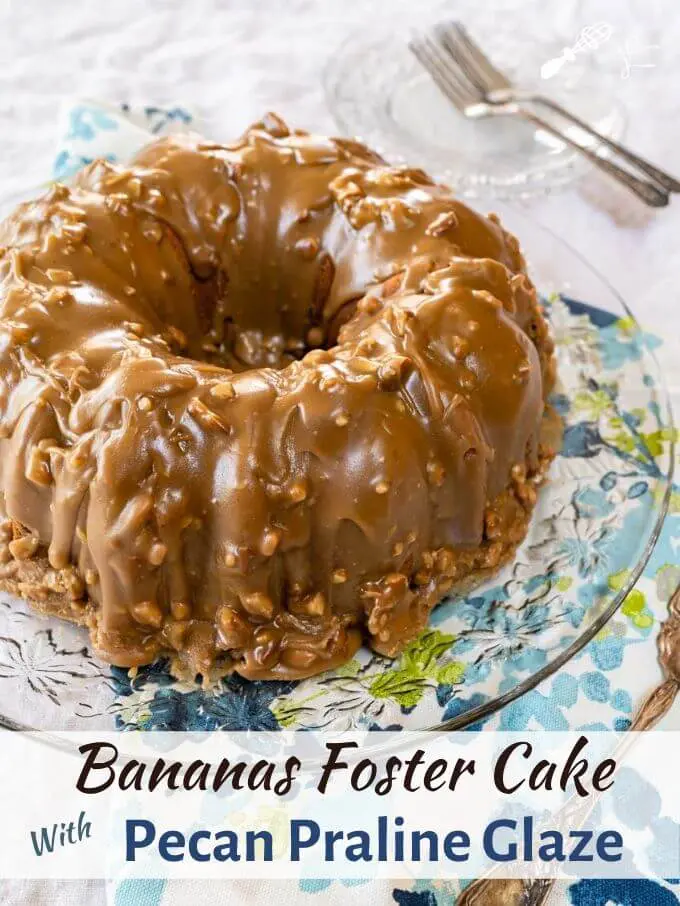 Here are some more recipes I think you'll like
There are no mushy bananas in this Bananas Foster Bunt Cake. Just a sweet tender cake under a layer of a rich buttery Praline frosting. AND since Bananas Foster Dessert is supposed to include vanilla ice cream, it's only right to add a dollop right on top!
If you like this recipe, we would appreciate your comment and a 5-star ⭐️⭐️⭐️⭐️⭐️ review!
Do you have a favorite cake? I'd love to know what it is! Just leave me a comment below.
Most Popular