Honey Oven Roasted Beets are sweet with a nutty pistachio crunch. This easy baked beet recipe makes a beautiful side dish or salad topper in under 15 minutes.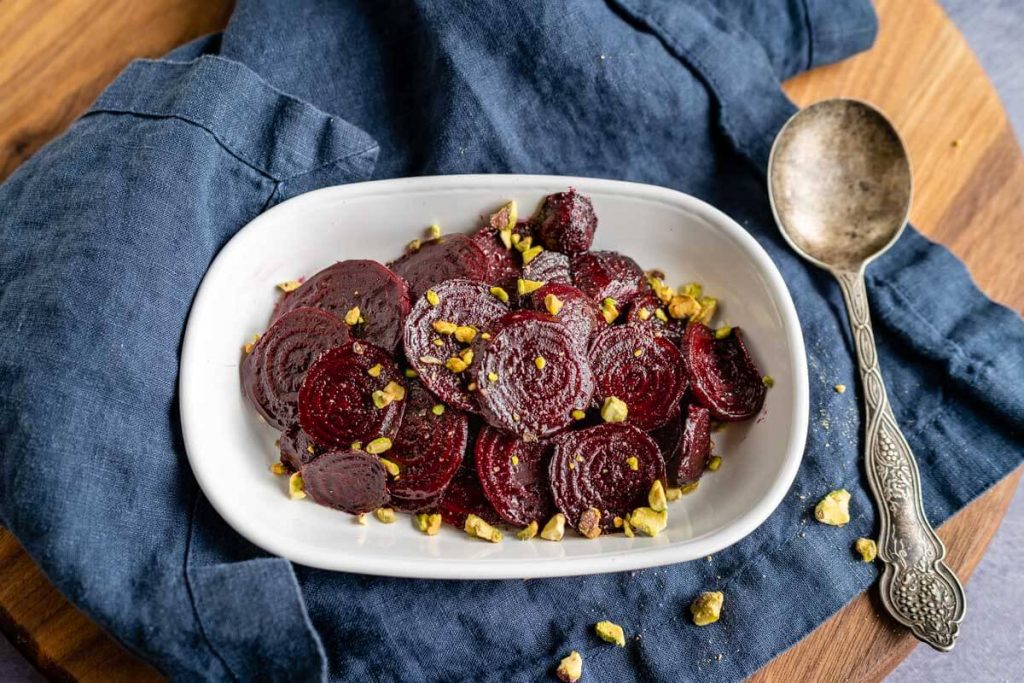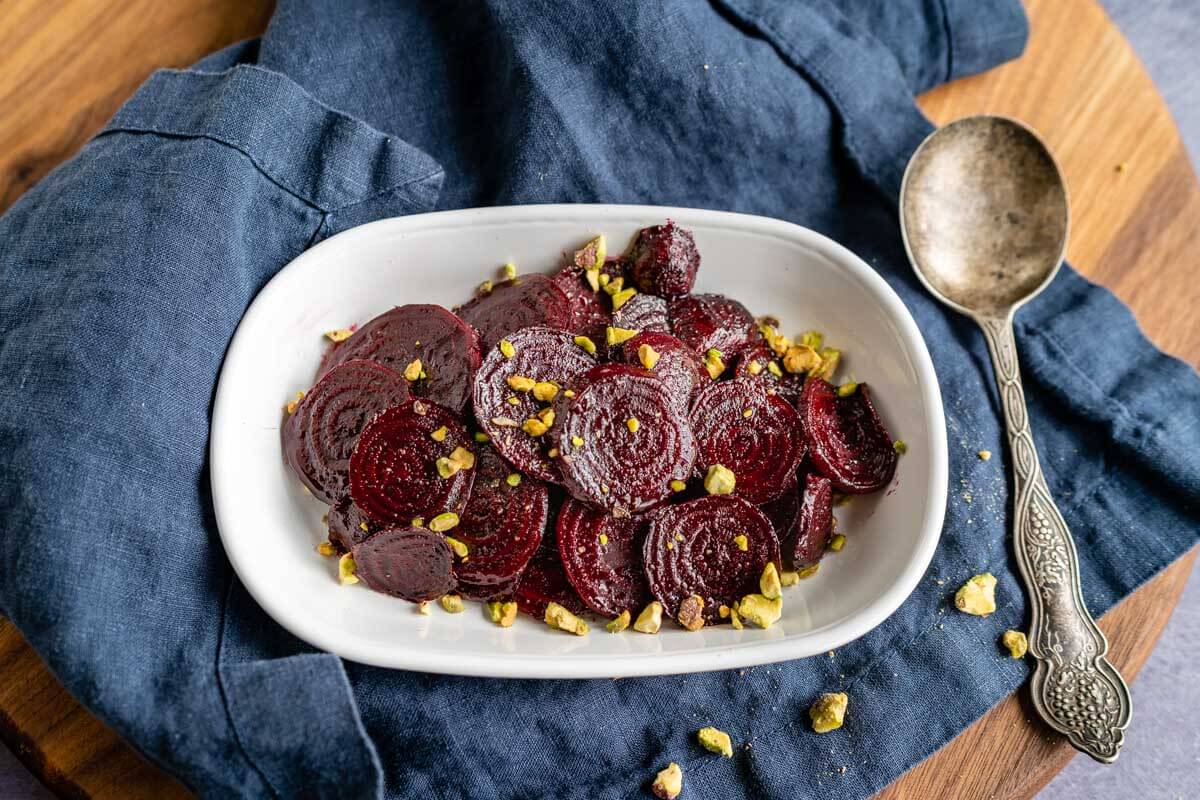 When I say the word "beets" do you turn up your nose? This Oven Roasted Beet recipe may have you changing your mind. They're sweet and tender with a nutty crunch.
Beets are number 10,100 of the vegetables that John stated he didn't like. Just cooking them made him a little queasy, and our kids took his opinion.
Me? I've always loved them but even though I grew up in a rural community, my mother always bought them canned.
Are beets good for you?
Beets are low in calories and high in nutrients and fiber. You can learn more about the nutritional benefits of beets in this article.
Fresh beets are amazing and like a lot of vegetables oven roasting beets bring out their sweet flavor.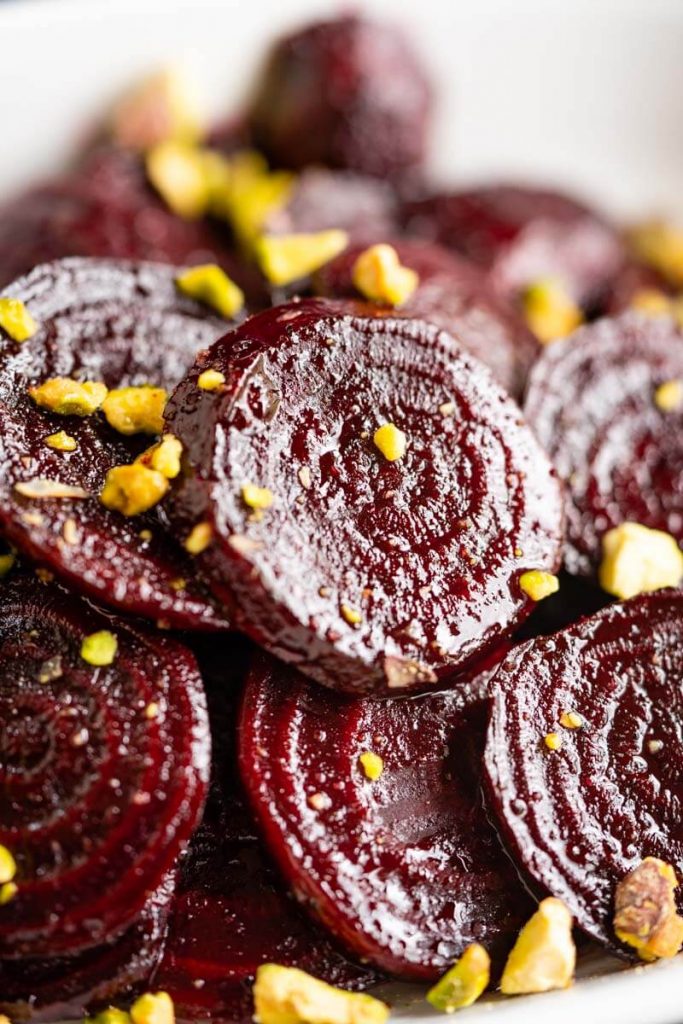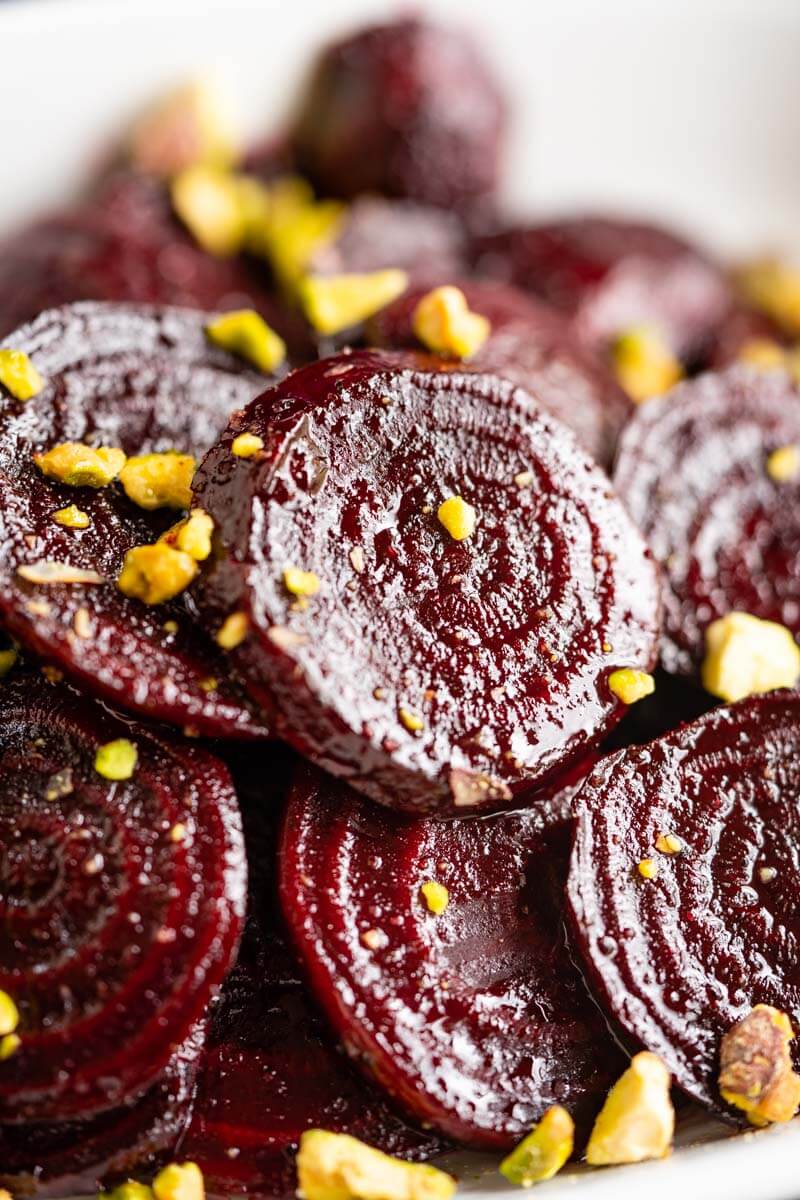 There are several ways you can cook beets
Steam beets or whole roasted beets. The benefit of this method is that you don't have to peel them. Once cooked and slightly cooled the peeling can be removed by rubbing it with a paper towel.
The disadvantage is that they can take up to an hour to roast.
Boiling beets is another option and again they don't have to be peeled. This method can take over 30 minutes and valuable nutrients and the beautiful color can be lost through seepage.
Roasted Sliced Beets is what I chose to do. The disadvantage is pre peeling them. However, thinly sliced beets cook in 10 to 15 minutes and can be pre-seasoned.
Don't toss the Beet Greens!
Beet greens can be cooked and eaten. Their flavor is slightly bitter and often compared to collard greens or kale and can be cooked with the same techniques.
Baked Beet Recipe Ingredients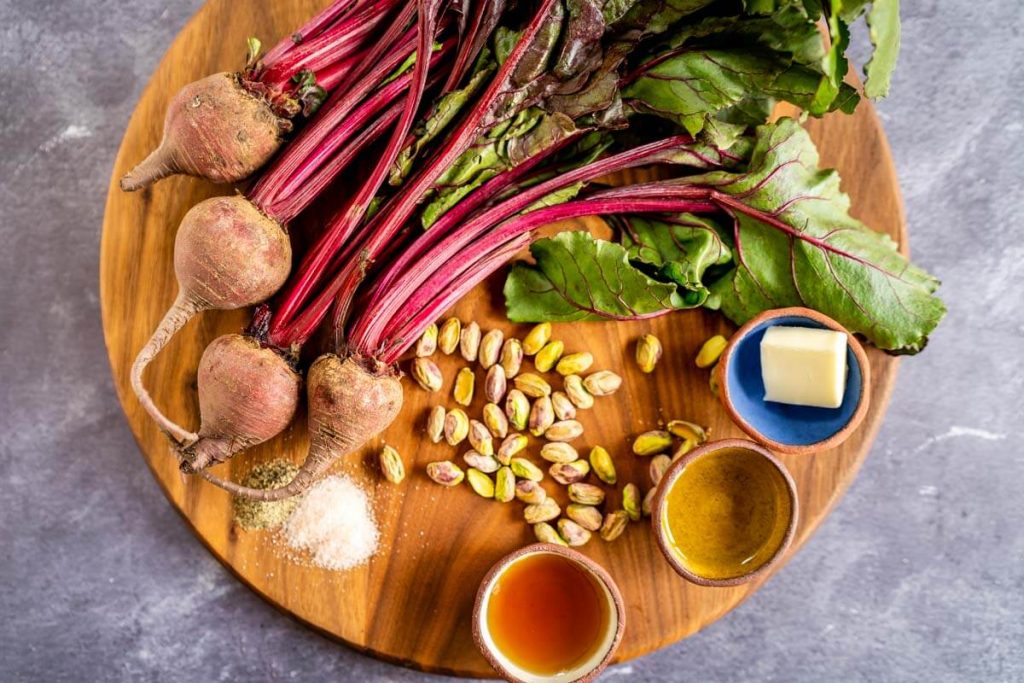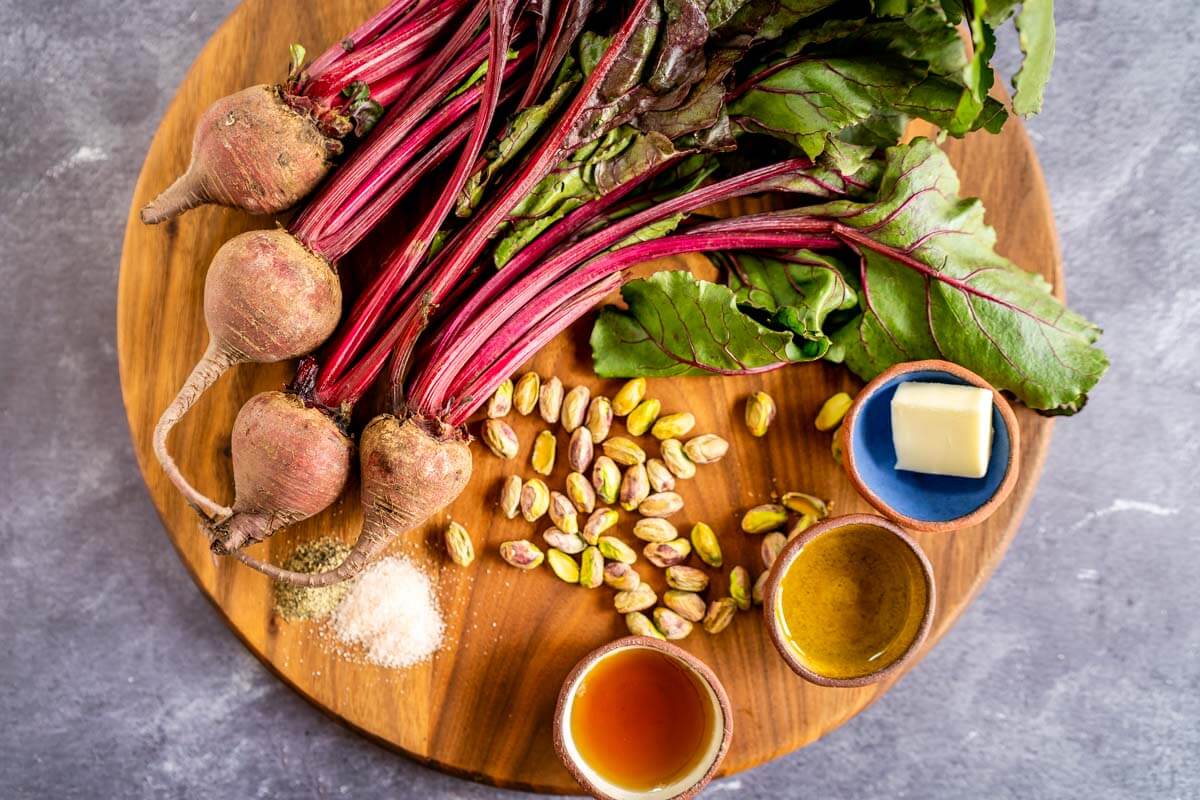 How to make Honey Roasted Sliced Beets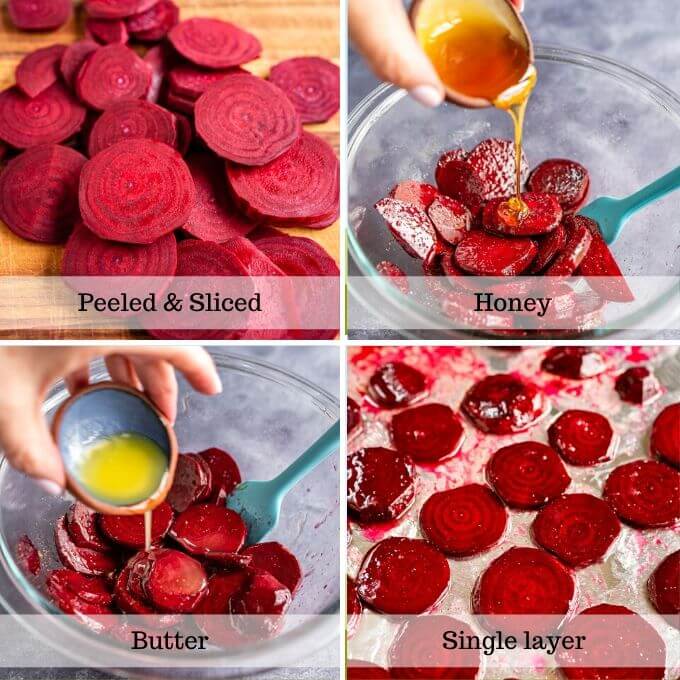 Preheat the oven to 375° and line a baking sheet with foil or parchment paper for easy cleanup.
Wash the peeling. Even though you are removing it, I always prewash my fruit or vegetables to remove any dirt or germs that I don't want to be transferred to the inside.
Use a knife to cut off the thin root and the top. Don't discard the top!
Use a vegetable peeler to remove the peel. You can use a paper towel to hold it or wear gloves if you don't want to stain your skin. I didn't do either and it washed off after a few hand washings.
Slice the beets with a knife or mandoline 1/8 to 1/4-inch thick.
Put the beets in a bowl and drizzle with olive oil or vegetable cooking oil. Salt and pepper the beets and then drizzle with honey.
Lay the beet slices on the prepared baking sheet and bake.
How long does it take to oven roast beets depends on how thick you've cut them and how tender you prefer them. We like our oven-roasted beets al dente so 10 minutes was all the time I needed.
Check your beets after 10 minutes with a fork and if you want them softer give them another 5 minutes.
Pistachios take these baked beets to a whole new level!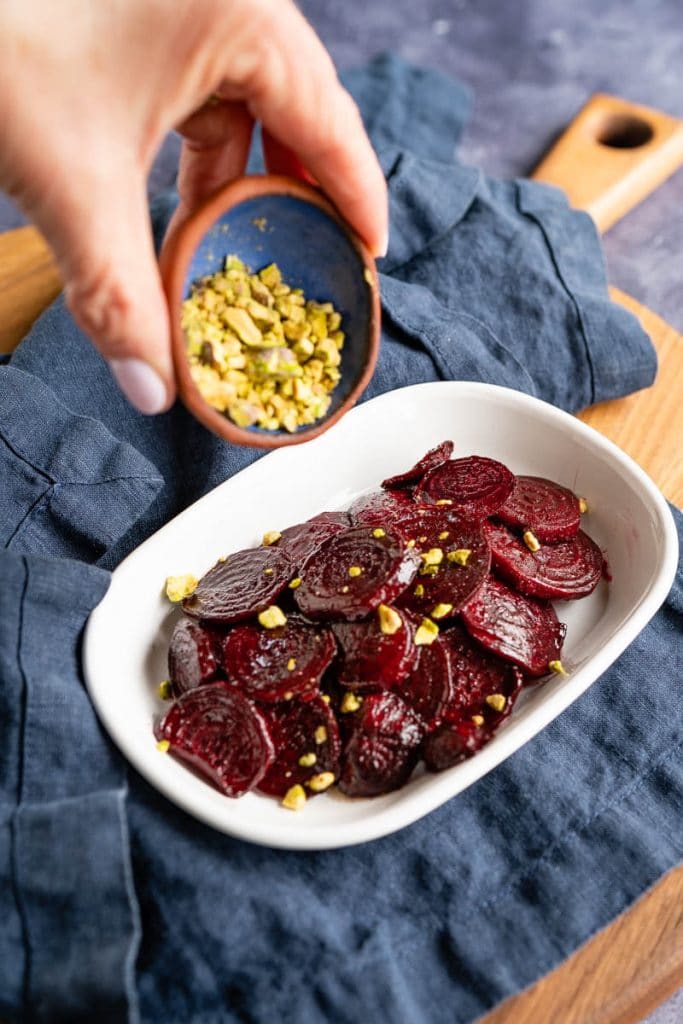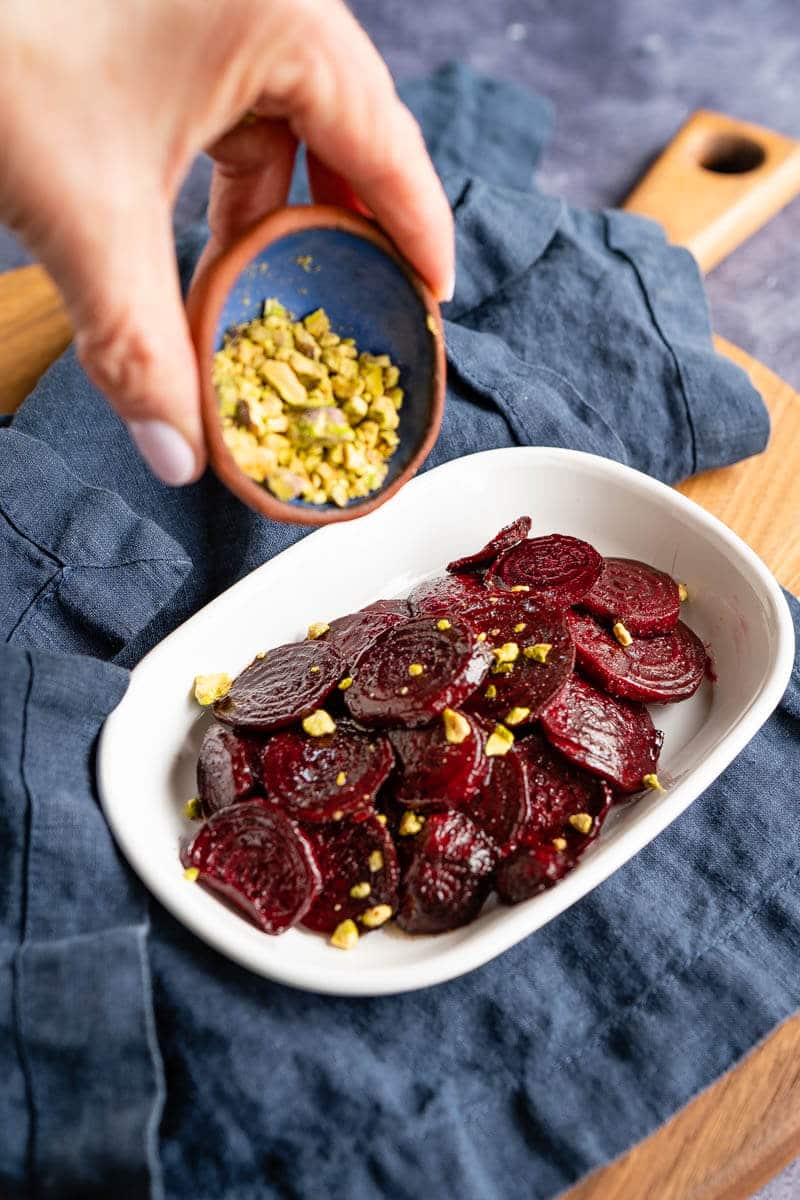 The soft and salty pistachios paired so well with the natural sweetness of the beets and the honey. They provided a soft nutty flavor and great texture. Not to mention beauty to the dish.
Beets also pair well with crumbled goat cheese and feta if you really wanted to get fancy!
Products I use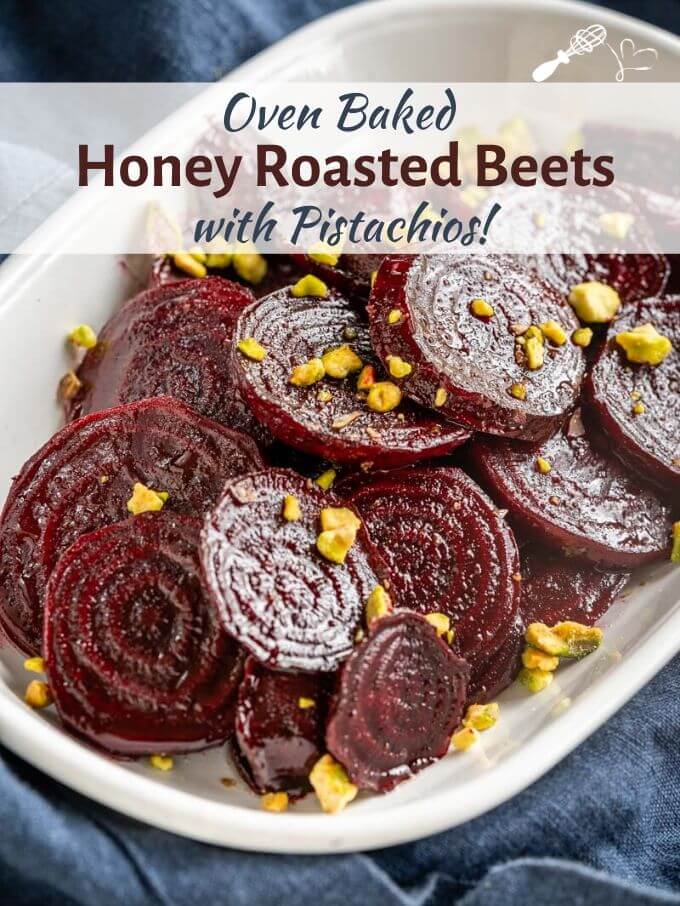 If you like these baked beets, here are a few more recipes you may enjoy.
Oh, and John said….they're not bad. I'll take that because he previously said he didn't like beets because they tasted like dirt!
In my opinion, simply roasting beets taste the best. Baked beets don't need sauces or any fancy techniques to make them taste delicious. Give them a try and let me know what you think!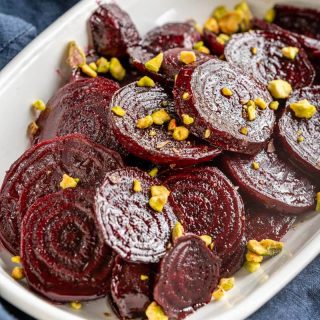 Oven Roasted Beets Recipe
Honey Oven Roasted Beets are sweet with a nutty pistachio crunch. This easy beet recipe makes a beautiful side dish or salad topper in under 15 minutes.
Ingredients
1

lb

beets

peeled and sliced

2

tbsp

honey

1

tbsp

butter

melted

1

tbsp

olive oil

1/4

cup

pistachios

chopped

salt and pepper
Instructions
Preheat the oven to 375°F. Line a baking sheet with foil or parchment paper.

Wash, peel, and slice beets 1/4-inch thick.

Place the sliced beets in a bowl. Drizzle with olive oil and sprinkle with salt and pepper. Add the honey and melted butter. Mix to combine.

Put the sliced beets on the prepared baking sheet in a single layer. Bake uncovered for 10 minutes. Test doneness with a fork. Bake an additional 5 minutes if needed.

Remove the beets and add them to a serving bowl. Sprinkle with chopped pistachios and serve.
Nutrition
Calories:
152
kcal
Carbohydrates:
22
g
Protein:
3
g
Fat:
7
g
Saturated Fat:
2
g
Cholesterol:
8
mg
Sodium:
145
mg
Potassium:
447
mg
Fiber:
4
g
Sugar:
17
g
Vitamin A:
158
IU
Vitamin C:
6
mg
Calcium:
26
mg
Iron:
1
mg
Nutritional Disclaimer
This recipe was calculated using the exact brands and measurements I used to make this recipe. If you are following a strict diet please note changing anything will cause the nutritional info to change. My calculations are intended as a guide only.
Popular Posts
What is your favorite way to eat beets? Please share by leaving me a comment below. You are my inspiration!