Oven Roasted Carrots recipe bakes perfectly every time. They're crisp and delicious with a delicious orange glaze that adds a sweetness that turns ordinary carrots into a family's favorite side dish.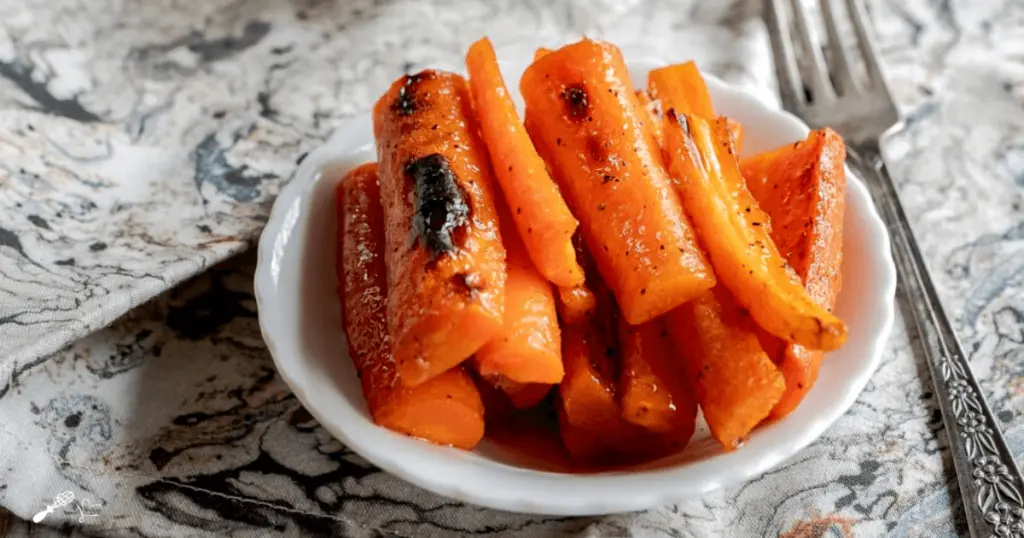 Orange-Glazed Oven Roasted Carrots will have you serving carrots a lot more. They're simple to make and absolutely delicious to eat!
Roasting Carrots in the oven brings out their natural sweetness. Combined with an Orange Glaze elevates ordinary carrots to special.
You can count on a delicious carrot with a natural sweetness and a tender crunch. They're never overcooked or mushy. Yuck!
Oven-baked carrots make this a hands-off dish so you can focus on the rest of the meal or just sit back with your favorite vino.
Orange Glazed Carrot Ingredients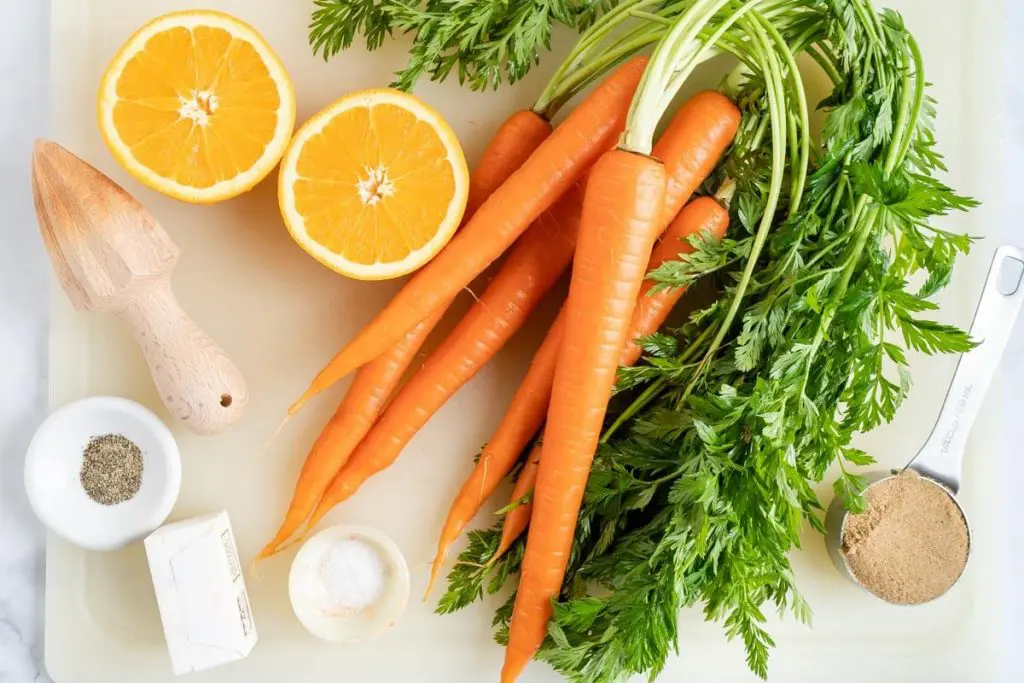 Carrots – We choose to buy organic carrots and prep them ourselves. You can use what you prefer including baby carrots.
Orange juice – We used the juice of one navel orange or about 1/4 cup.

You can purchase orange juice. We recommend 100% juice, not from concentrate.

Brown Sugar – We use dark brown sugar because it has more of a molasses flavor but use what you have or prefer.
Butter – We use the real stuff. You can use a substitute if that's what you prefer.
Oil – Olive oil, vegetable oil, or any neutral-flavored oil will work.
Salt and pepper
How to roast carrots

Combine the glaze ingredients in a saucepan and cook it on low until sugar is dissolved and the sauce is thickened.
Prepare the carrots by washing them, removing the tops, and peeling them. We slice them in similar sizes to assure even cooking.

If you use baby carrots you can skip this step.

Place the carrots in a baking dish or baking sheet. Drizzle the carrots with olive oil and sprinkle them with salt and pepper.
Pour the glaze over the carrots. Cover them with aluminum foil or a lid and bake them for 10 minutes.
After baking the carrots for 10 minutes remove the foil and bake another 10 minutes uncovered or until fork-tender.
If you wanted to make this Oven Roasted Carrots recipe ahead of time, you can clean, peel and slice the carrots up to 4 days in advance. Put them in an air-tight container in the refrigerator until you're ready to use them.
We don't recommend cooking or glazing them in advance.
You can reheat your carrots two ways.
Slip the dish or individual servings in the microwave for 30-second intervals, stirring in between each session, until heated through.
Place the carrots in a 350°F oven for 20 minutes, stirring halfway through heating.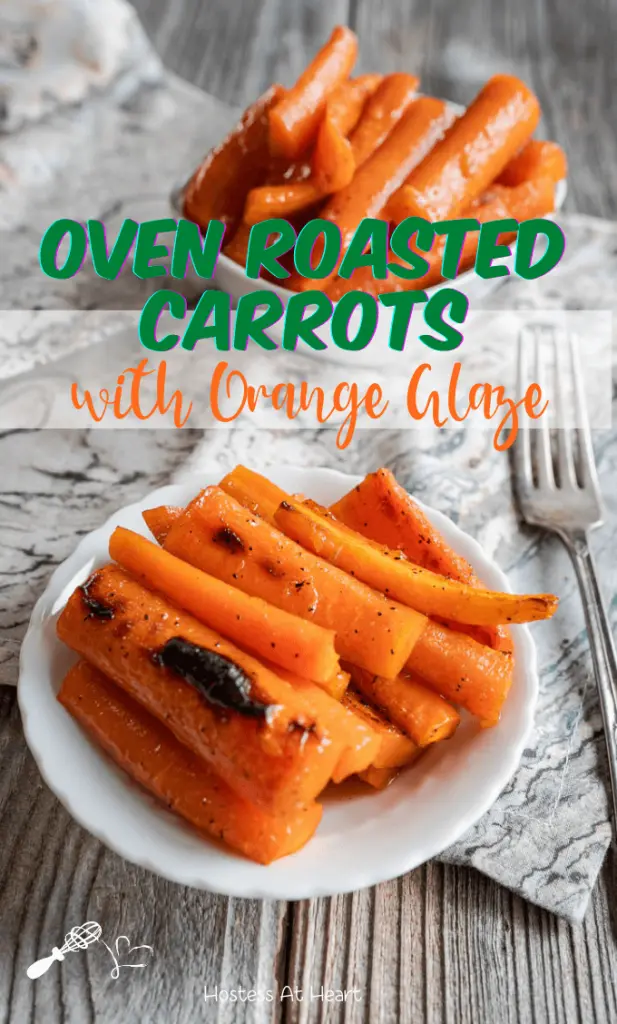 Tips & Variations
Slice the carrots to a similar size so they bake at the same rate.
Carrots don't need to be peeled if they're fresh and free of blemishes. Just scrub them with a vegetable brush.
We bake our roasted carrots in a 400°F oven. That is fairly hot but it allows us to bring out the sweetness of the carrots and to get that slight char we love in a short period of time.

We like our carrots crisp. If you want a softer carrot you can turn the oven down to 350°F and bake them a little longer.

If the orange flavor isn't to your liking, you can glaze the carrots pineapple juice or with just brown sugar and butter. You can also add some grated ginger to the glaze for another delicious flavor profile.
We love adding fresh herbs to these carrots. Fresh thyme, dill, or rosemary contrasts beautifully with the sweetness of the orange glazed carrots.

We would add the fresh herbs to the carrots after you salt and pepper them before roasting. They also make a beautiful garnish after they bake.
You can find all of our side dish recipes here!
Oven-Roasted Carrot F.A.Q's
Can you freeze leftover baked carrots?
Yes, you can. However, their texture changes. They lose their crispness and are best used in soups and stews.
How long do cooked carrots last in the refrigerator?
Cooked carrots last 3 to 5 days in the refrigerator in an airtight container.
What's the best way to reheat roasted carrots?
Carrots taste the best when heated in an oven. Preheat the oven to 450°. Spread the carrots out on a baking sheet and drizzle them with olive oil. Bake for 8 to 10 minutes. You can also heat them quickly in the microwave.
Do you have to peel carrots before roasting them?
No, you don't have to but I do because they appear cleaner and more appetizing.
Gadgets we love
One of the nice things about this recipe is that you don't need any special equipment to make it. Here are a few items we used.
Pin this Oven Roasted Carrots Recipe!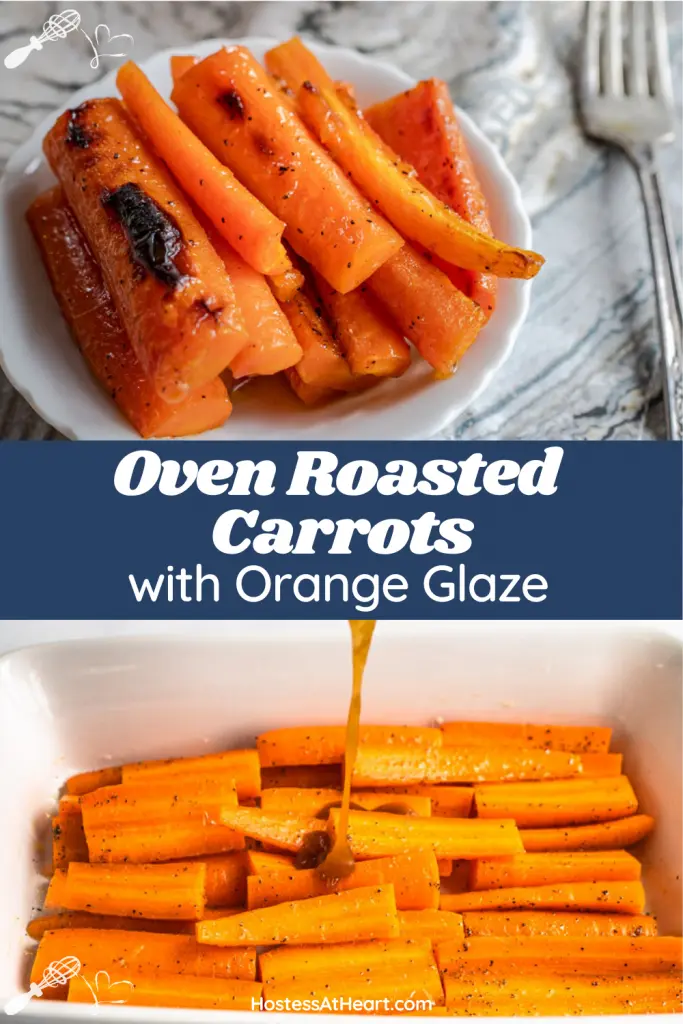 If you enjoyed this recipe here are a few more you'll like
Don't forget to stop back and let me know how your orange-glazed carrots came out!