Parmesan Roasted Potatoes have a crispy crunchy outside and a soft and tender inside. You'll love this easy oven-roasted cheesy potato recipe with any meal.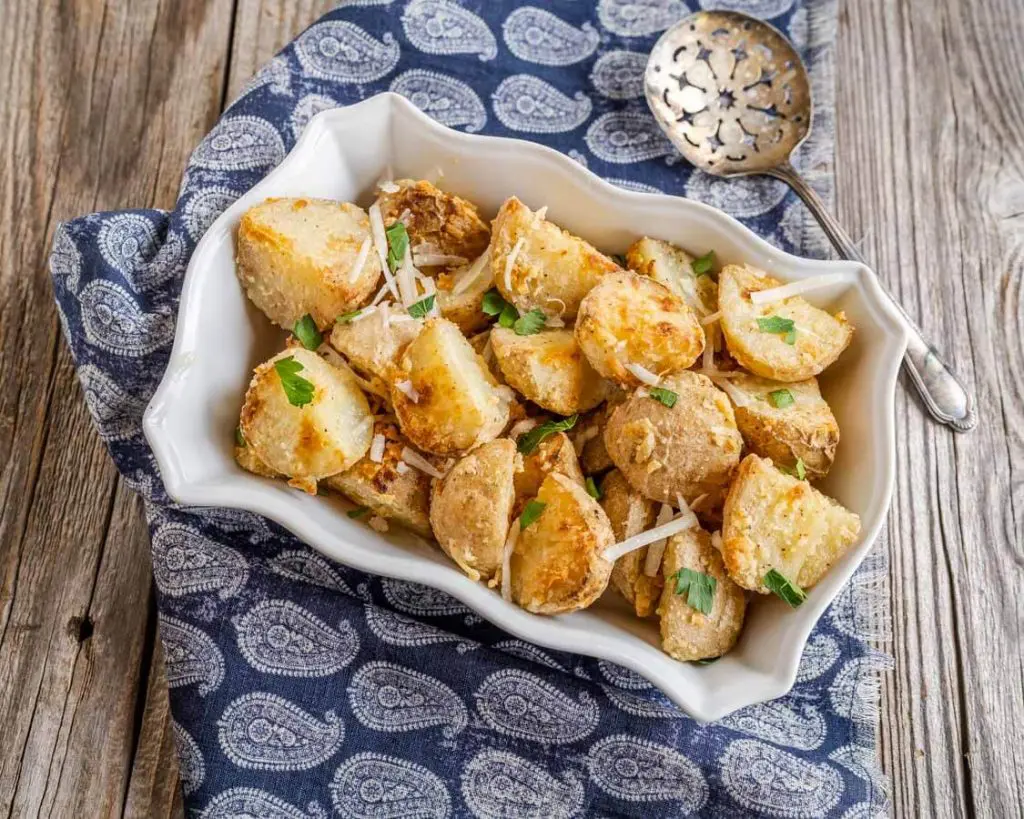 Do you have a go-to potato recipe that you make ALL the time? We do, Roasted Parmesan Potatoes!
I always say, if it's not broken, don't fix it. These Parmesan Potatoes come out perfectly crispy, crunchy, and delicious every time.
Roasted in the oven, practically makes this recipe hands-off. It takes just minutes to get them in the baking dish to the oven. Let us tell you how easy this recipe is to make.
Parmesan Crusted Potato Ingredients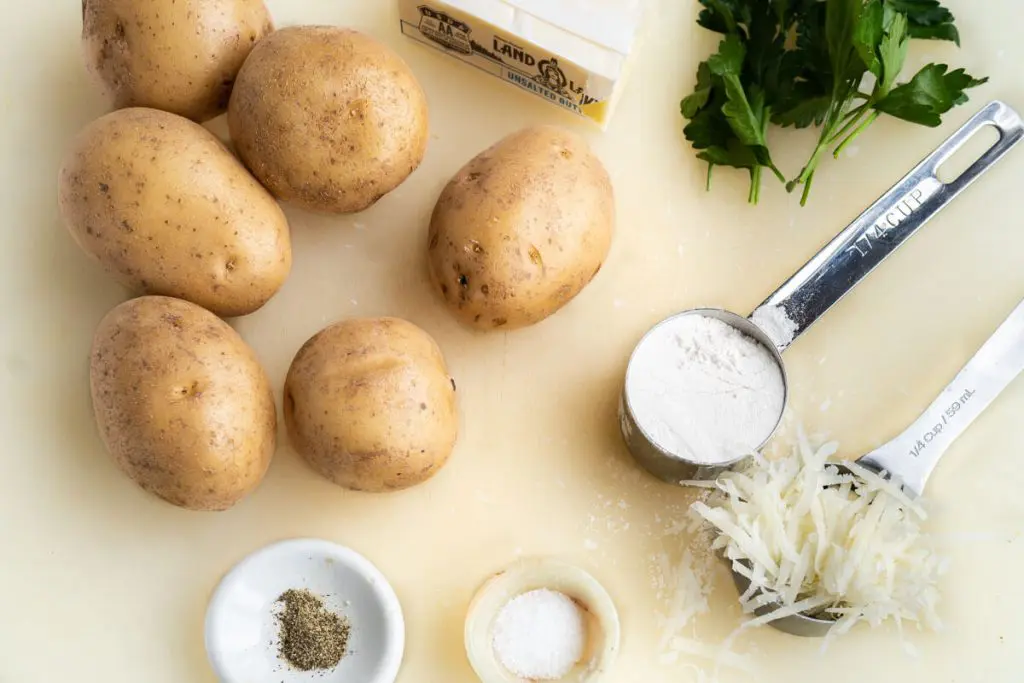 Potatoes
Parmesan cheese – we prefer Parmesan Reggiano but any grated parmesan cheese will work
Butter – we like the real stuff but you can use a substitute here.
Flour – all-purpose
Salt and Pepper
Parsley – optional garnish
What is the best potato to use for roasting?
The potatoes that roast up fluffy with a golden crust are the varieties with the higher starch content.
Russets make a good roasting potato. Yukon Gold is another good choice.
Red Potatoes will roast to a darker color but have a difficult time getting crispy because of their lower starch content.
You can read more about potatoes and why varieties cook up the way they do here.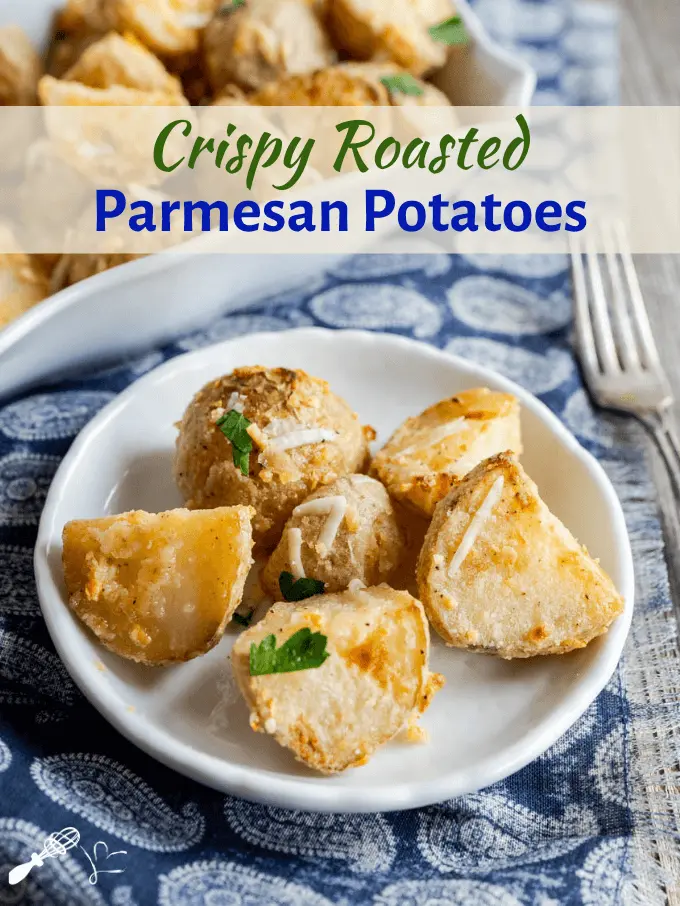 How to make the BEST Roasted Parmesan Potatoes

Combine the flour, cheese, salt, and pepper in a bag.
Cut the potatoes into 2-inch pieces, rinse them under cold water, and dot them dry with a paper towel. We don't peel the potatoes but you can if you prefer.
Add the potatoes to the flour mixture in the bag and shake to coat.
Put the potatoes in a baking dish and pour melted butter over the potatoes.
Bake, turning the potatoes half way through baking.
Garnish with chopped parsley if desired.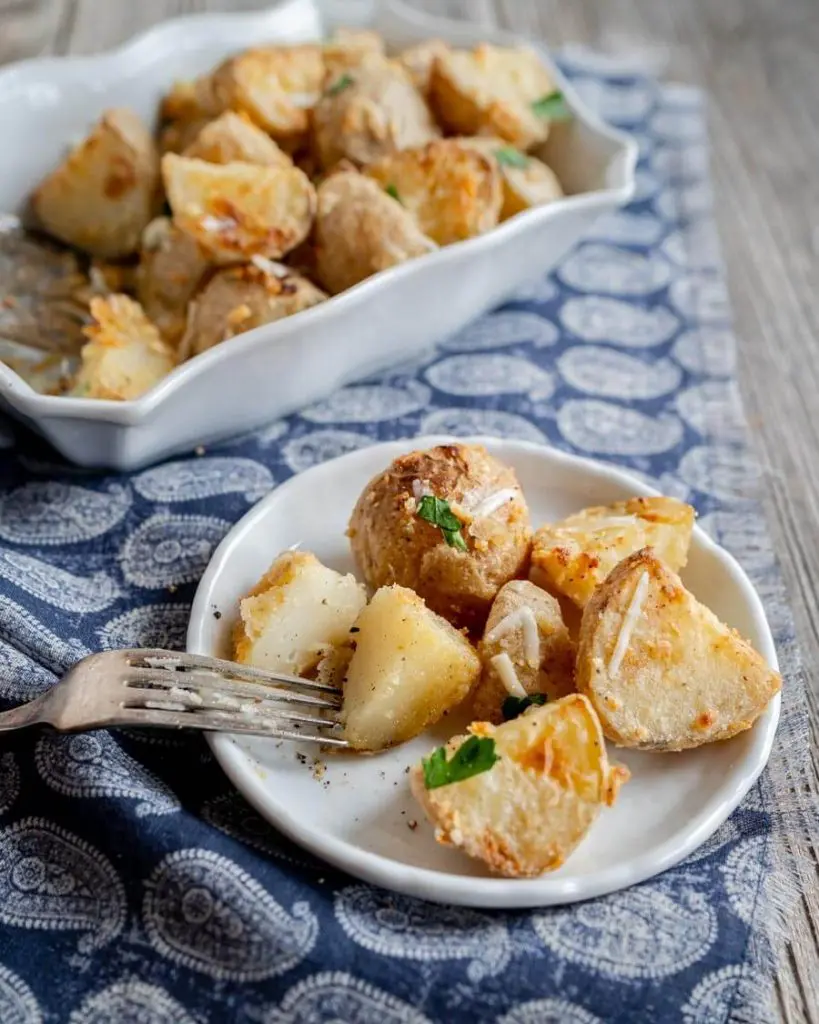 Tips and Variations
We always scrub the potato skins before peeling or cutting them. Any dirt or bacteria on the outside is transferred inside if you skip this step.
Cut the potatoes into 2-inch pieces. This gives you a lot of surface area to crisp up. It also allows the interior to cook up tender without being mushy or too soft.
Rinsing the potatoes removes some of the starch which will assure your parmesan potatoes roast up crispy.
Use a baking dish that is large enough to allow the potatoes to touch the pan and not pile on top of each other.
Our favorite tools
You don't need a lot of equipment to make these parmesan potatoes. Here is what we used.
We love our favorite 8″ Chefs knife and use a wooden cutting board that is gentler on your knife blade.
A fish spatula is a great gadget to get under your potatoes without losing all of that crispy crunchy parmesan coating.
We baked our potatoes in a 9×13″ baking dish and then put them in a separate dish for serving.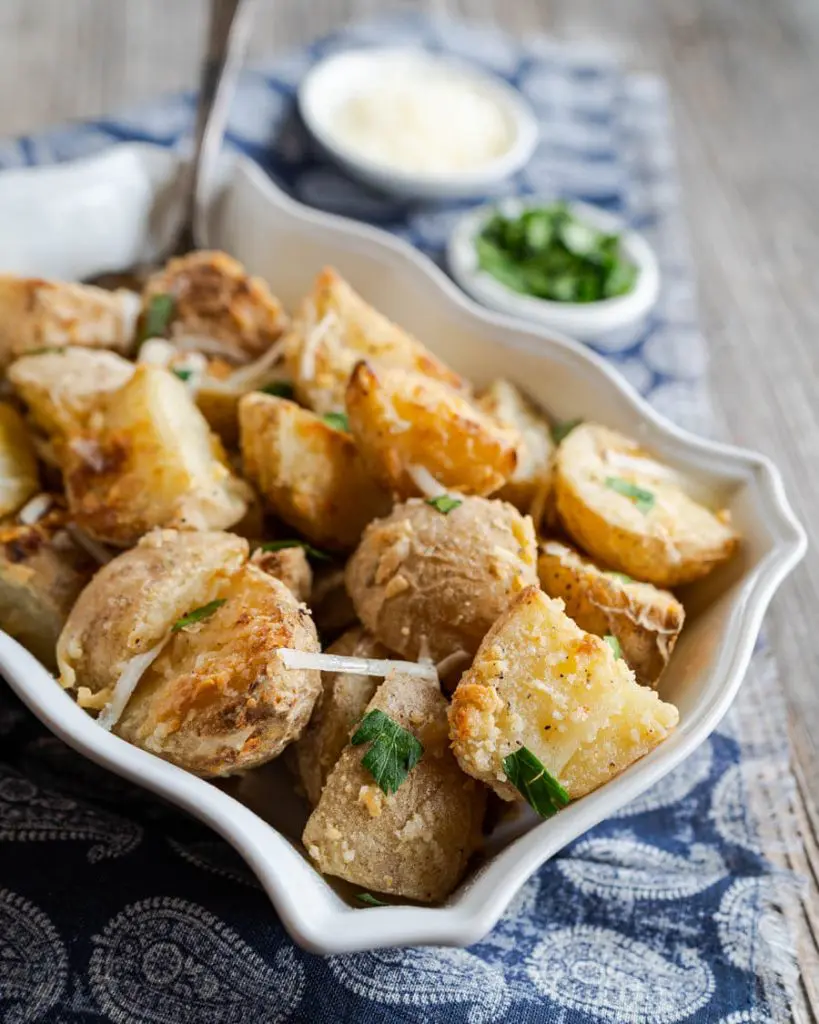 More great potato recipes
Parmesan Roasted Potatoes are the perfect side to these recipes!
Pin it now!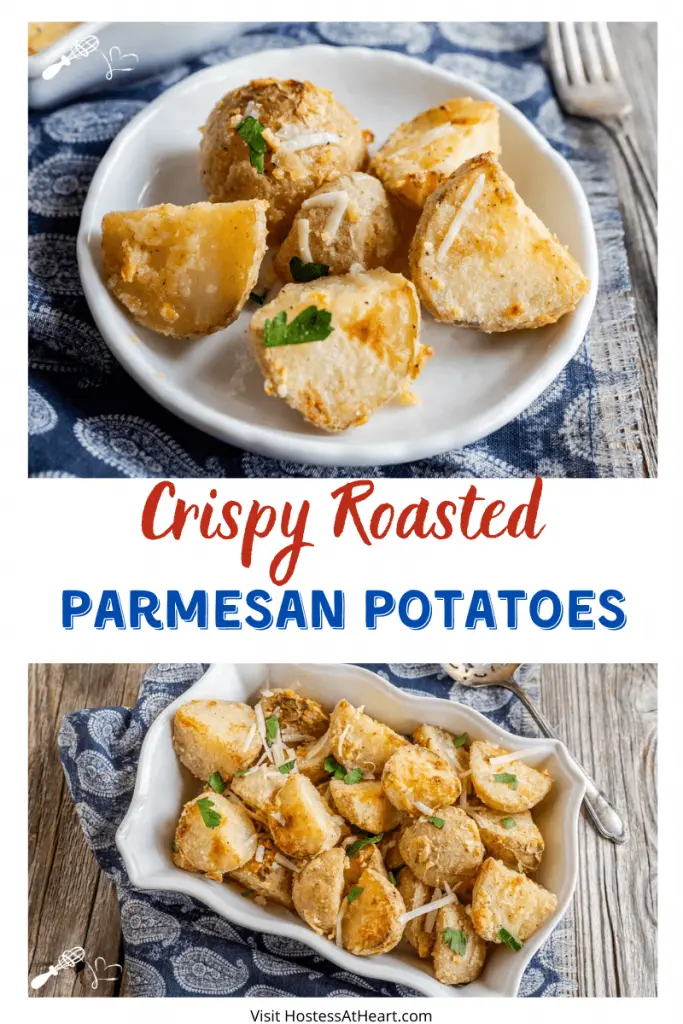 Nothing could be easier than this oven-roasted Parmesan Potato recipe. Do you have a favorite potato recipe? Please share in the comments below.
If you like this recipe, we would appreciate your comment and a 5-star ⭐️⭐️⭐️⭐️⭐️ review!