Greek Lamb Burger recipe slathered with a creamy Lemon Herb Sauce is one of the best ground lamb burger recipes that I've ever made or eaten. It's tender and so juicy. You'll not want to put it down!
I'm answering all of your most pressing questions from how long to cook a lamb burger to the perfect lamb burger seasoning and telling you exactly what goes on the perfect lamb burger.
This recipe was originally published in 2016 and has been updated to improve my reader's experience. No changes were made to the recipe.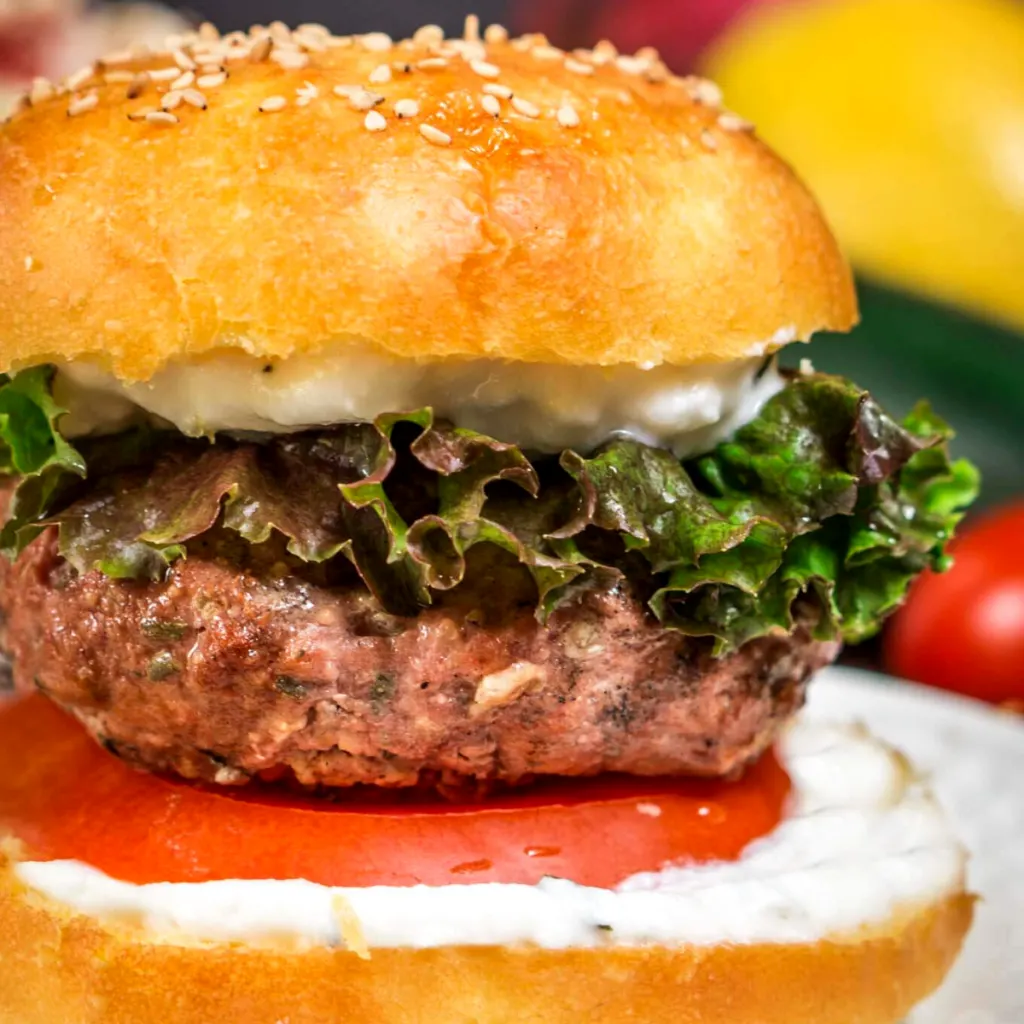 John and I love a good burger. There is this place that we go to that serves a Greek burger. It is just amazing for the first couple of bites.
After that, I can taste way too much salt. We decided to recreate our own lamb burger seasoning without all of the saltiness. I think our Greek Lamb Burger with Lemon Herb Sauce is significantly better than the restaurant version!
Why You'll Love this Greek Burger Recipe
This burger starts with flavorful ground lamb and is then filled with feta cheese, onion, and some wonderful herbs. The lemon herb sauce is smooth and delicious, and best of all, it isn't calorie or fat-laden.
I use this lemon herb sauce on all kinds of grilled meats and fish.
This burger is fancy enough to serve with a glass of wine (or two) and that is exactly what we did. We loved this burger so much that we decided it was perfect for company. Our guests love it just as much as we do.
What You'll Need to Make this Ground Lamb Burger Recipe
Instant Read Thermometer Probe. Making sure your meat is at the perfect temperature is the most important part of grilling the perfect burger!
Burger Spatula – This heavy-duty spatula is perfect for the grill. It can handle the largest of burgers. No more losing that delicious burger into the fire when it falls off that small turner.
Ingredients for the Lamb Burger Recipe
Ground Lamb
Dried Oregano
Fresh Rosemary
Diced Red Onion
Crumbled Feta Cheese
Salt and pepper
Ingredients for the Lemon Herb Sauce
Plain Greek Yogurt
Fresh Lemon Juice
Fresh Rosemeary
Dried Oregano
Clove of Garlic
Kosher Salt
Garnish
Garnish with lettuce, tomato, and onion if desired. Optional but highly recommended!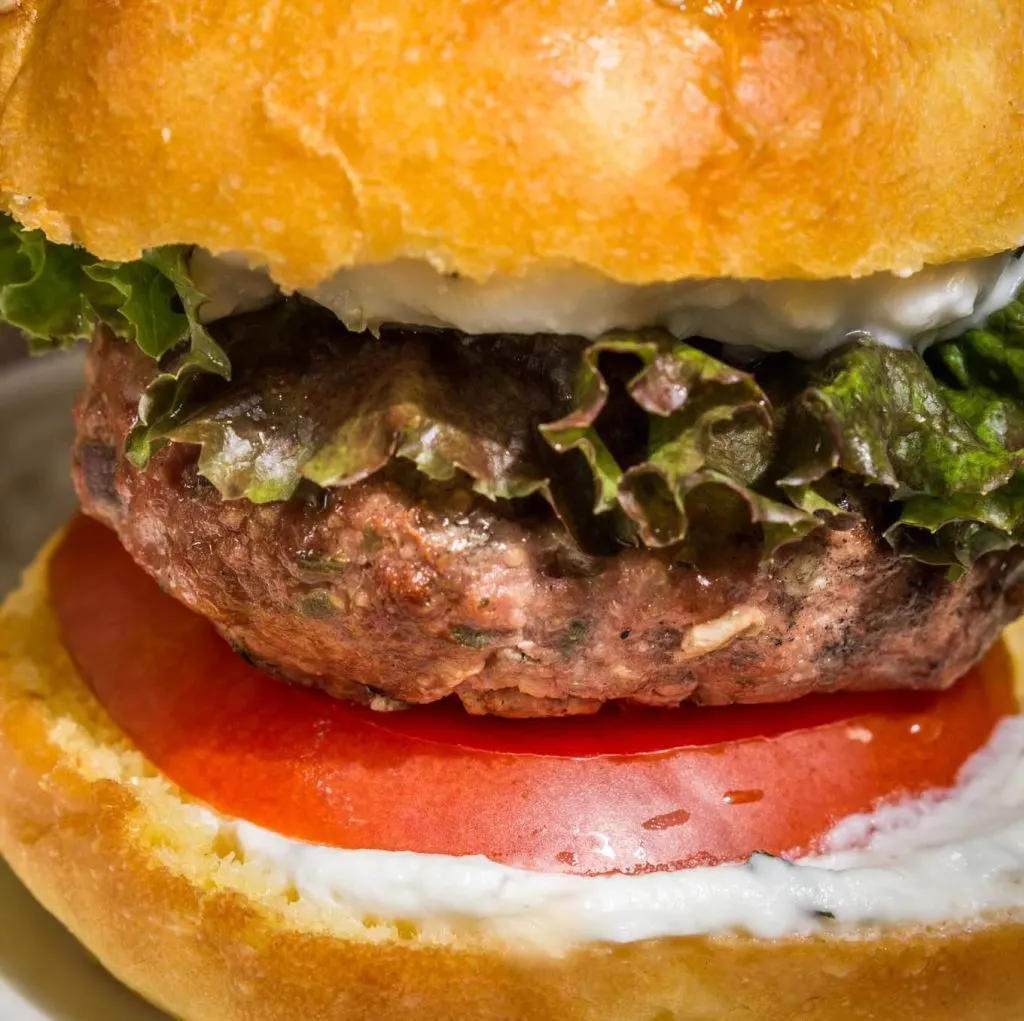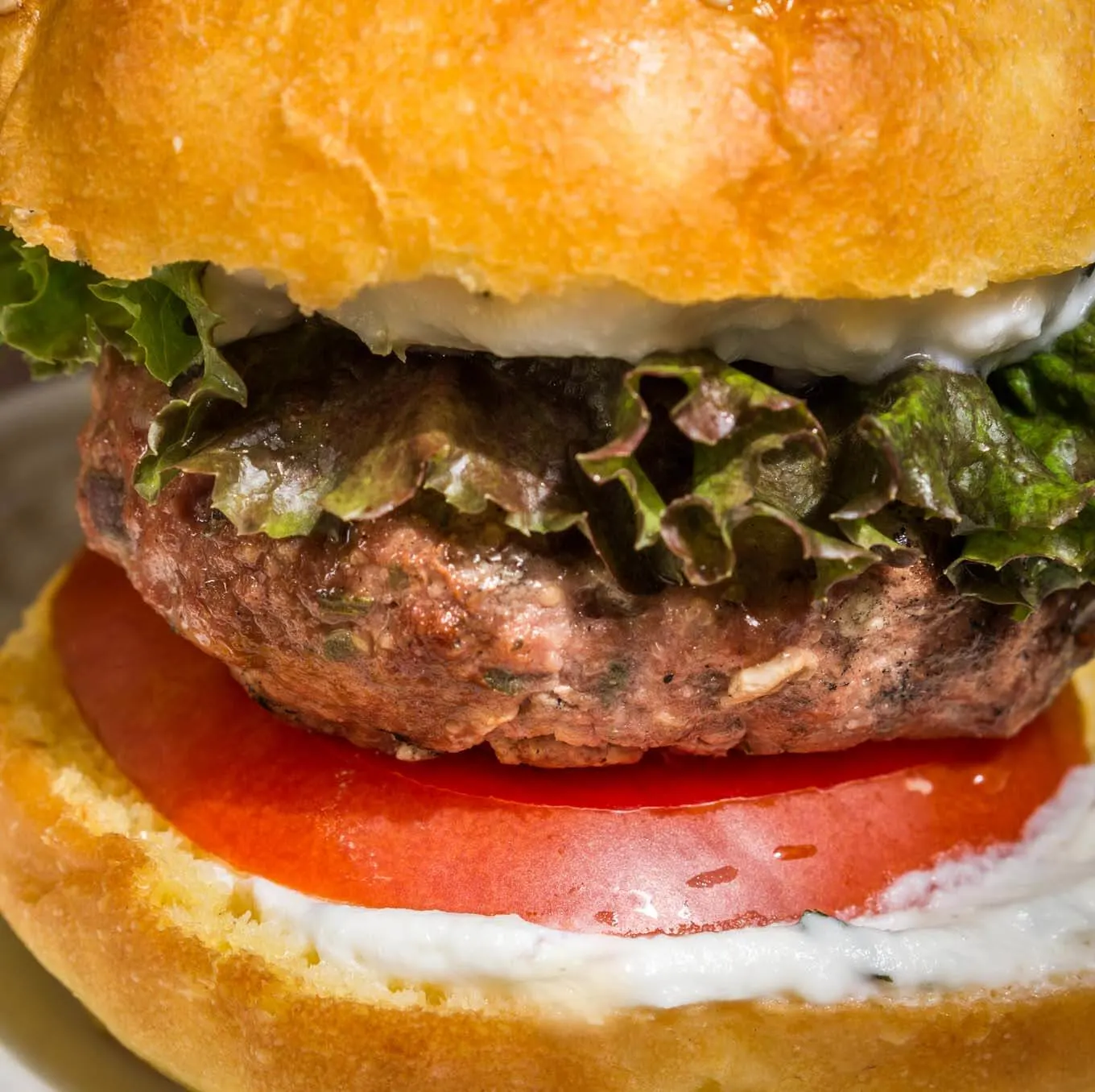 How to Make a Lamb Burger
Step One. Combine Lemon Herb Sauce ingredients together and refrigerate until serving.
Step Two. Combine all burger ingredients and divide the lamb mixture into 4 patties. Grill until a probe of an instant-read thermometer, inserted into the center of the patty, registers 150°F. Set aside to briefly rest.
Step Three. Assemble by spreading the Lemon Herb sauce on the inside of the top and bottom bun. Add tomato, lettuce, and additional onion if desired.
While whole pieces of lamb can be cooked rare or medium-rare, it's recommended that ground lamb be cooked to an internal temperature of 160F. The temperature of the meat will rise as it rests.
Lamb Burger Toppings for Greek Burgers Stuffed with Feta
Our Lemon Herb Sauce is my main recommendation. You are going to love it.
Red onion
Sliced tomato
Thinly sliced peeled cucumber
Substitutions & Additions
You can use ground beef in this recipe or a combination of ground meat.
I recommend adding feta but other cheeses can be used. Pecorino would be a good choice. I recommend chopping the cheese into smaller pieces so they cook evenly with the burger.
Add up to 1/2 teaspoon of crushed red pepper.
Skip the bun and serve the burger with pita bread.
You can substitute the lemon herb sauce for tzatziki sauce.
How to Reheat and Store Leftover Lamb Burgers
Best Way To Store Greek Burgers
There are two different ways to store Greek burgers. You can refrigerate or freeze them as raw patties. If you've already made the burgers and have leftovers, you can also freeze or refrigerate the lamb burgers cooked.
Burgers should be kept in airtight containers or freezer-safe plastic baggies.
How Long Will Lamb Burgers Last I n the Fridge?
In the refrigerator, an uncooked patty will last one or two days depending on when you purchased the meat. A cooked lamb burger patty will keep for three to five days in the refrigerator.
Can I Freeze and Thaw the Ground Lamb Burger Recipe
Yes! You can either make patties and freeze them raw for grilling later or you can freeze leftover grilled patties to thaw and eat later. Separate the patties with parchment paper or freeze them separately so they don't stick together.
How To Reheat Greek Burgers
Cooked lamb burgers can be thawed and reheated from frozen using either a skillet or a microwave.
Greek Burger Recipe FAQs
How long to cook a lamb burger?
Grill until a probe thermometer registers 150°F.
What goes on a lamb burger?
We recommend you start with our lemon herb sauce. You may also wish to add thinly sliced cucumbers, sliced tomatoes, feta cheese, or red onion.
How to make lamb burger patties.
Our lamb burger recipe is fantastic to make lamb burger patties and you can easily form the patties using a burger press or by hand. Be sure to mix only until combined.
Pin this amazing Lamb Burger Recipe!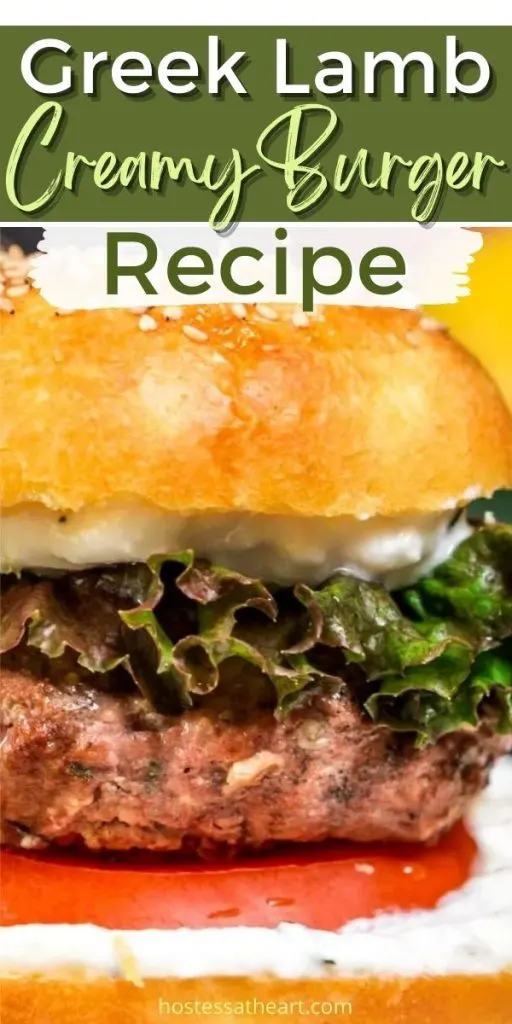 Tips to Make the Perfect Lamb Burger
The homemade lemon herb sauce takes this burger over the top. I highly recommend you use the sauce from this recipe instead of choosing a substitution. You will thank me.
Get your grill hot before putting the lamb burgers on the grill. Then give the outside a quick sear so that you don't lose all the juice as the burger cooks. After searing both sides on a hot grill, you can let the burgers continue to cook at a reduced temperature until they reach your desired doneness.
Don't overwork the meat mixture when combining the ingredients. Form the burgers with as little handling as possible. You'll lose the texture and burgers will become dry and firm instead of tender and juicy.
Don't press or pierce the lamb burger while grilling it. You'll lose the delicious juice and make the burger dry.
Burgers should be cooked until they reach an internal temperature of at least 150°F using an instant-read thermometer inserted into the center of the patty. Remember that meat will continue to rise in temperature after it is removed from the grill.
Let the cooked burger rest for 10 to 15 minutes after removing it from the grill. That allows the juices to reabsorb into the burger patty.
Grill the bun! Butter the inside of the bun and put it on the grill after you take the lamb burgers off the grill. Remove the bun as soon as it gets a little char on it. Don't burn it!
What to Serve with your Greek Burger
Do you remember my Tabouli Salad Recipe? I told you that I was on a Greek kick lately. I actually served that salad with this ground lamb burger recipe. It was a combination made in culinary heaven. A simple Asparagus Orzo salad would be delicious too. And, did you recognize the bun? Yep, it's my buttery Brioche Bun recipe. It just took this burger to a whole new level!
Other Lamb Recipes I think you'll enjoy!
Don't Forget To Come Back And Let Me Know How Your Ground Lamb Burger Turned Out!