Ground Lamb Meat Bun recipe combines an easy-to-make soft bread dough with a delicious ground lamb filling. These meat buns are the perfect hand-held meal for the on-the-go family.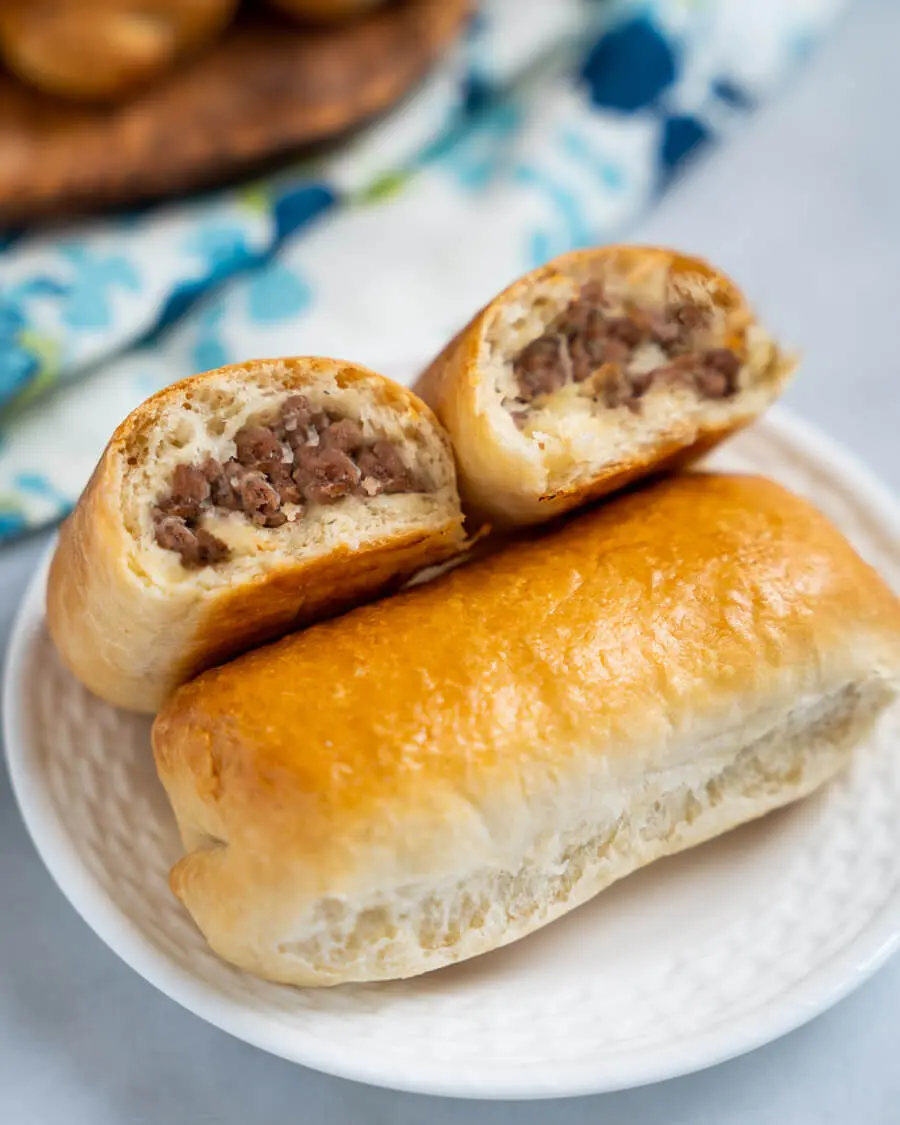 Meat Buns with Australian Ground Lamb is an easy recipe to make and delicious to eat.
The homemade bread dough recipe can't be simpler to mix up while it's soft and tender, it's sturdy enough to handle this cheesy lamb filling.
Lamb Meat Buns can be eaten on the go or make a quick and easy lunch when stockpiled in your freezer.
We have something called a "Runza" here in Nebraska. They've been around as long as I have and are a delicious bread dough stuffed with ground beef and cabbage.
We've wanted to make our own Runza meat bun recipe for a long time, and having some lean and delicious ground lamb prompted us to get these savory buns on the menu.
This post is sponsored by True Aussie Lamb but the opinions here, and the love I have for their products, are all my own.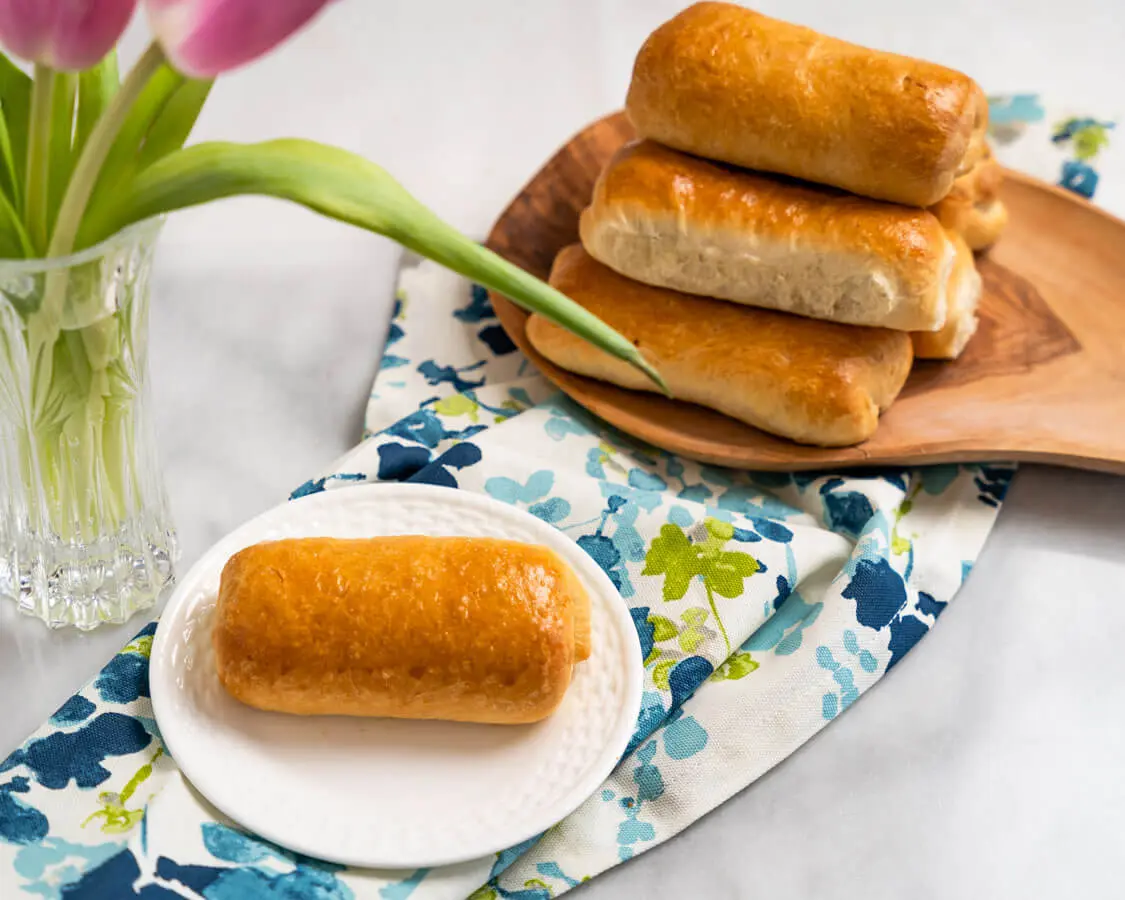 What are Meat Buns?
Meat buns are homemade bread or a roll stuffed with ground meat.
Like Chinese Baozi (Bao Zi), Philippine Siopao, and other countries inside and outside of Asia. They can be filled with any filling, commonly minced pork. However, these meat buns are much larger and baked. The meat buns that you see in Chinese bakeries are much smaller and are often steamed.
What we used
Baking Sheet – These are my favorite baking sheets. I've got 4 of them so I can always get my baking done in a jiffy!
Pastry Brush – This pastry brush is perfect for applying an egg wash or brushing on melted butter.
Mixing bowls – I think I use these bowls every day. If not for mixing, for storing leftovers in the refrigerator.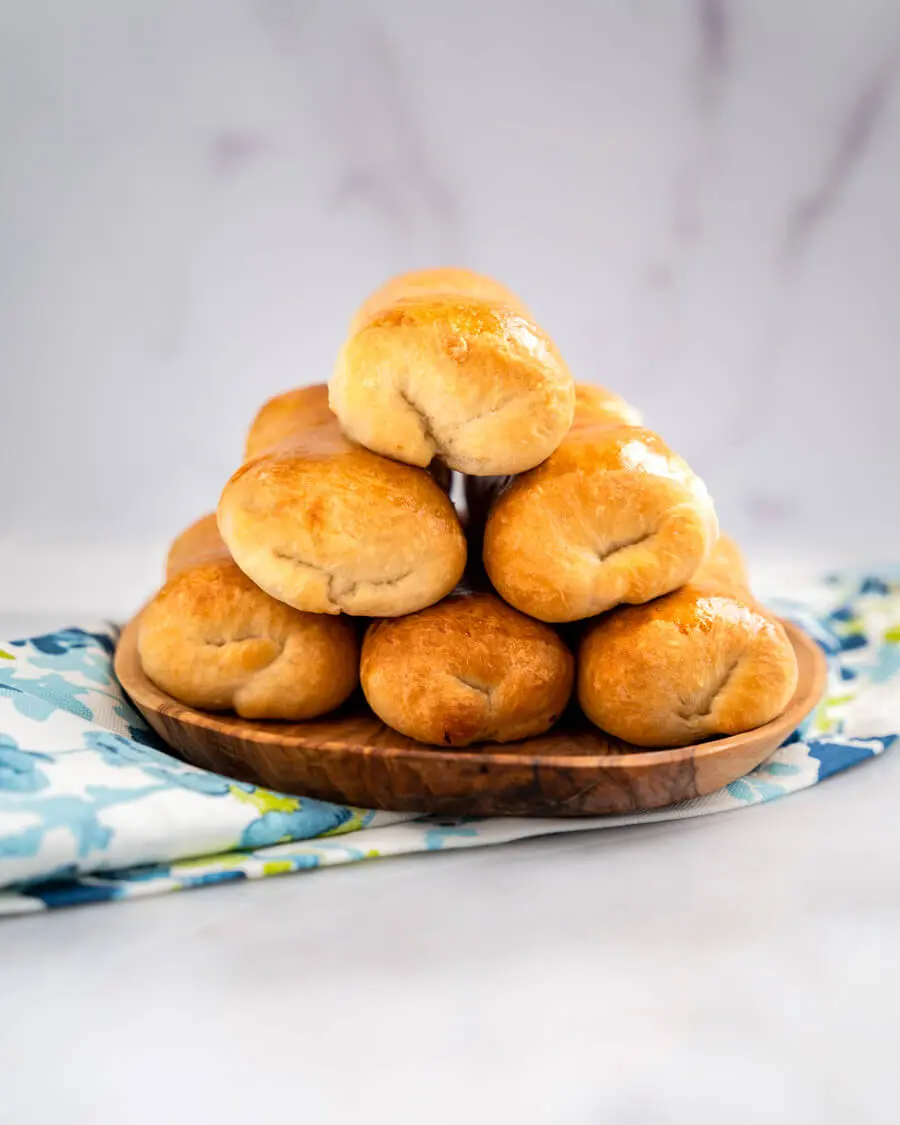 INGREDIENTS YOU'LL NEED
Bread Dough Ingredients
This bread dough is sturdy enough to be stuffed without tearing. To make this recipe even simpler, you can buy frozen bread dough rolls at your supermarket.
All-purpose flour – Bleached or unbleached.
Yeast – we used instant yeast, also known as rapid-rise yeast. This yeast can be added right into your ingredients without activating it first.
Sugar – white granulated sugar is what we use. You can use a substitute or even leave it out altogether and your dough will still be delicious.
Salt – kosher salt was used in this recipe but any salt will work. Don't omit it. Bread tastes so much better with salt.
Vegetable oil – you can use any neutral flavored oil or even melted butter. Oil makes this bread soft and tender.
Milk – we used whole milk. The fat makes a soft and tender dough. Any milk variety or water, for a dairy-free option, will work.
Egg – used for our egg wash.
Lamb filling ingredients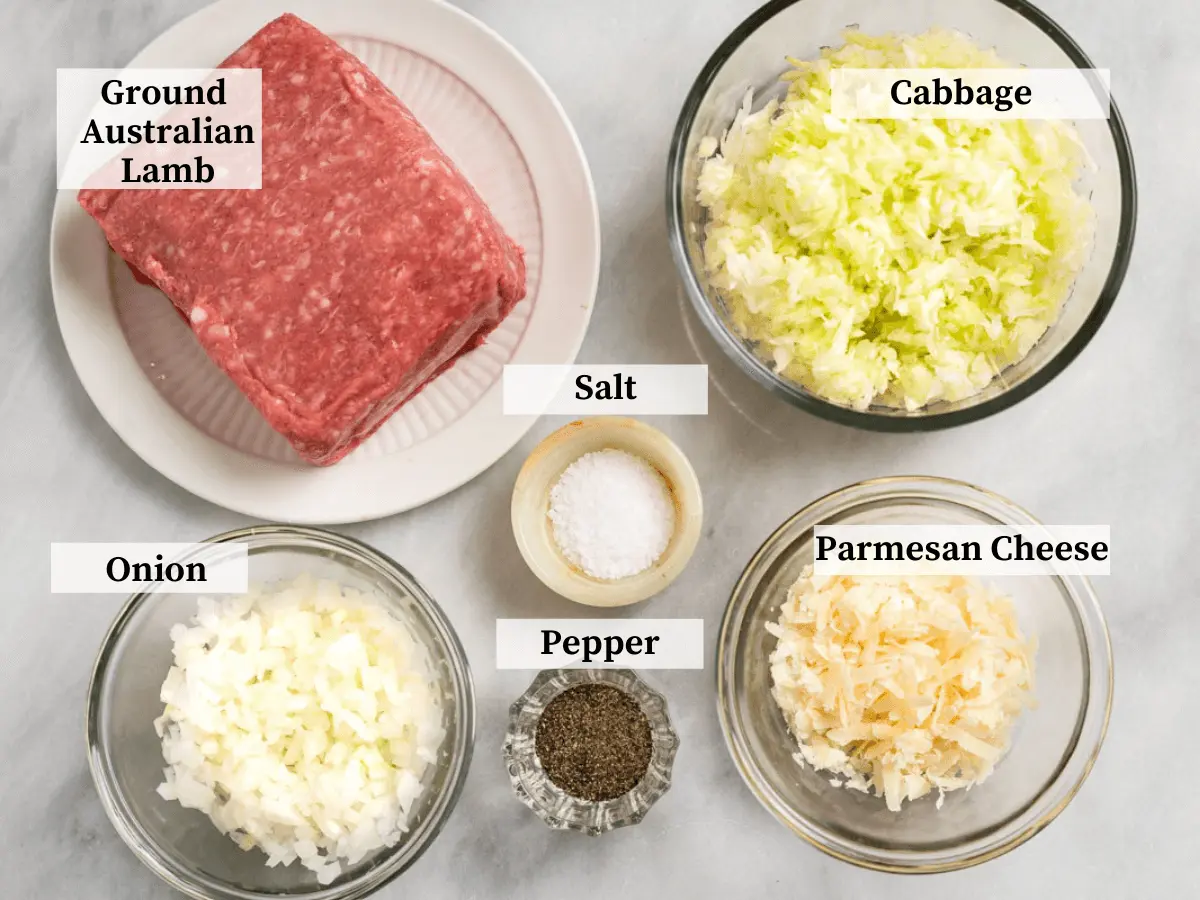 Australian Ground Lamb – using ground lamb in this filling made our meat bun filling mild and flavorful. Since it's so lean, we didn't have to drain it!
Onion – we used yellow onion because it's mild once cooked. You can substitute it with white onion.
Cabbage– we grated fresh green cabbage. You can buy pre-shredded cabbage too. Run your knife through it to make sure it's cut fine enough, however.
Parmesan cheese – freshly grated parmesan cheese is what we prefer. You can buy pre-shredded. You could also use another variety of cheese. Pecorino Romano would be delicious.
Salt and Pepper
How to make Meat Buns
Start with the dough
I mixed this dough by hand but you can use an electric stand mixer. Use the paddle attachment until the ingredients are mixed and then switch to the dough hook for kneading.
Combine the flour, salt, sugar, and yeast together in a large bowl and give it a quick stir to combine.
Add the vegetable oil and then half of the milk. Give the dough a quick mix and then add the remaining half of the milk. Mix until all of the dry ingredients are incorporated.
Knead the dough for 8 to 10 minutes or until smooth.
Put the dough in an oiled bowl and cover it with plastic wrap. Set it in a warm place and let it rise for 90 minutes.
Meat Bun filling
Cook the lamb until it's about half browned. Add the onion and continue cooking until the meat is no longer pink.
Stir in the grated cabbage and cook until the cabbage just begins to wilt. Remove the skillet from the heat and allow the filling to cool.
Once cooled, stir in the parmesan cheese.
How to assemble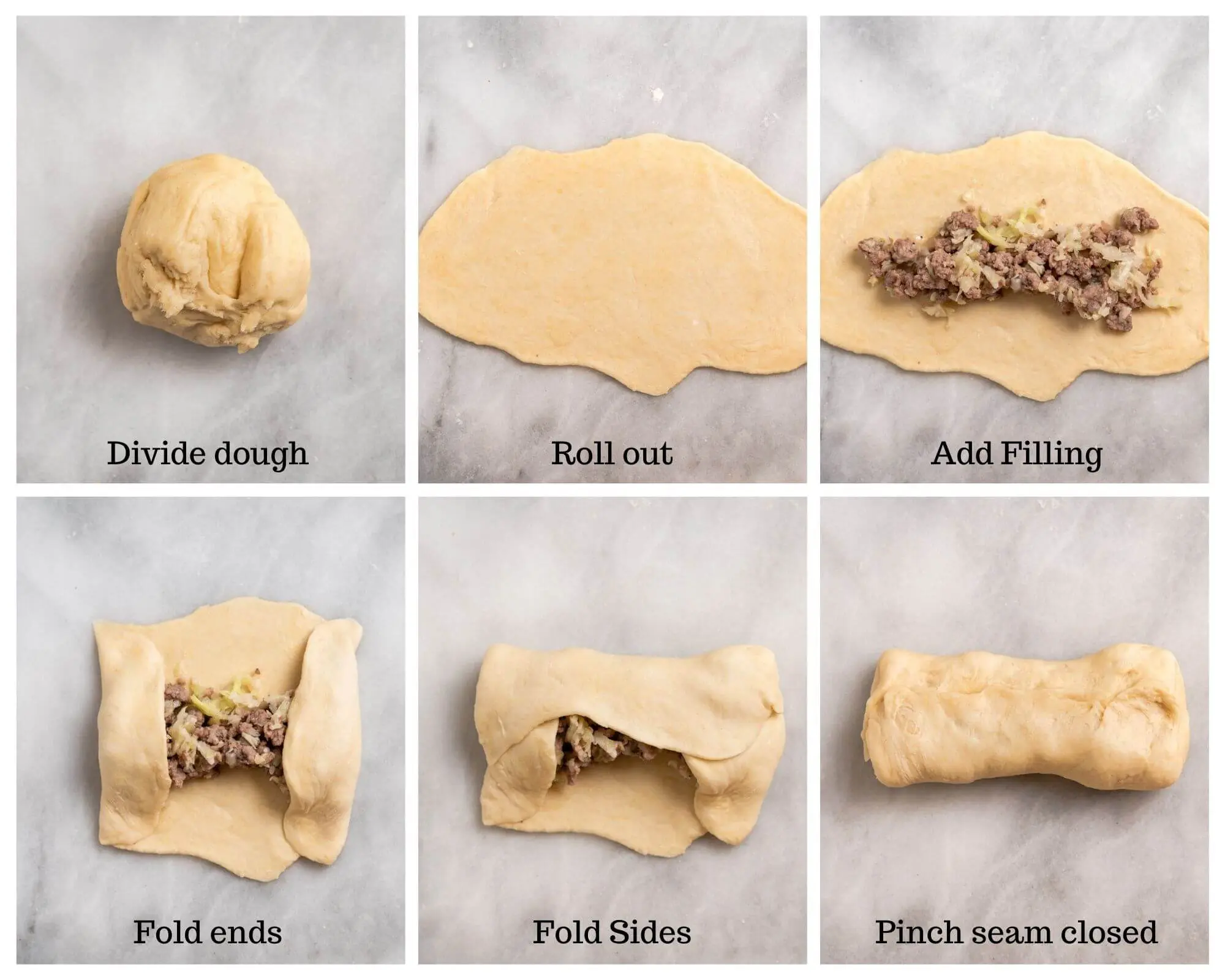 Separate the risen dough into 12 dough balls. 16 for smaller buns. I use a scale to get them all approximately the same size.
Roll out the dough into a 4×7 rectangle.
Spoon the filling down the center of the dough.
Fold the dough over the filling like an envelope.

Fold each end in about 1/4 from the end pinching the dough's edges together as you go.
Next, fold the long side across the center and pull over the other long side. Pinch a seam to seal.

Put the filled meat buns seam side down on a parchment paper-lined or greased baking sheet. Cover them and allow the bread dough to rise for 1 hour.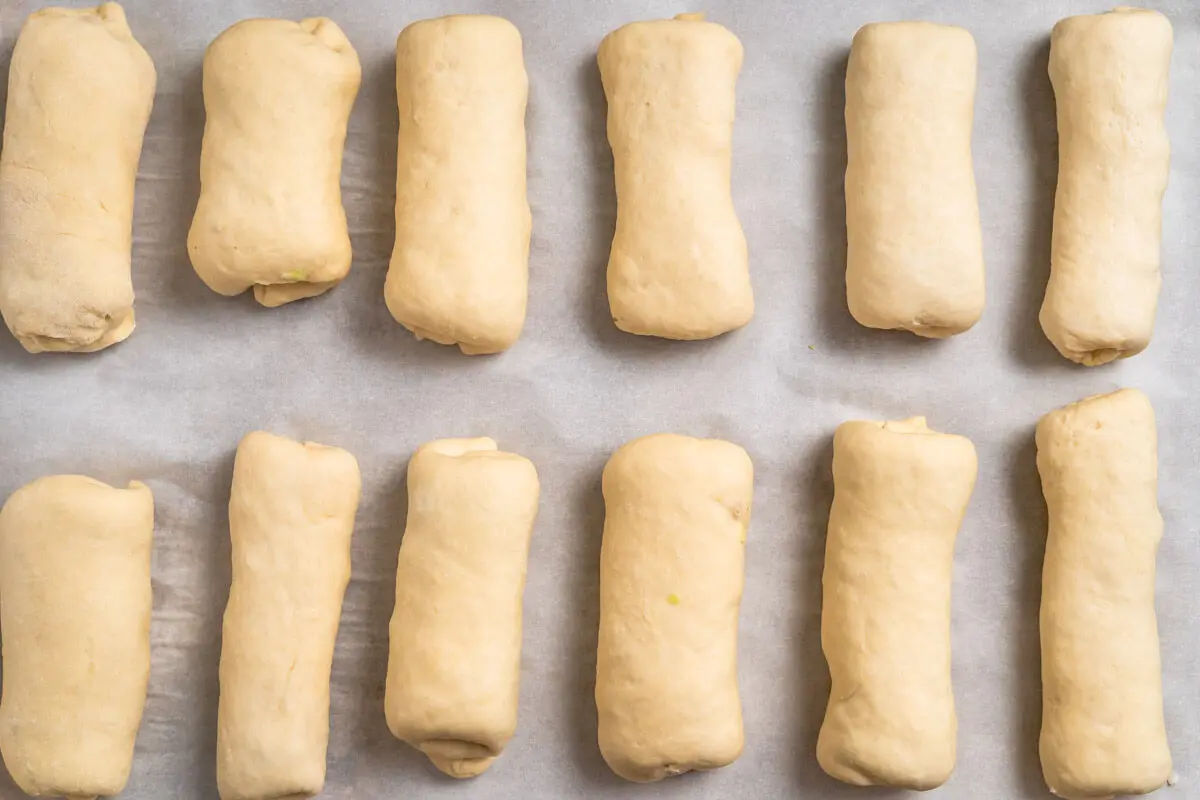 Brush an egg wash over the risen stuffed buns.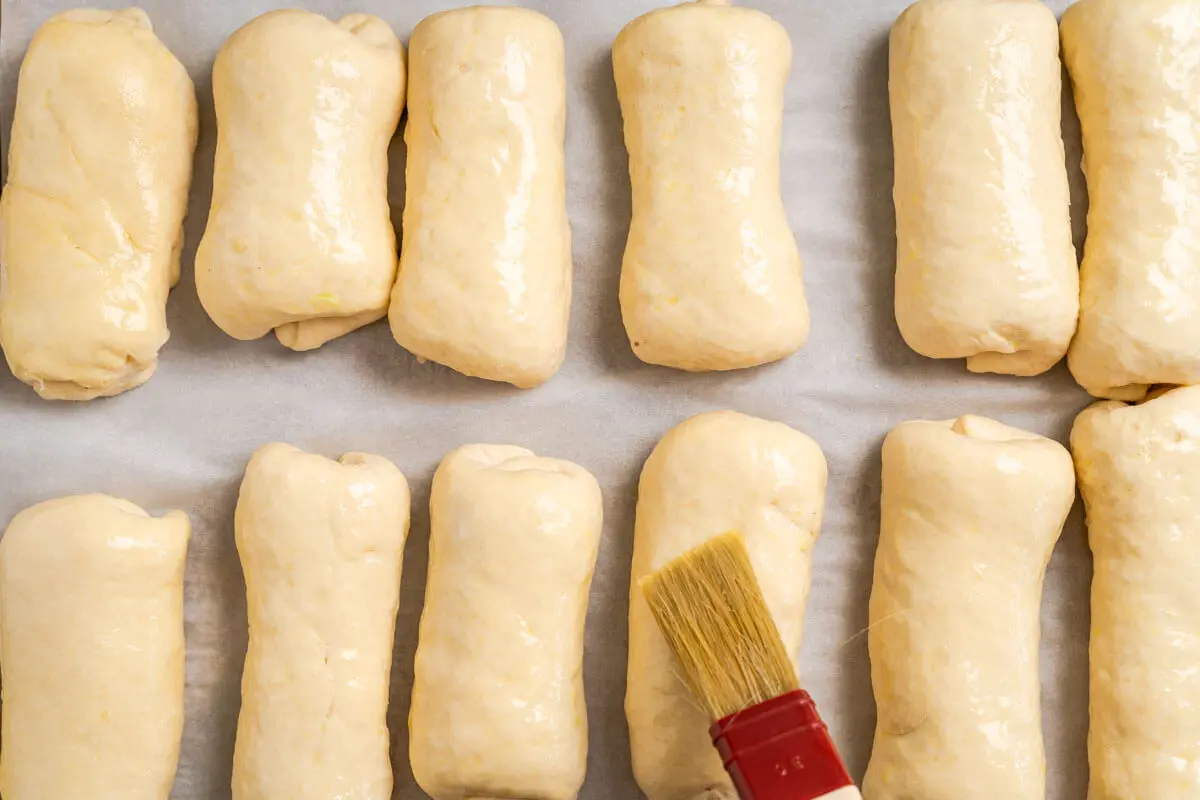 Bake until golden brown.
Tips for the perfect Lamb Meat Buns Recipe
Finely dice the onion. You want a good balance of flavor in your filling. Large pieces of onion would take over.
We finely grated the cabbage and stir it into the filling at the very end, cooking it only until it starts to wilt.

You will lose the texture of the cabbage by overcooking it.

Cool the filling before filling the dough. If the filling is hot, it will thin and easily tear the dough when you try and fold it.
Cool the lamb filling before stirring in the parmesan cheese. It will mix throughout the filling instead of just melting right away.
Don't overfill the dough with the filling. It will make them harder to fold and you will risk the buns breaking open.
I preheat the oven as soon as we finish shaping and filling our meat buns. That assures that our oven is properly heated before baking.
Use a whole egg mixed with a little water to make the egg wash. Many recipes only use egg whites. I've found our bakery browns better using the whole egg.

Cook up any unused egg and serve it to your pup. They'll love it!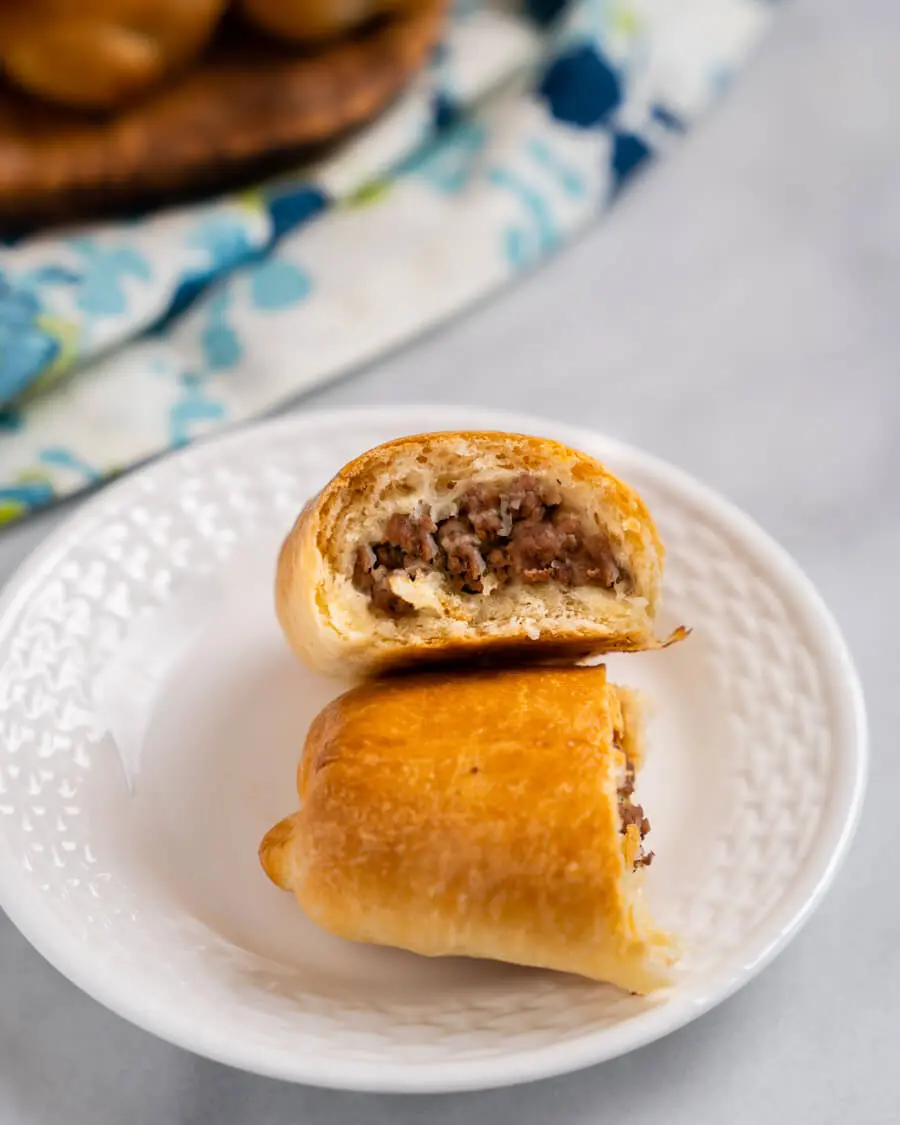 Storing and reheating recommendations
Leftover Lamb Meat Buns should be kept refrigerated for up to 5 days. They also freeze exceptionally well! Just lay them flat in a resealable bag and freeze for up to 6 months.
Baked or unbaked meatbuns can be frozen as well. Let the assembled meat rolls come to temperature and do a final rise. Bake as instructed.
Reheat fresh or frozen meat buns in the microwave for one-minute intervals until heated throughout.
Common Meat Bun Recipe Questions
Can stuffed buns be made ahead of time?
Yes, they can. The filling can be made up to 3 days ahead of time.
You can premake the dough ahead of time. After you mix the dough ingredients, wrap it tightly with plastic wrap and put it into the refrigerator. Once you remove it from the refrigerator, continue with the instructions.
What is the best way to make soft dough for meat buns?
I use whole milk in this recipe. I think the extra fat keeps the bread soft.
Use a parchment paper-lined baking sheet (glossy side up) instead of greasing it. Parchment paper eliminates any factors that the color of the baking sheet brings. It will not add additional oil to the bread dough either.
If you don't have parchment paper, I prefer to use soft butter to grease the baking pan.
What other recipes can be made using leftover bread dough from making meat buns?
Leftover dough is delicious unstuffed. Shape it into round pieces and bake it as you would rolls.
My mother used to roll out any remaining dough and spread it with soft butter then sprinkle it with cinnamon and sugar for a crispy sweet treat. It's simple enough to let the kids make their own.
Stuffed Bun Recipe Variations and substitutions
Ground Lamb – Ground lamb is delicious but you can use any filling such as ground beef pork, chicken, or turkey. Drain any extra liquid from the meat. Leftover cooked Corned Beef or BBQ Brisket would be amazing.
Pizza flavor – The kiddos will love this recipe. Add just enough pizza sauce to coat the meat and add mozzarella instead of parmesan.
Veggies – We love shitake mushrooms in our meat buns recipe. You could saute peppers or your favorite vegetable. Cook pureed carrots with the meat. That allows the flavor and extra liquids to be absorbed into the meat mixture.
If you enjoyed this Meat Bun recipe, here are a few more you may enjoy
We love lamb and you can find all of our lamb recipes here!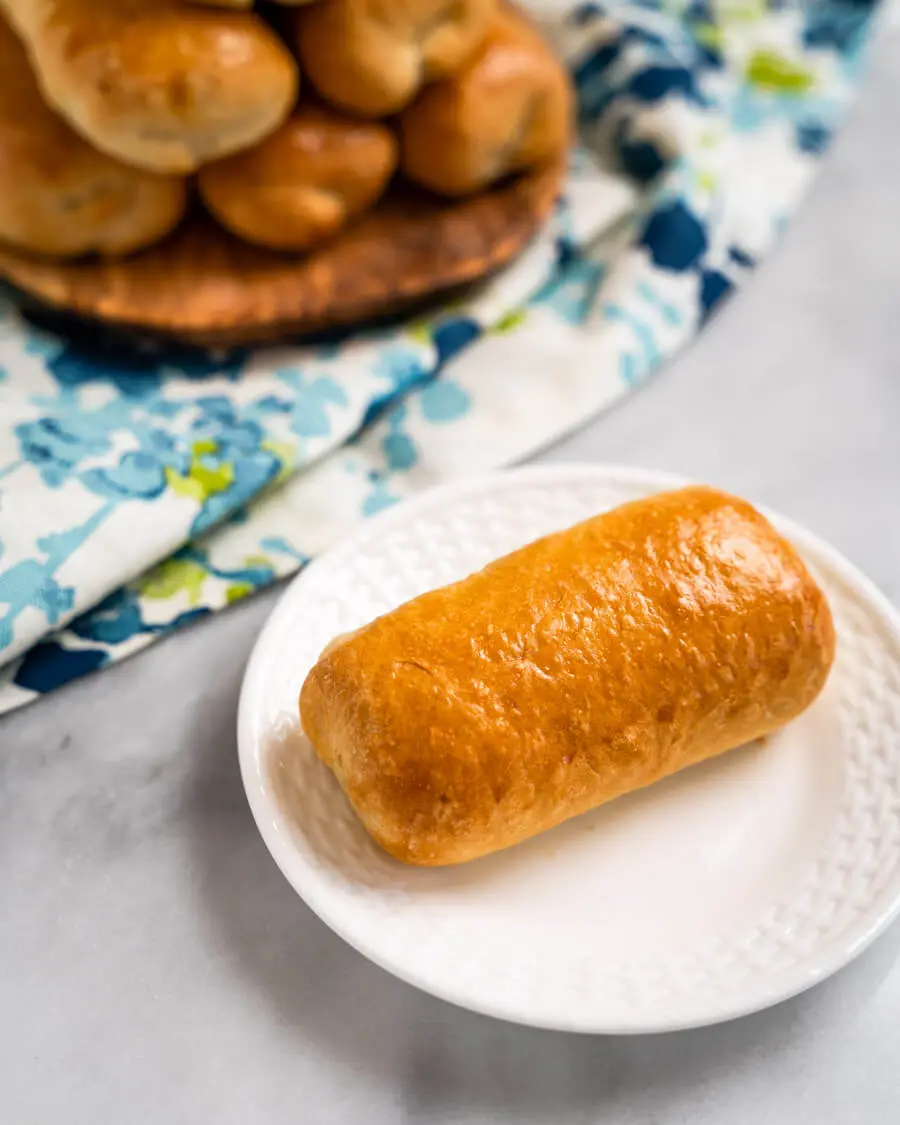 Even the kiddos can grab a frozen meat bun and zap it in the microwave for a delicious meal. They'll love them any time, and you'll love the convenience of a pre-made meal.
The only thing I'll do differently the next time we make them is DOUBLE the recipe! John ate one of these hand-held meat buns every day for lunch until they were gone.
I hope you enjoyed this delicious recipe as much as we do. Drop me a comment below, and don't forget to give it a star rating. ⭐⭐⭐⭐⭐. Your comments and ratings help others decide if this recipe is for them too.
This post has been updated to improve readers' experience with details and answers to questions. No changes were made to the recipe.
WHAT IS AUSSIE LAMB?
I used to think that True Aussie Lamb was a brand. It's not. They support all of the lamb producers in Australia.
WHY LOOK FOR AUSTRALIAN LAMB?
Australian lamb is raised on natural pastures which produces a mild and flavorful lamb.
Lamb is tender, lean, and healthy!
As you will see in our recipe, it's so easy and versatile to use.
It's readily available in the United States. Australian lamb is actually the #1 source of lamb in the US and you may have already seen it in your local supermarket.

You can go to their website to see who carries it in your area and to learn more about True Aussie Lamb.
Or, just #askforAustralian!
If you're still looking for amazing lamb recipes, jump on over to the True Aussie Lamb website.
They have some chef creations using all of the lamb cuts available and more tips to cook lamb. There is also an interactive cooking tool that shows you how easy it is to cook lamb and will help you create your own dish.
Pin these Meat-filled Buns!