Entertain and celebrate in style once you've learned how to make a basket weave cake. This is the perfect cake for almost any occasion and can be modified to fit many different themes. Just change up the colors or change the top design to fit your celebration.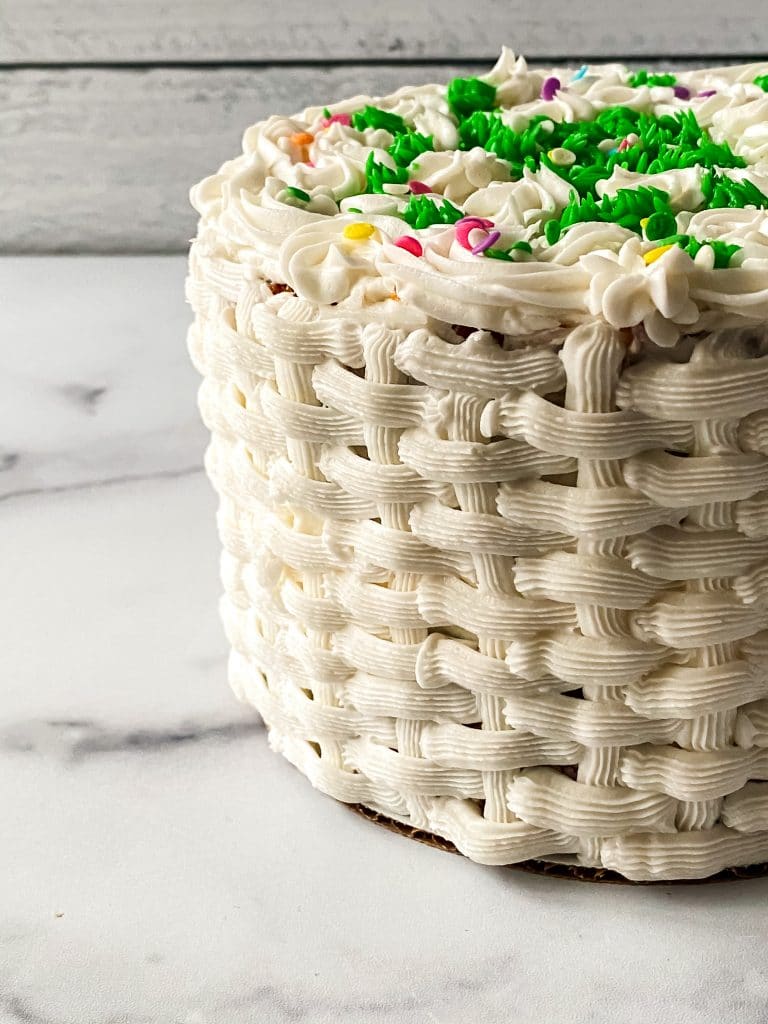 Cake Decorating Supplies You Need to Make the Basket Weave Cake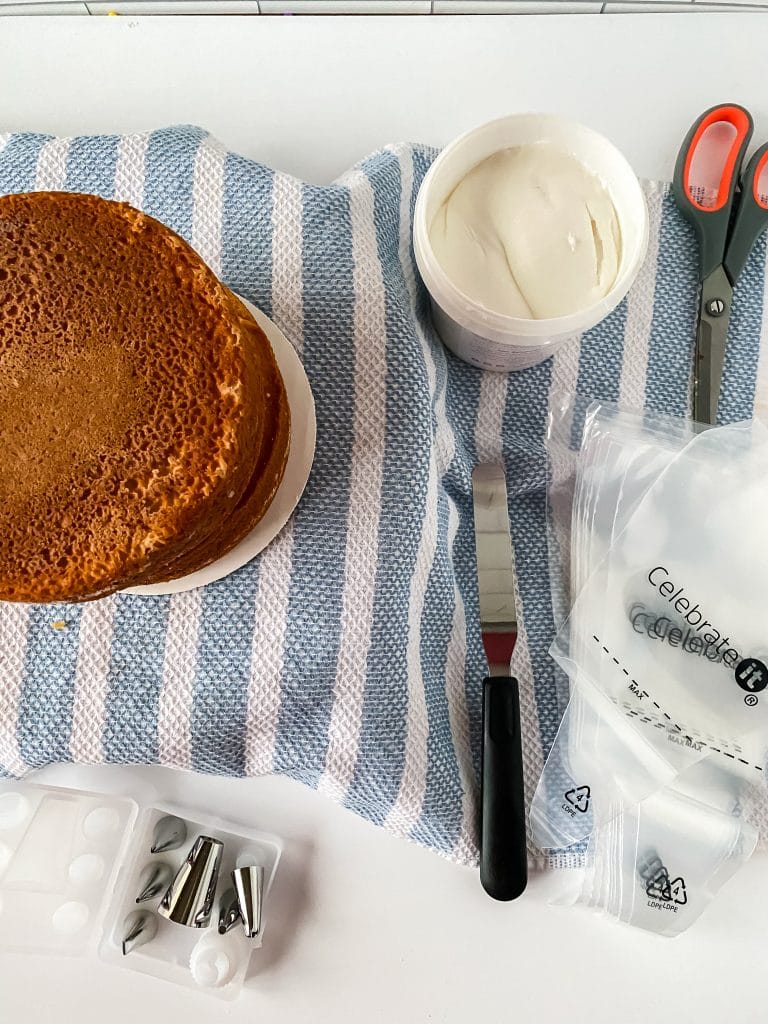 Ingredients for the Basket Weave Cake
Pre-baked cake, preferably frozen. Frozen cakes are easier to decorate without crumbs making a mess.
Buttercream Icing. I love homemade buttercream. However, you can purchase decorator Buttercream for convenience and it's pretty good!
How do you Make a Basket Cake
Place one dollop of buttercream into the center of the cake board. This will serve as our "glue" for the cake. It keeps the cake from sliding off the board as you move it from counter to table or transport it for a party.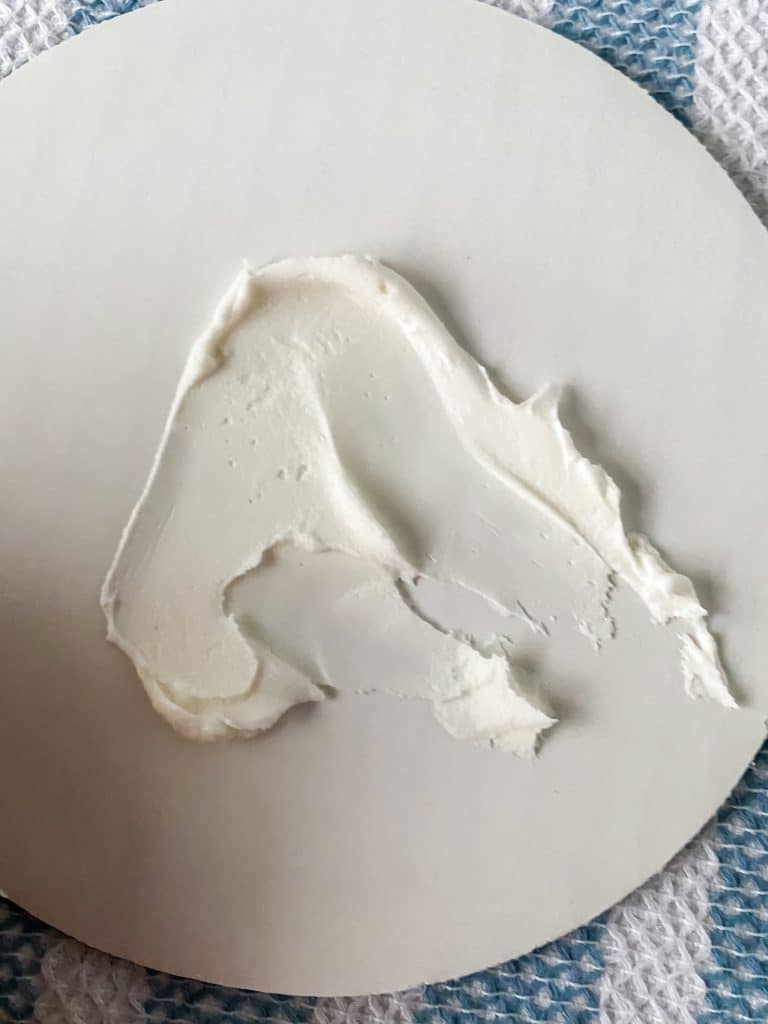 Place frozen cake layers onto the board and create your inside layers.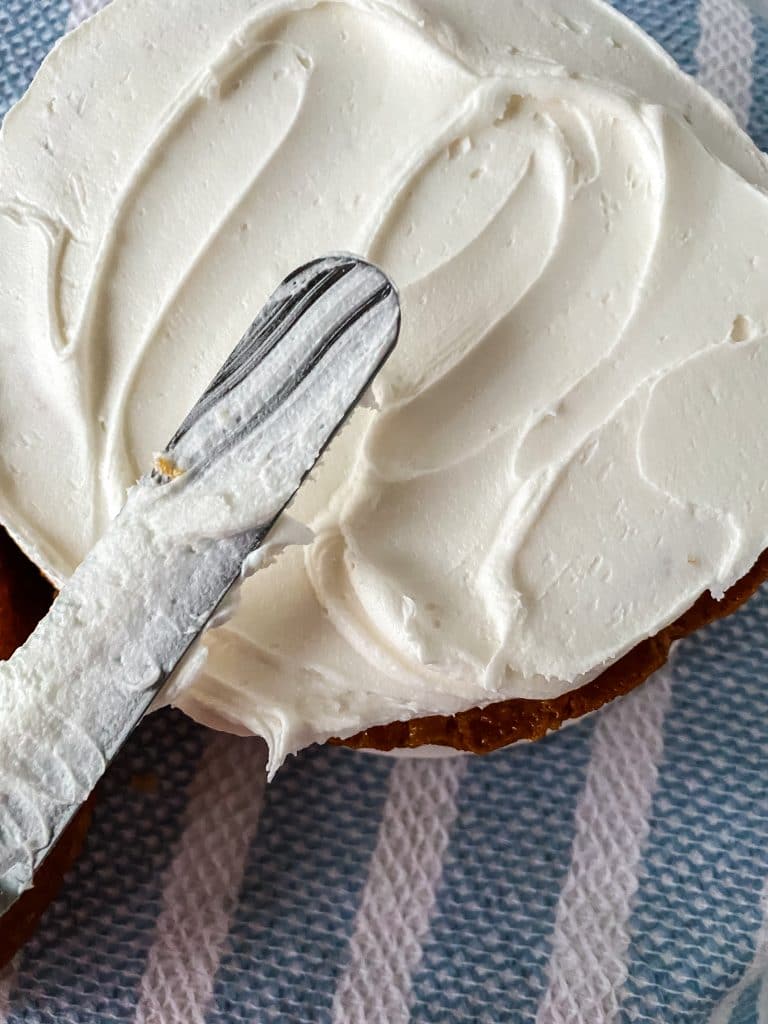 Once the cake is put together apply a thin layer of buttercream icing around the entire cake to capture any crumbs that can mess up the presentation. This is also known as a crumb coat.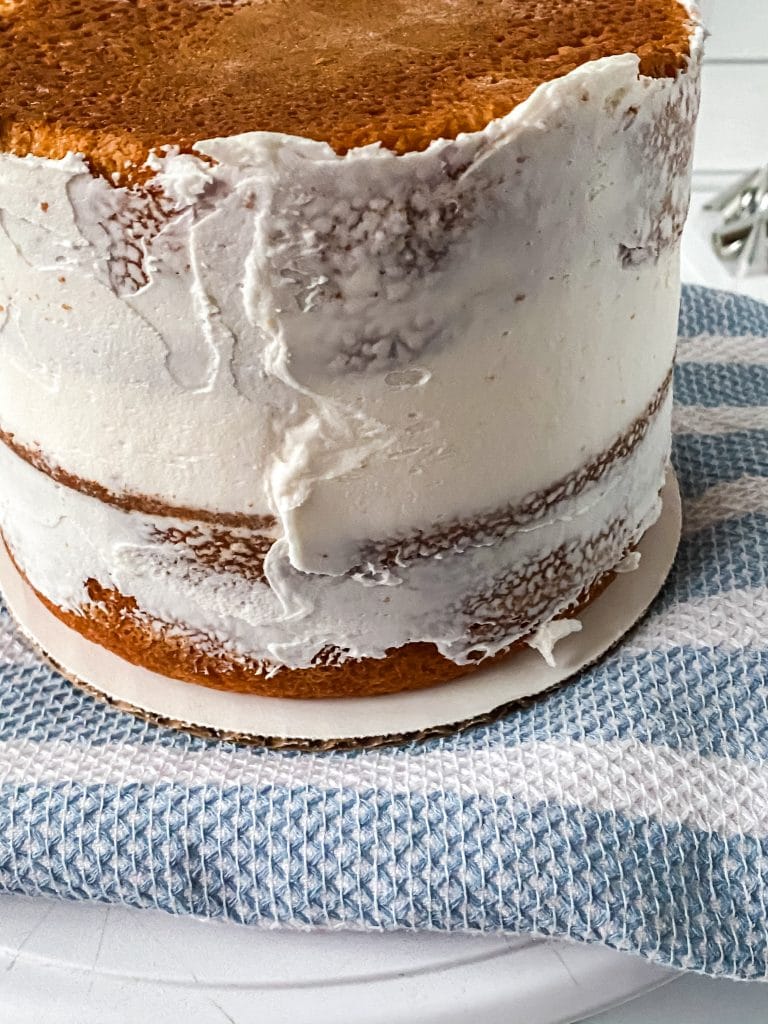 Place the cake into a fridge or freezer while you set up the icing.
Piping the Basketweave Cake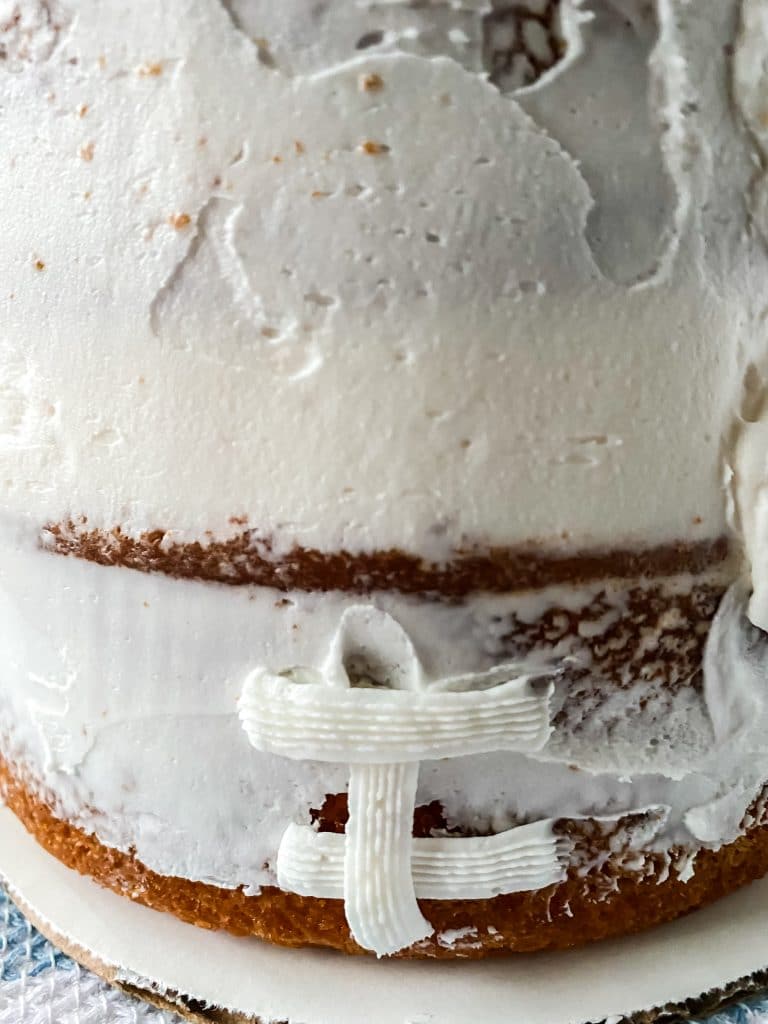 Place coupler in a piping bag and fit with tip 47.
Fill bag ½ full with buttercream icing.
Remove cake from the refrigerator or freezer and place it on top of a turntable. (Imagine the top of the cake is a clock)
Hold the decorating bag at a 45-degree angle at 6 o'clock.
Very lightly touch the piping tip to the crumb-coated cake, serrated side up, squeeze out a vertical strip of icing from the top to the bottom of the cake.
Stop squeezing and then pull away. For the duration of this project, remember to squeeze, stop and then pull away.
With the bag positioned at a 45-degree angle, this time at 3 o'clock, squeeze out short horizontal stripes of icing over the vertical line starting at the top. The spacing between the horizontal stripes should be even.
Pipe the next vertical line over the ends of the horizontal stripes.
Begin a set of horizontal stripes by burying the top under the previous vertical line.
Repeat this process, with vertical and horizontal stripes until you have covered the entire cake with the basketweave pattern.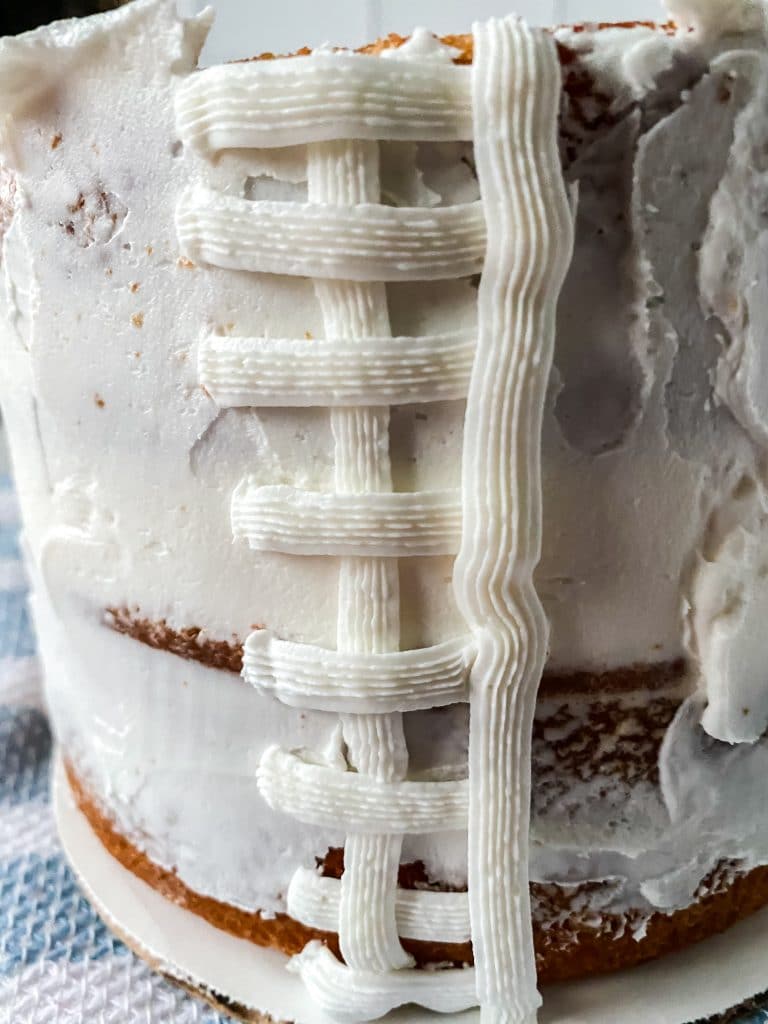 *Cake photographed is a 6 inch cake
There's a video at the end of this article
Basket Weave Cake Decorating Tips and Tricks
Always pipe a single vertical line, then short horizontal lines. Do NOT attempt this by piping all of the vertical lines at once. Ours can be wavey so don't stress if they're not totally straight. Just have fun!
Place the cake on a turntable and on a surface at eye level (sit to create this) make this much easier to complete.
If using colored icing, make more than you need originally. Underestimating the amount of icing you need can cause issues down the line.
For example, you may not be able to recreate the same color. During the time you are making more icing, the icing on the cake is already setting and deepening in color so they will not dry the same shade of the colored icing.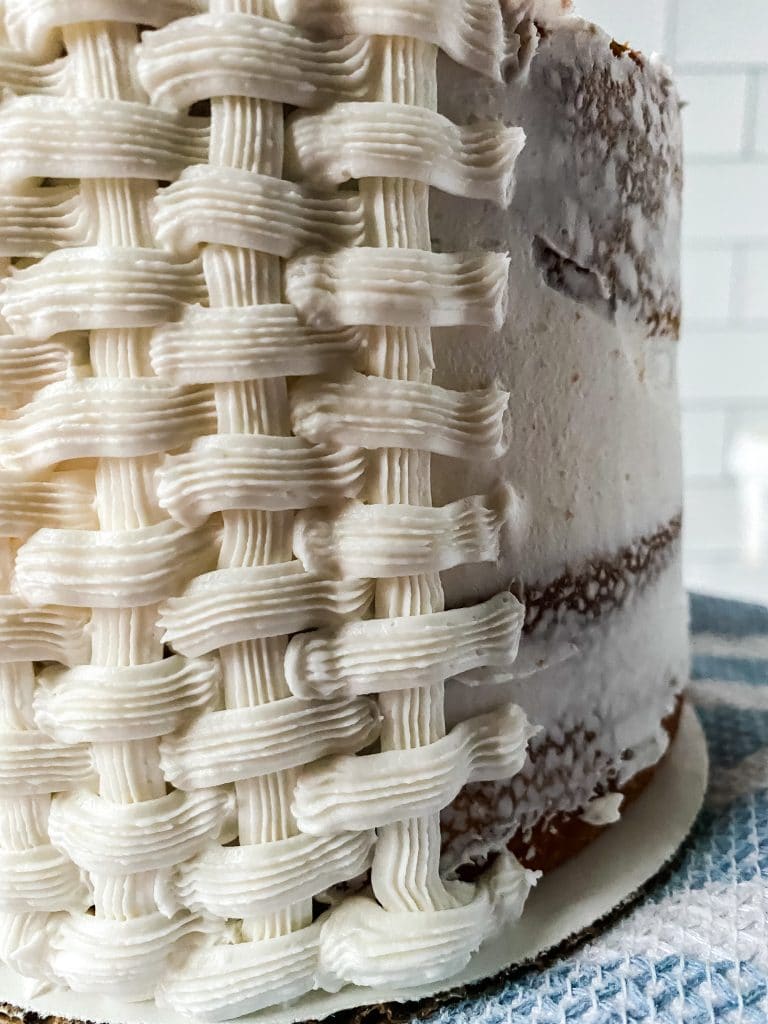 Tips and Tricks to Make Your Cake Perfect
The basketweave cake is perfect for Easter, Mother's Day, Birthdays, New Baby, Congratulations, or any Holiday.
The intricately woven design can be as tight or as loose as you desire. The thing to remember is wherever you start, will ultimately be the back of the cake.
You can bake your cake from scratch or pick up a frozen, uniced cake from your grocery store bakery. They also sell icing if you don't want to make a from-scratch buttercream.
Do not use the cake icing found in the cake aisle, as it will not be thick enough to hold this pattern. A homemade buttercream or premade buttercream is preferred. Wilton makes a great decorator icing.
Cake boards are cardboard circles that cakes sit on but are not very sturdy. They're used when placing the cake layers on top of one another or before placing on a cake stand to protect it when the cake is sliced.
Cake drums are several cake boards glued together and covered in a food-safe decorative foil used for presentation. This is often used in lieu of or with a decorative cake stand for presentation.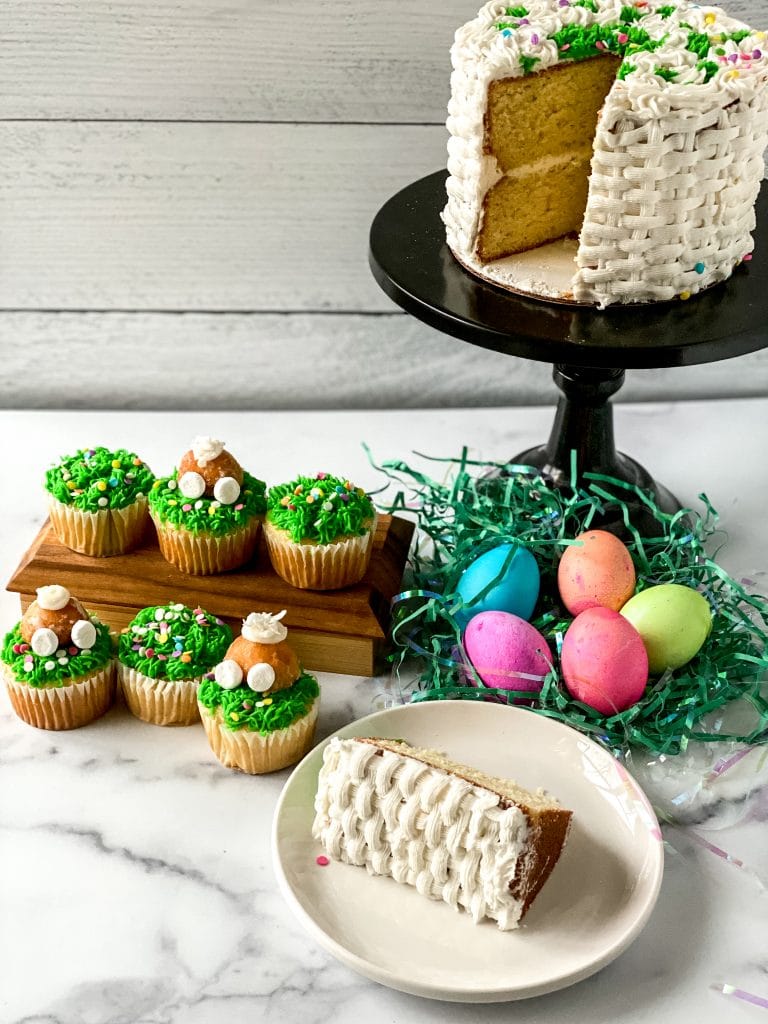 Other Decorative Cake Recipes
If you like this recipe, we would appreciate your comment and a 5-star ⭐️⭐️⭐️⭐️⭐️ review!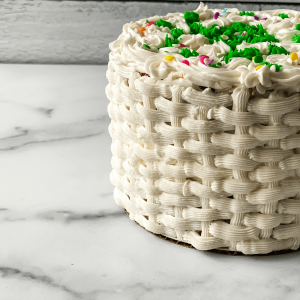 Basic Buttercream
This basic buttercream frosting is perfect for spreading on cakes and cookies or for piping decoration techniques.
Ingredients
1

cup

solid vegetable shortening

1

tsp

clear vanilla extract

1

lb

powdered sugar

sifted

1

tbsp

Meringue Powder

7

tsp

milk or water
Instructions
Combine shortening, water, and extract into the bowl of an electric stand mixer fitted with the paddle attachment. Blend on medium-high until blended and becomes shiny (up to 5 minutes).

Add powdered sugar and *meringue powder. Blend until combined.

Add additional water or milk to thin the buttercream if necessary
Video
Notes
Recipe adapted from Wilton Decorating Basics method course.
Meringue powder is made up of dehydrated eggs. Leave it out if you want these cupcakes to sit out or if you follow a special diet.
It's important to mix the shortening until it becomes shiny!
Buttercream can be frozen in an airtight container for up to 6 months.
Nutritional Disclaimer
This recipe was calculated using the exact brands and measurements I used to make this recipe. If you are following a strict diet please note changing anything will cause the nutritional info to change. My calculations are intended as a guide only.