Aussie Ground Lamb Lentil Chili is an easy comfort meal that comes together quickly. Made in an instant pot makes this Lamb Chili recipe a one-pot, 30-minute meal.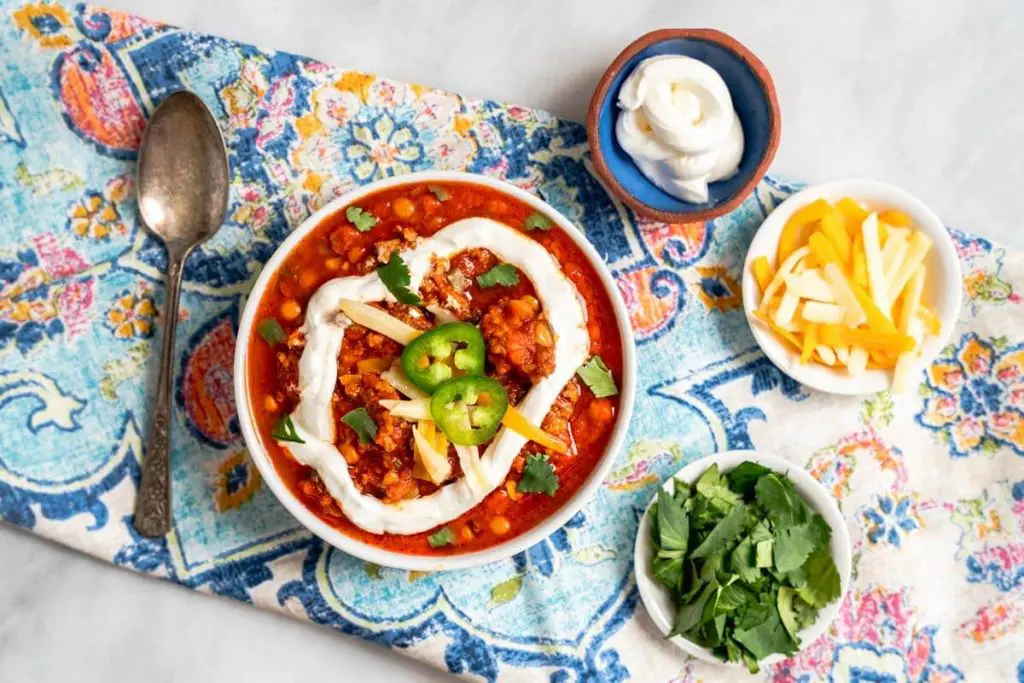 Making Lentil Chili with ground Australian lamb creates a flavorful dish that's lean and healthy.
Like our other chili recipes, you're in charge of how spicy you want it.
Best of all you can make this Lentil Chili in an electric pressure cooker so it's done before anyone can ask what's for dinner!
This post is sponsored by True Aussie Lamb but the opinions here, and the love I have for their products, are all my own.
What is Aussie Lamb?
I used to think that True Aussie Lamb was a brand. It's not. They support all of the lamb producers in Australia.
Why look for Australian Lamb?
Australian lamb is raised on natural pastures which produces a mild and flavorful lamb.
Lamb is tender, lean, and healthy!
As you will see in our recipe, it's so easy and versatile to use. You can substitute ground lamb in any recipe that has ground meat as an ingredient.

Say goodbye to the same ole-boring recipe. Punch up the flavor by switching it for lamb!

It's readily available in the United States. Australian lamb is actually the #1 source of lamb in the US and you may have already seen it in your local supermarket.

You can go to their website to see who carries it in your area and to learn more about True Aussie Lamb.
Or, just #askforAustralian!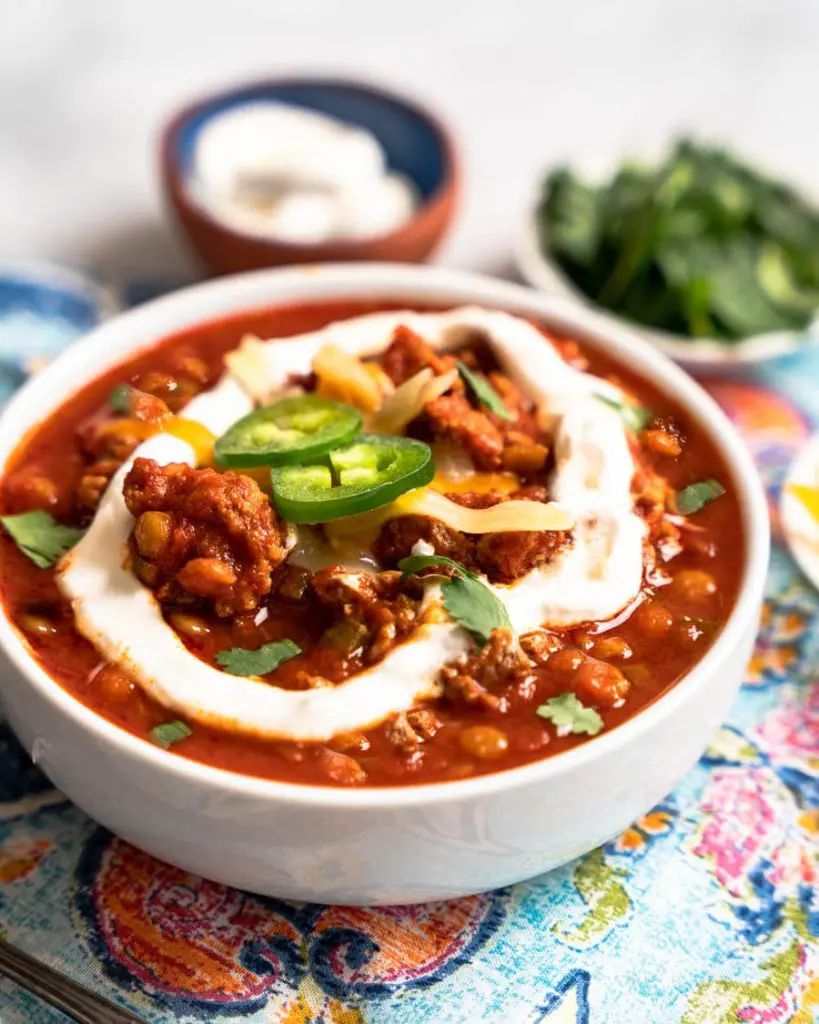 Why we love this recipe
Using an electric pressure cooker for this lentil chili recipe makes it a one-pot meal so clean-up is a breeze.
Ground Australian lamb is naturally lean. That allows us to brown the meat with the onion and bell pepper without having to drain it.
This recipe makes a large batch which is perfect for entertaining. And, using the warm function on the instant pot allows us to keep our chili warm so people can help themselves!
This lentil chili also freezes well. We freeze our leftover chili in quart-sized containers so we can take out just what we need for a quick delicious meal.
Ingredients you'll need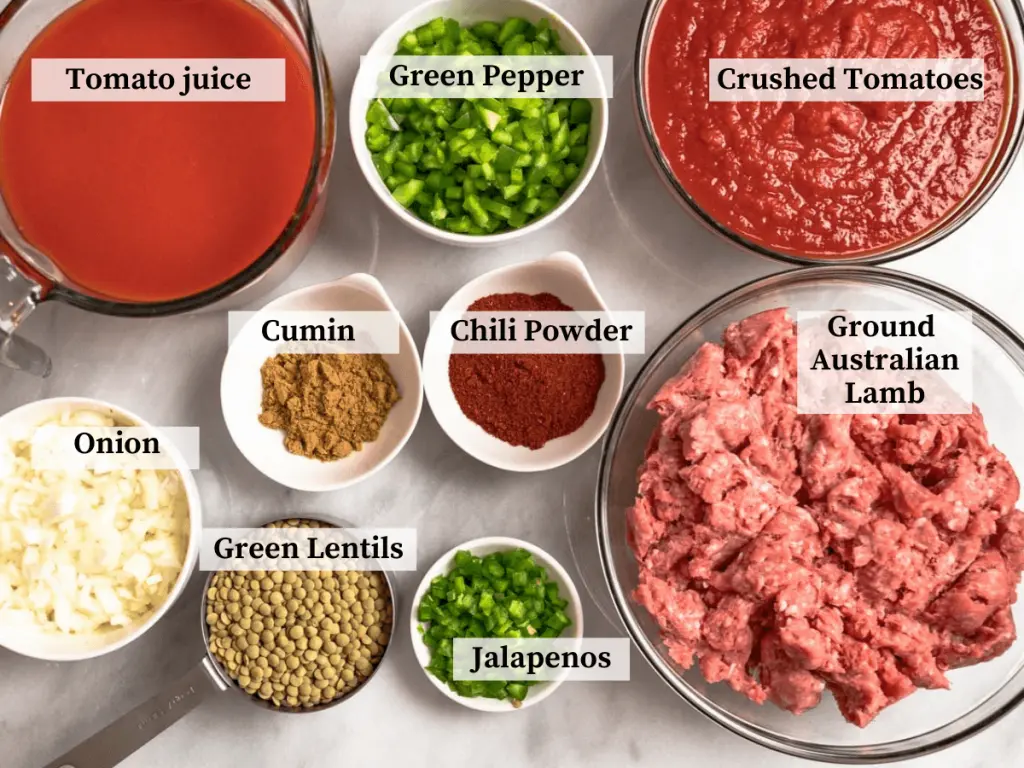 Australian Ground Lamb – This lamb is so lean and tender that we didn't have to drain it. That made this a no-fuss easy peasy recipe that was done in no time.
Crushed tomatoes – We bought a good canned variety. You can also use homemade canned tomatoes and crush them in a food processor.
Tomato juice – Again, we're talking about convenience, so we bought the canned tomato juice.
Spices – We used chili powder, cumin, salt, and pepper. Feel free to add more or less chili powder according to what you like.
Green pepper – You could also use a yellow or orange bell pepper. They all have a little bit different flavor. You could leave it out as well.
Onion – We use yellow onion most of the time. They are less likely to be "hot" and become a little sweeter when cooked.
Jalapeno – One large jalapeno, seeded with the ribs removed is what we used. You can add more or use a smaller one depending on your tastes.
Green Lentils – These lentils work well in the instant pot.

If you don't have lentils or choose not to use them, beans make a great substitute.

Garnishes – We believe that garnishes are another opportunity to add beauty and flavor to all most any recipe. We used cilantro, sour cream, jalapeno, and grated cheese.

You could substitute the sour cream for plain greek yogurt and diced tomatoes would also make a great garnish.
What are Lentils? Lentils are considered legumes like beans and peas. They work so well in a recipe because they can take on the flavors that you add instead of taking over the flavor.
Best of all, they're loaded with protein and fiber just to name a few. This article talks more about their health benefits if you're interested.
How to make Lamb Lentil Chili
Brown the ground lamb with the diced onion and bell pepper using the saute function.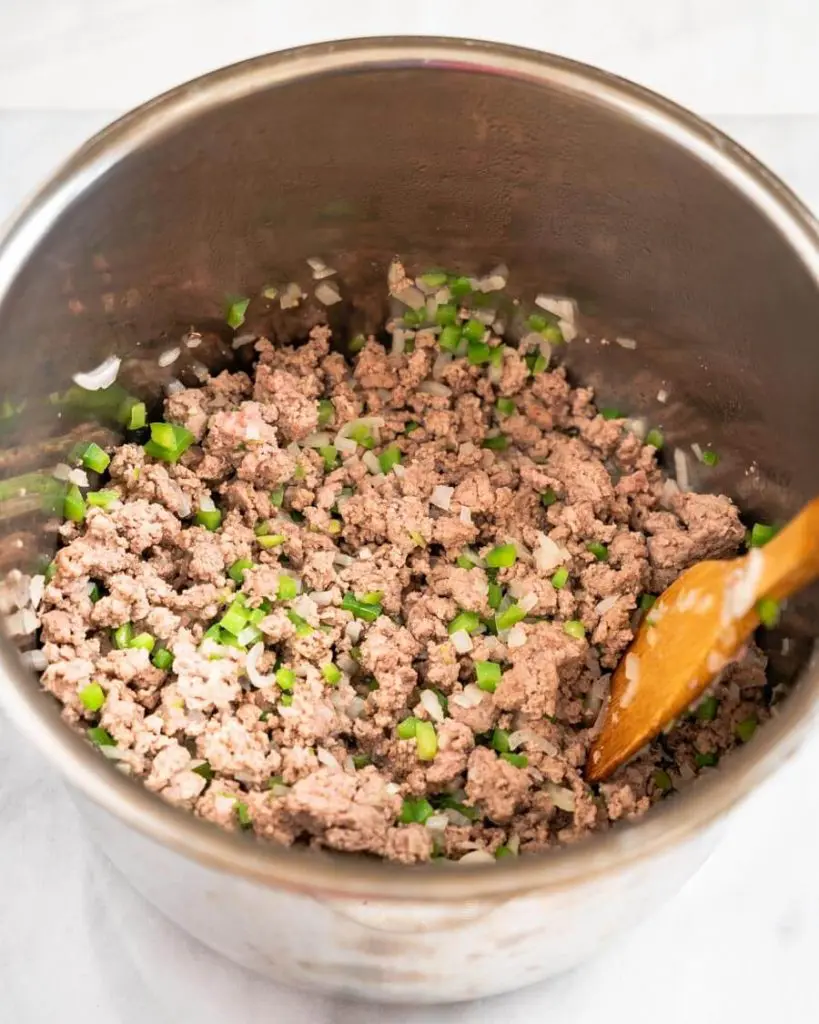 Add the remaining ingredients (except for the garnishes). Make sure the pressure valve is set to seal. Set the instant pot to the manual function on high for *10 to 15 minutes.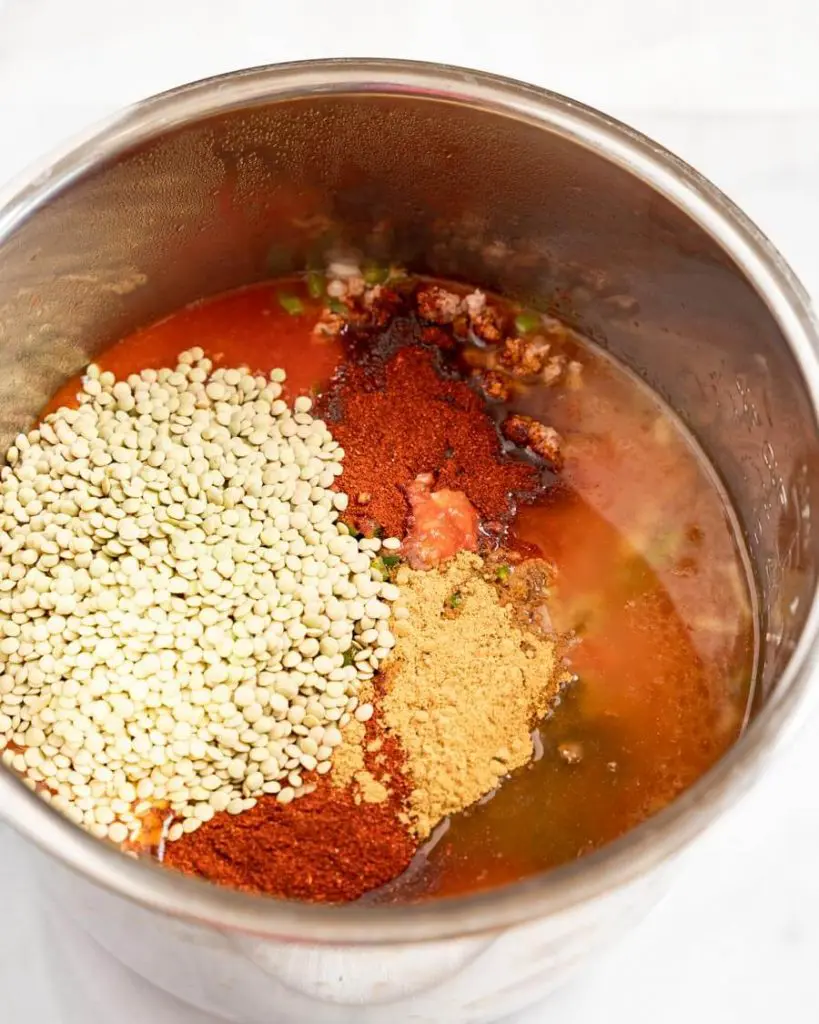 We like to garnish our lentil chili with sour cream, cheese, and cilantro. We also serve sliced or diced jalapenos for those who like their chili spicier (John likes the inferno heat level).
*Instant Pot cooking rates can vary. What is cooked in mine may be undercooked or overcooked in yours. Please see our tips below for the perfect bowl of Lamb Lentil Chili!
Tips for the perfect lentil chili
The lentils in this recipe don't need to be soaked or pre-cooked. It's important to rinse and sort them, however.

Lentils can have pebbles or debris mixed with them. Rinsing and sorting them will prevent any of this from getting into your chili.

We use green lentils in our chili recipe because we know that they cook well in the Instant Pot. Red lentils are more delicate and can turn to mush cooked this way.
You may want to set your Instant Pot to 10 minutes and if the lentils are undercooked, set it for another 5 minutes which is what we did the first time we made this recipe.

15 minutes with a 10-minute natural release cooked our lentils to perfection.
What we used
We used an Instant Pot which is another name for an electric pressure cooker. We were able to brown and saute our ingredients and then just add all of the other ingredients for cooking.
How to store instant pot lamb chili
Like any soup, lamb chili should be refrigerated in a covered container and eaten within 3 to 5 days.
This chili recipe freezes wonderfully. We recommend using meal-sized covered containers. There's nothing better than a pre-made meal when you can't (or don't want to) cook.
If you like this recipe, here are a few more that you may enjoy
Pin it!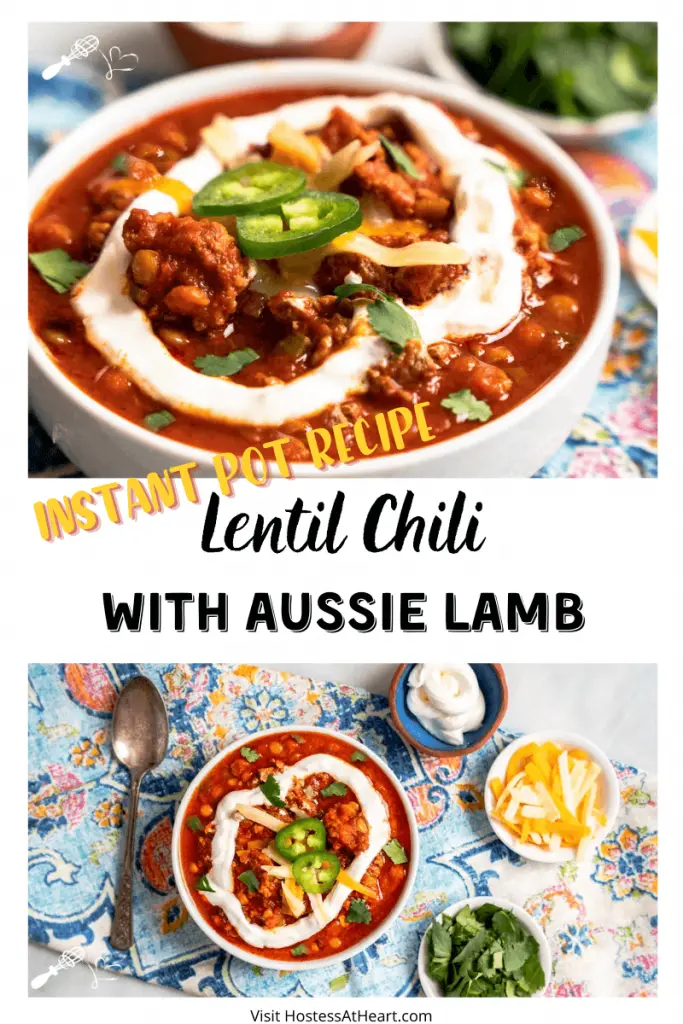 Still looking for Lamb recipes? Here are some of our favorites!
We love lamb and you can find all of our lamb recipes here!
If you're still looking for amazing lamb recipes, jump on over to the True Aussie Lamb website.
They have some chef creations using all of the lamb cuts available and more tips to cook lamb. There is also an interactive cooking tool that shows you how easy it is to cook lamb and will help you create your own dish.