Lamb Pot Pie with Puff Pastry Crust combines a rich and creamy lamb filling with a buttery crust. This recipe is simply delicious and easy to make.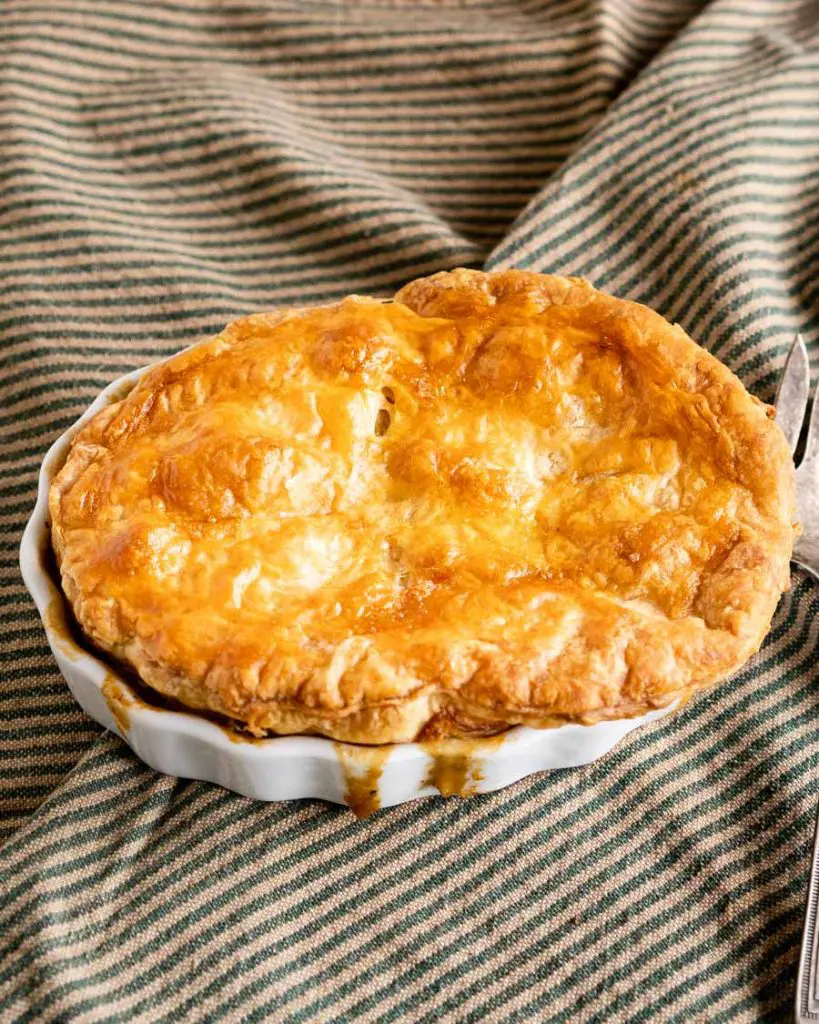 This Lamb Pot Pie is so easy to make. The ingredients can be adjusted to your liking or using what you have on hand.
I grew up eating those little pot pies that my mother would buy from the freezer case of the grocery store.
As a young adult on my own, they made a quick and easy meal that didn't blow the budget.
If only I had known how easy it was to make my own individual pot pies that taste so much better than those little pot pies in the cardboard boxes.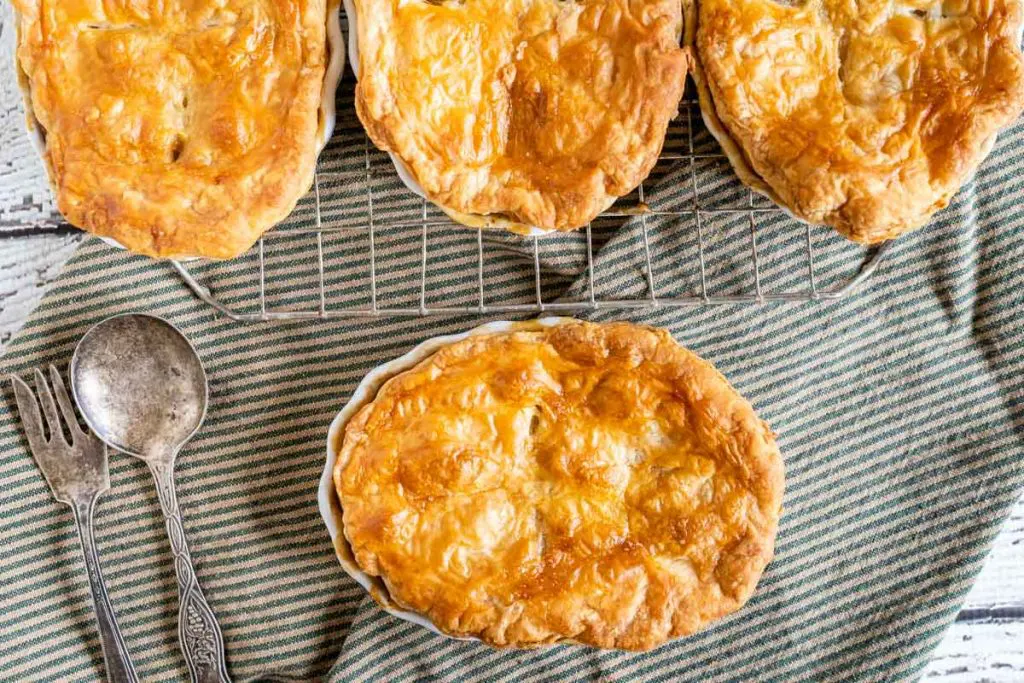 This post is sponsored by True Aussie Beef & Lamb but the opinions here, and love I have for their products and their story are all my own.
We recently bought a boneless leg of lamb and have made some delicious meals from it such as our Homemade Pho and Lamb Kabobs.
These recipes allowed us to really stretch what we got out of this beautiful piece of Aussie lamb.
In those recipes, we used thin lean slices in the Pho recipe and beautiful chunks in the Kabob recipe and we still had some leftover. I gave John the choice of how we were going to use it.
I about fell off my chair when he requested pot pies because he's kind of a straight up meat and potatoes guy but I couldn't have been happier!
These little lamb pot pie casseroles are so easy to make. I love them because I can use what I have on hand for the filling. They're perfect when you want to use leftovers to construct them too. Let me show you how to make them.
How to make Lamb Pot Pie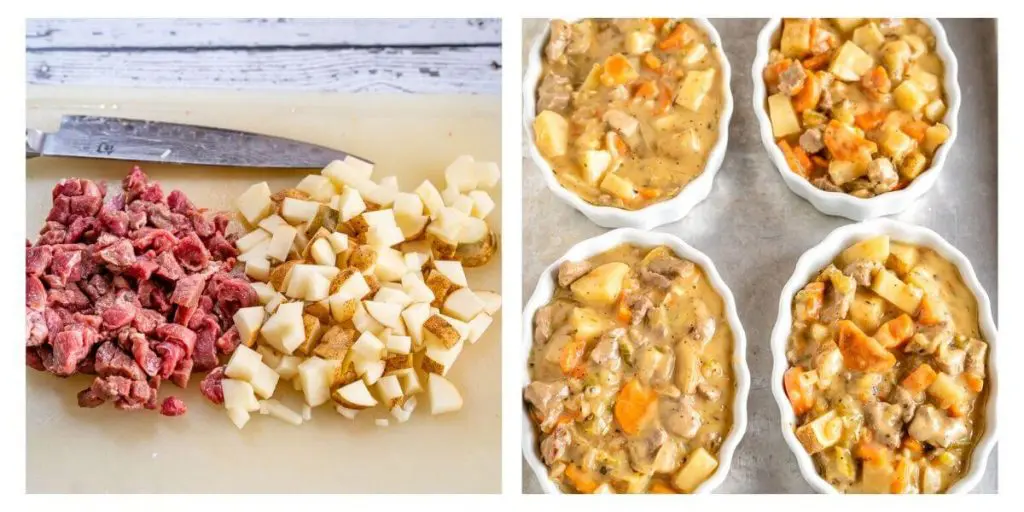 Cut up your raw vegetables and lamb in equal-sized pieces.
Saute the vegetables (carrots, celery, and onion) until they just begin to soften. They will finish cooking in the oven.
Add the lamb, broth, and potatoes and cook until the potatoes have softened.
Add the herbs, garlic, and seasonings.
Make a thickening slurry. Stir it into your vegetable and lamb filling.
Roll out your puff pastry and cut it in the shape of your dishes. I just ran my knife around the dish while it was on the pastry.
Put your dishes on a rimmed baking sheet and spray them with non-stick cooking spray or brush them with oil. Add the filling to your dishes making them 3/4 full.
Top each of your dishes with the puff pastry.
Brush the puff pastry tops with egg wash and vent the tops by cutting slits through the puff pastry with a knife.
Bake

What is a slurry? – A slurry is a homemade thickener that we make using flour, butter, and milk. I usually add the same amount of flour and butter.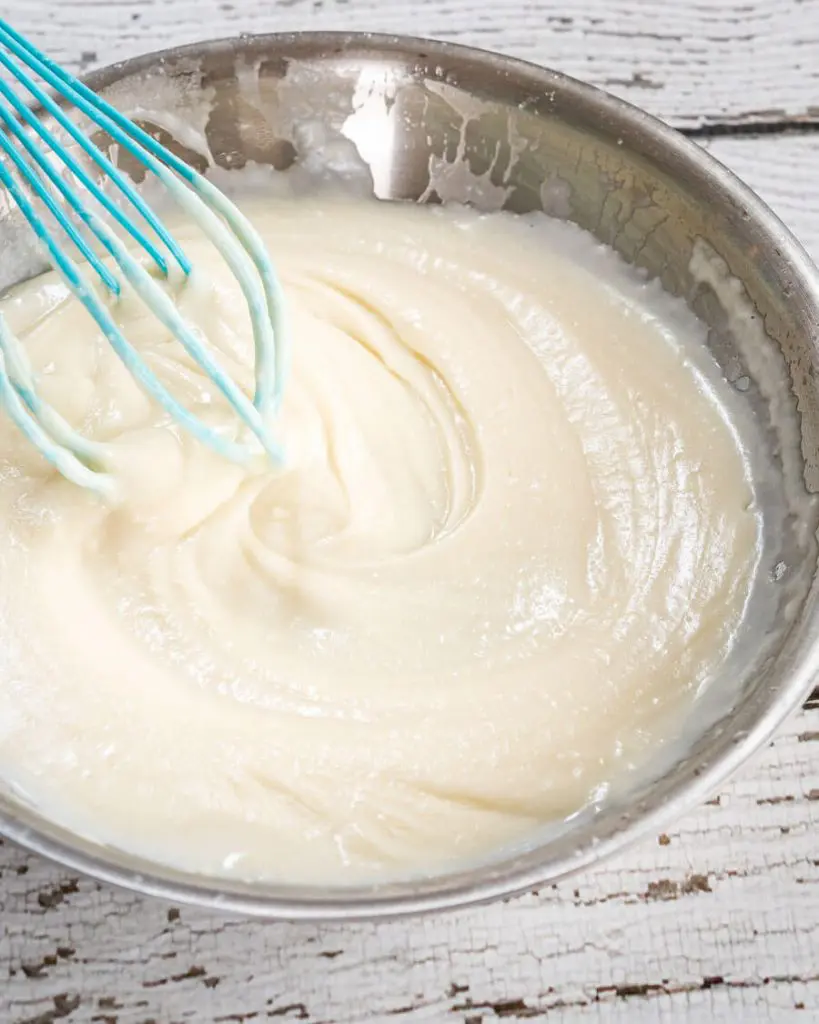 Slurry Tips:
It's important to combine your flour and butter together before adding the liquid for 2 reasons.

Your slurry will be smooth and without lumps.
Cooking it first removes the flour taste.

Whisk until it's smooth and then slowly add your liquid.

You can use any liquid. Milk is creamier but you can use a simple broth or even water as well.

If your slurry gets too thick don't be afraid to add more liquid a little at a time.
I also thicken my gravy using this method. Some people use corn starch (my sisters) but I use flour because the leftovers stay smooth and less gelatinous.
Tips for the perfect Easy Pot Pie
If your puff pastry is in the freezer, take it out while you prepare the filling or put it in the refrigerator the night before.
Cut the vegetables approximately all the same size. This will help them to all cook at the same rate.

Make it semi-homemade. You can also combine fresh and frozen vegetables by cooking your raw vegetables (potatoes, carrots, etc.) and adding frozen peas or corn.

Don't overfill your dishes, and make sure you have an equal amount of the sauce with the vegetables.

If you added more vegetables than sauce your pot pie will not be as creamy.

Add a little water to an egg white, whip it together, and brush it over the puff pastry crust to create a beautifully browned top crust.

Don't waste that egg! Since I've basically contaminated it with raw ingredients, I scramble it up and give it to my pup. You can also just use the egg yolk in another recipe.

Vent the top by making little cuts into the puff pastry. This will help the filling steam through the top and keep the filling from coming out the sides.
Bake the Puff Pastry Pot Pies on a baking sheet. They always bubble over in my house and this saves our oven!
Use high-quality Aussie lamb. The True Aussie Beef & Lamb Company produces lamb that is free-range and naturally fed on Australian pasturelands, so it's mild tasting and naturally lean and tender. Aussie Lamb is free of artificial additives and hormone growth promotants.
This locator can help you find True Aussie Lamb in your area.
How long to bake Lamb Pot Pie – Your pot pie is basically cooked so the oven time is to cook the pastry you have chosen. The puff pastry pot pie takes approximately 25 minutes.
Tips and Variations You can Make
1. What is Herbes de Provence? Using spice blends is an easy and economical way to use spices. Herbes de Provence can vary by brand but often contains basil, fennel, marjoram, parsley, rosemary, tarragon, and thyme.
If you don't have it you can blend any of the spices you do have.
2. You don't have to use a Puff Pastry crust. You can use a pie crust and make it a double-crust pie or just place it over the top.
3. Skip the crust all together! You can use this filling to make a stew! It's so good. We made more filling than we had puff pastry and froze it for another meal!
HERE ARE A FEW MORE EASY LAMB RECIPES YOU MAY ENJOY
We love lamb and you can find all of our lamb recipes here!
Products we used to make Easy Lamb Pot Pie recipe
Ramekins – I just love these little dishes. They can be used for serving fruit salads and jello or my favorite Creme Brulee!
Pastry Brush – There's a difference between a pastry brush and a basting brush. I like using natural bristles for my bakery for soft even coverage.
What to serve with Puff Pastry Pot Pies
These pot pies are a meal all on their own. However, with a savory dish, I like something cool and creamy. Here are some recipes you may enjoy.
Don't forget to Pin this Easy Lamb Pot Pie recipe!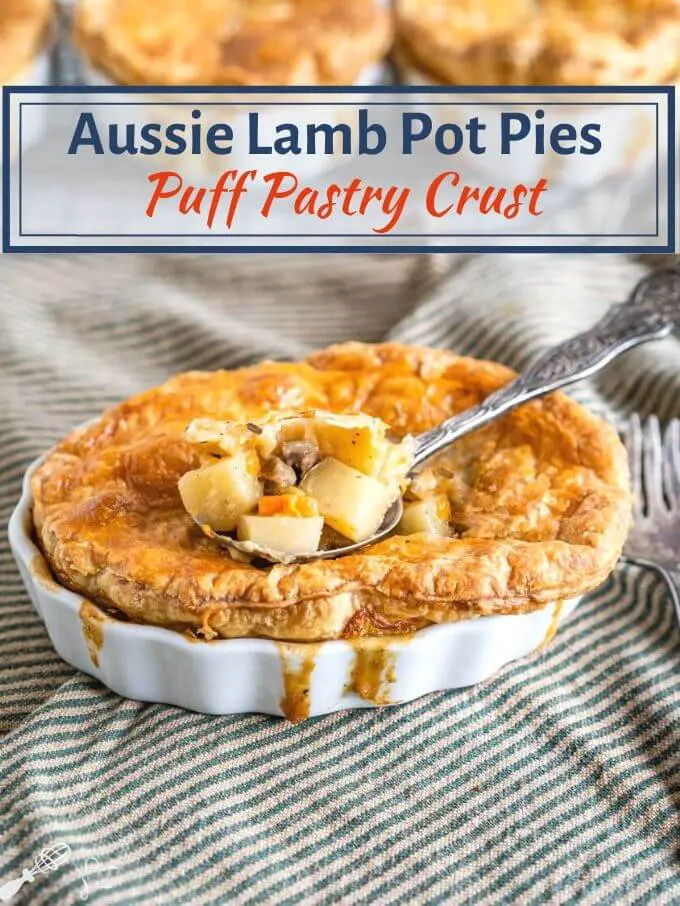 We loved this Lamb Pot Pie recipe. It was a great way to use some of the smaller pieces that we had from our boneless leg of lamb. What's your favorite way to use lamb pieces? Please share, I'd love to hear from you.
Popular Recipes