If you love a good Daiquiri and a delicious creamy pie, you're going to love this smooth Raspberry Daiquiri Pie. Don't want to mess with a crust? The filling makes a delicious pudding dessert!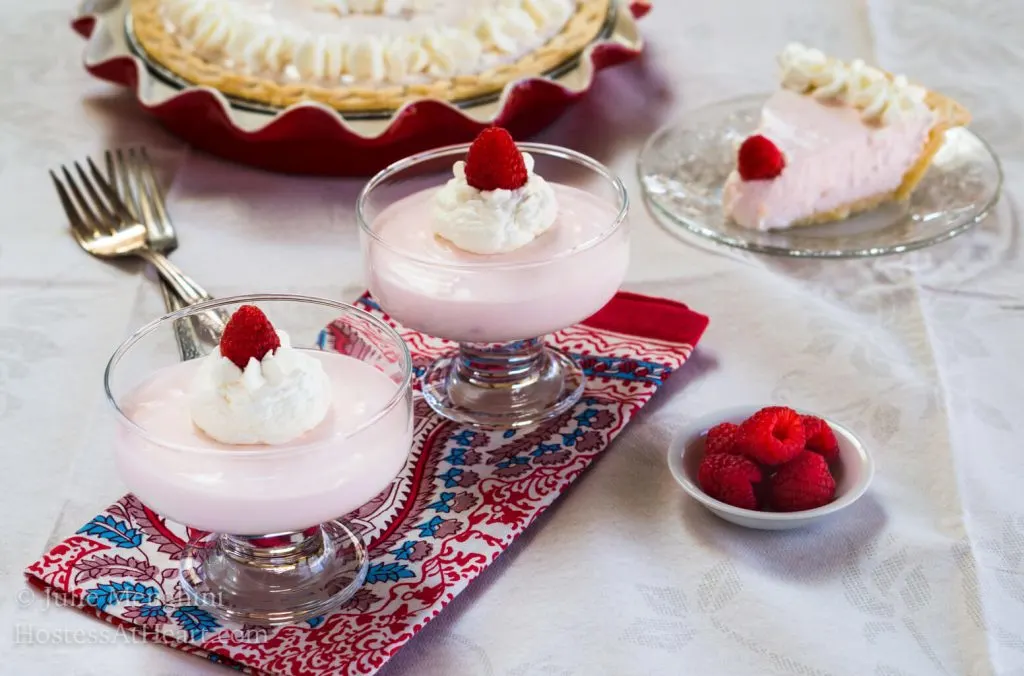 This Raspberry Daiquiri Pie is delicious and just as pretty as can be. It also makes a quick and easy pudding dessert.
I just love how easy creamy pies are to put together. Old-fashioned Lemon Icebox pie, Angel Food Pie, and Margarita Pie are some of my favorites.
And, just like those creamy delicious pie, this pie is quick and easy to put together and perfect for an adult get-together.
I have this recipe for a Daiquiri pie that my mother-in-law received from a friend of hers a long time ago.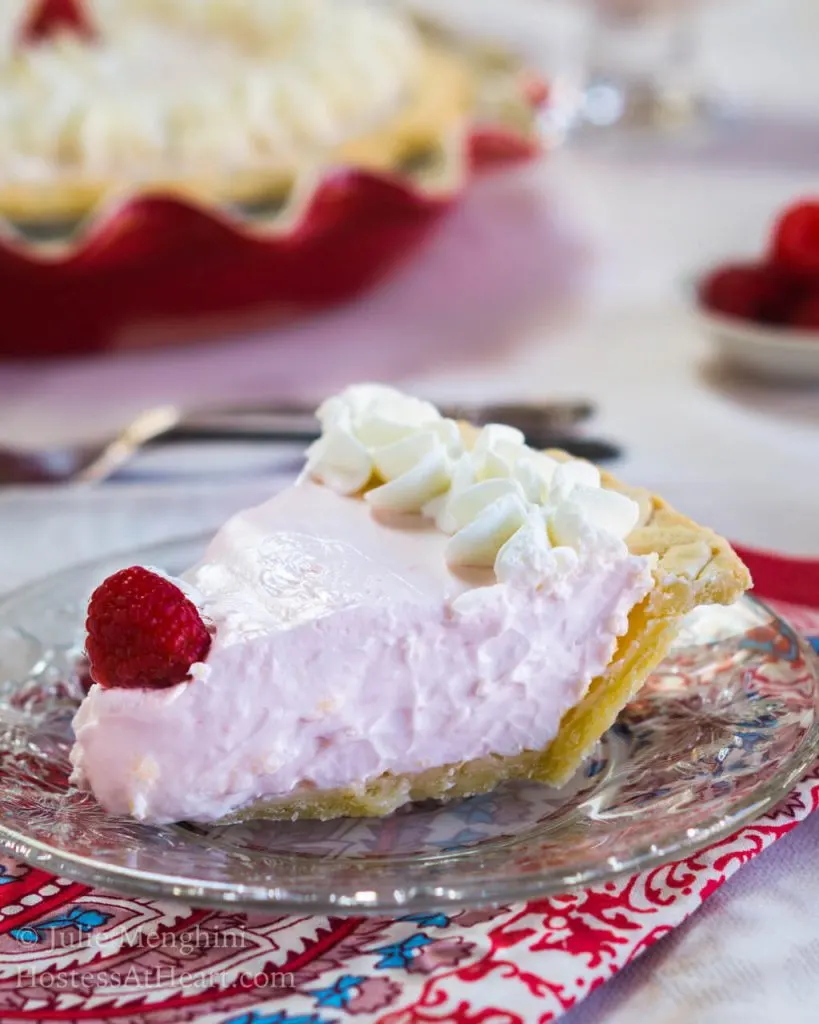 When I started putting it together I made so many changes that it soon had enough filling for two pies even with all of the taste testing that was going on.
Instead of making two pies, I decided to see how it would go over as a pudding?
I don't drink a lot of Daiquiri's but every once in a while a cool and refreshing frozen cocktail tastes really good.
That describes this recipe to a tee.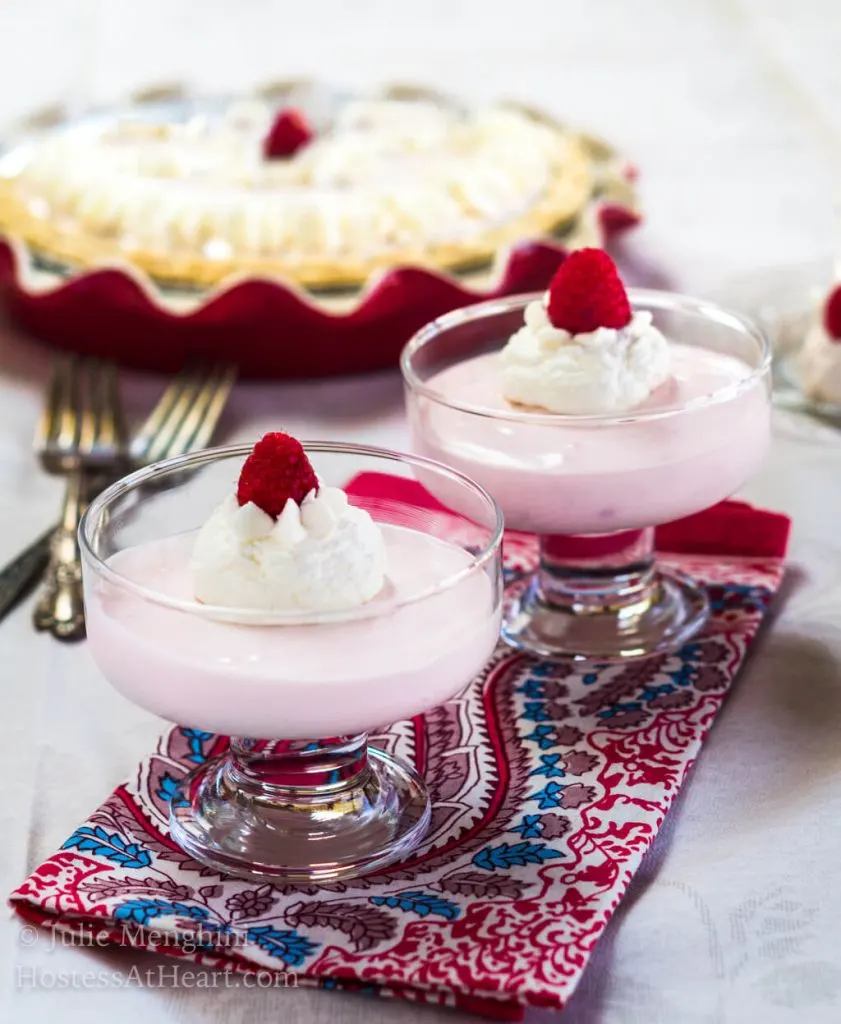 Thinking of Valentine's Day and in hope of seeing Spring someday, I decided to add some raspberry preserves to the mix.
The raspberries gave this filling a soft pink color which is a great diversion to the grey and white landscape that we have this time of year.
What is a Daiquiri?
A Daiquiri is an alcoholic cocktail made with rum, citrus juice, and sweetener.
While there is virtually no chance of getting tipsy eating this pie, we don't recommend serving anything with alcohol as an ingredient to minors.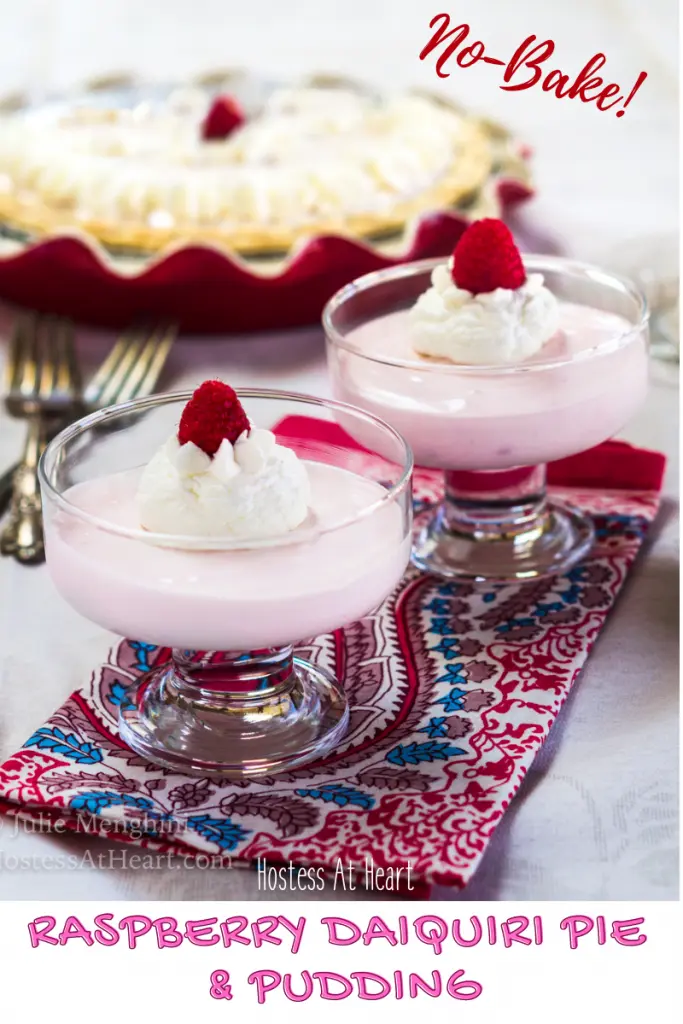 Raspberry Daiquiri Pie Ingredients
Cream cheese
Sweetened Condensed Milk
Whipped topping – we used Cool Whip
Frozen limeade concentrate – thawed
Rum – we used light rum because we wanted to keep this beautiful pink color. Don't use spiced rum. That will change the flavor of this pie!
Raspberry preserves
Baked pie shell
How to make a Raspberry Daiquiri Pie
We used an electric stand mixer with the paddle attachment for this recipe. Blend the cream cheese until light and fluffy.
Add the limeade, sweetened condensed milk, and preserves to the cream cheese and blend together until smooth. Add the rum and blend until just combined.
Fold in the whipped topping.
Pour into a pie shell or pudding dishes.
Chill
This filling would make great tarts, two pies, or an easy option, pudding cups, or individual tarts.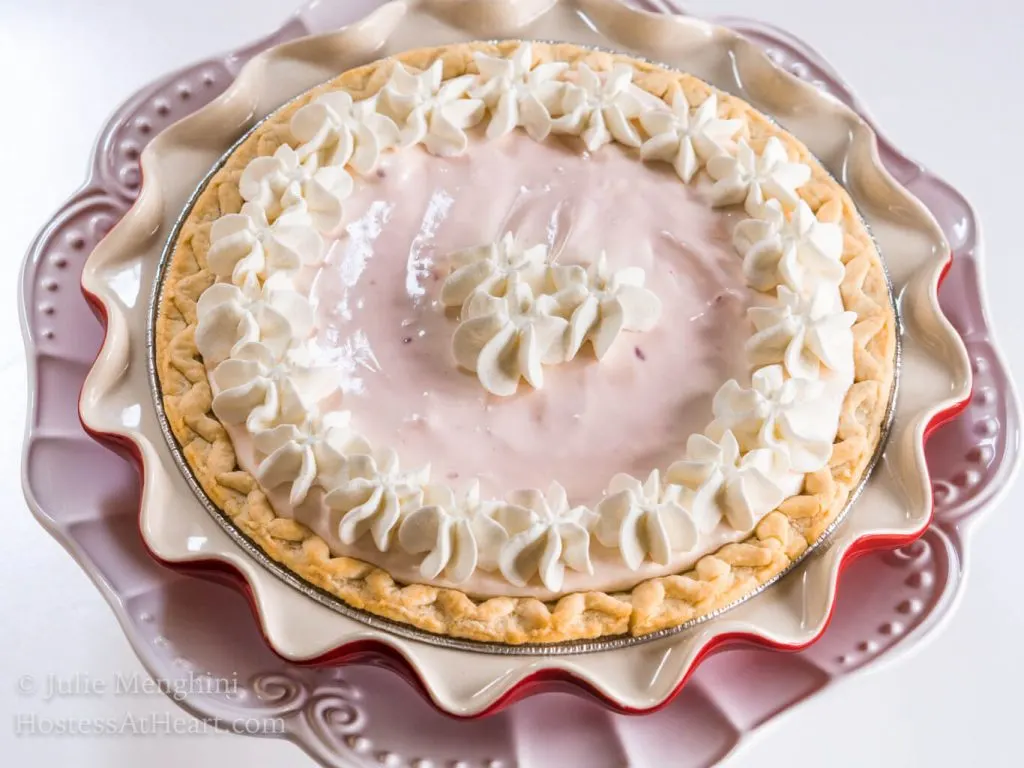 Tips & variations for the perfect Daiquiri Pie
Soften cream cheese to room temperature so it whips up smooth. Cold cream cheese will be hard to mix and will leave lumps of cream cheese in the filling.
If you're baking your pie shell, make sure it's completely cool before pouring in the filling otherwise your filling will liquify.
Make it no-bake by using a purchased graham cracker crust.
For a non-alcoholic version, replace the rum with additional limeade.
Use another fruit such as strawberry.
Put the pie in the freezer for 10 to 15 minutes prior to serving. It's easier to cut when it's firm.
We chose to garnish the pie with whipped topping and fresh raspberries right before our company arrived. That assures your whipped cream garnish is firm and your berries don't bleed.
This pie is delicious frozen too! Instead of chilling just put it in the freezer. Let it sit out 10 to 15 minutes before cutting into the frozen daiquiri pie.
I don't know anyone that doesn't love a cool and creamy pie that tastes like a Raspberry Daiquiri?
Even though this is a cool pie we would eat it any time of year but it would be very refreshing during the hot months of summer.
Our favorite gadgets
You don't need much to make this recipe. If you have a mixer that's definitely a plus. Otherwise, a pretty pie plate and a spatula will work.
You can use a recloseable plastic bag for piping by filling it with the whipped topping and then snipping the corner of the bag.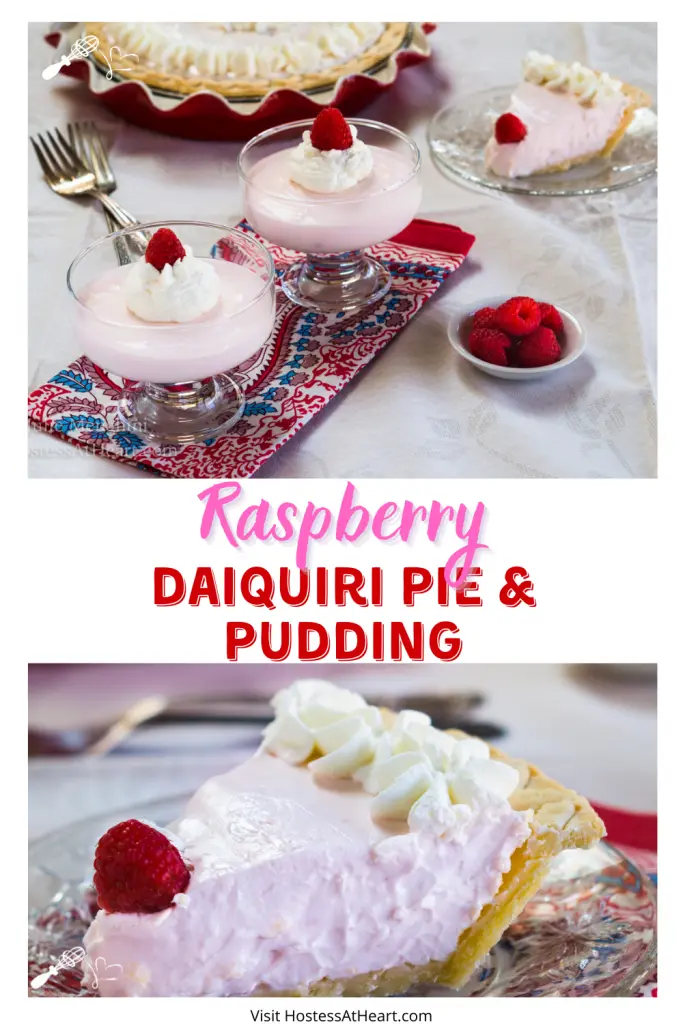 If you enjoyed this recipe, you may like these recipes too.
John calls Daiquiris foo foo drinks but he sure didn't turn down this sweet treat! We did like the pie version the best because the pastry contrasted nicely with the filling.