Beef and Broccoli Stir Fry combines fresh crunchy vegetables and tender beef all in a flavorful Asian sauce. This one-pan dish is on the table in 20 minutes and so much better than take-out!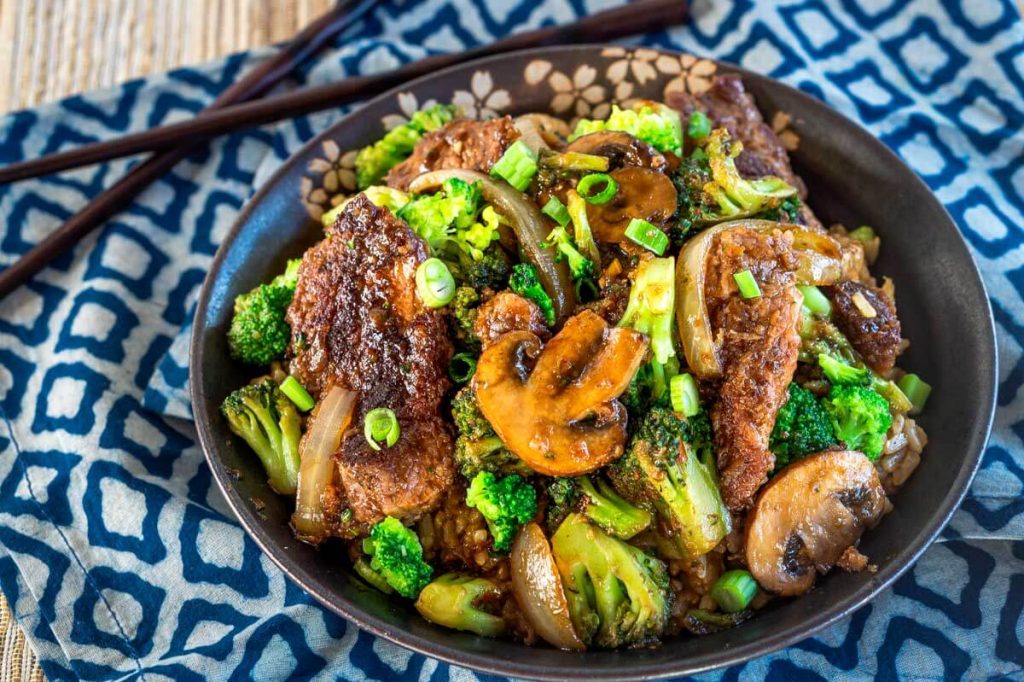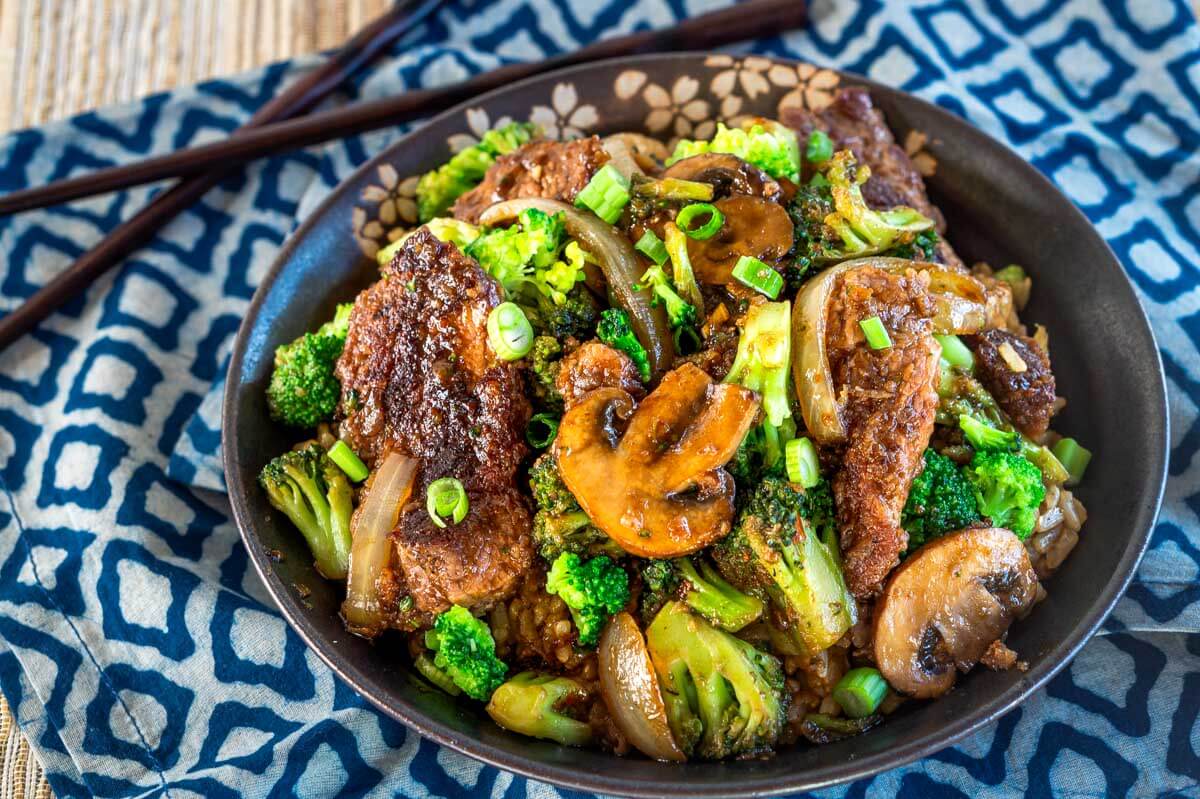 Beef and Broccoli Stir Fry is quick and easy to make at home. We'll give you a ton of options on how you can make this recipe to suit you and your family.
The Asian sauce envelopes fresh vegetables and tender slices of beef and can be just as spicy as you like without changing the rich deep flavor.
No need to wait for cold take-out when you can have a one-pan Broccoli Beef Stir Fry hot on your table in just 20 minutes.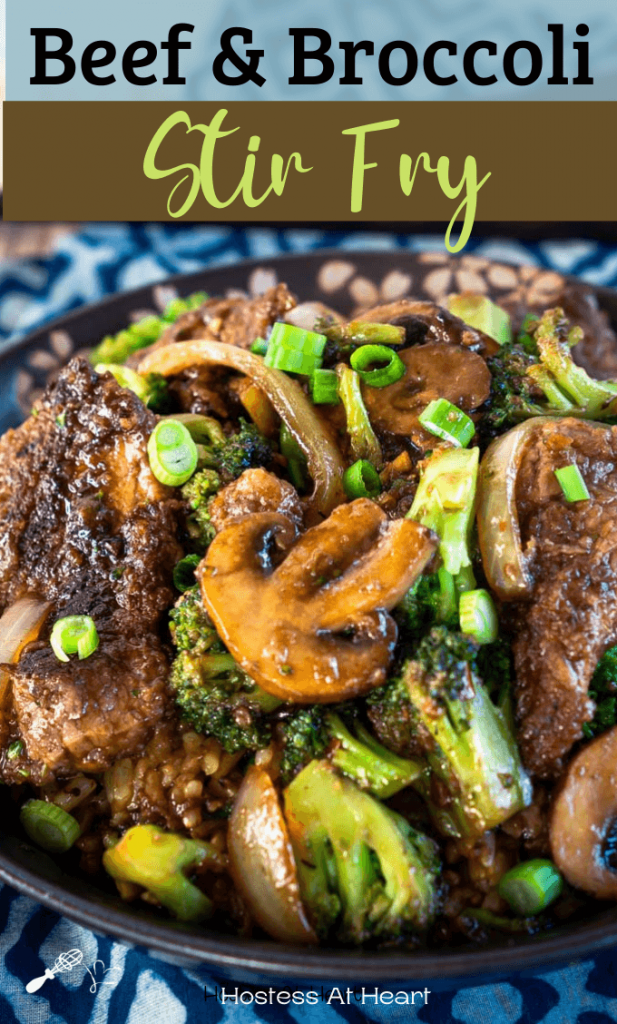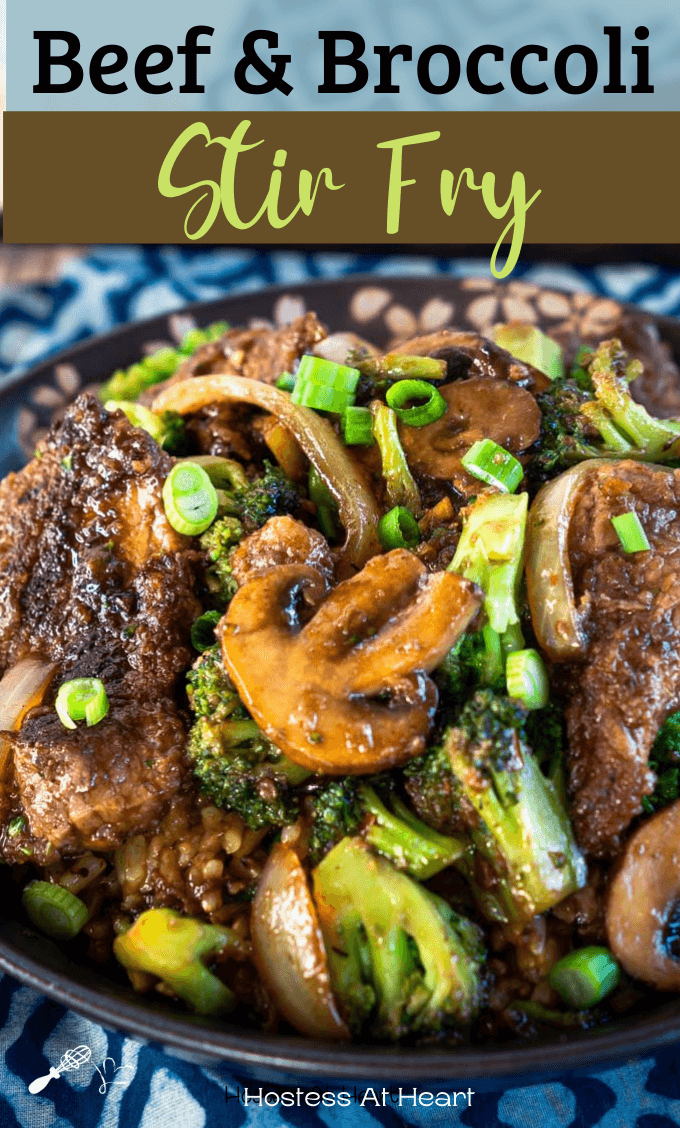 Beef and Broccoli Stir Fry Ingredients and variations
One of the things we love about making Stir Fry at home is how fresh and simple it is to make. You can control the ingredients and escape a load of sodium and preservatives common in a commercial stir fry.
Stir Fry Vegetables
You want approximately 4 to 5 cups of fresh vegetables in this recipe regardless of the varieties. We used broccoli, onion, and mushrooms. Other great options include:

Peppers, green or red.
Carrot sticks
Snow peas
Water chestnuts
Baby corn
Stir Fry Sauce Ingredients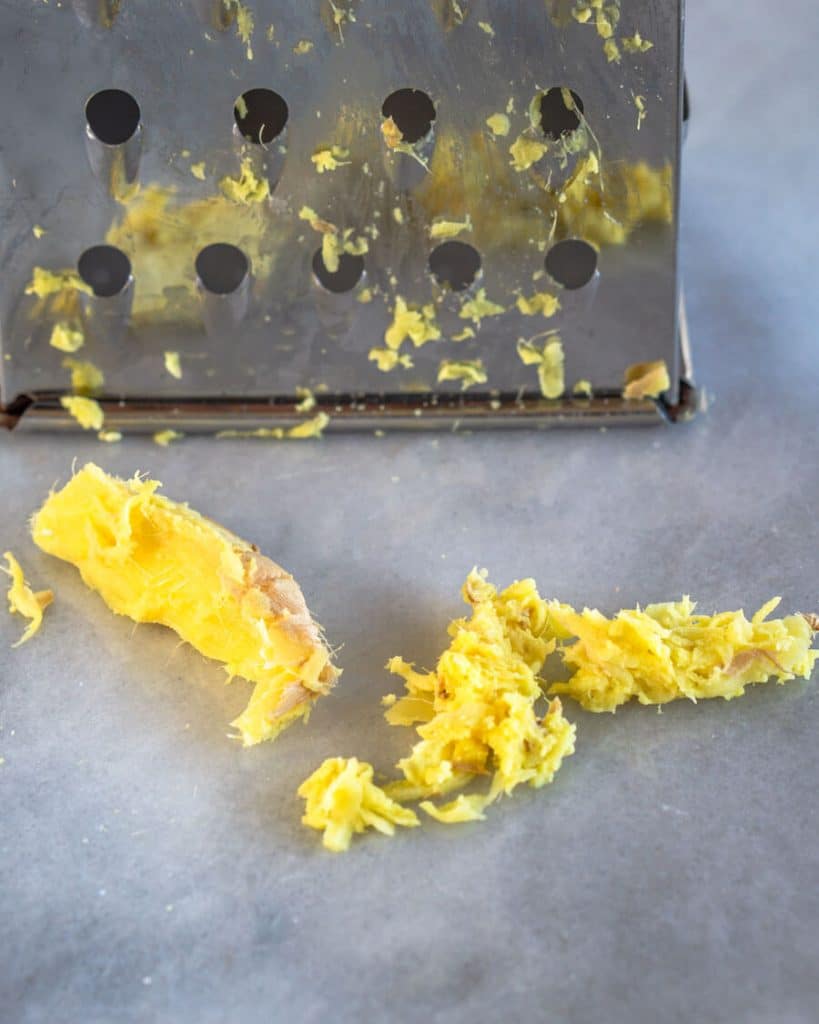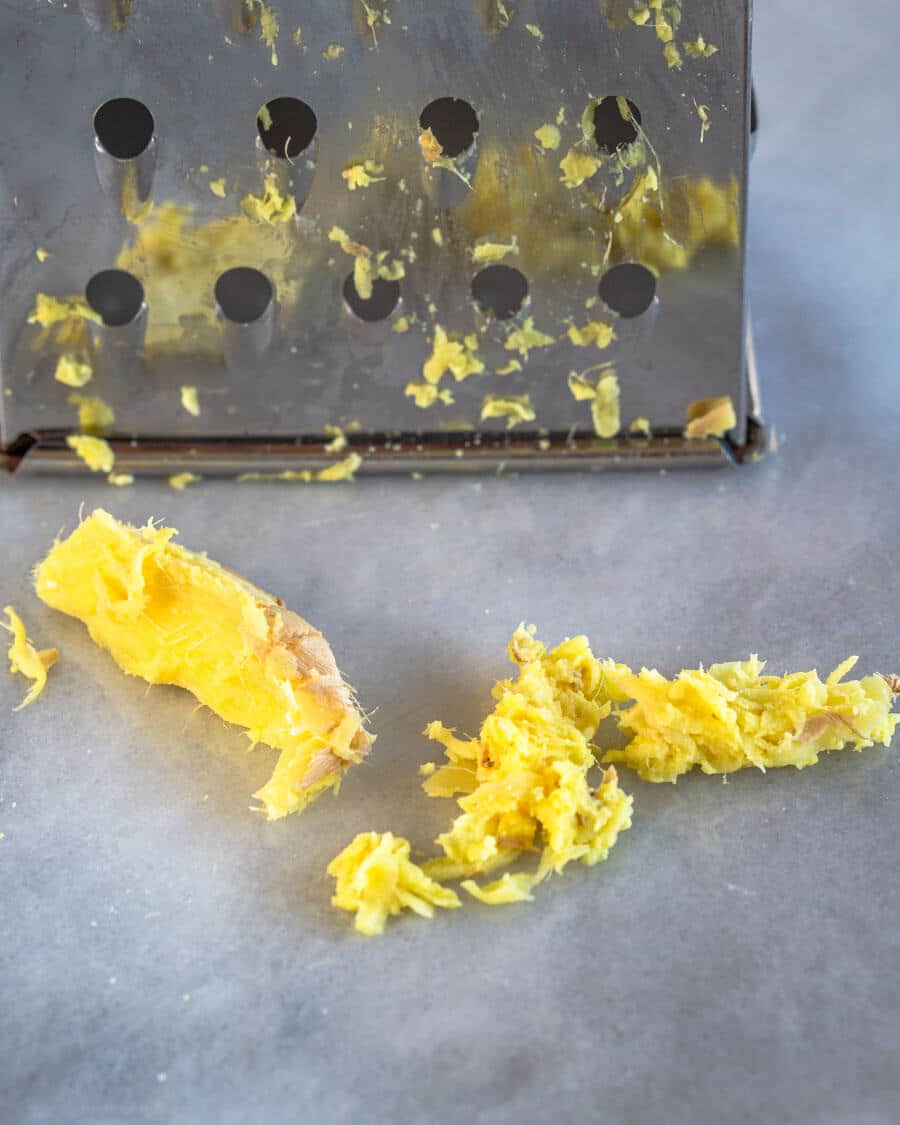 Soy Sauce – We use low-sodium which is still salty enough. Use what you prefer.
Ginger – We used about a 1/2 inch piece. We removed the peel and grated it on a box grater.

You can store unused ginger in the freezer in an air-tight bag or container. It thaws very quickly and can even be grated slightly frozen.

Garlic – Fresh garlic, minced.
Hoison Sauce – This is a sweet and salty soybean paste that adds a rich depth to the sauce. It's thick and helps the stir fry sauce cling to the other stir fry ingredients.
Brown sugar – We prefer dark brown sugar but the light is fine too. Use what you have on hand.
Crushed red pepper – We went for a middle of the road heat. You can add more or less depending on your preference.

The reason we like using red pepper is it adds heat without changing the flavor of the other ingredients.
What is the best kind of beef to use?
Some grocery stores sell pre-packaged stir fry beef. You want a variety that will stay tender after a quick fry. Options include but aren't exclusive:
Tips for stir fry meat – we put our beef in the freezer for 10 to 15 minutes before slicing. That firms up the beef and allows us to slice it thinly.
You should also slice it across the grain. If you cut it with the gain the meat will be shredded and not sliced.
Tips for the perfect Beef and Broccoli Stir Fry
Cut all of your vegetables approximately the same size to assure even cooking.

We like our broccoli crunchy. If you don't, you can cook it for a couple of minutes before adding the other vegetables. You could also steam it in the microwave a few minutes before cooking it with the other stir fry vegetables.

Combining the sauce after mixing the beef and vegetables together will assure that the dish is hot when it hits the table.
Make it a Vegetarian, Chicken, or Shrimp Stir-fry.
Vegetarian and Vegan Stir Fry – Tofu works great in this stir fry recipe.
Shrimp Stir Fry – Shrimp cook amazingly quick. We recommend adding uncooked, peeled, and deveined shrimp to the cooked vegetables right before you pour the stir fry sauce over all of the ingredients. The heat of the other ingredients will cook the shrimp.
You know when the shrimp are cooked when they are no longer translucent and have a pink hue.
Chicken Stir Fry – Cut up skinless, boneless pieces of white or dark chicken. Cook until the chicken is completely cooked through. When tested with an instant read thermometer the chicken will have an internal temperature of 165°F.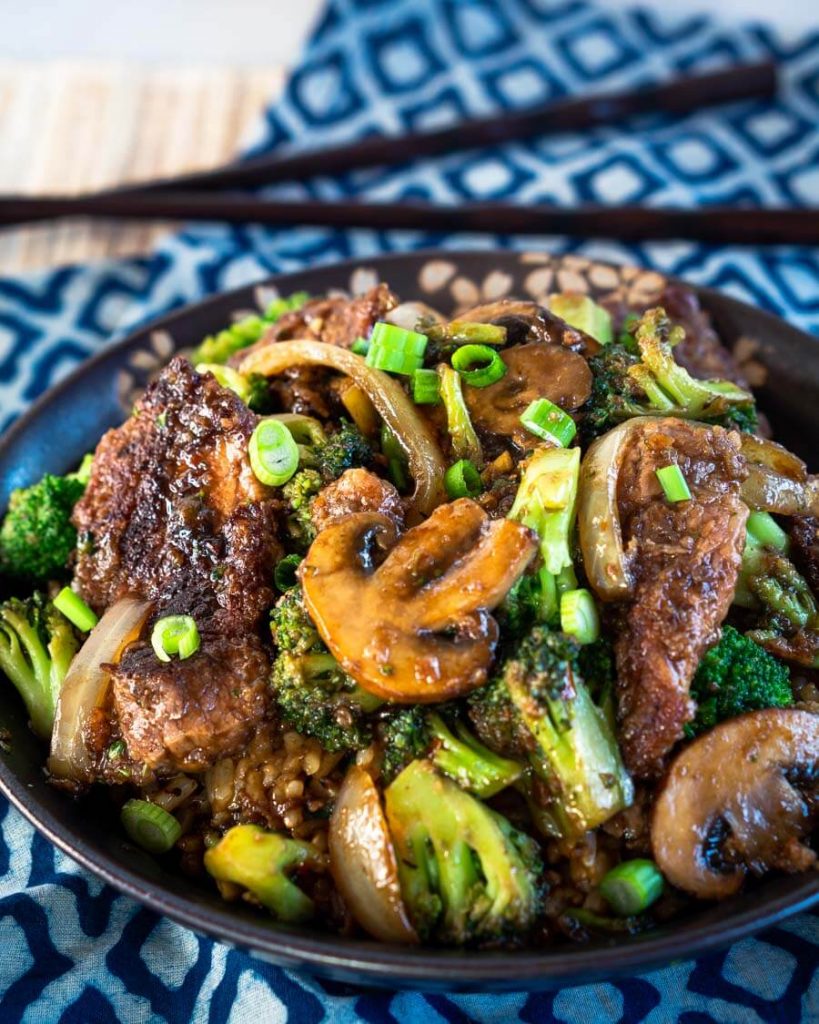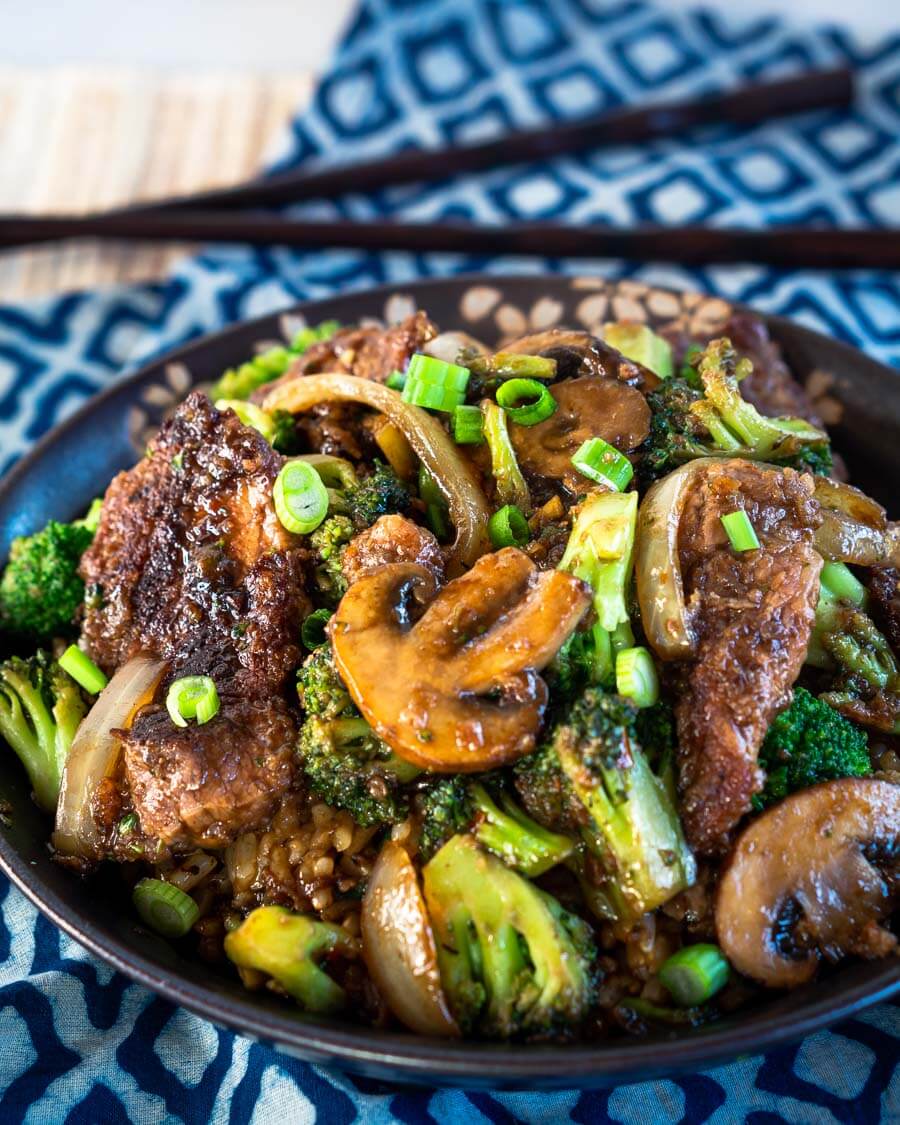 Serving variations
We serve our Broccoli Beef Stir Fry over rice. More times than not, brown rice. White rice or wild rice are great options too. Our favorite rice recipes are Simple Asian Rice and our 5-Spice Rice.
Noodles are another great option such as buckwheat noodles also called soba noodles. Rice noodles are another great option.
Of course, you can eat the Beef and Broccoli Stir Fry as is and skip the rice or noodles.
Our tips
Stir Fry recipes come together and cook very quickly. For that reason, we have all of our ingredients prepped before we turn on the stove as follows:
Combine sauce ingredients in a small bowl.
In a separate bowl combine the beef and corn starch.
Vegetables should all be cut in similar sized-pieces in a larger bowl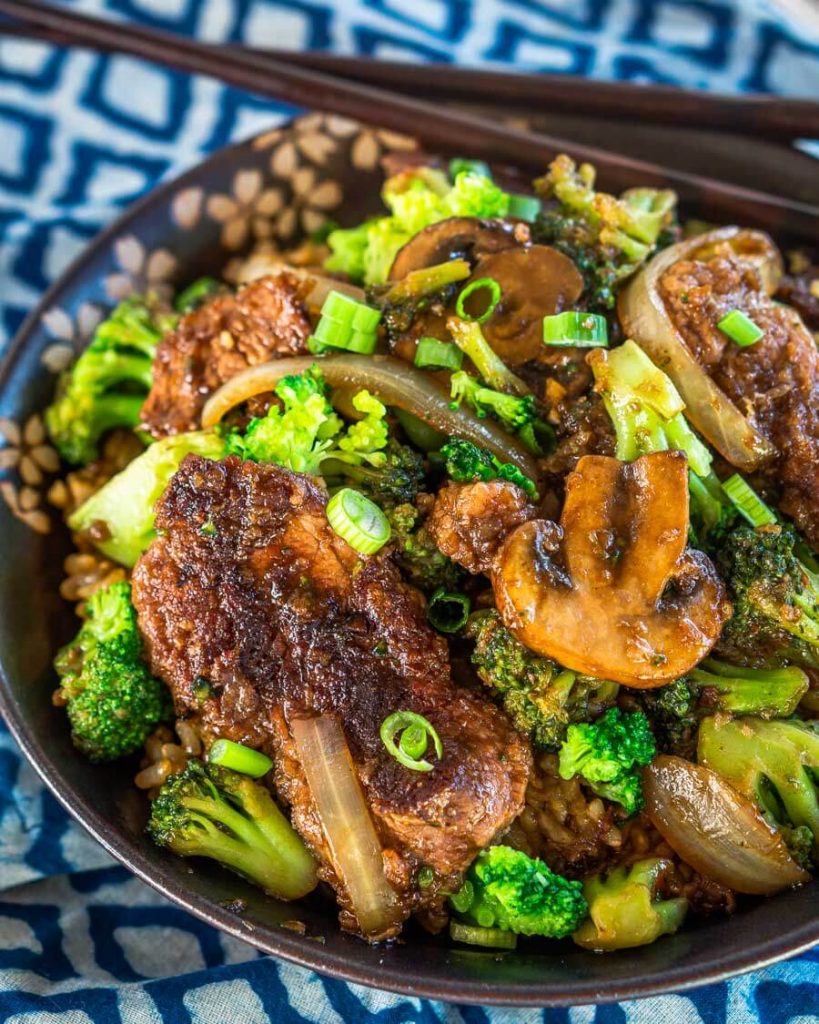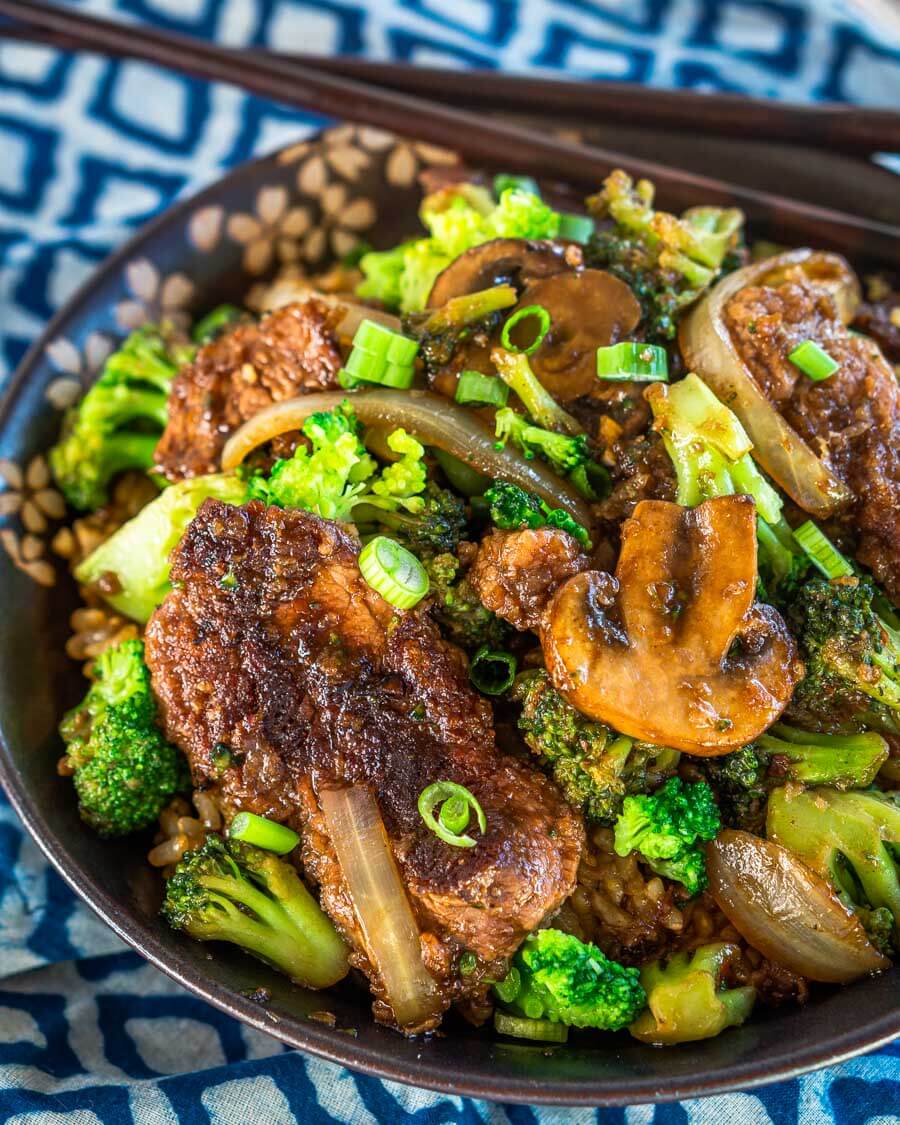 Items you may need
This is a simple recipe and it doesn't need a lot of fancy gadgets to put together.
We don't own a wok so we use a large Braiser which can double as a shorter-sided dutch oven or a deep-sided skillet. I used it in our Shrimp and Vegetable Stir fry.
My rule is I have to be able to use it for more than one thing or used regularly before it enters my kitchen.
A set of bowls is something I can't live without. Since they nest together, they don't take up as much space as a hodgepodge of bowls in different sizes.
What to serve with Beef and Broccoli
This recipe is a complete meal in our humble opinion. However, if you want to add something to your table, we would keep it cool and a little sweet for contrast such as these recipes:
Pin it!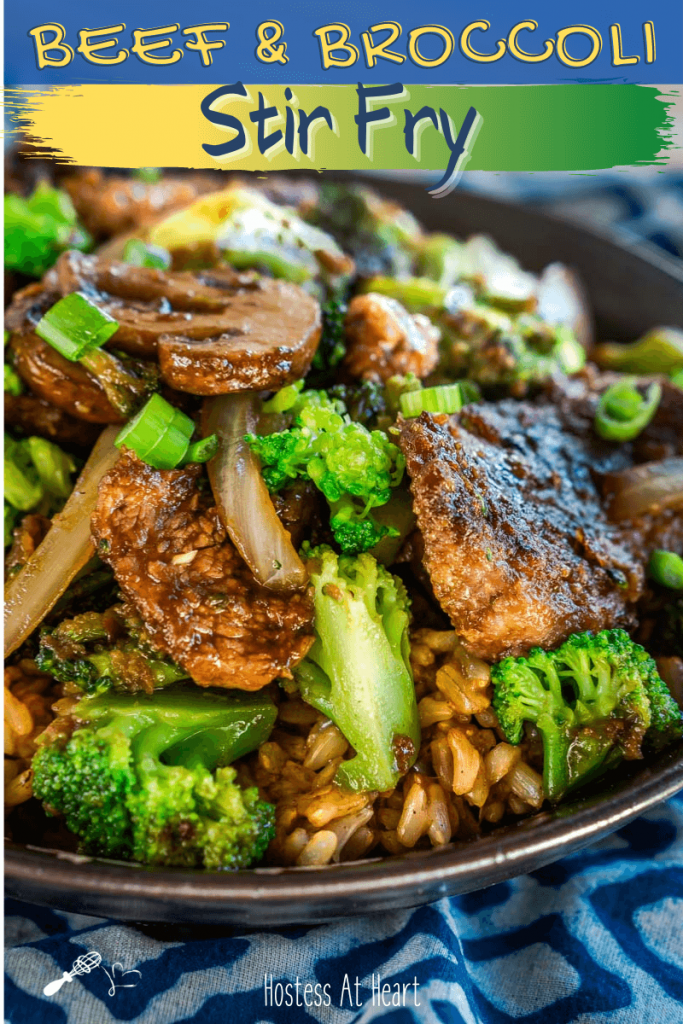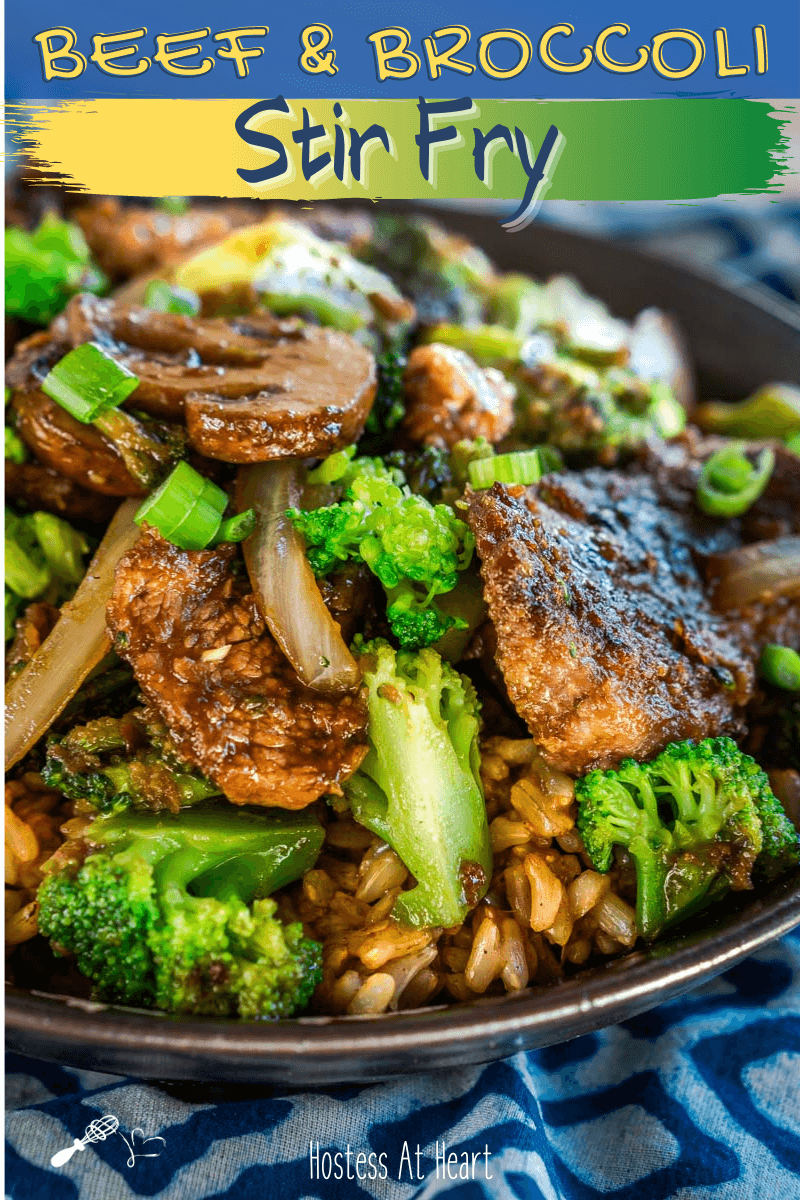 If you enjoyed this recipe here are a few more you may enjoy?
We love Asian food. You can find all of our Asian recipes here.
Don't Forget To Come Back And Let Me Know How Your Beef & Broccoli Stir Fry Recipe Turned Out!
Beef and Broccoli Stir Fry Recipe
Beef and Broccoli Stir Fry combines fresh crunchy vegetables and tender beef all in a flavorful Asian sauce. This one-pan dish is on the table in 20 minutes and is better than take-out!
Ingredients
Stir Fry Meat
1

lb

flank steak

or sirloin, sliced thinly crossgrain

1/4

cup

corn starch

4

tbsp

vegetable oil

or another neutral oil like canola
Stir Fry Sauce
1

tsp

ginger

1

tsp

garlic

2 cloves minced

1/2

cup

water

1/2

cup

soy sauce

we use low sodium

2

tbsp

hoisin sauce

1

tbsp

brown sugar

1/2

tsp

crushed red pepper flakes
Stir Fry Vegetables
4

cups

broccoli florets

1/2

cup

onion

thinly sliced

2

cups

mushrooms

white or cremni, sliced
Garnish
2

green onions

sliced thinly, green and white parts
Instructions
Meat
Dry meat with a paper towel and slice thinly cross the grain. It helps to put the meat in the freezer for 10 to 15 minutes first which firms the meat up and makes it easier to slice.

In a medium-sized bowl add the meat and the corn starch together.

Add 2 tablespoons of the cooking oil to a large skillet or wok over medium-high heat. When hot, add the meat. Cook on both sides until browned. Remove the meat back to the bowl.
Stir Fry Sauce
Add 1 tablespoon of neutral oil to a large skillet or a wok and add the Stir Fry Sauce ingredients. Once the sauce starts to boil, reduce the heat and cook for 2 minutes. Transfer the sauce to a small bowl. Don't worry if the sauce doesn't look thick at this point. It will thicken once the meat mixture is added.
Stir Fry Vegetables
Add the remaining tablespoon of oil to the large skillet or wok over medium-high heat. Cook until the vegetables soften slightly or are al-dente, approximately 5 to 7 minutes.
Finish
Add the cooked meat to the vegetables and pour the Stir Fry Sauce over the meat and vegetables. Cook over medium heat until the sauce is at your desired thickness.

Stir in sliced green onion.

Serve immediately over rice or noodles.
Notes
Nutritional values don't include rice or noodles.
Nutrition
Calories:
268
kcal
|
Carbohydrates:
17
g
|
Protein:
21
g
|
Fat:
13
g
|
Saturated Fat:
9
g
|
Cholesterol:
46
mg
|
Sodium:
1234
mg
|
Potassium:
629
mg
|
Fiber:
3
g
|
Sugar:
6
g
|
Vitamin A:
467
IU
|
Vitamin C:
57
mg
|
Calcium:
56
mg
|
Iron:
2
mg
This recipe was calculated using the exact brands and measurements I used to make this recipe. If you are following a strict diet please note changing anything will cause the nutritional info to change. My calculations are intended as a guide only.
Our most popular recipes!