Overnight Sourdough Bread recipe is the perfect recipe to learn baking with a sourdough bread starter. The soft tender crumb has a slightly sour flavor surrounded by a beautiful crust. It's an easy homemade bread that even the experienced baker will love.
This post was updated on 1/26/19 to improve the reader experience. No changes were made to the recipe.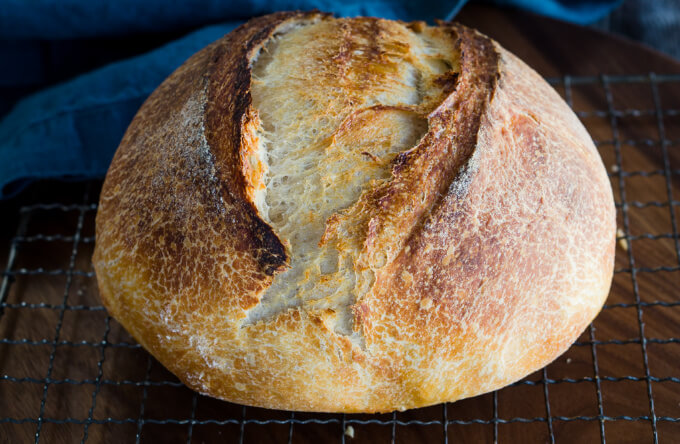 Overnight Sourdough Bread recipe couldn't be easier to make and it's a lot quicker to make compared to other sourdough bread recipes from starters.
This 500g homemade sourdough recipe represents my first dance with Sourdough bread baking. Learning how to bake Sourdough Bread had been on my bucket list for a long time and this was the perfect recipe to start with. The center is soft and tender and slightly sour. The crust has that crispy pull that you want in artisan bread.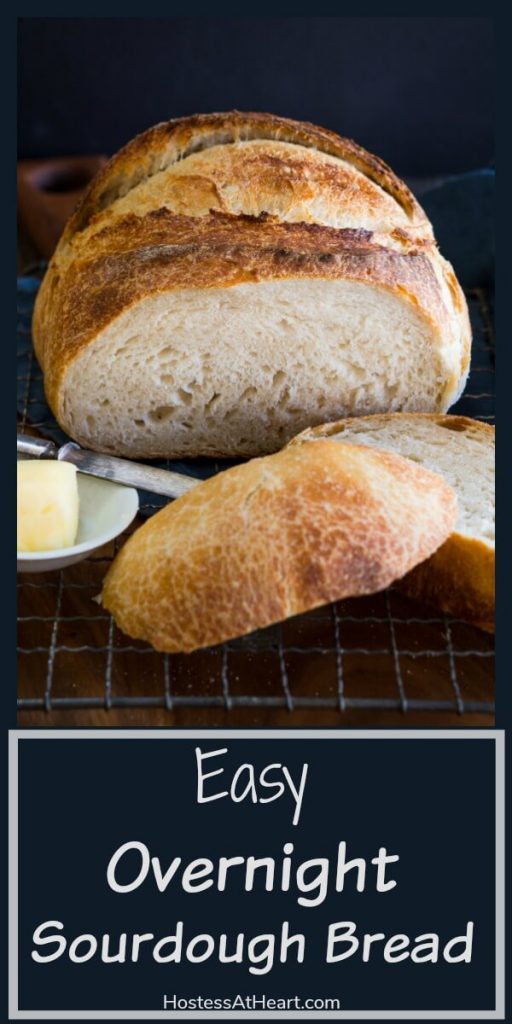 I'm one of those people that like to learn. To clarify, I like to learn about things that interest me. I create an editorial calendar each year for my blog and schedule time to take courses or read up on topics. Sourdough Bread has been on this list for 3 years! I let uncertainty and trepidation keep me from jumping on the Sourdough Bread bandwagon.
I was participating in an online monthly bread challenge that finally pushed me into trying sourdough.
You can make your own starter but I was fortunate enough to receive some dried starter from a wonderful woman named Selma. Selma passed away a few years ago but her blog "Selma's Table" still remains and I consult it often. This is a recipe that I got from her blog.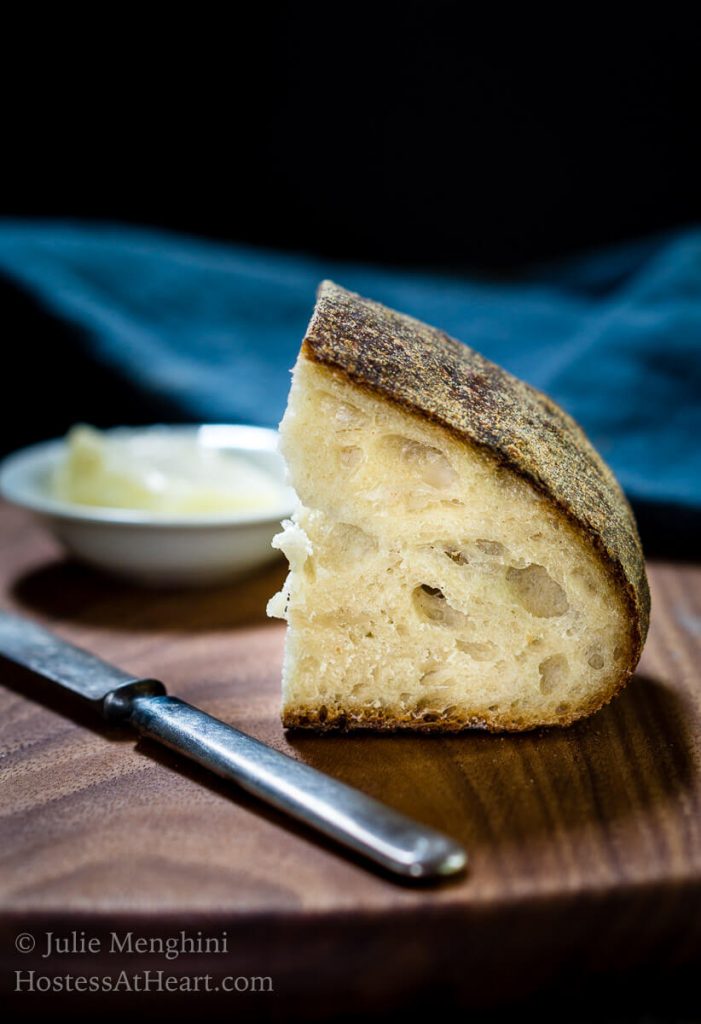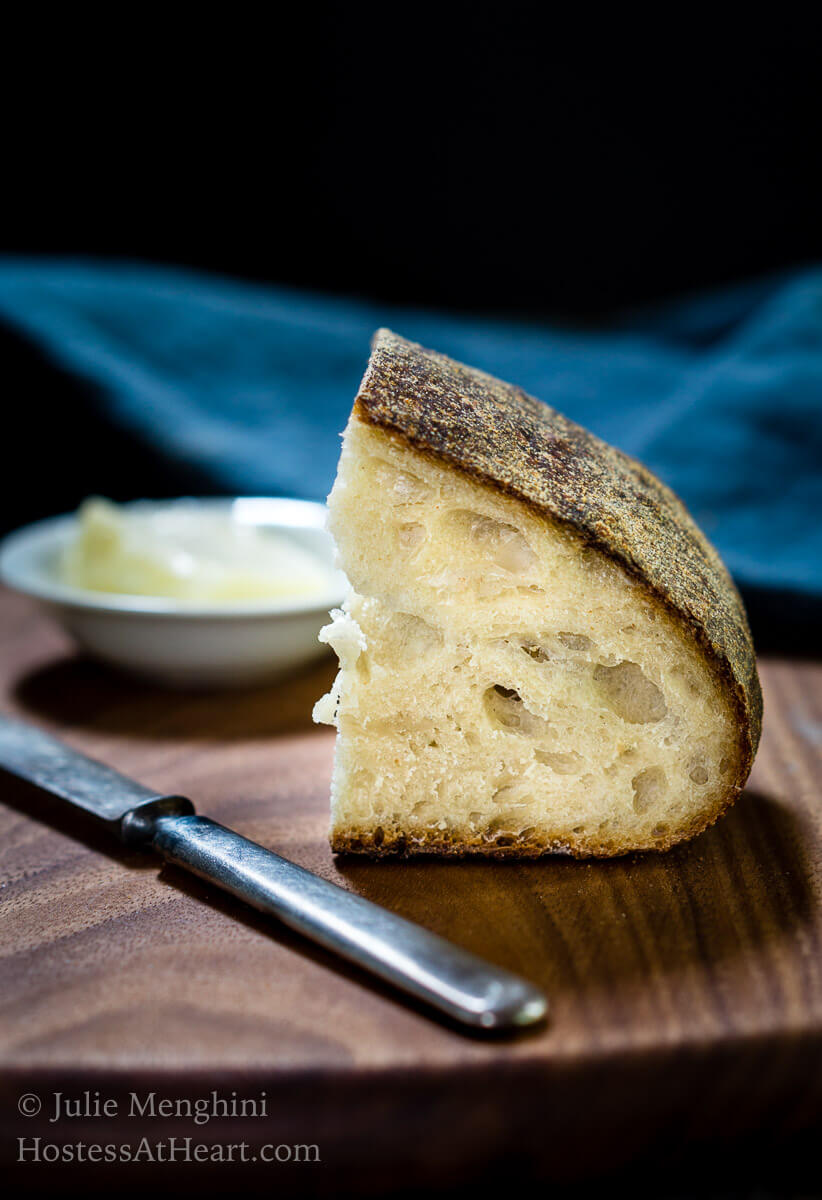 She named her starter "Twinkle" and encouraged everyone to name theirs too. My starter's name is "Phoenix" because she rose from dust. She has amazing vigor. I'm not always vigilant about keeping her fed but she doesn't hold it against me and rises to the occasion every time.
Now was the time to revive Phoenix. What if I killed her? She'd be gone forever! Phoenix perked right up and has been blessing me with amazing bread for over two years.
I've included photos of my 1st loaf and a recent one at the end of this post. I'm proud of both and hope you'll try this basic sourdough bread recipe too.
Hello, Julie. Just wanted to say thank you for sharing your overnight sourdough recipe as it really works well for me, a lot of people have shared their methods and this one is simply the best one I have come across so far. So thank you again!"

Kris T
---
---
What is Sourdough Bread
Sourdough bread is made by fermentation of dough using naturally occurring lactobacilli and yeast. Sourdough bread has a mildly sour taste not present in most bread made with baker's yeast and keeps better than other bread due to the lactic acid produced by the lactobacilli. Wikipedia
What is different about sourdough bread?
The difference is in how they are made. Regular bread is made using store bought yeast that reacts with gluten making the dough rise. Sourdough bread is made with a "starter". This starter is made from a combination of yeast and bacteria growing inside a paste made of flour and water.
Health Benefits of Sourdough bread
The fermentation that occurs from using a starter has been shown to lower blood sugar, be easier to digest and can even be tolerated by gluten resistant individuals. However, that's not to say it is gluten-free. Sourdough bread contains higher levels of folate and antioxidants than other bread. Healthline is a very thorough reference regarding the health benefits of sourdough.
---
PIN THIS GREAT RECIPE

TO YOUR FAVORITE BOARD FOR EASY REFERENCE!
---
YOU MAY NEED
The following are affiliate links. Hostess At Heart is a participant in the Amazon Services LLC Associates Program, an affiliate advertising program designed to provide a means for us to earn fees by linking to Amazon.com and affiliated sites. You can read my full disclosure.
Lodge 6 Quart Enameled Cast Iron Dutch Oven. Classic Red Enamel Dutch Oven (Island Spice Red) – I love this dutch oven. I have three that are triple the price of this one and it's my favorite. It bakes my bread perfectly and makes a mean ragu recipe.
Zatoba 1003 Black Walnut Bread Lame Decorative Dough Slasher, 2x2x8 inches – I started out with a lesser quality lame and while this one isn't expensive it's definitely better quality and has made a prettier slash in my dough. It's amazing
I have two books (out of several) that I've learned so much from. I recommend them exclusively to help in your bread experience. They are easy to read and will help you get that beautiful loaf on the table!
The above pictures from top left to bottom right.
Freshly fed starter.
The Bubbly starter is ready.
1st quick knead just to combine ingredients (about 1 minute).
2nd quick knead after a 30-minute rest.
Dough after 8 hours is full of air bubbles.
Dough after final delicate knead is smooth and silky.
There is a video in my recipe card for easy to follow instructions!
If you liked this recipe I think you'll like these recipes too.
PRO TIPS:
If you want to mix bread earlier in the day. After rising for 8 hours at room temperature, set the covered dough in the refrigerator and bake the next day. Remove the dough from the refrigerator to sit out while the oven preheats.
Feed earlier in the day. When it's bubbly do the test float. If it's runny it's used up all it's energy and needs to be fed again before you can use it. To see if your starter is ready, put a small amount in a bowl or cup of water. If it floats it's ready!
Your bread can be cooked in a cold dutch oven but I like the color and rise I get from preheating my lidded pot.
This bread freezes beautifully. I wrap it in plastic wrap or a ziplock bag and then heavy duty foil.
Overnight Sourdough Bread Recipe
Overnight Sourdough Bread recipe is a great basic recipe to make if you are just getting started baking Sourdough bread or have been at it for years.
Ingredients
150

grams

bubbly starter

285

grams

*purified water

or filtered water at room temperature

500

grams

bread flour

organic

9

grams

sea salt

fine
Instructions
Squelch all of the ingredients together briefly (just for a minute is enough) with your hand. Cover the bowl with plastic wrap and let the dough rest for 30 minutes.

Stretch and fold the dough into the bowl several times for about a minute. Cover and leave it out on the counter overnight. In the morning it will have doubled in volume at least.

Pre-heat the oven to 240/250C (I preheat to 475°F and place your lidded pot inside to heat up. You can use an enamel dutch oven or aluminum roaster. You can also put the dough into a cold pot.

Dust your counter with flour. I use a rimmed baking sheet lined with parchment paper and then dusted with rice flour. It makes it easy to pick up the dough. Scrape the dough out onto the counter. Don't punch it down. You want to keep as many of those bubbles as you can.

Pull the outside thirds into the middle and shape as you wish. Try to pull the outside of the dough as tightly as possible so it will hold its shape well. I shaped mine into a ball also known as a boule.

Cover with some oiled plastic wrap loosely. Allow the dough to rest for 30 minutes. Set the timer as this is the only proofing that should NOT be overdone.

Remove the plastic wrap and slash with a sharp knife or lame.

Carefully remove the pot from the oven and remove the lid. Carefully place the dough into the pot. I lift mine by the edges of the parchment paper and put the whole thing into the pot. Replace the lid and place in the oven.

Reduce the heat to 220C (425°F convection). Bake for 20 minutes. Remove the lid and bake for an additional 20 to 25 minutes.

Immediately remove from the pot and cool on a cooling rack completely before slicing.
Video
Notes
*Start with 285g of water but if the dough is too dry add up to an additional 15g.
Nutrition
Calories:
100
kcal
|
Carbohydrates:
20
g
|
Protein:
3
g
|
Sodium:
195
mg
|
Potassium:
27
mg
|
Calcium:
4
mg
|
Iron:
0.3
mg
LOVE THIS RECIPE? BE SURE AND COMMENT BELOW WITH A FIVE-STAR RATING! IF YOU'RE ON INSTAGRAM AND SNAP A PHOTO, BE SURE AND TAG ME @HOSTESSATHEART OR WITH #HOSTESSATHEART SO I CAN SEE YOUR CREATION!
This bread was made possible by the resources and recipes shared by Elaine, Selma, and Celia! Please visit all three of these blogs for amazing bread information!
1st Sourdough Loaf

Recent Sourdough Loaf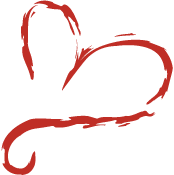 Thank you from the bottom of my heart for spending some time with me today!