Rhubarb Desserts are a summer favorite. This Easy Rhubarb Dessert recipe with Cherry Jello is absolutely delicious and perfect for a smaller crowd.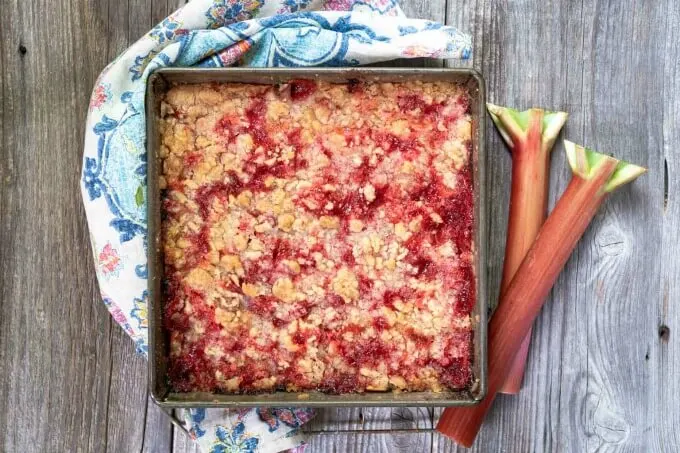 Rhubarb Dessert Recipe can be served hot with a scoop of ice cream or cooled and cut into rhubarb bars. Regardless of what you do, it's going to be delicious!
My sister and I grew up next to a neighbor that grew a lot of rhubarb. We used to pick it and dare each other to eat it raw.
I am puckering up just thinking about it.
It was very difficult to take a bite and act like it was no big deal. I don't think either one of us pulled that one off. I can't think of anything that rivals the tartness of rhubarb.
I've heard a lot of people say they don't like rhubarb. That's just crazy talk in my opinion. If they'd just try this Cherry Rhubarb dessert, they'd change their mind.
When you sweeten and cook rhubarb such as in this easy rhubarb dessert recipe, it changes the flavor to a smooth sweet treat.
Another thing I love about this Cherry Rhubarb dessert is that it bakes in an 8×8 sized pan which is perfect for small get-togethers.
If you aren't a cherry fan, strawberry jello is delicious too. The color it gives the fruit is amazing. Don't you think?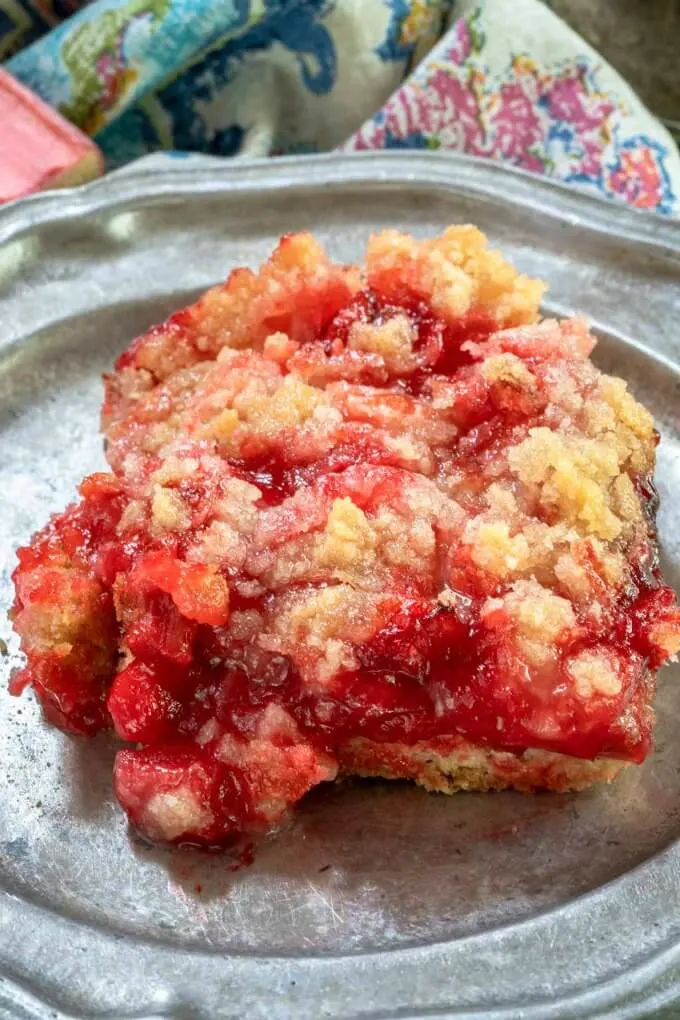 What is rhubarb anyway?
I wasn't sure and actually discovered it depends on where you live!
According to the Huff Post, "rhubarb is technically a vegetable but is legally considered a fruit.
In 1947 a New York court declared rhubarb a fruit because it's most often cooked as one in the United States (and, it's said because it was a way to save businesses who imported these stalks from spending additional money on taxes)."
Rhubarb is Poisonous! – Kind of…
That's what my son told me. He's an engineer and brilliant in my opinion but he doesn't know his rhubarb facts. Here are a few rhubarb facts:
The leaves of the rhubarb plant are poisonous. However, the stalks are not and can be eaten raw.
Color has no effect on the flavor of rhubarb. It can be light green, pink, or red.
Rhubarb freezes well. You can freeze it in stalks or chopped up. There isn't any need to cook or blanche it beforehand.
Rhubarb is HEALTHY! – TRUE
According to the Natural Food Series, "Rhubarb health benefits include treating Alzheimer's, fighting cancerous cells, promoting circulation, supporting weight loss, strengthening bones, promoting digestion, combating cardiovascular diseases, regulating blood sugar levels, maintaining kidney health, preventing early aging, and a good source of antioxidants."
I've got to start eating more rhubarb! I wonder if I can call this Rhubarb Cherry Dessert recipe a healthy food! Probably not.
You may need:
8×8 pan – I baked my dessert in an antique pan and buttered the heck out of it. I have this non-stick version which would have worked great!
Whisks – I love my whisks and have them in several sizes, shapes, and colors. I have a gadget obsession I guess and love these!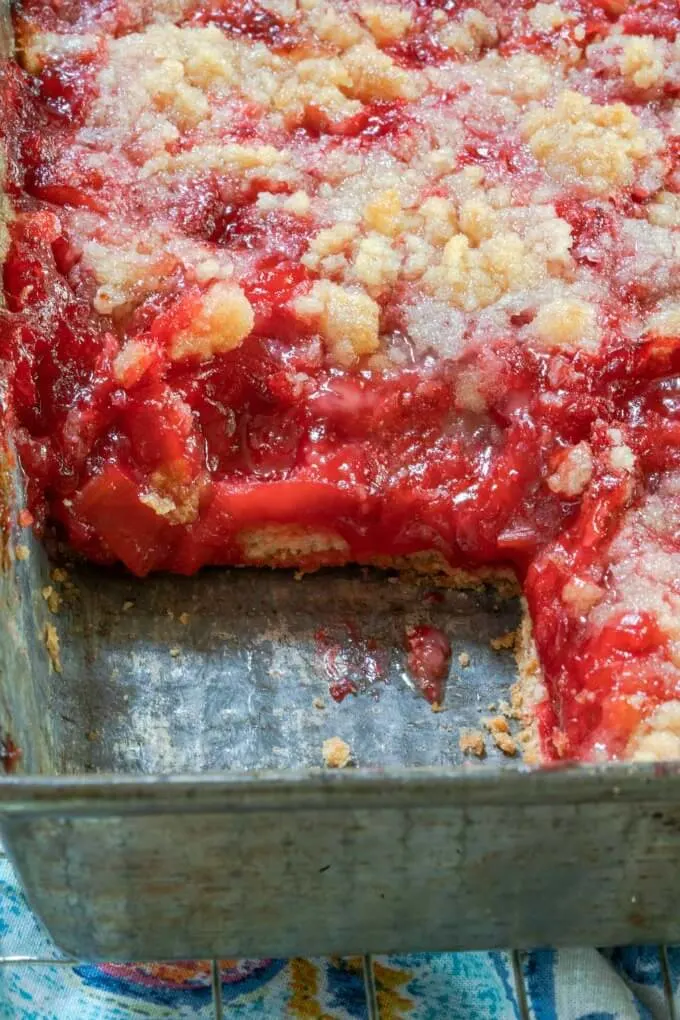 Rhubarb Bar Recipe Ingredients
All-purpose flour
Sugar
Butter
Rhubarb
Baking powder
Egg
Milk
Jello
*Salt
Tip: Our friend Noreen added that 7 to 8 cups of rhubarb is about 2 pounds. So, we need about 1 pound for this recipe. Thank you, Noreen!
You may want to stock up on rhubarb for these delicious recipes!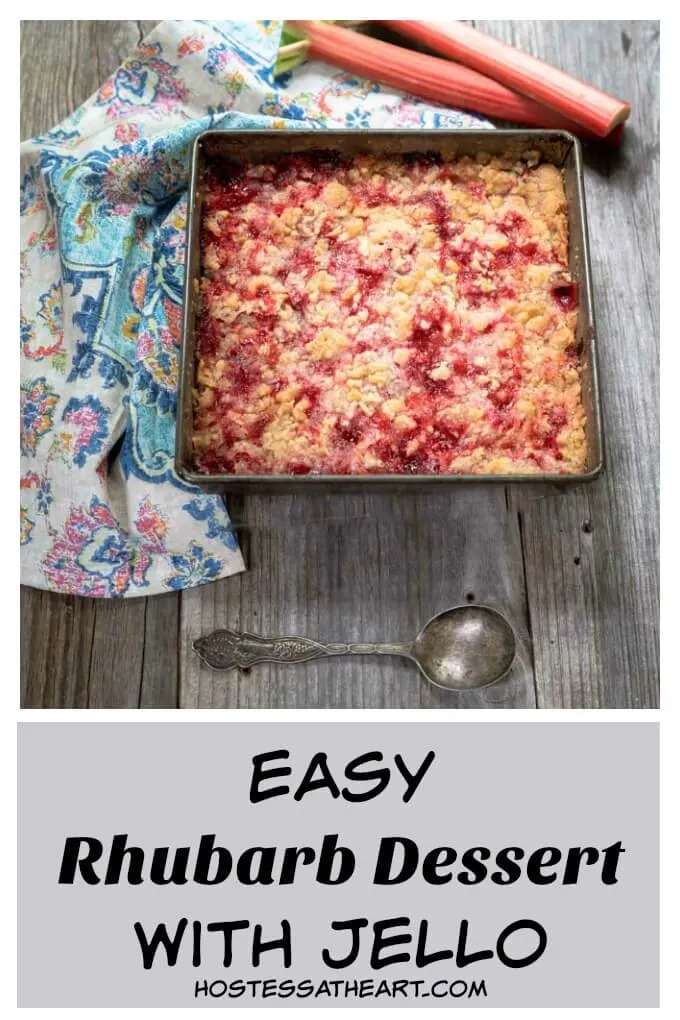 NOTE: I wouldn't use frozen rhubarb for this Easy Rhubarb Dessert. It tends to absorb a lot of liquid and you don't want it to bake up with too much liquid.
If you do try using frozen rhubarb, thaw completely and let excess liquid drain.
If you like this recipe, we would appreciate your comment and a 5-star ⭐️⭐️⭐️⭐️⭐️ review!
Do you have a favorite Rhubarb Dessert? Please share it in the comments below. You are my inspiration!
Our most popular recipes