Leftover Prime Rib makes the BEST Hot Beef Sandwich. Piled high with tender, rare prime rib, crispy sauteed vegetables, Italian Seasonings, and melted cheese make this sandwich fit for a King!
THIS POST HAS BEEN UPGRADED FROM 1/18/18 TO IMPROVE READER EXPERIENCE.
Hot Beef Sandwich is the perfect way to repurpose leftover prime rib or roast beef. No one would ever know that your prime rib sandwich wasn't the only meal you got from that beautiful prime rib dinner.
Leftovers don't have to play second fiddle when they show up as an Italian Hot Beef Sandwich!
You've heard of dumpster diving, right? Well, I've been freezer diving! My freezer is so full that I'm getting claustrophobic just thinking about it.
I can stand in front of it and just stare and wonder where in the heck something is hiding. That drives my organized-loving brain crazy!
I'm determined to use up some of the things in my freezer. I'm always experimenting with new recipes but some of our favorite meals are repurposing leftovers.
I knew I had what was left of a prime rib roast from the holidays. John is a big "hot" sandwich guy. I decided that some of this beautiful prime rib was going to be Hot Beef Sandwiches.
John originally cooked this prime rib to perfection. It was rare and so juicy. I'd double wrapped it before putting it in the freezer and once thawed it looked just as pretty as when it went in.
I didn't want to ruin it by overcooking it. Sauteing my veggies separately and only cooking the meat for 5 minutes under the broiler and then covering it all with a mound of seasoned veggies and cheese makes the tastiest Prime Rib Sandwich ever.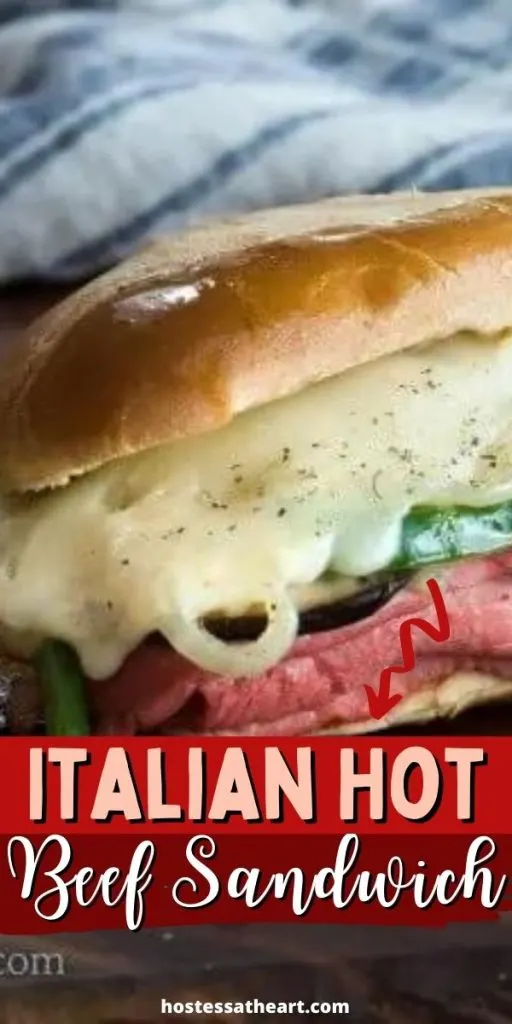 Prime Rib Sandwich Ingredients
Very basic ingredients that you probably already have on hand. When I buy my prime rib I'll pick up the extra veggies because I know I'll be making this prime rib leftover recipe.
Prime rib – thinly sliced. You can usually get rare sliced roast beef at your grocery store for a quick meal too.
Sautee veggies – I use green pepper, onion, and mushrooms. You can use what you enjoy.
Cheese – a semi-hard cheese that melts well but doesn't turn to a liquid such as Havarti, Swiss or Mozzarella.
Italian blend seasoning.
Bread rolls – recommendations follow.
Olive oil
How to make an Italian Hot Beef Sandwich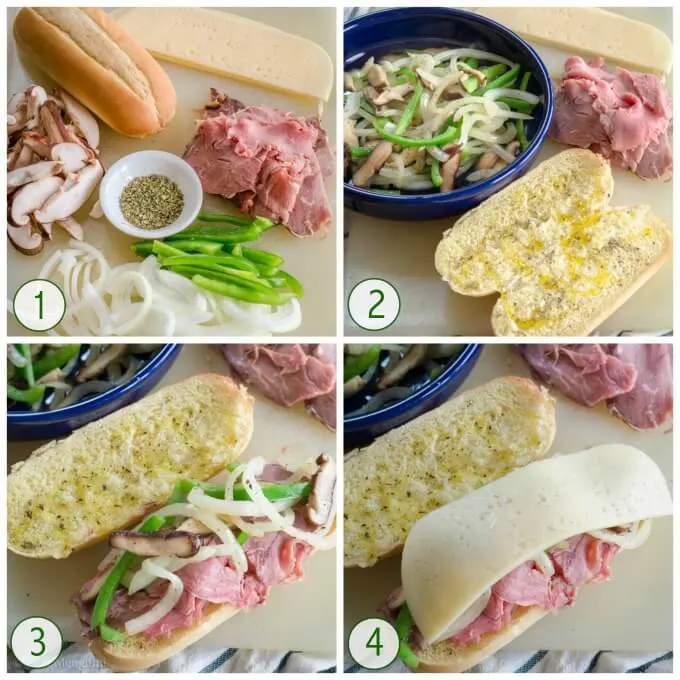 Sautee vegetables in a skillet over medium-high heat just until they start to soften.
Drizzle slices of bread with olive oil and sprinkle with Italian seasoning.
Assemble the sandwich by placing a thick layer of meat on the bottom slice of bread followed by a layer of sauteed vegetables. Place the cheese over the vegetables.
Broil the bottom half of the sandwich only for 3 minutes. Add the top slice of the bread olive oil side up and broil and additional 2 minutes.
Place the top of the bread on the sandwich and serve.
Tip: Placing the cheese over the top of the other ingredients and then broiling it with the top off melts the cheese better and allows the cheese to hold the other ingredients together.
Please note, that the recipe card has more complete instructions. This is intended as an overview.
What other cuts of beef make great Hot Beef Sandwiches?
I've got to admit that I don't always have a beautiful prime rib roast languishing in my freezer. More often it's leftover roast beef. Rump roast or top round can be a tough, marbled piece of meat. When it's roasted and thinly sliced it can make a delicious Hot Roast Beef Sandwich.
What is the best kind of bread for a Prime Rib sandwich?
This is totally your choice. I want an equal amount of bread to filling ratio. I feel ripped off when I can't find the ingredients in my sandwich!
As you can see in this Italian Hot Beef Sandwich picture, the meat to bun is about equal.
Another consideration is to choose a bread that is soft enough to bite through but not so soft that the juices from the meat make it fall apart before you can take a bite.
Some suggestions would definitely be Medianoche if you are dipping into an au jus, Ciabatta, and Brioche if you aren't.
Products that make this recipe easier to make
Skillet – I prefer stainless steel cookware. It allows me to see how my food is cooking and browning. It cleans up beautifully and is durable.
Knife – A good sharp carving knife with a thin blade.
Don't forget to Pin this recipe to your favorite Sandwich Board!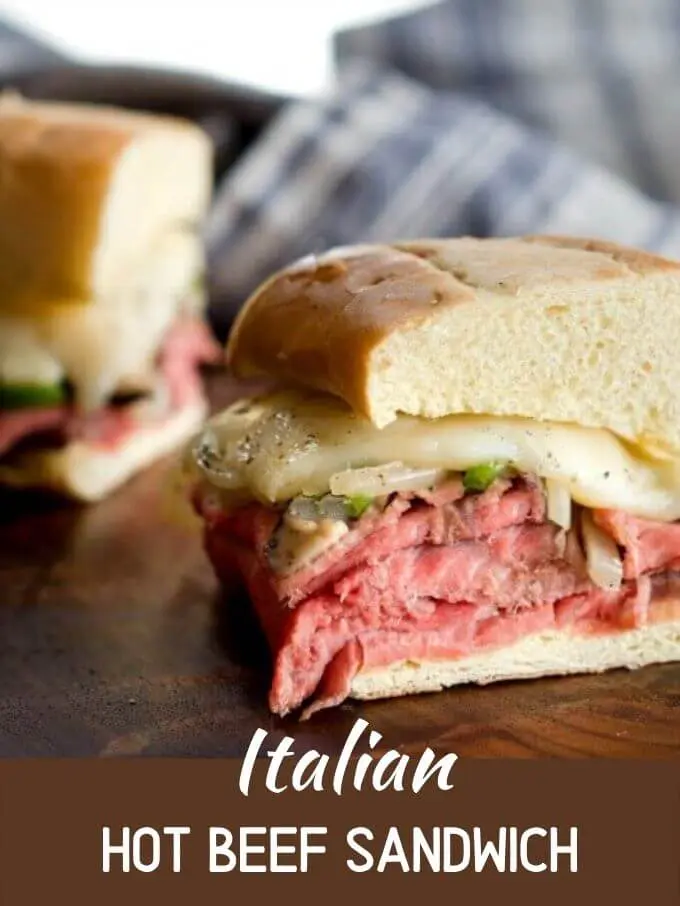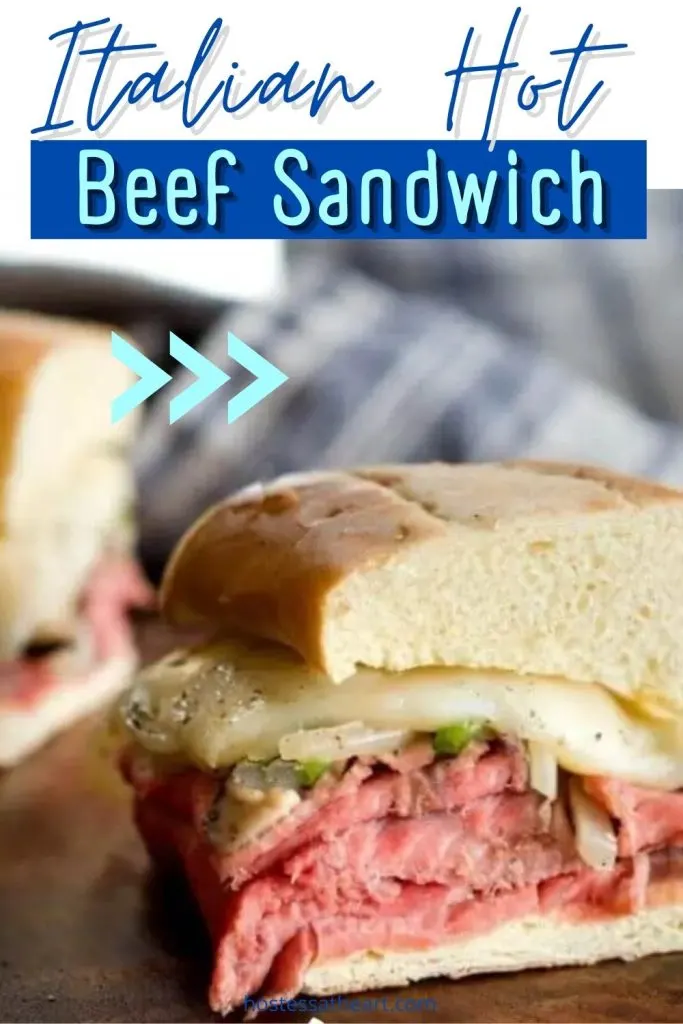 Side dishes perfect for serving with a Prime rib sandwich
Tips and Variations for the best Prime Rib Sandwich
To slice prime rib thinly, it's best to have a thin-bladed sharp knife. Also, the meat will slice easier if chilled. I'll often put it in the freezer for 15 minutes so the outer surface holds up when pressure is applied.
Vegetables should be sliced thinly and sauteed quickly. They're best if just al dente. You can use any combination of vegetables for your leftover prime rib sandwich but pick veggies that will sautee at the same rate.
I don't overdo the cheese. Too much cheese will have your ingredients sliding around. You'll want a good semi-hard cheese that will melt by the time your meat is warm.
I used an Italian blend of seasoning for this sandwich. My second choice would be a Mediterranean blend or a simple sprinkle of some oregano. Don't overdo it.
Sandwich variations for this Prime Rib Sandwich from leftovers would be to use small buns for Prime Rib Sliders. You can also prepare an au jus and have a French Dip sandwich that would be so amazing.
We loved the Italian twist on this leftover Prime Rib sandwich. The quick cook time will allow you to get this delicious Leftover Prime Rib sandwich recipe on the table in a jiffy.
If you enjoyed this leftover Prime Rib recipe, here are a few more you may like!
Even after these Hot Beef Sandwiches from leftover prime rib were just a memory, we had enough prime rib for a new SIP recipe! What's your favorite way to use leftover prime rib?