Corned Beef Sandwich recipe is the perfect way to repurpose leftover corned beef into a whole new meal. Tender corned beef, a sweet mustard sauce, and crunchy caraway slaw make this the Best Corned Beef Sandwich you'll ever have.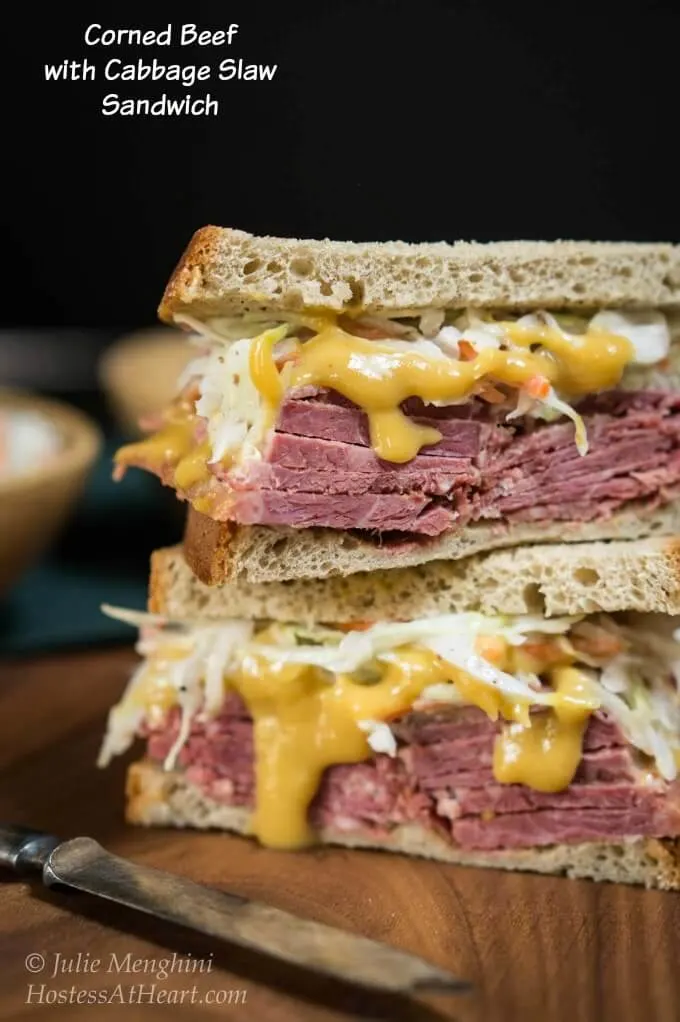 Corned Beef Sandwich recipe starts with a mound of corned beef, layered with a smooth brown sugar mustard sauce and topped with a crunchy caraway slaw.
Add a nice seeded rye bread and you've got a work of art disguised as a sandwich.
This Corned Beef Cabbage Sandwich is over the top in flavor and textures.
The mild brown sugar mustard sauce is so smooth and creamy that it should be bottled.
It just seeps into this sandwich and guarantees that every bite is going to be flavorful. It's the perfect contrast to the salty corned beef.
The caraway slaw adds a delicious crunch to the tender corned beef.
Put the whole thing in between two slices of bread and you have one gourmet sandwich that's worthy of the best deli.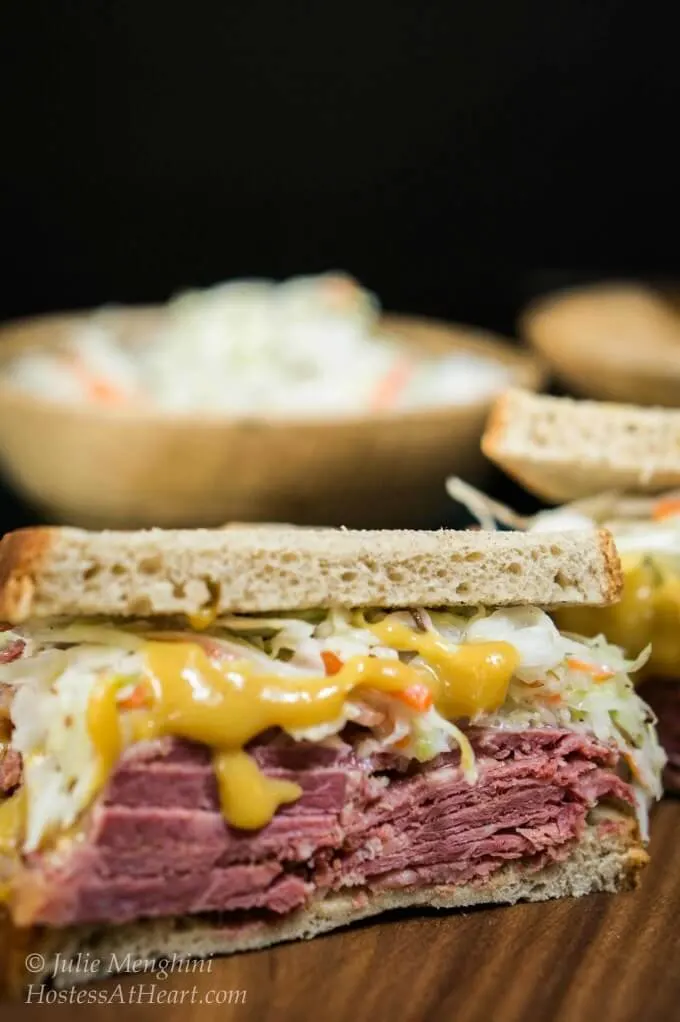 Is this sandwich the same as a Rueben?
No. A Rueben sandwich tops corned beef with sauerkraut, Swiss cheese, and Russian dressing.
Can this sandwich be served hot?
Yes! We recommend heating the sandwich with the meat and mustard sauce and then applying the slaw.
Can these sandwiches be made ahead of time?
Absolutely! To do so, slice the meat and make the sauce and slaw. We don't recommend assembling the sandwiches until you're ready to serve them. This will prevent them from becoming soggy.
Corned Beef Slaw Ingredients
Sliced Corned Beef
Corned Beef – Our baked Corned Beef Brisket or Instant Pot Corned Beef allows us to get beautiful slices.

Other methods of cooking corned beef often require that you shred the meat. Shredded corned beef will work in this sandwich too.
You can use Sliced Corned Beef from the Deli so these sandwiches can be enjoyed any time.

Bread – We used slices of light-seeded rye bread. Any rye bread or our Sourdough Sandwich bread would be delicious.
Sauce
Dijon mustard – The smooth mild flavor works perfectly in the sauce.
Brown Sugar – You can use dark or light brown sugar.
Caraway Slaw
Cabbage – We use green cabbage

We always serve cabbage with our St. Patrick's meal but don't cook it all so we can make this slaw.

Lemon juice – Keeps the cabbage fresh and crunchy and adding a bright acidic flavor.
Honey – Mellows the lemon juice and adds sweetness to our slaw.
Plain Greek Yogurt – Adds a creamy texture. We used fat-free but any variety will work.
Spices – We toasted and ground mustard seed, allspice, and caraway seed. We also used salt. If you don't want to toast and grind whole spices, you can use the following:

1/4 teaspoon each of ground allspice and mustard seed.
We recommend using 1/2 teaspoon of the whole caraway seed versus a ground version. It doesn't have to be ground.
How to make a Corned Beef Sandwich
Slice the cooked corned beef thinly and set it aside.
In a small bowl, stir the Dijon mustard and the brown sugar together and set aside.
Thinly slice the cabbage. We use a mandoline to make short work of this task. You could also use a sharp knife.
In a small bowl whisk the lemon juice, yogurt, honey, and salt together.
In a small skillet add the allspice berries, caraway seed, and mustard seed. Toast just until fragrant. Place the spices in a spice grinder and grind to a powder consistency.
Add the spices to the lemon juice mixture and whisk to combine.
Pour the lemon juice mixture over the cabbage and stir to combine.
Assemble the sandwich by spreading the mustard sauce onto the inside of each slice of bread. Top the bottom slice of the bread with the sliced corned beef then top with the slaw. Place the other slice of bread on top of the slaw.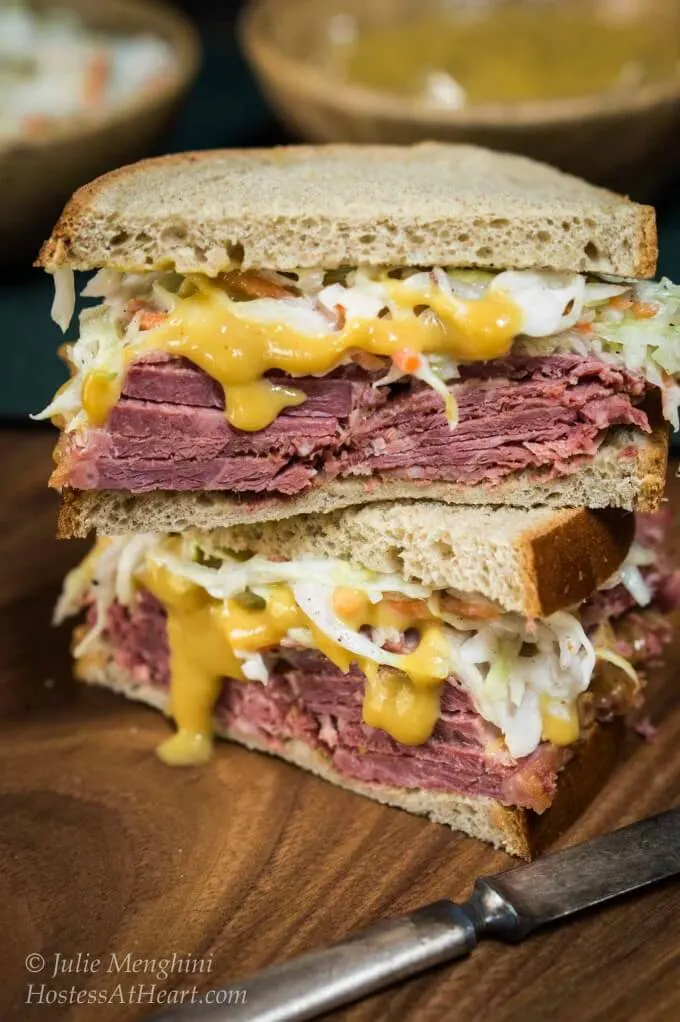 What can I serve with Corned Beef Brisket sandwich?
Even though this sandwich has a sweetened element, it's primarily a savory sandwich. Our Cherry Fluff Salad, Fruit Cocktail Salad, or Pistachio Pudding Dessert would be perfect.
Check out these Leftover Corned Beef Recipes!
Even though there are only the two of us, we love all of the leftovers that we get from the corned beef. Especially Corned Beef Sandwich with Slaw. Here are a few more of our favorites.
Don't Forget To Come Back And Let Me Know How Your Corned Beef Sandwich Turned Out!
This post has been updated to improve our reader's experience. No changes were made to the recipe.
Other St. Patrick's Day Favorites
Pin it!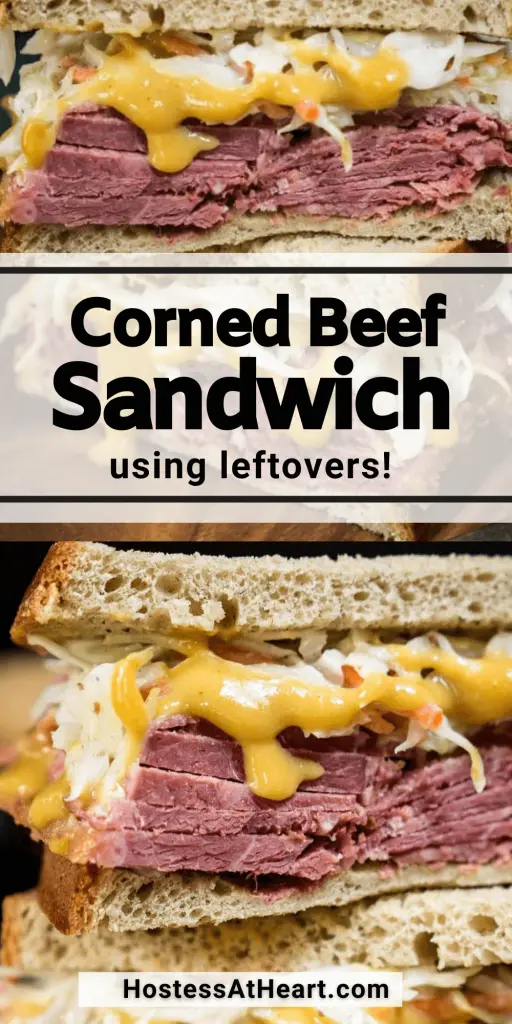 What is your favorite way to use leftover corned beef? I'd love it if you'd share in the comments below!