A Corned Beef Cabbage Slaw Sandwich starts with a mound of corned beef then layered with a smooth brown sugar mustard sauce and topped with a crunchy caraway slaw. Add a nice seeded rye bread and you've got a work of art disguised as a sandwich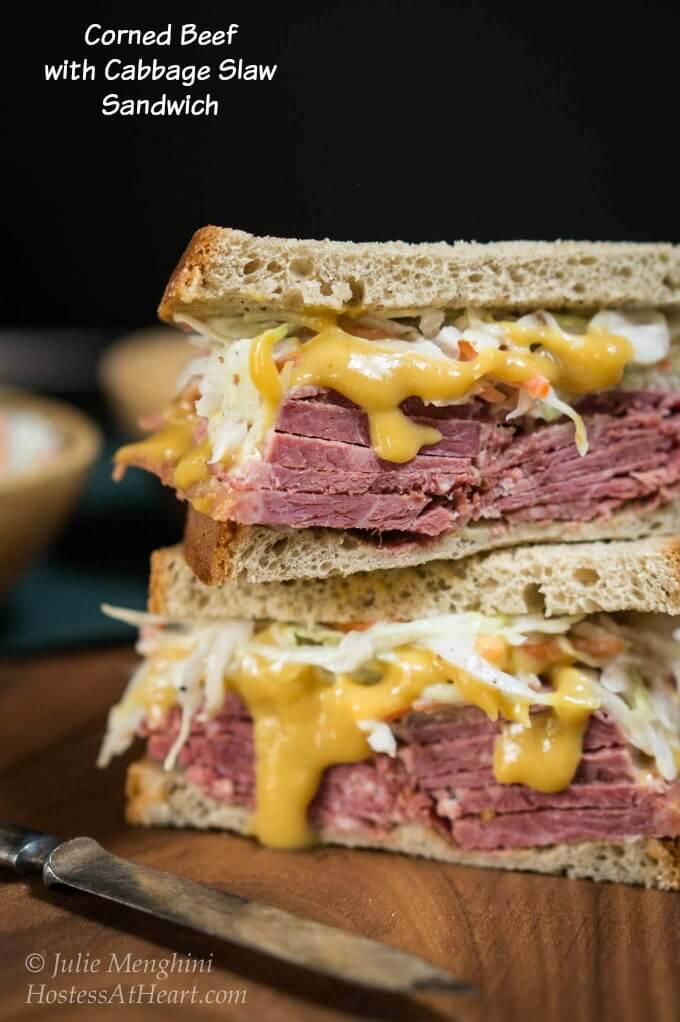 This Corned Beef Cabbage Sandwich is not an ordinary sandwich!
I buy about the biggest Corned Beef that I can find when they go on sale before St. Patrick's Day.
Even though there are only the two of us, we love all of the leftovers that we get from the corned beef. Especially this Corned Beef sandwich with Slaw.
It's a celebration of flavors and textures. The salty corned beef is mellowed by the sweetness of the sauce and we love the crunch that the caraway slaw gives to this sandwich.
Leftovers often get a bad wrap. Not so with Corned Beef. It can be repurposed and just as delicious as when you first make it. One of the reasons is because of the brine that it's packed in when you buy it.
You can make your own Corned Beef. It doesn't contain any mystery ingredients. Here's a great recipe and a tutorial on how to do it.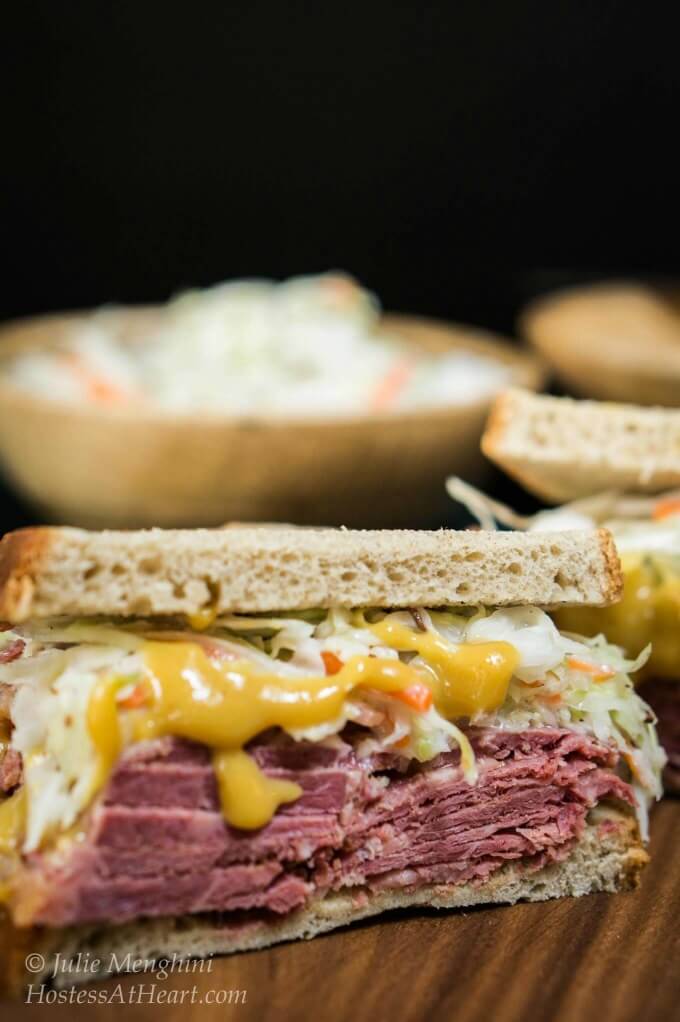 I always buy a few extra when they go on sale and stick them in the freezer.
What is Corned Beef?
Corned Beef is usually made from a beef brisket which can be a tougher piece of meat. The brine is a mixture of spices and a salt solution made from spices and curing salt. You can read more about how a brisket becomes a corned beef here.
This sandwich is always a hit and the perfect way to repurpose corned beef leftovers.
Don't forget to pin this delicious sandwich recipe!
The mild brown sugar mustard sauce is so smooth and creamy that it should be bottled. It just seeps into this sandwich and guarantees that every bite is going to be flavorful.
The crunchy caraway slaw is smooth and adds another layer of flavor and texture.
Fun St. Patrick's Day Facts:
Do the Irish celebrate St. Patricks Day?
Until the 1970s, St. Patrick's Day was a religious celebration in Ireland, and the pubs in the country were closed.

Now the Irish like a good celebration as much as the states. The observance of St. Patrick's Day in Dublin, alone, has grown to a massive multi-day celebration where around 1 million people take part
Do the Irish eat corned beef and cabbage on St Patrick's Day?
Truth be told, corned beef and cabbage is about as Irish as a McDonald's Shamrock Shake. Back in the day, people in Ireland would have celebrated the feast day with a meal of Irish stew and soda bread, or maybe a meal of pork and potatoes, which was inexpensive.
I found a lot of fun facts about St. Patricks day from this article.
I really enjoyed reading up on St. Patricks Day. If that's not your thing just scroll down for the recipe!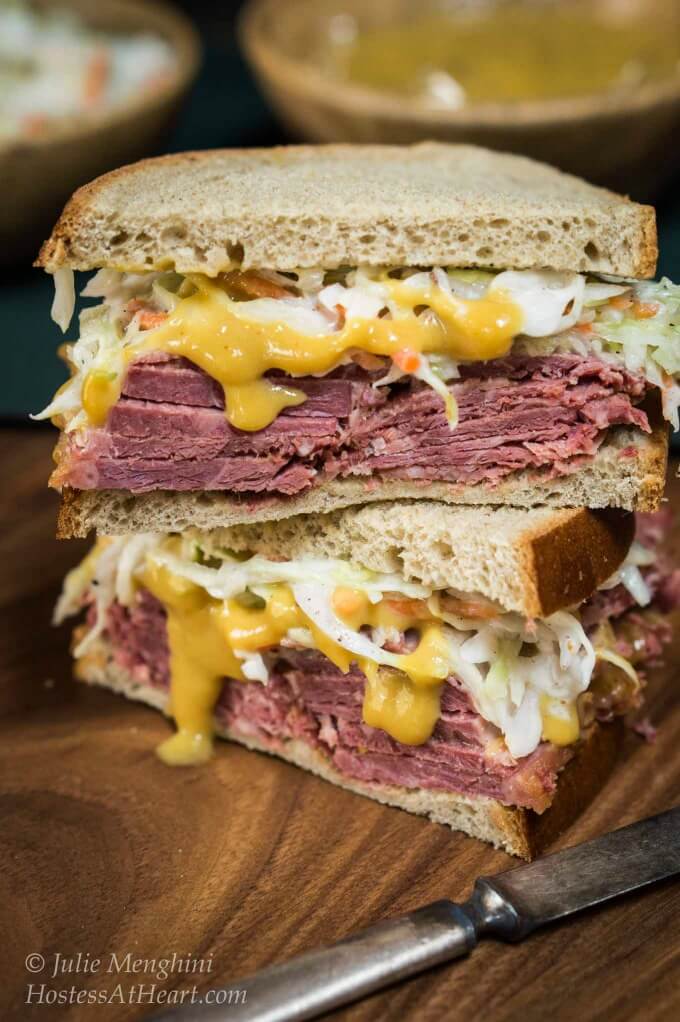 We really look forward to corned beef and cabbage, and usually, just make sandwiches with the leftovers. They were just sandwiches that is until this Corned Beef Sandwich recipe.
Other recipes perfect for St. Patricks Day.
What else can I serve with this Corned Beef sandwich?
Even though this sandwich has a sweetened element, it's primarily a savory sandwich. Our Cherry Fluff Salad or Fruit Cocktail Salad would be perfect.
What else can I make with Corned Beef Leftovers?
If you like this sandwich, here are a few more I think you'll like:
I would love it if you enjoy this recipe that you will leave me a comment and rate the recipe with 5 stars! ⭐️⭐️⭐️⭐️⭐️
Corned Beef Cabbage Slaw Sandwich
Corned Beef Cabbage Slaw Sandwich that's slathered with a brown sugar mustard sauce and heaped with a creamy caraway slaw.
Ingredients
Corned Beef

cooked and sliced or shaved thin

Sandwich bread of your choice

I choose seedless rye
Sauce
1/2

cup

Dijon mustard

2

tbsp

brown sugar
Coleslaw
2

cups

shredded green cabbage

1/4

cup

fresh lemon juice

1

cup

plain greek yogurt

I used fat-free

1

tbsp

honey

1/2

tsp

salt

1/2

tsp

mustard seed

1/2

tsp

allspice

approx 17 berries

1/2

tsp

caraway seed
Instructions
Sauce
Combine the sauce ingredients and whisk until smooth.
Slaw
In a bowl or jar, combine lemon juice, yogurt, salt and honey

In a small skillet, combine the mustard seed, allspice berries, and caraway seed. Heat until aromatic.

Grind in a spice grinder and add to slaw ingredients.

Stir to combine
Assemble
Spread sauce on both slices of bread. Add meat and top with slaw. Serve with additional sauce if desired.
Notes
Ground spices may be substituted for whole seeds and berries.
Nutritional values are for the slaw only since bread and the amount of meat you use can vary.
Nutrition
Calories:
69
kcal
|
Carbohydrates:
11
g
|
Protein:
4
g
|
Fat:
1
g
|
Cholesterol:
1
mg
|
Sodium:
447
mg
|
Potassium:
125
mg
|
Fiber:
1
g
|
Sugar:
9
g
|
Vitamin A:
40
IU
|
Vitamin C:
12.8
mg
|
Calcium:
61
mg
|
Iron:
0.4
mg
This recipe was calculated using the exact brands and measurements I used to make this recipe. If you are following a strict diet please note changing anything will cause the nutritional info to change. My calculations are intended as a guide only.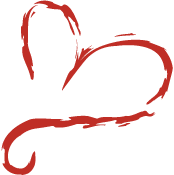 Thank you from the bottom of my heart for spending some time with me today!