Pistachio Pudding Trifle Dessert Recipe is easy to make ahead and has delicious layers of angel food cake, creamy pistachio pudding, sweet whipped cream, and a mix of crunchy toasted coconut and pecans.
This Trifle Dessert Recipe is just gorgeous. The bright green color makes it perfect for St. Patrick's Day or SPRING.
This is a refreshing cool Refrigerator Dessert so we make it for our summer cookouts and it's always a hit.
We love that this is so easy to make. There are a lot of variations that you can make so you can make the perfect dessert trifle for your friends and family.
We'll show you how you can make it a NO-BAKE dessert trifle and how it can be made ahead of time too.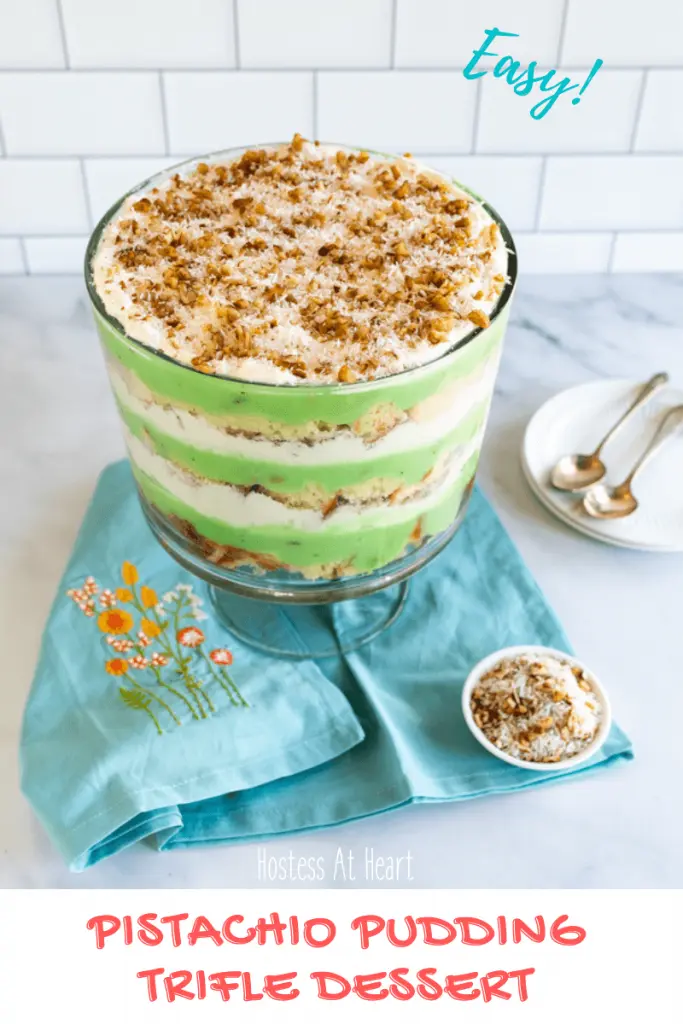 Pistachio Pudding Dessert Ingredients and Variations
Angel Food Cake – You can use a cake mix, your favorite recipe, or purchase an angel food cake at your grocery store for a NO-BAKE version.

Variation – Pound cake soaks up that creamy pudding a little more than angel food cake so it creates a thicker and denser layer that is delicious.
Chocolate goes well with pistachio so you can use a chocolate cake or chocolate brownie instead of angel food cake.

We would replace the coconut with chocolate cookie crumbs if you choose to use this option.

Pistachio Pudding – Instant pudding
Coconut – We used shredded coconut and toasted it with chopped pecans for a nice crunchy texture.

You can eliminate the coconut and use all pecans or a crumbled cookie such as a vanilla wafer.

Pecans – We toasted our pecans and mixed them with the coconut. You can substitute them with another type of chopped nut.

You can eliminate the pecans and use all coconut or a crumbled cookie such as a vanilla wafer.

Whole Milk – We used full-fat whole milk to make our pudding. We find it's a little thicker than other varieties. We haven't experimented with using milk replacements.
Whipping Cream – We love the texture and flavor of homemade whipped cream.

Prepared whipped topping can be substituted for a quick and easy option.

Sugar – We sweeten our whipped cream with a little sugar. You can use confectioners powdered sugar which we often do as well.

If you use prepared whipped topping you will not need sugar.

Vanilla extract – We use pure vanilla extract and not imitation to flavor our whipped cream. Use what you have.

Again, if you use prepared whipped topping, you will not need vanilla.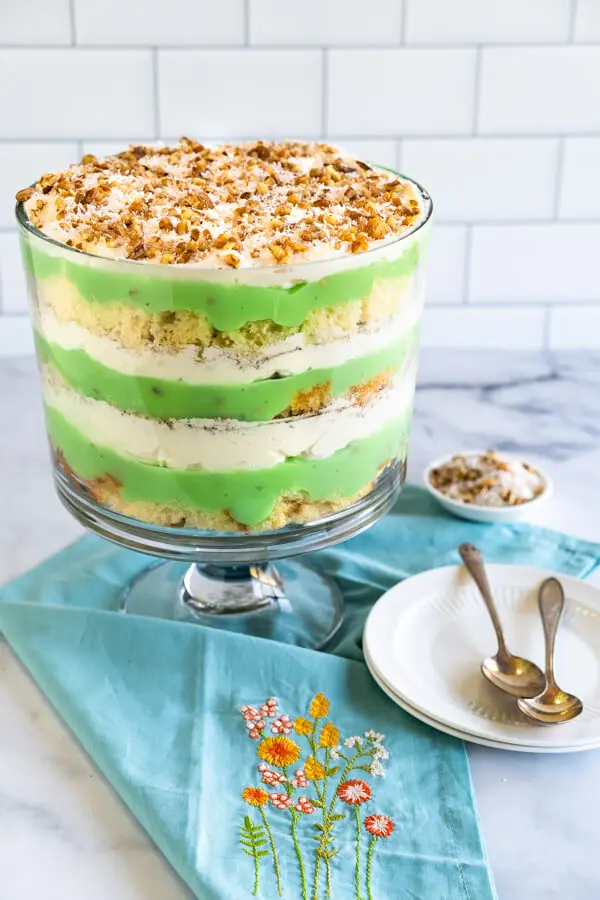 Quick & Easy No-Bake Trifle Dessert Recipe
Make this a quick and easy No-Bake Dessert Trifle.
Purchase pre-made cake.
Purchase prepared whipped topping.
The coconut and pecan mixture doesn't need to be toasted or it can be replaced by crushing pre-made cookies.
How to make a Pistachio Pudding Trifle Dessert
Bake the Angel Food Cake. Allow it to cool completely and then tear or cut it into 1 to 2-inch pieces.
Combine the milk with the instant pudding mix in the bowl of an electric mixer. Mix until combined and creamy. Chill for 15 minutes to set.
Make the whipped cream layer by adding the heavy whipping cream to the bowl of an electric mixer fitted with the whisk attachment. Beat until soft peaks begin to form and then gradually add the sugar and vanilla. Continue mixing until the peaks stand on the end of your whisk attachment without collapsing.
Using a skillet combine coconut and chopped pecans. Cook over medium heat, stirring frequently. Remove the mixture from the pan when browned to keep it from burning.
How to assemble the Pistachio Pudding Dessert
Add 1/3 of the cake pieces to the bottom of a trifle bowl.
Spoon 1/3 of the pistachio pudding over the cake layer.
Top the pudding with 1/3 of the whipped topping.
Sprinkle the whipped topping with 1/3 of the toasted coconut-pecan mixture.
Repeat two more times.
Note: We sprinkle the last layer of the toasted coconut-pecan mixture over the top right before serving so it stays nice and crunchy.
Pro Tips
We think it's best if you make your pistachio pudding trifle the day before and let it sit in the refrigerator so all of the layers blend meld together.
Make sure all ingredients are cool before you assemble it. You can actually make the cake and pudding earlier in the day and then assemble it before going to bed.
We don't make the whipped topping too far in advance of the assembly though.
Making your own whipped topping is easy and tastes great. The trick is not over whip it.

Use a chilled bowl to mix the cream in.

We use an electric stand mixer with the whisk attachment. Allow the peaks to just start forming and then gradually add your sugar. Stop when soft peaks form at the end of your whisk attachment without collapsing.

Store the trifle in the refrigerator covered with plastic wrap so it doesn't develop a film or crust.
Frequently Asked Questions
Can I make this trifle dessert recipe ahead of time?
YES! In fact, we think it's best made ahead of time. It has more time for all of the layers to meld into a delicious creamy refrigerator dessert.
Can you freeze a trifle dessert?
We don't recommend freezing this trifle dessert. It's best to store covered in the refrigerator for up to 3 days.
How do you serve a Pistachio Pudding Trifle Dessert?
We use a large spoon and dip deep enough that every person gets all of the delicious layers.
If you like this recipe here are a few more you may enjoy
What you may need
Electric stand mixer or a handheld mixer makes this recipe so much easier.
We also love using a pretty trifle bowl for this recipe. If you don't have a trifle bowl, you can use a large glass bowl to show off those layers.
We don't buy too many things that don't have multiple functions. Trifle bowls are perfect for layered salads or used as a large bowl for pasta salads or mixed fruit.
For a fun variation, you can make individual trifle desserts by layering it in dessert glasses or even mason jars.
Pin it!