Decadent and delicious, these chocolate buttermilk brownies taste precisely how you want a homemade dessert to taste. Rich chocolate buttermilk icing adds the perfect finish.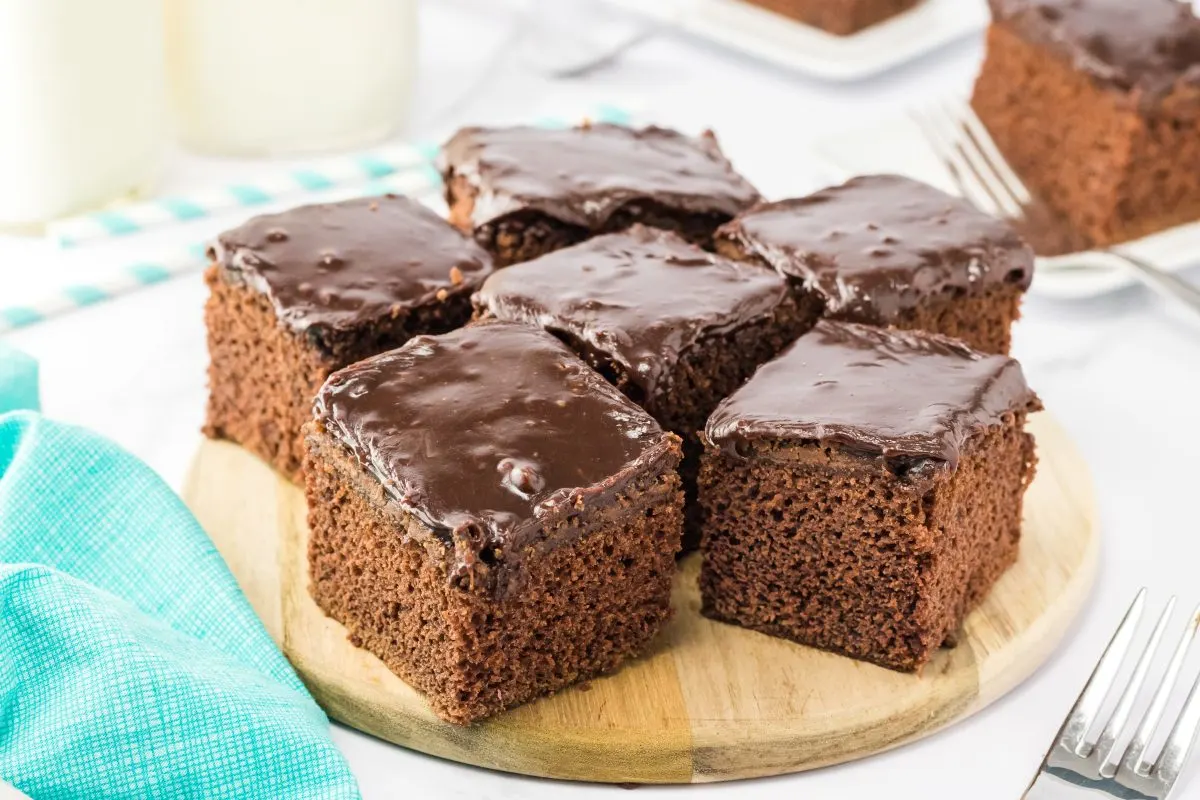 This classic recipe is not as dense as a traditional brownie but is denser than cake. The result is a lovely crumb with a tender spring. If you're like me, you can't have enough brownie recipes. Just like my Fudgy Brownies and Oreo brownies, they've got a special place in my recipe box.
Why You'll Love This Recipe for Buttermilk Brownies
Nostalgic and comforting. Buttermilk brownies first appeared in the Southern United States, and various recipes for this variety of brownies have been around for a very long time. You will love how perfectly the buttermilk's tanginess balances out the chocolate batter's sweetness. This classic recipe is part of childhood memories.
Quick and Easy to make. Who needs a box mix when this homemade buttermilk brownie recipe comes together in minutes and tastes so much better?
Feeds a crowd. This recipe for buttermilk brownies makes a full 9×13 pan. I cut the pan into 24 brownies.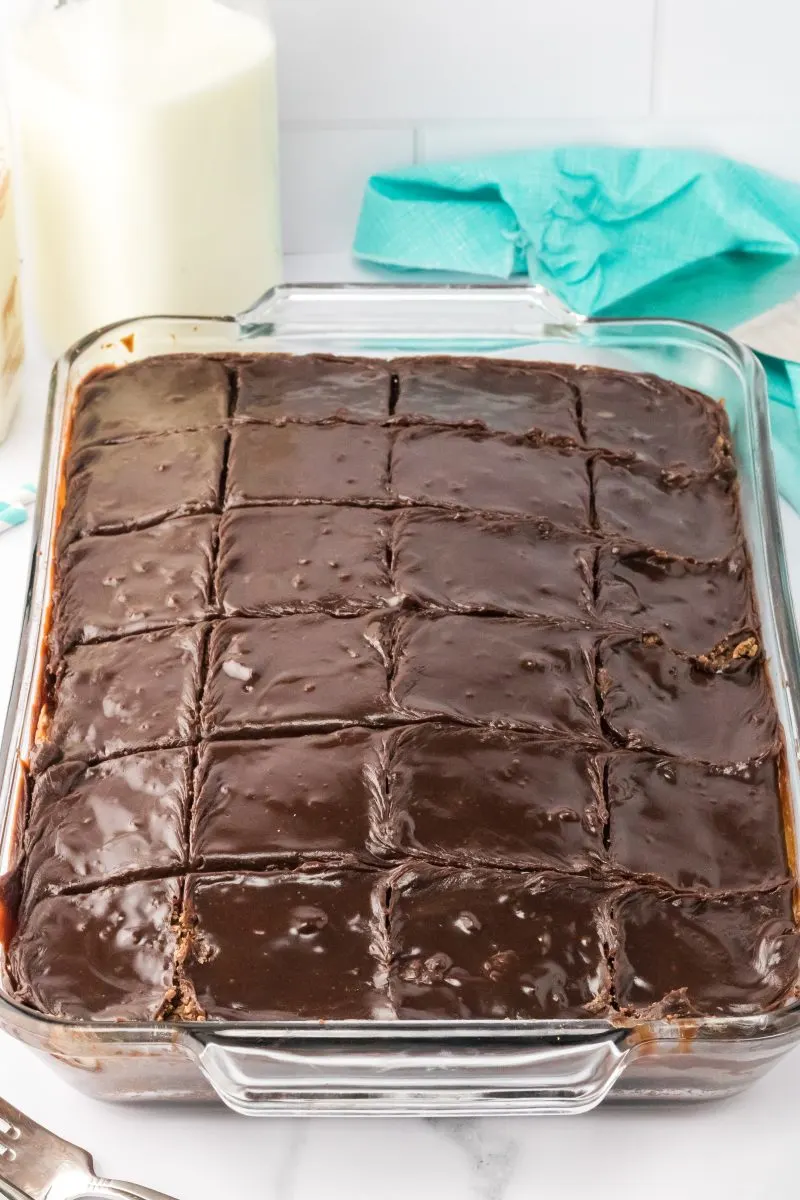 Equipment Needed
Hostess At Heart participates in affiliate programs. As an Amazon Associate, I earn a commission from qualifying purchases. Please refer to my disclosure page for more information about these affiliate programs.
9×13 Baking Dish – I've got this one and love it. It comes with a lid that makes taking and refrigerating my treats a lot easier.
1-Quart Saucepan – This little pan is a workhorse in my kitchen. I've used it over and over and it still looks brand new.
Wooden spoon – These utensils are beautiful and will not scratch your pans.
Ingredients you'll need for this recipe
All-Purpose Flour. You can make this cake with an all-purpose one-for-one gluten-free flour if desired. It will change the texture slightly.
Granulated Sugar. Just plain white sugar. You could use turbinado sugar if that is what you have.
Baking Soda.
Salt.
Water.
Butter. Or use any butter substitute.
Unsweetened Cocoa Powder. A high-quality cocoa powder is worth the extra expense.
Eggs. Grade A large eggs.
Buttermilk. Use the full-fat version for a springy texture.
Vanilla Extract. Pure vanilla is best, but imitation vanilla will work.
Buttermilk Icing Ingredients
Unsalted Butter. You can use salted butter in this recipe.
Unsweetened Cocoa Powder.
Buttermilk. If you don't have buttermilk, you can make your own! You'll find the instructions under the tips for this recipe.
Powdered Sugar. Also known as confectioners sugar.
How To Make Buttermilk Brownies
Please note, that the printable recipe card has ingredient quantities, complete instructions, and nutritional information. The following is a quick overview of the recipe.
Step One. Get everything ready for the Buttermilk Brownies Recipe.
Preheat the oven. Spray your baking dish with cooking spray. You can also grease it with butter or shortening.
Step Two. Mix the dry ingredients.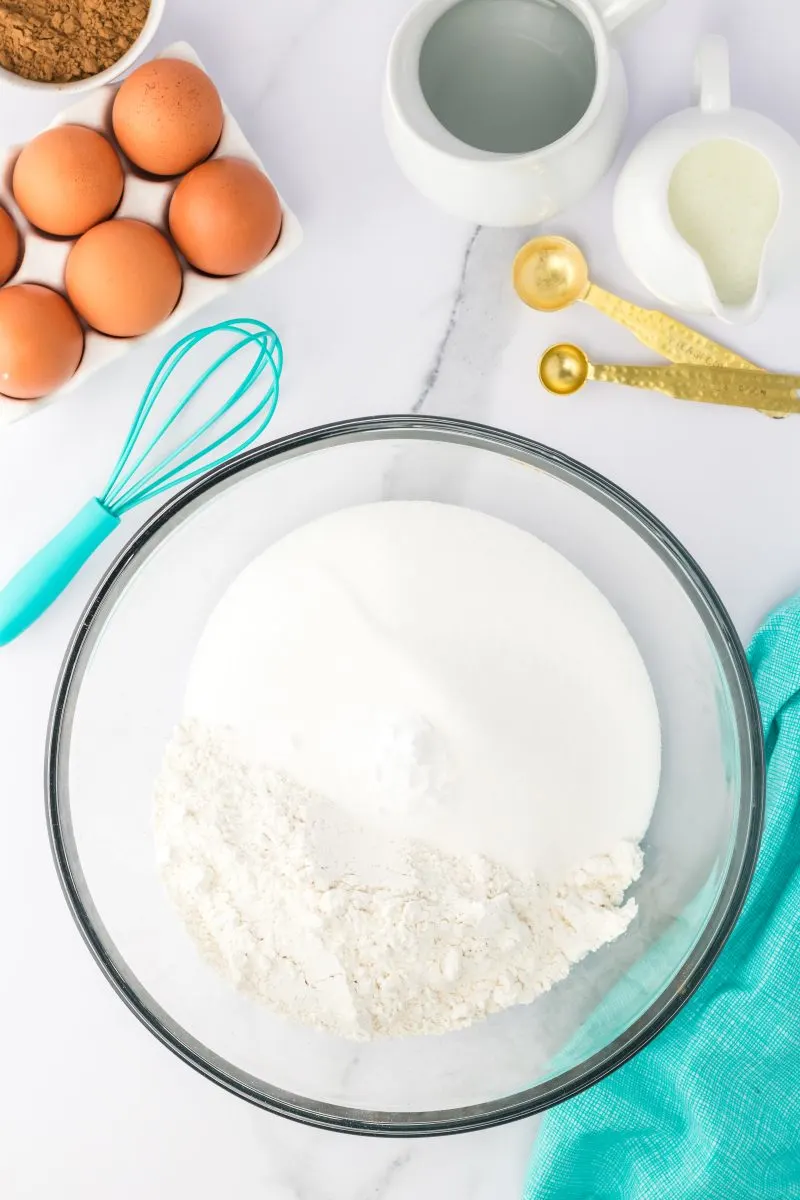 Combine and stir the flour, baking soda, salt, and sugar using a large mixing bowl. Set aside.
Step Three. Cook the cocoa powder.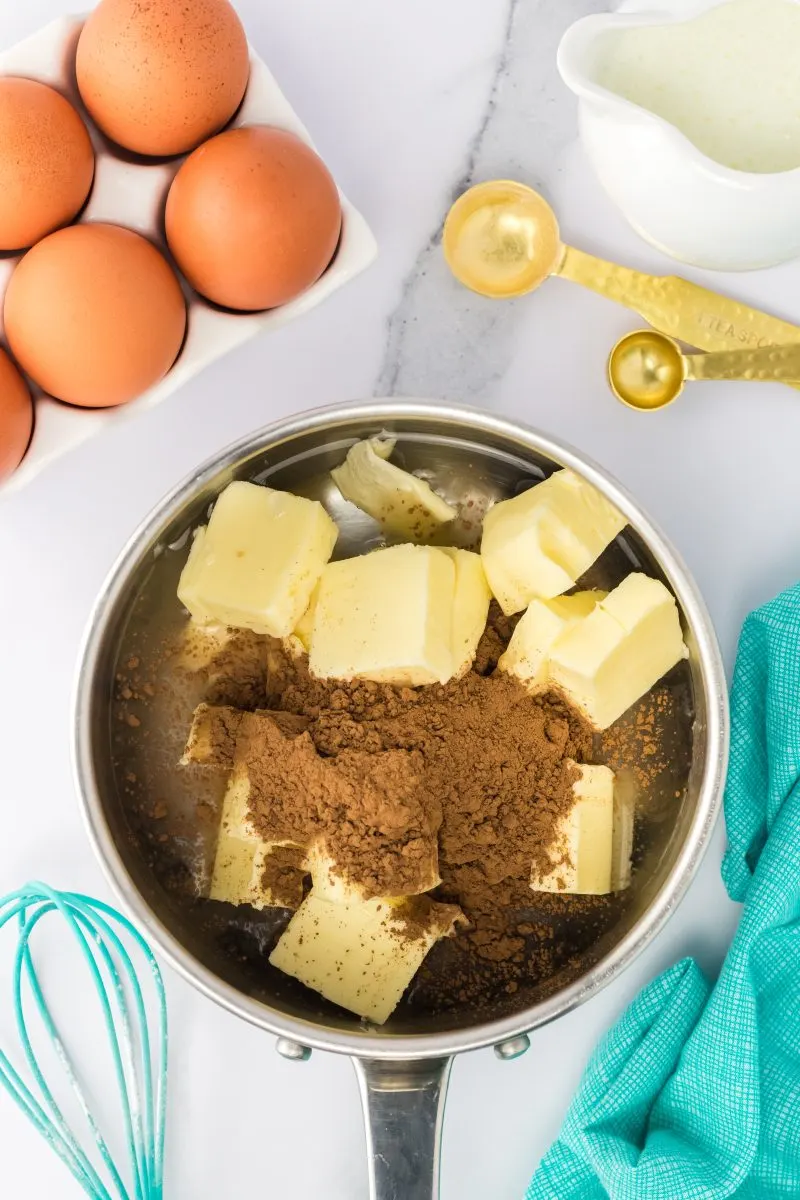 Mix the cocoa powder, water, and butter in a small saucepan, and bring to a low boil over medium heat.
Step Four. Combine the chocolate mixture with dry ingredients.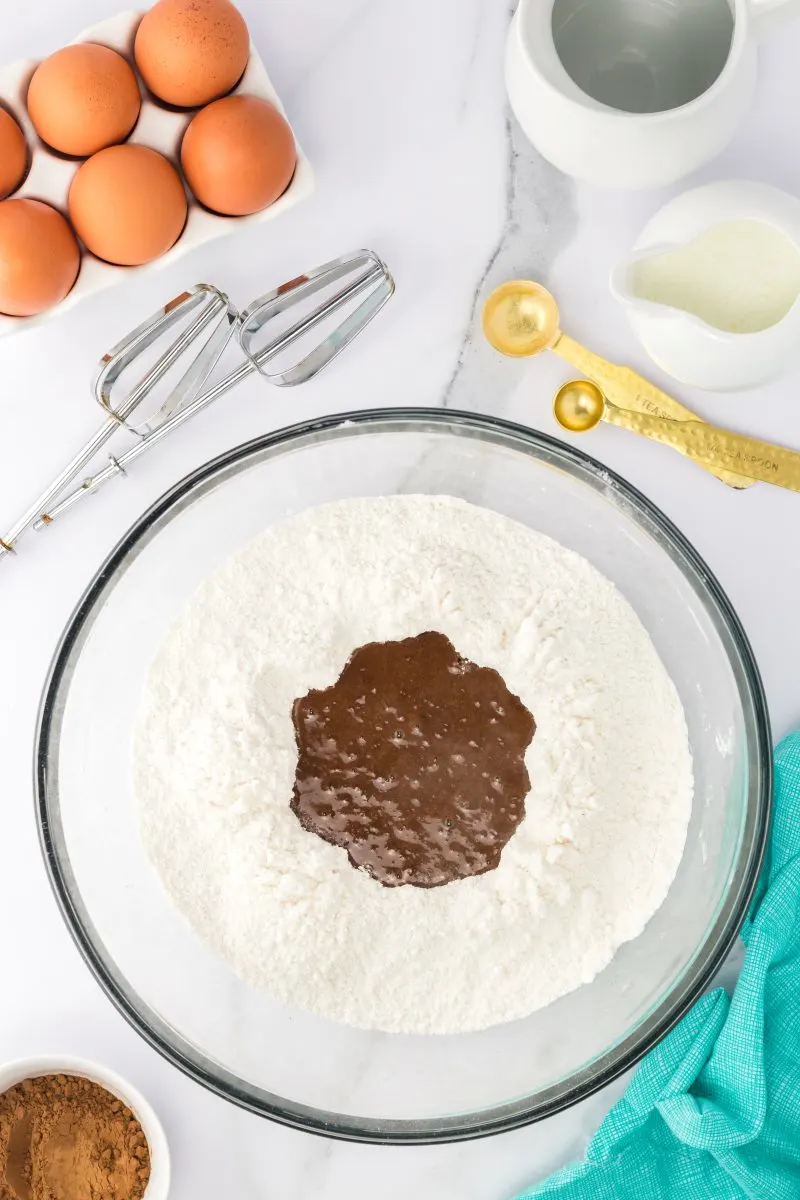 Make a well in the middle of the flour mixture, add the melted butter/ cocoa mixture, and combine.
Step Five. Add the remaining ingredients.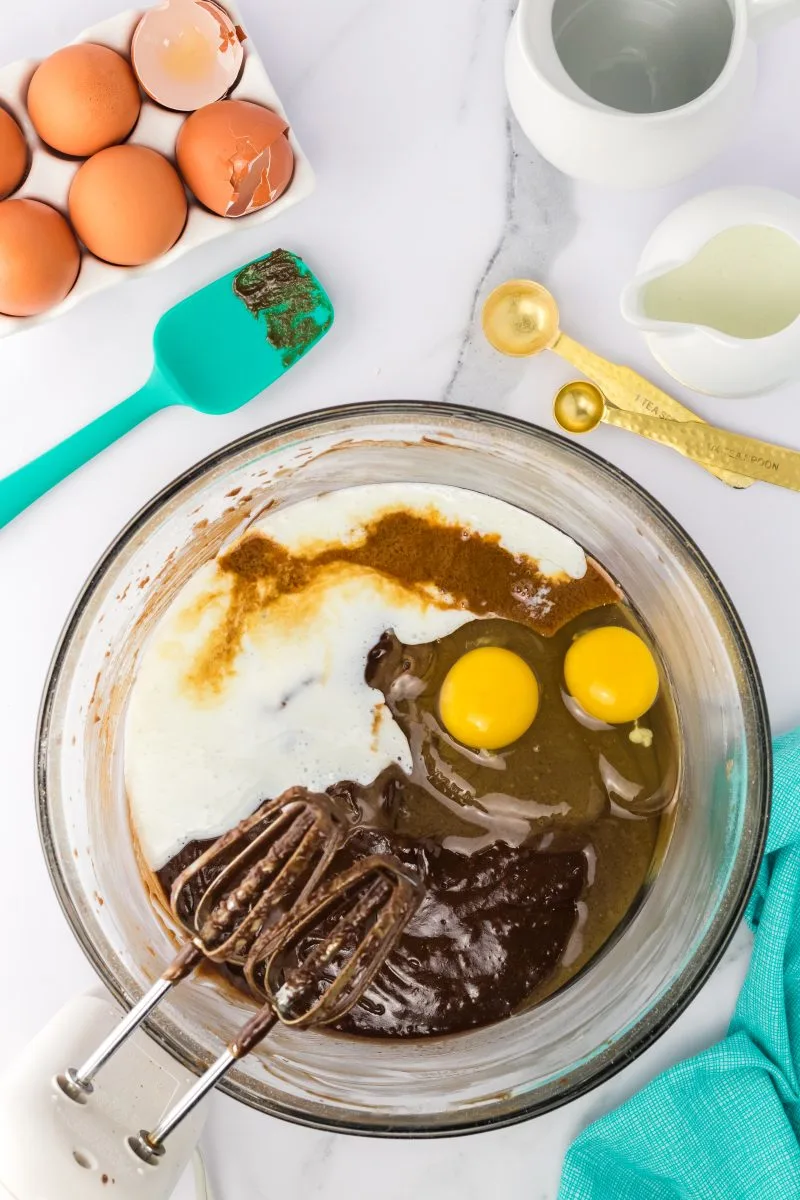 Add the eggs, vanilla, and buttermilk and continue beating for another 2 minutes.
Step Six. Bake your Buttermilk Brownies.
Bake for 35 minutes or until a toothpick comes clean.
Step Seven. Make the Buttermilk Icing.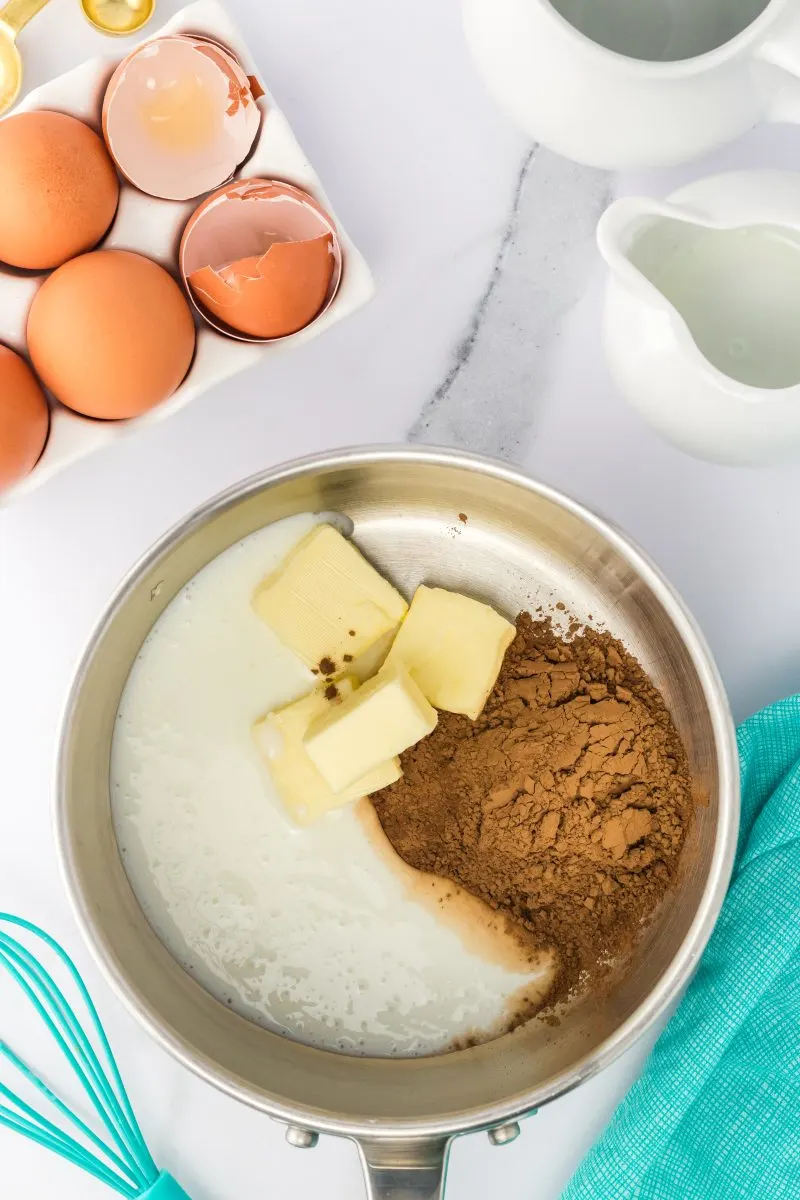 While the brownies are baking, make your icing. In a medium saucepan, bring to a boil the butter, buttermilk, and cocoa. Add the powdered sugar and vanilla and beat on high until smooth.
Step Eight. Frost your Buttermilk Brownies.
Spread the icing out while it is still warm, and the cake is warm. Cool and enjoy.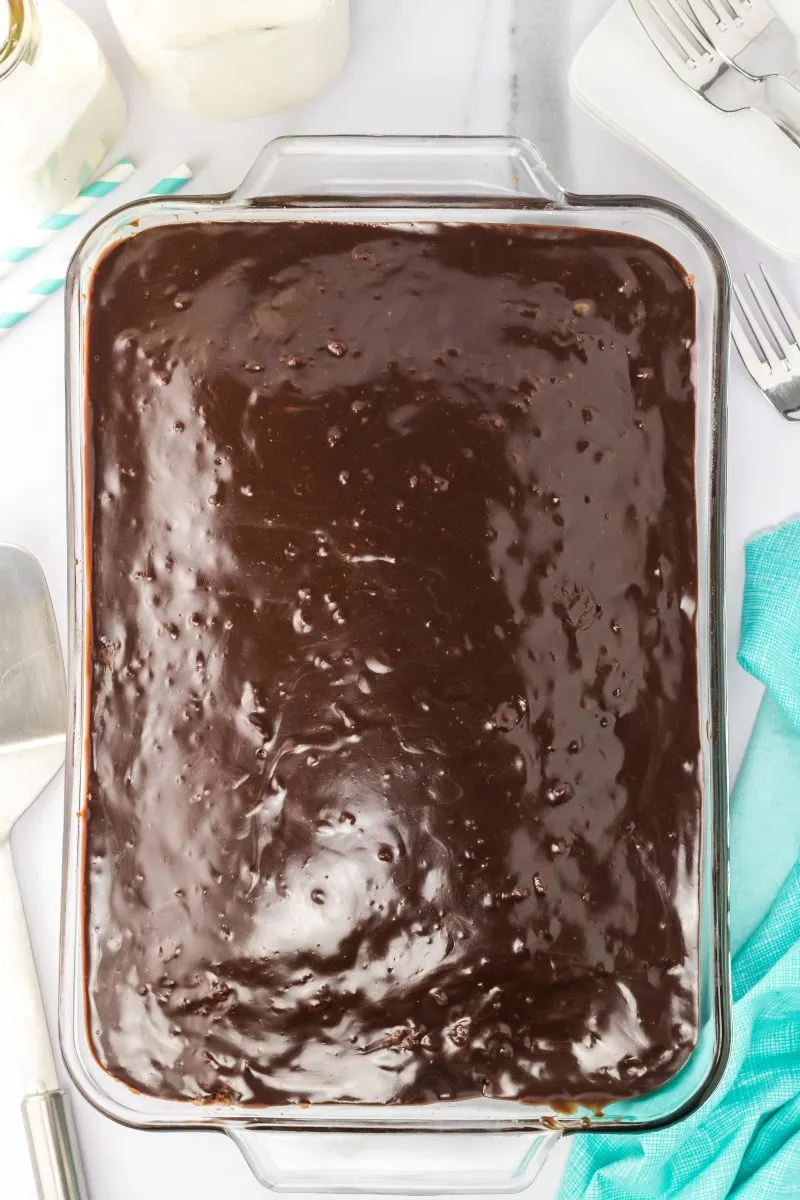 Frequently Asked Questions
What does buttermilk do to brownies?
This ingredient helps the brownies to rise while keeping them moist. It also improves the chocolate flavor and adds a slight tanginess.
What is the best way to prepare a baking pan for buttermilk brownies?
The easiest way is to use a non-stick cooking spray. A great alternative is to use a stick of butter to smear the pan with butter or use a paper towel to spread shortening on the pan in a light layer.
Can I make buttermilk brownies in a muffin pan?
Yes. Fill the muffin tin 1/3 full to make individual brownies. Baking time will vary significantly from what is listed in the recipe. The brownies are ready when a toothpick comes out clean.
Check out our Baking Pan Conversion article to learn more about substituting baking pans when baking your favorite dessert and getting your free printable chart.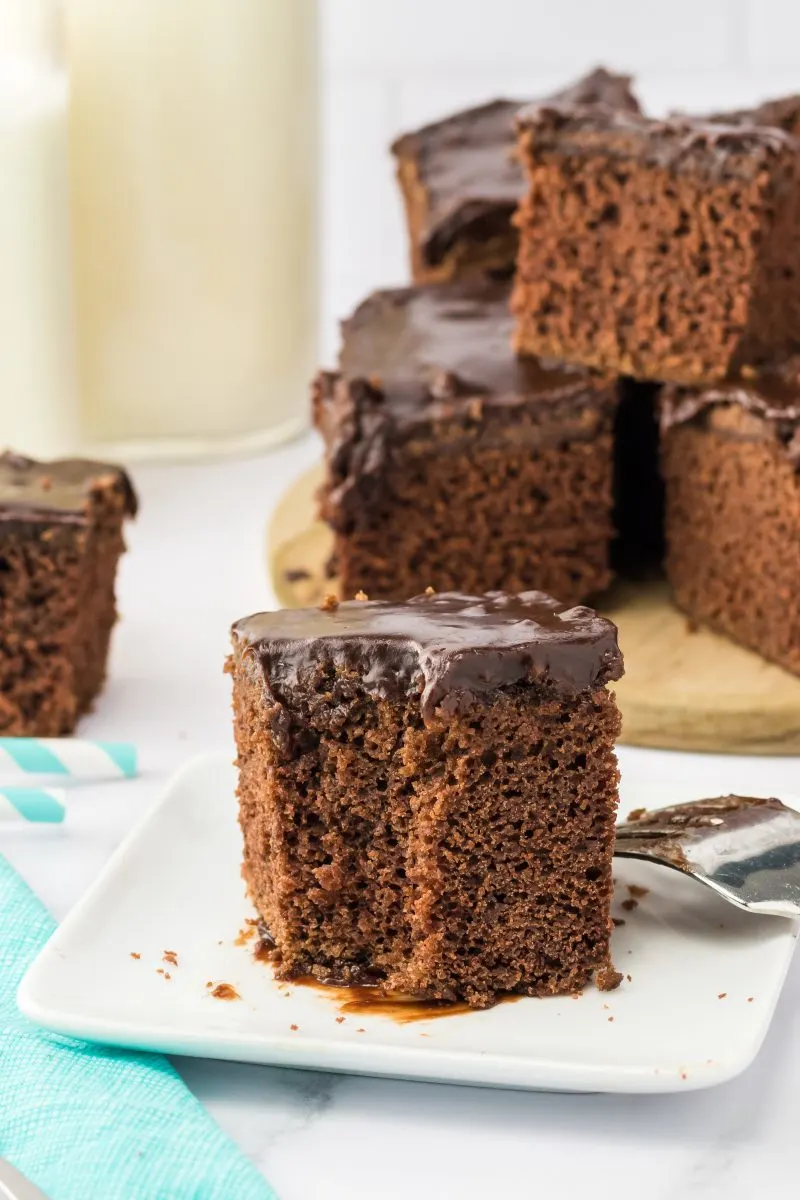 How To Store Buttermilk Brownies
Best way to store brownies with buttermilk.
Keep leftover brownies in an airtight container on the counter for up to five days. No need to refrigerate.
Can I freeze buttermilk brownies?
Yes. You can freeze baked and iced brownies in an airtight container for up to 6 months. Thaw at room temperature.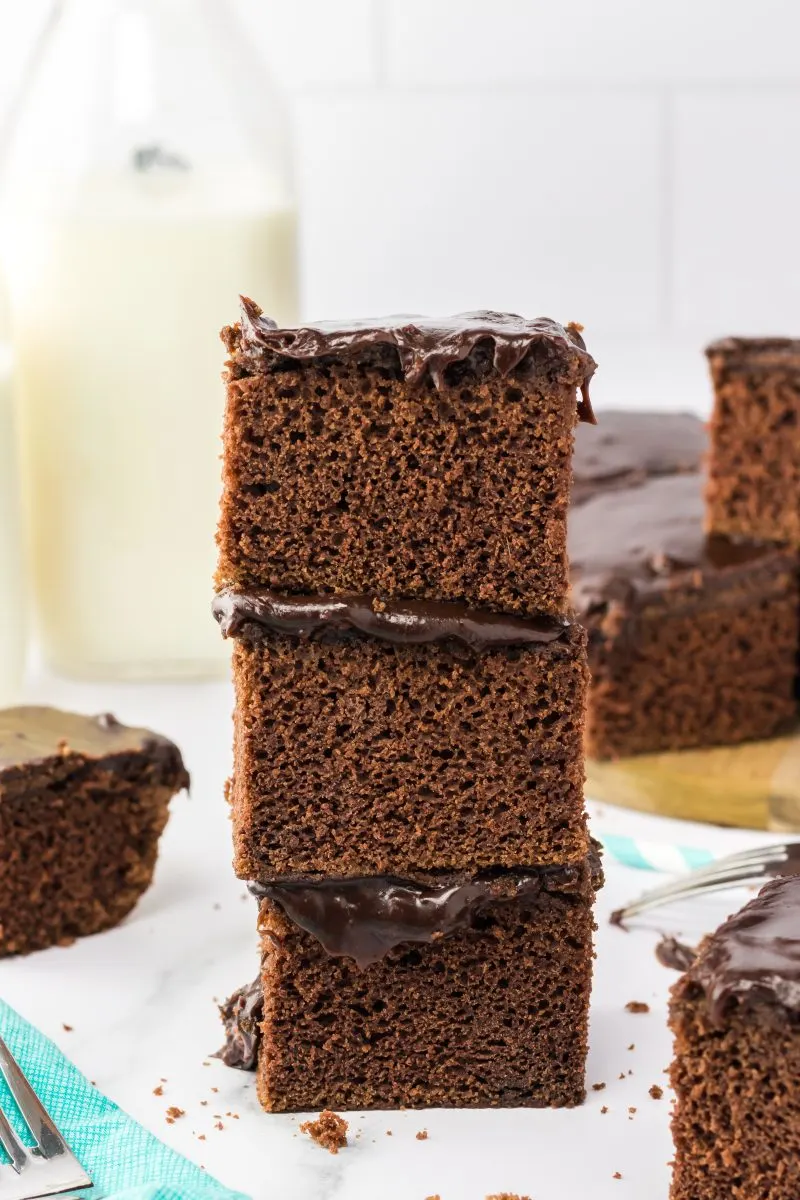 Tips for the Perfect Buttermilk Brownie
The icing will eventually harden enough to cut cleanly. Wait until it sets before cutting the brownies.
Don't have buttermilk? Make your own by combining one tablespoon of white vinegar or fresh lemon juice with one cup of milk. Use whole-fat milk for the best results. Let it sit for 5 minutes or until it starts to thicken.
Brownies can be mixed by hand versus an electric mixer. Don't over-mix. A wooden spoon works well to stir the ingredients together.
Spruce up your brownies with chocolate chips or chocolate chunks added to the batter.
Chocolate sprinkles or chocolate mini chips can be sprinkled on top of the brownies before the buttermilk frosting sets.
Add two teaspoons of espresso powder to the brownie batter and the frosting. Espresso powder intensifies the richness of the chocolate.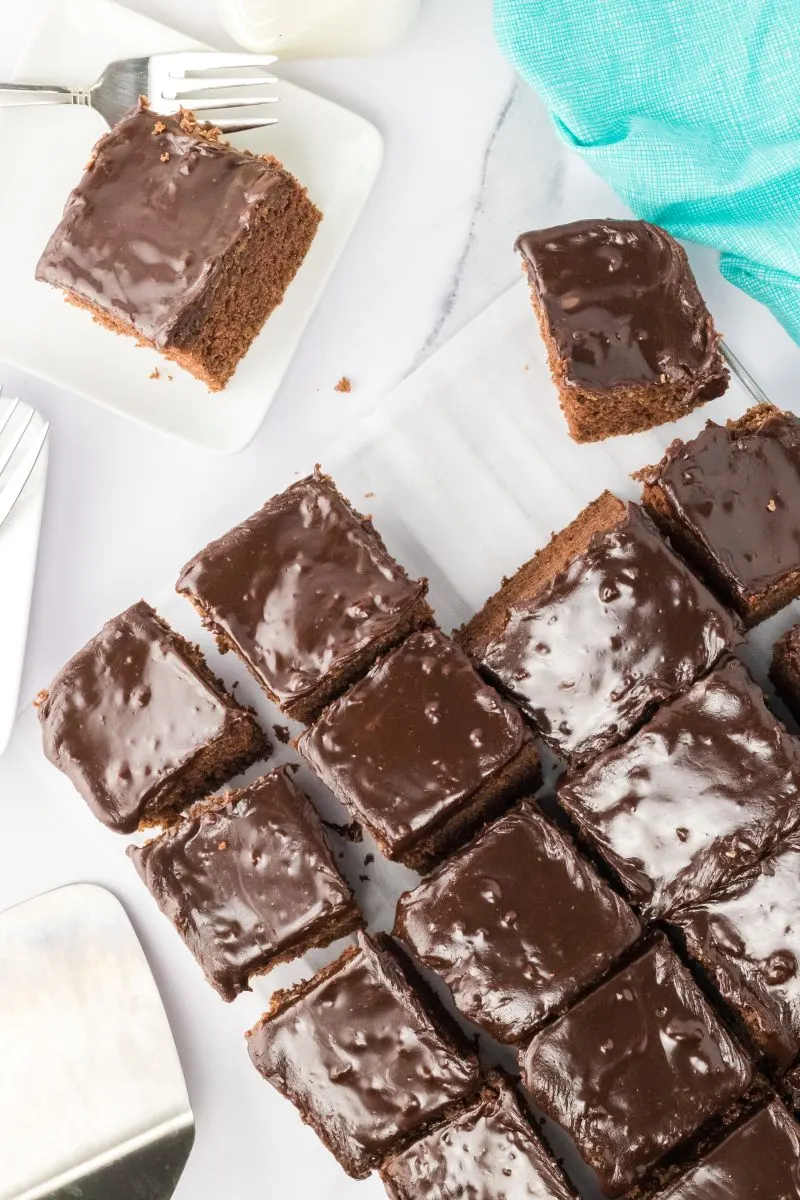 If you enjoyed this recipe, check these out!
Oreo Brownies are every kid's dream dessert (and a few of us adults too).
Peanut Butter Brownies are a delicious mix of chocolate chips and peanut butter.
Almond Bark Fudge is a simple but elegant microwave fudge recipe.
Rocky Road Brownies – Triple chocolate goodness with marshmallows!
Pecan Pie Brownies – My two favorite desserts combined!
Peanut Butter Brownies – If you love peanut butter cups, this brownie is for you!
If you tried this delicious recipe, don't forget to rate it and leave me a comment telling me what you think. I love hearing from you!
Want more delicious recipes? Follow Hostess At Heart on Pinterest!