Our Baking Pan Conversion Cheat Sheet should help you utilize the pans that you already have. Converting batter for cakes, cupcakes, and quick bread recipes can be difficult. We get that!
No more putting that recipe to the back of the box that you wanted to make but realized you didn't have the right pan!
And, no need to buy another pan that you may need only once. This complete baking pan conversion cheat sheet will come in handy and save you money and room in your kitchen when you don't have to buy one more pan!
We have a printable pdf below so you can keep this handy cheat sheet all to yourself.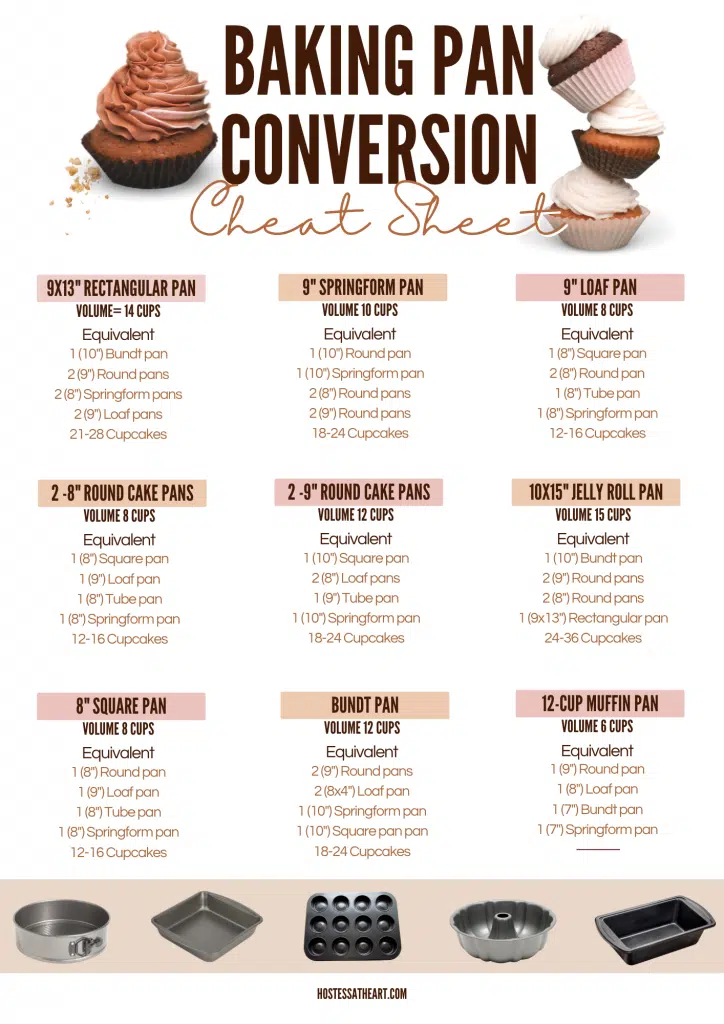 Our recipes will always indicate the pan that we used for the recipe. If you don't have that pan, use our Baking Pan Conversion cheat sheet, or don't be afraid to reach out and ask us for alternatives if it isn't obvious to you.
We have more pans in our kitchen than you could possibly imagine, but realize that we're definitely not the norm! The following are just a few that are staples that we believe belong in every kitchen.
Baking pans that we can't live without!
Great pans to add
When you have the basic pans, getting a pan that isn't used as frequently can make a great addition or gift idea. These pans are used quite a bit in our kitchen too.
Bundt pan – This is a basic bundt pan that we use most of the time. They come in all kinds of shapes. The important thing is to know how many cups your bundt pan holds. You can under fill it but not over fill it. An over filled pan will have to be trimmed to sit level or the batter can run over the sides.

TIP: We always set our bundt pans on a baking sheet while baking. The flat surface makes it easy to take the bundt pan in and out of the oven.

Springform pan – these cakes are used for cheesecakes and can also be used for cakes that you want to remove from the pan before cutting such as our Chocolate Coffee Cake.
8-inch baking dish – This pan should or could be under my must have pans. It's great for those smaller desserts such as our rhubarb dessert or casseroles.
There's no need to print this entire page. This PDF can be printed for your personal use. However, our baking pan conversion sheet is copyright protected and cannot be resold or used for commercial use.