Homemade bread of any kind is delicious, and this Homemade English Muffin Recipe will prove beyond a shadow of a doubt that made-from-scratch is always better.
If your memories of English muffins include sandpapery bread you'd rather not replicate, have no fear. This is a must-try recipe, so put it on your list and pick up the ingredients from the store.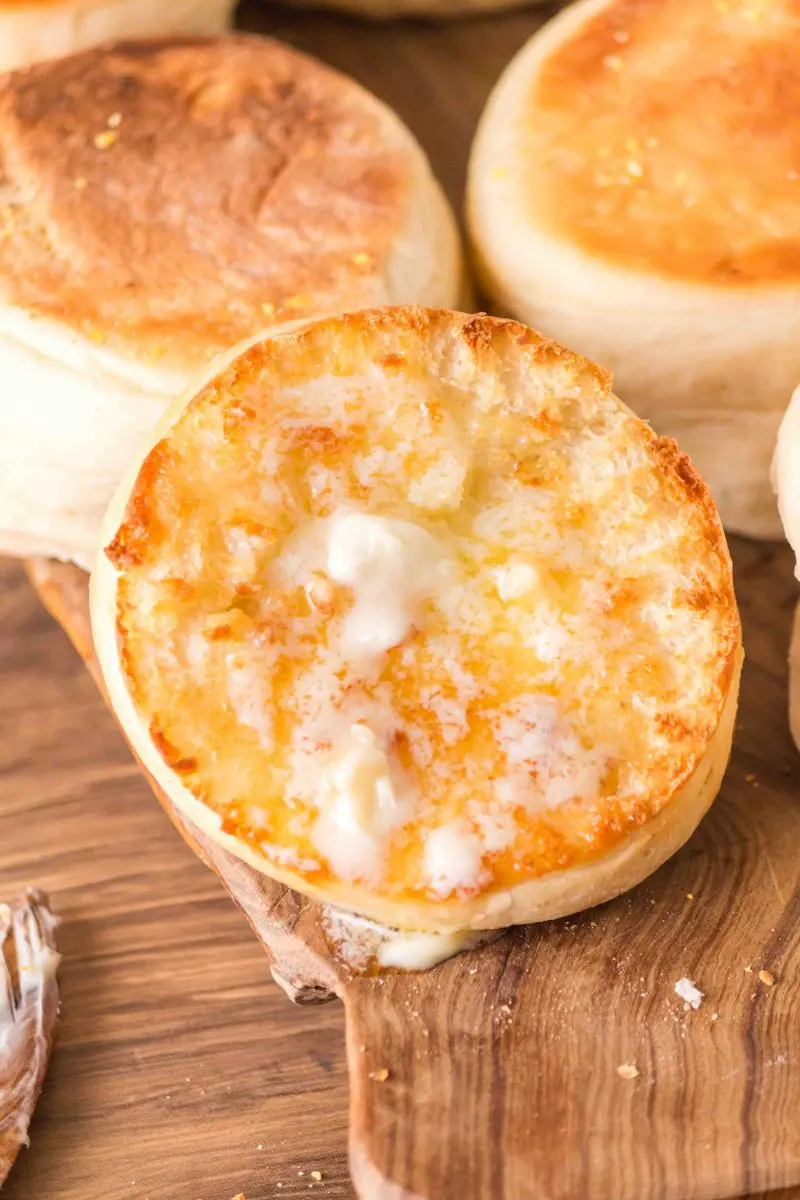 We break down this recipe into simple steps, with easy-to-follow directions, to make it so easy you won't even blink the next time someone in your family asks for this delightful breakfast bread.
Why You'll Love Homemade English Muffins
I was very intimidated making English muffins, so we made several batches before I photographed them. Here's what I have learned from this experience. Don't be intimidated. They are easy and delicious; kids can even help make and cut the dough.
Great grab-and-go breakfast for kids of all ages!
They are filled with nooks and crannies to soak up toppings!
What are English Muffins?
According to Wikipedia, these small, round, individually-sized yeast breads are usually sliced horizontally and served with toppings. They are called "English" muffins to separate them from the sweeter type of muffin made with quick bread. It is most often compared to biscuits since they are cut and served similarly but use a yeast dough, unlike biscuits.
English muffins are soft and doughy and may even be chewy with lots of nooks and crannies in the texture, while biscuits are light and fluffy.
The main difference in nutrition between biscuits and English muffins is that biscuits have more fat.
Ingredients you need for this recipe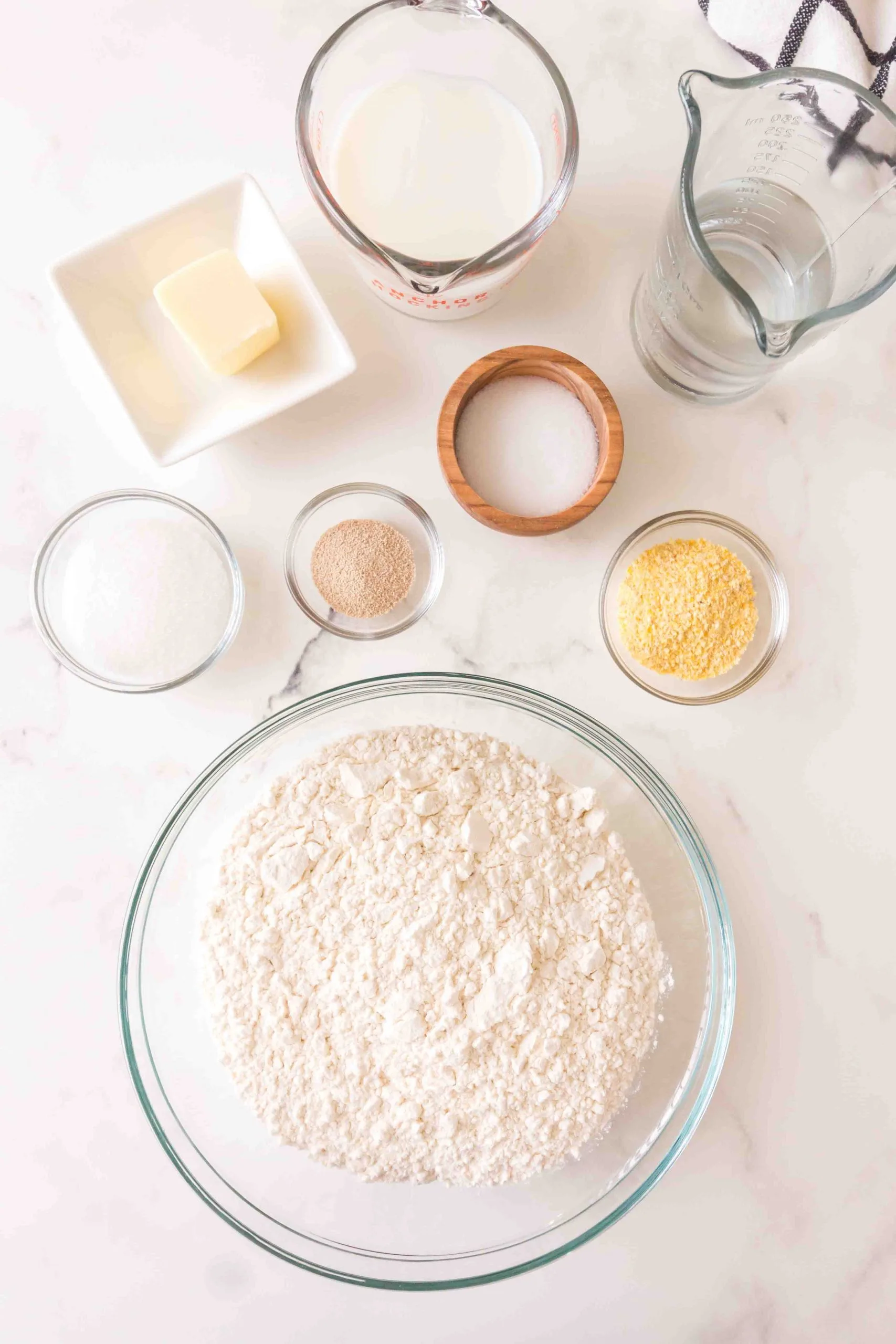 Warm Water. Getting your water warm (to about 80ºF) will help the yeast act more effectively. You can use an Instant Read Thermometer and take the water straight from the tap. You can also microwave it quickly if needed. Just a few seconds is all it takes. Do not overheat the water, or you will kill the yeast, though! Stir microwaved water before testing the temperature to make sure it isn't too hot.
Instant Dry Yeast. Do not buy the wrong kind of yeast. If yeast varieties confuse you, our baking article can help.
White Granulated Sugar. You can use raw sugar or turbinado sugar.
All-Purpose Flour. This keeps the finished bread a little softer than bread flour.
Salt. For chemistry. Just use regular table salt or fine sea salt. Coarse salt does not work well in this recipe.
Warm Milk. Whole milk adds flavor and necessary fat to the bread making the English muffins soft and tender. Just like the water, we warmed the milk.
Butter. I used salted, but you can use unsalted as well.
Cornmeal. This is optional just so the dough does not stick to the cookie sheet after the second rise. In my humble opinion, makes a big difference in this recipe.
How To Make Homemade English Muffins Recipe
Please note, that the printable recipe card has ingredient quantities, complete instructions, and nutritional information. The following is a quick overview of the recipe.
Step One. Proof the yeast.
In a large mixing bowl, mix the warm water, yeast, and sugar together. Let it sit for 3 to 4 minutes until the mixture foams up.
Step Two. Mix the English Muffin Dough.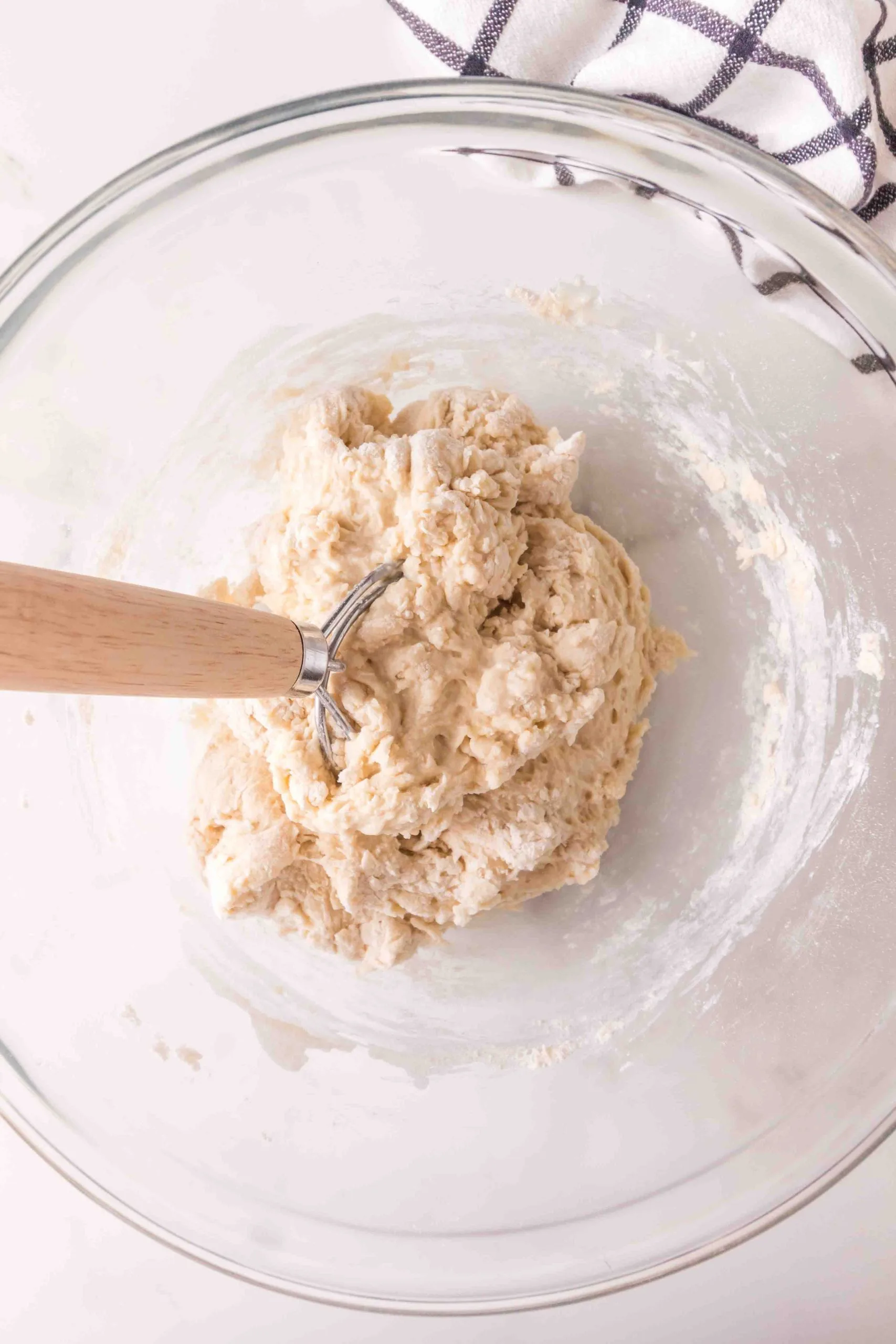 Add the flour and salt. Mix, alternating with the milk. Once the flour is almost all incorporated, add the melted butter. Mix until you have a ball form. For this step, use a wooden spoon or Danish whisk or use your hands.
Step Three. Let your homemade English Muffin recipe rise.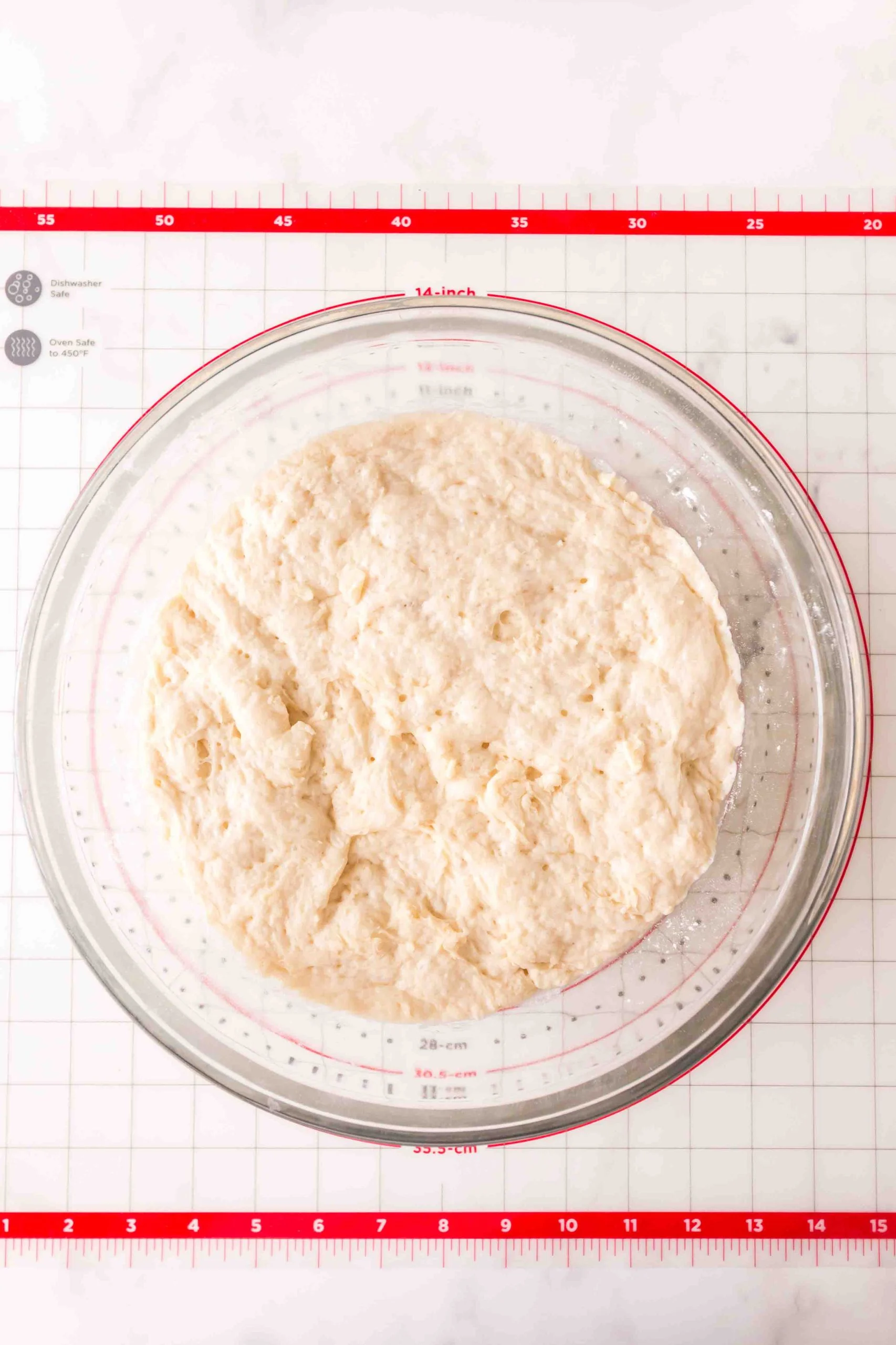 Once you have a dough ball, no more dry flour is visible; cover the bowl with plastic wrap and place it in a warm, draft-free place to let the dough rise for 60 to 90 minutes. Once the dough has risen, double in size and place it on a lightly floured work surface.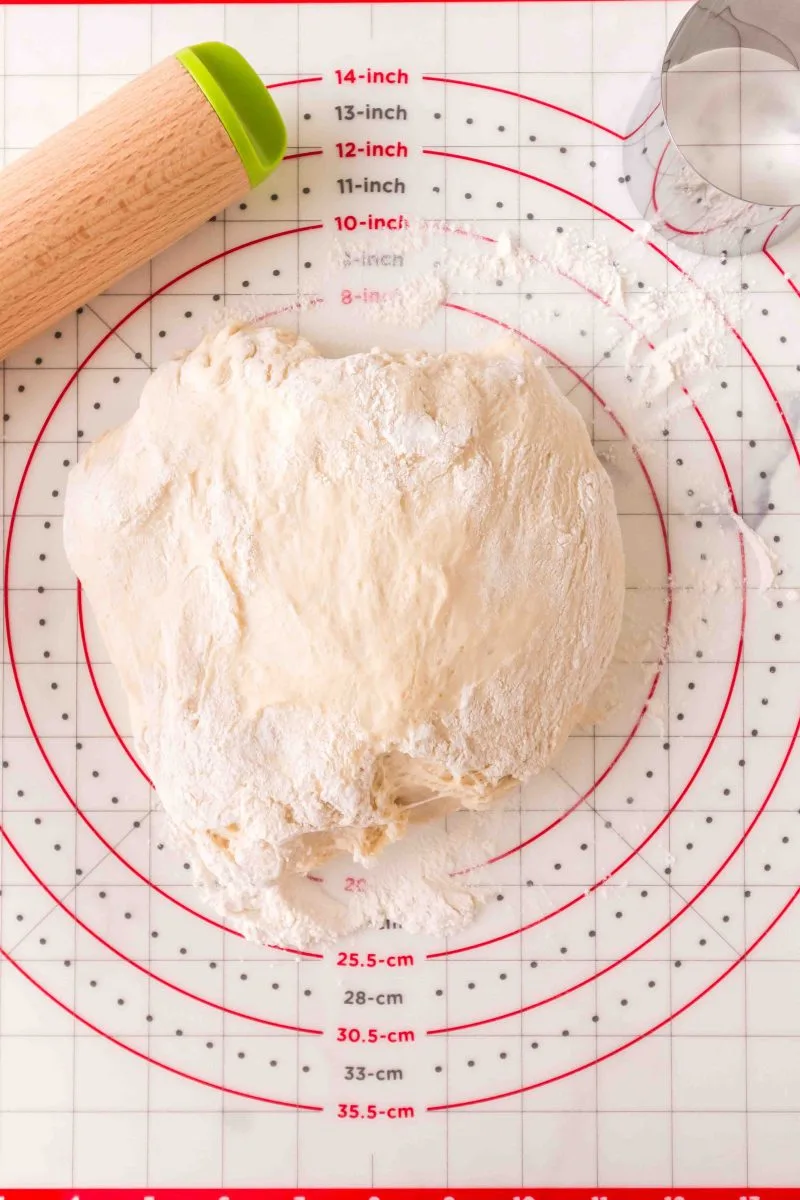 Step Four. Roll out your English Muffins.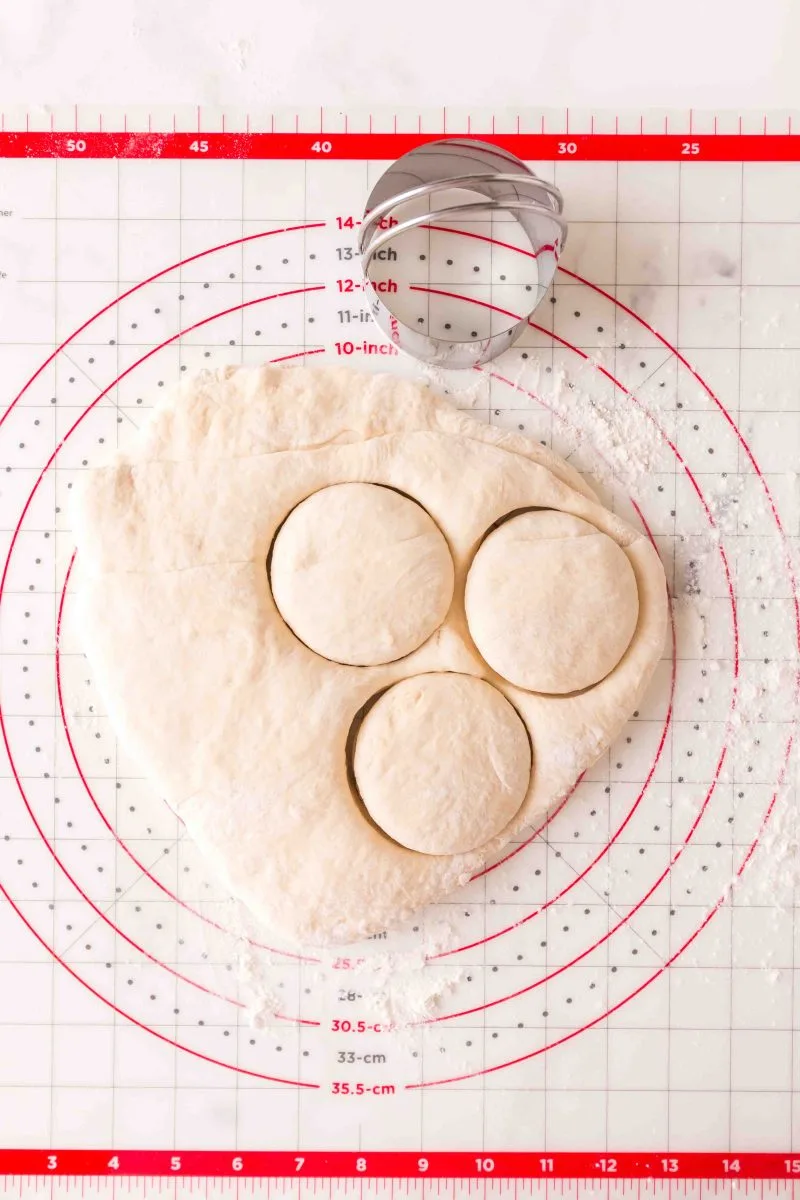 Roll the dough about ½ inch thick. Using a 3-inch round biscuit cutter, cut into eight circles. Place them on a prepared baking sheet pan. Allow to rise again.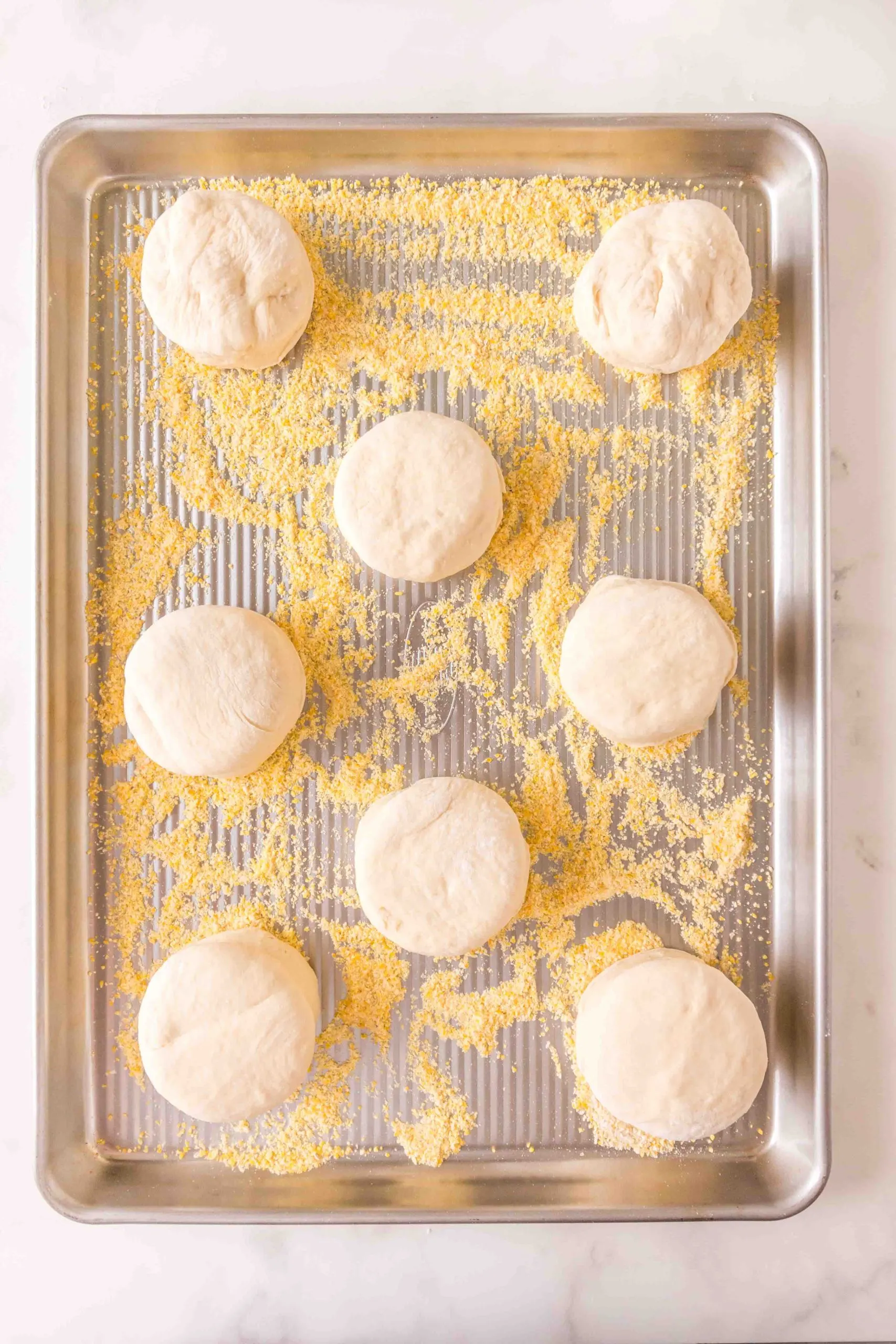 Step Five. Fry your English Muffins in a cast iron skillet.
Use a non-stick pan or a well-seasoned cast-iron skillet with a lid. Cover and heat it up on medium heat. Once the English muffins are in the hot skillet, cover and cook the first side for 5 minutes. Carefully flip them onto the second side and cook for an additional 4 to 5 minutes until golden brown. Cool on a wire rack.
What to Serve with English Muffins
Serve them warm or lightly toasted. Add a pat of butter or your favorite jam. A toasted English muffin is delicious with our Italian Sausage and Potatoes.
You are going to love these for an egg sandwich. Add bacon, sausage, or ham for meat, and cheese for extra special breakfasts at home. Breakfast sandwiches make a delicious make-and-take lunch too.
Kids love making English muffin pizzas. Take a half, and top it with all your favorite toppings. We love peanut butter, Nutella, or strawberry jam.
Get fancy and add a poached egg or make eggs benedict.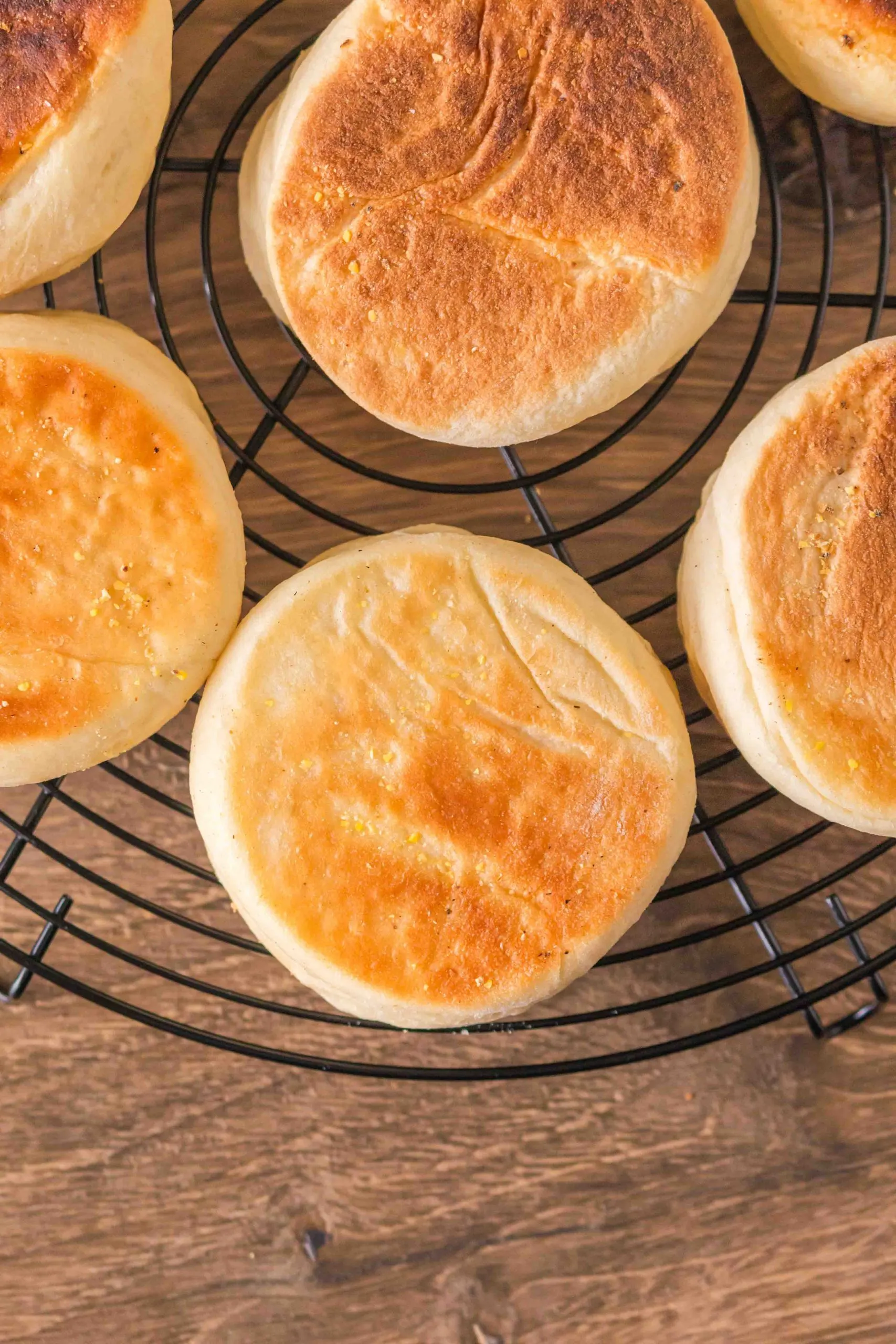 Frequently Asked Questions
Can I use an electric mixer?
Yes, you can use an electric stand mixer but I would not recommend using a hand mixer as the dough is very thick.
How long do English Muffins last?
Our homemade English muffins will last as long as one week in the refrigerator. If you store them at room temperature, they need to be used within three to four days.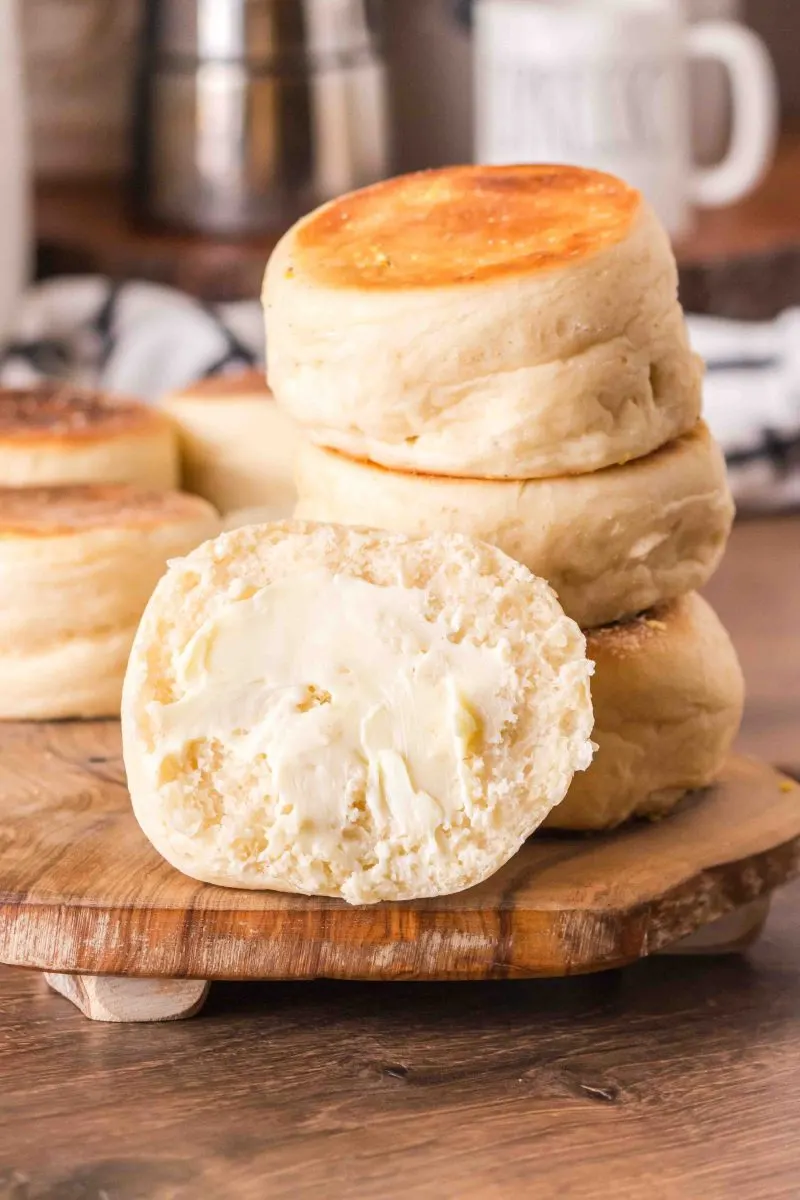 How To Reheat & Store Homemade English Muffins
What Is The Best Way to Store English Muffins?
Once they are completely cooled, place them in an airtight container or ziplock bag at room temperature for 3 to 4 days or in the fridge for up to 1 week.
Can I Freeze Homemade English Muffins?
Yes! Freeze the muffins individually for about twenty minutes and then move them to a freezer-quality bag so that you can still grab what you need and go. Thaw them in the fridge overnight or at room temperature. If you've sliced them before freezing, you can even thaw them in the toaster or toaster oven.
How Do I Reheat Homemade English Muffins?
Toasted is our recommendation for the best results, with even heating and the perfect level of crunch.
Variations and Substitutions
If you have a bigger cutter, you can use it. You will have fewer English muffins as a result.
Have fun with the recipe with these variations.
Make it spicy: We add some spicy cheese or a sprinkle of red pepper flakes to the dough mix.
Make it kid-friendly: Add cheese and bacon to the dough mixture.
Add some herbs, such as rosemary or dill, to the dough for a more savory taste.
Add some cinnamon to the dough for a warm, more-dessert-like option.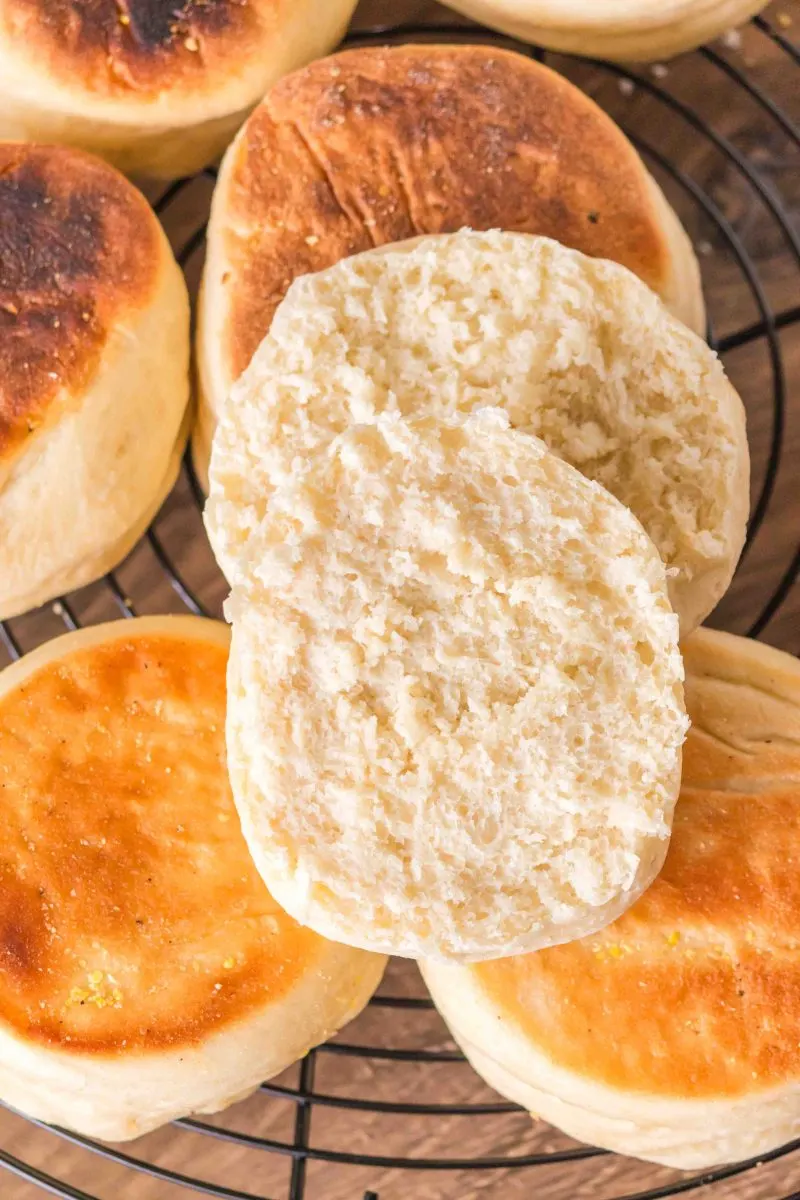 Hostess Tips and Tricks
Cover when cooking. This is very important because it helps create steam and the perfect crust.
I would not recommend using a regular whisk or a hand mixer as the dough is very thick. If you have a stand mixer, you can use it, but don't over-mix.
If the butter is too hot and added to the water and yeast mixture, you may risk overheating the yeast, which won't bloom.
Be careful when moving the English muffins after the second rise. They are full of air bubbles, and you don't want to break them out. I used two hands and carefully lifted them up from the cookie sheet and placed them in the hot pan. Because my cast iron is well seasoned, I did not need to oil the pan at all. However, I did test it, and if you add a thin layer of oil before putting the muffins in, it won't change the outcome.
See the recipe card for more tips as you go! I've included a lot of tips for making your own homemade English muffins.
If you enjoyed the Best Homemade English Muffins recipe, I think you'll enjoy these too!
Making homemade breakfast bread is a win-win situation. If you don't have time during the week, make them on the weekends and freeze the extras for grab-and-go options on busy weekdays!
Try a few of our recipes, like these yummy cinnamon rolls or the blueberry hand pies. Want something super easy? Try this recipe for basic homemade muffins you can customize as you like! On the other hand, if you want to impress, make this Chocolate Babka bread.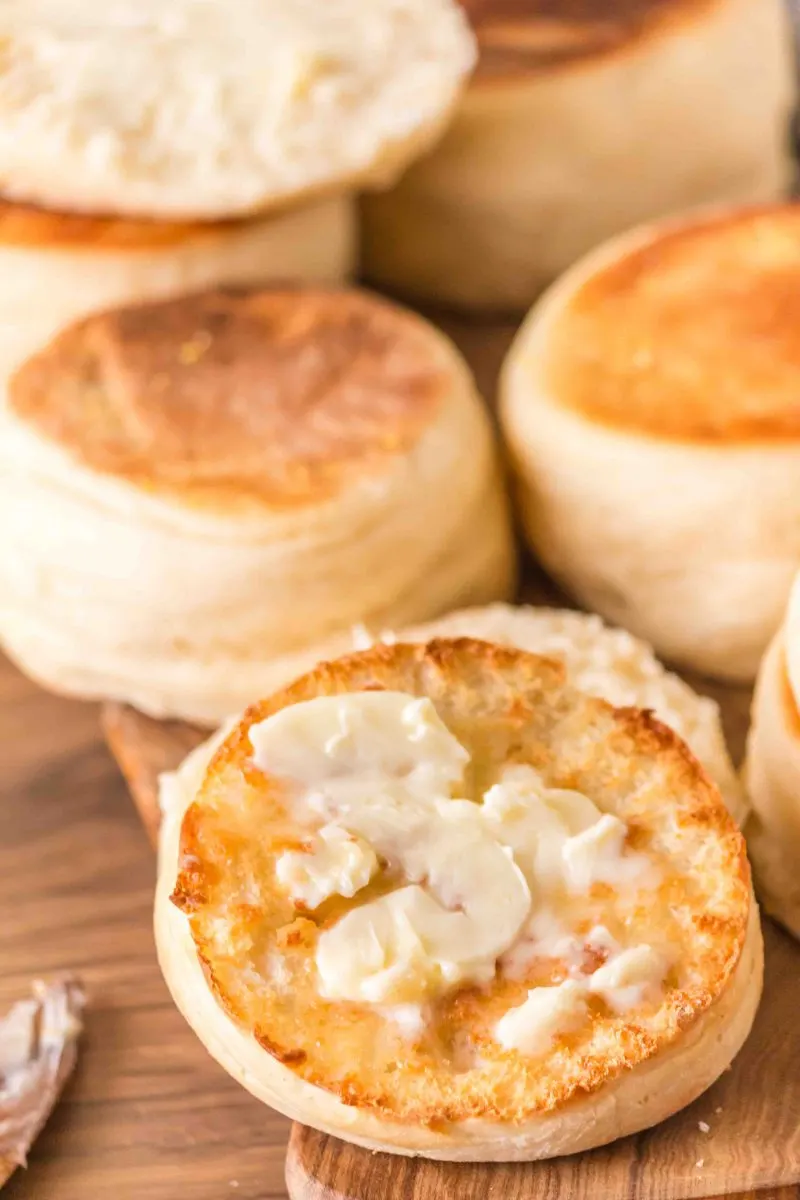 I hope you enjoyed this delicious recipe as much as we do. Drop me a comment below, and don't forget to give it a star rating. ⭐⭐⭐⭐⭐. Your comments and ratings help others decide if this recipe is for them too.
Pin this amazing recipe!