Fancy but not complicated, our poached egg recipe is the perfect, simple, fast, and elegant breakfast when you want a beautiful egg that's full of flavor. Look at how gorgeous these turn out!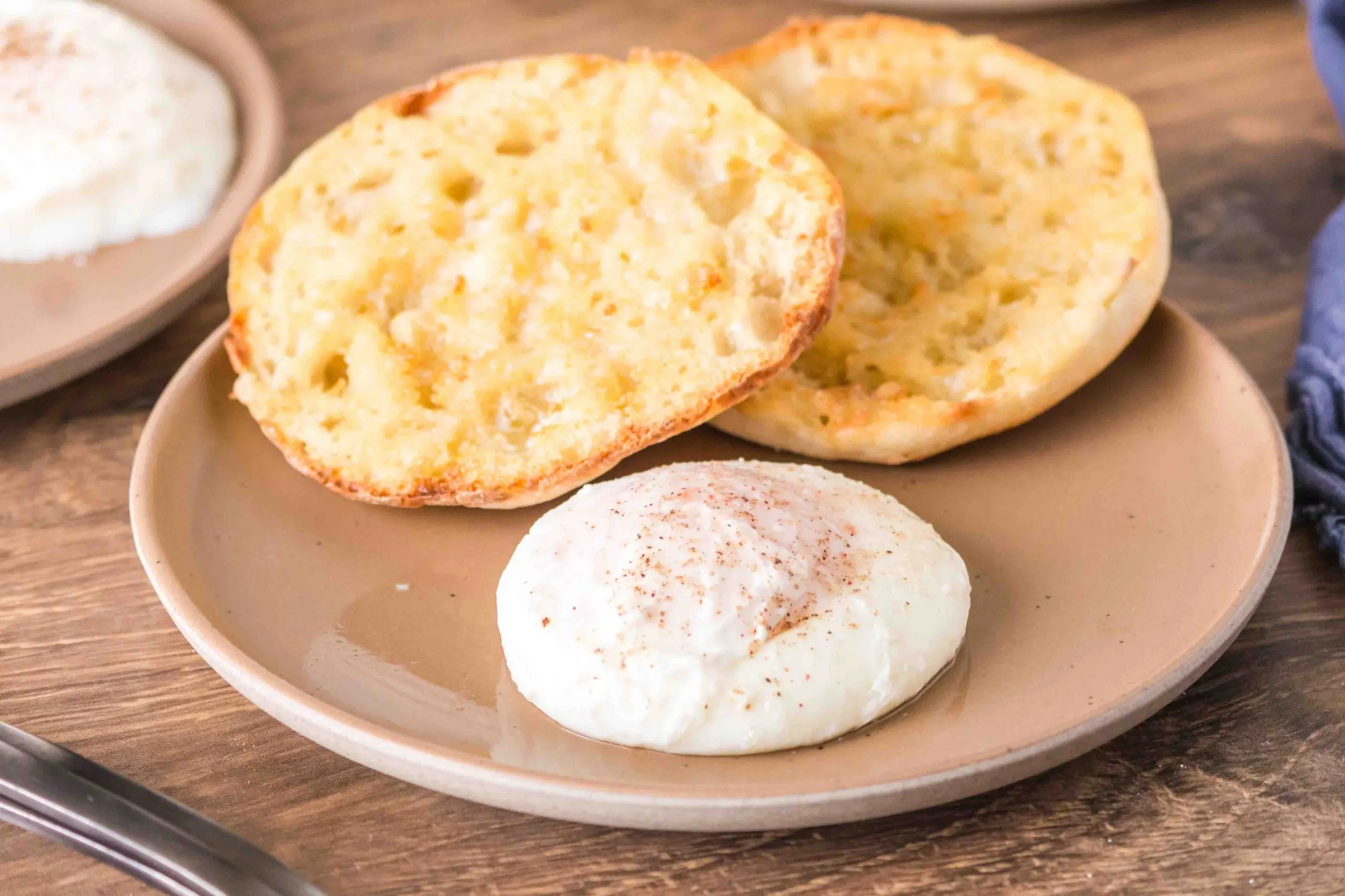 Follow our simple instructions to get perfect results just the way you want it every single time.
Why You'll Love Our Poached Egg Recipe
Surprise! It's easy. Everyone thinks poaching eggs is so difficult, but in fact it's really not. If you can boil water and be gentle with your tools, you can poach an egg. And you only need three ingredients already in your pantry!
It's fast. Within just a few minutes, you can have one or more hot eggs ready to enjoy for a quick, easy breakfast.
No added oils. Since the eggs are cooked in hot water, you don't have the added fat brought in from frying.
What is a Poached Egg?
A poached egg is one that has been gently cooked in swirling hot water. The water is brought to a light boil and then the heat source is removed so that the egg cooks off the heat for a light, delicate finish. The cooking time determines how much the egg yolk and white set, unlike a fried egg that has a runny egg yolk with a crispier firmer white.
Ingredients you'll need for this recipe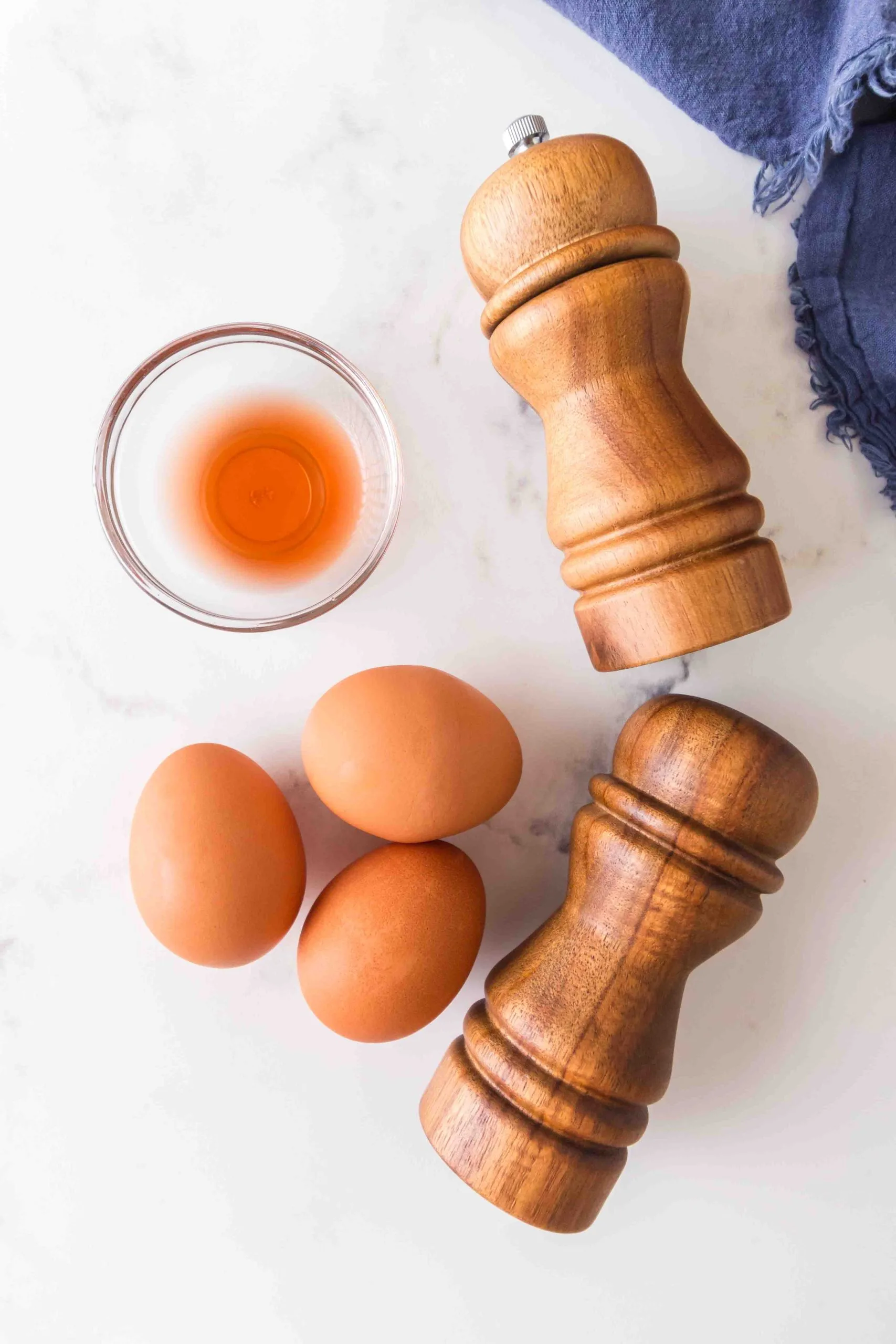 Eggs. Fresh eggs work best. More on that later.
Vinegar. You can use red or white wine vinegar, apple cider vinegar, or white vinegar. It's a necessary ingredient but you use such a small amount of vinegar that it doesn't change the taste or make a huge difference in what variety you use.
Salt and Pepper. This is optional for seasoning.
How To Make The Perfect Poached Egg
Please note, that the printable recipe card has ingredient quantities, complete instructions, and nutritional information. The following is a quick overview of the recipe.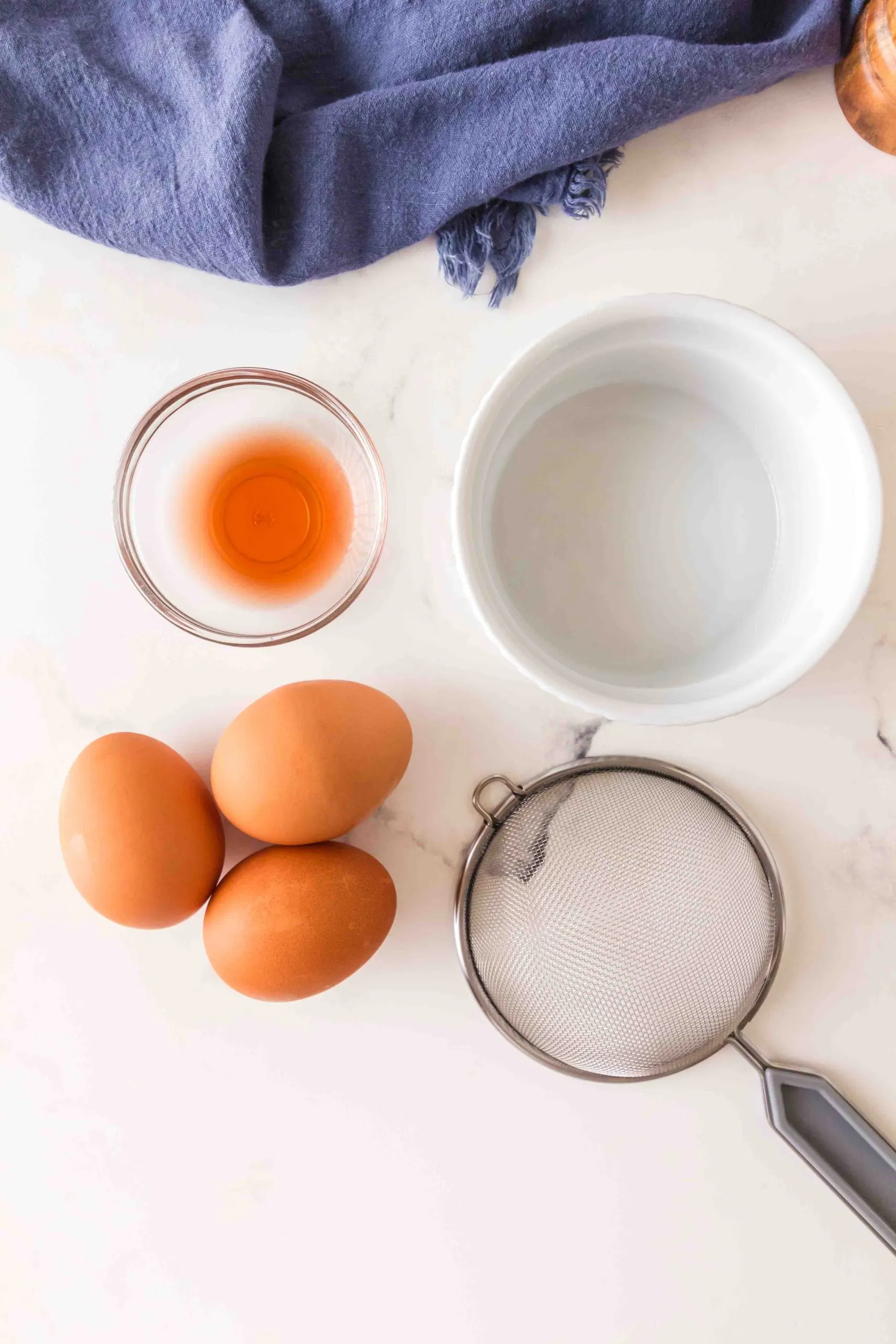 Step One. Prepare everything you need for the Poached Eggs Recipe.
Get your water boiling and add the vinegar. Then, crack each egg over a fine mesh sieve so that you remove the watery egg whites commonly found in older eggs. Move each egg to its own ramekin or small bowl.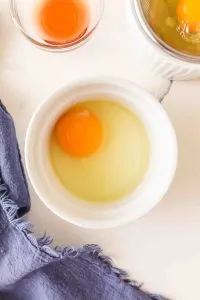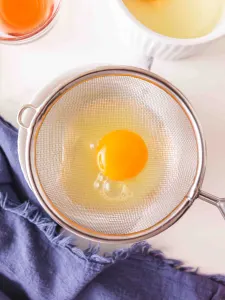 When the water is bubbling on the bottom but not boiling hard with bubbles breaking on the surface, start stirring the water in a circular motion with your spoon to get it spiraling and creating a vortex.
Step Two. Poach the Eggs.
Turn off the heat when you have a good swirl and add your egg to the center of the Vortex. Cover it for three to five minutes depending on your desired finish. Remove the egg gently with a spider strainer or slotted spoon and blot off the excess water on a paper towel before plating the poached egg.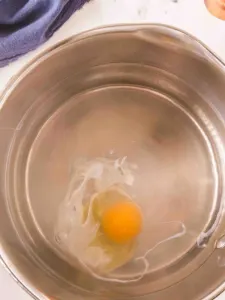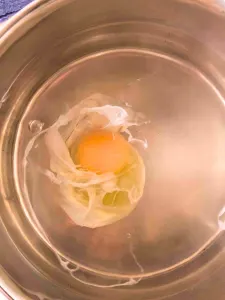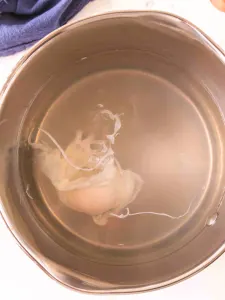 How to Serve Poached Eggs
One of the simplest and most tasty ways to serve our recipe for poached eggs is with an English Muffin. Our homemade English Muffins recipe is amazing! Make up a batch on the weekend to use all week long.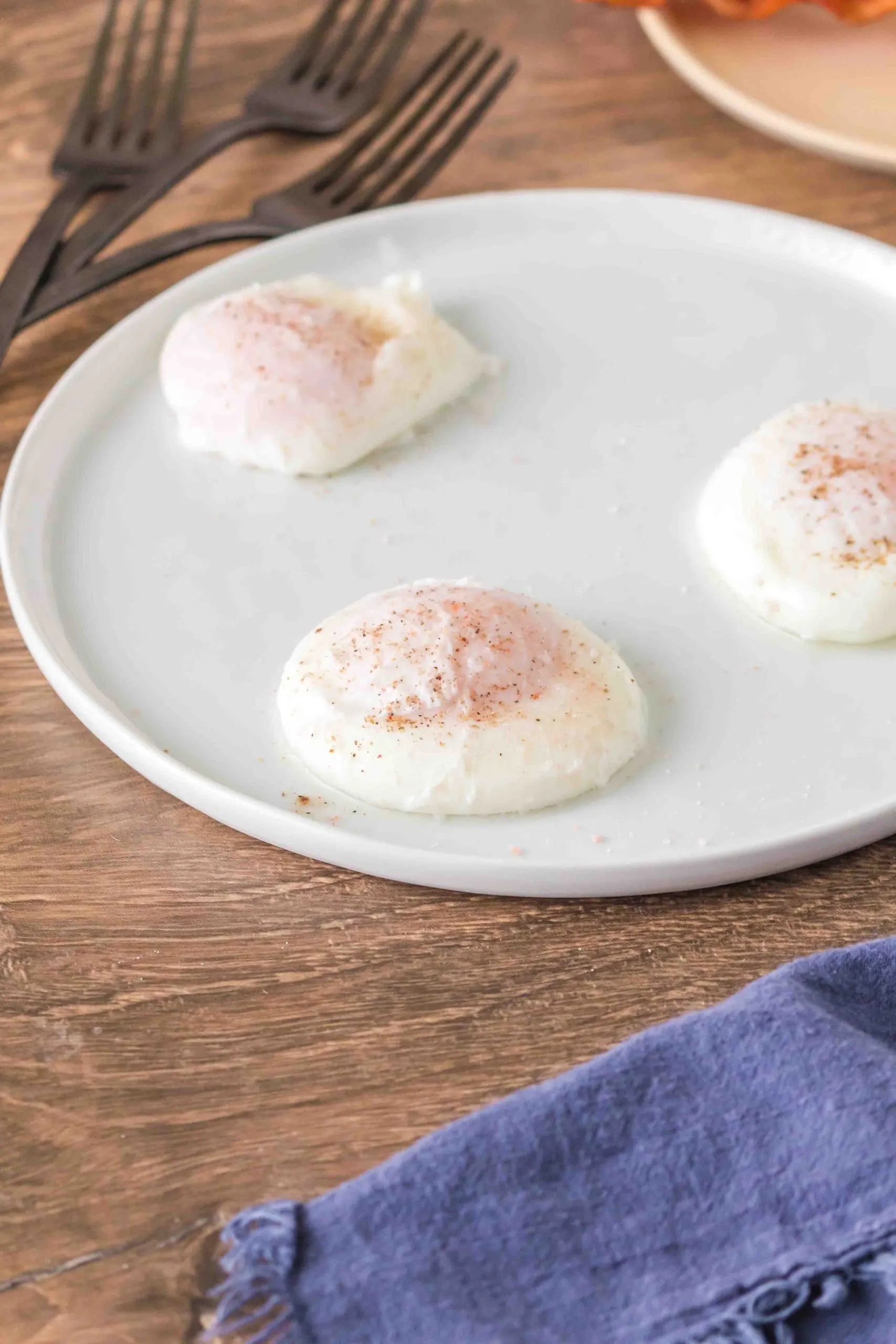 Frequently Asked Questions
Why do you add vinegar when poaching an egg?
Vinegar increases the acidity which helps the poached egg to maintain its shape. You can still poach an egg without it.
How long to cook a perfectly poached egg?
Three minutes to get beautiful runny yolks.
Four minutes if you want the yolk a little more set, like a thin layer on the yolk. Perfect if you want to dip bread into your egg.
Five minutes when you want a firmer yolk, only slightly runny, and, firm whites.
What is a good pan to poach eggs?
Use the right pan. The key to making poached eggs is to use the correct pan. I use a simple 2-quart saucepan. It's deep enough to work with the egg and you can get the water to spiral in just a few turns of a spoon. You want enough water so the egg yolk doesn't touch the bottom of the pot, and you still have room to get a spider strainer in to lift the egg out gently.
How many eggs can I poach at a time?
Don't cook too many at a time. I prefer to cook a single egg or no more than two at a time. Make sure that you have plenty of room in the pan and extend the cooking time by about 30 seconds for each additional egg. If you need to poach several eggs, bring the water up to a gentle boil between batches. To rewarm eggs, just dip them into a bowl of hot water for 30 seconds, drain and pat dry, and serve.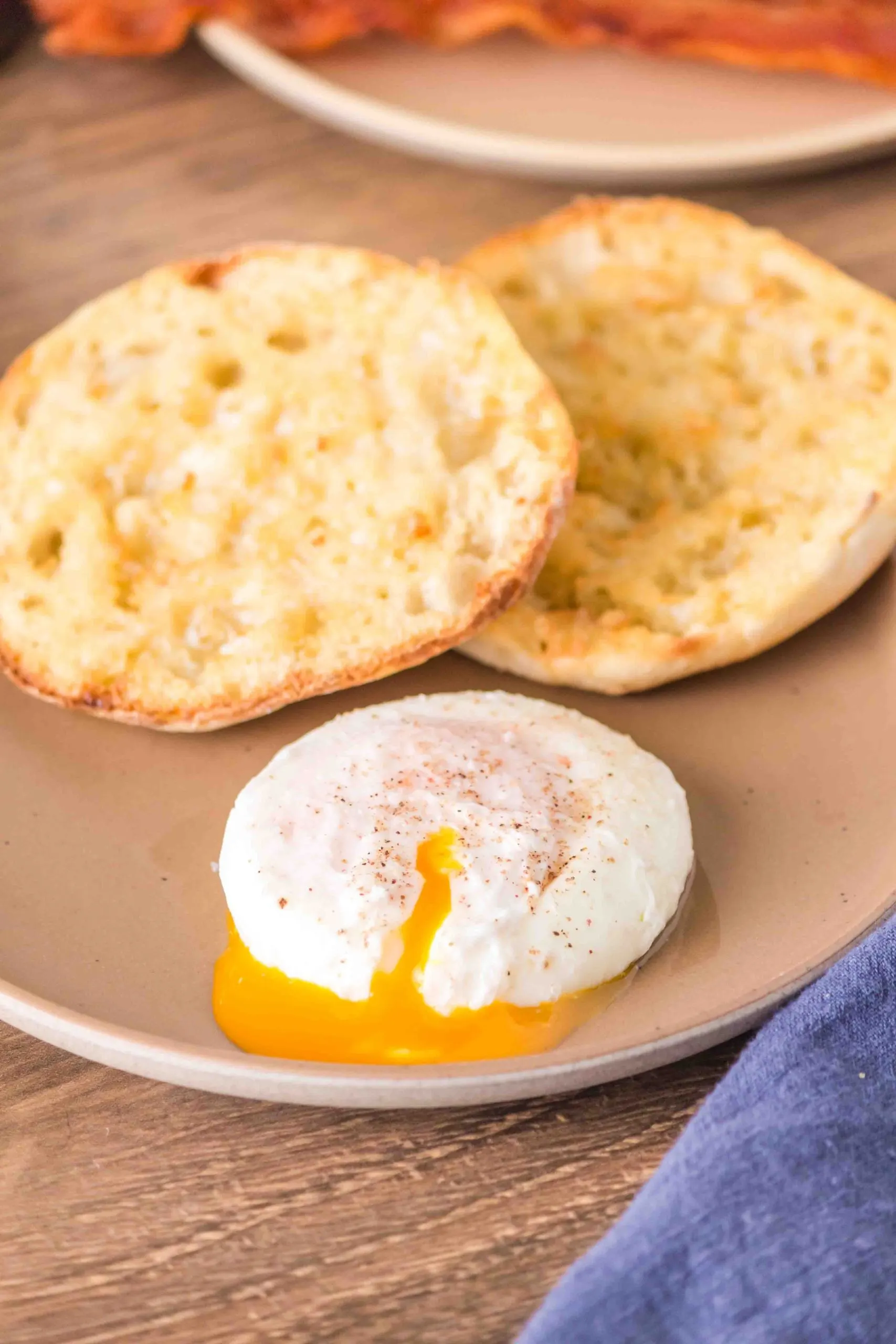 How To Reheat & Store Poached Eggs
What is the best way to store or make Poached Eggs ahead of time?
Poached eggs are better when served immediately, however, they can be stored in the fridge for up to 2 days in an airtight container. Once they are cooked, dip them into an ice water bath and pat dry with a paper towel before refrigerating.
This is also a great way to make them ahead of time so they can all be warmed and served at the same time.
Can I freeze poached eggs?
Yes. Freeze poached eggs in an airtight container for up to two months. The texture of the egg will change and the whites will be more rubbery but they will still be very edible. It's a convenient way to have make ahead and fast breakfasts for busy weekdays.
How to reheat poached eggs?
Re-warming your poached egg is easy! From the fridge, place the poached eggs into a hot water bowl for 30-45 seconds.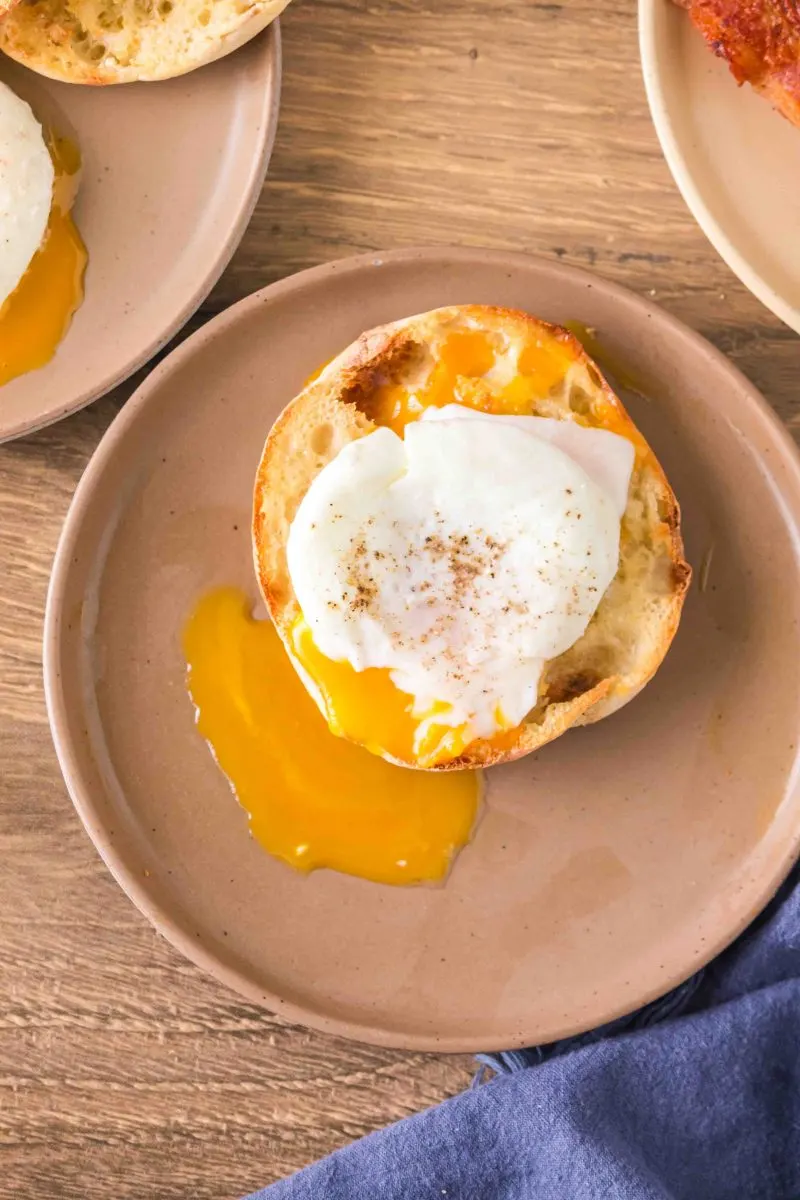 Hostess Tips and Tricks
Use the freshest eggs. As an egg becomes older, the yolk flattens out and breaks more easily with thin watery whites. Fresh eggs have a yolk that sits high and the white is thick and closely surrounds the yolk. If you have older eggs, make sure you strain off the whites as described in our recipe.
A spider strainer is perfect. You can delicately remove the egg from the water and drain it at the same time.
If you enjoyed learning how to make poached eggs, I think you'll enjoy these variations!
Once I realized how easy it is to make a good poached egg, I wanted to make them all the time! It feels so elegant and fancy! Plus, the eggs are light, fluffy and delicious without any added ingredients so its fun to dress them up! Try our Southwestern Chorizo Hash with Poached Eggs or Sausage and Potatoes for a delicious breakfast. You can also make Poached Eggs on this delicious Avocado Toast.
I hope you enjoyed this delicious recipe as much as we do. Drop me a comment below, and don't forget to give it a star rating. ⭐⭐⭐⭐⭐. Your comments and ratings help others decide if this recipe is for them too.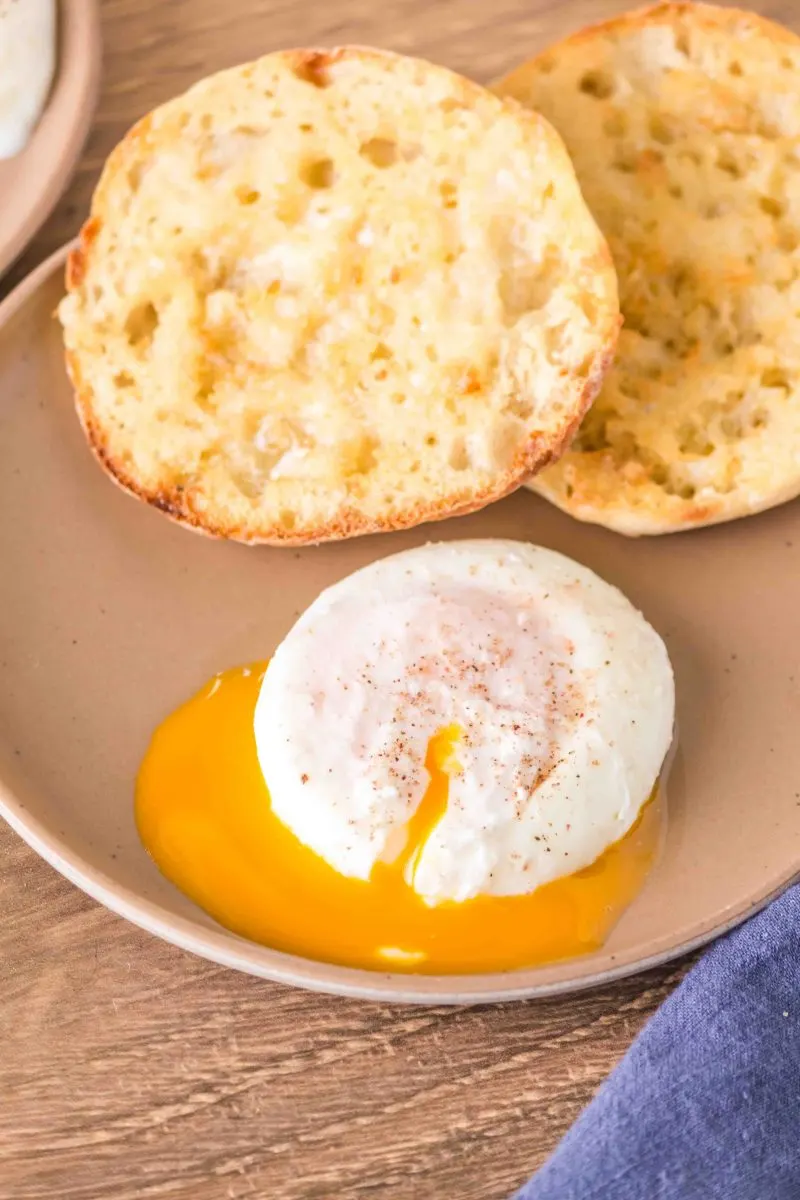 With a few simple steps and a little practice, you'll soon become a professional egg poacher.
Pin this easy method to make the best poached egg.