This Peach Crisp recipe is a combination of soft velvety peaches, warm cinnamon, and brown sugar under a sweet buttery crisp topping. It's easy and delicious.
We absolutely love fresh peach desserts. If you love them like we do, you've got to try this fresh Peach Bundt Cake. It's so moist and delicious. Besides this recipe for Peach Crisp, our Peach Crumble with Oats and Cobbler are amazing! I can't decide which is our favorite.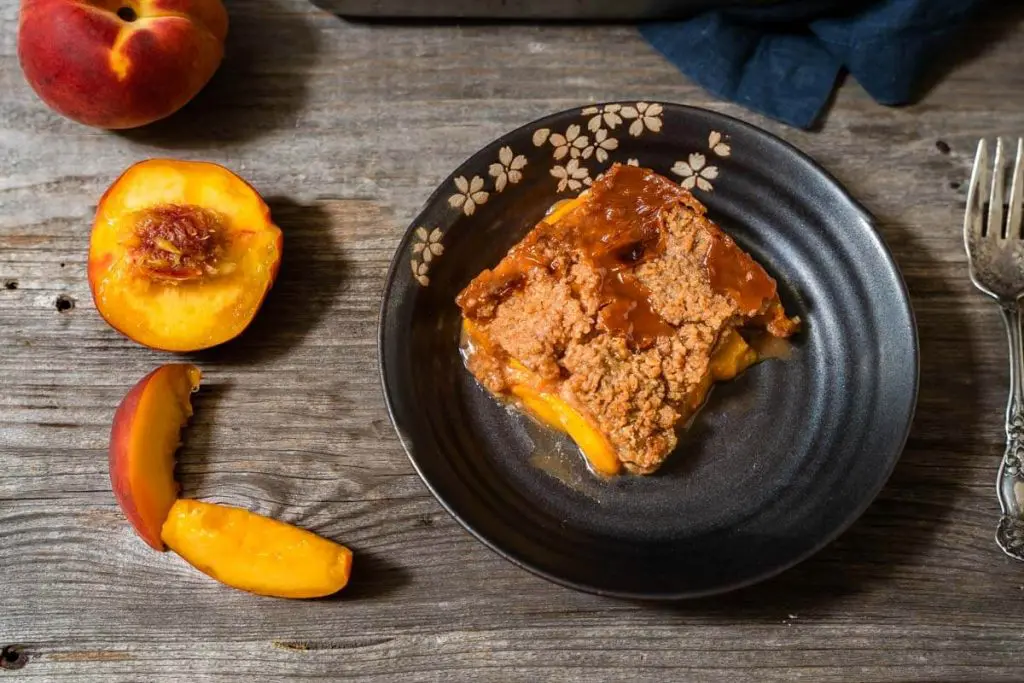 This Peach Crisp Recipe is our family go-to for fresh peach desserts. It's easy to make and amazingly delicious. Be prepared to share the recipe every time you serve it.
Homemade Fresh Peach Crisp recipe is a celebration of textures and flavors that make the perfect fresh peach dessert. It's sweet, creamy and crunchy.
It will warm you from the inside out and have you longing for more before you take the last bite.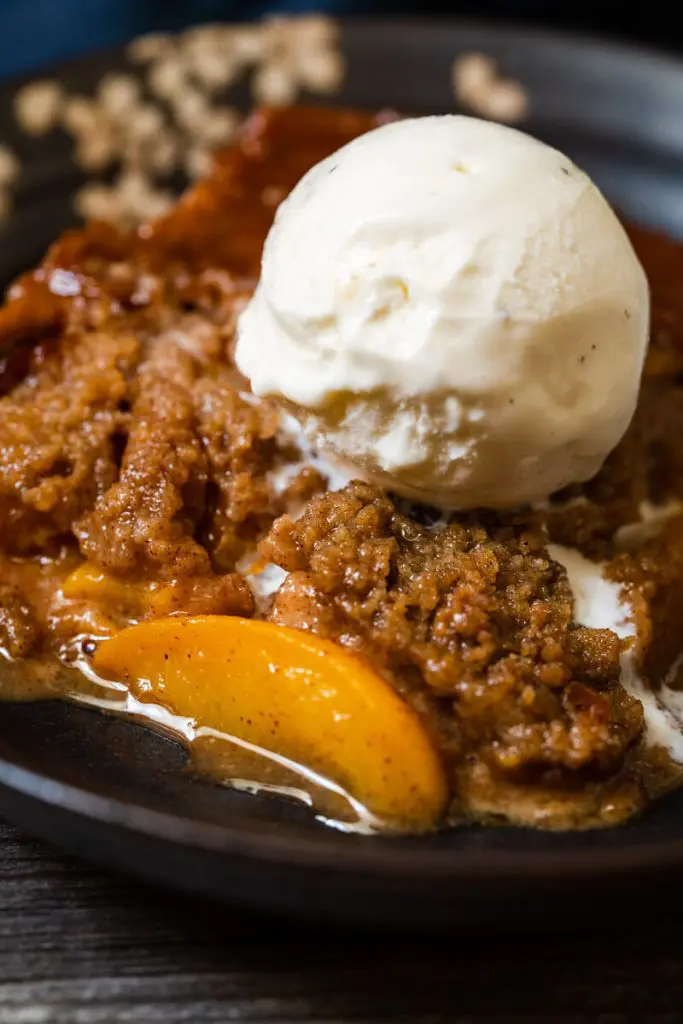 We just love the combination of the rich tender peaches immersed in a warm cinnamon-brown sugar sauce and baked until bubbly under a crunchy sweet topping.
I've done a little research for the best peaches to use.
What state produces the most peaches in the United States?
Did you know that there is actually a peach war going on in the south?
Georgia gets a lot of peach kudos because hey, it's on their license plate but South Carolina is fighting them peach against peach.
Believe it or not, California is the largest producer of peaches in the United States according to the United States Dept. of Agriculture.
What is the best peach for baking?
Peaches come in three different categories (not varieties) according to The Kichen. Freestone, clingstone, and semi-freestone hybrid.
These categories are based on how the pit clings to the fruit.
Freestone is the most common and what is sold at most grocery stores.
These peaches are juicy and the pits fall right out of them which makes them perfect when you have a lot to cut up for baking.
They're also delicious eaten raw.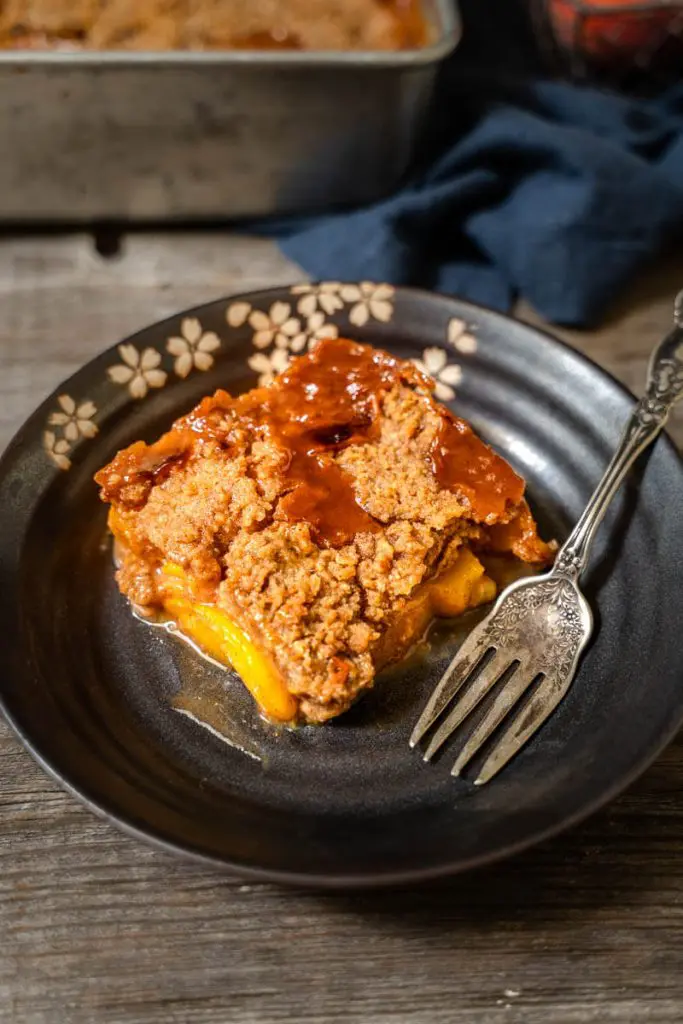 Do you have to use fresh peaches?
You do not need to use fresh peaches. This Peach Crisp recipe can be made all year long using Frozen or Canned peaches.
Peach Crisp with Frozen peaches can be used by removing any ice crystals. There's no need to thaw them either.

If they're already thawed, drain off any excess moisture and dot them with a paper towel if necessary.

Peach Crisp with Canned peaches. If you choose to use canned peaches, drain the liquid from them.

I also recommend that you use the peaches canned in juice and not syrup. Otherwise, this recipe for peach crisp would be overly sweet.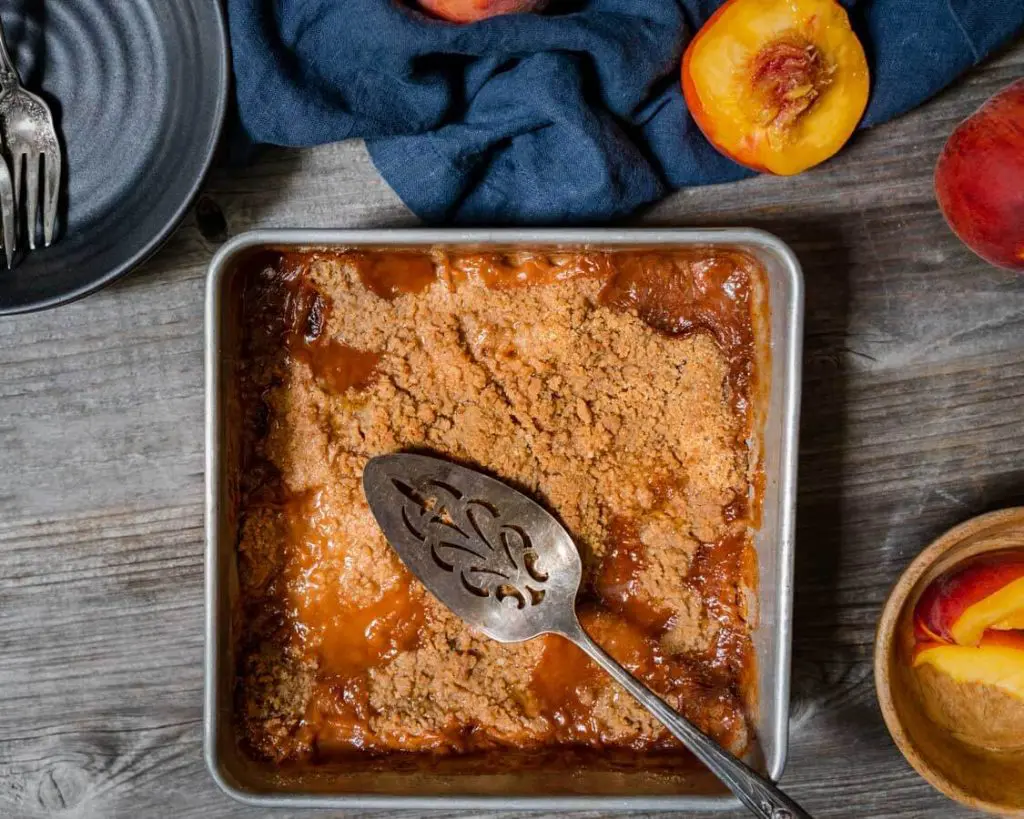 You may need:
Hostess At Heart participates in affiliate programs. As an Amazon Associate, I earn a commission from qualifying purchases. Please refer to my disclosure page for more information about these affiliate programs.
8×8 Baking Pan – These pans bake up the perfect crisp and clean-up in a jiffy!
Serving Spatula – I like the bend in this server so that I can get under the slices and just lift them out.
Wire Pastry Cutter – I like the wire so much better than the blade cutters. I find the texture to be so much more of what I'm looking for than what I get with the blade cutters.
Crisp Topping Recipe
We also love that sweet crisp topping without oats.
We recommend that if you make the crisp topping before the filling that you keep it in the refrigerator until you're ready for it.
Crisp Topping Ingredients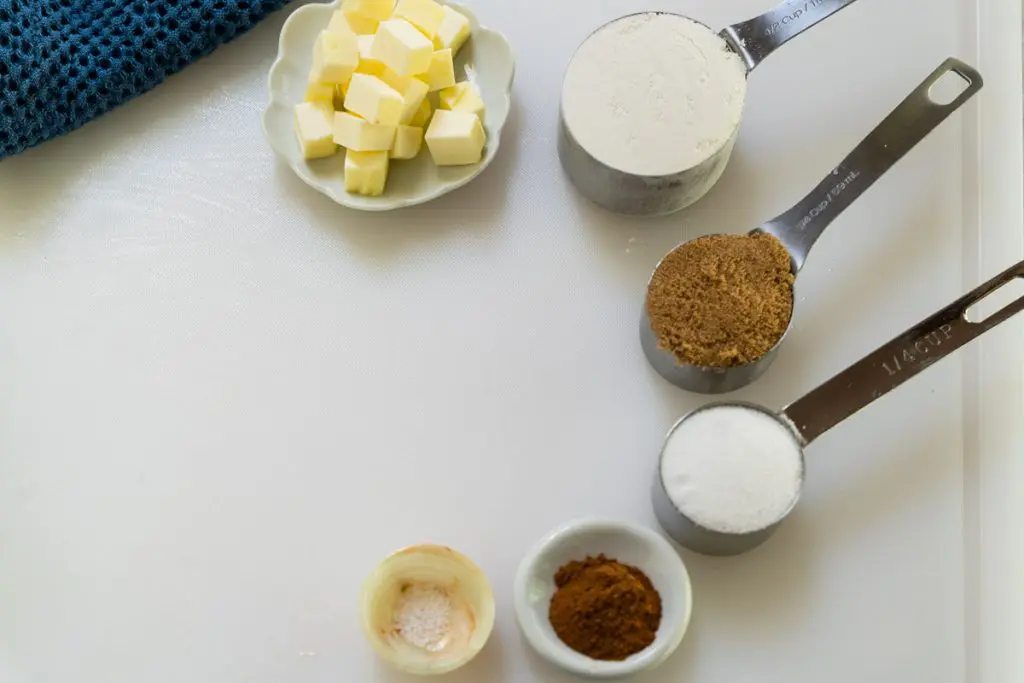 Butter – We use unsalted for almost all of our baking. You can use salted but recommend you eliminate the salt called for in this recipe.
Flour – All-purpose flour either bleached or unbleached is fine.
Brown Sugar – Light or dark is fine. We prefer the dark which has more molasses flavor.
White sugar
Cinnamon
Salt – Eliminate the salt if using salted butter.
How to make Crisp Topping without Oats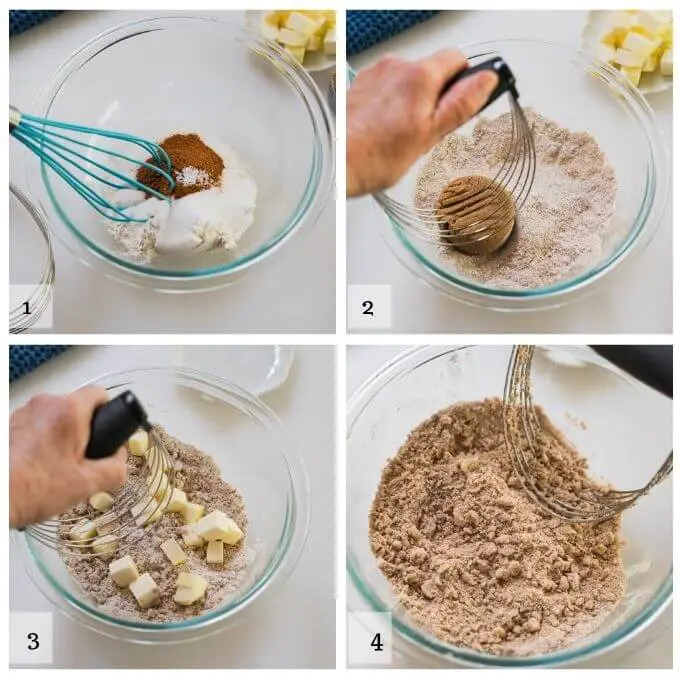 Combine the flour, white sugar, cinnamon, and salt. Whisk together.
Add the brown sugar. Brown sugar is moist. I like keeping some of its texture so choose to cut it in instead of blending it in with the dry ingredients.
Keep the butter cold and dice it before cutting it into the dry ingredients.

Don't use your fingers to break it up. The heat from your hands will soften the butter. The pieces of cold butter are what make this topping crumbly.

Keep cutting in the butter until you get a crumbly texture and there are no more completely dry ingredients.
Refrigerate the topping until you're ready to use it.
Peach Filling Recipe
Peach Filling Ingredients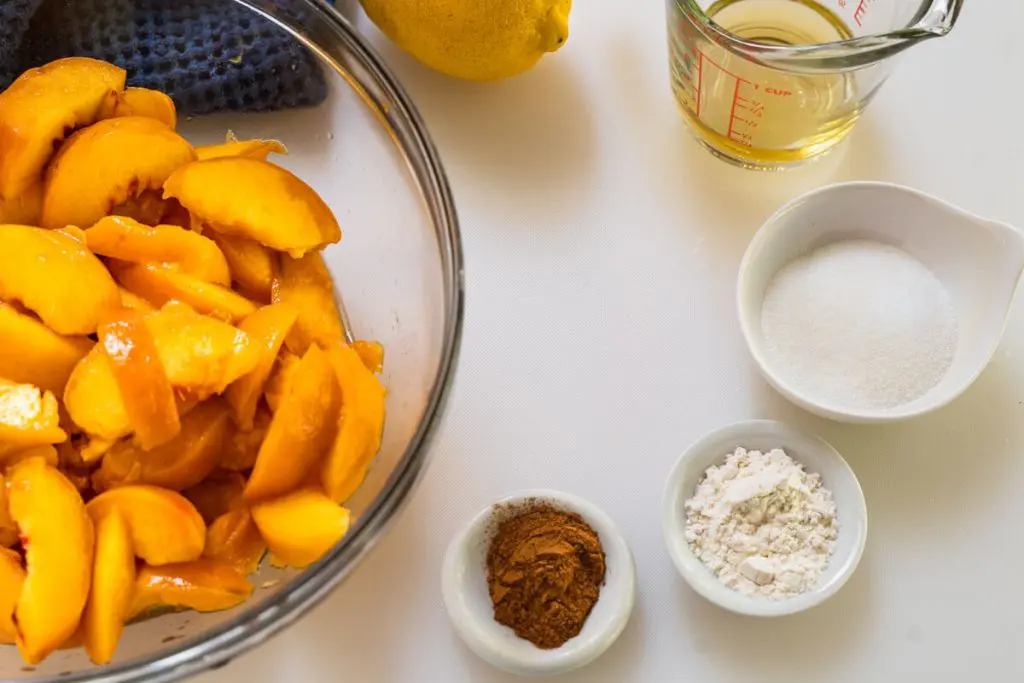 Peaches – Skinned and sliced into 1/2-inch slices. Thicker slices hold up in baking better than thin slices.
Apple juice – we used 100% juice, not from concentrate. You can use any apple juice that you prefer.

If you have a lot of liquid from the peaches, you can reduce the amount of juice you use.

Lemon Juice – Fresh or bottled is fine. The lemon juice brightens up this recipe and will help keep the peaches beautiful color.

This recipe will be successful without the lemon juice. Its merits are listed above.

Flour – All-Purpose Flour
Cinnamon
The easiest way to skin a peach.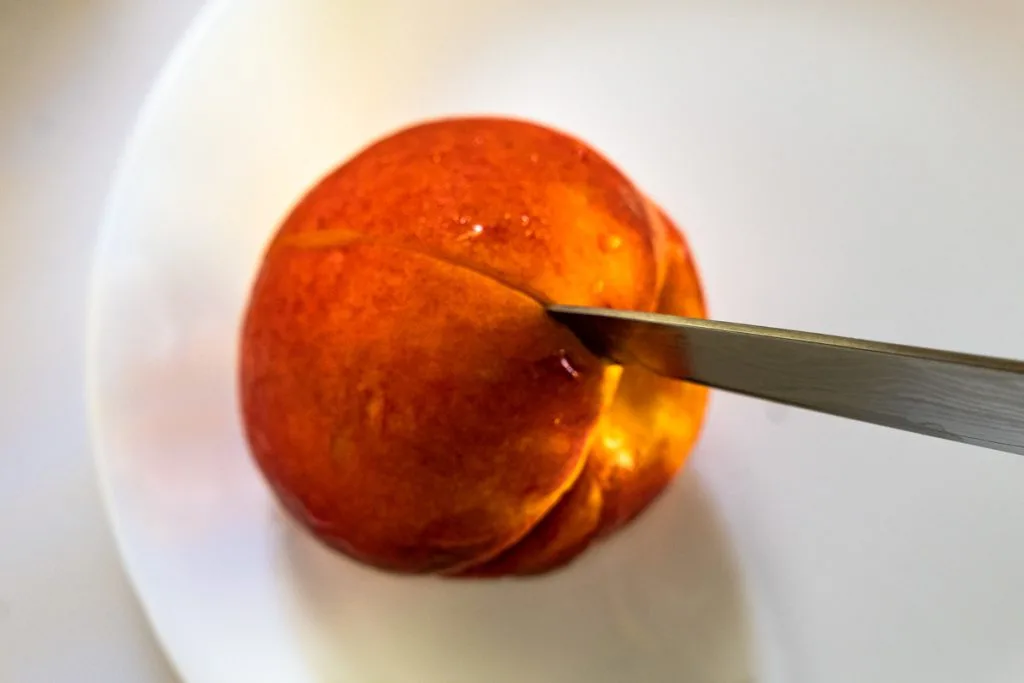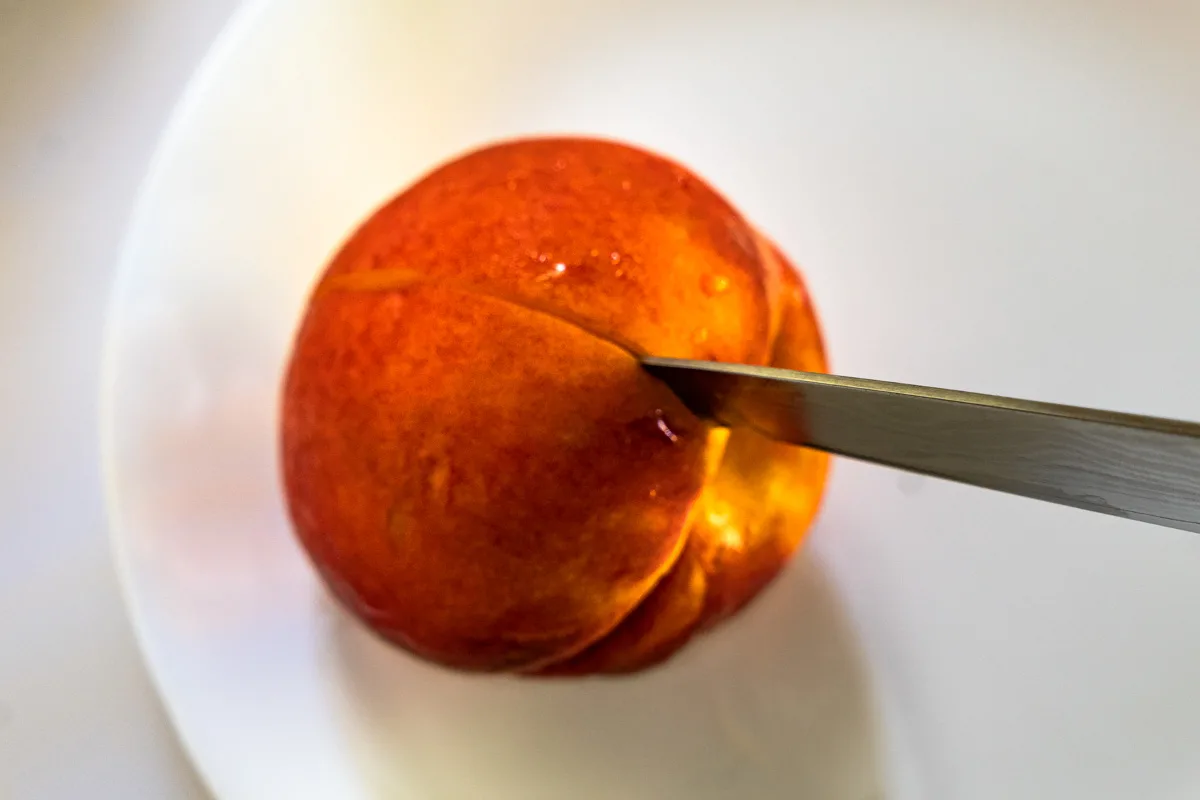 Wash and score the peach skin with the sharp tip of a knife 4 to 6 times down the length of the peach.
Add the peaches to boiling water and keep them submerged or turn them for 30 seconds.

I use a spyder strainer for holding the peaches down, turning them, and removing them from the hot water.

Submerge the peaches in an ice bath for 10 seconds.
Slide the skin from them immediately.
How to make the Peach Crisp Filling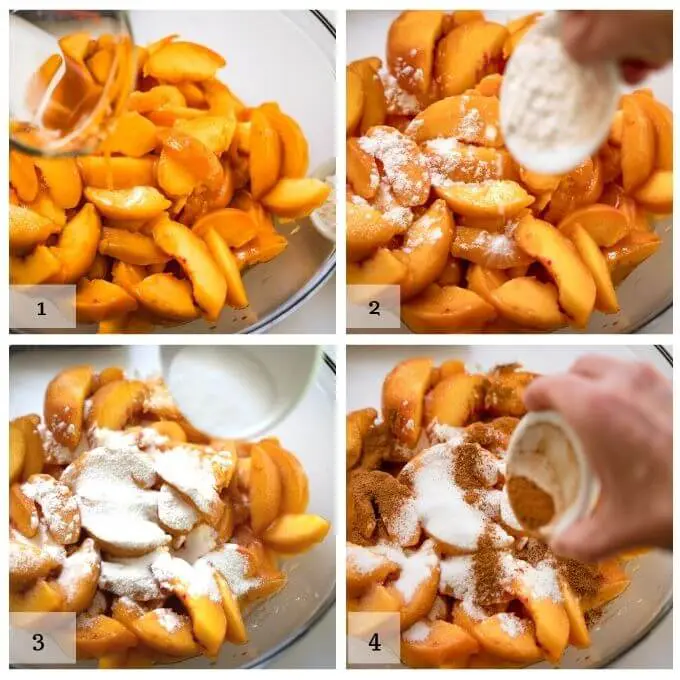 Pour the apple and lemon juice over the sliced peaches.
Sprinkle the flour over the peaches.
Sprinkle the sugar over the peaches.
Add the cinnamon and gently stir the ingredients together with a spatula.
Assembling Easy Peach Crisp
Pour the peach filling into an 8X8 pan that's been sprayed with non-stick cooking spray or greased.

Don't fill the pan more than 3/4 full so you have room for the topping.

Spoon the crisp topping over the peaches.

Use a large spoon so the crisp topping isn't packed.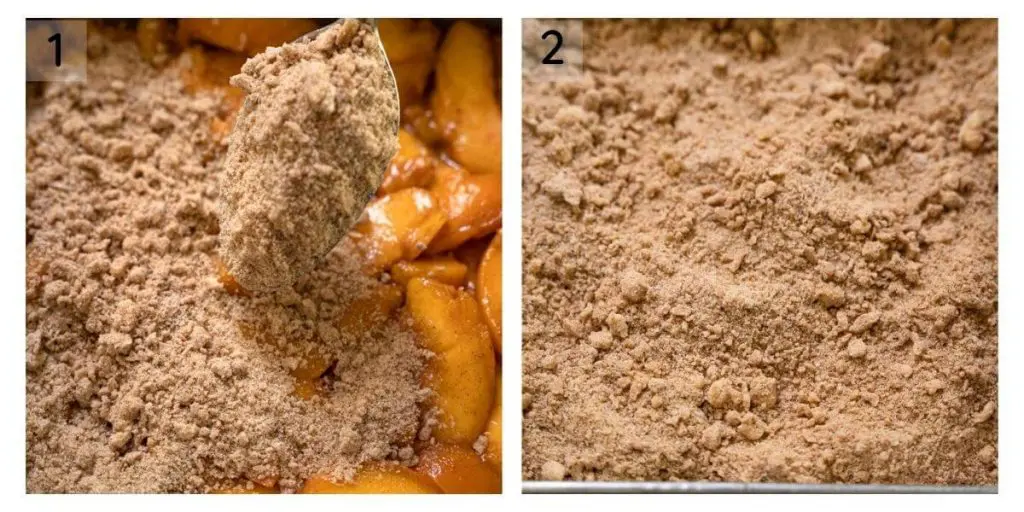 Warm fresh peach desserts just beg for cinnamon and brown sugar and this recipe for Peach Crisp with fresh peaches has it all.
If you like this Dessert, here are a few more I think you'll enjoy.
We love peach crisp recipes because they are easier to put together than a pie or tart. You don't have to start with a crust.
If you like this recipe, we would appreciate your comment and a 5-star ⭐️⭐️⭐️⭐️⭐️ review!
This recipe was originally published on 9/13/18 and has been updated to improve the reader experience. No changes were made to the recipe.
Want more delicious recipes? Follow Hostess At Heart on Pinterest!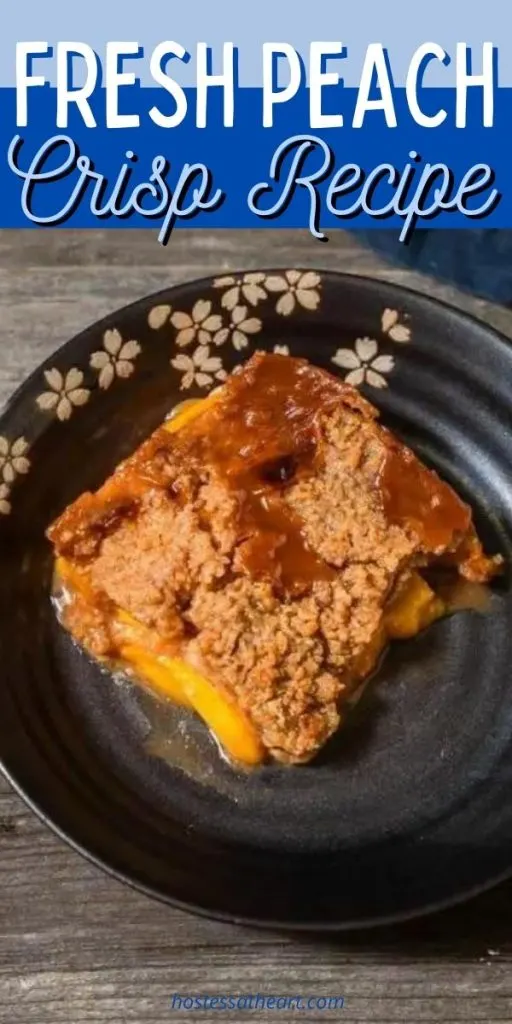 What is your favorite fresh peach recipe? I'd love it if you would share with the rest of us!
Our most popular recipes