Fresh Peach Crisp recipe is a combination of velvety sweet peaches, warm cinnamon, and brown sugar all under a layer of buttery crisp crumble. Simple to make and delicious to eat especially with a scoop of ice cream!
THIS POST HAS BEEN UPGRADED FROM 9/13/18 TO IMPROVE READER EXPERIENCE.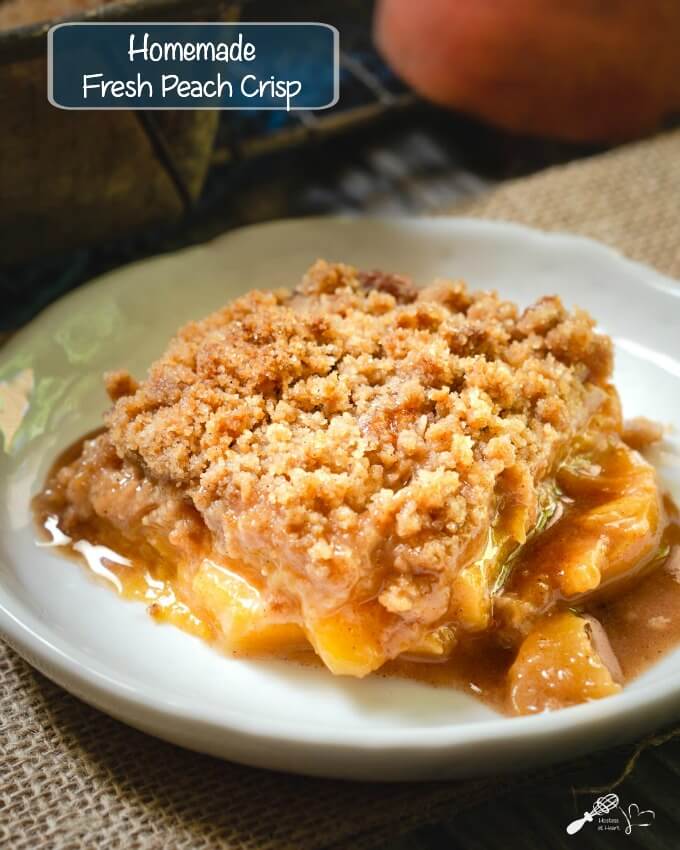 Homemade Fresh Peach Crisp recipe is a celebration of textures and flavors that make the perfect fresh peach dessert. It's sweet, creamy and crunchy. It will warm you from the inside out and have you longing for more before you take the last bite.
One of my favorite ways to use up my fresh peaches is to make a Homemade Peach Crisp recipe. I just love the combination of the rich tender peaches immersed in a warm cinnamon-brown sugar sauce and baked until bubbly under a crunchy streusel topping.
Every winter I whine about the cold and how I wish we could live in a warmer climate. The truth is that every season has its merits and I really have a hard time choosing which is my favorite.
As much as I love COLORADO PEACHES, they're only available in the Fall.
We love this Peach Crisp Recipe so much that we can't always wait for those Colorado peaches to arrive so I've done a little research for the best peaches to use in summer.
What state produces the most peaches in the United States?
Did you know that there is actually a peach war going on in the south? Georgia gets a lot of peach kudos because hey, it's on their license plate but South Carolina is fighting them peach against peach. Believe it or not, California is the largest producer of peaches in the United States according to the United States Dept. of Agriculture.
What is the best peach for baking?
Peaches come in three different categories (not varieties) according to The Kichen. Freestone, clingstone and semi-freestone hybrid. These categories are based on how the pit clings to the fruit.
Freestone is the most common and what is sold at most grocery stores. These peaches are juicy and the pit falls right out of them which make them perfect when you have a lot to cut up for baking. They're also delicious eaten raw.
Best peaches for easy eating:
White peach are a little less acidic so have a mild, sweet flavor
Donut peaches are said to be the sweetest and are very mild in acidity
Classic yellow peach are more acidic and have the true peach flavor that peach purists crave.
All of these peaches can also be used for baking.
I love peach crisp recipes because they are easier to put together than a pie or tart. You don't have to start with a crust. That and I just love that sweet crisp streusel topping. I don't add oats. I'm not sure that I'd have room for them after I get more cinnamon, brown sugar, and butter crumbled together. I'm seriously drooling here!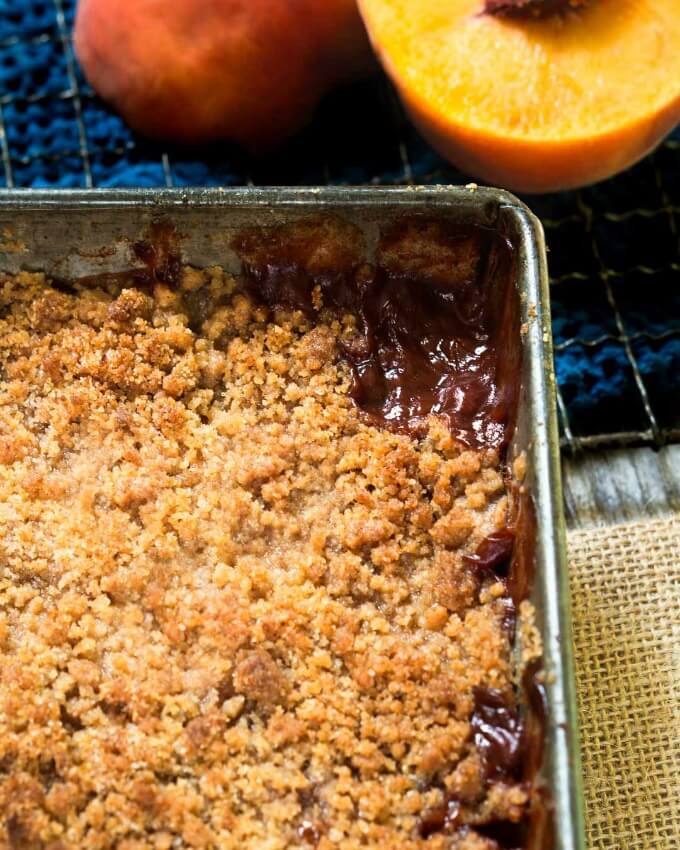 Tips for baking the perfect Peach Crisp Recipe:
Peach skins can be easily removed by placing them in boiling water for 30 seconds and then immersing them in an ice bath for 10 seconds.
Frozen peaches can be used by removing any ice crystals thawing them completely. Drain off any excess moisture and dot them with a paper towel if necessary.
Don't use canned peaches. They will not retain their shape as well as fresh peach crisp.
Warm fresh peach desserts just beg for cinnamon and brown sugar and this Homemade Fresh Peach Crisp recipe has it all.
If you like this recipe, here are a few more I think you're going to LOVE!
Pin this Fresh Peach Dessert to your favorite board!
You may need:
The following are affiliate links. We are a participant in the Amazon Services LLC Associates Program, an affiliate advertising program designed to provide a means for us to earn fees by linking to Amazon.com and affiliated sites. For more information, please see our disclosure.
8×8 Baking Pan – These pans bake up the perfect crisp and clean up in a jiffy!
Serving Spatula – I like the bend in this server so that I can get under the slices and just lift them out.
Wire Pastry Cutter – I like the wire so much better than the blade cutters. I find the texture to be so much more of what I'm looking for than what I get with the blade cutters.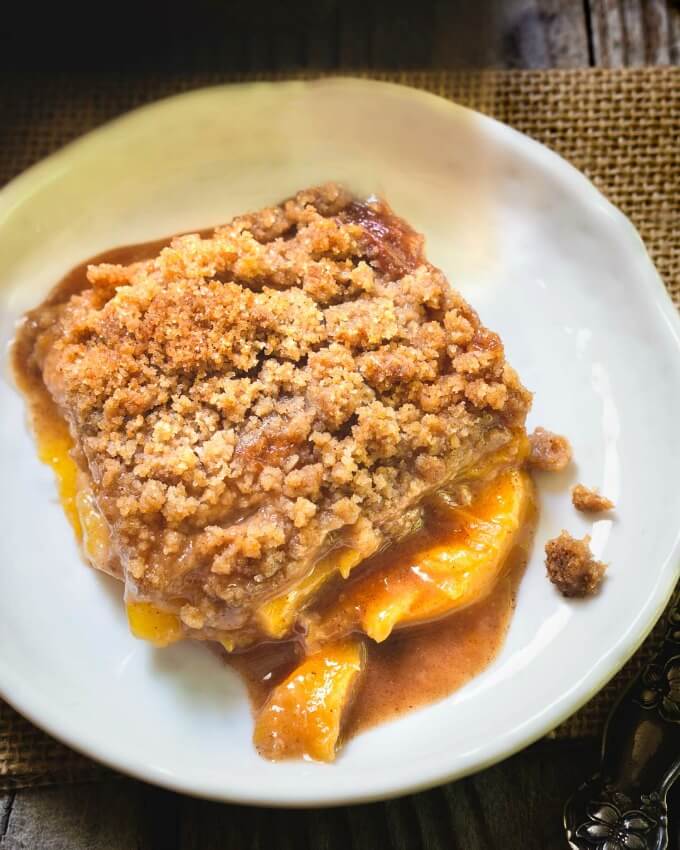 Homemade Fresh Peach Crisp Recipe
Homemade Fresh Peach Crisp is a combination of velvety sweet peaches, warm cinnamon, and brown sugar all under a layer of buttery crisp crumble.

Ingredients
Crumble Topping
1/2

cup

all-purpose flour

1/4

cup

brown sugar

1/4

cup

white sugar

1

tsp

cinnamon

ground

1/8

tsp

kosher salt

4

tbsp

butter

chilled and cut into small pieces (I use unsalted butter)
Filling
7

peaches

skinned, pitted and cut into 1/2″ slices

1/4

cup

apple juice

2

tbsp

sugar

1

tbsp

lemon juice

fresh

1

tbsp

all-purpose flour

1/2

tbsp

ground cinnamon

non-stick cooking spray

or butter
Instructions
Preheat the oven to 375°F and grease an 8×8 pan with butter or non-stick cooking spray.

In a medium-sized bowl combine the topping ingredients. Cut the butter into the dry ingredients using a pastry cutter, two forks or your fingers until crumbly. Set aside.


Put sliced peaches into a large bowl.  Pour apple juice and lemon juice over the peaches.  Sprinkle with the flour, cinnamon, and sugar.  Stir to combine and pour into the prepared pan until 3/4 full.

Cover the peaches with the topping.

Bake for 40 minutes or until golden brown.

Allow crisp to cool (or chill) before cutting into squares or spoon warm into bowls. Top with ice cream if desired.

Store covered in the refrigerator
Notes
The number of peaches you use depends on the size of the peaches and the height of the sides of your baking dish.   They will cook down.
Peach skin can be easily removed by placing them in boiling water for 30 seconds and then immersing them in an ice bath for 10 seconds.
Nutrition
Calories:
179
kcal
|
Carbohydrates:
32
g
|
Protein:
1
g
|
Fat:
5
g
|
Saturated Fat:
3
g
|
Cholesterol:
13
mg
|
Sodium:
79
mg
|
Potassium:
244
mg
|
Fiber:
2
g
|
Sugar:
24
g
|
Vitamin A:
540
IU
|
Vitamin C:
8.3
mg
|
Calcium:
21
mg
|
Iron:
0.8
mg
This recipe was calculated using the exact brands and measurements I used to make this recipe. If you are following a strict diet please note changing anything will cause the nutritional info to change. My calculations are intended as a guide only.
What is your favorite season? All that being said, I know winter is still in 4th place! What is your favorite fresh peach recipe? I'd love it if you would share with the rest of us!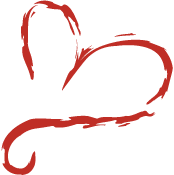 Thank you from the bottom of my heart for spending some time with me today!