Quick and Easy Apple Crisp Recipe is loaded with sweet juicy apples in brown sugar and cinnamon sauce and topped with a delicate crunch. It's simple to put together and the perfect treat especially with a dollop of ice cream.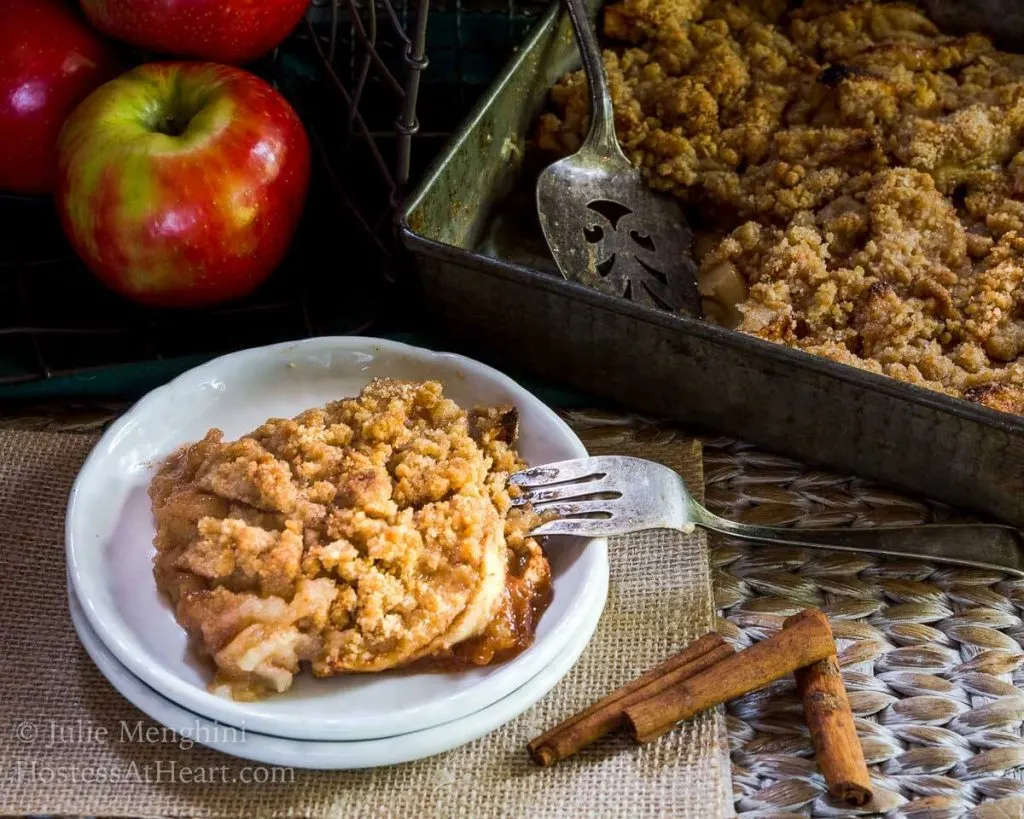 This Quick and Easy Apple Crisp recipe has 8 servings, and 234 calories unless you dip into a bit of ice cream too. We actually added some frozen yogurt, and it was delish!
I love apples, and I will choose an apple crisp or pie over cake anytime. With my sweet tooth, I set out to make a recipe that didn't shoot my healthy food choices out of the water.
This is a healthier apple crisp, but it is by no means a diet food.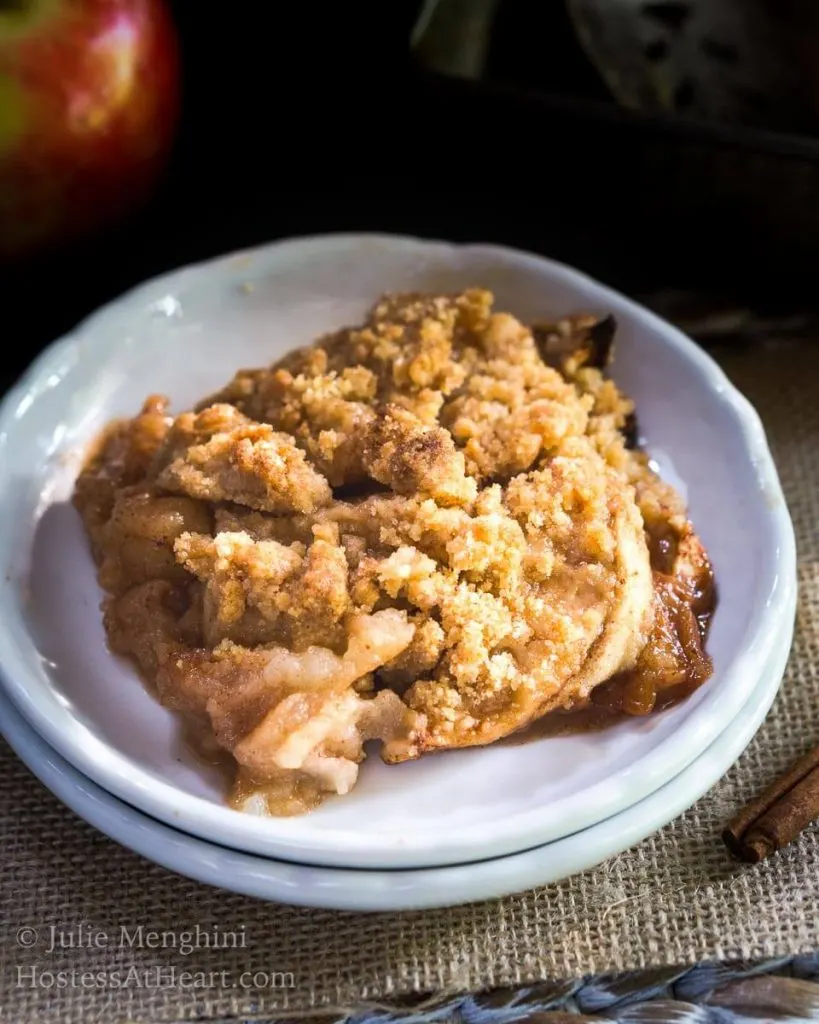 Growing up we almost always ate school lunches. Chili soup day was the best. We always got a big square of apple crisp as dessert. I would take teeny tiny bites just to make it last as long as I could.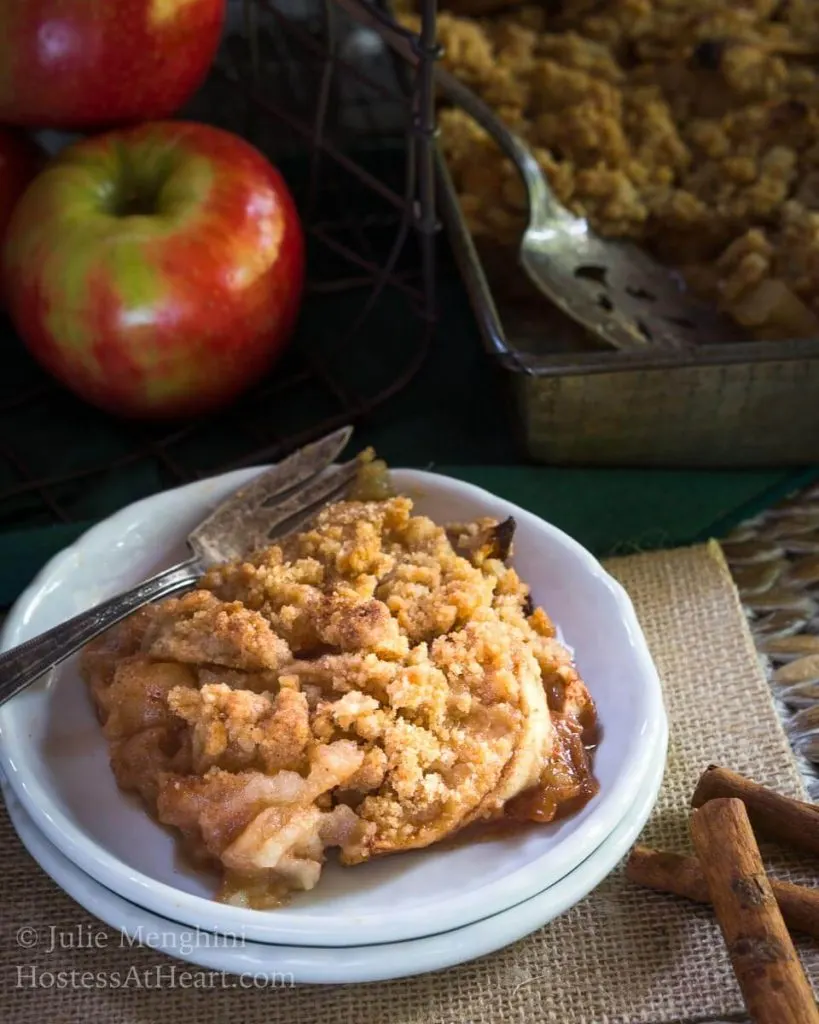 I've always loved apples and eat one almost every single day. Sometimes my eyes are hungrier than my stomach at the store so I'll buy more than what we can eat. That's when I make up an apple crisp dessert.
This is definitely one of John's favorite ways to enjoy apples! What I like about this Quick and Easy Apple Crisp great apple pie but you don't have to fuss with a crust.
How to pick the best apples
The best apples are the ones you like to eat. I will use firmer apples as indicated below. Baking apples after the get a little softer is fine and a great way to use them up. However, when you buy apples, here are the things to look out for.
Apples need to be firm. Rub your thumb over the peel. If it slides or wrinkles, it's no longer fresh.
Don't buy apples with noticeable dents or bruising.
Check the top and bottom for any noticeable mold or discoloration.
Don't have time to make it now?

Pin it

for later!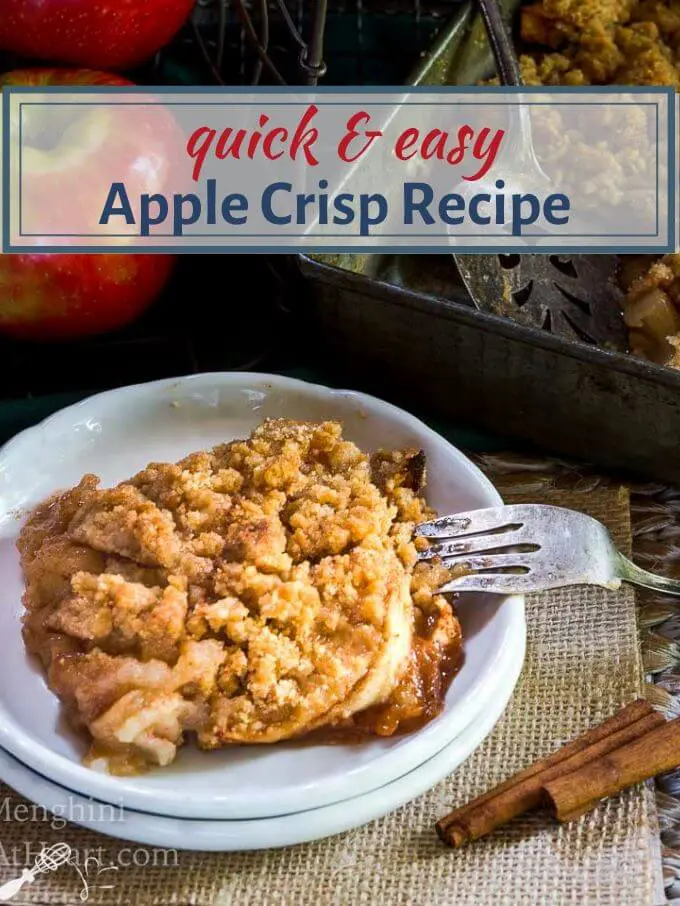 How to make an apple crisp
Start by making the crumble topping.

Combine the flour, sugar, brown sugar, and salt. Whisk the ingredients together.
Dice up cold butter and cut it into the topping ingredients. Use a pastry cutter or two forks. I don't recommend using your hands because the heat will warm the butter. The cold butter is what makes the topping crumble.

Slice the apples into 1/2-inch pieces. I like them thick so they aren't mushy after they bake. You can peel them for this recipe but that is optional.

I like using firm apples and often will use Granny Smith with Braeburn apples. Granny Smith is a tart green apple and the Braeburn are a little sweeter but still firm.

Add the apple cider and lemon juice to the apples first. This will help the other ingredients stick to the apples.
Sprinkle the apples with the remaining ingredients; sugar, cinnamon, and flour.
Pour the prepared apples into a prepared baking pan.
Sprinkle the crumble topping over the apples.
Bake.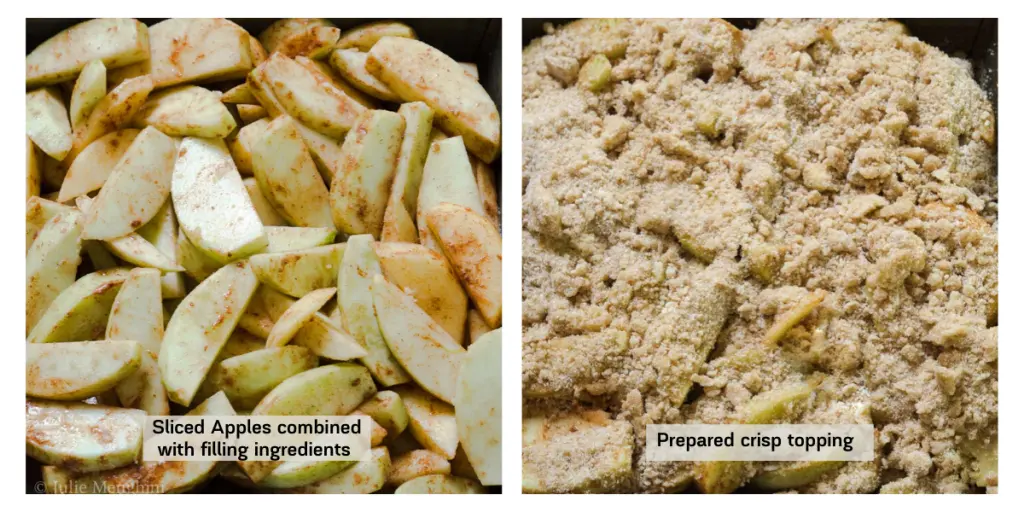 Note: This apple crisp recipe is without oats. You could easily stir some into the crisp topping if that's what you prefer.
If you like this recipe, here are a few more easy apple recipes that you may enjoy
Our most popular recipes
Did you have a favorite school lunch or a favorite combination like chili and apple crisp? Share them with the rest of us in the comments below. I'd love you hear your ideas or family traditions!
Some things just go together like chili and apple crisp. Here are a few recipes that were meant to go with this apple crisp recipe!