The Best Chili recipe is a simple homemade beef chili that's loaded with flavor. This recipe can feed a crowd.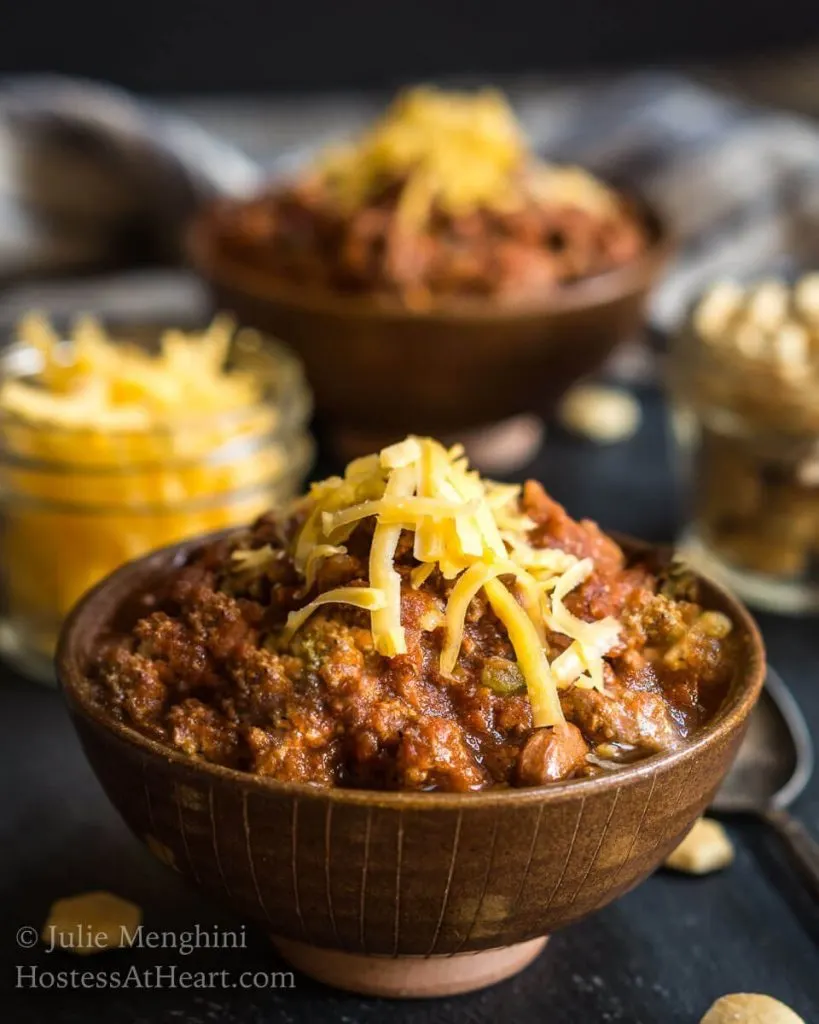 Why isn't chili called soup or stew? Chili is chili and that's just the way it goes. There are probably as many homemade chili recipes as there are the people who make it. Once you make the Best Chili Recipe, it will become your favorite chili!
Growing up chili was always tomato-based and made with ground beef and beans.
These days there is tomato-based, white chili, beef, chicken, or vegetarian.
You can have as many varieties as there is imagination. One thing that sets people against one variety versus another is whether it's beans or no beans.
The chili my mother made included tomato juice, ground beef, kidney beans, onion, and the spice packet from the grocery store. I loved it. That is until I tried this chili at a party we attended years ago.
The recipe is still written on a scrap of paper and doesn't have a name but it's The Best Chili recipe I've ever had.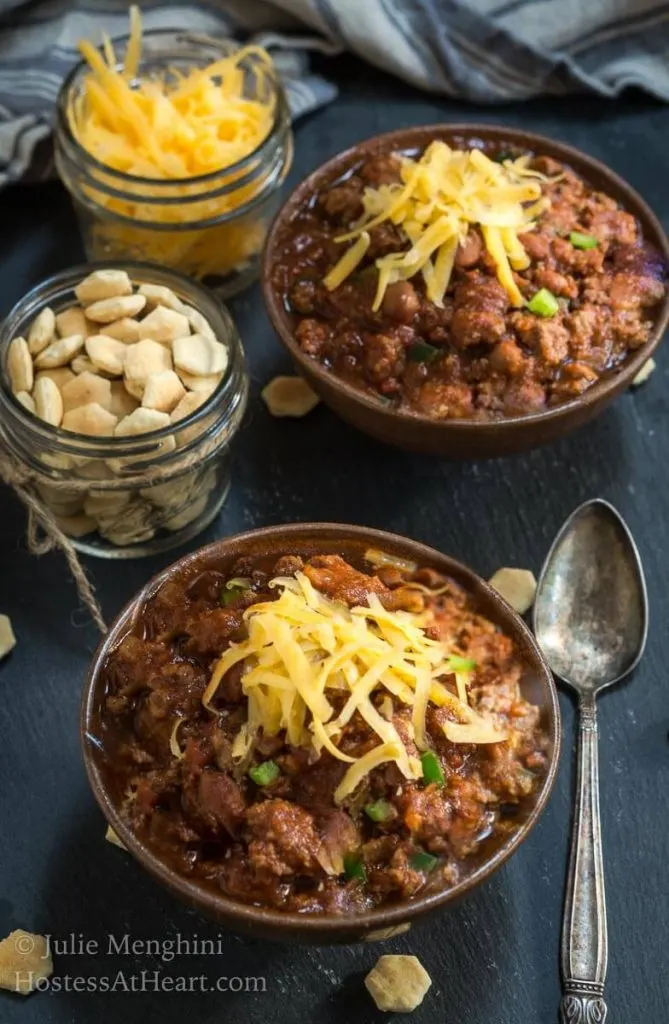 This chili for a large group recipe can be made ahead and made just as spicy as you want. You can also just put it in a large crockpot and let everyone serve themselves!
I made this great chili recipe and entered it into our neighborhood chili contest.
I needed a delicious chili recipe that would feed a crowd, and while we love it, I wasn't sure what everyone else would think.
It was the winner hands down and my "Best Chili Recipe" is now the recipe that my neighbors make for their families.
What is the difference between Chile and Chili Powder?
Chili Powder is actually a blend of dried chile pepper and other spices such as oregano, cumin, paprika, garlic powder, peppercorn, coriander, and cayenne according to Southern Living.
It's different according to the brand you buy. There's also a big difference between Mexican Chili Powder and Indian Chili Powder. I learned that the hard way!
Chile Powder is pure dried chile peppers even though the type of chile peppers can be different. They're often sold under the name of the chile such as Ancho, Guajillo, Chipotle, Jalapeno, among others.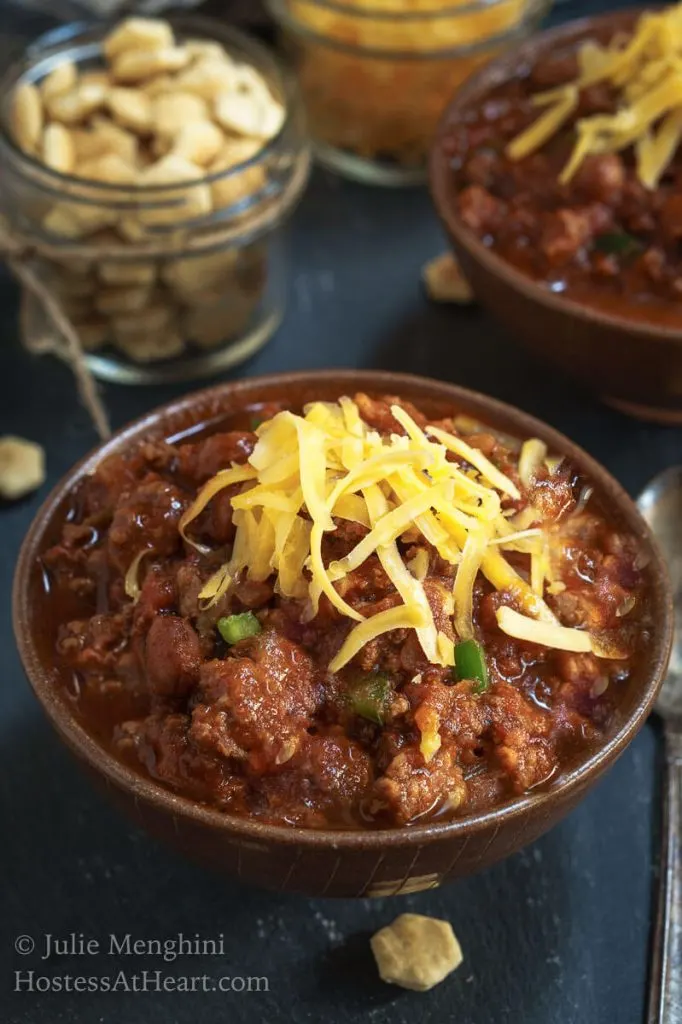 What's the difference between dark red chili powder and light red chili powder.
The PepperScale states that dark chili powder often contains more of the chili pepper (like ancho) with a darker color and the spices are often roasted for longer periods.
This leads to a seasoning blend that's often earthier, smokier, sweeter, and spicier than the lighter powder.
Don't have time to make it now?

Pin it

for later!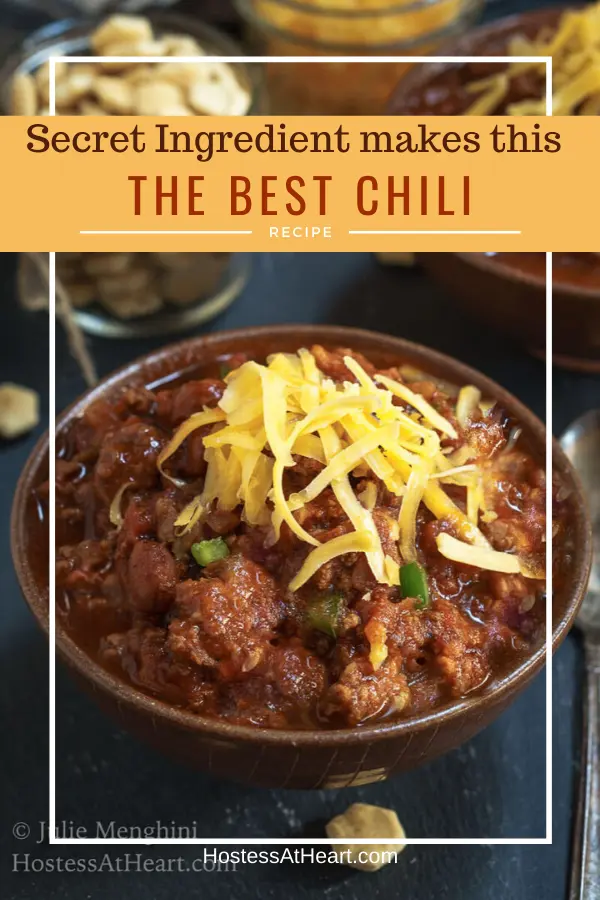 Oh and there is a secret ingredient…..1 tablespoon of yellow mustard.
Believe it or not, it's a game-changer. A friend of mine said she doesn't like yellow mustard but after making this has a bottle in her fridge just for this recipe.
We've both tried it without and it makes a difference!
Chili Ingredients
ground beef
stewed tomatoes
tomato juice
Chili Beans
onion
green pepper
ketchup
prepared yellow mustard
A few items you may need to make this Homemade Chili recipe:
Hostess At Heart participates in affiliate programs. As an Amazon Associate, I earn a commission from qualifying purchases. Please refer to my disclosure page for more information about these affiliate programs.
12-qt Stockpot – This is such a nice stockpot for the price. I can use it for large recipes and the clean up is so easy! You can cook chili in a large slow-cooker.
Some more award winning Chili recipes!
While I believe that this is the Best Chili EVER, I have to admit that John's Downhome Chili No-Beans recipe and the Spicy Chili Con Carne recipes are amazing.
If you're looking for something a little less traditional, Sweet Potato Black Bean Chili or the Green Chili Pork recipes might be right up your alley.
Tips & Variations to make The Best Chili Recipe:
This is a thick beef chili recipe. You can use a combination of ground beef varieties or mix it up by using ground pork or sausage.

If you like a thinner chili, you can add more tomato juice.

We don't skimp on the chili powder and we like pure red chili powder, not a pre-mixed chili seasoning. We test it by taste but also for a deep red color.

It's best to add your spices through the entire cooking process instead of all at once. Adding spice and letting it cook into the chili will tell you if you need more but will also keep you from adding too much.

We chop up the stewed tomatoes to remove the large pieces in a food processor.
Allow the chili to simmer until you can no longer detect any flavor from the cans. 30 minutes to several hours, whatever time you have.

Heat the chili over medium-high heat and then immediately lower the temp to a simmer on the stovetop or in a slow cooker.

Feel free to substitute the beans for black beans beans or another variety that you like.
Freeze chili in reclosable bags or airtight containers. Leave space at the top for expansion.
Chili freezes great! I fill zip-lock bags and lay them flat to freeze. Using a cookie sheet works well. Once frozen you can remove the pan and keep them flat or store them vertically. It's a great way to save freezer space.
What to make with leftover chili?
Chili is a complete meal but when I cook something savory I like to complement it with something sweet. A great muffin, homemade apple sauce or cheddar cornbread are my go-to's.
If you like this recipe, we would appreciate your comment and a 5-star ⭐️⭐️⭐️⭐️⭐️ review!
There aren't any contests now. I make this chili and we all eat it. It makes such a large batch that I put some in my freezer. It's like money in the bank. When I don't want to cook I know I have some chili just waiting for me.
What's your favorite chili topping?
Cheese
Crackers
Sour Cream
Jalapenos
Tortilla Straws
Don't forget to
Pin It

!