Green Chili Pork combines flavors that are out-of-this-world delicious. It's the perfect one-pot recipe for tacos, over rice or stuffed into burritos and enchiladas. Best of all it comes together in just minutes.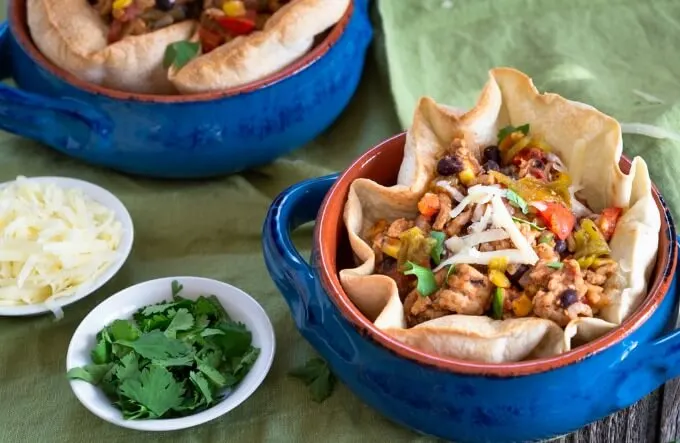 Green Chili recipes with pork is an amazingly delicious recipe. It comes together faster than any green chili recipe that I've ever made. This is one of those recipes that is either the start or finish of something beautiful.
I made this Hatch green chili recipe and baked up little taco bowls. It was so good we had it two nights in a row. I still had some filling leftover and decided the pork taco salad was just one small way to use this Pork Green Chili recipe. Therefore, decided this wasn't going to be just a Green Chili Pork Taco recipe.
Some friends of ours introduced us to the Hatch green chile after attending a Hatch Green Chile Festival in New Mexico. They said that they were so good that they ordered a box load and had it shipped to Nebraska. Up until then, my exposure to green chiles was the mightly jalapeno that I used in salsa most of the time or that little can of green chilis.
What is a Hatch Chile?
A Hatch Chile is a variety of New Mexico chile pepper that is grown in the Hatch Valley of southern New Mexico.
What are New Mexico Chiles?
New Mexico chiles are so good that producers outside of New Mexico have tried to brand their green chiles as New Mexico Green Chiles. New Mexico takes their reputation for their chiles so seriously that they passed an Act making it unlawful for businesses to advertise their product as being made with New Mexico chiles unless the chile was actually grown in New Mexico There is a lot more information regarding the history and varieties of chile peppers if you're interested.
Are New Mexico chiles hot?
There are several varieties of chiles from New Mexico. They come in different sizes, flavors, and heat levels.
What's the difference between chile and chili?
It was reported in the Chicago Tribune that according to the Chile Pepper Institute at New Mexico State University "chile" refers to the plant, such as "chile pepper" and "chili" is used to define a culinary dish such as "chili and beans."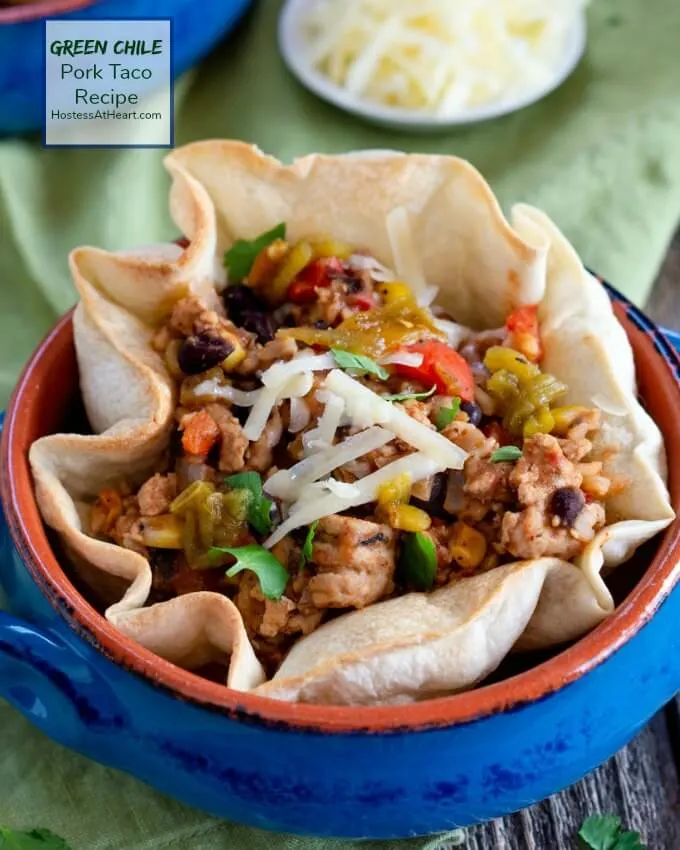 A lot of amazing recipes required breaking down large chunks of beef or pork and braising it for several hours. I love the flavor that this technique gives to a green chili recipe such as my Pulled Pork Green Chili Verde and Poblano Pork Stew recipes.
I wanted this green chili recipe to be quick and easy so I used ground pork instead of a pork butt roast. The most important thing was to make sure that the dish is well-seasoned.
I also wanted a recipe that could be used in a variety of ways. My inspiration for this recipe was while shopping. I can now find Hatch chiles that are already roasted, peeled and diced! That's a game-changer, you guys. I've linked to the product below under the "What you may need" section.
Recipe variations:
Add additional stock for a delicious green chili soup recipe. Thicken the stock or broth for a stew and serve over rice.
Fill tortillas and bake for burritos.
For enchiladas cover the stuffed tortillas with additional New Mexico green chili pork and sprinkle with cheese. Bake until melted and bubbly.
What you may need:
Flame roasted, peeled, and diced New Mexico Hatch Green Chiles – This is a game-changer. I'll be making more recipes with my favorite chile now that I don't have to go to all of the work to use them!
Enameled Cast-Iron Casserole – I love this brand. I have some three times as expensive as this one but it's my favorite!
Spatulas – This pretty set has a flat side and a curved side to take on your toughest job. I love that they are all one piece and can withstand 500°F! Throw out those old chipped ones and treat yourself!
What to serve with this Green Chili Recipe!
This recipe is practically a complete meal. If you're looking for a couple of delicious sides, how about some Tomatillo Rice or these Quick Black Beans? You can always start the meal with some Mexican Avocado Cotija Dip and finish it with Frozen Margarita Pie Recipe.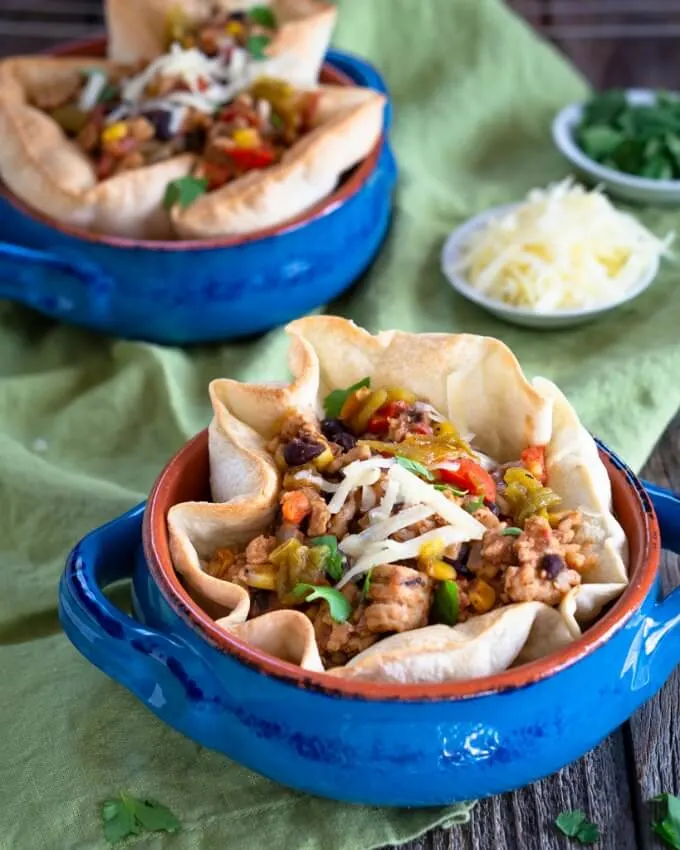 Regardless of what you do with this recipe, it's going to be delicious and quick to get on the table.
If you enjoyed this recipe here are a few more you may like.
Don't forget to stop back and let me know you how your Green Chili Pork recipe came out.