If you love a cool and creamy pie and a good margarita, you'll love this quick and easy Frozen Margarita Pie with a pretzel crust that adds a bit of salt.
This delicious recipe was updated on 4/19/16 to improve reader experience.
Boozy Frozen Margarita Pie is the perfect combination of a sweet cool and creamy pie with a slightly salty pretzel crust. It's like your favorite frozen margarita in a pie.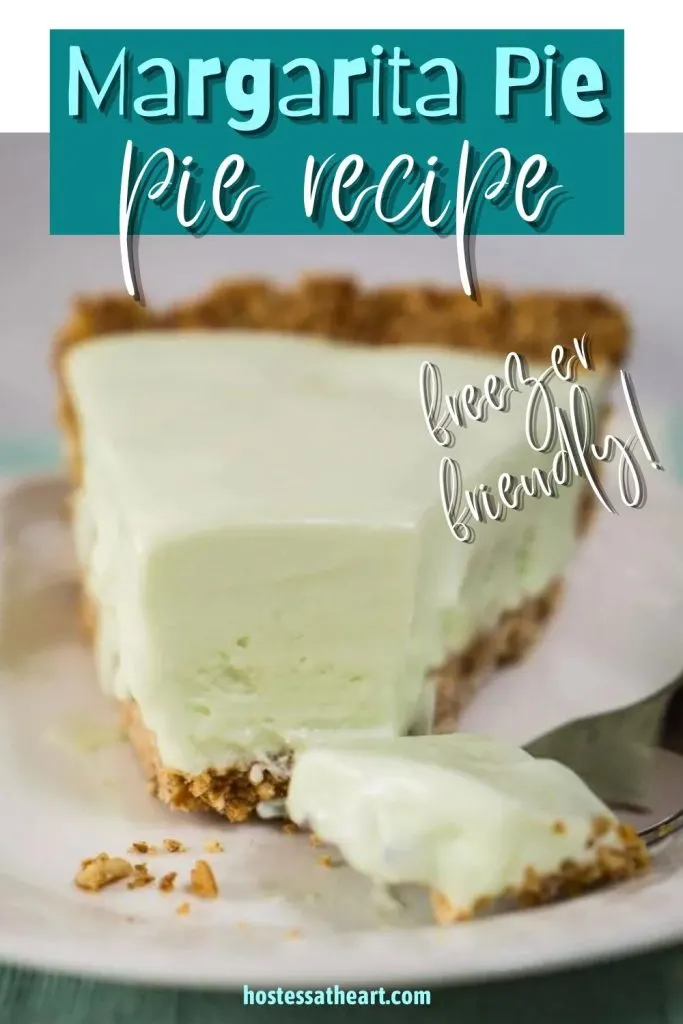 I came across this recipe for Magic Margarita Pie in my Mother-In-Law's recipe box.
I knew it had to come from a friend or publication because this isn't something she would have developed, but after searching didn't find this version.
This Margarita Pie has more booze in it than the ones that I was able to find. Maybe that's why it's called Magic Margarita Pie!
Are you celebrating Cinco de Mayo? It's one of our favorite celebrations, which is funny because it's a Mexican holiday, not an American holiday, but you know how we are when there is an opportunity to celebrate right?
I think it's one of my favorites because I love Mexican food and beverages.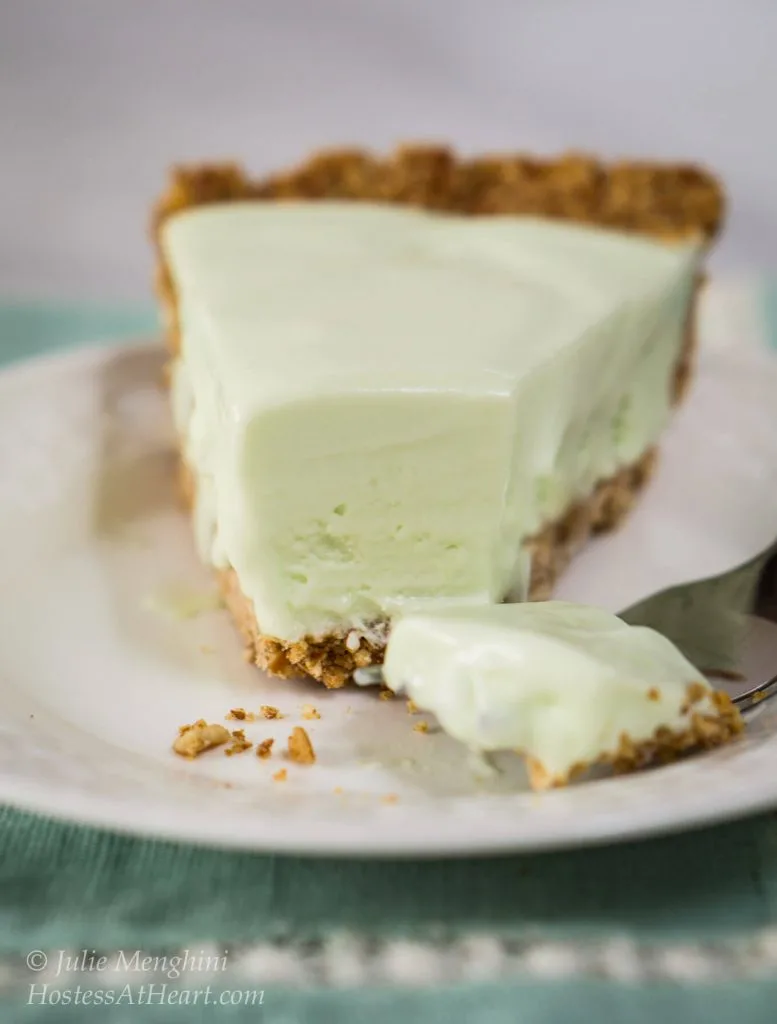 Regardless, I think this margarita pie recipe is perfect for our Americanized Cinco de Mayo or summertime or well, any time!
You don't need a celebration to make this pie. It's perfectly luscious for any time, especially in those warm days where a frozen dessert is so refreshing.
I just love the flavors of the salty-sweet pretzel crust in contrast to the creamy boozy filling. You don't need a celebration to serve this pie because a slice is like a party all by itself. It's a party on a pie plate!
Need to make it quick? No-Bake is the way to go!
I just love the contrast of the pretzel crust that this frozen dessert pie sits in. However, there wouldn't be any reason not to just buy an already made graham cracker crust or to pop a purchased pastry crust into the oven. Just make sure that it's completely cooled before filling it.
---
---
Don't have time to make it now?

Pin it

for later!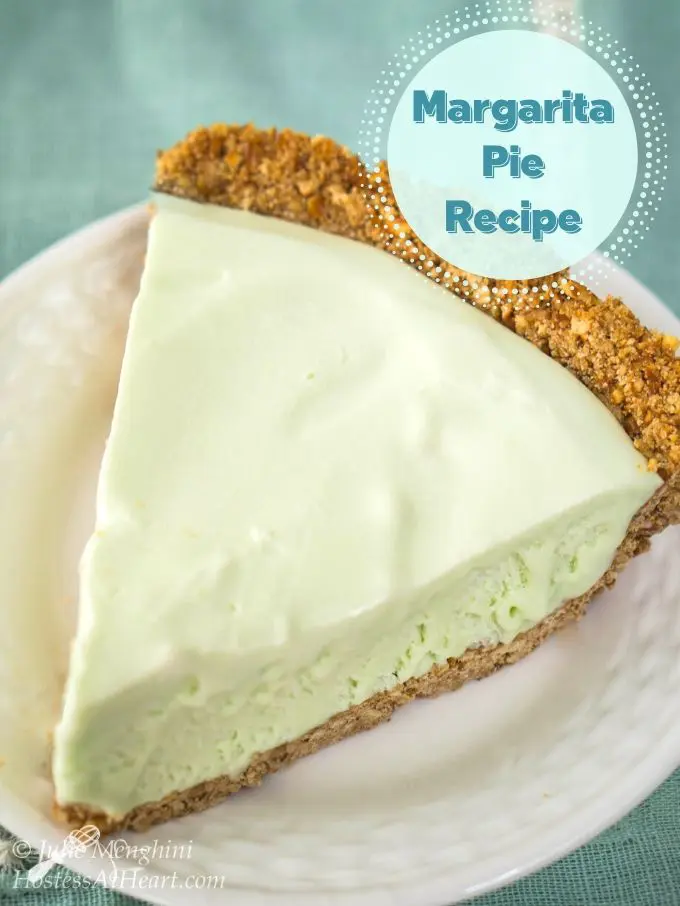 This Magic Margarita Pie really does taste like margaritas, and if you like margaritas, you're going to love this pie!
It is smooth and creamy, and the pretzel crust with that little bit of salt is the perfect combination.
Grocery List for Magic Margarita
Frozen Pie Recipe
Frozen limeade concentrate
Sweetened condensed milk
Tequila (blanco)
Tripple Sec (orange liquor)
Heavy Whipping Cream
Green Food Color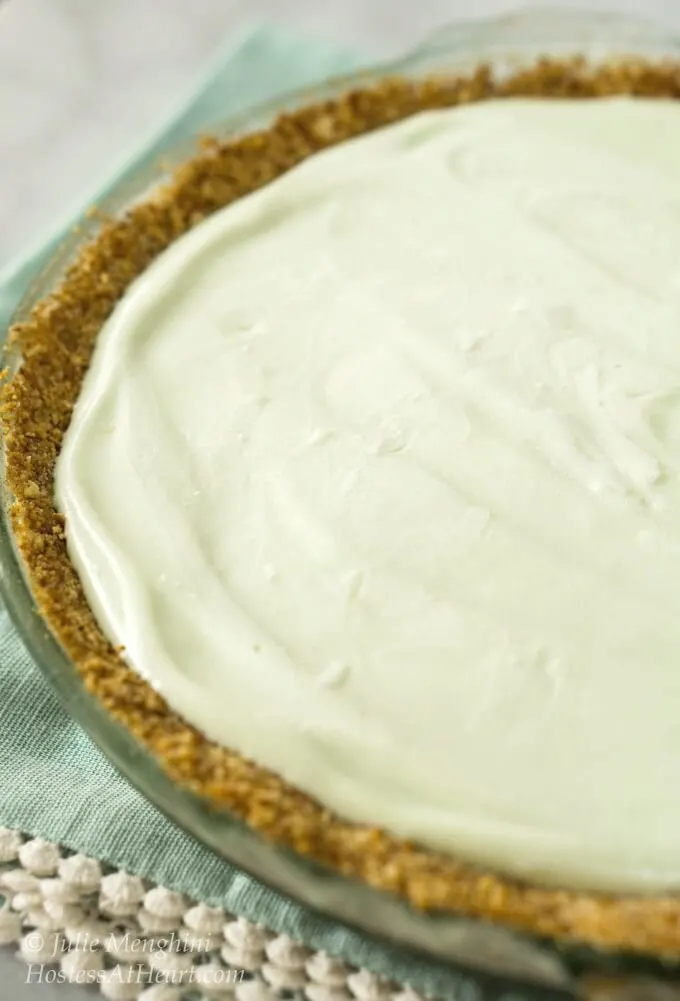 If you like this recipe, here are a few more you may enjoy!
Here are a few things you may need:
Hostess At Heart participates in affiliate programs. As an Amazon Associate, I earn a commission from qualifying purchases. Please refer to my disclosure page for more information about these affiliate programs.
9-inch Deep Dish Pie Plate – I use this pie plate all of the time. Food always looks great in a white pan.
Silicone Spatulas – this pretty set has a flat side and a curved side to take on your toughest job. I love that they are all one piece and can withstand 500°F! Throw out those old chipped ones and treat yourself!
If you tried this delicious recipe, don't forget to rate it and leave me a comment telling me what you think. I love hearing from you!
Our most popular recipes
If you make any of the recipes from Hostess At Heart give me a shout-out on Instagram with hashtag #hostessatheart or tag me @hostessatheart.