Moist and sweet, homemade Key Lime Pound Cake bursts with citrus flavor from lime juice, lime extract, and lime zest all of which add layers of depth to the taste. Sweet and tangy lime glaze drizzled over the top enhances this Key Lime Bundt cake with even more flavor and a touch of sweetness.
This rich and buttery key lime pound bundt cake recipe will quickly become a favorite for anyone who tries it.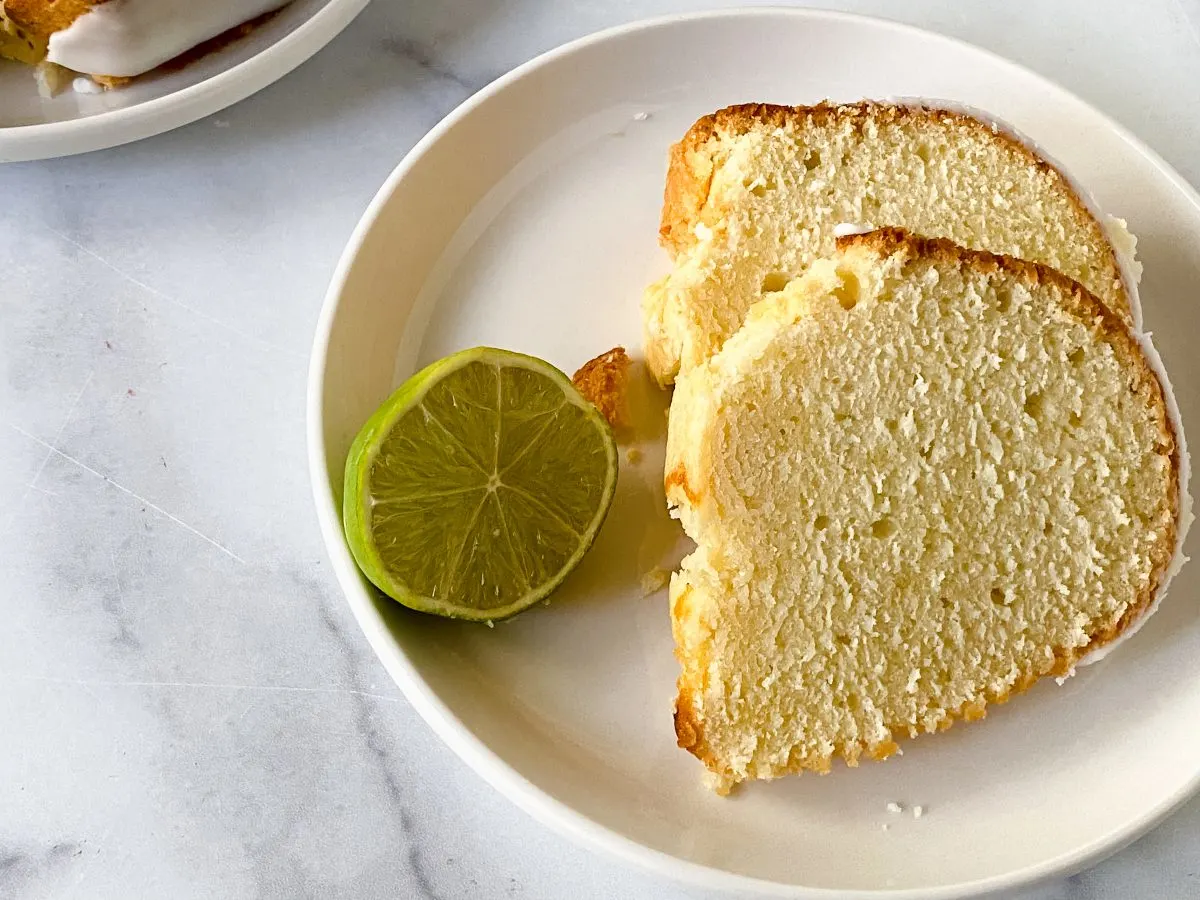 If you love key lime pie or key lime cheesecake, you are going to love this key lime bundt cake with the key lime glaze. The lime flavor is over the top and the texture is absolute perfection. And just look at how gorgeous it turns out. Perfect for a picnic or special occasion.
Why You'll Love our Key Lime Bundt Cake Recipe
The incredible texture. Look at how the crumb of this cake comes out. Dense, buttery cake batter results in a rich cake that bakes beautifully.
The luscious glaze. Flavored with lime juice, this glaze is quite literally and figuratively the icing on the cake. Its the perfect finishing touch.
The easy slice. Using a bundt cake pan makes it so simple to cut even, perfect slices for each guest and family member. You get just the right amount of cake every time.
Equipment Needed
Hostess At Heart participates in affiliate programs. As an Amazon Associate, I earn a commission from qualifying purchases. Please refer to my disclosure page for more information about these affiliate programs.
Ingredients you'll need for this recipe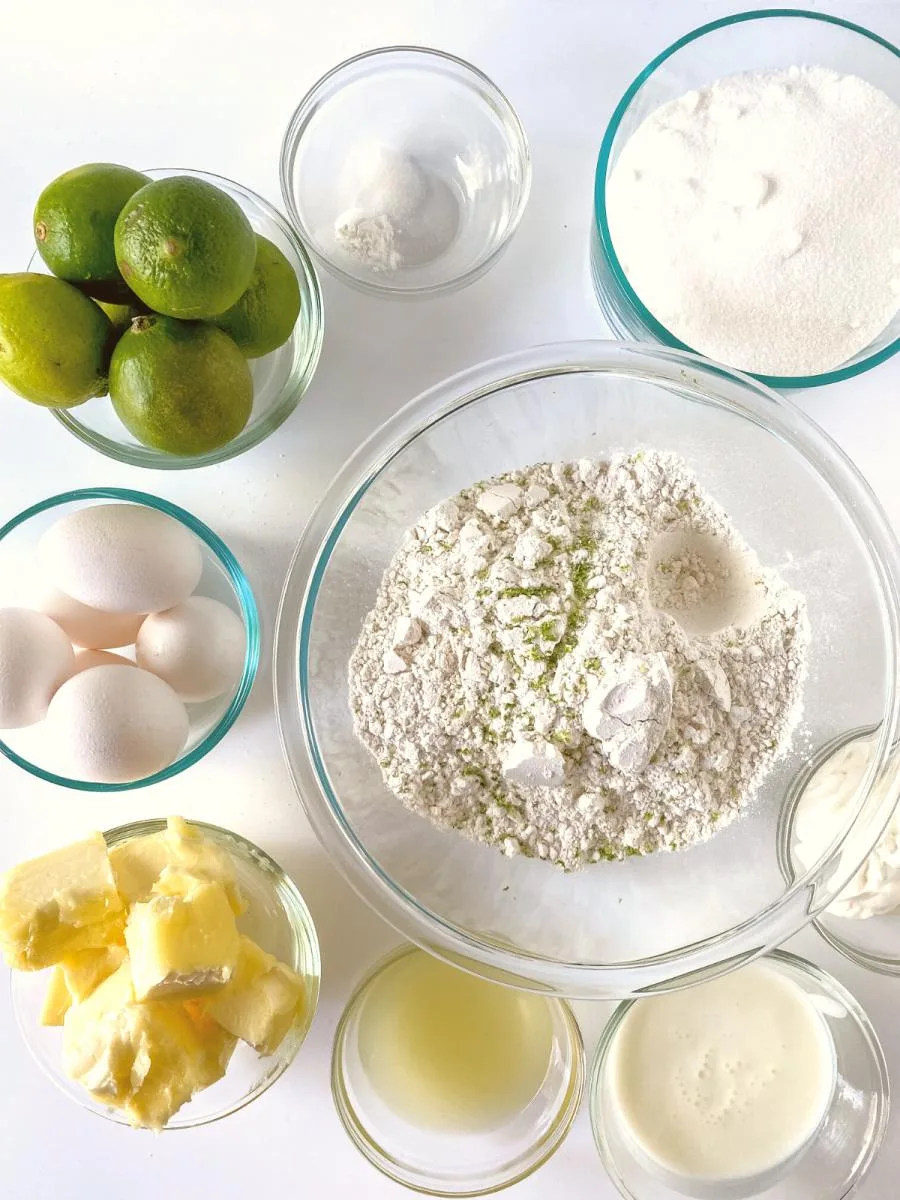 All-Purpose Flour. Substitute with cake flour or gluten-free one-for-one flour if needed.
Baking Powder.
Salt.
Unsalted Butter. Make sure all of your ingredients are set out on the counter to room temperature.
Sugar.
Eggs. Grade A, large.
Lime. For juice and zest.
Vanilla Extract.
Lime Extract. Extracts are a great way to accentuate a specific flavor. They bring intensity.
Lime Juice. I recommend freshly squeezed for the best flavor.
Sour Cream. Full-fat is recommended for a soft and moist cake.
Buttermilk. Full-fat recommended.
Key Lime Glaze Ingredients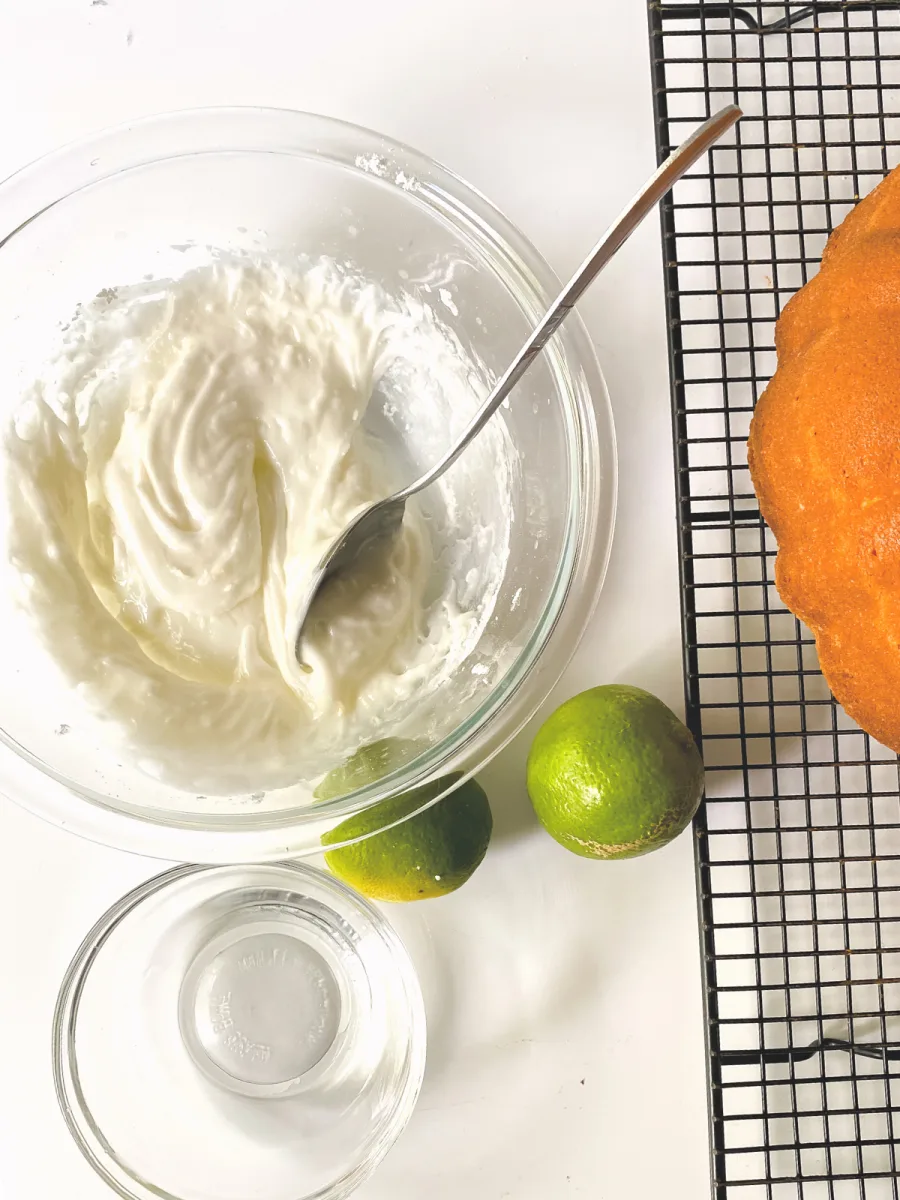 Powdered Sugar. Also known as confectioners sugar
Lime Juice. I prefer fresh squeezed to bottled lime juice.
How to make Key Lime Pound Cake from scratch
Please note, that the printable recipe card has ingredient quantities, complete instructions, and nutritional information. The following is a quick overview of the recipe.
Step One. Get everything ready to make the Key Lime Pound Cake Recipe.
Pull out all of the ingredients. Preheat the oven. Prepare the cake pan.
Step Two: Mix the dry ingredients.
In a large bowl whisk together dry ingredients and the lime zest together.
Step Three: Mix the wet ingredients.
Cream the butter and sugar. Then add the remaining wet ingredients as described.
Step Four: Combine the mixtures.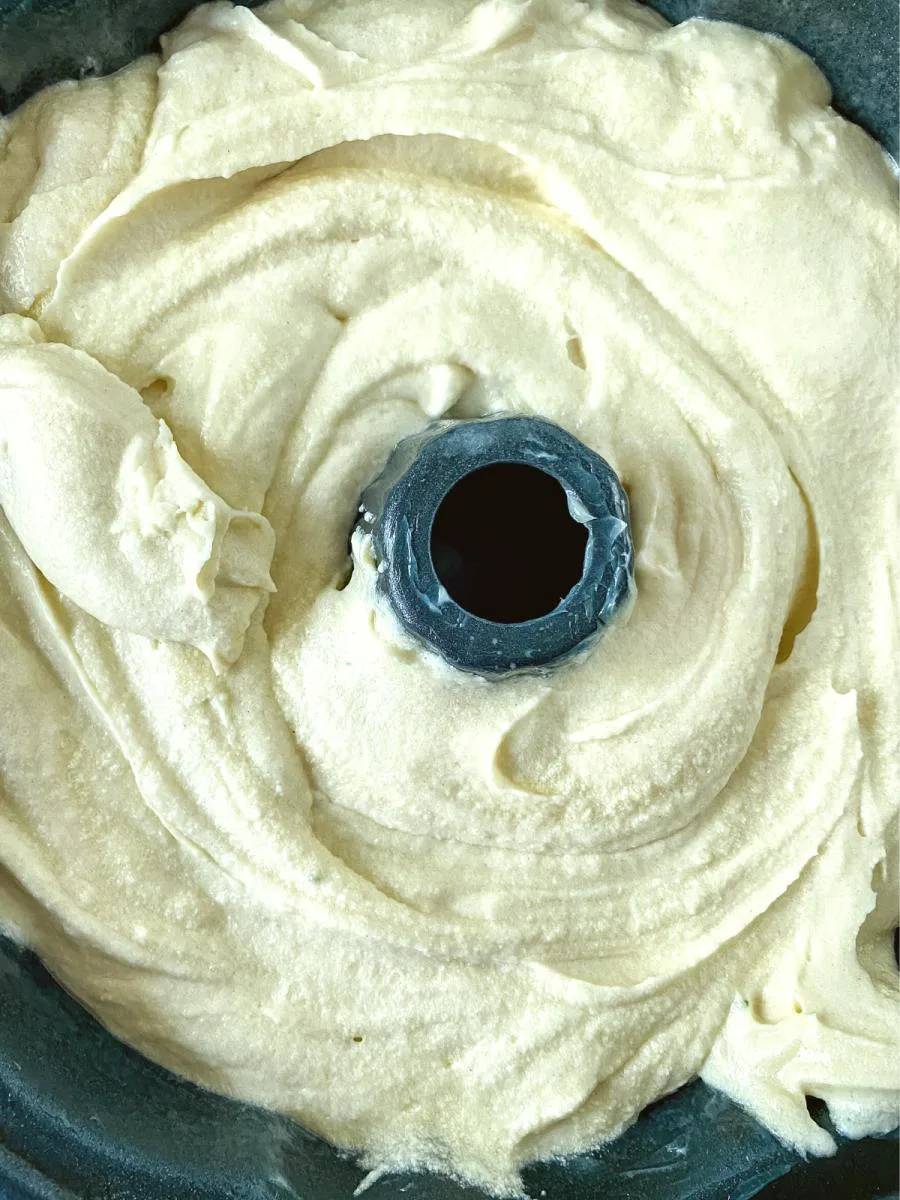 Mix the wet and dry flour mixture together gradually. Fill the cake pan.
Step Five: Bake your key lime bundt cake.
Bake for 75 to 80 minutes.
Step Six: Cool.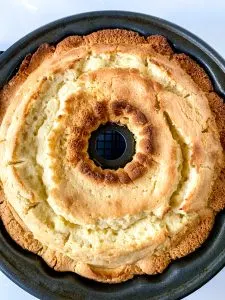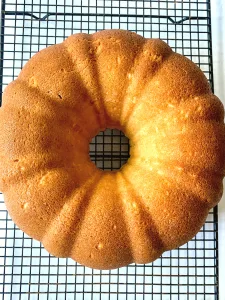 Let the cake cool in the pan on a cooling rack for 10 minutes. Invert the cake onto the cooling rack and let it cool completely.
Step Seven: Mix and Add the Key Lime Glaze.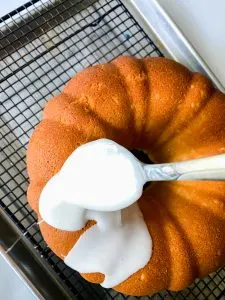 Variations
This cake doesn't actually need to be glazed. A simple dollop of whipped topping or a sprinkle of powdered sugar makes a simple but elegant finish. Make sure you let it cool completely so that the powdered sugar doesn't melt.
Alternatively, thin cream cheese frosting to make a delicious cream cheese glaze.
We love the fresh regular lime juice in this recipe. You can use fresh key lime juice but juicing those little limes is a tedious process. Bottled key lime juice can also be used for that key lime flavor.
Frequently asked questions.
What is the best way to prepare a bundt pan?
You can use a paper towel or a pastry brush and coat the pan with butter or shortening. Add flour (about 1⁄4 cup) and gently tap and rotate the flour around the sides to make sure the surface is completely coated.
My second favorite way to grease a Bundt cake pan is what I learned in a cake decorating class I took several years ago. It combines the grease and flour together and you can make as much as you want. I store it for about 6 months at room temperature. This is how it's done.
Homemade Pan Release: Take an even amount of flour, vegetable oil, and shortening and blend it together until it becomes a smooth paste. Apply this mixture evenly over the inside of the pan with a brush or papertowel.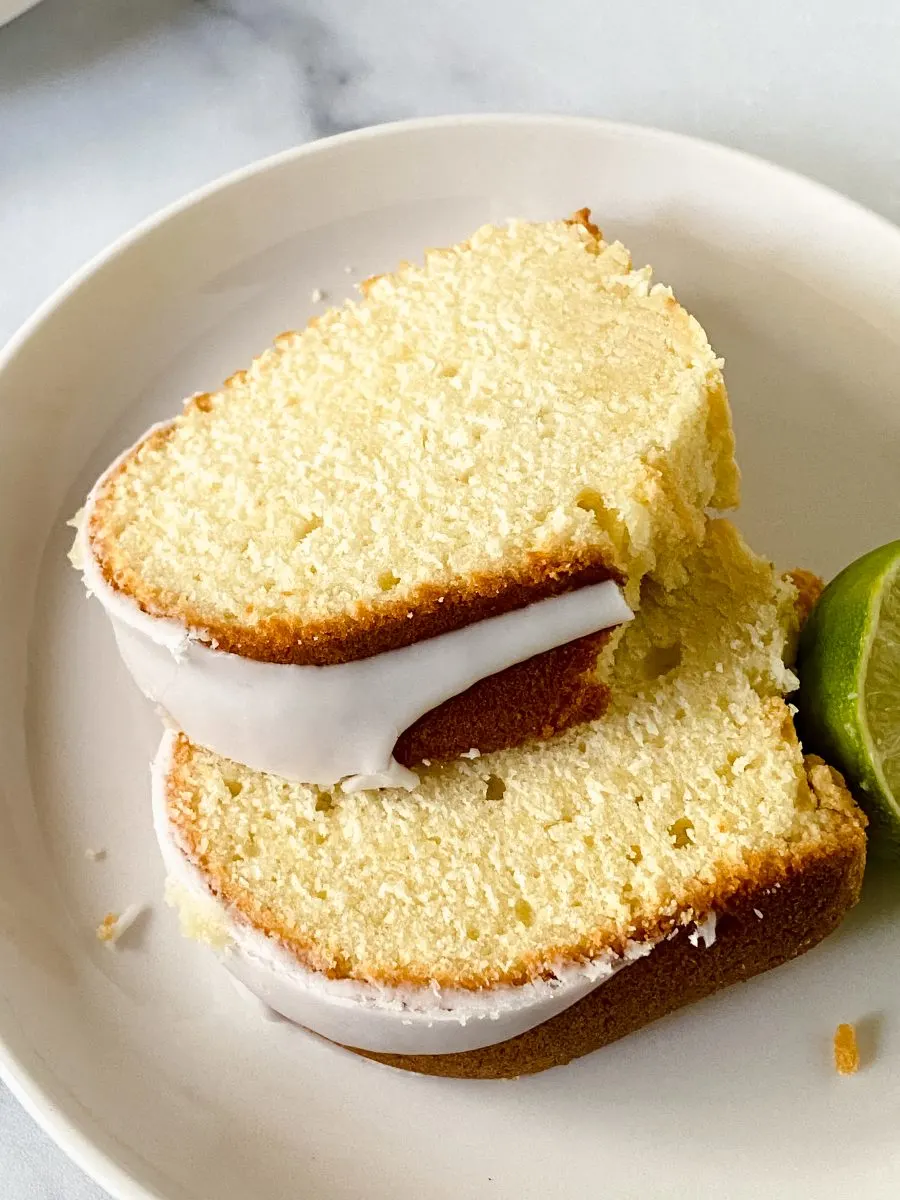 How long do you let a bundt pan cool?
Cool the bundt cake over a cooling wire rack for 10 to 15 minutes. You don't want to overdo this because it can adhere to the sides.
Release the cake – I check the edges to make sure that the cake has been released from the side of the pan. You can use a sharp knife if there are any edges still attached. I then cover the top with a serving plate and flip it over. You can gently shake it to release it as well.
How To Store Key Lime Pound Cake
Best way to store Key Lime Pound Cake
The best way to store pound cake is at room temperature. You can keep it in the refrigerator if you want and may even be able to keep it longer but it will negatively impact the texture and flavor so it is not recommended. Place it in an airtight container at room temperature and it will keep for four to five days.
Can I freeze Key Lime Bundt Cake
Yes. Freeze the whole cake or individual slices in an airtight container. It will keep for three months or more. For individual slices, microwave for twenty to thirty seconds to thaw. For a whole cake, simply set it out on the counter for several hours.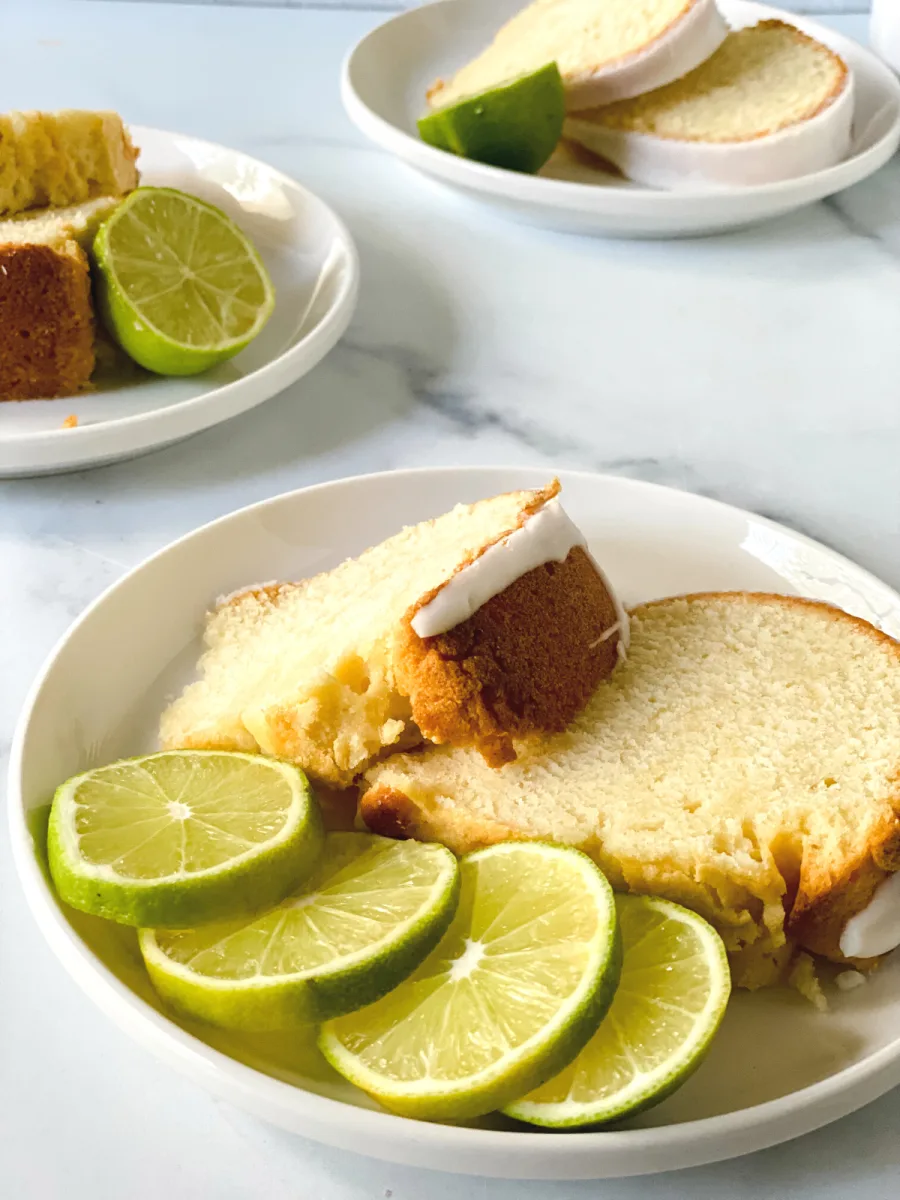 Tips for the Perfect Key Lime Pound Cake from Scratch
All ingredients should be brought naturally to room temperature. This ensures a nice volume for your cake. Don't microwave the butter to soften it!
Do not overbeat. Once you add the eggs, you just want the yolk to be fully blended.
Pound cake works best with real butter because of the fat content ratio.
If you want the best texture possible, be sure to cream the butter and sugar thoroughly until velvety smooth. It takes up to seven minutes to do this well.
Prepare your bundt pan very carefully and thoroughly.
If you enjoyed our Key Lime Pound Cake recipe check these out!
If you tried this delicious recipe, don't forget to rate it and leave me a comment telling me what you think. I love hearing from you!
Pin this amazing recipe!