Brioche Cinnamon Rolls is an overnight recipe that makes putting homemade rolls on your breakfast table simple. No one will be sleeping in when you pull these soft and tender cinnamon pull-apart rolls from the oven.
This recipe was originally posted in 2015 but has been updated to improve reader experience.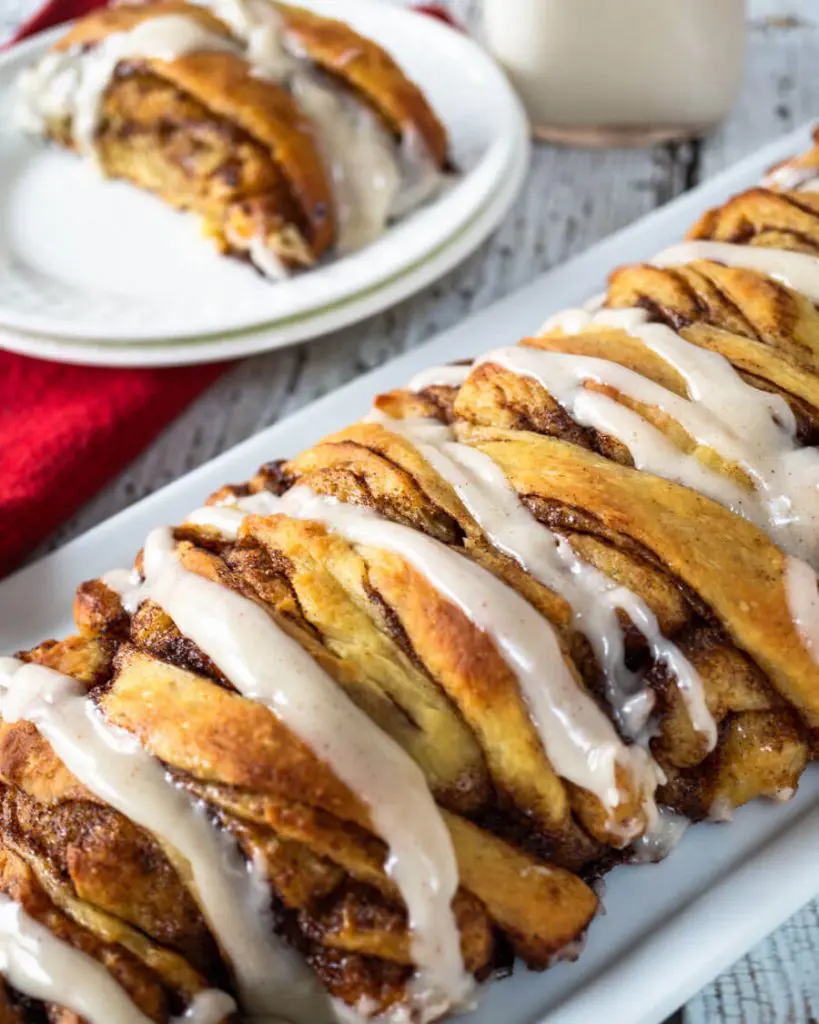 Overnight Brioche Cinnamon Rolls are warm and tender with a sweet cream cheese vanilla bean glaze.
Who wouldn't want delicious hot Brioche Cinnamon rolls with a smooth vanilla bean-cinnamon glaze, first thing in the morning?
In my opinion that would be the ultimate way to start my day!
Making this recipe came about when I joined a bread baking group to challenge myself to learn to create different types of bread.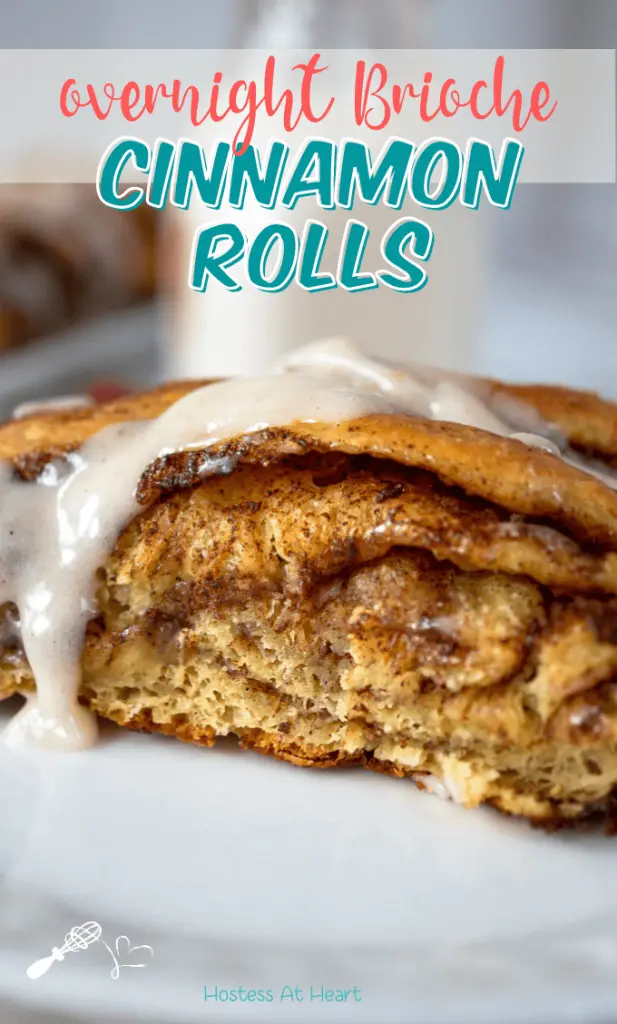 Our host Holly at A Baker's House chose the December theme "Overnight Breakfast Bread".
That excited me because I'd been reading about the benefits of letting bread dough rest overnight in the refrigerator before baking.
In the case of baking Brioche, letting it rise for a long period of time helps it develop structure as well as the smooth buttery flavor. It sure did in our Brioche Buns recipe!
Let me tell you a little bit about what I learned that may help you.
What is Brioche?
Bread usually contains simply flour, water, and salt. If the recipe includes fats, proteins, and sugar, the dough is said to be enriched.
Brioche is a highly enriched dough of French origin. The eggs, eggnog, and butter in these rolls give them a rich, soft, and tender crumb.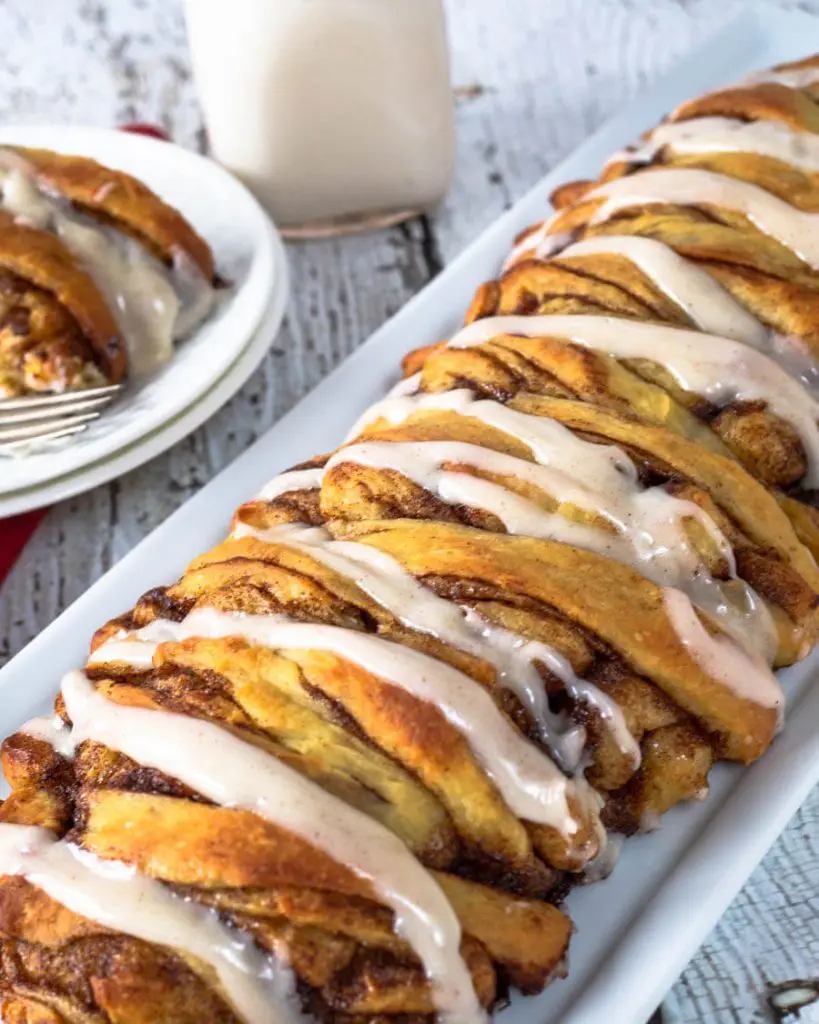 Brioche Cinnamon Roll Ingredients
Flour – we used all-purpose flour
Yeast – dry yeast such as Active, Rapid Rise, or Instant yeast
Butter – we don't use substitutes. Brioche is best using full-fat real butter. We use unsalted. If you use salted eliminate the salt called for in the recipe.
Cinnamon – don't skimp here. We use cinnamon in the dough which is optional but we like taking the opportunity to add more cinnamon flavor.
Sugar – white granulated sugar
Salt – we bake with fine sea salt because it dissolves well. However, kosher or table salt works fine.
Egg Nog – this rich drink works great in this recipe. You can also use whole milk. We don't recommend using a low-fat version, again, brioche likes its fat.
Eggs – we use Grade A for consistency in our baking.
Vanilla Bean – we love using vanilla beans but you can also use vanilla bean paste or vanilla extract.
Brown sugar – we prefer dark brown sugar because of the deep molasses notes. Light brown sugar is perfectly acceptable as well.
Cream Cheese – is used for the glaze.
Powdered sugar – also known as confectioners sugar.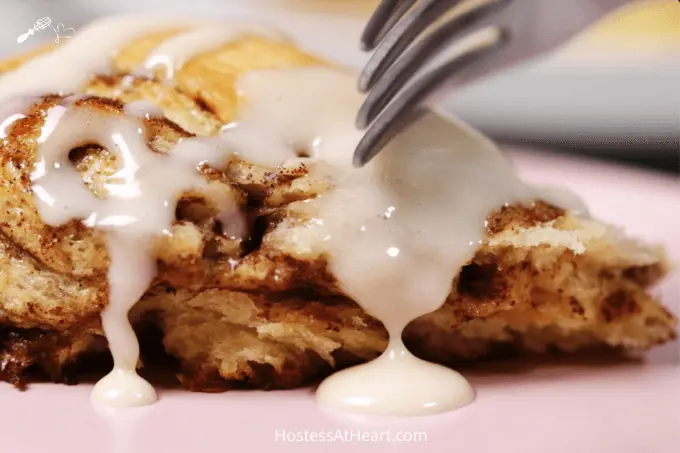 How to make Overnight Brioche Cinnamon Rolls
Step 1: Prepare the dough – Tips & Variations
We used an electric stand mixer to mix our dough. It can be mixed by hand as well.
It's important to know that this is a wet sticky dough. You don't want to add additional flour as you would traditional dough recipes to make it more manageable. Doing so will produce a dry and tough cinnamon brioche roll.
We also used room-temperature ingredients and warmed the liquids before incorporating them. The temperature is warm, not hot. Think bathwater. Overheating the liquid can kill your yeast.
Heating the liquids and using room temperature ingredients assures that they will blend into a smooth dough.
To the bowl of your mixer, add the yeast, warm water, and sugar. Let it sit for a couple of minutes to activate.

If you're using rapid rise or instant yeast, you don't have to wait.

Add the warmed eggnog, salt, softened butter, slightly beaten eggs, and vanilla bean. Mix until combined.
Add the cinnamon to the flour and gradually add the flour until the dough comes away from the sides of the mixer and forms a ball.
Remove the dough and put it on a lightly floured work surface. Knead it for just a few minutes.
Place the dough in a large oiled bowl. Cover it and allow it to rise at room temperature until doubled, 1-1/2 to 2 hours.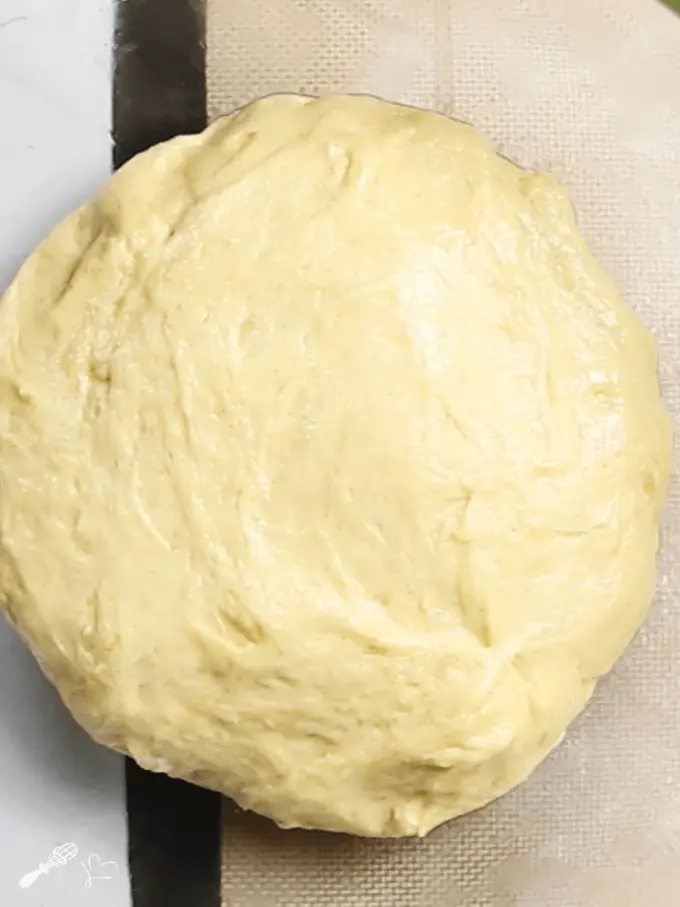 Step 2: Make the filling
Combine the brown sugar and cinnamon together. Mix with a fork or briefly with your fingers.
Step 3: Shape the Brioche Cinnamon Rolls

Lightly dust a work surface with flour. Punch the dough down and roll it into a rectangle measuring approximately 9 x 24 inches.
Spread softened butter over the surface of the dough.
Sprinkle the brown sugar and cinnamon filling over the dough.
Starting on the longer edge, roll the dough until it forms a long log.
With the seam side down, using a sharp pair of kitchen shears, snip the dough into 1/2-inch increments. DON'T go all the way through the roll.
Offset each section by alternatingly pushing them forward and backward.
Place on a parchment-lined baking sheet. Cover with plastic wrap and refrigerate for at least 6 hours or up to two days.

Variation1: The method to create the pull-apart is quick and simple. However, you can cut all the way through the roll and separate them into individual brioche cinnamon rolls. Set them on the cut side in a baking pan prior to refrigeration.
Variation 2: Offset rolls can be placed in 9×5 bread loaf pans. It's not necessary to offset them very much. They will still be pull-apart rolls.
The benefit of using loaf pans is if you don't need to serve the whole cinnamon brioche roll, you can freeze one for another time. We wrapped one in plastic wrap and then aluminum foil prior to glazing it and put it in the freezer.
It thawed at room temperature quickly while we made our glaze.
Step 4: Bake
Remove the brioche cinnamon rolls from the refrigerator while the oven preheats.
Brush the dough with melted butter.
Bake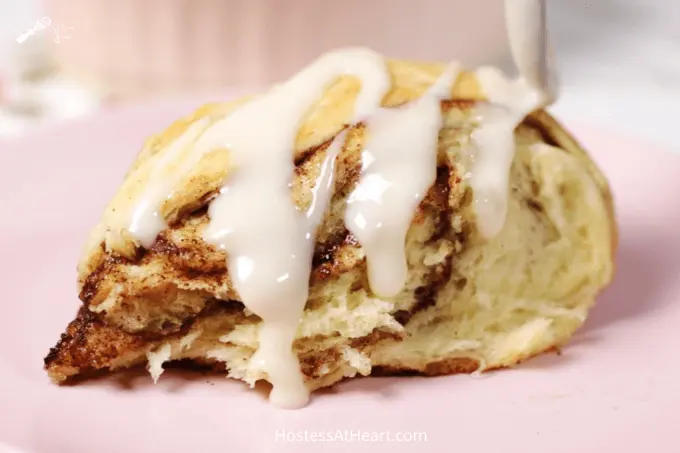 Step 5: Glaze
We used a cream cheese glaze by combining room temperature cream cheese with milk and vanilla bean.
You can also use a simple vanilla bean glaze such as what we did in our Mango Muffins recipe.
Does dough need to be refrigerated?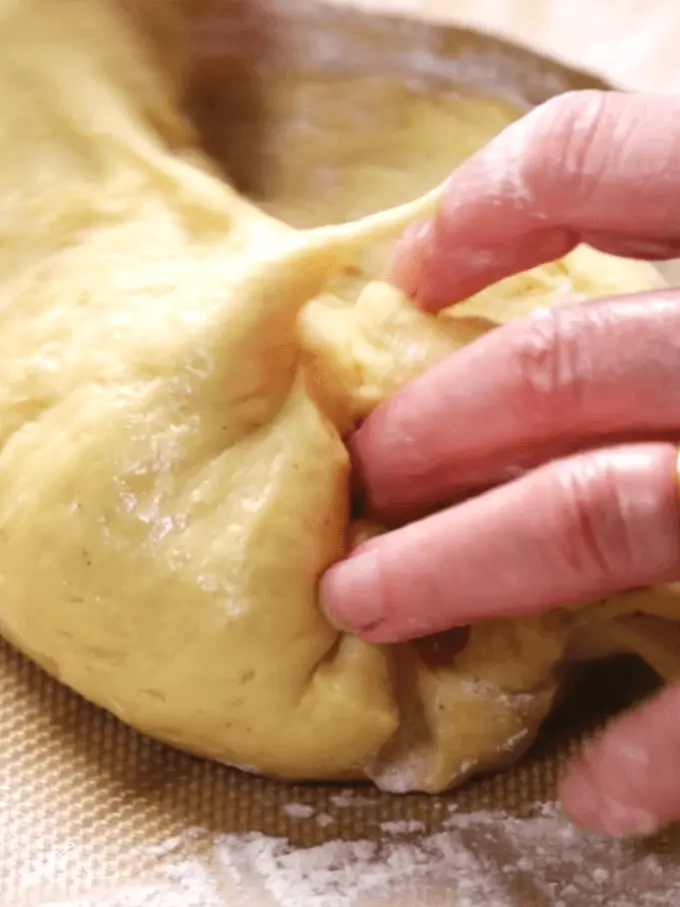 Because of these enriching ingredients, the dough is soft and wet. Refrigerating it, and giving it a longer rest helps it gain structure that will help you shape it.
I found the Brioche dough was a buttery soft dough similar to a warm sugar cookie dough.
If you like this recipe, here are a few more you may enjoy
We LOVE baking bread! You can find all of our bread recipes here!
Put this beautiful roll in the middle of the table, and watch it disappear.
Pulling rolls off allows you to have just as big a piece as you want. It's a good thing that this recipe makes one gigantic roll, or as I did, two good-sized rolls.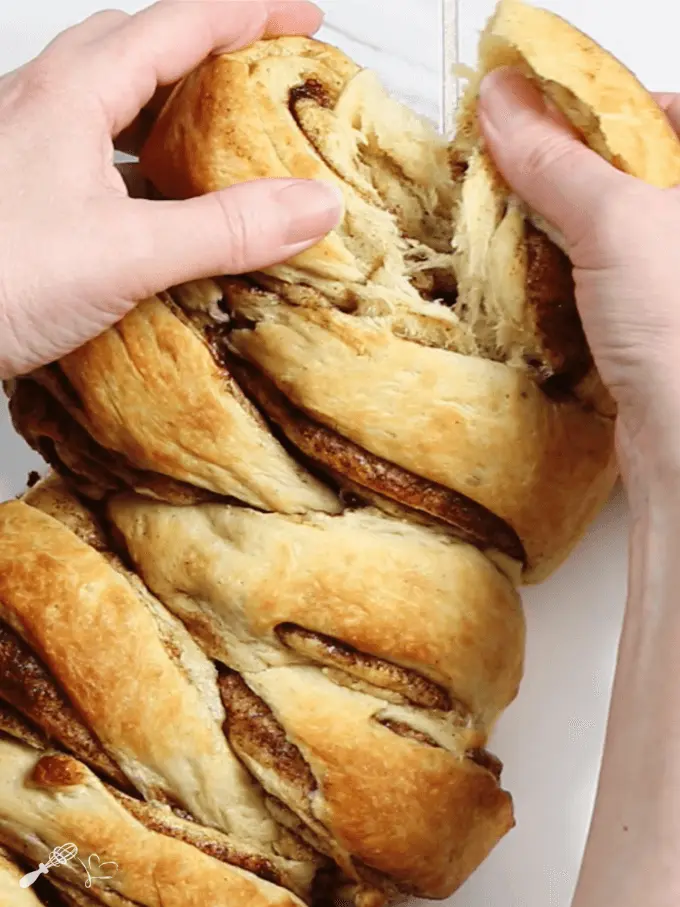 Can you imagine getting this roll as a gift? This recipe is perfect for overnight guests too. Mix it up the day before and just plop it in the oven the next morning. Your guests will be amazed.
What you may need
Electric Stand Mixer – I often use a mixer when mixing brioche dough. Since it is a wet and stickier dough, it makes short work of putting it together.
Baking Sheet – I use this baking sheet almost every single day whether it's in the oven or on the grill.
Parchment paper – This paper makes clean up a breeze and its high heat-resistant rating assures it will not catch on fire with our hot oven.
Pin these Cinnamon Brioche Rolls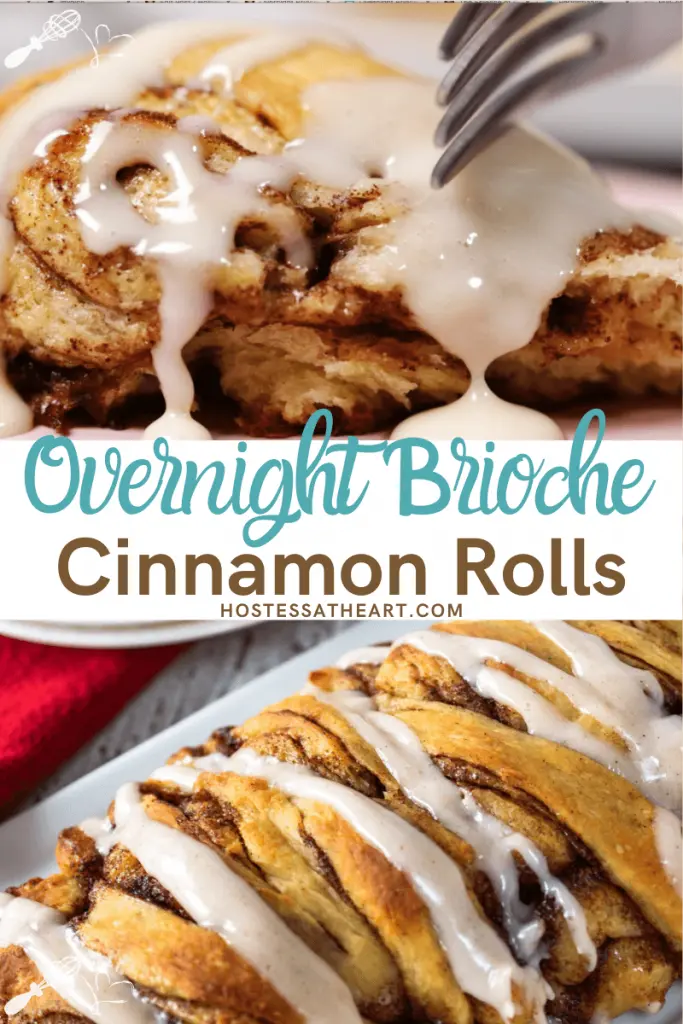 If you like this recipe, we would appreciate your comment and a 5-star ⭐️⭐️⭐️⭐️⭐️ review!
Here's your yummy recipe
Our most popular posts
As amazing as this Overnight Brioche Cinnamon Rolls recipe is, there are a lot of great recipes from the Bread Bakers group. I hope you will stick around and take a look at their recipes too.
The #BreadBakers theme this month is Overnight Breakfast Breads. This includes yeasted breads that you prepare the night before then bake in the morning as well as quick breads that you prepare ahead of time then mix and bake in the morning.
December is a busy time for celebrations and getting together with family and friends. It is always nice to think ahead and to make dishes ahead of time so that you– the baker– can enjoy the fruits (or bread) of your labor with your loved ones.
Here is what the group is sharing today, enjoy!
#BreadBakers is a group of bread loving bakers who get together once a month to bake bread with a common ingredient or theme. Follow our Pinterest board right here.
We take turns hosting each month and choosing the theme/ingredient.
If you are a food blogger and would like to join us, just send Stacy an email with your blog URL to [email protected].