Blueberry Twisted Bread Rolls start with a soft and tender sweet dough that's stuffed with blueberry cream. This easy twisted bread is stunning on any table.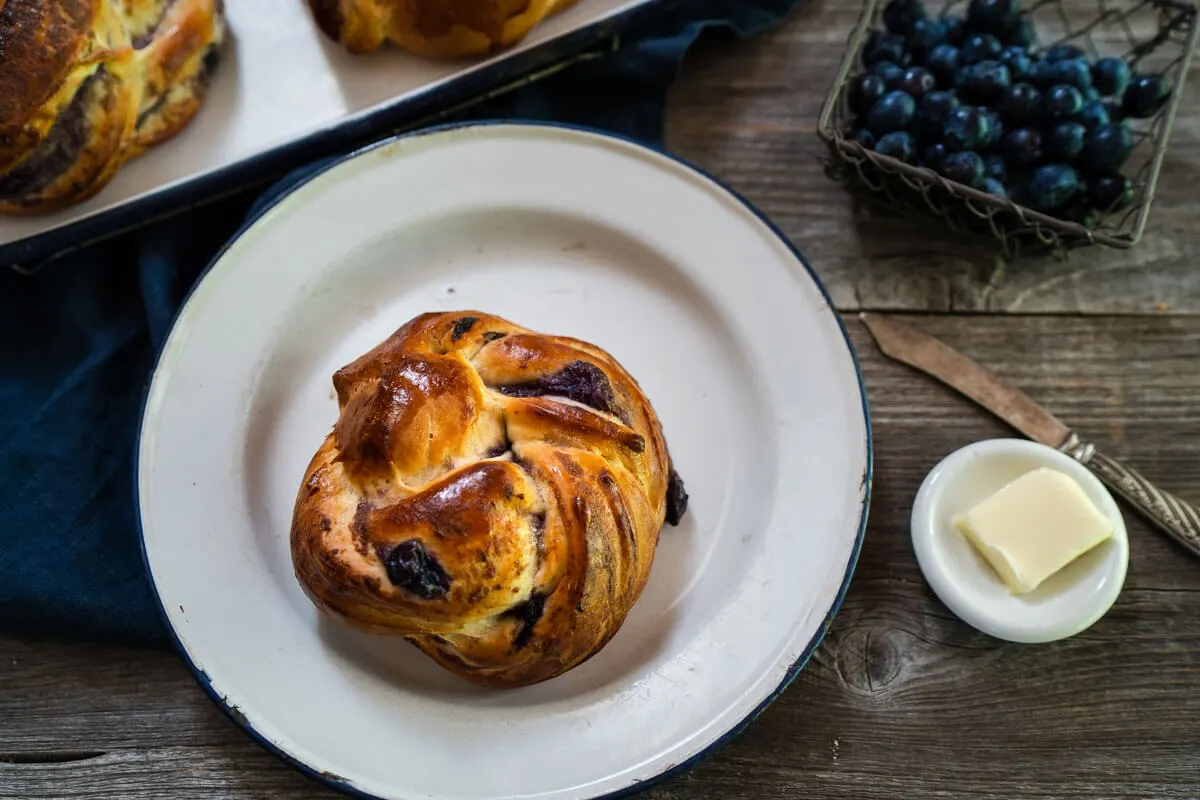 Blueberry Twist Bread Rolls look bakery beautiful. I'll show you how easy it is to easily braid these rolls into the shape you want.
What I love about spiral twist bread rolls
The yeast dough is so simple to make and is soft and smooth making a tender, melt-in-your-mouth roll.
They're perfect for the holidays or any time of year. I love making them and putting them in the freezer. When we have overnight guests, they definitely feel pampered being served the beautiful rolls.
Items you may need
Hostess At Heart participates in affiliate programs. As an Amazon Associate, I earn a commission from qualifying purchases. Please refer to my disclosure page for more information about these affiliate programs.
Blueberry Twist Bread doesn't have a lot of fancy ingredients or take a lot of special equipment to make.
We used baking sheets and covered them with parchment paper for easy cleanup. I like sliding them right off the baking sheet onto a cooling rack.
I also like a sturdy stainless spatula for picking up the rolls and putting them on the baking sheets.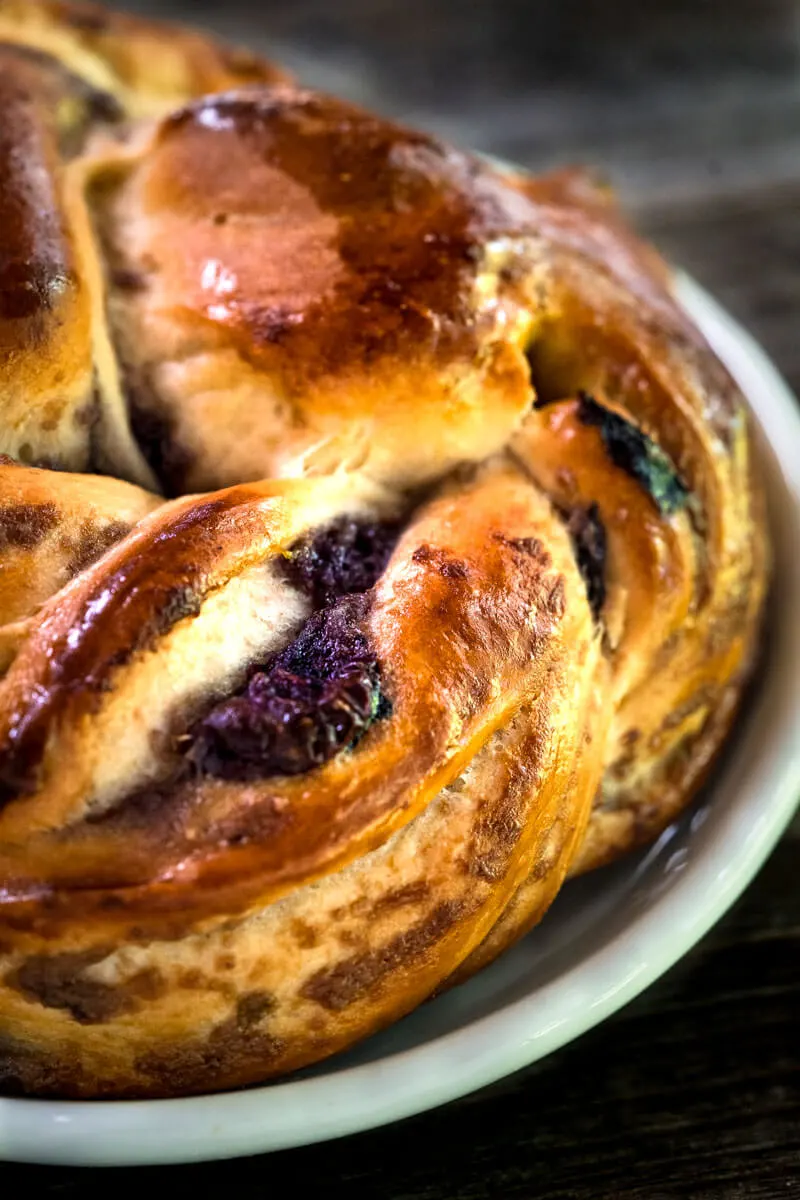 Ingredients you'll need for Blueberry Twisted Bread Recipe
Sweet Twist Bread Dough
Whole milk
Large eggs
Unsalted butter
Sugar
Salt
All-purpose flour
Blueberry Pastry Cream
Heavy whipping cream
Sugar
Flour
Salt
Egg yolks
Lemon juice
Fresh blueberries
How to make blueberry twist sweet dough recipe
Making Sweet dough is easier than many dough recipes. It's a soft buttery dough that is easy to handle. It's not as delicate as some sweet roll dough such as brioche.
I do recommend that you use an electric stand mixer fitted with the paddle attachment. Here's how we made our Blueberry Twist Sweet Dough.
In the bowl of an electric stand mixer, combine the sugar and beaten egg. Blend everything together.
Add the yeast, salt, and butter. Mix slowly while drizzling in the scalded milk.

Scalded milk is any milk variety that's been heated to 180°F and then we allow it to cool. The milk used to be scalded before pasteurization to kill bacteria. While you don't have to scald the milk, we believe that it adds a soft texture and airiness to the sweet bread dough

With the mixer on its lowest setting, gradually add the flour until you can handle it without it sticking to your hands. This can be 4 to 6 cups. Don't add more than you need or the dough will become tough.
Put the dough in an oiled bowl and cover it with a towel or plastic wrap at room temperature until the dough rises 30% to 50%, approximately 90 minutes.
Fill and shape your Blueberry Twist rolls and let them rise on a covered baking sheet until puffy, approximately 60 minutes.
If you have temperature issues when raising any yeast dough, I really recommend the Raisenne® Dough Riser our dough. It speeds up the raising time while leaving the dough soft and fluffy.
If you'd still like a little help, we made a detailed video in our Soft Kifli Nut Rolls Recipe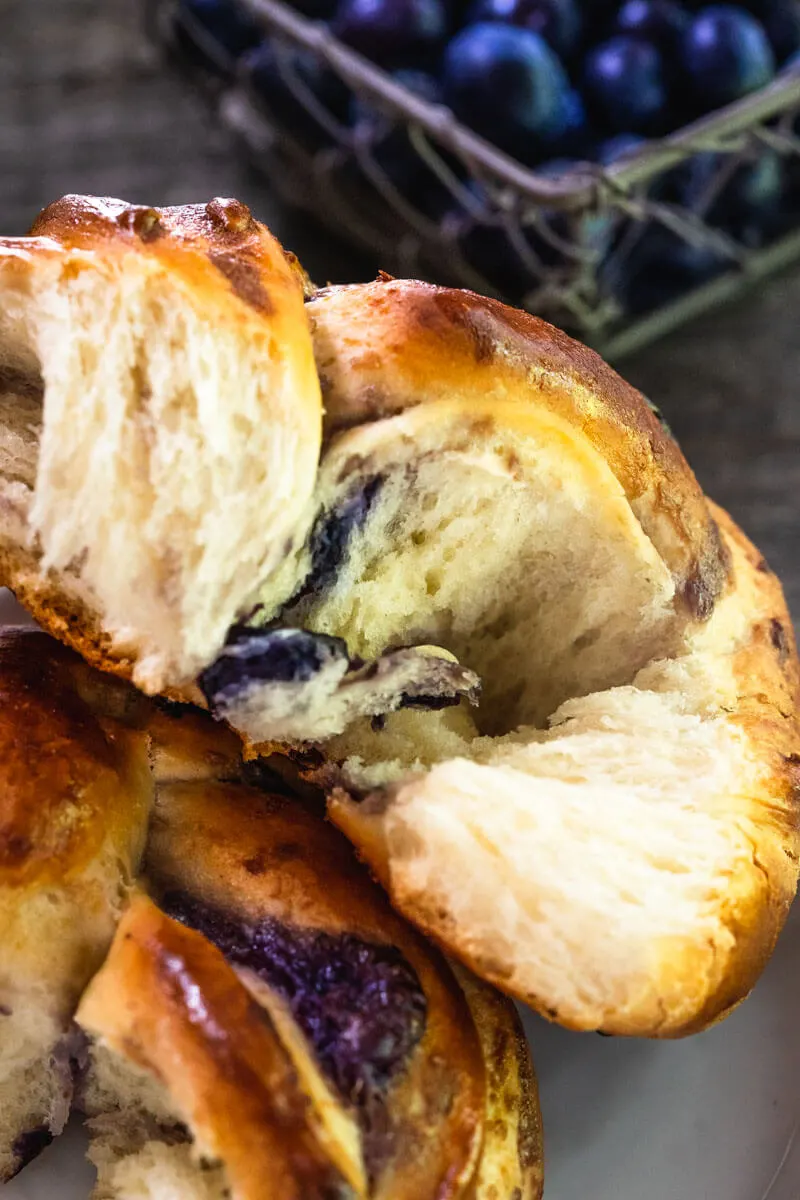 How to make Blueberry Pastry Cream
Our Blueberry Pastry Cream is not a fussy recipe. The best tip that I can give you is to do one of two things:
Let the cream mixture cool before drizzling it in to the egg mixture, OR
Drizzle the cream very slowly into the egg mixture.
If you pour hot cream over eggs, you're going to have scrambled eggs. The slow drizzle is known as tempering.
You'll also want to remove the Blueberry Pastry Cream from the heat just as soon as it becomes thick. Once it's thick, it will burn or start to stick.
If you're not a blueberry fan, try another berry. Strawberries would be delicious.
Tips for the perfect Blueberry Twist Rolls
Our rolls start with 9×5 sized pieces of sweet dough. We found that this was a manageable size. You could make them smaller but I wouldn't go larger.

You can reroll the scraps together to make additional twist rolls.

Don't overfill the pastry cream. By doing so, you will just lose it when it squishes out as you roll it.
When you shape your twist rolls, keep them relatively tight without loose gaps.
The dough is easier to roll and cut if it's slightly cool. If you have a granite or marble cutting board or countertop, that works well for rolling out sweet dough.
These Blueberry Twist Bread Rolls aren't sweet like a traditional pastry such as a donut. If you want to add a little sweetness, you can drizzle them with a simple glaze, or sprinkle the tops with turbinado after the egg glaze.
How to shape bread twists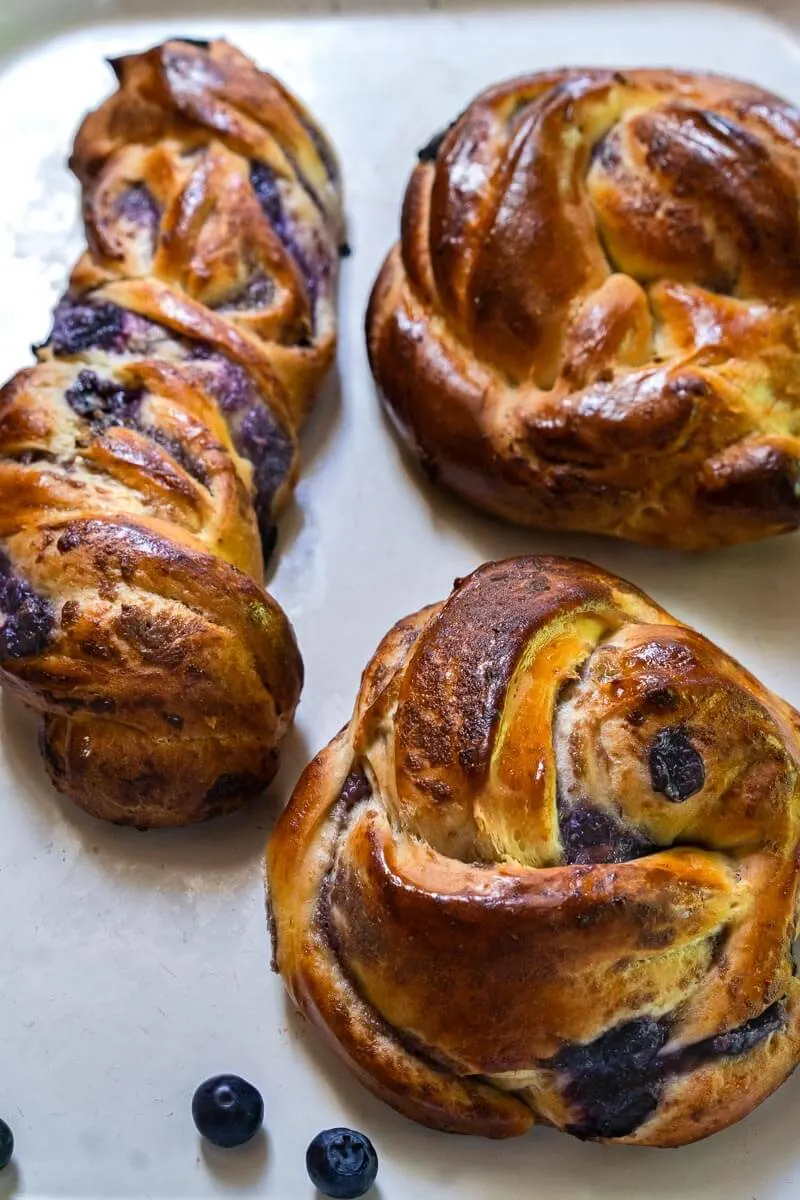 In the video I show you how to shape these twist rolls. To make spiral twist bread rolls don't connect the ends. You can just leave them as a long "twist" or get really fancy and braid them!
Want more delicious recipes? Follow Hostess At Heart on Pinterest!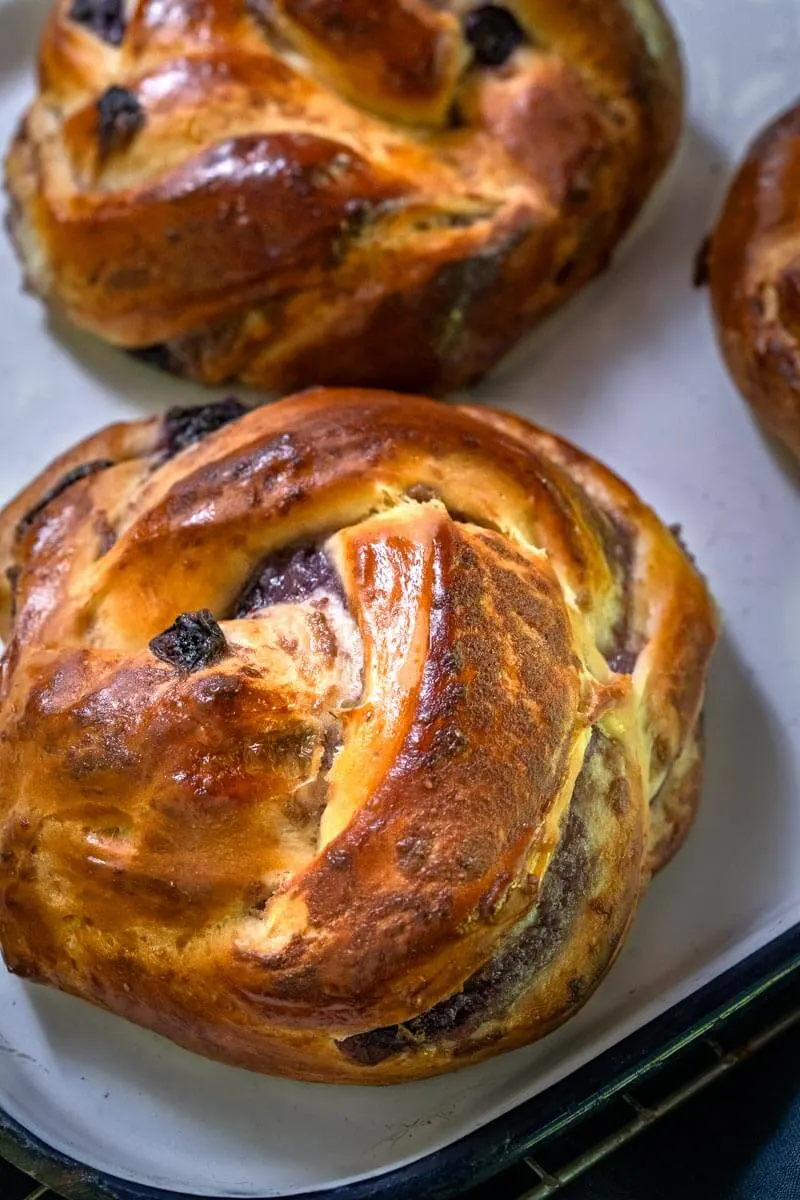 Storing and Reheating Blueberry Yeast Rolls
This blueberry twist bread recipe makes approximately 24 braided bread rolls. Because of the pastry cream, I recommend that they be stored in an airtight container in the refrigerator for up to 3 days.
These rolls freeze great. Place them in an airtight container such as a reclosable freezer-grade bag for up to 3 months. Thaw rolls briefly at room temperature or overnight in the refrigerator.
Blueberry twist rolls can be reheated using short 30-second increments in the microwave.
If you tried this delicious recipe, don't forget to rate it and leave me a comment telling me what you think. I love hearing from you!
There's nothing like fresh homemade bread for great family and friends as they gather around your table.
No one will believe that this Twist bread came from your oven.
We get comments sometimes where our readers think that they can't make one of our homemade bread recipes.
This post has been updated to improve the readers' experience. No changes were made to the recipe.
If you like this recipe check out these braided bread recipes
We LOVE baking bread! You can find all of our bread recipes here!
Pin this easy Blueberry Twisted Bread Roll Recipe
Our most popular recipes!
There's nothing more methodical and calming than kneading fresh yeast bread rolls.
I hope you'll give this one a try. It's pretty simple…pinky swear!