Spaghetti Pie Recipe has a thick bottom layer of pasta and topped with a creamy filling, and meat sauce under a thick layer of mozzarella. It's quick and easy comfort food.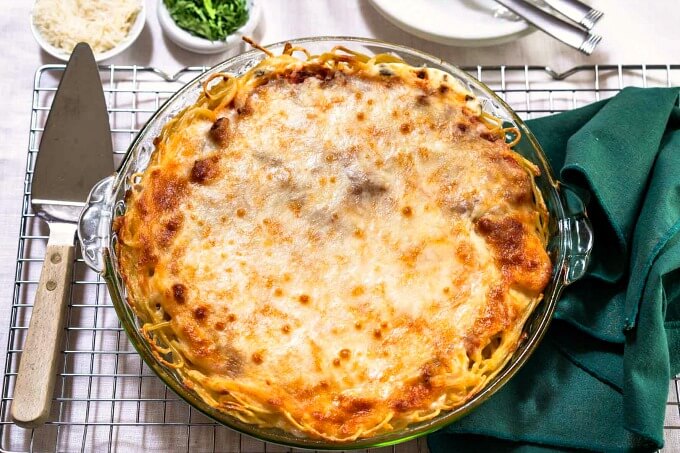 My household relies on easy to make meals that can be created in a jiffy. Baked Spaghetti Pie is a lifeline in my household!
Spaghetti Pie checks off all of my requirements:
Quick and easy
Minimal ingredients
Leftovers – using or creating
Delicious – always
There's a video in the recipe card below showing how easy Spaghetti Pie is to make!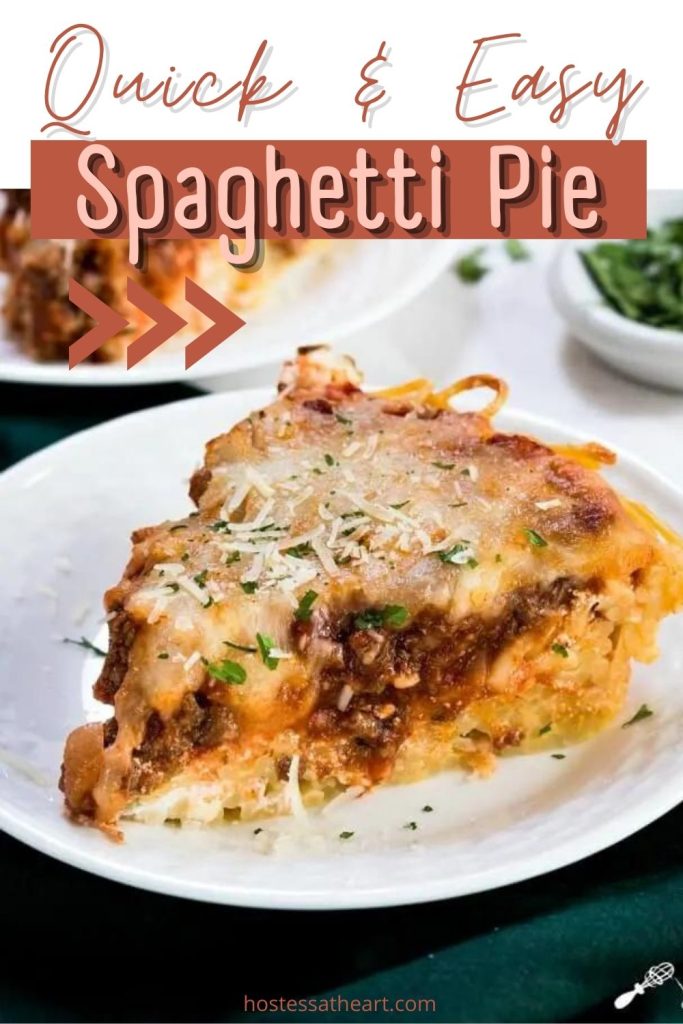 Those are my requirements. If you ask John, he has to have his occasional (ok daily) infusion of carbs. I married an Italian/Irish boy and the Italian side rules his appetite.
That being said, I routinely rely on recipes with pasta. When I started making this easy spaghetti pie, John couldn't get enough of it. It's versatile enough to mix up the ingredients so we don't get bored with it.
This dish definitely comes under the comfort food category which I usually think of as cold-weather food. Or food that I can eat and hide behind a humongous sweater.
Baked Spaghetti Pie is a dish that we make all year long. I love that it makes a thick hearty serving so I usually have leftovers for lunch or another meal during the week.
Ways to make this Easy Spaghetti Pie Recipe your own.
Make it vegetarian – just skip the meat altogether.
Add the vegetables that you like to the creamy filling.
Use a jarred spaghetti sauce if you don't have a stash of homemade in the freezer.
Use leftover spaghetti noodles.
Exchange spaghetti for angel hair, fettuccine, vermicelli.
Try Pecorino or Provolone cheese instead of Mozzarella. You don't have to grate or slice your own. Buy grated to speed up the dish.
Tips to make the perfect pasta:
When you cook pasta, cook the entire package even if your recipe doesn't require that much. Freeze the remaining "naked" pasta for recipes such as this. Let the noodles that at room temperature. To reheat, just run hot water over the noodles. There's no need to cook them any further.
Undercook pasta by 1 or 2 packages according to package directions when you plan to bake them or cover them with hot sauce. This will keep them from getting mushy or pasty.
Don't add oil to your cooking water. You may think it keeps your pasta from sticking together but what it actually does is seal your pasta and keep it from absorbing flavors from your other ingredients.
Salt the water after it begins to boil. If you do so before boiling, the salt can pit your cookware.

Salting the water is a must. It's your only opportunity to season the noodles prior to cooking them.

Don't throw out the pasta water until after your recipe is complete. Sauces can be thinned without becoming runny and noodles can be reheated with pasta water. Besides, it's already seasoned!
I rely on pasta water to make our Creamy Shrimp Pasta with Tomato & Spinach and Bucatini Cacio e Pepe with Proscuitto.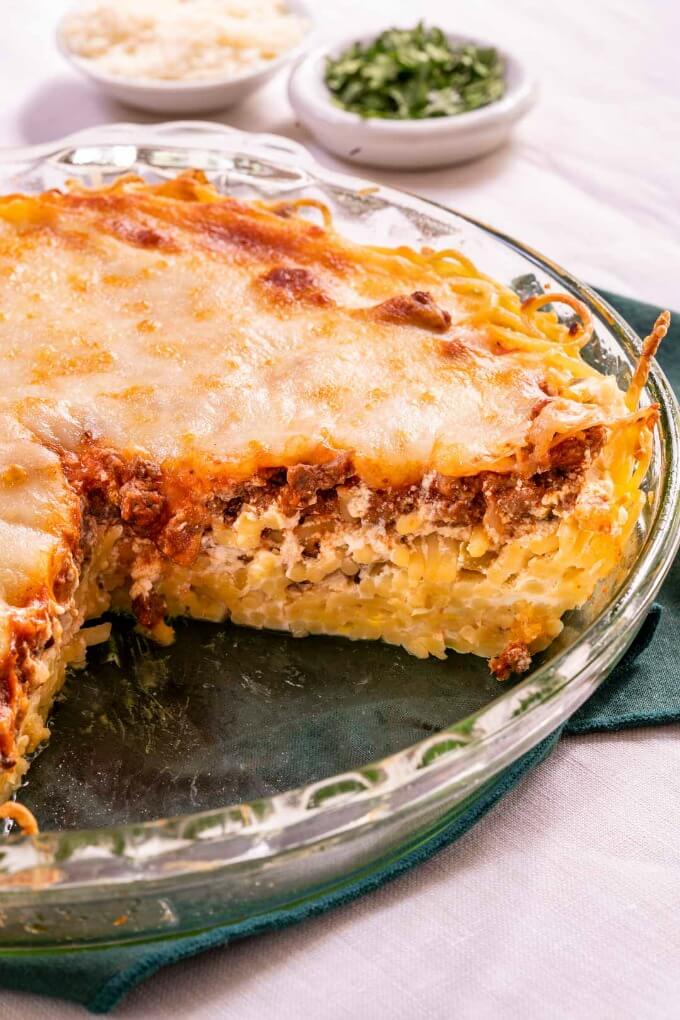 You might need:
Pasta Cooker – I like using a pasta cooker because it allows me to cook pasta with less water and drain my pasta without losing my pasta water. I use the pot by itself when I need a large pot too.
Box Grater – I shred my own cheese. I think the cheese is fresher, doesn't contain anti-clumping agents, and is more cost-effective.
Pie Plate – I've got several pie plates but I find myself returning to this simple scalloped plate. It shows off my baked items and is very reasonable.
If you like this recipe, we would appreciate your comment and a 5-star ⭐️⭐️⭐️⭐️⭐️ review!
If you enjoyed this recipe, here are a few more you may like!
Be sure and stop back and let me know how your spaghetti pie turned out!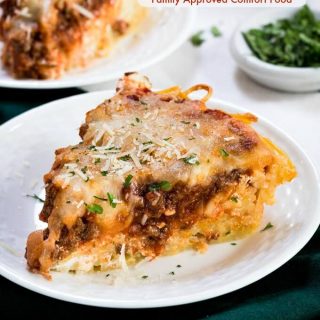 Spaghetti Pie Recipe
Spaghetti Pie Recipe is an easy weeknight meal that has a thick layer of pasta, creamy filling, meat sauce and topped with mozzarella cheese. It's quick to make and delicious!
Ingredients
6

oz

spaghetti noodles

cooked

2

eggs

beaten

1/4

cup

parmesan cheese

2

tbsp

butter

1/3

cup

onion

chopped

1/4

cup

green pepper

1/4

cup

mushrooms

fresh

1

cup

sour cream

1

lb

Italian sausage

may use ground beef

6

oz

tomato paste

can

1

cup

water

1

cup

Mozzarella cheese

sliced or grated

Herbs or fresh garlic

*optional
Instructions
Preheat the oven to 350°F and spray a 10" pie plate with non-stick cooking spray.

Break spaghetti in half. Cook in boiling salted water until 1 to 2 minutes before done according to package directions.

In a skillet, melt the butter and add green pepper and onion. Saute until they just start to soften. Remove the vegetables to a small bowl and set aside to cool slightly. Add the sour cream to the vegetables and stir to combine.

**In the same skillet as you used on the vegetables, brown the meat. Drain. Add tomato paste and water. You can also add garlic or herbs to this sauce. Simmer for 10 minutes without a lid covering the pan.
Assembly
Combine cooked and drained noodles, eggs, and parmesan cheese in a bowl. Pour the noodle mixture into the bottom of the pie plate. Build the edges up the sides of the plate as you would a pie crust. Spread the sour cream mixture over the spaghetti, followed by the meat sauce.

Bake for 25 minutes. Sprinkle the top with mozzarella and return to the oven until the cheese melts.
Notes
*You can add herbs or garlic to the tomato sauce if desired.
**You will not need to complete the step to brown meat and add tomato paste if you are using purchased or homemade spaghetti sauce.
Nutrition
Calories:
448
kcal
Carbohydrates:
23
g
Protein:
18
g
Fat:
32
g
Saturated Fat:
14
g
Cholesterol:
120
mg
Sodium:
788
mg
Potassium:
500
mg
Fiber:
2
g
Sugar:
5
g
Vitamin A:
788
IU
Vitamin C:
10
mg
Calcium:
169
mg
Iron:
2
mg
Nutritional Disclaimer
This recipe was calculated using the exact brands and measurements I used to make this recipe. If you are following a strict diet please note changing anything will cause the nutritional info to change. My calculations are intended as a guide only.
Bread goes great with Baked Spaghetti Pie Recipe!
Homemade Italian Bread Recipe
Homemade Italian Bread is a Crusty Italian Bread recipe that uses only 6 ingredients and bakes up with a soft center and a delicious chewy crust. It's quick to make in just 2 hours!
Check out this recipe
Easy Focaccia Bread Recipe
Delicious Focaccia Bread is a soft and chewy bread that is easy to make. This homemade focaccia bread is perfect as an appetizer or with your favorite Meal.
Check out this recipe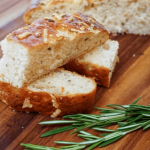 Garlic Batard
An artisanal bread that looks like you bought it at a bakery but made in your kitchen. This bread has a crunchy crust and a tender center. The garlic flavor is present without taking over. This bread would be perfect with a plate of pasta!
Check out this recipe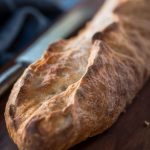 What's your favorite easy go-to weeknight meal? Please leave me a comment below! You are my inspiration!