No other food is as comforting and filling as a pasta dish like our creamy Chicken Asparagus Pasta. It's an easy chicken carbonara pasta recipe when you top it with a poached egg!
Most of the lemon chicken asparagus pasta dishes I've seen are cream and butter-based dishes but this one is not. The individual ingredients of this dish shine through and are the star here. This pasta is not overwhelmed by a heavy sauce.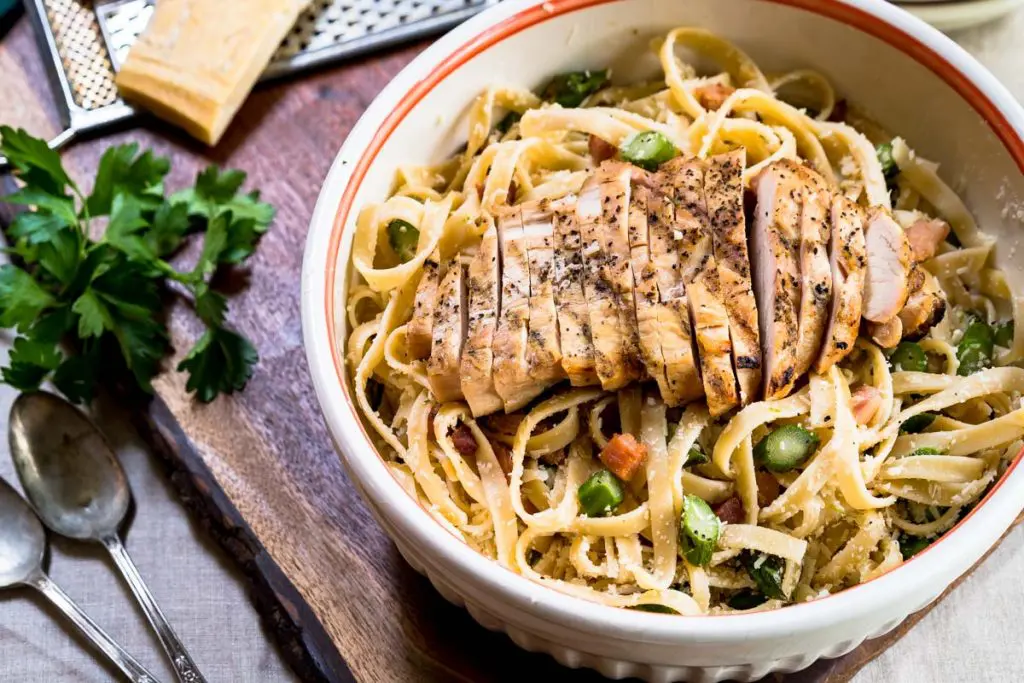 How to make Chicken Asparagus Pasta
Our chicken carbonara pasta has a few steps but comes together very easily. You will not be disappointed by this dish.
Begin by cooking your chicken. We've provided instructions on the recipe card for how to bake chicken, but you can also use grilled or pan-fried chicken, or even use up leftover cooked chicken you have on hand.
In a separate pan, crisp up the pancetta and then a quick cook of the onion, garlic, and asparagus.
Boil your pasta for 1-2 minutes less than is recommended on the package to ensure a nice al dente for your chicken asparagus pasta.
Once the pasta is ready, you can assemble the dish. Stir in all of the ingredients into the cooked pasta, and then layer with cooked chicken on top. If you are using diced chicken, you can just stir that right in with everything else.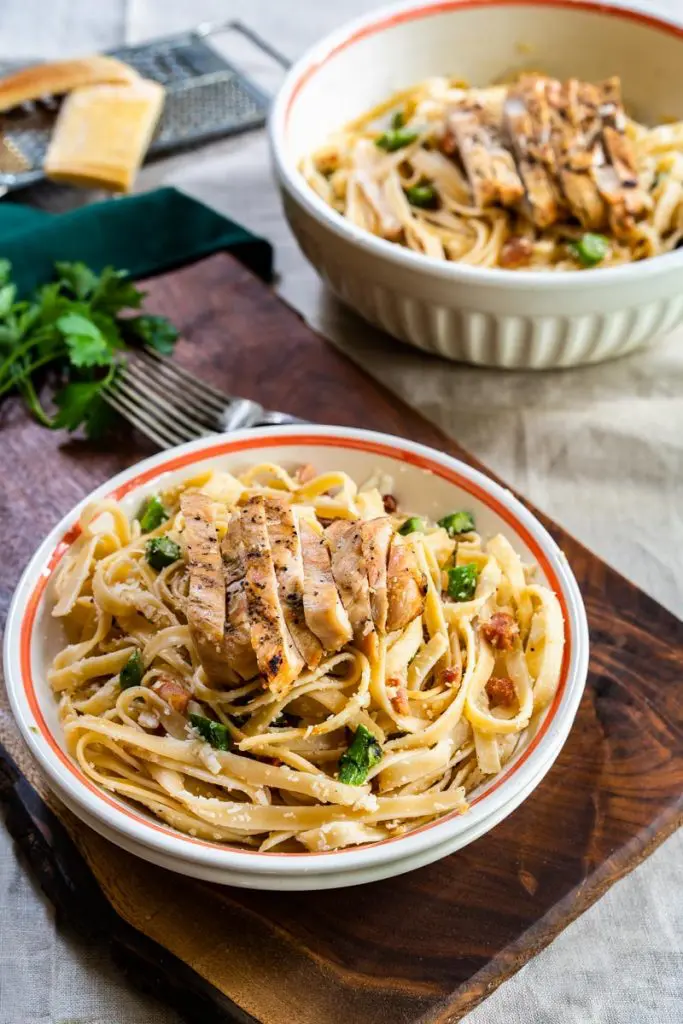 Ingredients
Chicken breast. Baked, grilled or fried. We've also used boneless skinless chicken thighs.
Fettuccine. You can use the shape of your choice in this dish. We chose fettuccine.
Pecorino cheese. Grated. A flavorful hard cheese made from sheep's milk and aged.
Parmesan cheese. In order to be true parmesan Reggiano, it must be made from the milk of cows which have been grazing on grass or hay. Freshly grated parmesan cheese adds flavor and saltiness to any dish.
Asparagus stalks. Five diced stalks. I love to use fresh asparagus from the Farmer's Market when it's crisp and delicious.
Garlic. minced.
Yellow onion. A diced onion adds essential flavor to every meal. Yellow onions are mild.
Pancetta. Diced. Pancetta is an Italian cut of meat similar to bacon. It is salami and is cured pork belly. Pancetta has usually been smoked or cured. If you cannot find pancetta where you live, use bacon instead. When using bacon, you will need to add the time it takes to pre-cook the bacon a bit so that it has time to crisp up as the dish is made.
Lemon. half of a lemon, squeezed. If you cannot find fresh lemons, you can substitute lemon juice from a bottle.
Salt and Pepper.
Tips for Making Creamy Chicken Asparagus Pasta
To get the proper consistency of the pasta, undercook it for a minute or two under what the package instructions advise. That will prevent this dish from being mushy and unappetizing.
Use leftover grilled chicken. You can even grab a rotisserie chicken in a time crunch. Whenever I know I will be making this dish, will throw another piece of chicken on the grill a day or two before to have it ready.
To make this dish creamy, stir in a little pasta water after all of the ingredients have been combined with the exception of the topped chicken and/or poached egg.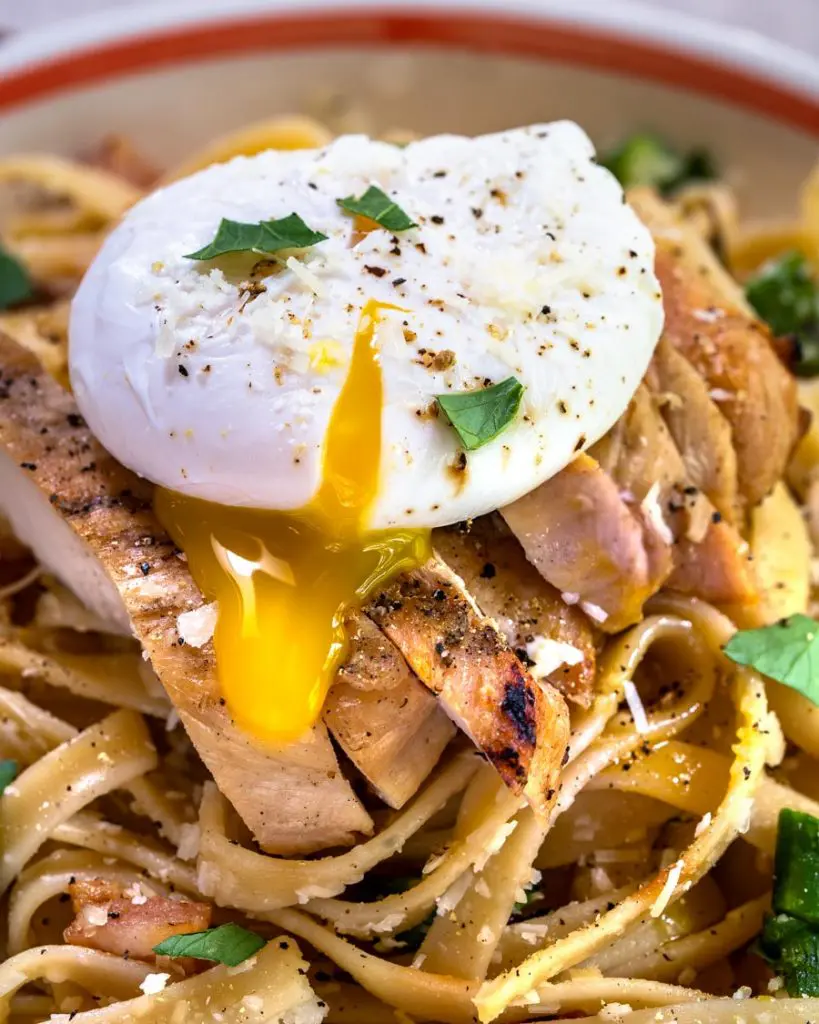 Variations on the Lemon Chicken Asparagus Pasta
A poached egg would this dish a delicious Chicken Asparagus Carbonara.
Grating your own cheese makes a huge difference in the flavor and texture of a dish. Store-bought grated cheese has anti-caking agents mixed in which add unpleasant flavors and change how the cheese melts and blends in with other ingredients.
This recipe uses two different kinds of cheese, but you can use one or the other if you can't find both.
We like our pancetta with a little crunch but not too crispy so it holds up when we stir it into the dish. To keep it from overcooking, we remove it from the skillet to keep it from cooking further. The delicious pancetta oil left behind adds a delicious flavor to the onion and asparagus.
We use fettuccine because it's a hardy pasta that can hold its own when topped with chicken. You can experiment with all kinds of different pasta shapes for this recipe. Each pasta shape introduces its own unique texture to the dish. Try one of these for an interesting change of pace.
Angel Hair
Penne
Bucatini
Bow Tie
Rigatoni
Shells
How to Store Leftovers
If you end up having leftover chicken carbonara pasta to save for later using an air-tight container to keep it safe in the fridge for a few days. Reheat the dish in a hot skillet, or microwave if necessary. You can add a bit of water to the bottom of the bowl or pan to help plump up the pasta. I do not recommend freezing this chicken asparagus pasta, since the cheese may absorb odors or change in texture.
More Pasta Dishes to Try
Pin this easy Pasta recipe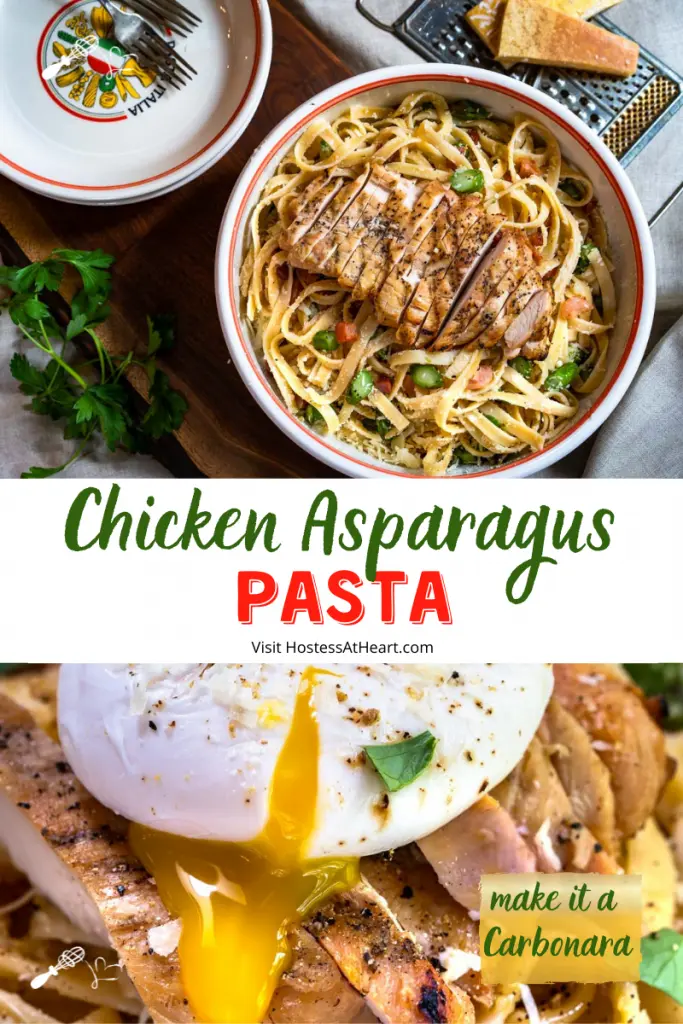 Equipment You May Need
If you like this recipe, we would appreciate your comment and a 5-star ⭐️⭐️⭐️⭐️⭐️ review!
Here's more Farmer's Market Week Recipes
Starters and Sauce Recipes
Side Dishes Recipes
Main Dish Recipes
Dessert Recipes
Farmer's Market Week is always the first week in August. Whether you have a great local farm stand or market, are a member of a CSA or purchase your fruits and vegetables at the supermarket, follow our
Pinterest board
, for great recipes including those for appetizers, drinks, breakfast, lunch, dinner, dessert and more.