If you love a great creamy pasta dish with over-the-top deliciousness, but want one that's easy on the waistline, you're going to love our Skinny Fettuccine Alfredo with Sausage. It's figure-friendly without sacrificing flavor!
This fettuccine with sausage recipe does not contain cream or butter, making it low-calorie and low fat for a pasta dish. Lower the calories even more and choose your favorite gluten-free pasta. The light alfredo sauce doesn't contain gluten either so with GF pasta it's a perfectly delicious gluten-free fettuccine with sausage. (Make sure to buy GF sausage!)
This recipe was updated from 2018 to improve our readers experience. No changes were made to the recipe.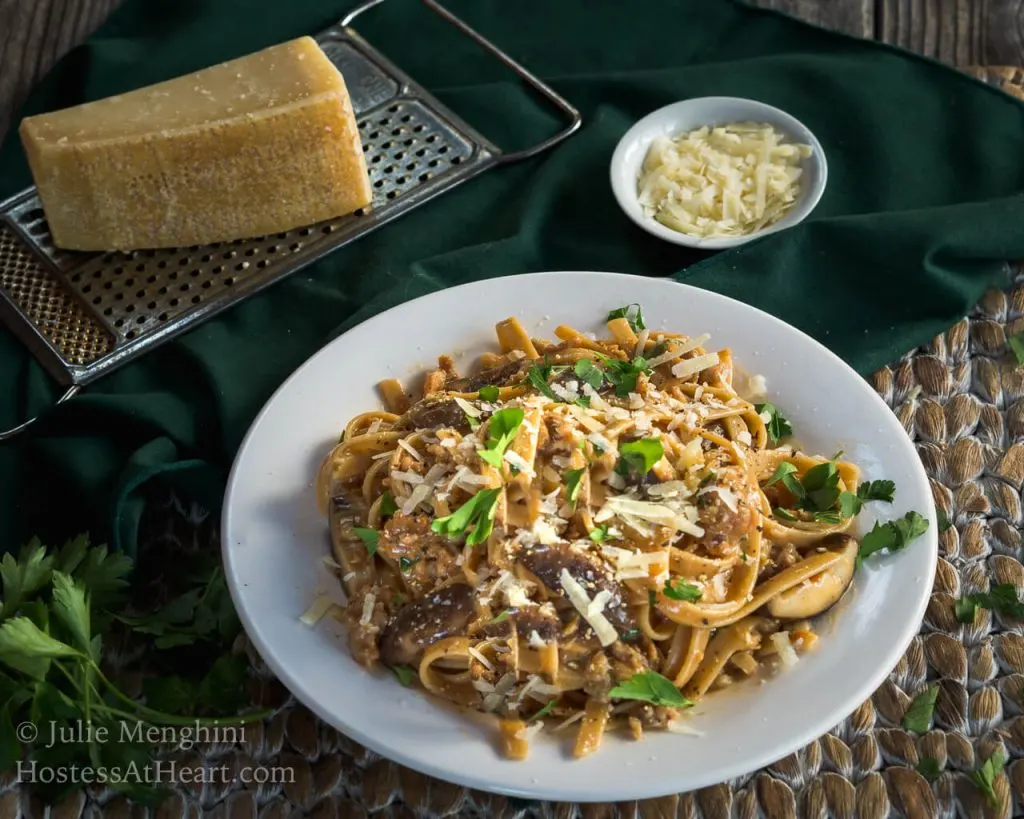 Where did the Skinny Fettuccine Alfredo Recipe Come From?
I was leafing through the food network magazine, July/August 2014 edition, and saw a recipe for the Tagliatelle Con Salsiccia.
I loved the combination of the sausage and the mushrooms but didn't like the heavy cream cheese and butter combination. Well, I really do, but I know my heart and thighs don't.
What is Alfredo Sauce?
Fettuccine Alfredo is one of the unhealthiest pasta dishes that you can eat. It's loaded with fat and calories. A typical portion of this decadent dish has 1200 calories, 75 grams of fat, 47 grams of saturated fat and gives you more than half a day's worth of sodium.
Our Alfredo sauce doesn't have an ounce of butter or cream making it a delicious creamy sauce that's non-fat, low-calorie, and gluten-free!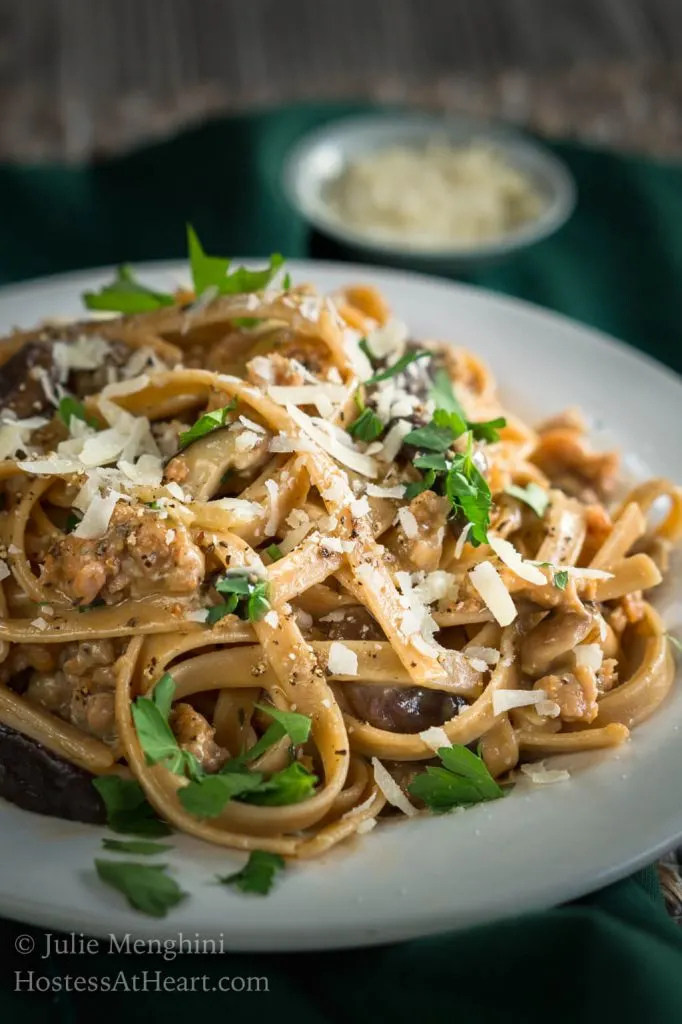 Doesn't that look amazing? One of the ingredients in this recipe that helps make it healthier is arrowroot powder (also known as arrowroot starch) derived from the tropical arrowroot plant.
It is a gluten-free and vegan method to thicken sauces, fillings, and even jams and eliminates the use of making a roux which is made with butter and flour as the thickening agent. It also gives the dish a creamy texture and appearance without adding calories.
I learned of this method from Rocco Dispirito, an author of several books and he's known for taking fat-laden high-calorie Italian food and trimming the fat and calories.
How to Make Skinny Fettuccine Alfredo
First, get your pasta water boiling and cook your pasta to the doneness of your choice while you work on the sauce.
Once the pasta water is on, you'll need to sauté the onions, mushrooms, and garlic.
Next, remove this from the skillet and cook the sausage.
Then make the sauce and pour it over the sausage, stirring until it thickens.
Once the sauce has thickened, add the cooked onions, mushrooms, and garlic.
Stir in the cooked pasta to combine, and serve.
How do you make Light Alfredo Sauce?
Stir arrowroot powder and 1/4 cup water together in a cup or small bowl until combined.
Pour the arrowroot and water mixture into the sausage and stir until it begins to thicken.
Add the pre-cooked onions, mushrooms, garlic, and about 2/3 of the parmesan cheese and stir until creamy.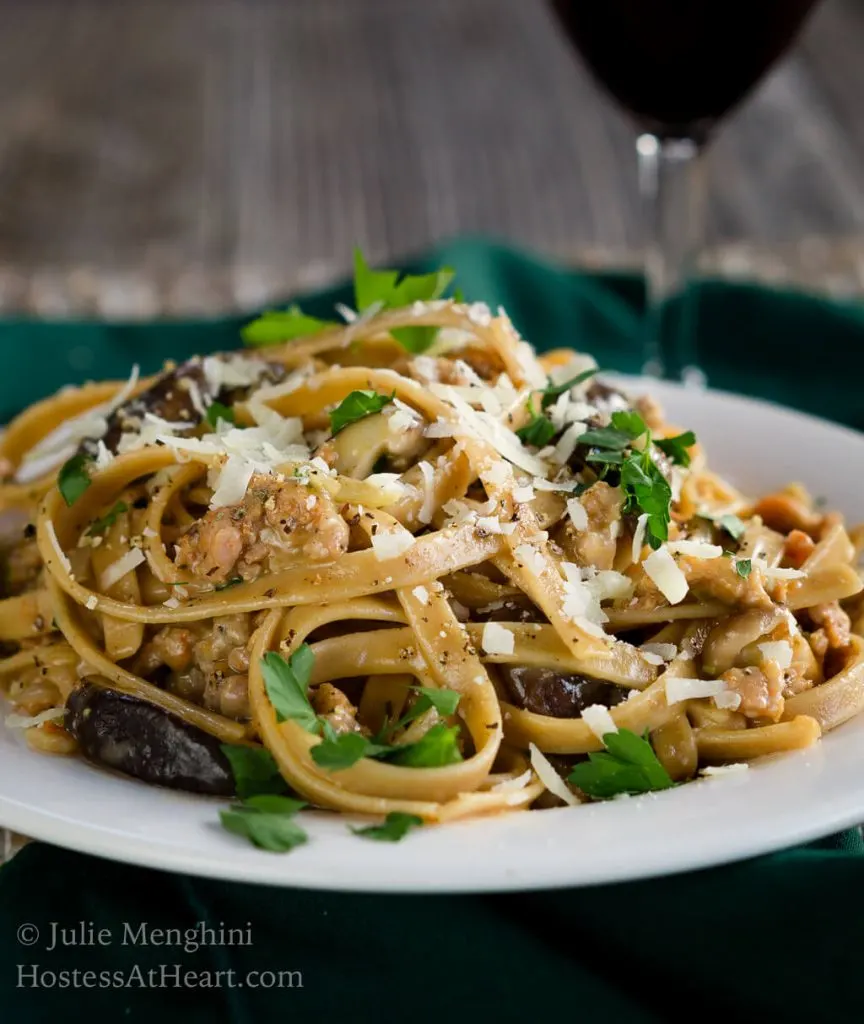 I am kind of an organization nut in the kitchen so I had all my ingredients ready to go before I got started making this recipe. Even so, by the time I was done playing mad chemist with this recipe, my kitchen looked like a bomb had gone off. John walked in and thought we had been ransacked.
This dish comes together quickly so I really recommend having everything together before you start.
Tips and Variations for Skinny Fettuccine Alfredo
Use medium-low heat when you combine the Alfredo Sauce ingredients. That will allow the sauce to thicken but not too quickly.
Save a little pasta water to use if the sauce becomes too thick.
Just wipe the mushrooms clean with a brush or dry paper towel. Don't submerge them in water because they're like little sponges.
Sneak in a few pre-steamed vegetables.
Use low-carb or gluten-free pasta.
Garnishing the dish with freshly grated parmesan makes it restaurant-worthy.
Reduce the calorie count again by choosing turkey sausage.
Add red peppers, sun-dried tomatoes, or tiny broccoli florets in with the onions, mushrooms, and garlic when you sauté the vegetables. Summer squashes such as yellow squash and zucchini would also work well.
Storing and Reheating Leftovers
Skinny Fettuccine Alfredo can be stored in the refrigerator for up to 5 days. Use an airtight container. Reheat in a skillet or microwave with a little bit of butter or chicken broth to rehydrate the pasta. You won't need much, a couple of tablespoons will do. We don't recommend freezing skinny fettuccine alfredo because it can change the consistency of the sauce.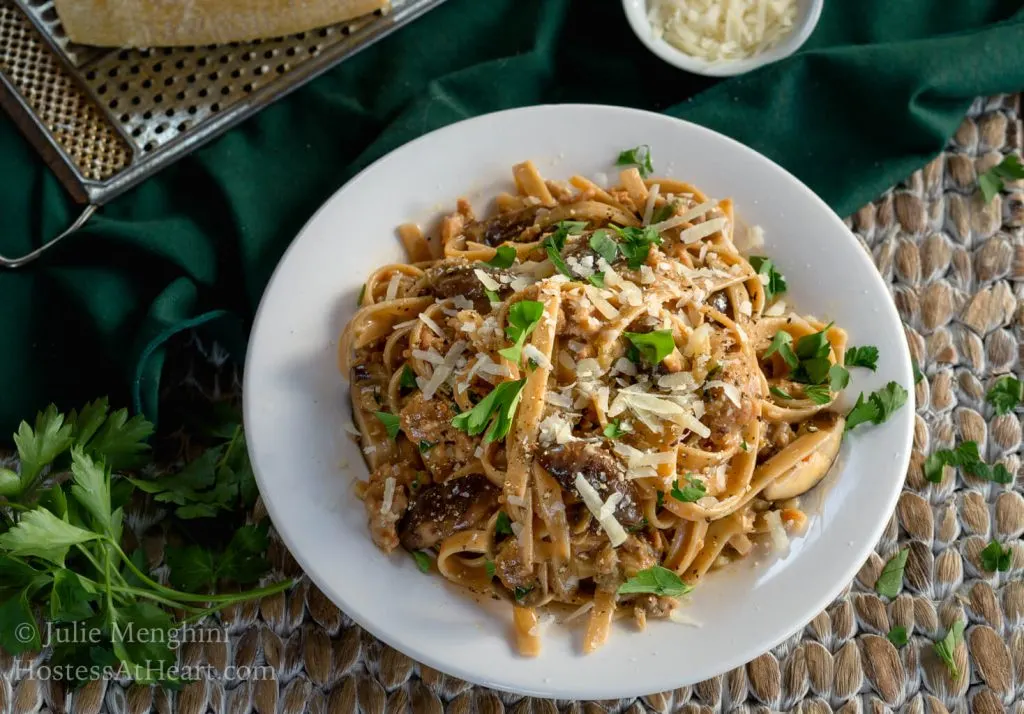 More Pasta Dishes To Enjoy
I guess destroying my kitchen to develop this recipe was definitely worth it. Since making this recipe over and over, I have averted the original chaos.
If you like this recipe, we would appreciate your comment and a 5-star ⭐️⭐️⭐️⭐️⭐️ review!
Do some of your recipes require that you destroy the place? Come on, I love those stories!
Pour yourself a nice glass of wine and a slice of great crusty bread. You deserve it! Cheers.
This is definitely a comfort dish just like these recipes
Pin this amazing recipe!