Pizza Casserole with noodles is the definition of delicious comfort food. This family favorite pizza casserole recipe comes together quickly and can be made ahead.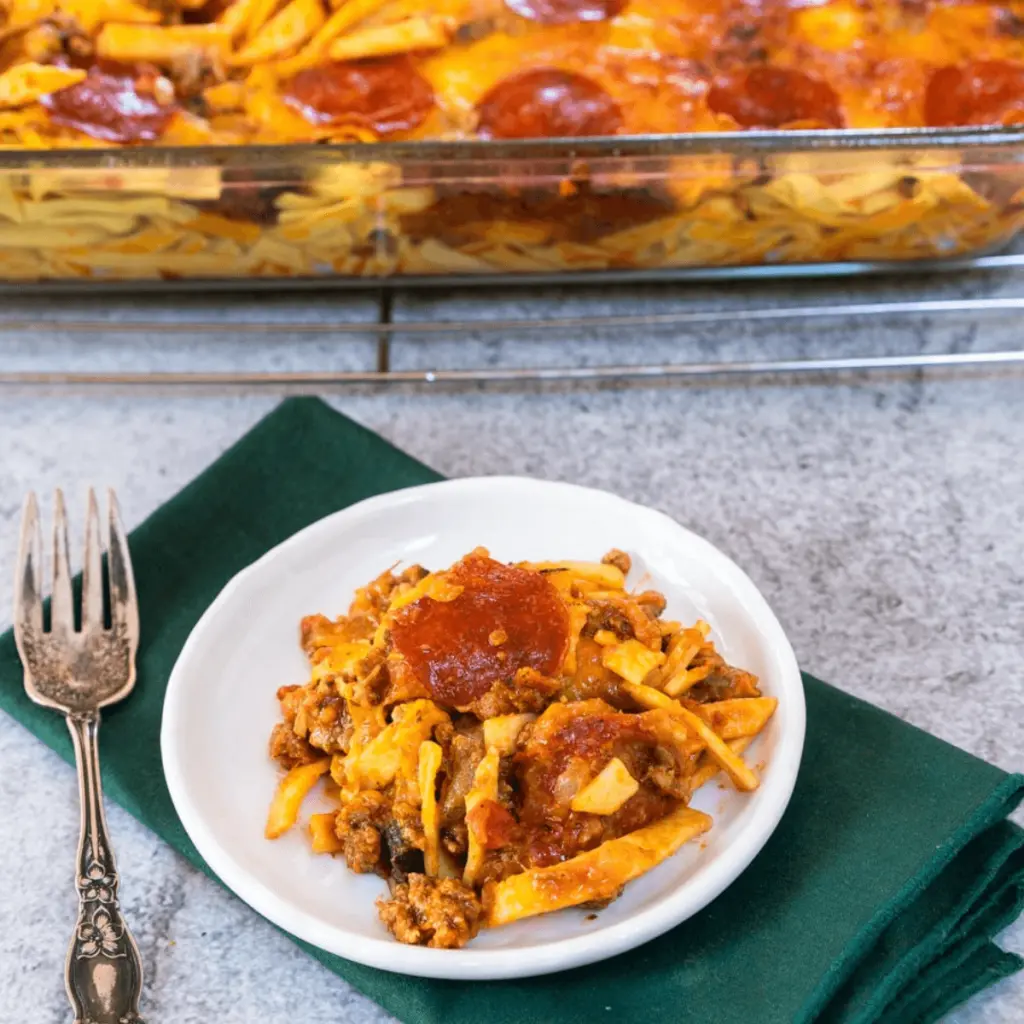 This Pizza Casserole recipe skips the crust making it a quick and easy recipe for any meal of the week.
We love that this casserole makes a large pan and will feed the heartiest of eaters.
Make it ahead of time and you have a delicious dinner when cooking isn't the easiest option.
We made our recipe in a large 9×13 pan. The glory of this recipe is that you can fill smaller dishes and freeze them for a rainy day.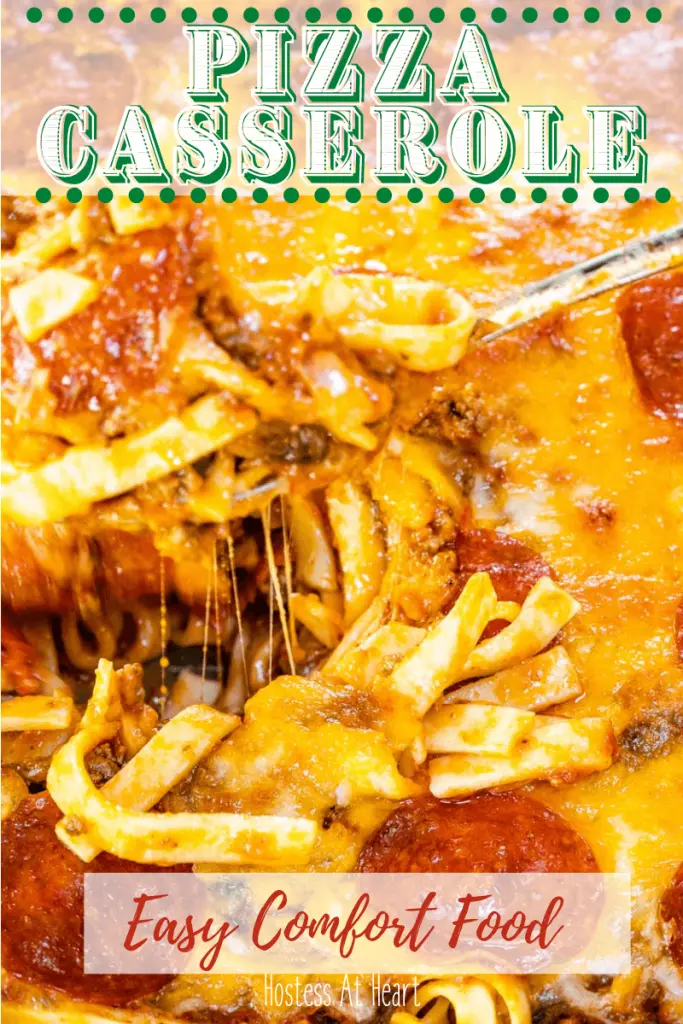 Pizza Casserole Recipe Ingredients & Variations
Ground Beef – you could easily exchange the beef for sausage or use a combination of the two.
Pepperoni – We like a pepperoni pizza but it's optional.
Onion – we usually cook with yellow onions because they become sweeter when cooked. Use what you like such as a white onion or Vadalia.
Spaghetti sauce – we used store-bought making this a semi-homemade recipe. You could cook up your favorite sauce recipe, but in my humble opinion, I make this recipe when I'm looking for a quick no-fuss recipe
Pizza sauce – you could use all spaghetti sauce or pizza sauce but we like the combination which blends an acidic sauce with a sweeter sauce into a smooth blend.
Cheese – we use a blend of mozzarella and cheddar. You could use one, both, or buy a pizza blend.
Noodles – we use Kluski noodles. You could substitute with a thick egg noodle or pasta shape of your choice.
Vegetables – We used mushrooms but you could change it up by adding your favorite pizza vegetables such as green pepper and olives.
More Pizza Toppings
You can make this Pizza Casserole into your favorite pizza. Here are just a few more topping ideas.
Bacon
Canadian Bacon (ham)
Proscuitto
Herbs – sweet basil, thyme, oregano
Cheese – goat cheese, asiago, parmesan, Ricotta
Red onion
Note: When adding ingredients, you want to make sure you don't add a lot of liquid.
Some ingredients are loaded with liquid and should be drained before using such as pineapple or canned artichokes.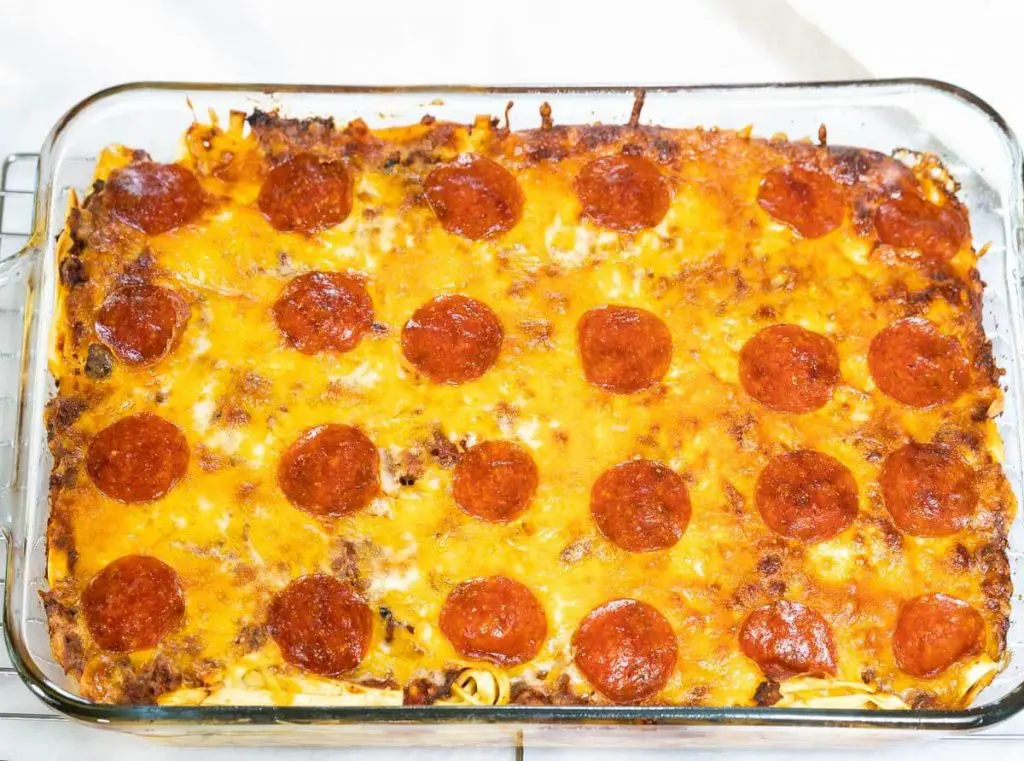 What are Kluski Noodles?
Kluski is a Polish generic term that can mean dumplings, noodles or pasta.
For this recipe, we used a dried Kluski noodle which resembles a thick egg noodle.
We like using Kluski Noodles because they make this a hearty casserole and these noodles are less likely to stick together or clump.
You could use an egg noodle or another shape that you have on hand such as:
Penne
Fettuccine
Rigatoni
Macaroni
How to make a Pizza Casserole
Brown the ground beef with the onion and any other vegetables that you will be using. Drain off the fat.
Cook the noodles while the beef browns.
Add the pizza sauce and spaghetti sauce to the cooked ground beef and simmer together.
Layer the following ingredients in a baking dish twice in the following order:

Noodles
Meat sauce
Cheddar Cheese
Mozzarella Cheese
Pepperoni

Bake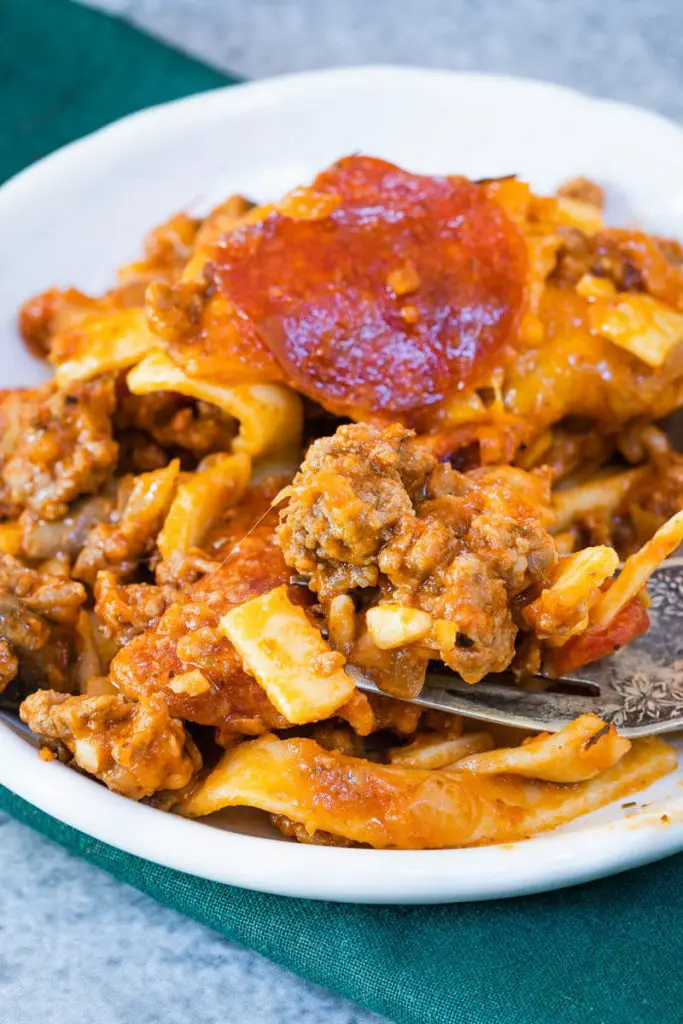 Make-Ahead and Freezing Instructions
The glory of this recipe is that the ingredients are either already on hand or easy enough to get in a jiffy.
You can also put this casserole together when you have leftover sauce or noodles from another recipe that needs to be used up.
This recipe can be assembled in a freezer-safe and oven-safe container either before or after it's baked.
We recommend coating your dish with a non-stick cooking spray and then assembling the ingredients. Cover it with plastic wrap and then foil before freezing.
Thaw the casserole in the refrigerator overnight or leave it out at room temperature until thawed prior to baking. Thawed Pizza Casserole should be stored in the refrigerator until baking.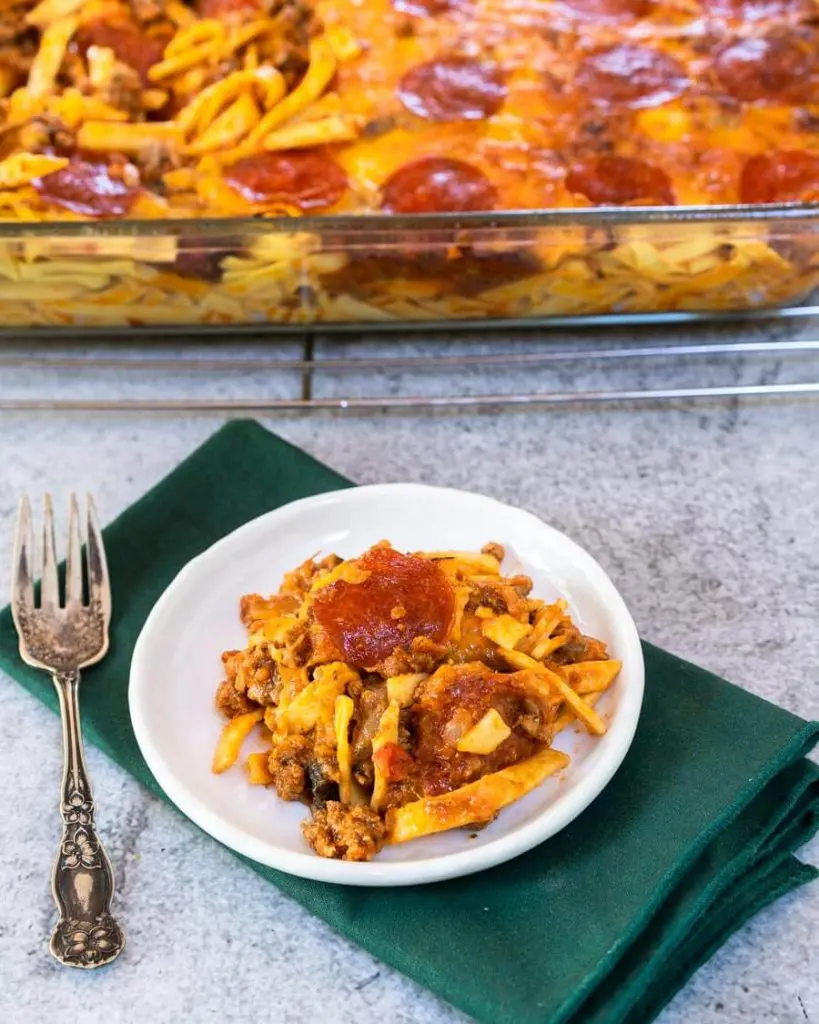 Side dishes to serve with Pizza Casserole
What you may need
You don't need much to make this delicious easy Pizza Casserole with noodles. We used this baking dish which comes with a lid for easy freezing or a make and take dish. We also used a skillet to brown our meat.
Still looking for easy comfort food dishes?
Pin it now!